Holiday Mini Butter Tarts
I love making up pretty platters of holiday baking for company and to give out as gifts. Having a variety is important too as you eat with your eyes first. These colorful and pretty Holiday Mini Butter Tarts have been a favorite of mine for many years.
They are nice and small to go on a platter of goodies and are very popular also. The little added cherry on top just makes them pop with color! The fruit and nut combination make them a hit.
With simple ingredients and pre-made tart shells this recipe is whipped up in no time. It makes lots to feed a crowd or to give as gifts. This will be your new go-to recipe for the holidays.
Or other Easy Butter Tarts recipe does well for the holidays too! If you have never made little tarts like this before you will be stunned how easy they are to make.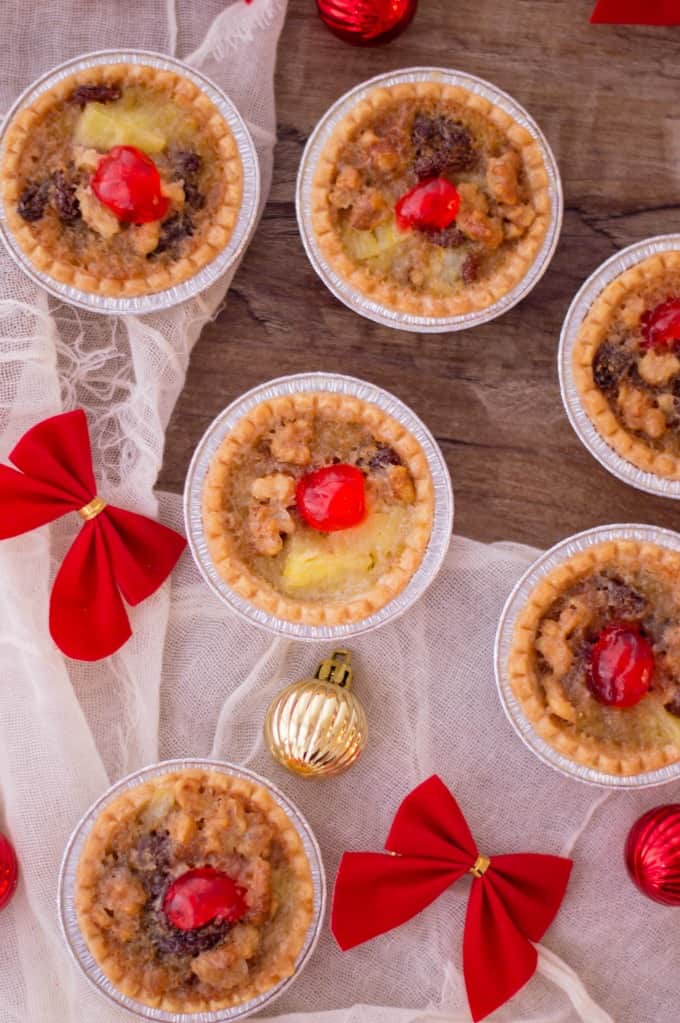 The pre-made tart shell is a huge time saver. Why would you even think of making them yourself for these little tarts. They are easily found in the frozen section of your grocery store.
Get a good quality pie crust, it is so much better to spend the few extra cents on a good product.
What is a Butter Tart?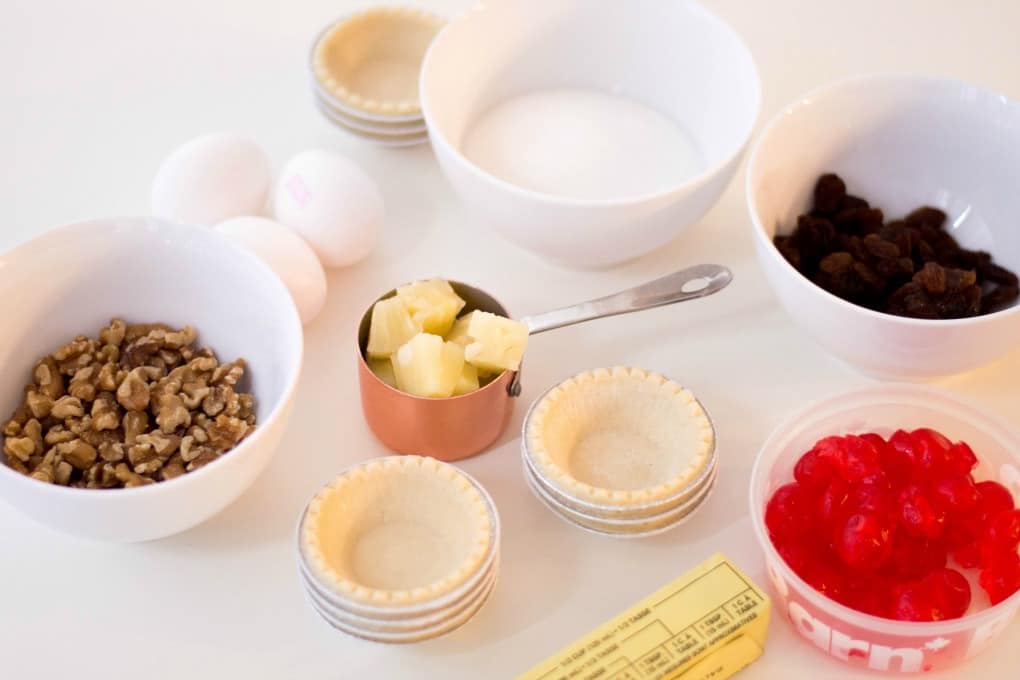 Walnuts, raisins, pineapple, cherries, eggs, sugar and butter are the main ingredients in this recipe. A standard butter tart consists of a filling of butter, sugar, syrup, and egg, baked in a pastry shell until the filling is semi-solid with a crunchy top.
If you do a variety of baking you want some that are very, very easy to make, at least I do! These will have you in and out of the kitchen in no time.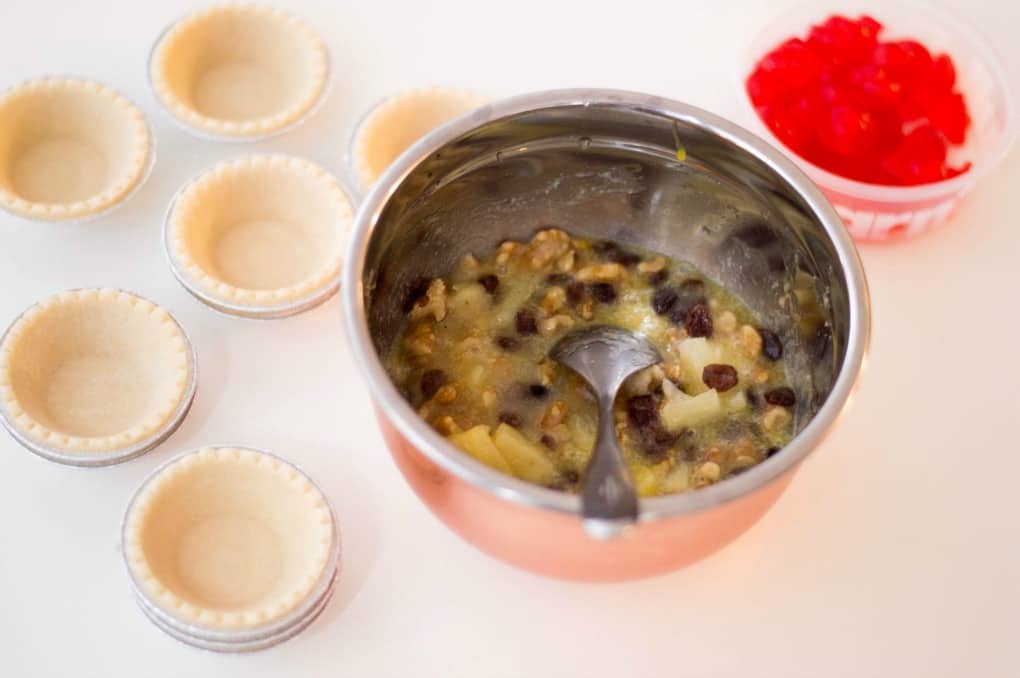 The butter tart filling is a cinch to make. Just a few ingredients mixed together and you have it done. Simple and quick with delicious results.
This recipe doesn't have corn syrup in it which is often found in butter tarts but a lot of people don't like to use it as it's so high in fructose.
I love the fact that you just mix all the ingredients together and pour them into each pie crust. Done!
Where Did Butter Tarts Originate?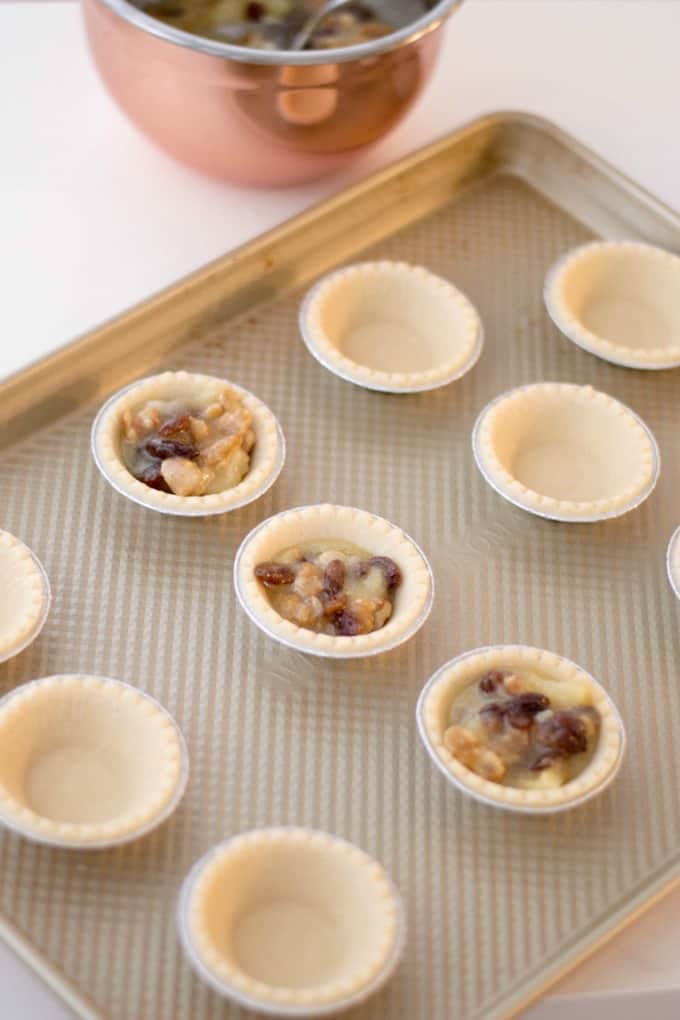 Butter tarts are a true Canadian original, did you know that? They come from our pioneer days and are associated with the English speaking provinces of Canada. The first published recipe was in the early 1900's.
Butter Tarts are hugely popular in Ontario where I grew up. They even have a Butter Tart festival at Muskoka Lakes, Ontario,[10] the trademarked "Butter Tart Trail" at Wellington North, Ontario, and the "Butter Tart Tour" in Kawarthas Northumberland, Ontario.[11] Courtesy of Wikipedia
Maybe this is another reason why I like them so much. They have always been one of my favorites.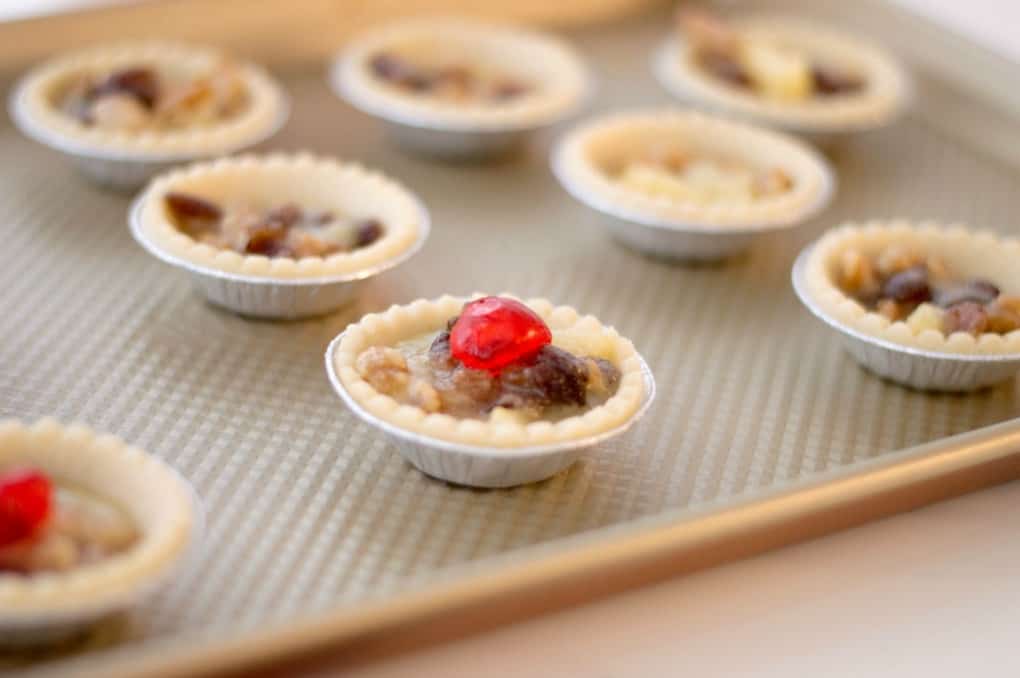 Simple ingredients, simply delicious, that is what this recipe is all about! These tarts freeze well too.
When I am making up gift boxes they go right from my freezer into the boxes. It is simple and easy to load many of them at a time then.
Holiday Baking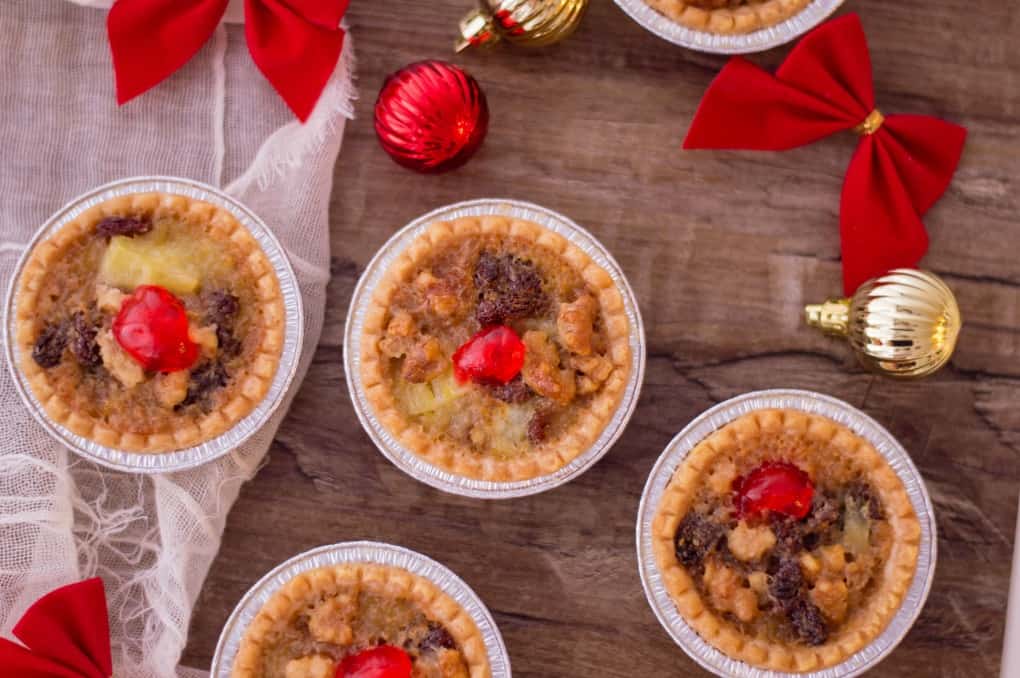 Butter tarts vary with their fillings and with the ommission of corn syrup this recipe is a bit firmer in the center.
If you have tried many butter tarts you may have come across the ones that when you bite in you get a chin full of drippy deliciousness. I like those kind too though.
Call me a butter tart aficionado. The drippy ones are a childhood memory of mine.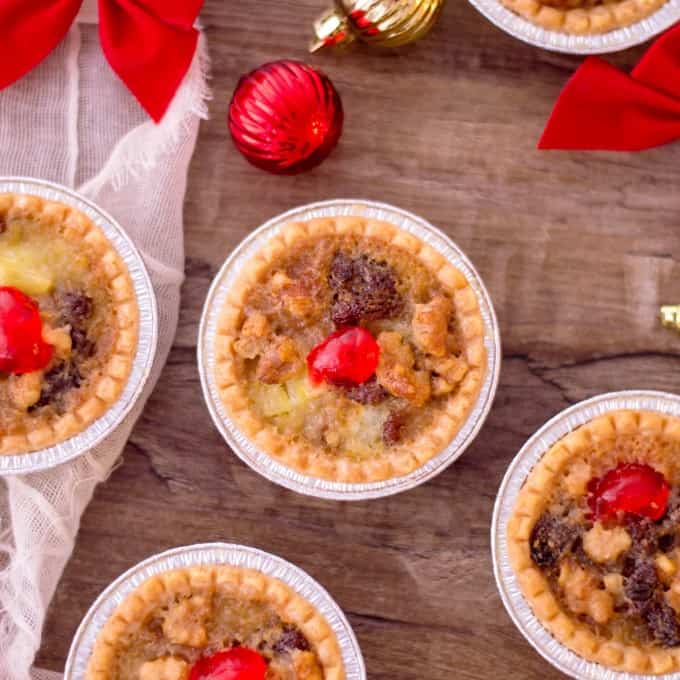 Enjoy your holiday baking and have a peek in on some of our other popular recipes like 26 Freezable Christmas Cookie Recipes, Polar Bear Cookies, Festive Shortbread Bites, Cinnamon Pecan Elephant Ears and Vanilla Candy Cane Cupcakes.
We also have a great post for 30 Loaves to Enjoy or Give as Gifts All Year. I hope you enjoy all your holiday baking!!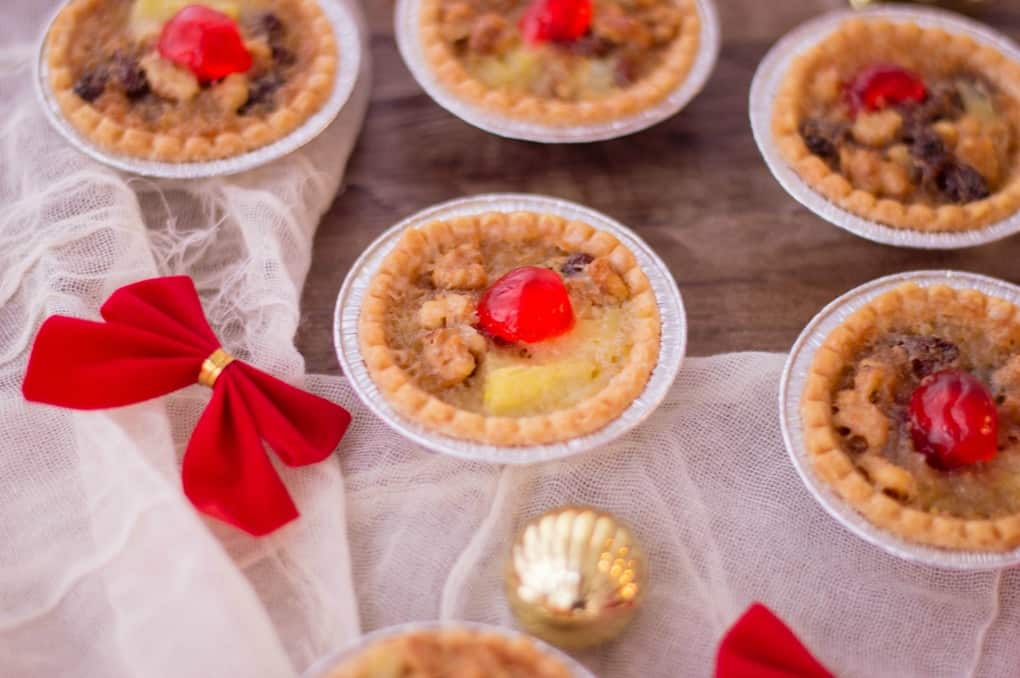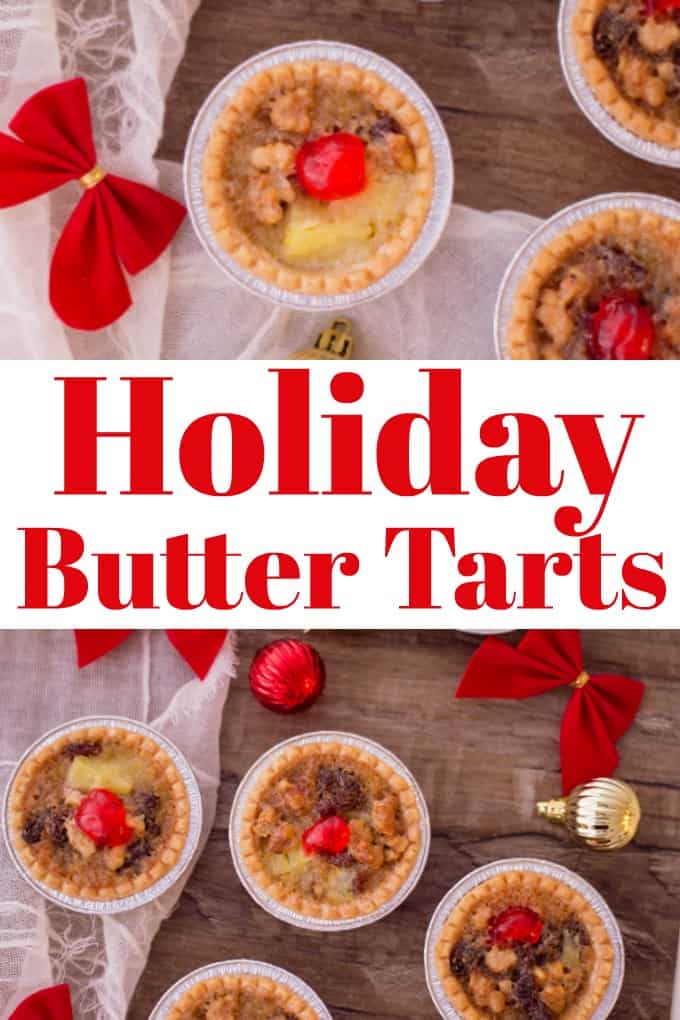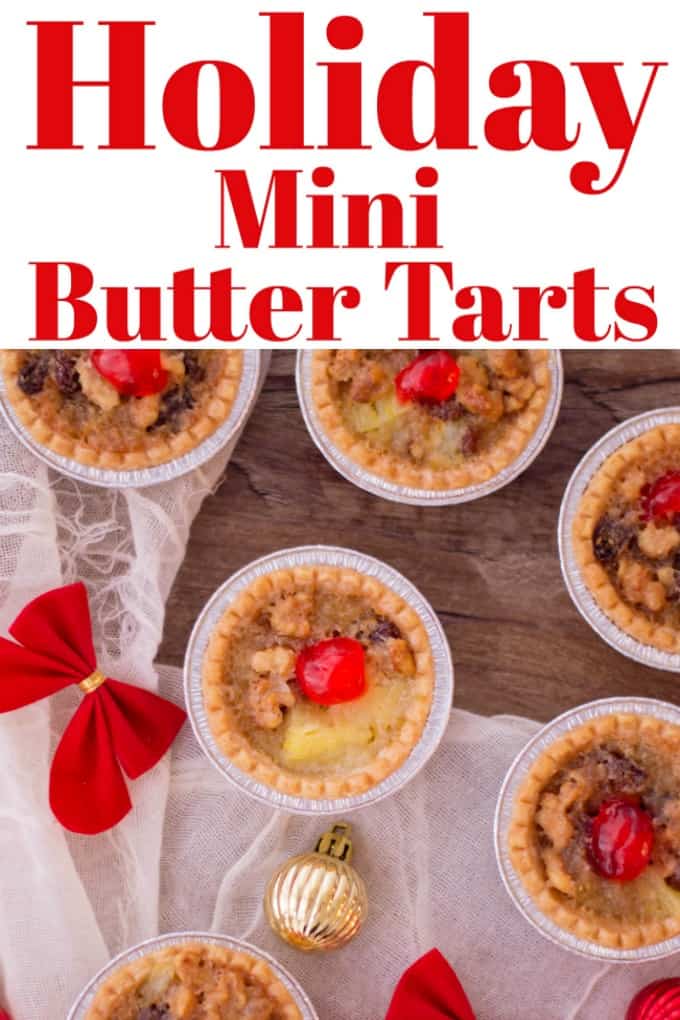 Holiday Mini Butter Tarts Recipe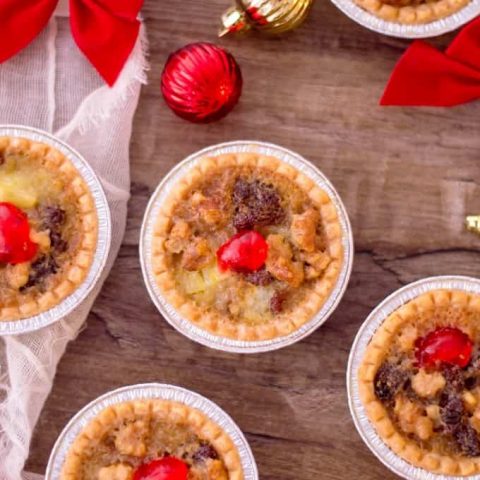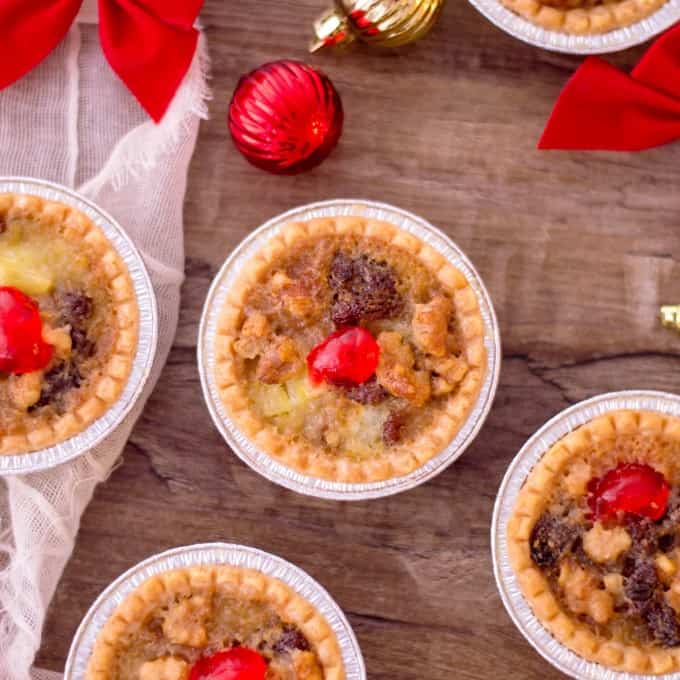 Holiday Mini Butter Tarts
Yield: 54 mini tarts
Prep Time: 20 minutes
Cook Time: 30 minutes 20 seconds
Total Time: 50 minutes 20 seconds
These Holiday Mini Butter Tarts are a great change up on a cookie platter for the holidays or for your cookie exchanges or gift giving!
Ingredients
3 eggs
1 1/2 cups sugar
1 cup canned pineapple, drained and chopped
1 cup walnuts, chopped
1/2 cup butter, melted
1 tsp. vanilla
1 cup raisins
54 mini tart shells
27 maraschino cherries cut in half
Instructions
Preheat oven to 350F.
Combine all the ingredients and fill tart shells 2/3 full and top with a cherry.
Bake for 20-30 min until golden. Remove and cool on a wire rack.
Notes
These tarts freeze well covered with wax paper and layers in sealed containers.