Easy Butter Tarts are kind of an oxymoron. All butter tarts can be very easy, so if you are looking for a last-minute baking idea grab some pastry shells. We love making Super Easy Rhubarb Tarts in the summer and these butter tarts in the winter months.
At Christmas time I also like to make Holiday Mini Butter Tarts. They are just fancied up with a few more ingredients. And on Valentine's Day, this Chocolate Tart is amazing!!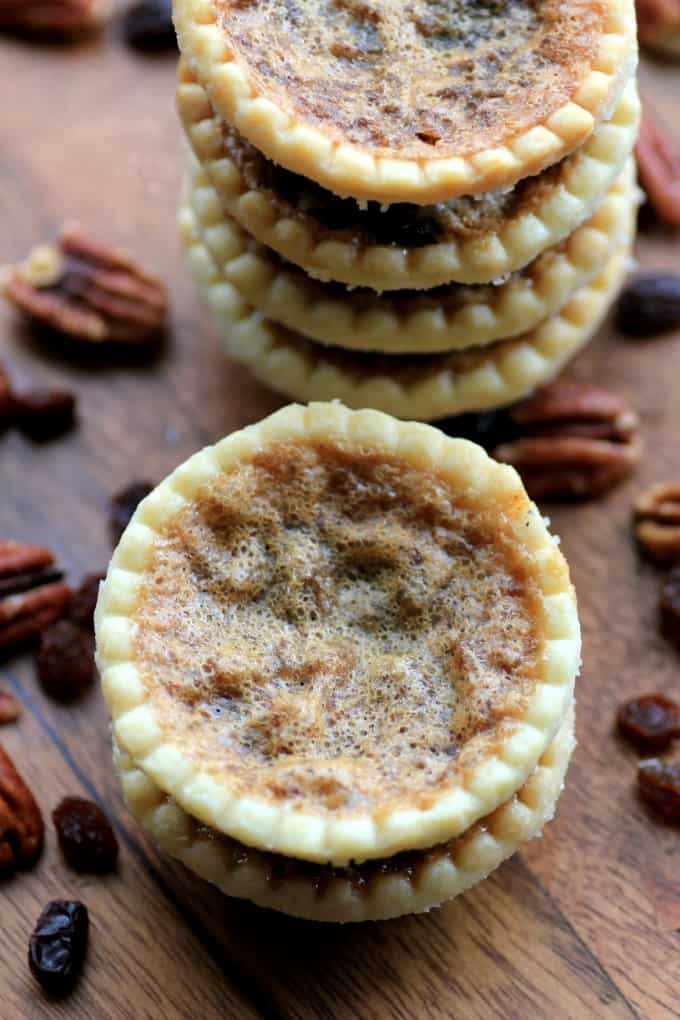 The only way in my mind that tarts can be hard is if you make pie dough. That is something that I have seldom done as store-bought is pretty good; you still get a flaky crust and let's face it so much easier.
I am not knocking homemade pastry in the least. I am just saying that if you need something quickly, run to the store and grab some ready to fill tart shells and you will have these puppies whipped up in no time flat!!
How do you like yours, runny or firm? Do you like raisins and nuts in them? Ever tried bacon bits!! That would be amazing, I think!!
Helpful Items for This Recipe
This post contains affiliate links. As an Amazon Associate, I earn from qualifying purchases.
Ultimate Party Serving Kit (perfect for portable goodies)
Can Butter Tarts be Frozen?
We love butter tarts, one of my hubby's favorite also. They freeze well and are on the list every year for baking. Just put them in a sealed container, layer wax paper between the rows and freeze.
They may get bumped out, as some things do when I want to try new items, but we love them and they are great at any time of the year!! So if they aren't made for the holidays they will reappear at another time in the year.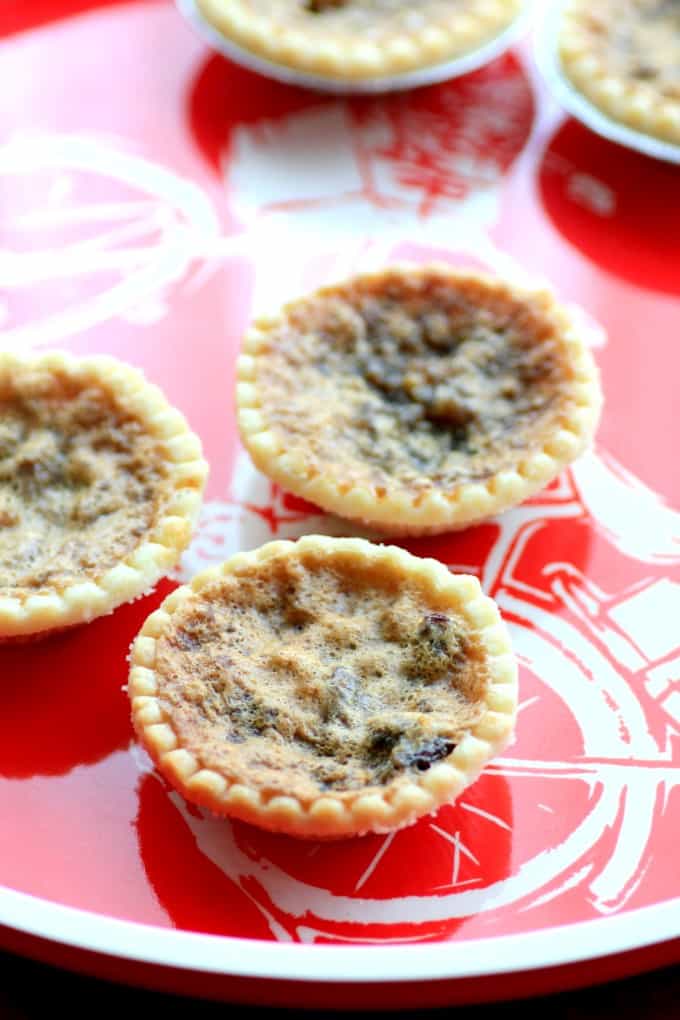 We are getting down to the pinch, so if you are running out of time, here is a great quick idea for you. What makes these great for me is the raisins and the pecans together. That is a really good butter tart in my mind.
I don't like a big thick pastry laden butter tart, that is too much for me. Give me a thinner one with the center a little runny and I am in heaven. It is all about the butter tart filling for me!
Some tarts with a homemade pastry are all pastry and that is not what I like in this treat.
The butter tart is a very Canadian dessert in English speaking parts of Canada. French-Canadians like their sugar pie but there is nothing beating a Canadian butter tart.
What are in Butter Tarts?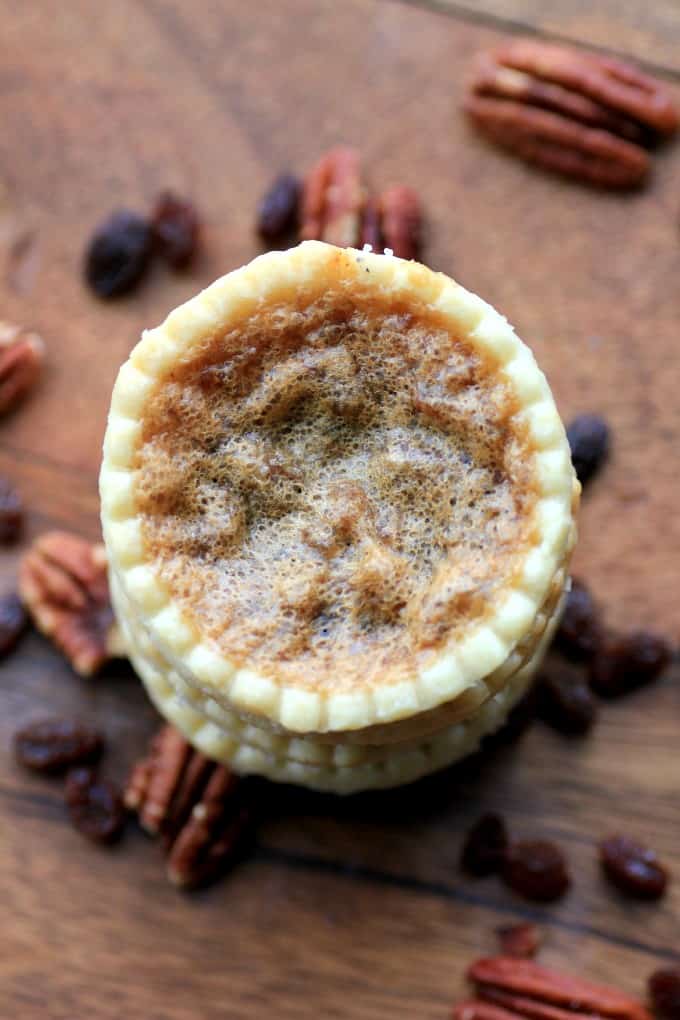 Butter Tarts are regarded as a quintessential Canadian cuisine. No wonder I like them so much living up here in Canada!
Butter tarts have corn syrup (I used dark), brown sugar, eggs, and butter. We added in a little vanilla and some lemon juice to brighten them up. I love the simplicity of the ingredients but when mixed together they are so wonderful!
You can substitute the corn syrup for maple syrup too, even more Canadian that is!!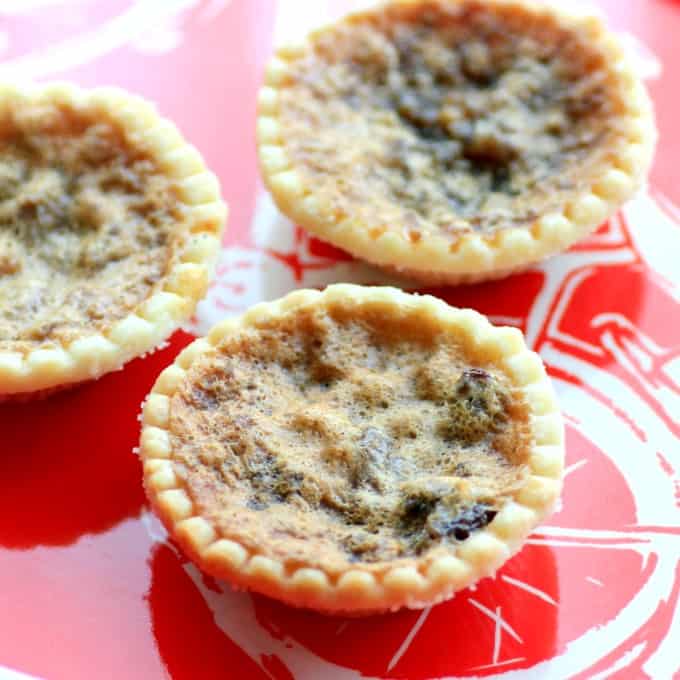 These butter tarts can be whipped up in a snap and are gorgeous on a platter of treats for the holidays. Try them for your next gathering, make extra as they will be gobbled up!
But don't wait for the holidays to make these!! They are great at any time of the year!! Perfect on a picnic too or any summer get together!!
How Do You Make Butter Tarts?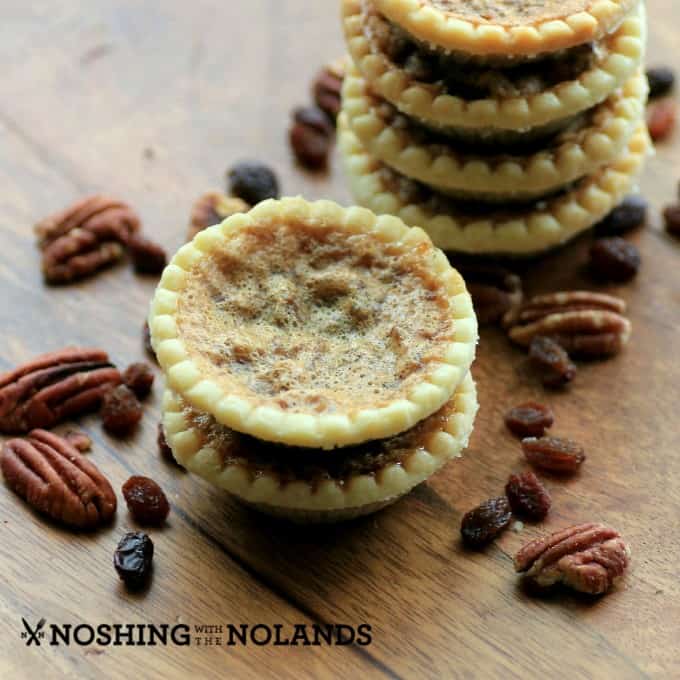 They are so easy! In a large bowl mix together your corn syrup with melted butter and brown sugar. Then add in your eggs and mix well. Add in the lemon juice and vanilla extract and mix well again. Finally, add in your raisins and pecans.
Pour this delightful filling into your tarts and bake until lightly browned or about 15 minutes.
A helpful tip for this recipe and any others that use raisins is to soak them in hot water before using them. Drain well and then use them as normal. This will give you a lovely plump raisin in your desserts or dishes.
Pin it HERE!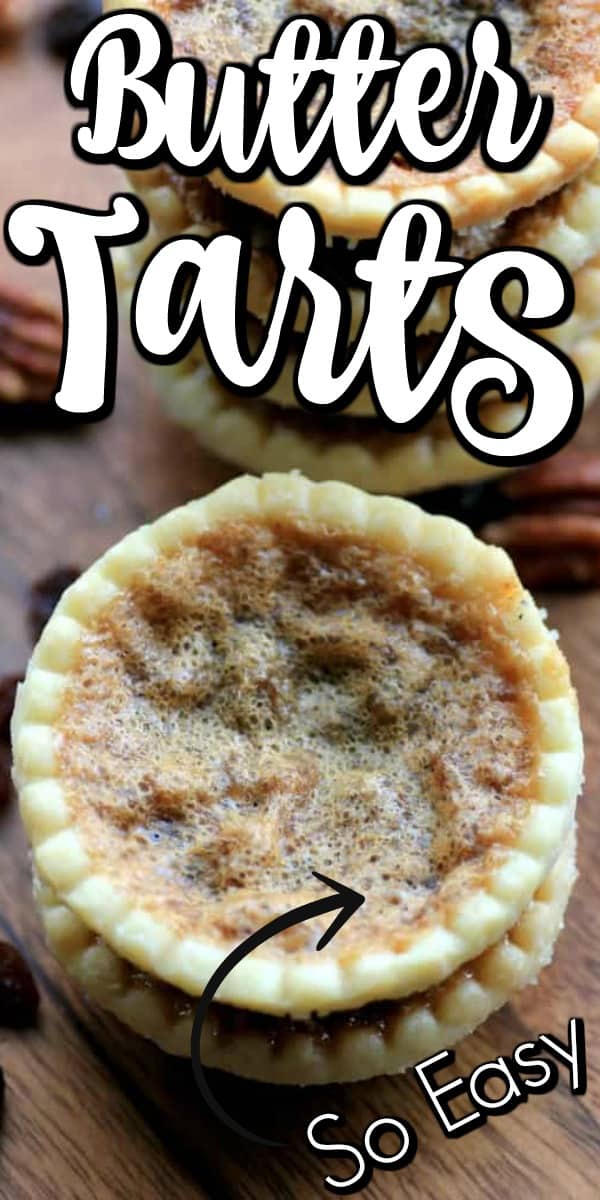 Easy Butter Tart Recipe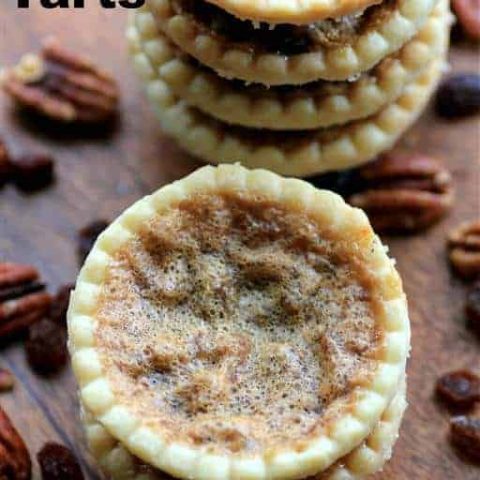 Easy Butter Tarts
Yield: 24
Prep Time: 10 minutes
Cook Time: 15 minutes
Total Time: 25 minutes
An easy dessert that can be easily whipped up at any time!!
Ingredients
1/3 cup dark corn syrup
1/3 cup melted butter
1 cup brown sugar
2 eggs, lightly beaten
1 tsp. lemon juice
1 tsp. vanilla
1/2 cup pecans, chopped
1/2 cup raisins
24 frozen tart shells, defrosted according to manufacturer's instructions
Instructions
Preheat oven to 375F. In a bowl of a standup mixer mix together the corn syrup, melted butter and brown sugar. Add eggs and mix well. Add the lemon juice and vanilla and mix well. Stir in the pecans and raisins.
Place the tarts on a rimmed cookie sheet. Fill the tarts with the mixture and bake for 12-15 min. until golden. They will puff up and then fall back down. Let cool. Freeze well too!
Nutrition Information:
Yield: 24
Serving Size: 1
Amount Per Serving:
Calories: 514
Total Fat: 22g
Saturated Fat: 13g
Trans Fat: 1g
Unsaturated Fat: 8g
Cholesterol: 68mg
Sodium: 174mg
Carbohydrates: 77g
Fiber: 3g
Sugar: 50g
Protein: 4g
Recipe calculation was provided by Nutritionix and is an estimation only. If you need nutritional calculations for medical reasons, please use a source that you trust.