Festive Shortbread Bites
I love a little cookie, one that you don't feel bad for having. One that you can go back to and have another and another and still not add up to one big cookie. That is why I love these Festive Shortbread Bites. I did something similar last year with these Sugar and Spice Coins. 
I have a tiny vintage round cookie cutter that is only 1″ wide and it worked perfectly for these little bites. Alternatively you can roll the dough into short logs and slice them. Then immediately press them into sprinkles gently. You will love to have little bowls of these wonderful shortbread around for just a little treat or package them up and give as the perfect hostess gift.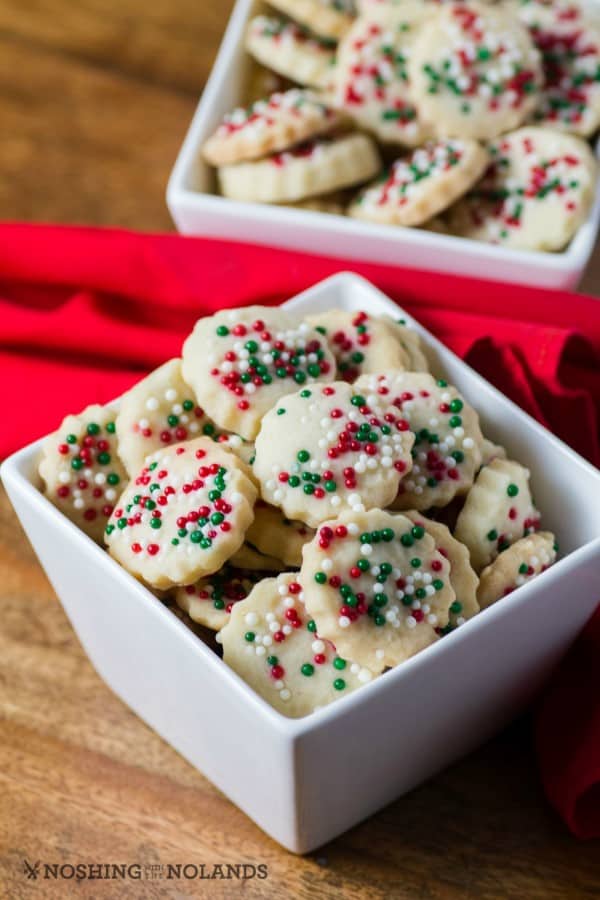 These round little sprinkles add so much to the cookies with, of course, very little effort on your behalf. You can find all sorts of colorful sprinkles around now, at this time of year.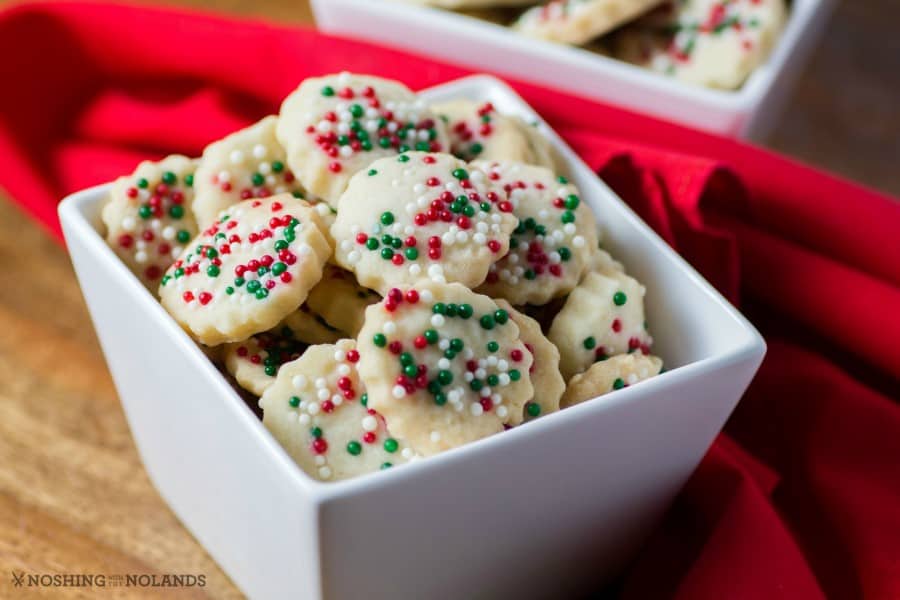 Make up a batch of these for sharing, the actual cookie minus the sprinkles has only 4 ingredients and they are probably ones that you have on hand already!!
The Recipe
Festive Shortbread Bites
Ingredients
1 cup butter, softened
¾ cup icing sugar (confectioners sugar)
½ tsp. vanilla
2 cups flour
Round festive coloured sprinkles
Instructions
Preheat oven to 325F. Cream butter and icing sugar together. Add the vanilla. Slowly add in the flour. Form into a ball and cover with plastic wrap. Place in the refrigerator for 30 min. if too soft. Otherwise roll out on a lightly floured surface to ¼" thick and with a 1" round cookie cutter cut out circle.
Alternately roll into multiple 1" wide logs and slice into ¼" thick pieces.
Either way, Immediately press gently into small round festive coloured sprinkles and then place on a cookie tray with a Silpat liner or parchment.
Bake for 15 min. or until lightly golden brown. Remove to cooling racks. When cool, remove to a sealed cookie container, layered with wax paper. Freezes well for up to 2 months.