These cute little
Italian Anise Cookies
are a
traditional recipe
topped with a glaze and nonpareils. Prepared with simple ingredients from the pantry, these
little balls
that are livened up with anise flavor will become your favorite.
Anise cookies are often prepared by the Nonna, the Italian grandmother from a
family recipe
, during the
Christmas season
but these are delicious all year round. Traditionally baked on December 22 or December 23 right before Christmas but would be amazing at a picnic or summer gathering too.
Prepared in 10 minutes and popped in the oven for the same amount of time, this could be a great last-minute recipe. Baked goods make a fantastic edible gift or are perfect for company coming at the last minute. Also, they are perfect to accompany a coffee or tea in the afternoon. Also, try our amazing
Orange Madeleine Cookies
, so good!
Hi there, Melanie from
Bon Appét'Eat
again. It's been a lot of fun to be part of the Noshing with the Nolands tribe. You should pop by my blog if you have a chance! If you are looking for another traditional treat but from my country, you should give a try to my
Easy Madeleine recipe
. Another classic for a special occasion, so tasty and are a perfect gift are my
Vanilla shortbread cookies
.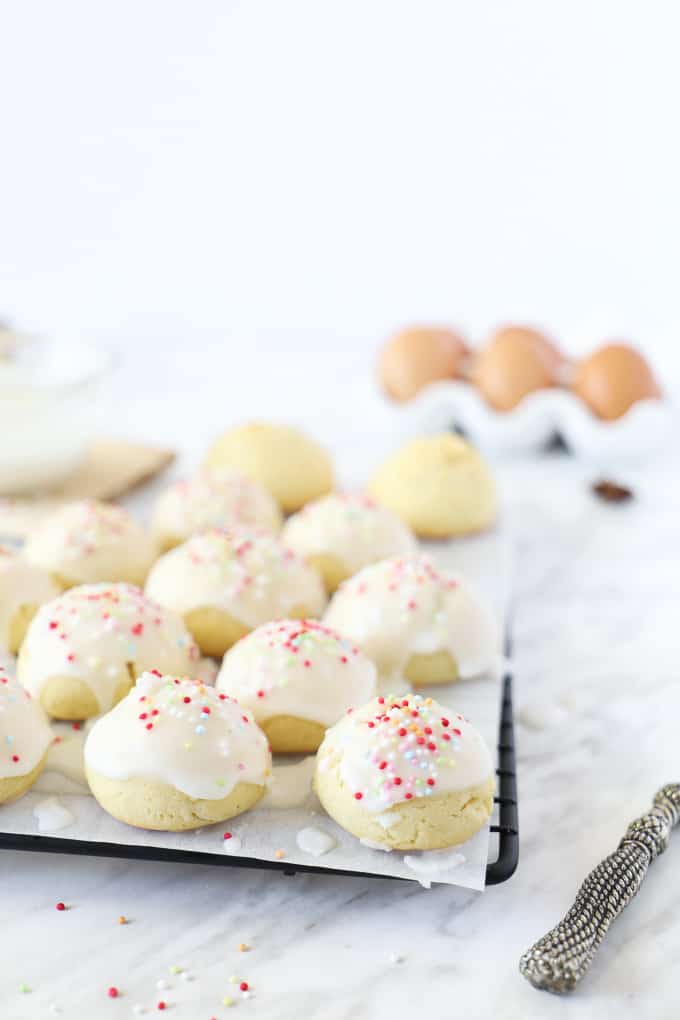 Helpful Items for This Recipe
This post contains affiliate links. As an Amazon Associate, I earn a small portion from qualifying purchases at no extra charge for you.
What are Anise Cookies?
Anise cookies are simple treats that use only pantry ingredients. As their name states it, anise has a subtle presence when you bite into the treat. A perfect balance as it is a hint and not an overwhelming taste in your mouth.
If you are wondering what anise seed or extract tastes like, it has an aromatic licorice flavor. It is a great addition to desserts, cookies or any sort of treats. It can also be found in some liquor.
These irresistible goodness are traditionally baked around Christmas time in the Italian families. Of course, in Europe, there are very similar recipes to this one with variations. Don't wait for December to enjoy them though!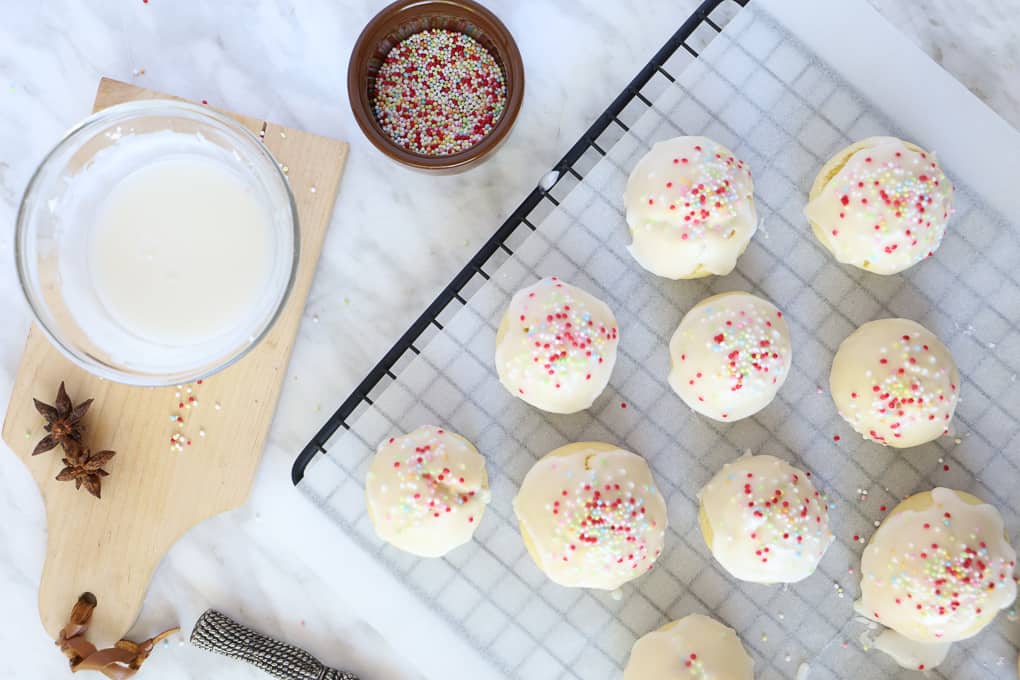 How to prepare Anise cookies?
The steps that lead to eating these addicting cookies are simple. You can involve kids if you wish, it is a great recipe for this purpose. Kids love sprinkles and will be happy at least adding those on to these delicious cookies.
What do I need?
I used my Kitchenaid stand mixer but if you don't have one, do not worry, a large bowl and a whisk will work as perfectly. A cookie sheet with parchment paper will be necessary for baking them.
Now, what do I do?
Preheat oven to 350 F.
Cream the butter and sugar together. Tip: if you forgot to get your butter out and it is still hard, consider grating it with a cheese grater! Best hack ever!
Next, add the eggs one by one. Wait until there are fully incorporated, then add the dry ingredients, baking powder, and the anise extract.
Lastly, add the flour progressively.
Your dough is slightly sticky but not too much to be able to shape the little balls and place them on baking sheets with parchment paper. If you feel it is necessary, you can add another tablespoon of flour.
Bake them for 10 to 12 minutes depending on the strength of your oven.
Prepare the glaze
This is a very easy step! You just need to mix the confectioner's sugar also known as powdered sugar or icing sugar and some water or milk. Tip: if it is too runny when you dip the top of your cookie, add a tablespoon of icing sugar to thicken your glaze. Dust with multicolor nonpareils or any sprinkles of your choice.
NOTES:
If you don't have anise extract, you can substitute with any other flavor of your choice, almond, vanilla, or lemon are also a delicious hint to these cookies.
Try to make the cookies the same size so they bake evenly. If you need, to shape them equally, use an ice cream scoop (you might end up with 18 cookies rather than 20/22 as it is slightly bigger.)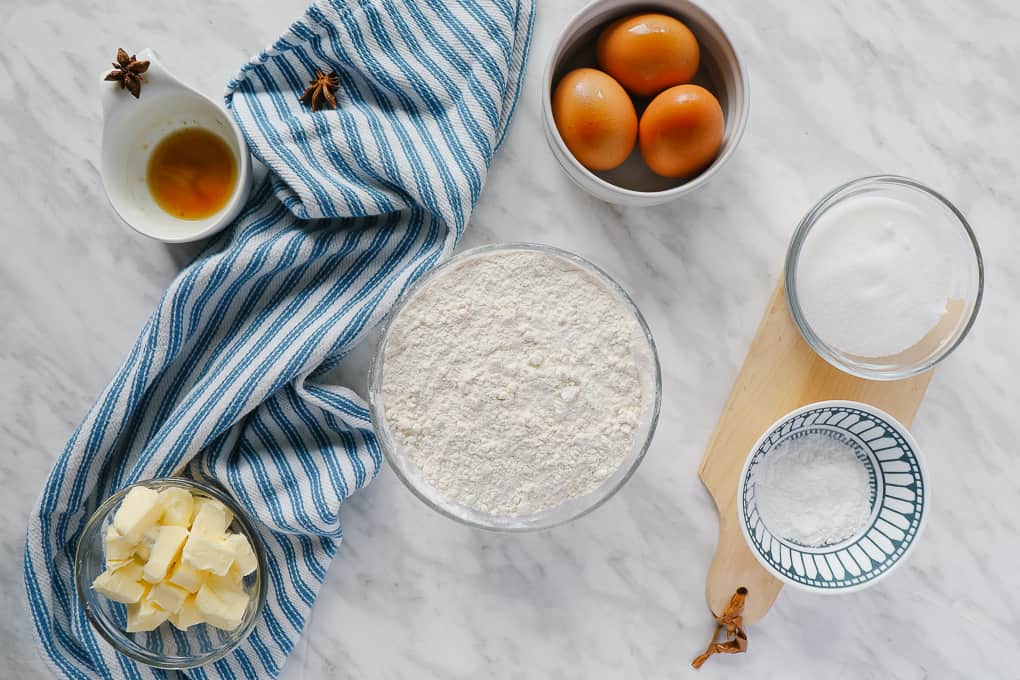 Can You Freeze Anise Cookies?

Absolutely, you can freeze them raw: thaw them before baking them, that's all. You can also bake them and freeze them without the glaze. When you are ready to eat them, thaw them completely and add the glaze, then sprinkles.
How should I store the cookies? If you intend to freeze them, it is a great idea to freeze your anise cookies on your baking sheet.
Once there are individually frozen you can put them in a zip lock bag. This is a great way to keep them in your freezer if you are doing a double or triple batch.
The fresh cookies can be kept at room temperature for 5 to 7 days in an air-tight container. Your nonpareils might bleed a little so it might not be as presentable but still as delicious nonetheless.
What Else Can you Use Anise For?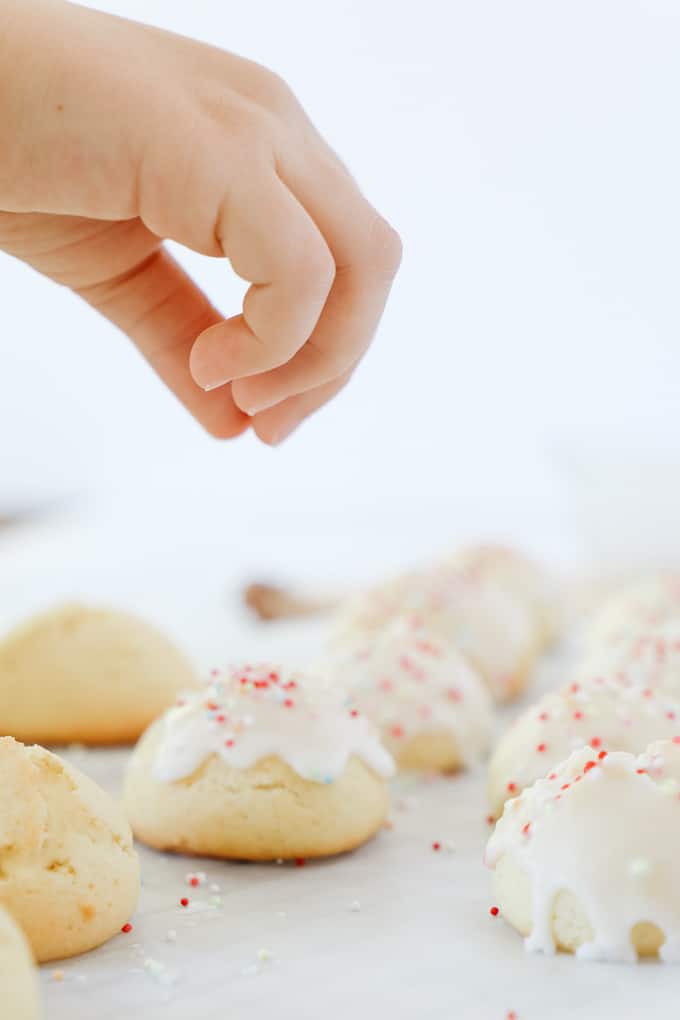 Don't want to buy anise extract for just one recipe. Here are some ideas where else you can use it. Try using it in other baked goods like biscotti, cake, and other cookies.
Drinks like coffee, hot chocolate, and liquors are delicious with the added flavor from anise. It is also commonly used in Mediterranean and Latin American cuisines. You probably have tried Italian sausage as they like to put anise in there also.
The anise seed can be brewed to make a scrumptious licorice-flavored tea. You might have also tried liquors like Sambuca (Italy), Galliano (Italy), Ouzo (Greece), Absinthe (France), and Anisette (France) that all contain anise.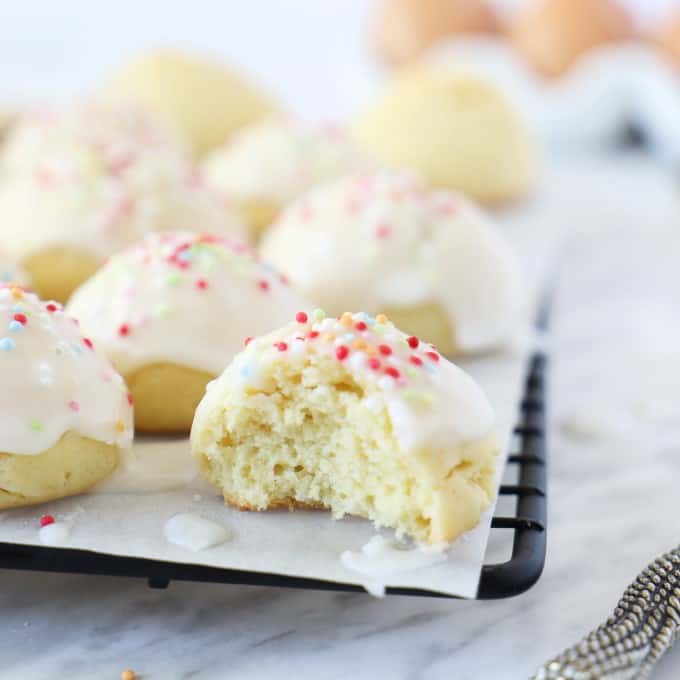 Pin it HERE!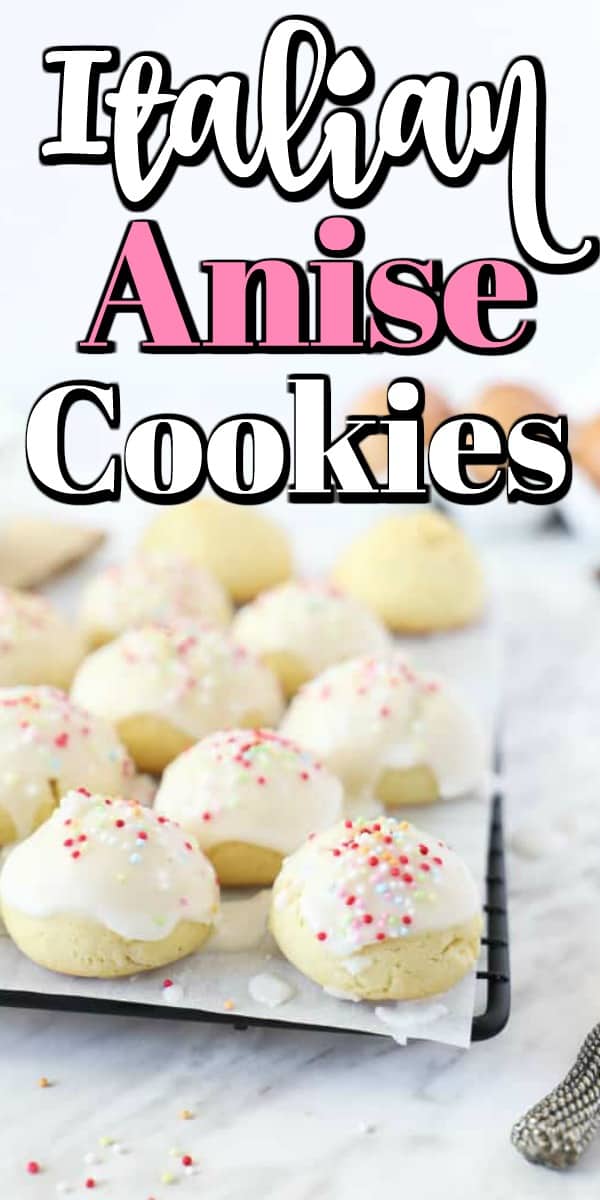 Pin it HERE!!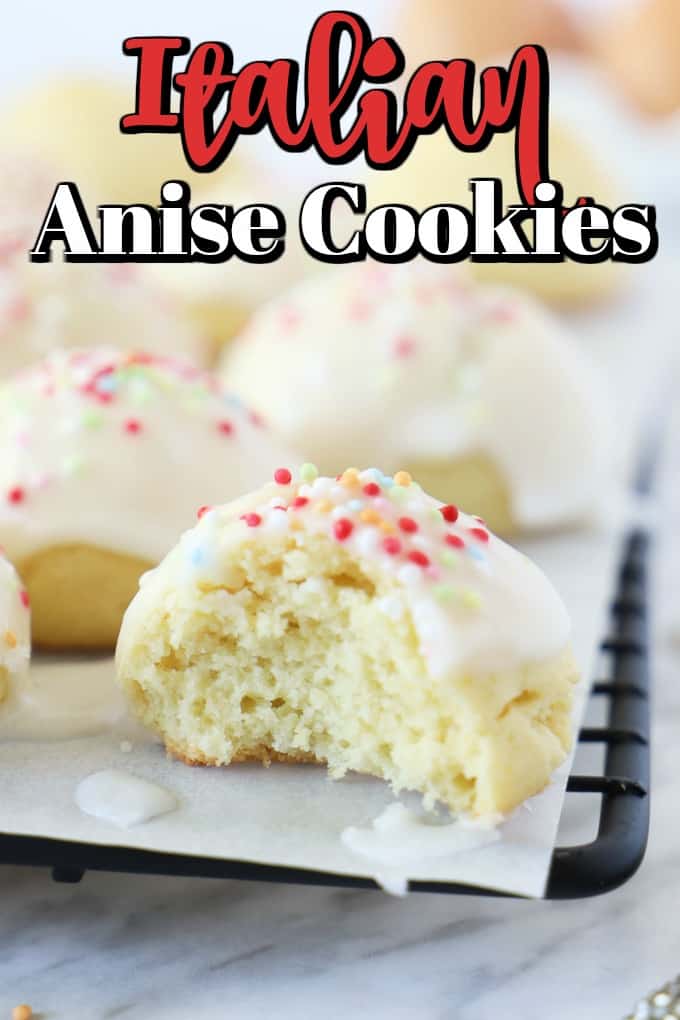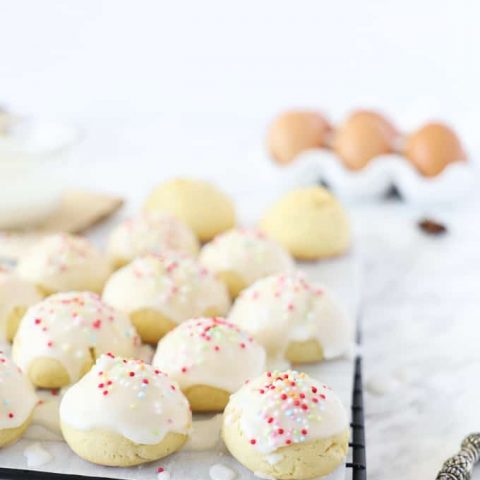 Italian Anise Cookies
Yield: 20-22 cookies
Prep Time: 15 minutes
Cook Time: 10 minutes
Total Time: 25 minutes
These cute little Italian Anise Cookies are a traditional recipe with a glaze topped with nonpareils. Prepared with simple ingredients from the pantry, these little balls flavored with anise will become your favorite.
Ingredients
For the cookies
1/2 cup of butter, soft
1/2 cup of granulated sugar
3 eggs, medium size
2 tsp. of anise extract
2 1/2 tsp of baking powder
2 cups of flour
Glaze
1 cup of icing sugar
2 tbsp of milk (or water)
Instructions
Pre-heat the oven at 350F.
In a large bowl, cream the butter and the sugar.
Add the eggs, one by one. Mix well.
Incorporate the baking powder and pour the anise extract.
Add the flour and mix until fully incorporated.
Shape the dough into small balls (roughly smaller than a golf ball)
Bake them 8 to 10 minutes.
In the meantime, mix the icing sugar with the milk.
Once the anise cookies are baked and cooled down, dip the top of the cookie in the glaze and sprinkle immediately with nonpareils.
Repeat until done and enjoy!
Recommended Products
As an Amazon Associate and member of other affiliate programs, I earn from qualifying purchases.
Nutrition Information:
Yield: 22
Serving Size: 1
Amount Per Serving:
Calories: 125
Total Fat: 5g
Saturated Fat: 3g
Trans Fat: 0g
Unsaturated Fat: 2g
Cholesterol: 34mg
Sodium: 100mg
Carbohydrates: 18g
Fiber: 0g
Sugar: 9g
Protein: 2g