Pineapple Dream Dessert
I love easy desserts like this Pineapple Dream Dessert. They feed a crowd and if you are a pineapple or coconut lover you will be going back for seconds or thirds!!
We have made many "dream" desserts on our site. The ever popular Rhubarb Dream Bars, Pineapple Coconut Cherry Dream Bars, Strawberry Chocolate Dream Bars, and Old-Fashioned Hawaiian Dream Bars.
We love our pineapple desserts very much, especially in the winter months when they make you think of a tropical getaway! This creamy "dreamy" delight will be a great hit at anytime!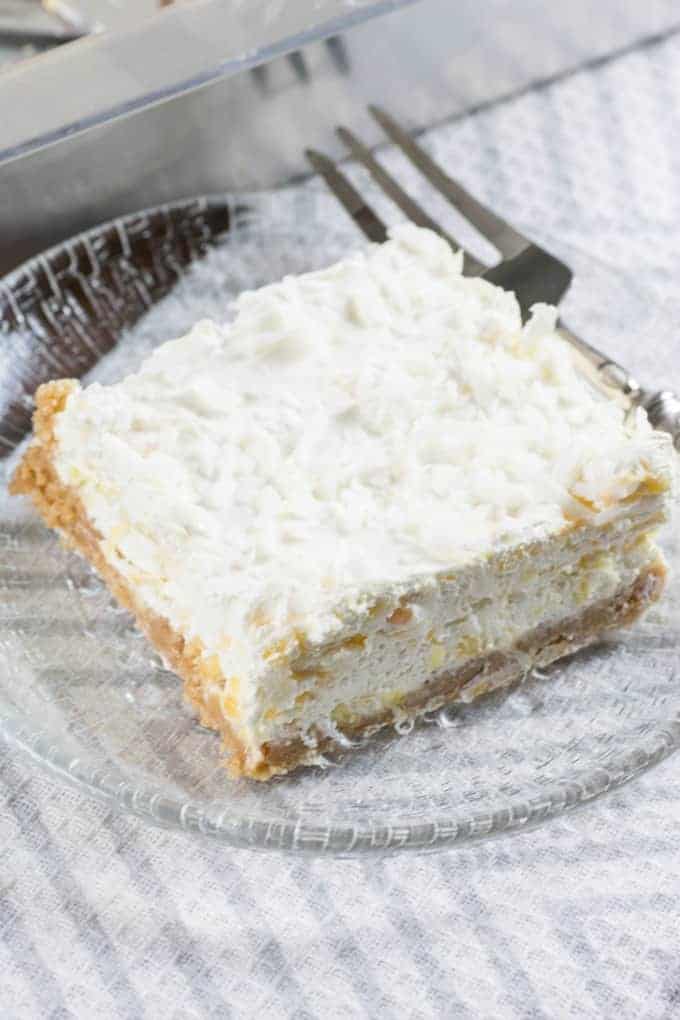 I use a whip topping for this recipe but you could use whipped cream also. Whatever you prefer!! It so pretty and white just like snow, it's definitely can be served to a crowd for the holidays.
Plus it is very easy to make ahead and it is a no bake dessert too! A win, win for anytime of the year!
We over purchased on crushed pineapple for some reason and had a few cans in the cupboard. I remember making this dessert for my girfriend years and years ago because she is pineapple lover and it didn't disappoint!
So with our extra pineapple I was off to make this dessert again and to share it with you!
How to Make Pineapple Dream Dessert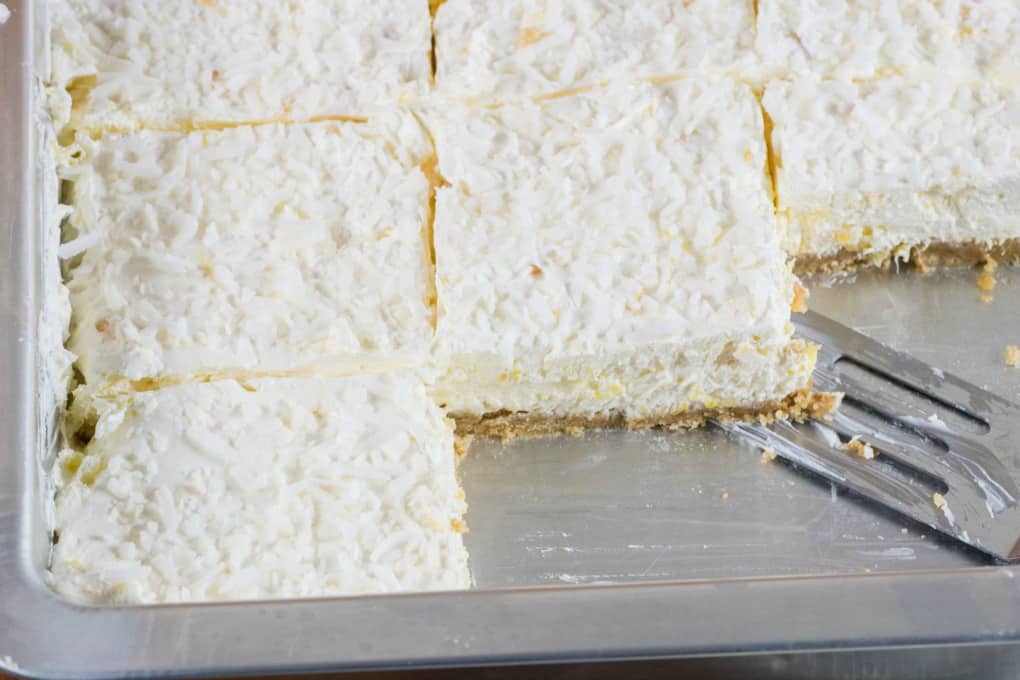 It is basically three simple layers. The first layer is a graham cracker crust that is graham cracker crumbs, melted butter and sugar.
When you melt butter and add it to the graham crumbs, a little trick to let the crust be more workable is to let it cool just slightly and it will become a bit firmer and easier to work with.
The second layer is a pineapple mixture of whip topping, cream cheese, butter, powdered sugar and of course pineapple. You have to beat the cream cheese and butter together until smooth so it is nice and creamy. Then add the powdered sugar with the whip topping. And lastly fold in the pineapple.
The final layer is a sprinkling of coconut that makes it look so pretty. Then cover it and pop it in the fridge! Easy as that!
This Dessert is Dreamy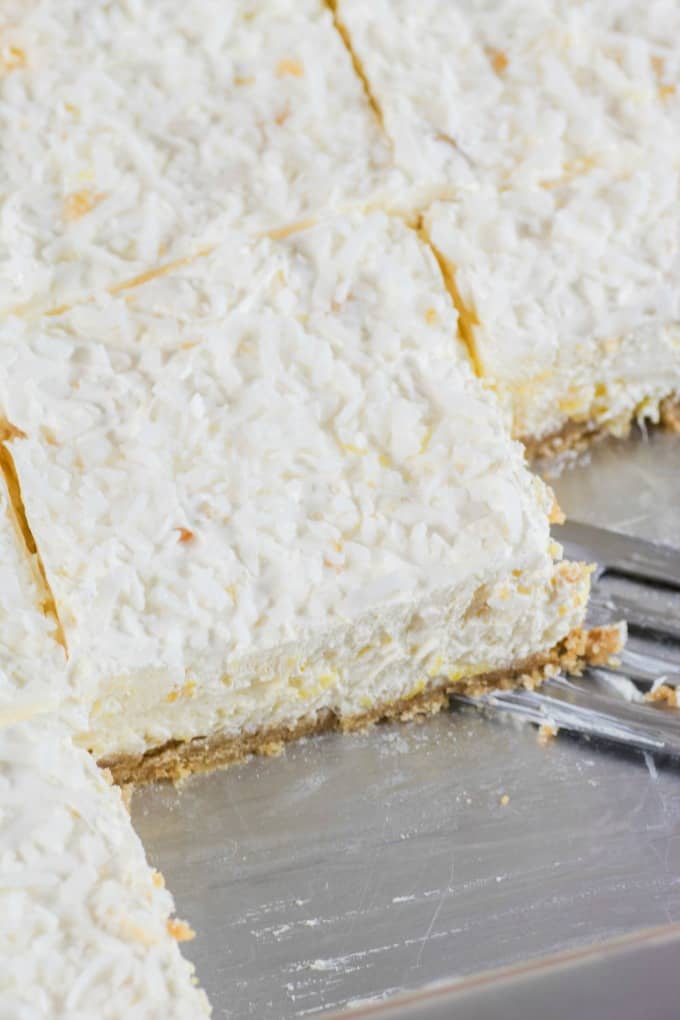 I am not sure where the term dream bars or dream dessert came from, could it be from "Dream Whip"? I haven't seen that in years and years though.
Pineapple Dream Dessert can take on many shapes, sizes and ingredients. This recipe in particular can also be called a Pineapple Dream Pie.
I have the perfect pan for this that I got from an estate sale at one of my neighbors homes. She clearly loved to bake and cook as she had room after room of cookbooks and many, many great serving pieces and dishes.
The pan I bought is a 9×13″ pan and comes with a lid too. Very convienent for this dessert and more plus it is nice and portable too. It is like this pan pictured below but a more vintage look with a harder plastic lid.
If you want a big thick dessert make this in a 9×9″ baking dish. You will have less but it will be much taller if you want to serve it like that.
You can use the extra graham crust to sprinkle on a top layer as you see that also in recipes. Otherwise reduce the graham cracker crust by a third.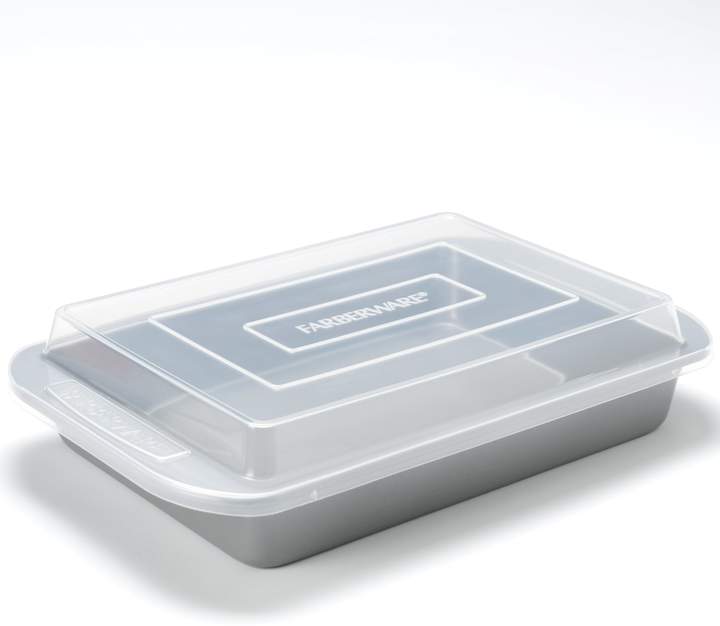 *affiliate link
These pans are not expensive and will come in handy for many, many dishes and occasions! I love ours and come up with recipes just to use it!
If you have potlucks or holiday gatherings this pan will come in handy again and again.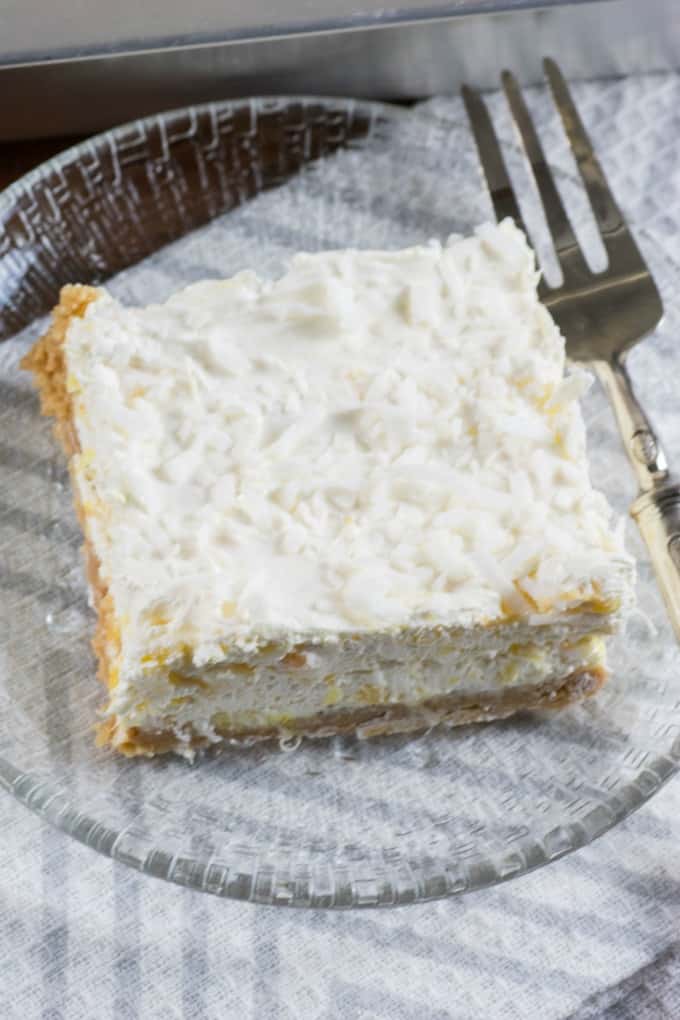 This recipe and all of its versions has been around for a long time. A great classic or vintage recipe like this will stand the test of time.
Don't keep this as a summer dessert only as I said it is great to serve a crowd and everyone will love the tropical flavors!!
I like how scrumptious it is but also that it is light and not so filling after a big meal. There are many reasons to love this dessert!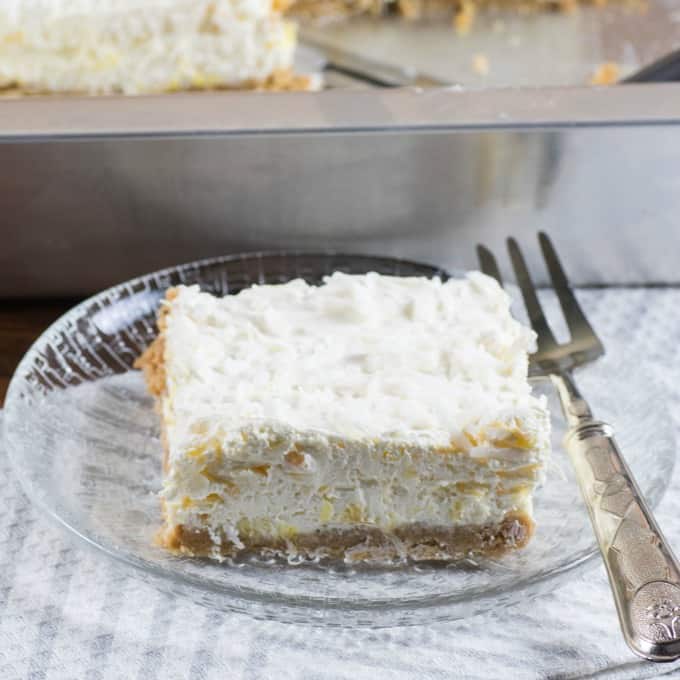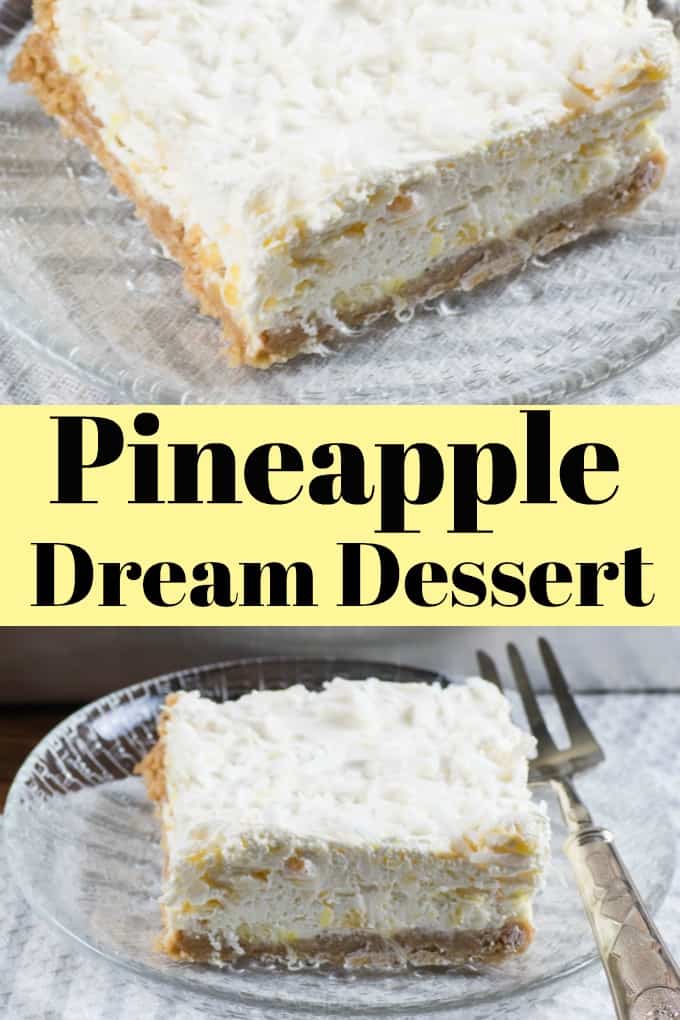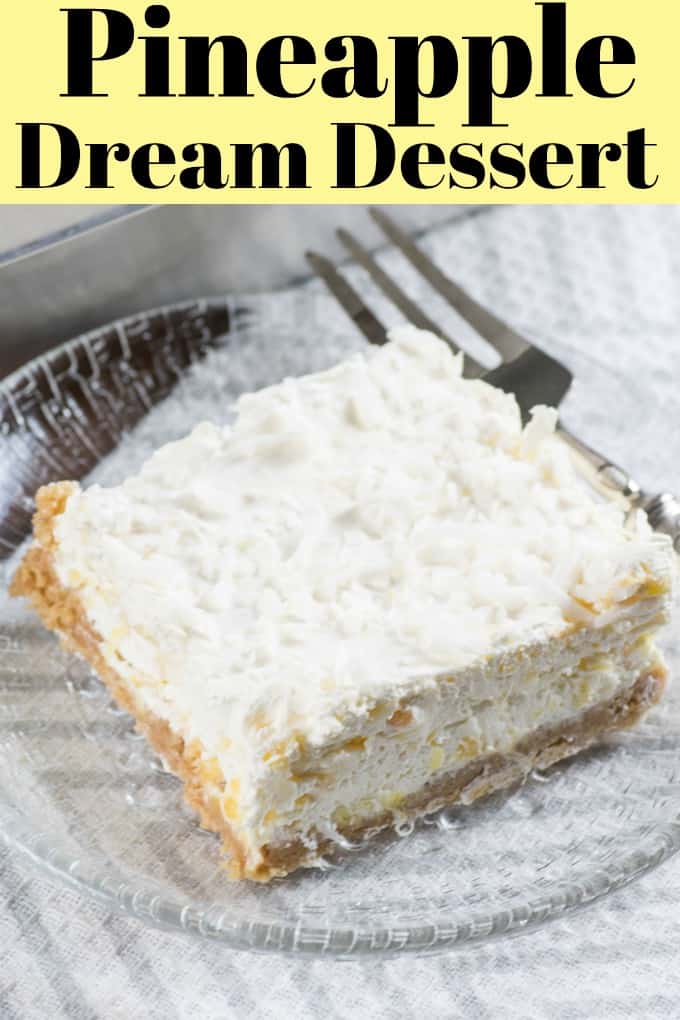 Pineapple Dream Dessert Recipe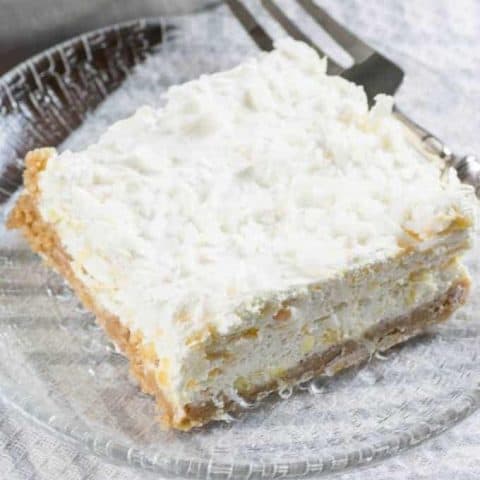 Pineapple Dream Dessert
Yield: 15 servings
Prep Time: 15 minutes
Total Time: 15 minutes
This vintage creamy scrumptious Pineapple Dream Dessert will get you rave reviews. It is also the perfect portable dessert!
Ingredients
Graham Cracker Crust
1 3/4 cups graham crumbs
1/2 cup melted butter
1/3 cup white granulated sugar
Pineapple Layer
1/2 cup cream cheese (4 oz.)
1/2 cup butter (4 oz. )
1 1/2 cups icing sugar
1 litre (33 oz.) whip topping
14 oz. can crushed pineapple, well drained
Topping
Instructions
Mix together the graham crumbs and sugar in a medium bowl. Add the melted butter and combine with a fork. Let cool slightly to help it form better to the pan.
Spread into the bottom of a 9x13" pan and press firmly into the pan.
For the pineapple layer, cream the butter and cream cheese together well with a standup or hand mixer. Add in the powdered sugar slowly.
Mix in the whip topping and fold in the pineapple
Spread over the prepared graham cracker crust.
Sprinkle on the coconut, cover and refrigerate until ready to serve.