It is Cupcake Day here at the Noshing With The Nolands. I couldn't resist joining this one. For today I bring you Vanilla Candy Cane Cupcakes.
I made these for our daughter's birthday which was yesterday and they were a huge hit. The kids had them at night and again in the morning. Our daughter doesn't really like a big cake for her birthday. She really isn't a huge fan of a big slice of cake but she loves her cupcakes. These birthday cupcakes have also been a big hit.
One of her favorites is vanilla with some other sweet and yummy topping. Being close to Christmas I had some candy canes and decided to incorporate the two flavors.
I also thought it would be fun to add jimmies (sprinkles) to the batter. To give the same candy cane colors on the inside but to leave the cupcake vanilla and add the peppermint frosting so it wasn't overbearing. The combination worked out perfectly. I have to admit I had to have two kicks of the cat for this one though.
For another festive cupcake try our Fun-Filled Grinch Cupcake, this will put a smile on everyone's face.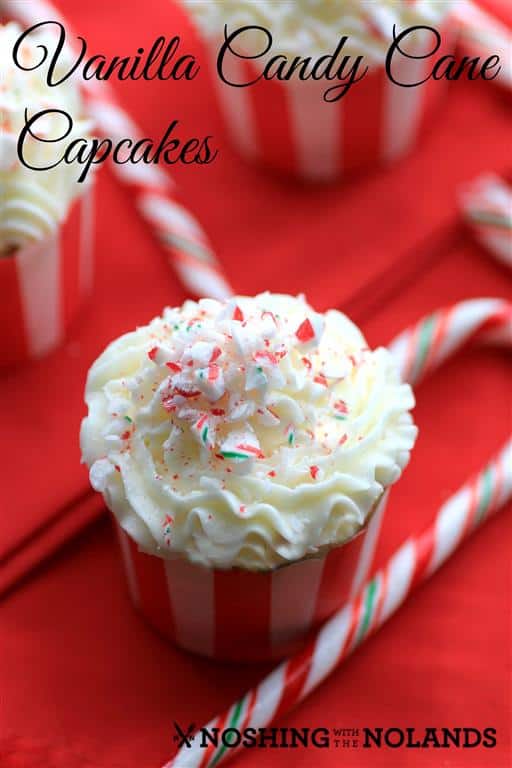 Helpful Items for This Recipe
This post contains affiliate links.
Red and White Strip Cupcake Wrappers
Jimmies Sprinkles (Red, White and Green)
I had never used these little cupcake holders before. They are adorable but you have to be very careful with them as they stand alone and not in a muffin pan. If they are more than half full they will overflow. I learned that the hard way. So it was round two of the cupcakes for me before I had them right.
The first batch was a different recipe and it could have been too runny also. Anyway, I went to a tried and tested recipe from my site and changed it up to what you see today.
The cupcakes are just the right sweetness, I hate when they are sickeningly sweet. The icing is buttercream and it is delicious.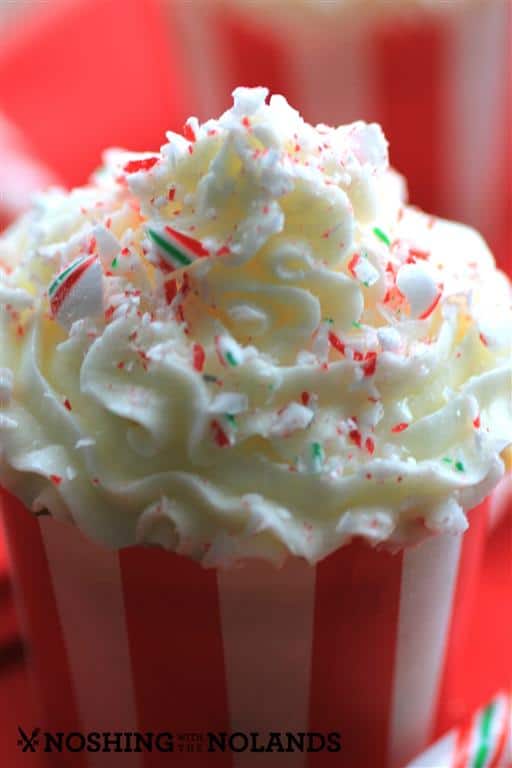 Easy to make and can be doubled if you like to pile them high with icing or the recipe that I give you works for a nice even layer and that is how Amber likes them, not piled up as you see here. To each his own!!
I would love to share a big bite with you!! Or maybe just lean in for a lick!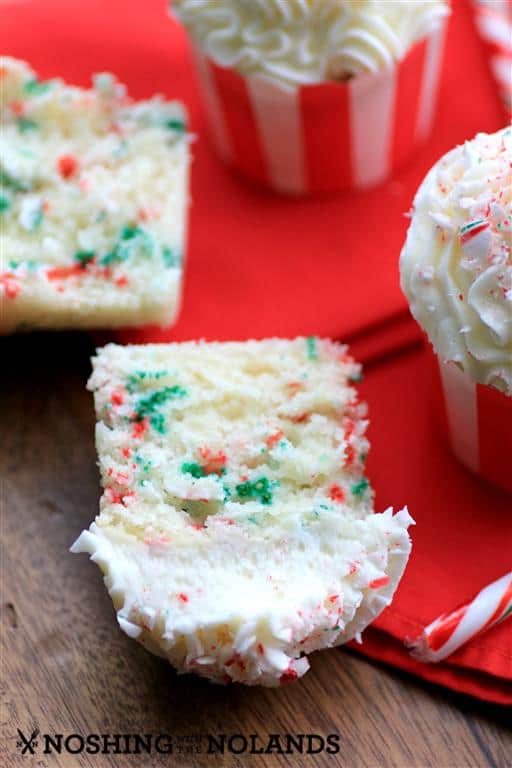 See how fun the jimmies (sprinkles) are. They add some great color and gee that couldn't be easier!!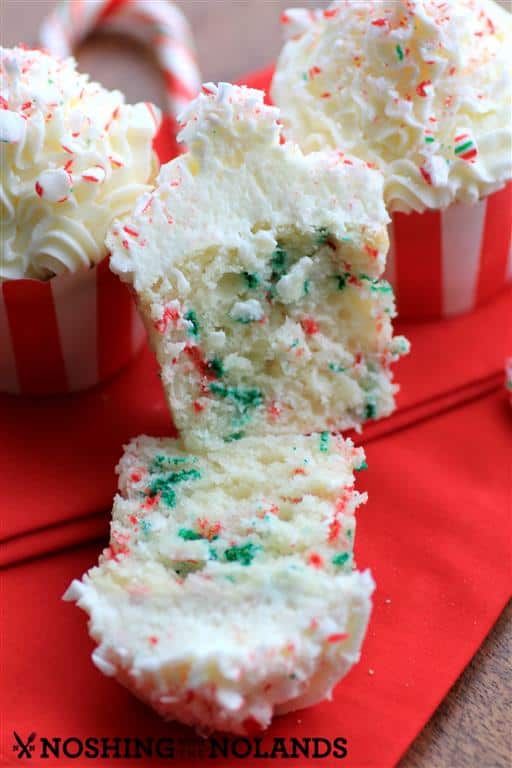 Easy and fun to make, I do love cupcakes.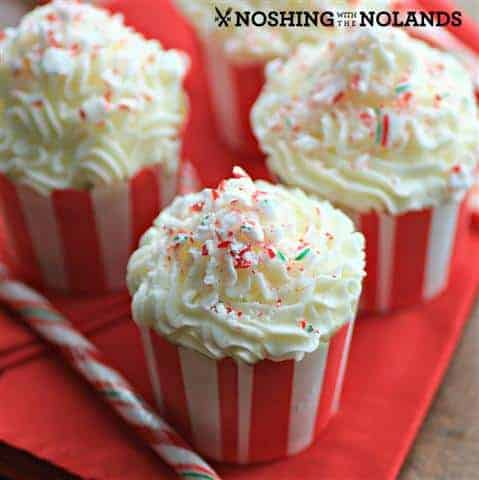 Vanilla Candy Cane Cupcakes Recipe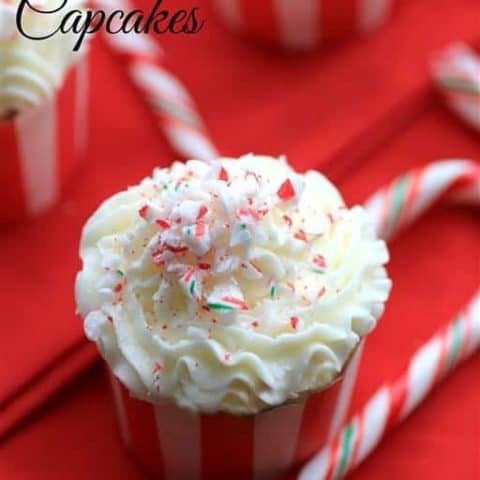 Vanilla Candy Cane Cupcakes
Yield: 24
Prep Time: 40 minutes
Cook Time: 20 minutes
Total Time: 1 hour
A holiday cupcake filled with the flavors of sweet peppermint.
Ingredients
3/4 cup butter, softened
1 1/2 cups sugar
3 eggs
1 tsp. vanilla
1 cup sour cream
1/2 cup milk
2 1/2 cup flour
2 tsp. baking powder
1/2 tsp. baking soda
1/2 tsp. salt
1/4 cup jimmies (sprinkles)
Buttercream Frosting
1 cup butter, softened
3 cups icing sugar
4 Tbsp. whipping cream
2 tsp. peppermint extract
3-4 candy canes crushed for topping
Instructions
Preheat oven to 350F. Line 24 muffin pans with cupcake liners. Cream butter and sugar together until fluffly. Add the eggs one at a time and then beat in vanilla, sour cream and milk. Mix well. In another bowl whisk the flour, baking powder, soda and salt together. Slowly add the flour into the butter mixture and mix until just incorporated. Fold in the sprinkes. Spoon into cupcake liners 2/3 full (1/2 full if using the upright cupcake holders like I used). Bake for 18-20 min. until they bounce back to a light touch and are lightly golden. Let cool on wire racks completely.
For the icing, cream the butter in a large bowl. Carefully incorporate the rest of the ingredients alternating the icing sugar with the cream and the peppermint extract and continue beating until light and fluffy. Place icing in a piping bag with a desired tip and decorate as desired. You don't have to be fancy. Sprinkle with candy canes. Place cupcakes in a covered container until you are ready to eat them. Refrigerate, remove from fridge 30 min. before serving. Enjoy!!
Nutrition Information:
Yield: 24
Serving Size: 1
Amount Per Serving:
Calories: 328
Total Fat: 18g
Saturated Fat: 10g
Trans Fat: 1g
Unsaturated Fat: 6g
Cholesterol: 68mg
Sodium: 239mg
Carbohydrates: 41g
Fiber: 0g
Sugar: 29g
Protein: 3g
More Delicious Cupcakes
Look at all the other amazing cupcakes you can make, I can't wait to see them all!! YUM!!