Here is a very happy post! One that I hope will inspire you to make these gorgeous Happy Birthday Cupcakes. They look like a celebration at just one glance! They also can be made for anyone, young or old would love you for them.
Vanilla cupcakes are my daughter's favorite. Amber was the one to make these gorgeous cupcakes for my birthday and to share them with you all here!
I just adore the color of icing she selected. It is a gorgeous blue and I know you all want to dive right into them. The cupcakes themselves are moist and delicious with a little added sour cream. II think cupcakes make anyone smile, I know our Strawberry Shortcake Cupcakes, Coffee Cupcakes with Caramel Filling, or our Homemade Pound Cake Cupcakes are also a hit with family and friends.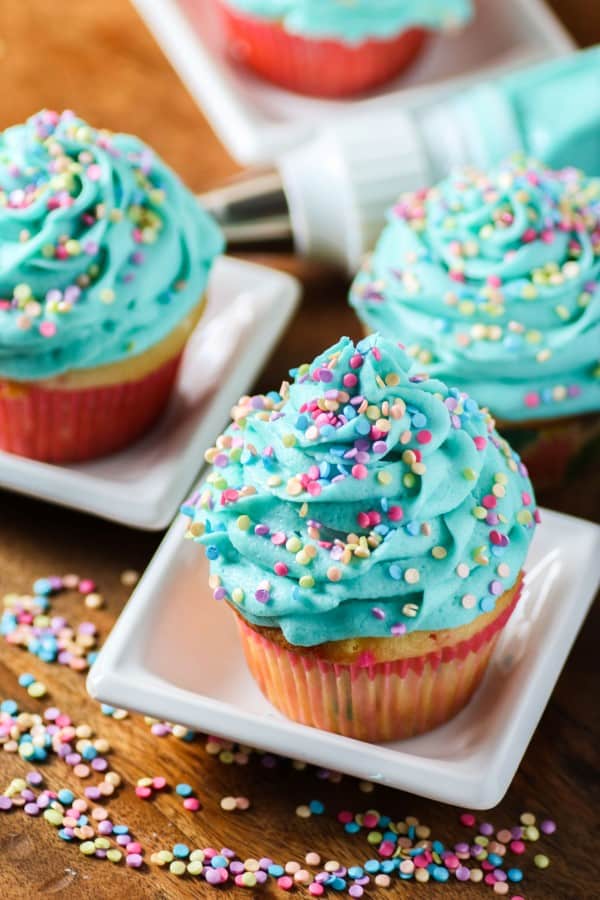 The buttercream frosting is perfection. If you want to mound it up high like you see here, you can double the recipe easily. Otherwise there is enough icing for a generous but more conservative amount for each.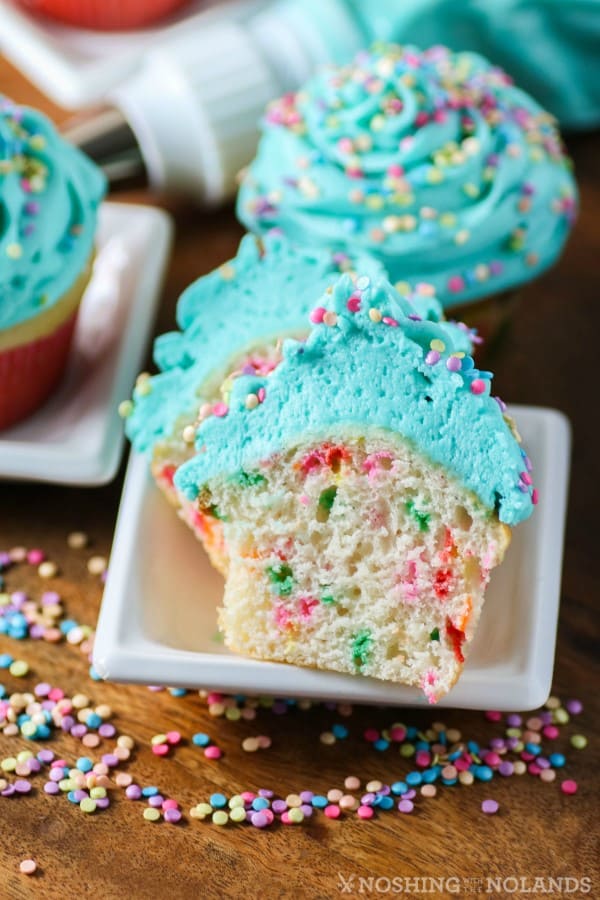 Not only do I love sprinkles on the outside but all the way through!! We used jimmies for the interior, they are the longer sprinkles you see around. Your local craft store should be able to provide you with a great selection but there are also more online.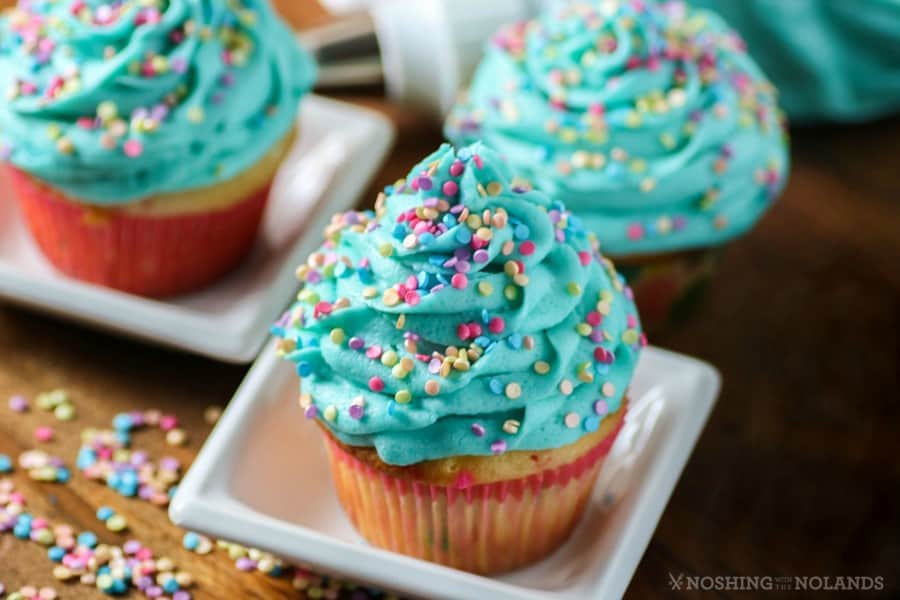 These cupcakes are a take off of our very popular Vanilla Candy Cane Cupcakes that so many of you have loved for the holidays!! With a few tweaks Amber has transformed them into gorgeous birthday cupcakes. These would also be so pretty for other occasions too like a bridal or baby shower, anniversary, Easter and more!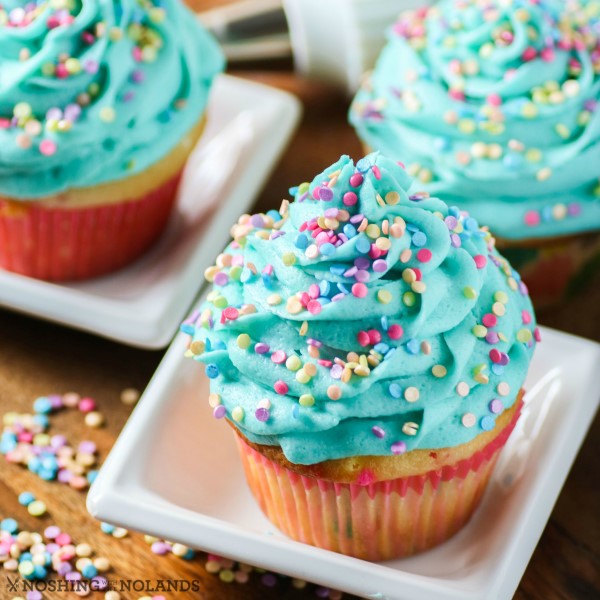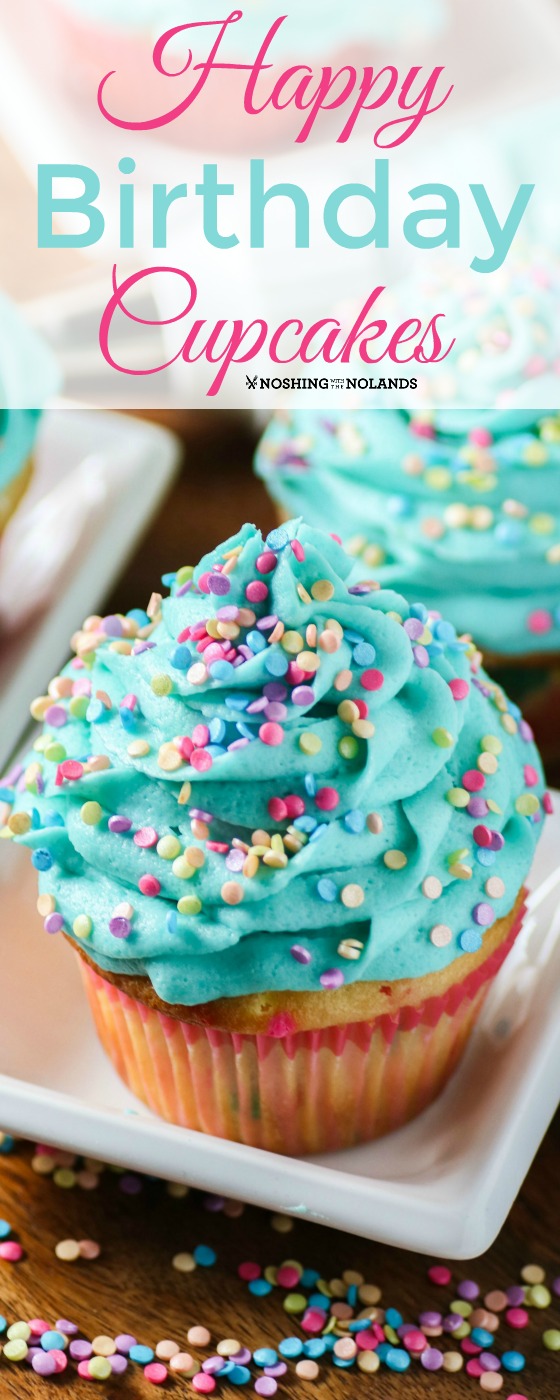 Happy Birthday Cupcakes Recipe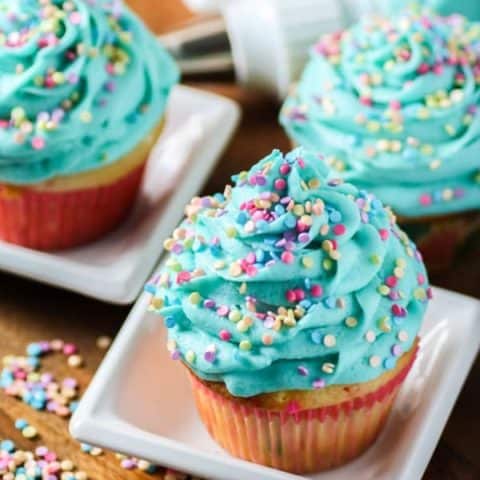 Happy Birthday Cupcakes
Prep Time: 40 minutes
Cook Time: 20 minutes
Total Time: 1 hour
Happy Birthday Cupcakes will surely put a big smile on anyone's face when they receive these moist vanilla cupcakes topped with buttercream frosting.
Ingredients
¾ cup butter, softened
1½ cups sugar
3 eggs
1 Tbsp. vanilla
1 cup sour cream
½ cup milk
2½ cups flour
2 tsp. baking powder
½ tsp. baking soda
½ tsp. salt
¼ cup jimmies (sprinkles)
Buttercream Frosting
1 cup butter, softened
3 cups icing sugar or confectioner's sugar (powdered sugar)
4 Tbsp. half and half cream
Blue Food Colouring
Round sprinkles or jimmies for the top
Instructions
Preheat oven to 350F. Line 18-24 muffin pans with cupcake liners. Cream butter and sugar together until fluffly. Add the eggs one at a time and then beat in vanilla, sour cream and milk. Mix well. In another bowl whisk the flour, baking powder, soda and salt together. Slowly add the flour into the butter mixture and mix until just incorporated. Fold in the sprinkes. Spoon into cupcake liners 2/3 to 3/4 full. Bake for 18-20 min. until they bounce back to a light touch and are lightly golden. Let cool on wire racks completely.
For the icing, cream the butter in a large bowl. Carefully incorporate the icing sugar and the cream and continue to beat until light and fluffy. Add more cream if necessary. Color to the desired blue colour and mix well. Place icing in a piping bag with a tip and decorate as desired. I usually use a star tip 21. You don't have to be fancy. Sprinkle with additional jimmies or sprinkles. Place cupcakes in a covered container until you are ready to eat. Refrigerate, remove from fridge 30 min. before serving. Enjoy!!
Tip: To mound the icing up high like you see, you will want to double the icing. Otherwise they will have a more conservative amount for each.