Do you love pulling out old recipes that you haven't made for a long time? I sure do, this Baked Cheddar Hash Brown Casserole Recipe was really popular back about 20-30 years ago.
The good news is that this hashbrown casserole recipe is gaining in popularity again. Part of the reason for its comeback is how really simple and easy these casseroles are to throw together and cook.
These cheesy potatoes make a great side dish to take to a potluck or family dinner. Nobody has to know how quick it is using frozen hashbrowns either!
If you would like to make this for a breakfast you can add in sausage or bacon, which would be divine too. Some of these hash brown casseroles are egg-based but this one will take you right from breakfast to dinner.
How to Make a Cheesy Hashbrown Casserole?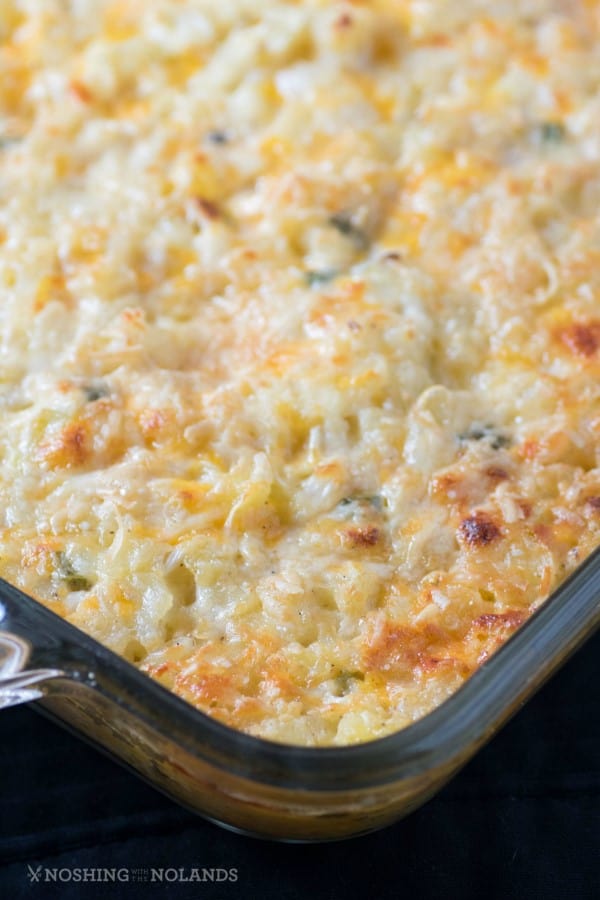 Not only is it a delicious and decadent recipe but super easy to make! A hash brown casserole is full of cheesy goodness.
This goes great at a brunch or a casual dinner to feed a crowd. It would make a superb potluck meal to take to an Easter dinner too as it would be gorgeous with ham.
Helpful Items for This Recipe
This post contains affiliate links.
Glass Oblong Baking Dishes (Set of 2)
You need only a few ingredients and using a bag of frozen hash browns that have been thawed makes this very simple to pull together.
What makes this so delicious? It has the richness of melted butter, plus two cups of shredded cheddar cheese, Parmesan cheese, cream of mushroom soup and sour cream.
Just mix all the ingredients up in a large bowl and have a prepared pan made up with cooking spray and your oven to 350 degrees.
Leftovers are the best also! A quick run through the microwave and your side dish is up and being served again!
Creamy and amazing, your family will love this scrumptious casserole! This dish is extremely versatile too.
Add what you like to it, this casserole is very customizable! A really simple change is to start with the soup.
Changing up the soup to cream of chicken soup, cream of celery, or cream of cheddar will give the casserole a totally different flavour.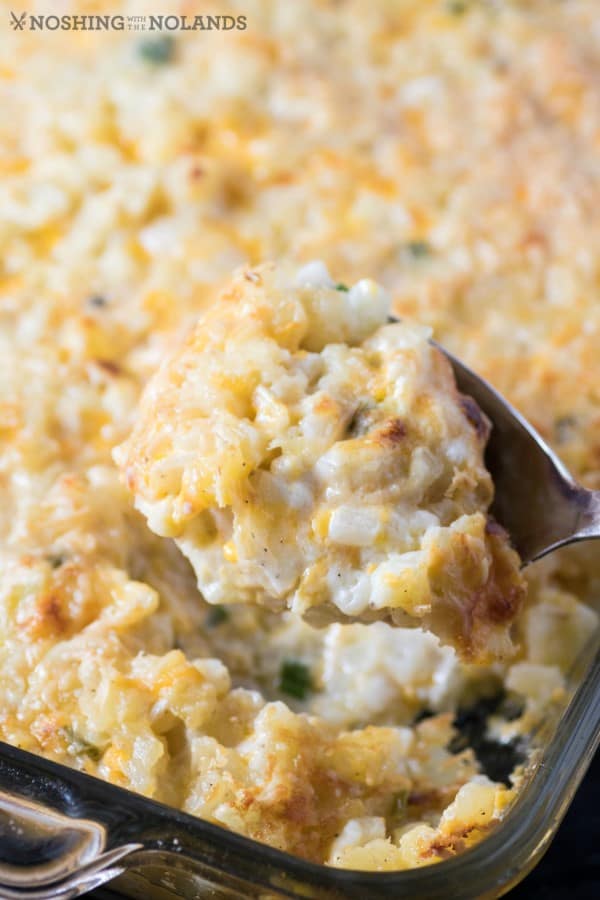 This casserole would liven up any weeknight meal for the family. The kids would be diving into the cheesy goodness!
You could hide some veggies in there also if you like – I could see peas and peppers being perfectly delicious in this casserole. Or broccoli and cauliflower – they go well with anything that has cheese and this casserole has lots of cheese.
If you wanted to make it a meal, you could add some meat protein too. Have some leftover cooked ham, chicken, or turkey in the fridge or freezer? You could put that in before cooking.
Or serve eggs and sausage with this as a cheesy breakfast casserole star of brunch.
Cheesy Hashbrown Casserole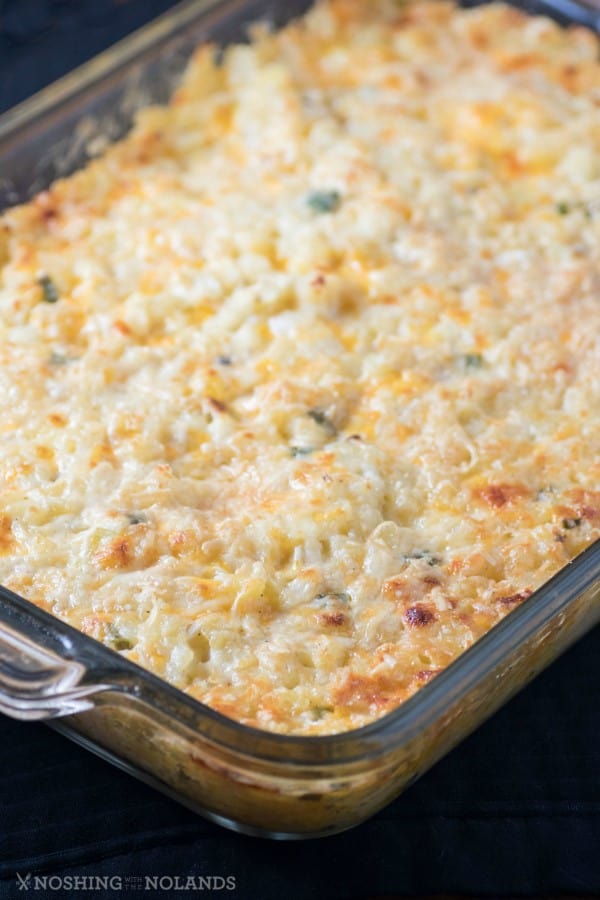 I love how the top gets a little crispy when it is cooked to a golden brown. Grab a big spoon to get an extra-large scoop. You are going to love this Baked Cheddar Hash brown Casserole.
You can make this easy cheesy hash brown casserole up to 24 hours before you want to cook it if you're looking to save time.
Just get everything ready and pop it in the fridge until you want to cook it. This is a great option if you are using this as a breakfast casserole. Put it together the night before and pop it in the oven in the morning for an easy breakfast.
If you want to freeze this casserole, you can but you should cook it before freezing. Sour cream is one of the ingredients in the dish and the texture can be affected by freezing.
For the best texture, cook the casserole as directed and then let it cool completely. Wrap it in aluminum foil and pop it in the freezer. Allow it to thaw before reheating.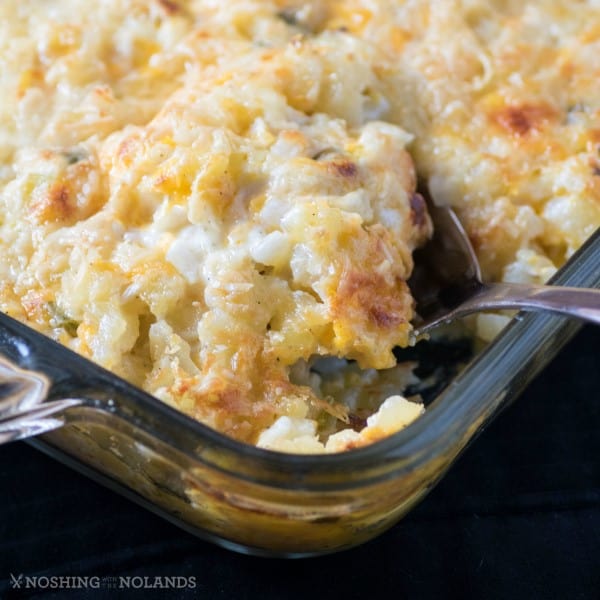 This cheesy hash brown casserole is just like a scalloped potato recipe but even easier. It could make an appearance at any holiday table – it's a real crowd pleaser and if you take it to an event, someone is sure to ask for the recipe!
Sometimes these casseroles are called funeral potatoes too. The story is that in certain parts of North America, you wouldn't be able to attend a funeral reception without there being at least one cheesy hash brown casserole.
Cheese and potatoes are classic comfort foods, so it really makes sense.
For more great casserole recipes check out AllFreeCasseroleRecipes!! You can quickly figure out what to have on the table tonight.
Pin it HERE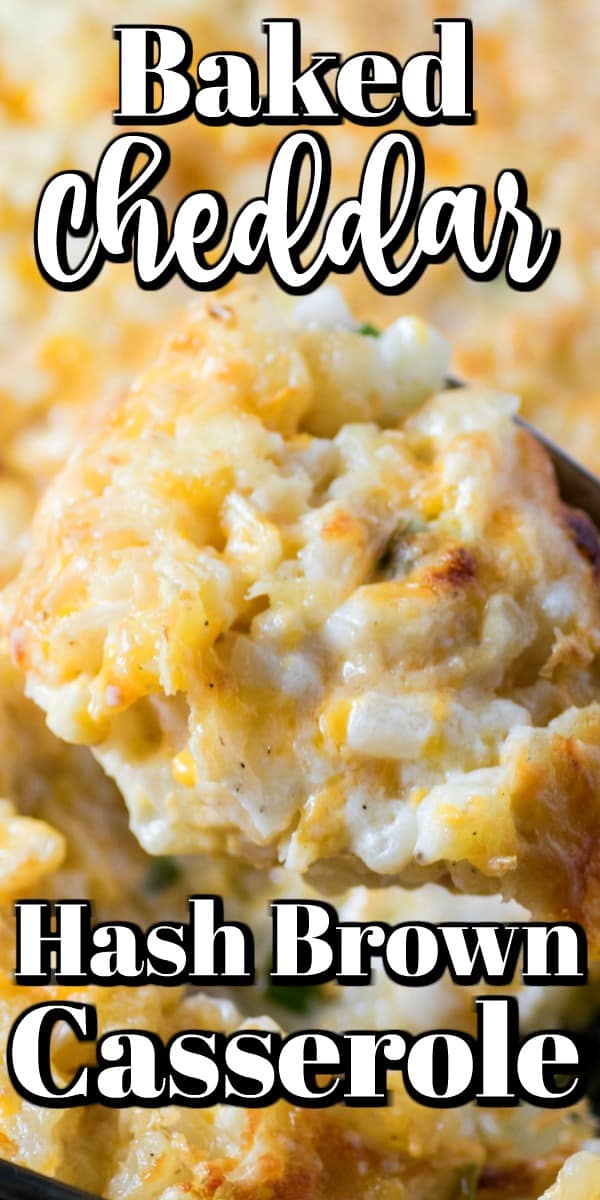 Pin it HERE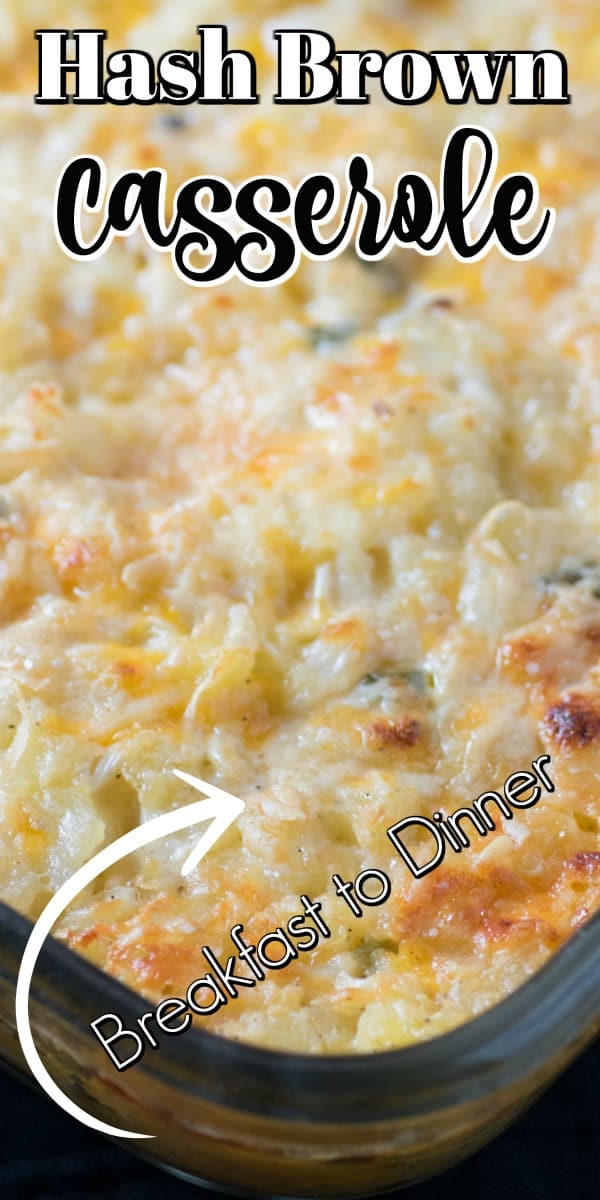 Baked Cheddar Hash Brown Casserole Recipe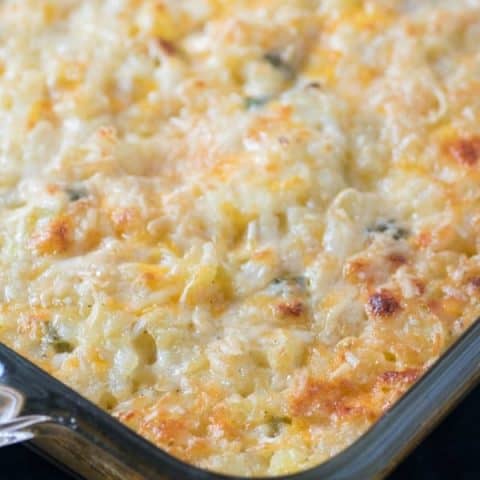 Baked Cheddar Hash Brown Casserole
Yield: 16-20 servings
Prep Time: 10 minutes
Cook Time: 1 hour 15 minutes
Total Time: 1 hour 25 minutes
A perfect side dish that will take you from brunch to dinner. Baked Cheddar Hash Brown Casserole is also delicious with ham and great as a potluck for the holidays!
Ingredients
1 kg. (2.2 lb.) package frozen hash browns, thawed
1 1/2 cups sour cream
1 (10 oz.) can cream of mushroom soup
1 medium onion, diced
3 green onions, chopped
1/2 cup melted butter
2 cups cheddar cheese
Salt and pepper to taste
1/2 cup grated Parmesan cheese
Instructions
Preheat oven to 350F. Grease a 9x13" pan.
Combine all ingredients together except Parmesan cheese and place into prepared dish. Top with Parmesan cheese. Bake for 1 hour-1 hour 15 min. or until bubbling and the top is nicely browned.
Let rest for 15 min. before serving.
Note: Bake uncovered but if it starts to brown too much cover later with aluminum foil.
Recommended Products
As an Amazon Associate and member of other affiliate programs, I earn from qualifying purchases.
Nutrition Information:
Yield: 20
Serving Size: 1
Amount Per Serving:
Calories: 259
Total Fat: 19g
Saturated Fat: 8g
Trans Fat: 0g
Unsaturated Fat: 9g
Cholesterol: 37mg
Sodium: 295mg
Carbohydrates: 17g
Fiber: 2g
Sugar: 1g
Protein: 6g