Do you love a great big juicy bone-in ham? Do you usually only have it once a year, like at Easter? That is when we usually have ours but we decided to make a one offseason and man was this a spectacular ham. This Southern Pecan Glazed Ham was perfection for us. Not sure I have had a better ham than this one EVER. Honey, brown sugar, sweet mustard with a hint of cloves and oranges and then smothered in pecans. Life does not get much better than enjoying a meal like this at any time of the year.
I have to say this is how I like my ham, with the bone-in and not spiral cut with the glaze that comes with it. A glaze is very easy to make, one pot, a little simmer, and voila you have got it made. The oven does all the work. Just a little prep ahead of time taking off some of the fat and giving it a criss-cross score is not hard work.
This ham would also make gorgeous sliders for game day, think of that sweet sauce with great mustard and cheese on little sliders!! I know your mouth is watering like mine is!! Serve this up on a big platter and watch everyone dive right in!!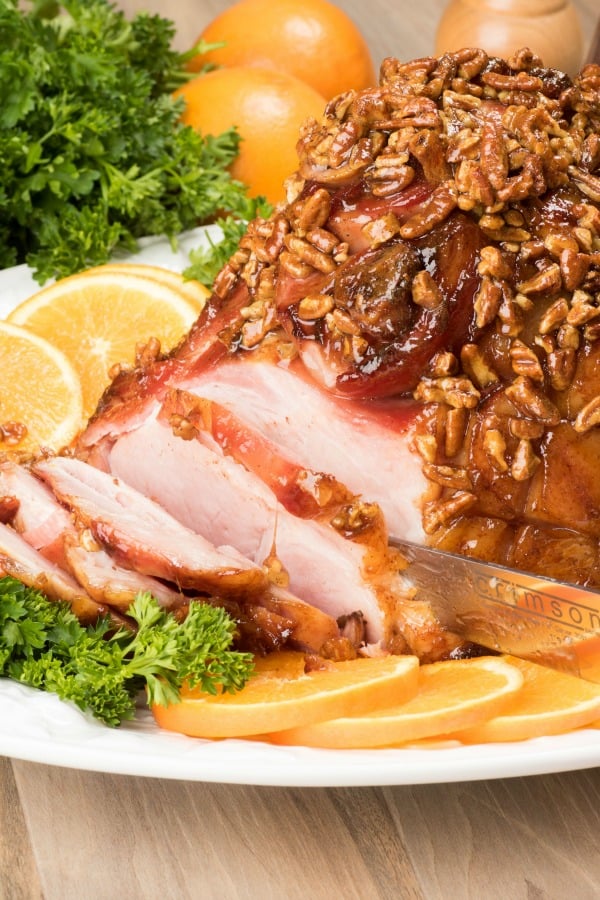 Wouldn't your family and friends be impressed with you presenting this at the table. Succulent ham dripping with a gorgeous glaze and piled high with pecans. I know I would be gobsmacked with a platter coming to me that looked like this.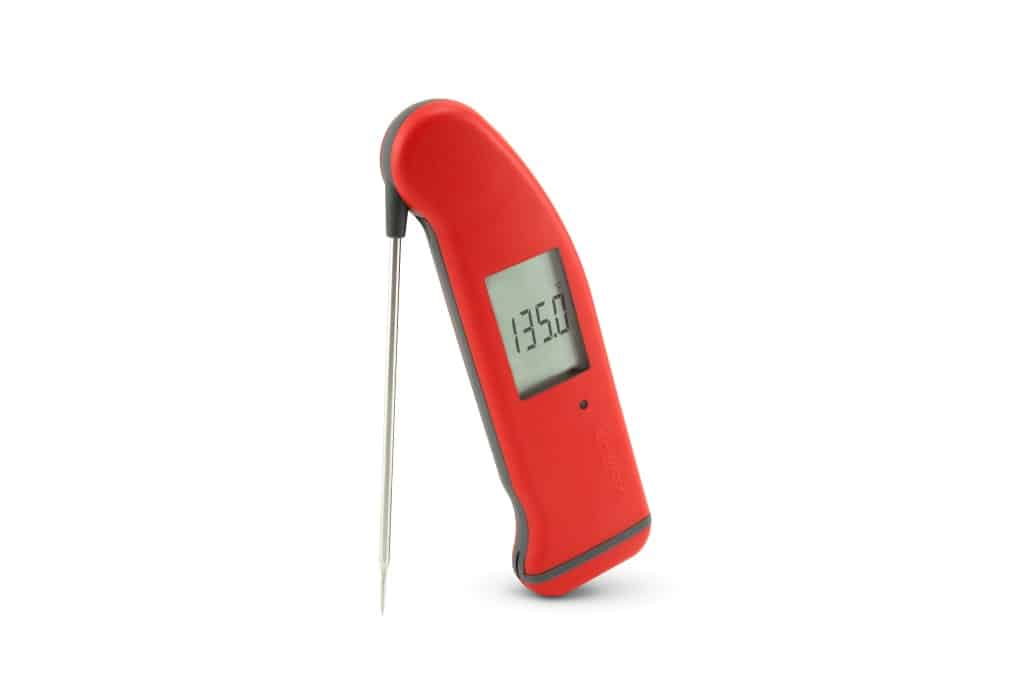 How do you check to see if it is done perfectly? I use my easy read Thermapen, it gives you a very accurate instant temperature. If I ham is already fully cooked (which most are) then you just need to heat to 140F.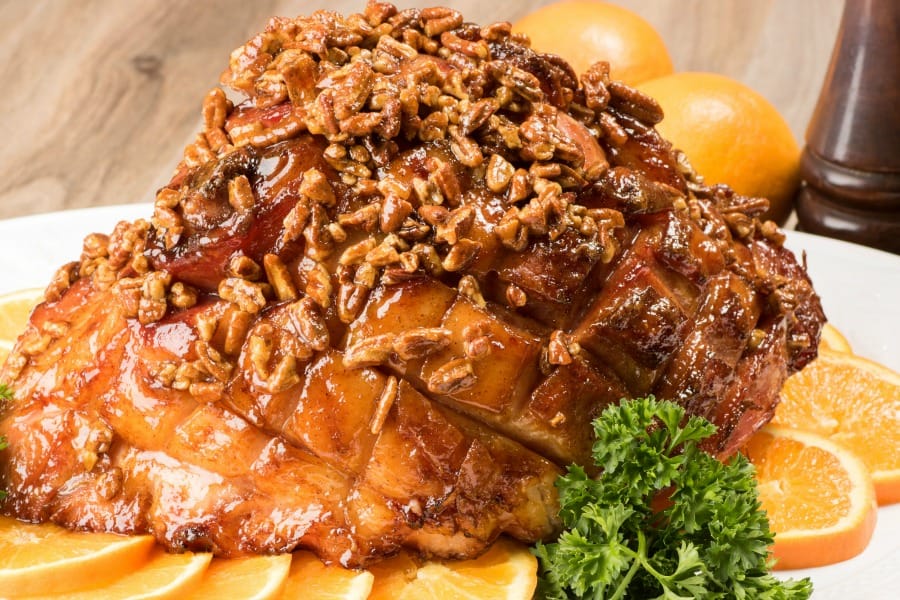 And it really is not a difficult dish. Some might find it intimidating but once you try it you will agree that it is very simple indeed.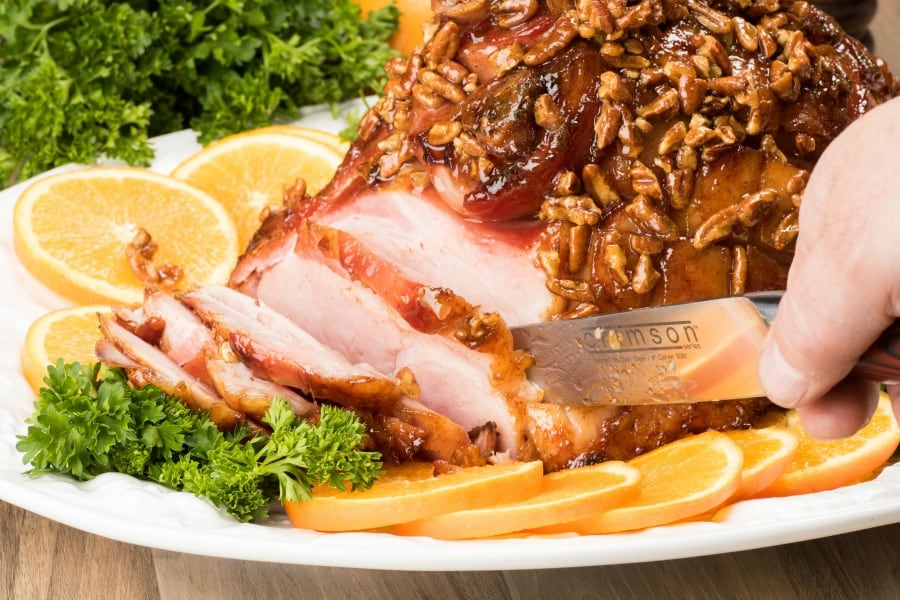 We enjoyed this meal with some traditional fixins' like Cheesy Scalloped Potatoes and also not very traditional Feta Roasted Carrot Recipe. It was a delicious feast and one that my whole family adored.
The Recipe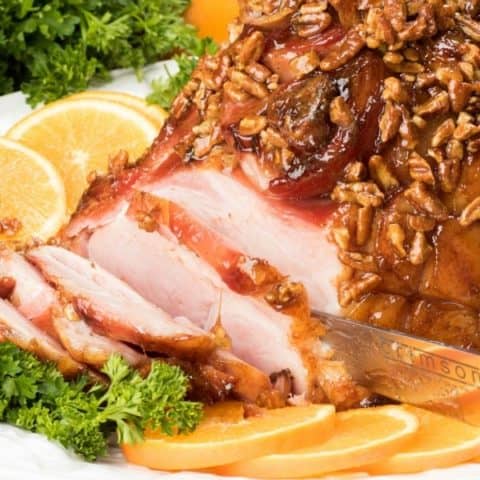 Southern Pecan Glazed Ham
Yield: 10-12 servings
Prep Time: 15 minutes
Cook Time: 2 hours
Total Time: 2 hours 15 minutes
This Southern Pecan Glazed Ham will be a family favorite and made many times over the year. It is easy and a stunning presentation table side.
Ingredients
1 cup brown sugar, packed
1/4 cup honey
1/3 cup orange juice
3 Tbsp. Dijon mustard
1/4 tsp. cloves
Cayenne, large pinch
1 cup pecans, rough chopped
ham, bone-in 10-12 lbs. fully cooked
Instructions
Preheat oven to 325F. Line a roasting pan with heavy duty aluminum foil. Place rack inside pan.
Add the brown sugar, honey, orange juice, mustard, cloves, cayenne to a small saucepan and bring up to a simmer. Let cook until thickened and slightly reduced, about 6-8 min. Add the pecans and set aside.
Remove the skin from the ham and some of the excess fat. Score the ham 1/4-inch deep making a diamond pattern. Place the ham on the rack and top with foil. Bake for 1 1/2 hours.
Remove ham from oven and increase oven temperature to 350F. Brush the ham with 1/2 of the pecan glaze, let bake uncovered for 15 min. and then repeat with the second half and bake a further 15 min. or until pecans are golden. Remove from oven and let the ham sit for 15-20 min. Spooning glaze over ham as it sits. Slice and serve.