Giant Juicy Turkey Burgers
Disclosure: I was compensated by Canadian Turkey for this post. All opinions and experiences are my own.
It is BBQ season and what better way to celebrate it than with Giant Juicy Turkey Burgers!! My family went nuts for this recipe. Our daughter is the biggest fan of turkey, hands down her favorite protein, so when she saw that we were making turkey burgers again she was thrilled.
Canadian Turkey's low-fat, high-protein content make it the perfect partner for summer grilling. Just like any burger, without the right ingredients to go in them they can fall apart and be tasteless. Today my recipe is anything but that.
Full on flavor and the perfect patty that stays together to give you the perfect bite. Grilling is an easy way to get dinner on the table and something that everyone loves in the summer months.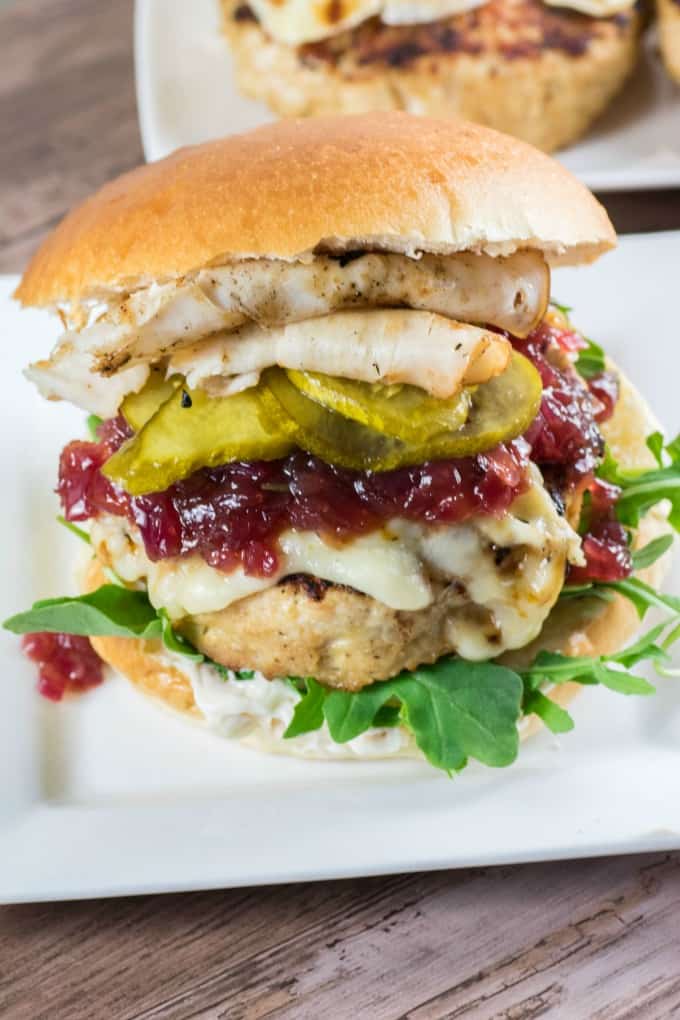 Now this burger just doesn't have a giant juicy turkey patty but it also has grilled smoked turkey to give you that extra turkey boost and what could be easier than that.
I also give this turkey burger a big oomph of flavor from a homemade onion jam that is not hard to make at all. I used a no stir method for the caramelizing part so the onion jam just cooks away while you do nothing!!
Then for a cheesy component I added brie for its rich creamy flavors that blend so well with turkey. Finally a little mayonnaise on the bottom (no sandwich is complete without), arugula for a spicy addition and a few slices of yum-yum pickles to balance it all off.
My family said this was the most delicious burger they have ever had.
How to Make a Turkey Burger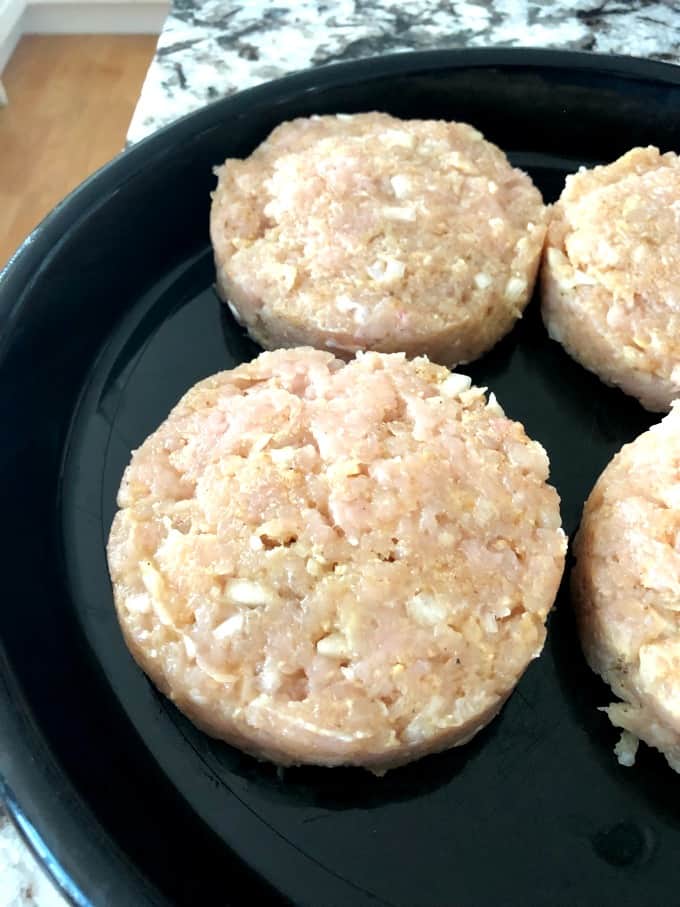 How to make a turkey burger is easy! Turkey is a lean protein as mentioned so I like to add in a healthy fat like olive oil to keep it juicy while cooking. These big boys are a half pound each which you can scale back easily to a quarter pound.
We have a big burger press that we make these in but you can use another tried technique by starting with a tennis ball size scoop of meat, roll gently between your hands and flatten to a 1″ height.
With your thumb make an indent in the center of your burger. This will stop the burger from making a domed shape while cooking.
I like to add in great flavors like Worcestershire sauce, Dijon mustard, garlic, onions and of course salt and pepper. Ground turkey likes big bold flavors!!
To keep the burger together I will use an egg and breadcrumbs as a binder.
Once your patties are made it is a great idea to chill them. Not only is this easy to make ahead of time but having them in the fridge for 30-60 minutes before grilling will let your burgers set up and help keep them from falling apart.
This also lets all those flavors that I have added time to mingle and absorb into the meat.
How Long to Cook Turkey Burgers?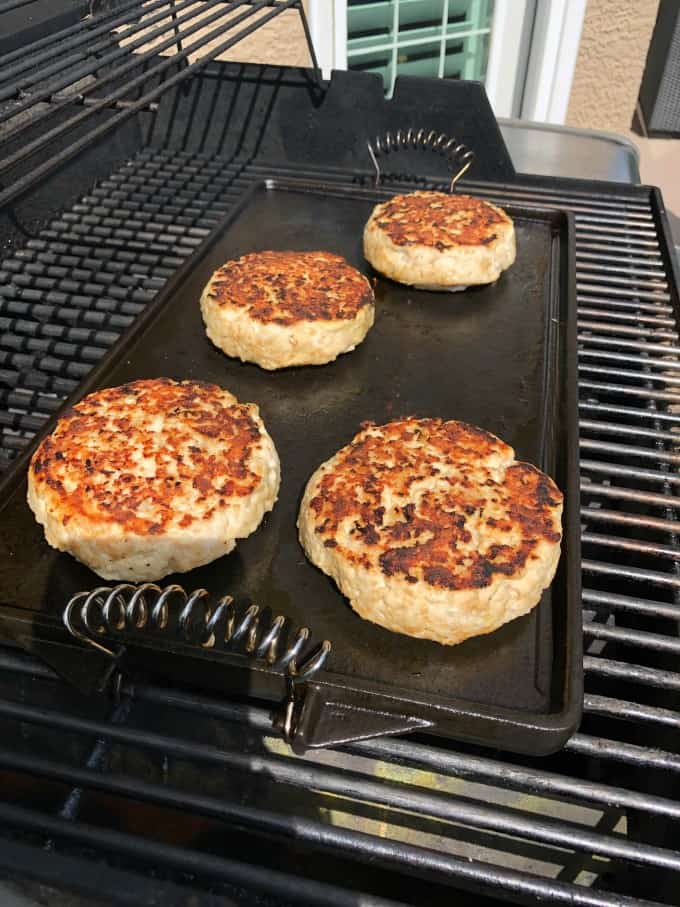 How long to cook turkey burgers depends on the size of the burger and the cooking method. We love to cook ours on this flat grill so they get that lovely outside crust.
To cook them directly on the grill make sure your BBQ is clean and free from any debris. Also before igniting make sure the BBQ is well oiled, this will prevent the burgers from sticking.
Now don't over do it and throw your burgers on a really hot grill, this will toughen up the meat. Preheat the grill to medium high and cook your burgers over medium high to keep them tender and juicy.
Don't over fuss with your burgers by flipping them often. Leave them and turn them once only. Cook the patties 4-6 minutes per side (7-10 minutes for these big ones).
Don't flatten them out with your spatula as this will release all the juices and make your burgers dry.
Continue cooking your burgers and use a thermometer to check that they reach an internal temperature of 165F. This will ensure your burgers are cooked thoroughly. Now let your burger rest for 10 minutes as this lets the juices re-absorb.
How to Make Onion Jam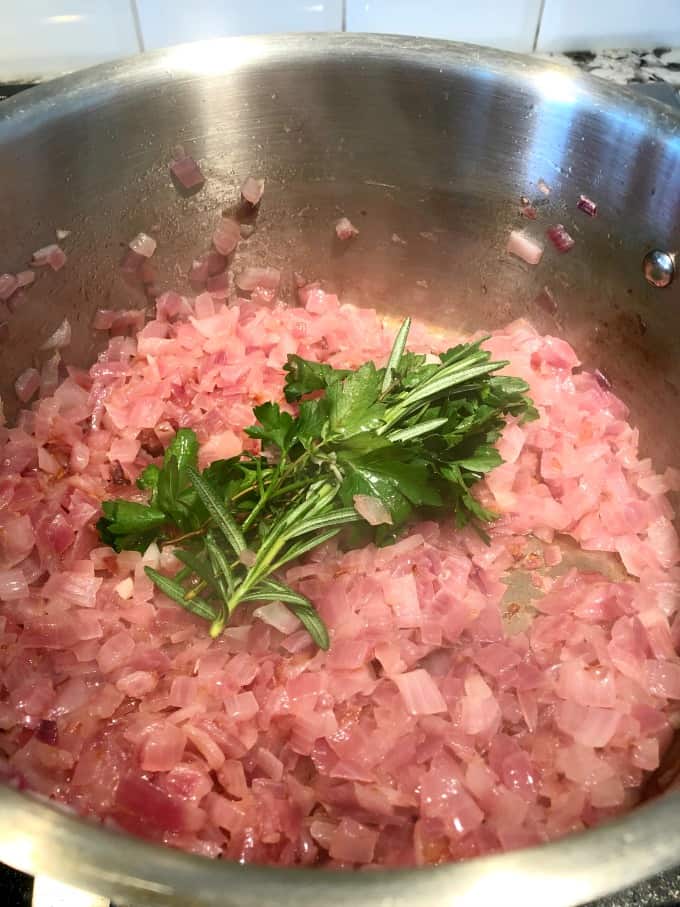 How to make onion jam is easy. It is wonderful to have a great condiment to go with a turkey burger. This onion jam can be made a day or two ahead even as it keeps for at least 5 days refrigerated.
I made mine the morning of and had it refrigerated and ready to serve when the burgers were done.
I sauteed 3 large diced red onions in olive oil until golden brown. Then I added in fresh herbs from the garden tied with kitchen twine, pictured above.
The sugar was then added and allowed to melt without stirring on low heat. The heat was then raised to high to allow the sugar to caramelize and turn an amber-brown.
Lastly, vinegar was added and after stirring a few times and simmering the jam was completed.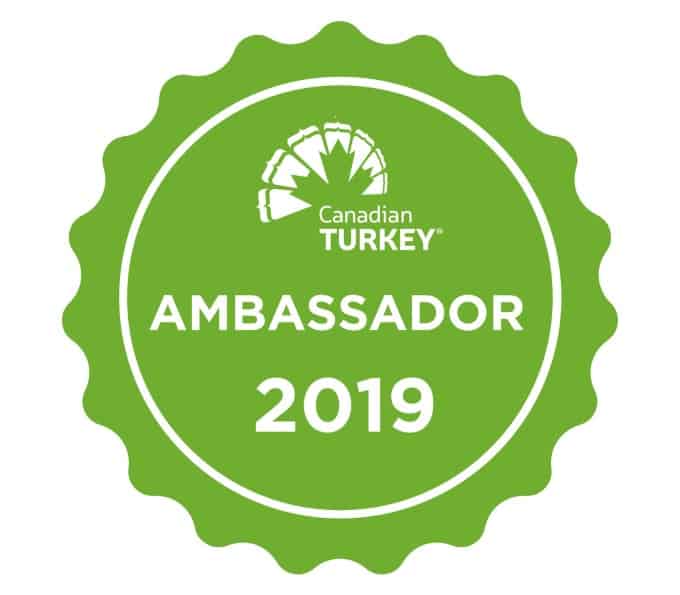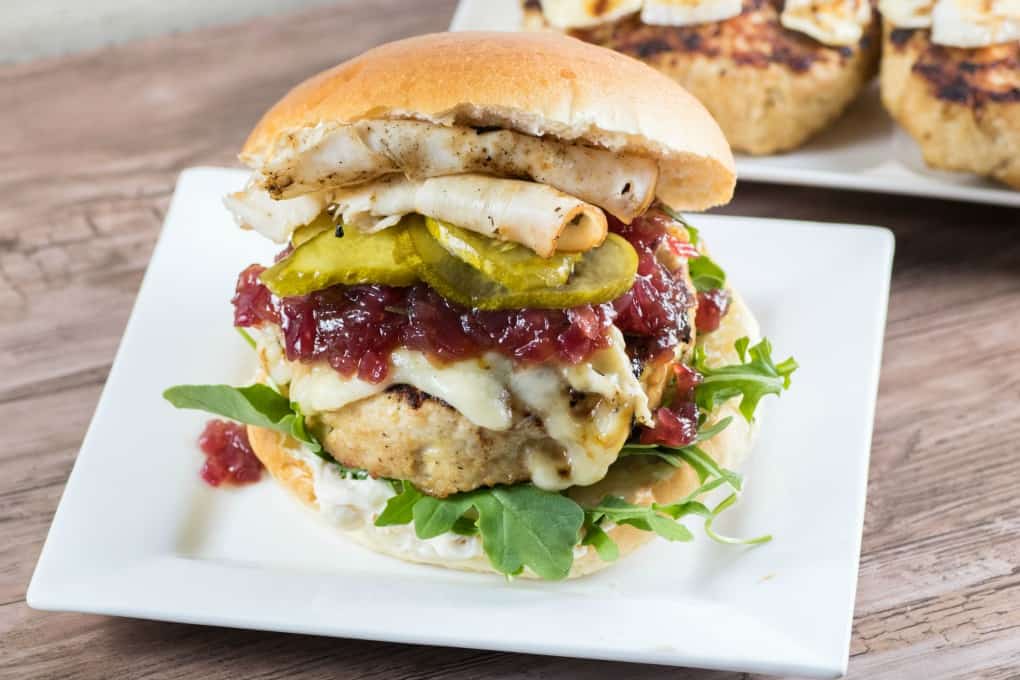 This burger is making you drool isn't it? It sure has me thinking back to how wonderful it was!! It is a burger that rises above the rest and is the perfect way to celebrate Canada Day!!
Still want to make this burger but no BBQ? No problem, a turkey burger is versatile and can be easily cooked in a large non-stick pan also.
Turkey on the Grill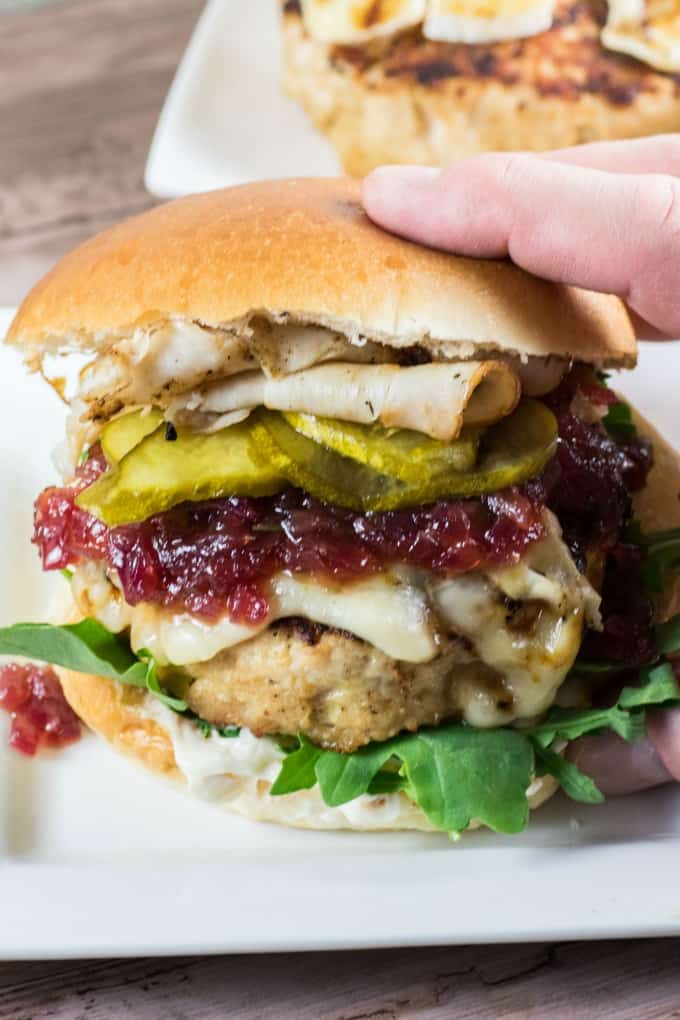 Now that is one big burger bite. Ken, my husband who has a new BBQ blog has been raving about this burger ever since his first bite!!
That's a great burger for anybody. Women love how lean turkey is and men love that big bite of a burger. A true win, win of a meal!!
Want more great healthy turkey ideas and recipes? Then follow along on Facebook, Twitter, Instagram, Pinterest and YouTube.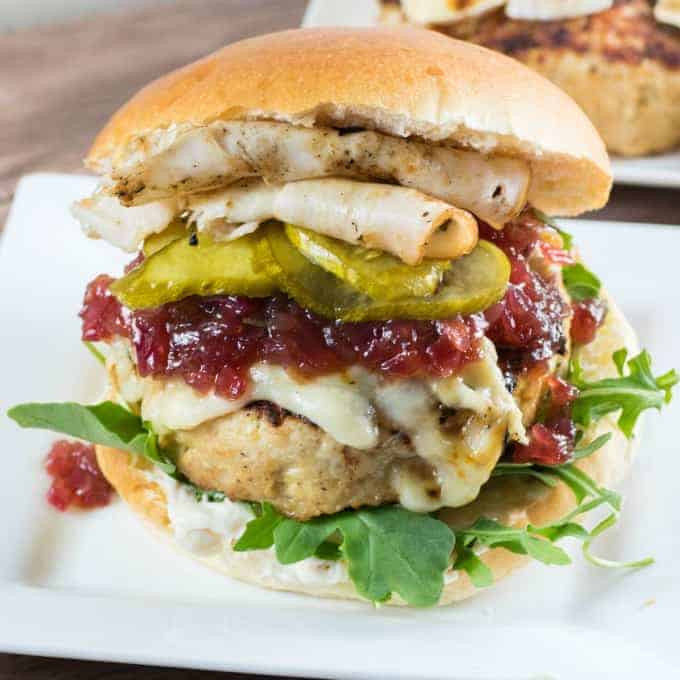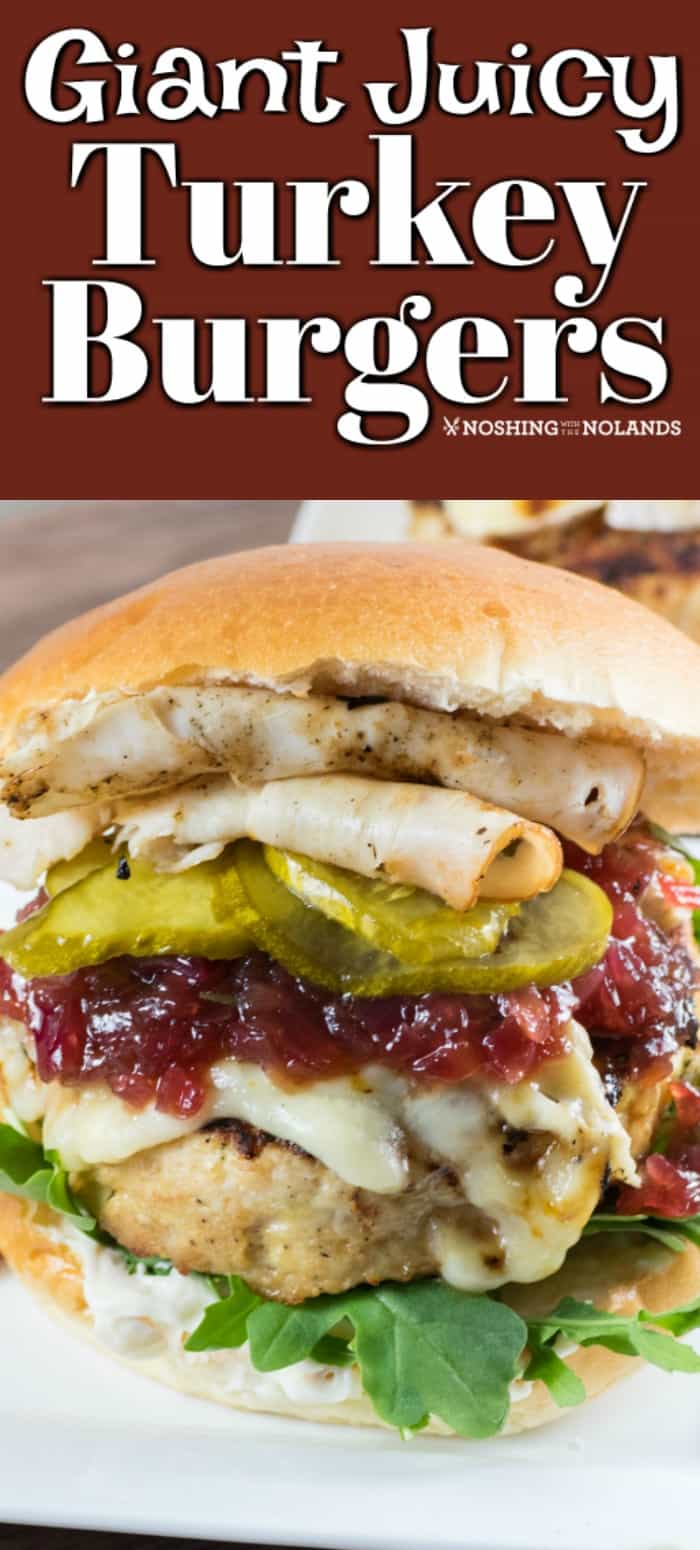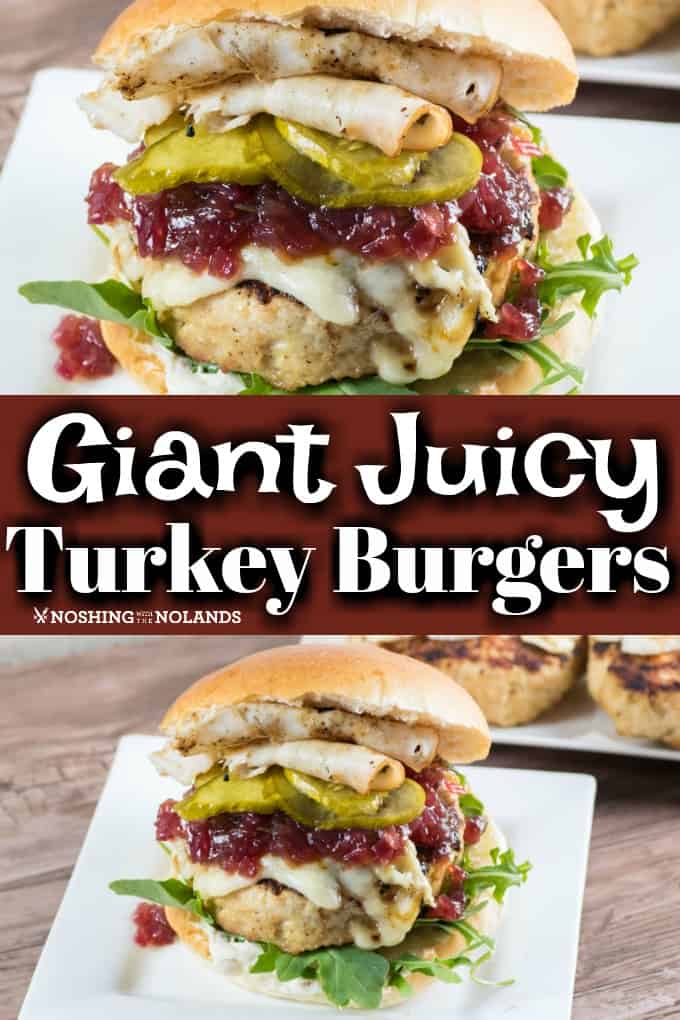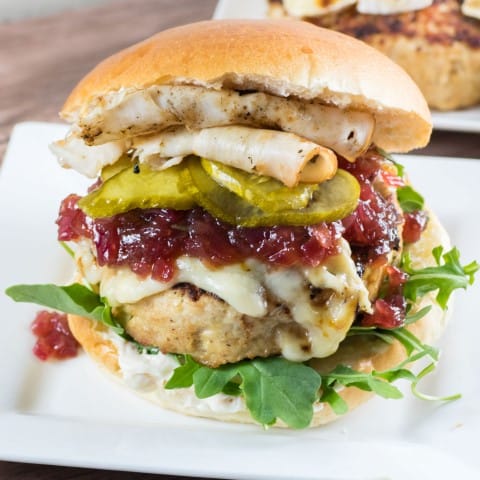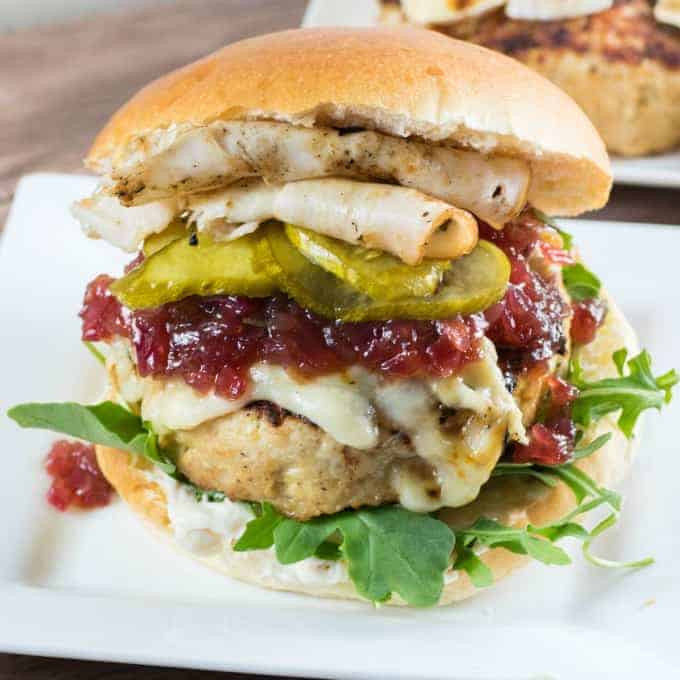 Giant Juicy Turkey Burgers
Yield: 4 burgers
Prep Time: 15 minutes
Cook Time: 45 minutes
Additional Time: 10 minutes
Total Time: 1 hour 10 minutes
Giant Juicy Turkey Burgers will be a summer grilling masterpiece when you make these for your family. Easy to pull together with out of this world flavor!!
Ingredients
Turkey Burgers
2 lbs. ground turkey
3 Tbsp. extra virgin olive oil
1 Tbsp. Worcestershire sauce
1 Tbsp. Dijon mustard
2 tsp. garlic, minced
1/3 cup onion, finely chopped
1 egg, whisked
1/3 cup breadcrumbs
1 tsp. Kosher salt
1/2 tsp. freshly ground pepper
Canola oil for grilling
Onion Jam
3 large red onion, small diced
1/4 cup extra virgin olive oil
2 parsley springs
2 thyme sprigs
1 rosemary sprig
3/4 cup sugar
3/4 cup red wine vinegar
Salt to taste
Toppings
Smoked turkey, grilled
Arugula
Mayonnaise
Small wheel of brie cheese, sliced
Sweet yum yum pickles
4 brioche buns
Instructions
Make the onion jam ahead of time (1-2 days or morning of) and have ready in the refrigerator.
Heat the olive oil in a large pan until hot but not smoking over medium heat. Add the onions and cook for about 15-20 min. or until golden brown, stirring occasionally.
Tie the parsley, thyme and rosemary together with kitchen twine and add to the onions. Cook for about 3 minutes, stirring occasionally until fragrant.
Sprinkle the sugar over the onion but do not stir, reduce heat to low. Let the sugar melt without stirring about 5 min.
Increase the heat to high and let the mixture cook without stirring until amber-brown about 6-8 minutes. Don't let it burn.
Add the vinegar and simmer for 5 minutes, stirring a few times until thick like jam. Remove the herb bundle. Season with salt. Let cool and refrigerate covered.
Make the turkey burgers at least an hour before grilling.
In a large mixing bowl add the turkey burger ingredients, turkey, olive oil, Worcestershire sauce, Dijon, garlic, onion, egg, breadcrumbs, salt and pepper. Don't overwork the meat.
Form into four large 1/2 lb. burgers and refrigerate for 30-60 minutes prior to grilling.
Brush with oil and heat a grill or grill pan on a medium high BBQ (you can use a non-stick pan indoors too).
Cook on the grill or grill pan for 7-10 min. per side, turning only once to an internal temperature of 160F.
Add the brie cheese slices to the top of the burgers and heat to melt and let the burger cook to 165F. At this time quickly heat and grill the smoked turkey slices.
Let the patties rest 10 minutes covered with foil.
To build the burger, spread mayonnaise on the bottom brioche bun and add as much arugula as you would like.
Top with the turkey burger, onion jam, yum yum pickles and grilled smoked turkey. Serve immediately.
Notes
Caramelized onion jam will keep for at least 5 days refrigerated.
Nutrition Information:
Yield: 4
Serving Size: 1
Amount Per Serving:
Calories: 1157
Total Fat: 74g
Saturated Fat: 16g
Trans Fat: 1g
Unsaturated Fat: 51g
Cholesterol: 303mg
Sodium: 1463mg
Carbohydrates: 59g
Fiber: 3g
Sugar: 45g
Protein: 65g