What is Celery Root (Celeriac) and What Do I Do With It? Celery root, also known as celeriac, is a versatile root vegetable used for stews, soups, salads and as a substitute for potatoes in a healthy mash.
Celery root looks like a roundish bulb approximately the size of a grapefruit. It tastes mild and has been described as a slightly sweeter celery flavor than the celery stalks we're used to eating.
With the new craze of keto/low carb diets this veggie fits right in as it has less carbs than potatoes, sweet potatoes or turnips, roughly 7 grams of net carbs per cup.
We love to explore different fruits and vegetables that you may not have discovered yet like cucamelons, shishito peppers, sunchokes and more.

What's The Difference Between Celery and Celery Root?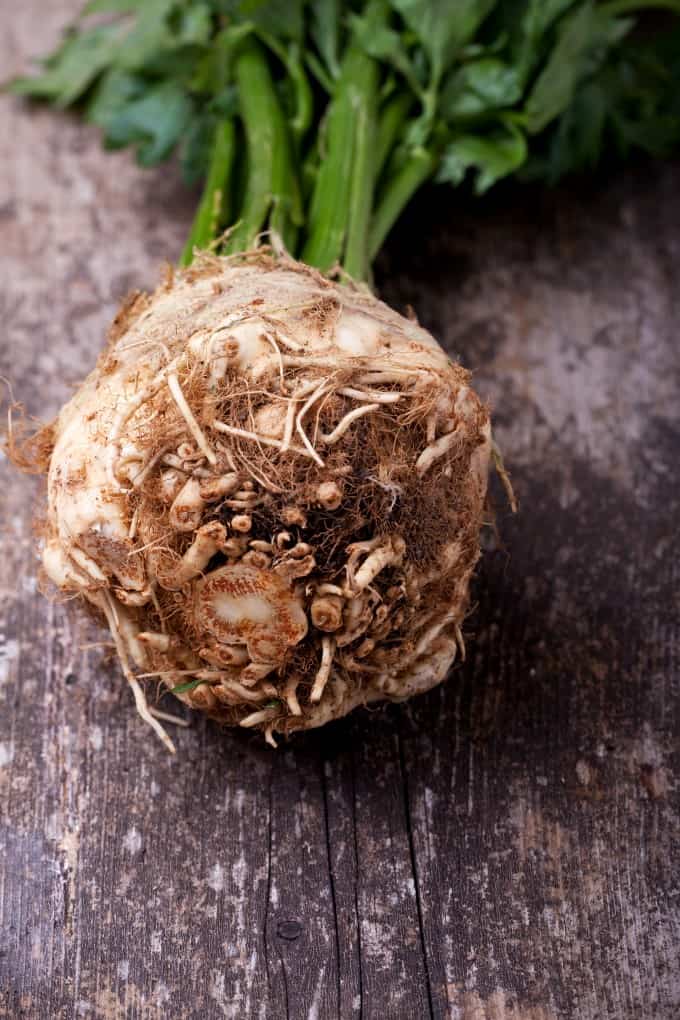 Contrary to popular belief, celery root is not the root of the celery stalks we see in stores and use to make celery juice. It is closely related botanically though – celery root is bred specifically for the root instead of the stalks.
This vegetable is available to buy year round but if you were to grow it in your garden it would be ready to harvest in the fall.
Many people consider it a fall/winter vegetable because of how excellent it is in a stew but it also tastes amazing in a salad with pears, apples, walnuts, and lettuce.
My mother made an excellent salad that I have to share with you very soon. So writing about this vegetable is not just exploring something I have never had before but have had and cooked with many times for so many years.
You can grate it into a slaw with parsnips, carrots and broccoli. If you're buying this root you'll want to find one that feels slightly heavy for its size. And with healthy looking greenery (if there is any).
To make peeling easier try to get one that is as smooth as possible with shallow crannies.
How To Cut Celery Root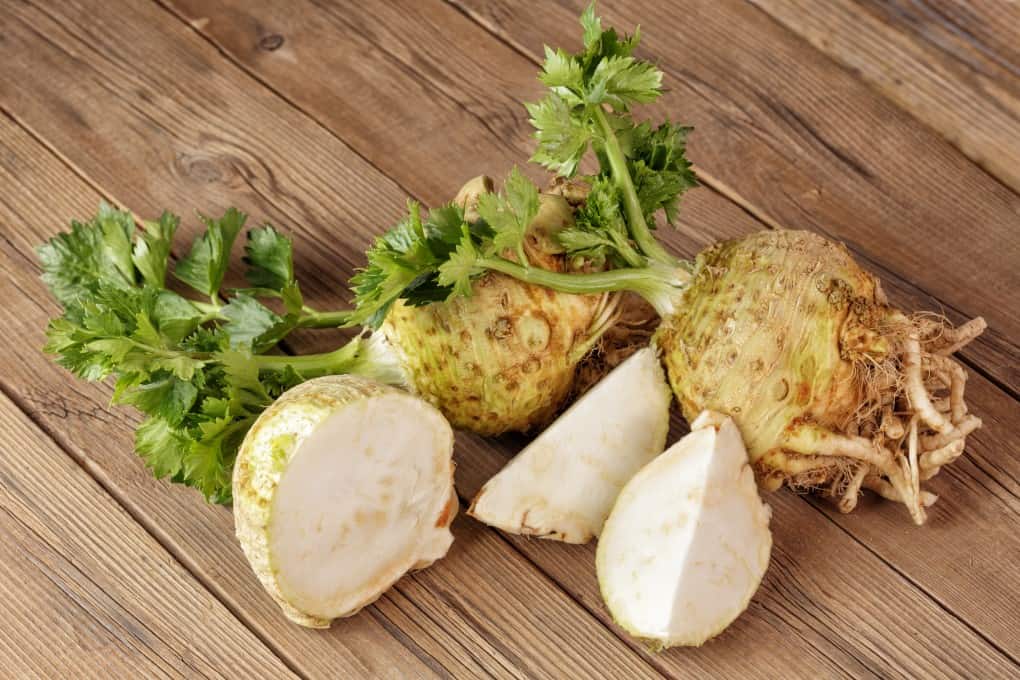 Celery root is a little intimidating to look at but it's actually quite simple to prepare. You need a sharp knife to peel it because the bumpy surface makes using a peeler very hard.
Slice the top and bottom so that you can stand it on a cutting board. Using your knife, make sure you take off all the slightly hairy brown peel.
The inside of the root is cream colored so don't stop peeling until all the brown peel is gone.
How To Prepare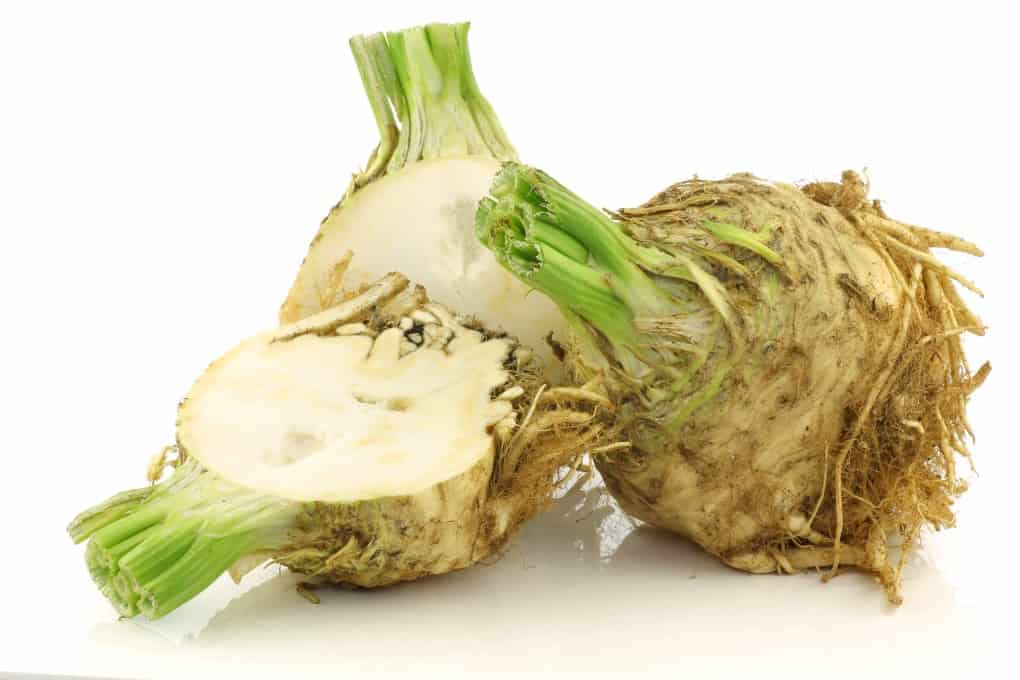 One of the reasons that celery root is becoming a fast favorite of many cooks is that there are so many ways to prepare it. You can grate it and have it on a salad, or in a veggie slaw. Also, you can cut it into cubes and roast it in the oven.
You can boil it and mash it alone or with mashed potatoes or sweet potatoes. You can dip it in batter and deep fry it – it's great coated in tempura batter.
Small pieces or cubes of the root are great in a winter stew or a fall soup. You can even use your spiralizer and make noodles with it. The mild flavor makes it a great substitute for traditional pasta. The possibilities are endless.
I can't wait to try using celery root in a side dish at my next family get together. Have you ever cooked with celeriac/celery root? What's your favorite way to prepare it? Let me know in the comments below!
Other Different or Uncommon Fruits and Vegetables
Here are some of the other veggies and fruits I like to work with that may be just slightly unusual.
Jicama, great for a crunchy alternative on a veggie platter. It has a mild flavor and is great with so many dips.
Fiddleheads are only in season in the spring but are readily available in our neck of the woods here in Alberta, Canada. They taste green and fresh to me like asparagus or green beans.
Broccolini is another vegetable that we use regularly; I love it roasted as it turns crispy and delicious done up quickly in the oven.
There are many different squashes to choose from but one that I have loved for years is a small Chayote squash. This little vegetable from the gourd family has a flavor between a potato and an apple or pear and is super juicy. It makes a great side dish.
Pomelo is another uncommon fruit that we love to eat. Larger than a grapefruit but sweeter they are fun to share and to eat together as a family.