If you haven't tried the glorious pomelo, it's time to give it a chance. Pomelos are an incredibly under-appreciated member of the citrus family. They look like larger grapefruits, but they certainly are their own creation and worth a try. Learning What is a Pomelo and How to Eat One will change your life.
We love talking about exotic fruits, like Dragon Fruit, Persimmons, or Lychee, and how to use them.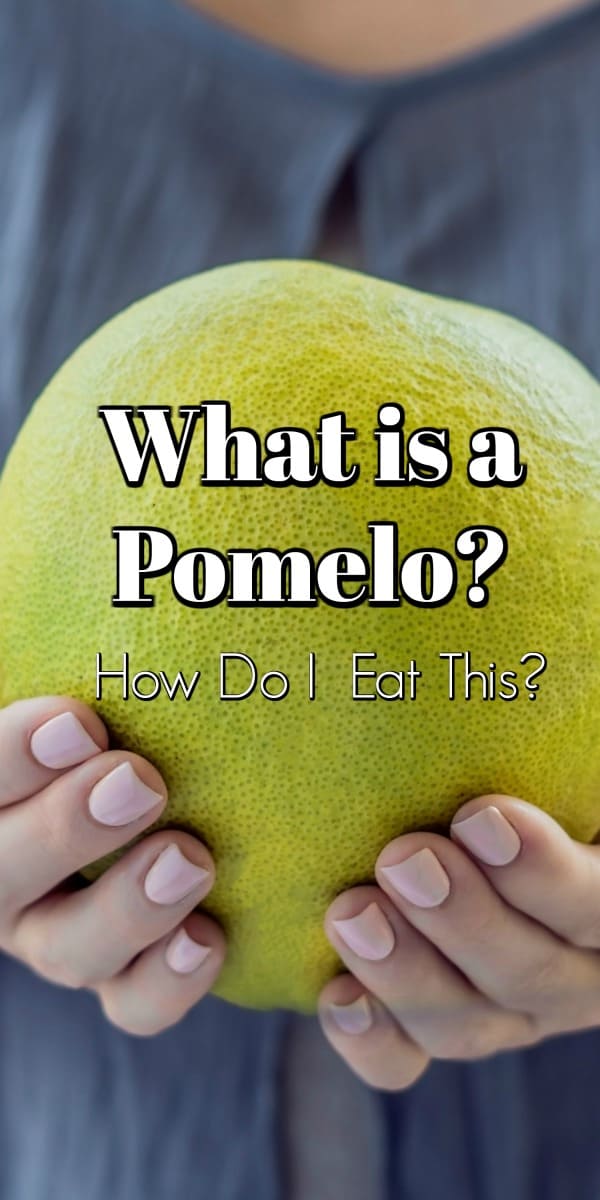 My best pomelo memories are taking one of these to work when I was nursing. I used to work the night shift and so loved cracking into one of these at 2:00 or 3:00 am. I would share this with my colleagues and everyone loved it when I would bring one in.
It is so refreshing and makes you come alive again. The best part about pomelos is that they're relatively mess free. They aren't as juicy as a grapefruit so they don't make the same kind of a mess.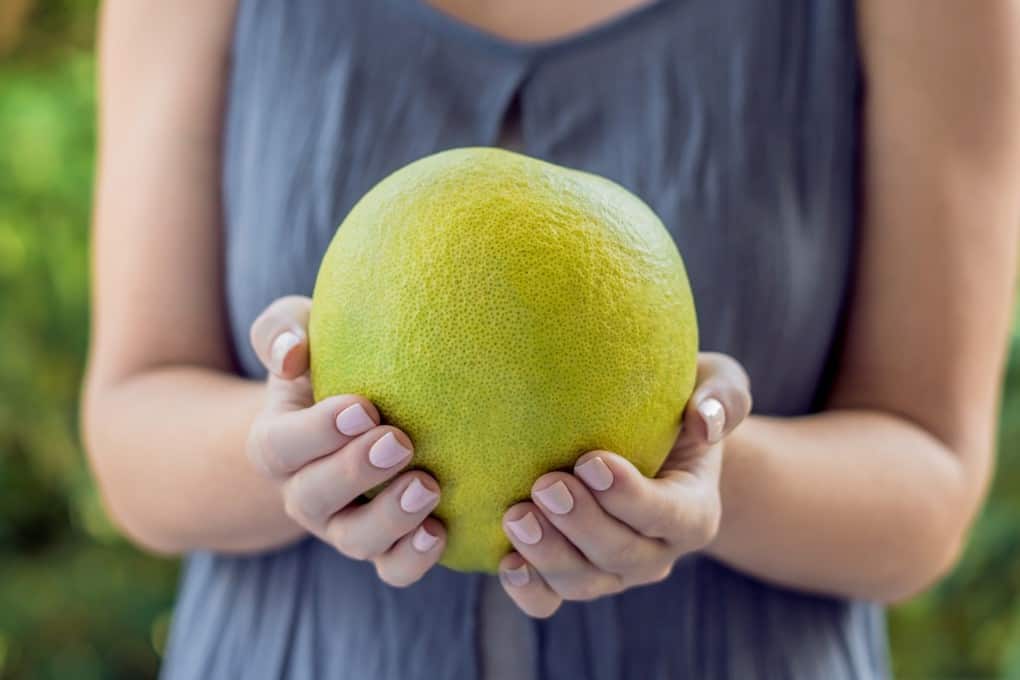 What is a Pomelo?
A fruit that goes by many names; pomelos are also called pompelmoes, shaddock, or pummelos. These delicious citrus fruits originated in South and Southeast Asia.
They were given the name of shaddock in the Caribbean after the captain of the East India Company ship that first introduced pomelos to the west.
Pomelo is the largest out of all the citrus fruits with a close relation to grapefruit. The large size can make them look intimidating, but the truth is they aren't at all.
A lot of the size is the rind and the thick membrane surrounding the fruit itself. Unlike other citrus fruits, the membrane of the pomelo is extremely bitter and considered inedible.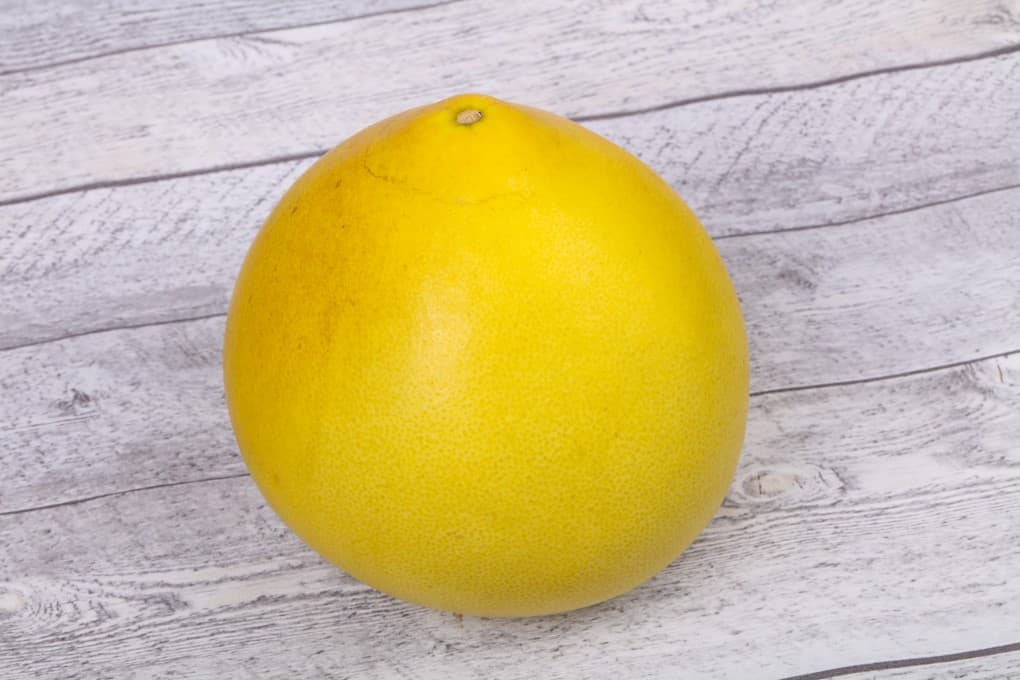 These large citrus fruits are either round or oval in shape and have a rind that ranges in color from green to yellow with a textured rind. Filled with a creamy white, bright pink or somewhere in between pulpy core, pomelos have a thicker pith than most other varieties of citrus fruit.
Pomelos can either be filled with seeds, have very few or none at all.
In Southeast Asia, pomelos are often served as desserts but they also garnish salads with them. A popular way to serve pomelos is with a salt mixture on top to cut the sweetness of the fruit.
Pomelos are the largest member of the citrus family (which is why their Latin name is Citrus Maxima – literally the biggest citrus). Like other citrus fruits, pomelos are high in vitamin C. Depending on the variety, pomelos can weigh between 2 and 4 pounds!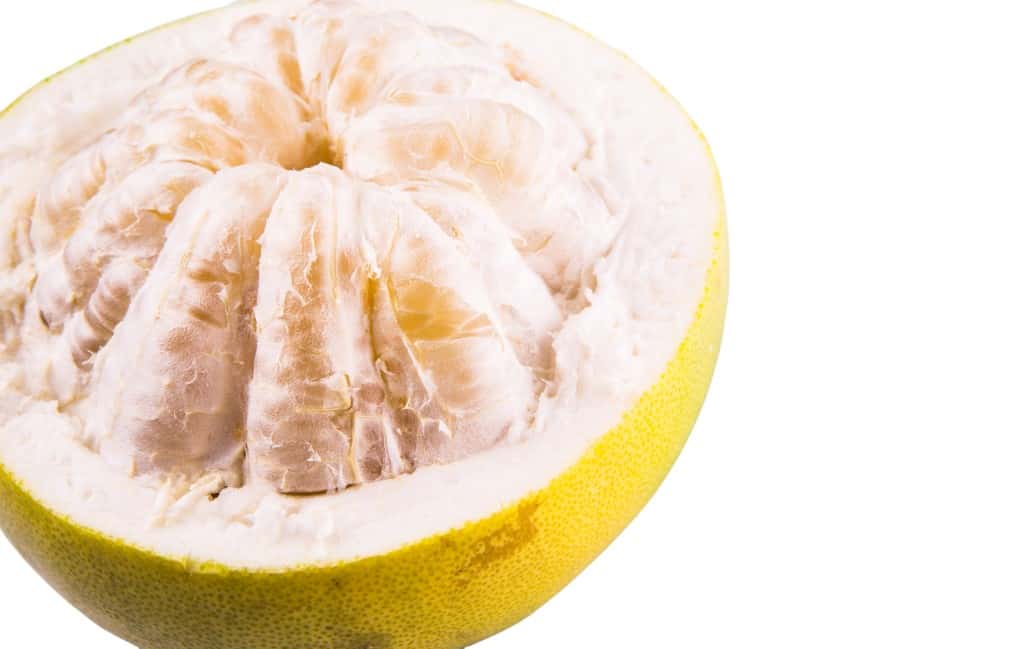 What Does a Pomelo Taste Like?
The flavor of a pomelo is very much like the grapefruit, but much milder. Pomelos are sweeter and don't carry that tangy, bitterness that can be associated with grapefruit.
They are often less juicy though again, that depends on the variety as some can be juicier than others.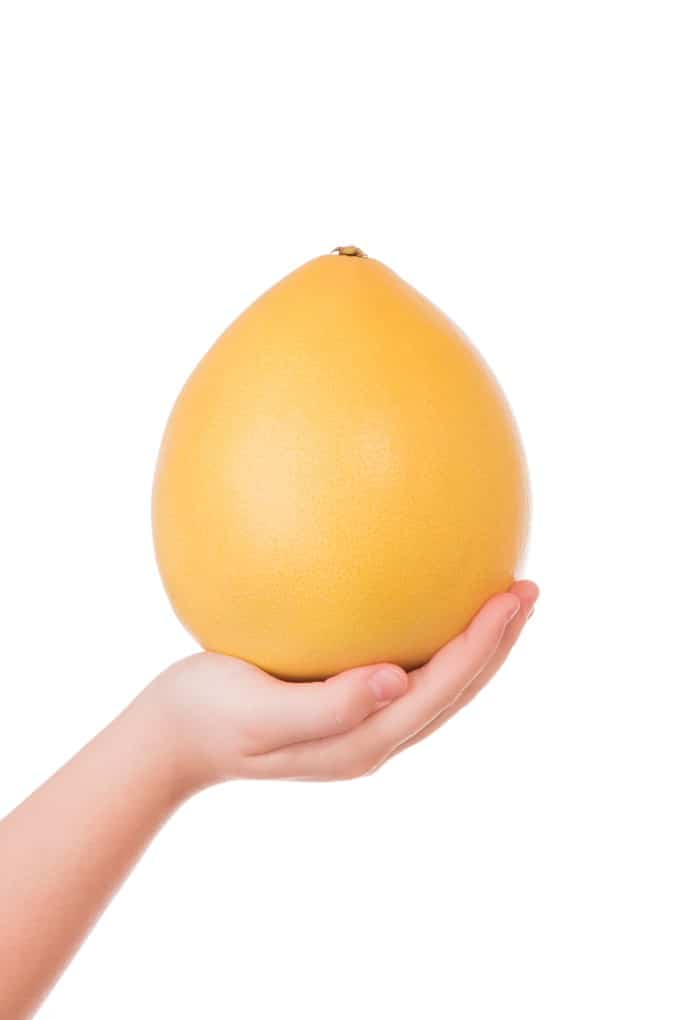 Buying a Pomelo
The best time to purchase pomelos is between the months of November and March. They can be found in most grocery stores or Asian and Latin markets.
Pomelos are a staple fruit in many Chinese and Japanese diets so if there's a Chinese or Asian market in your neighborhood, chances are they'll have pomelos.
When trying to buy a pomelo, look for yellow to pale green fruits that are heavy for their size and feel firm to the touch. Avoid soft, dull-colored fruits that look dried out.
Blemishes are ok but you don't want to choose one that gives easy to applied pressure.
Store your pomelo in the refrigerator so it can last up to 1 week.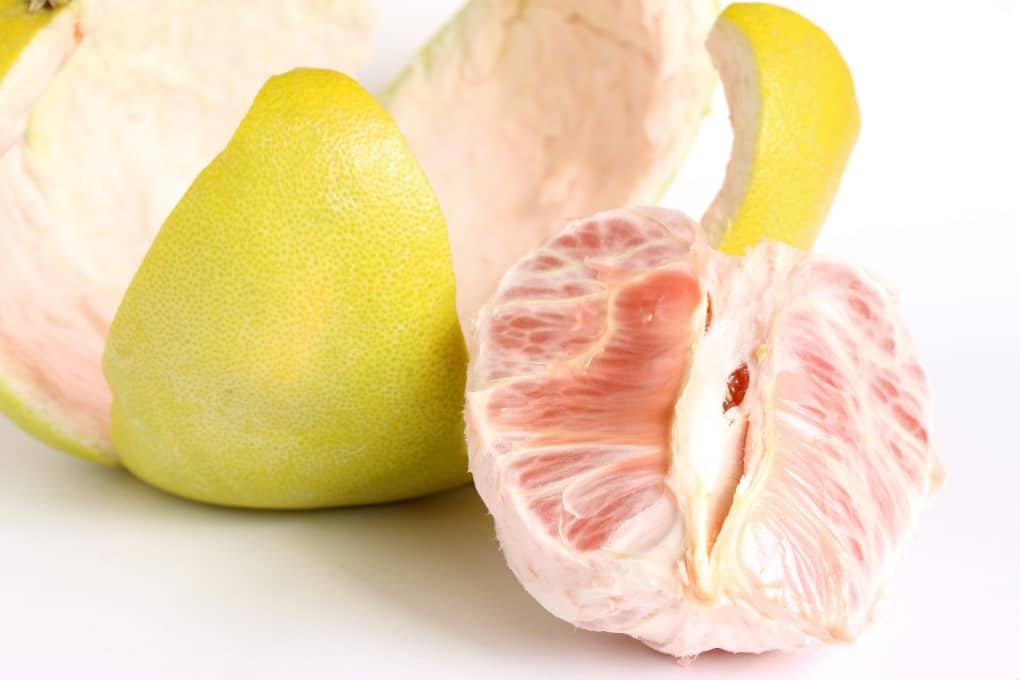 How To Cut a Pomelo
First, you need to carefully cut the cap or top off a pomelo with a sharp knife. The outer peel of the pomelo can be tough.
Then, starting at the cut end, you need to make vertical slices around the pomelo. Eight to ten cuts should do it.
How to Eat a Pomelo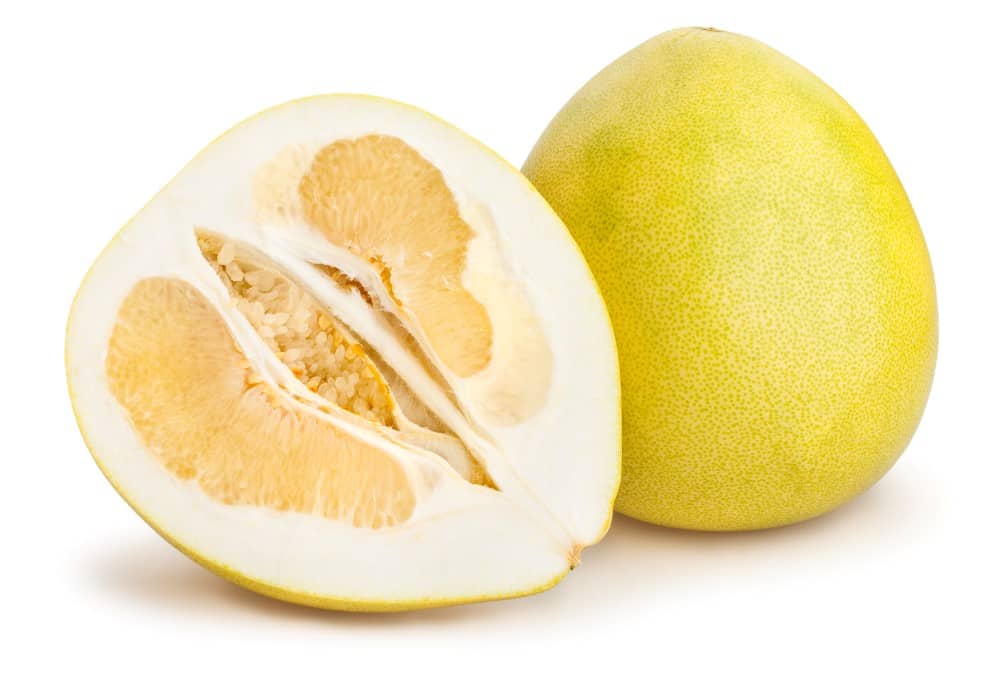 Remove the thick rind and peel the membrane from around each segment. You can score the rind as it is then easier to peel.
You don't eat the membrane-like you would an orange or grapefruit but just the flesh inside.
Pomelos are great in salsas, salads, marinades, juiced, made into jam or just right out of your hand.
Enjoy them the same way that you would enjoy any of your favorite citrus fruits. In fact, you can even use the peel in marmalades or candy it and use it as a garnish.
Another popular way to serve pomelo is to roast it in the oven, with some unsalted butter on top.
If you have a recipe that calls for grapefruit, oranges, or even pineapples you can substitute a pomelo instead.
There are many ways to enjoy a pomelo. If you haven't tried one as of yet, now is the time! Make it a family affair and have everyone try apiece. They'll be asking for more in no time!
Also, check out some great citrus recipes like Mascarpone Key Lime Mini Pies, Lavender Lemonade, and Oranges en Surprise which is all great for spring and summer!!