Disclosure: I was compensated for this post. All opinions and experiences are my own.
I am so excited to show you this recipe today using Little Potato Company's Creamer potatoes! This Mouthwatering Steak and Potatoes Appetizer is a quick and delicious appetizer to serve at any time. I got the inspiration from little open-face sandwiches, but steak and potatoes just go together like peas and carrots!! A marriage made in heaven!
The creamy buttery tasting little potato marries perfectly with gorgeous filet mignon and bearnaise sauce. This appetizer only has three ingredients yet bursts with amazing flavors as you are using only the finest of ingredients.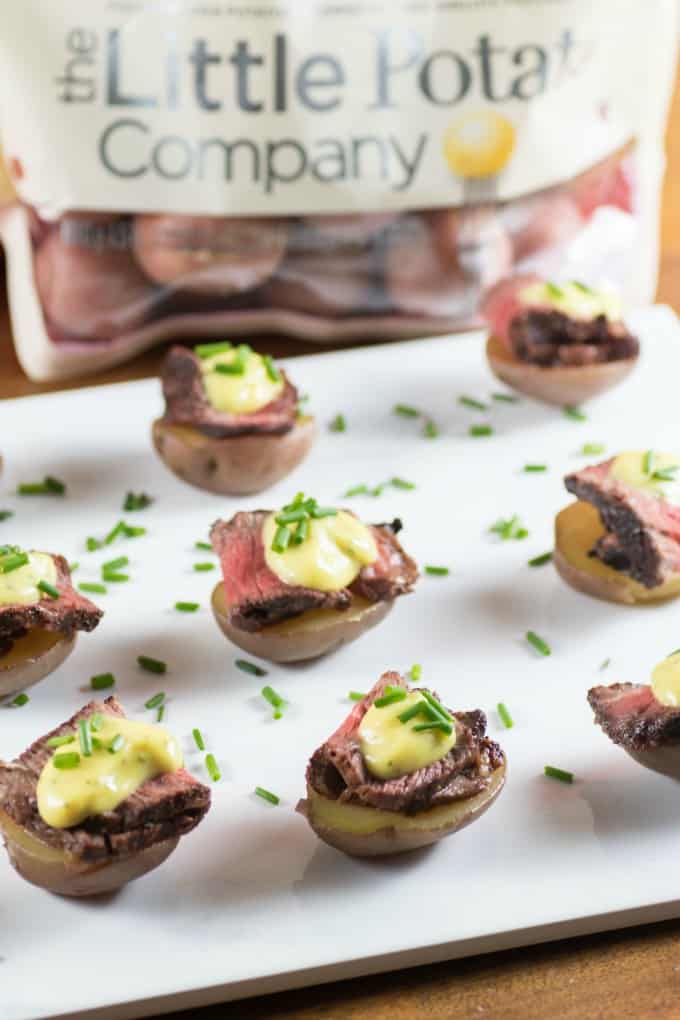 This little gem of an appetizer looks so elegant yet it is easy to make.
This appetizer is gluten-free as Little Potatoes are free of gluten and even a packaged bearnaise sauce should be gluten-free too. Just be sure to check your label.
Steak Appetizer Finger Foods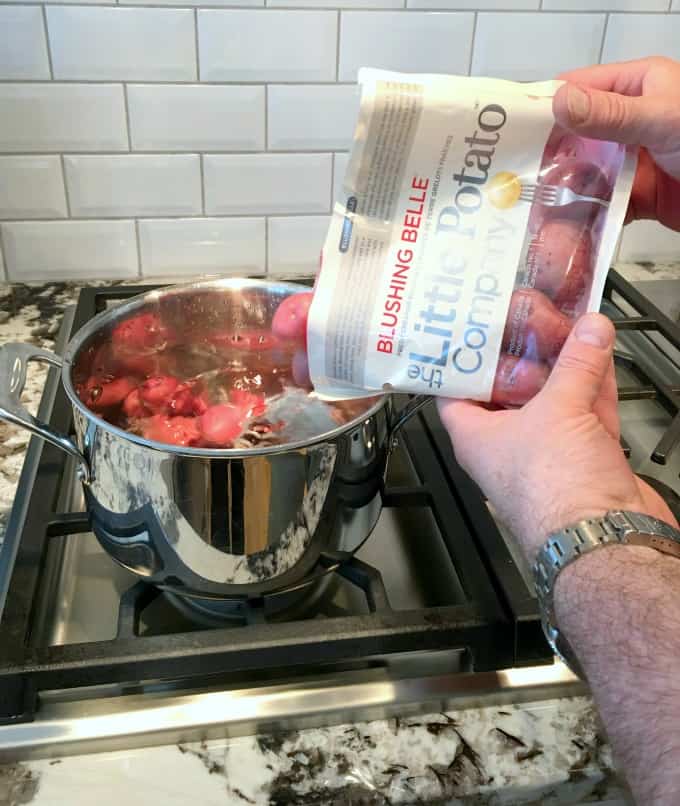 There are three ingredients and three steps in this recipe. The first one is super easy all you have to do is add the potatoes into a pot of water.
They come pre-washed, with no need for peeling. Just dump them on in and get them up to a boil! They are done perfectly in 15 min. and fork-tender. Then just remove from heat and let cool.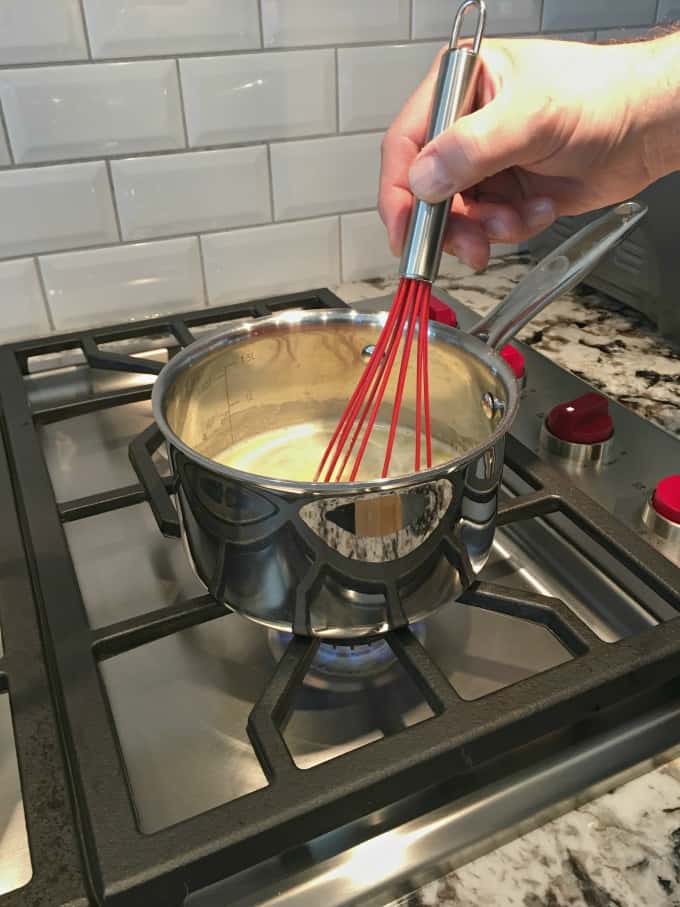 Second step is to make a packaged bearnaise sauce. Just follow the instructions on the package and be stirring frequently. This should be completed in a matter of minutes.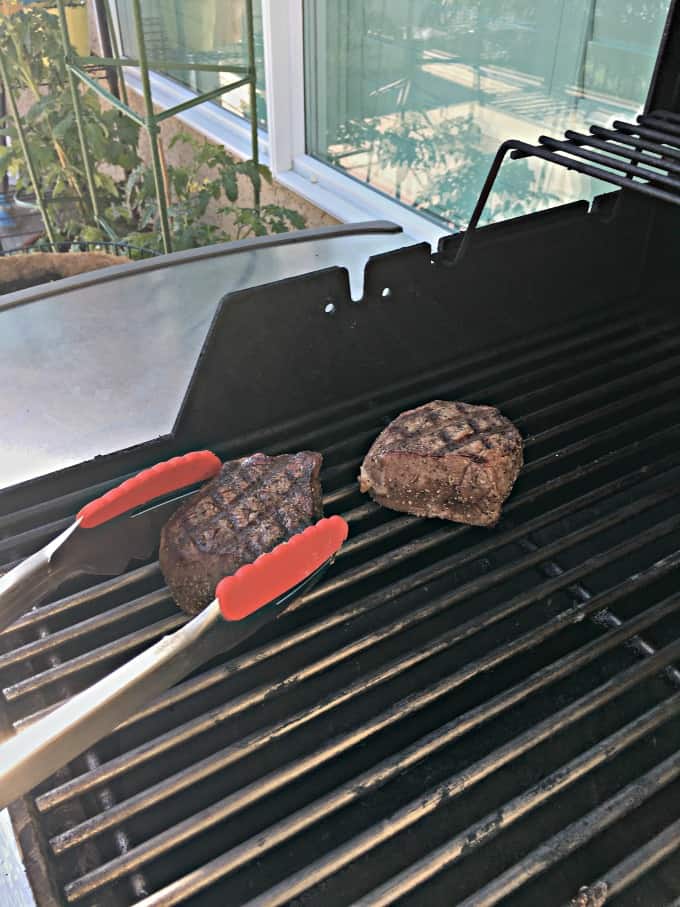 Lastly, after seasoning the steak with salt and pepper you need to cook the steak. Grill up two gorgeous filet mignons to a medium-rare perfection!! You are then ready to build your steak and potatoes recipe.
You can also do this with a pan-seared steak and adding in a little garlic and herbs. Just sear them up in a tablespoon olive oil. Make sure you have a skillet heated ahead of time. A cast-iron skillet works great for this.
Little Potatoes are the perfect vehicle for this steak and potatoes appetizer. Their velvety texture is so enticing.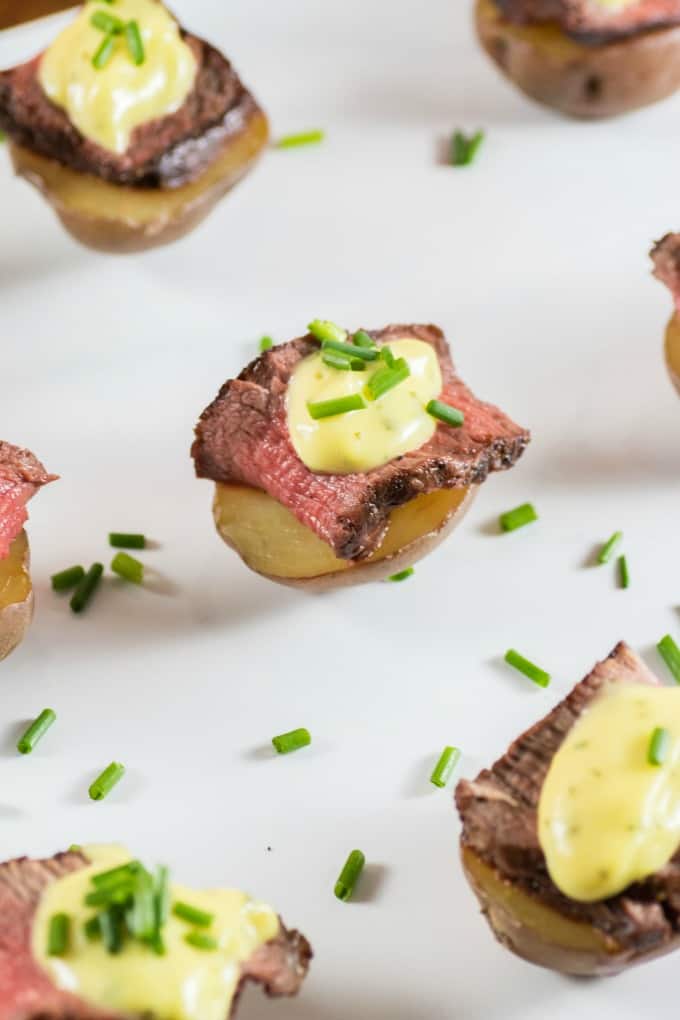 These can be simply put on a platter if some are too wobbly just slice off a small amount of the potato on the bottom.
Serving them in spoons would also be a lovely touch!!
Steak Amuse Bouche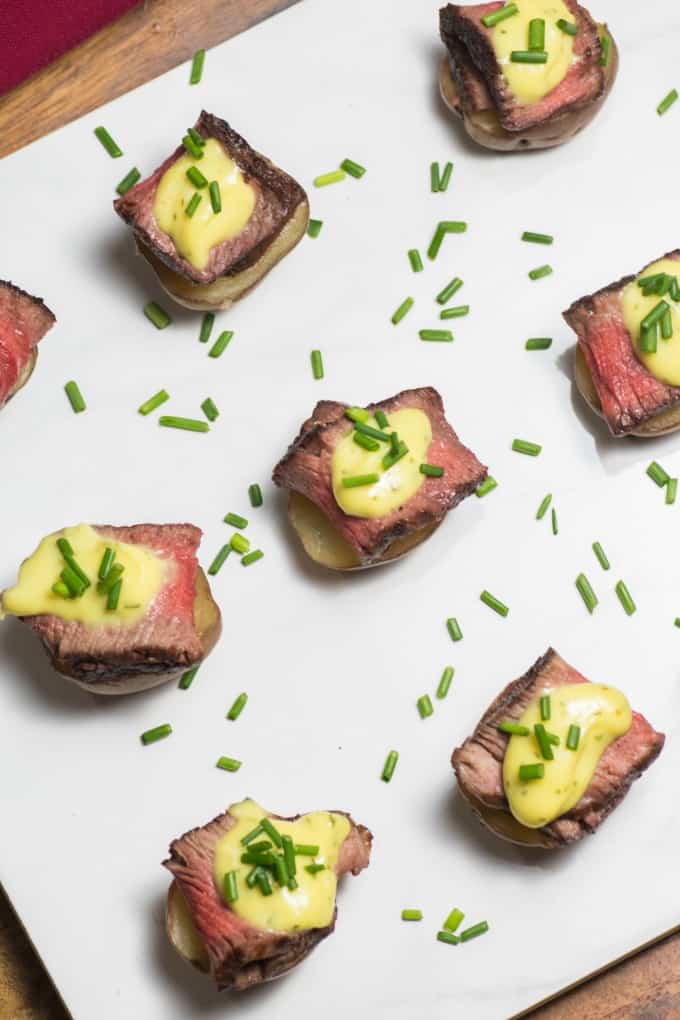 You will be coming back for more and more of these Little Potato appetizers. Everyone loved them when we served them up! Huge party hit!! But really who doesn't love steak and potatoes!!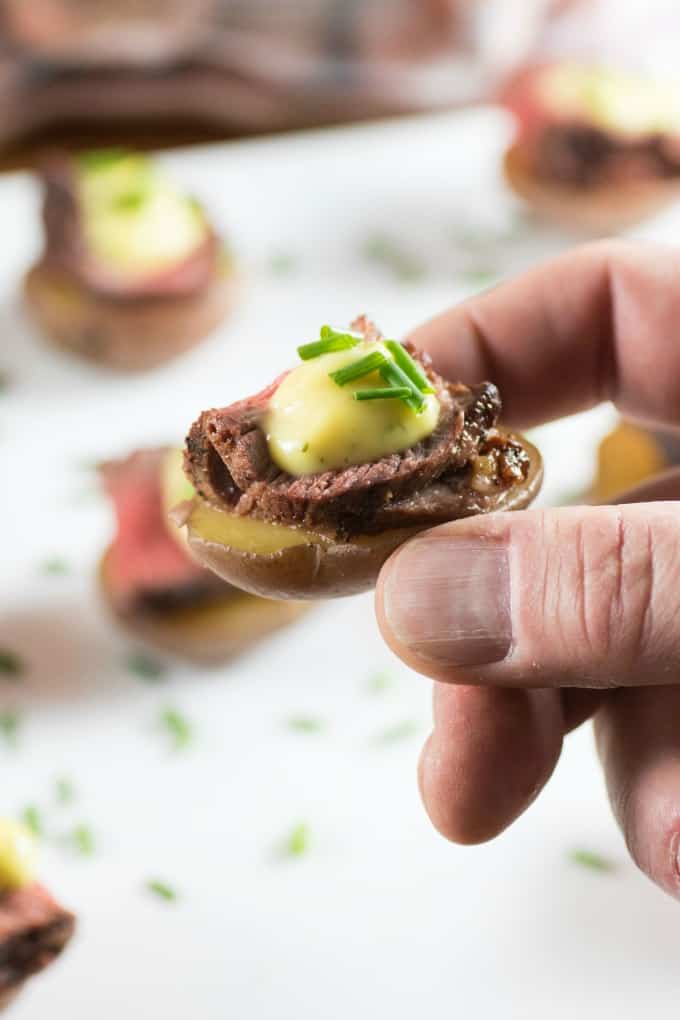 Mmmm, they really are mouthwatering, aren't they? This appetizer brings steak and potatoes to a whole new level. It is like a steak house meal all in one bite!
These would be great served in the summer just as much as they would be for the holidays!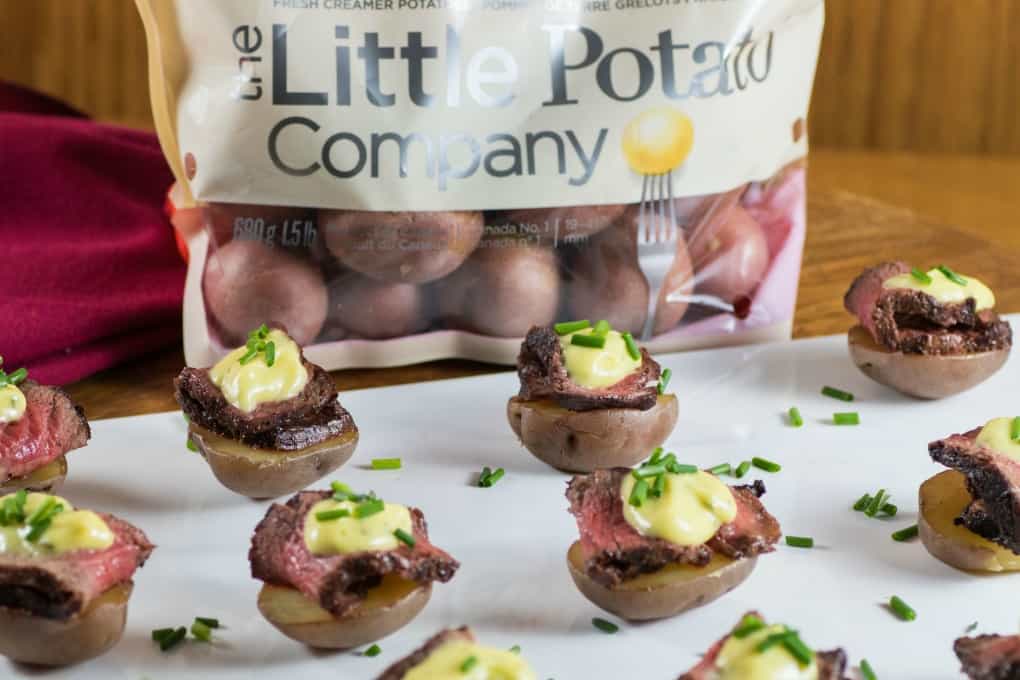 The Little Potato Company

Creamer potatoes are not immature potatoes at all but fully grown potatoes, mature and at their nutritional best!
For this recipe, I used Blushing Belles which are yellow-fleshed and red-skinned. They have only 90 calories per serving and are loaded with potassium, fiber and Vitamin C.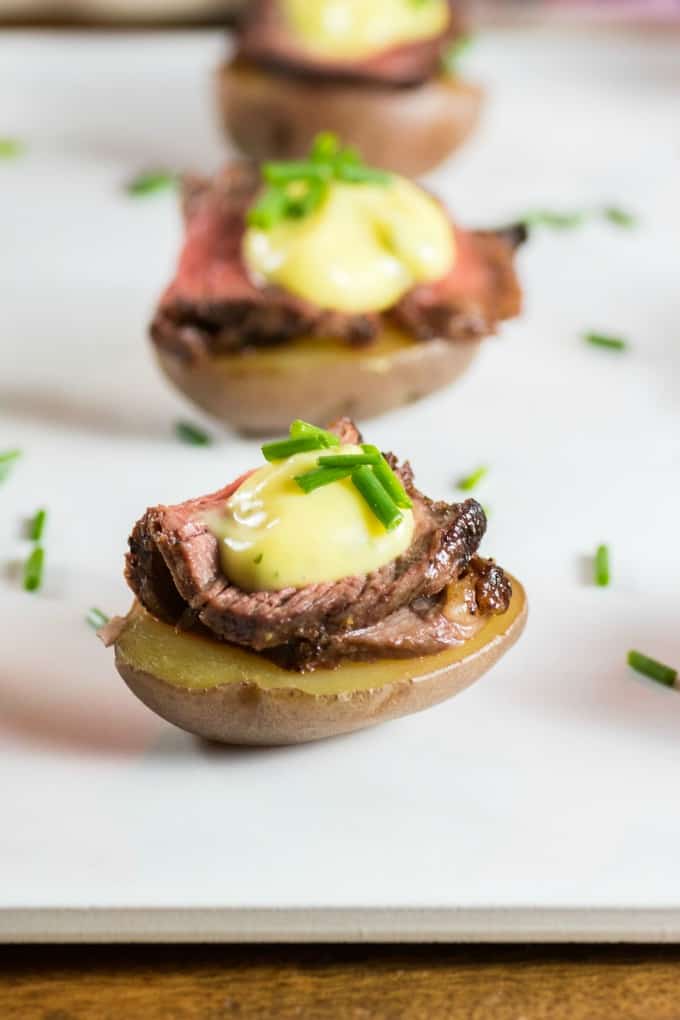 Serving an elegant appetizer does not have to mean you slave away in the kitchen for hours.
On the contrary with excellent ingredients like Creamer potatoes, a showstopper or a dish is easily attainable.
Recently I made Patatas Bravas, which is another easy yet flavorful appetizer!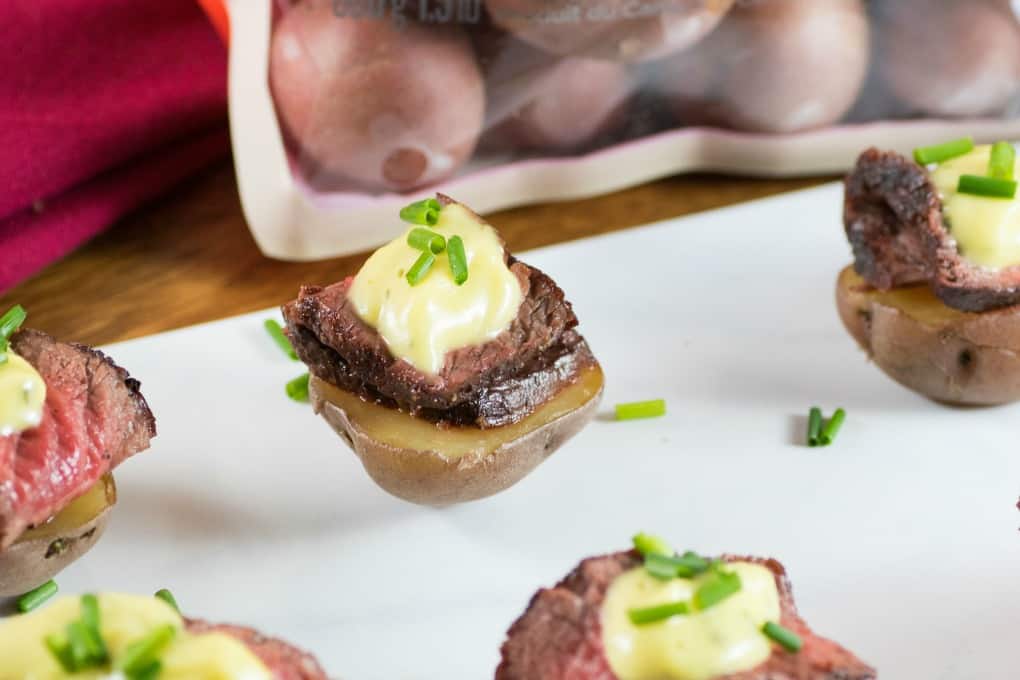 For more excellent recipes like this one visit Little Potato Company's recipe section. Put a keyword in the search and you are off to finding loads of amazing recipes.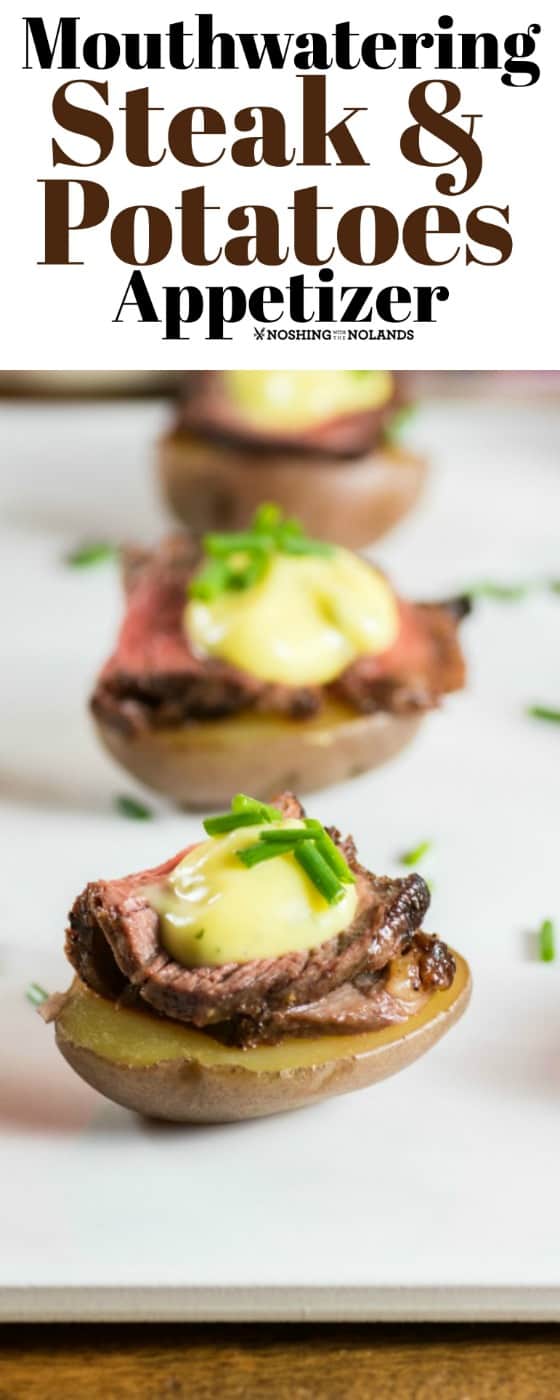 Mouthwatering Steak and Potatoes Appetizer Recipe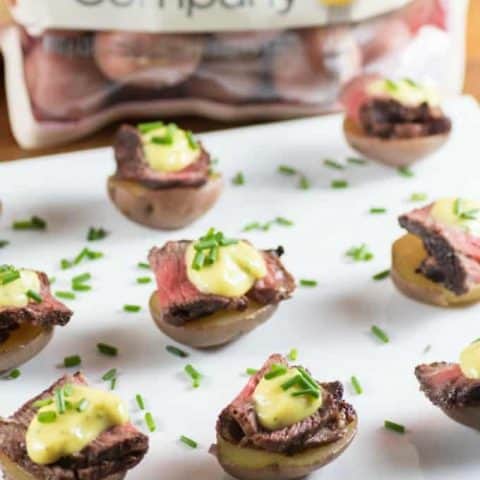 Mouthwatering Steak and Potatoes Appetizer
Prep Time: 15 minutes
Cook Time: 15 minutes
Total Time: 30 minutes
This Mouthwatering Steak and Potatoes Appetizer is simple to make yet elegant to serve. This would put the wow into any dinner party!!
Ingredients
1.5 lb. Little Potato Company Blushing Belles
2 medium sized filet mignon
1 package bernaise sauce
Salt and pepper
Chives for garnish, optional
Instructions
Salt and pepper steaks well on all sides and let rest to come to room temperature for 10 min.
Fill a pot of water and add Little Potatoes, no need for washing or peeling. Bring to boil, reduce heat and simmer for 15 min. Drain and let cool.
Meanwhile whisk together the bernaise sauce per package instructions.
Preheat BBQ and grill the steak about 5 min. per side or until desired doneness. Let rest for 5 min. while potatoes cool enough to handle.
Slice potatoes in half. Cut steak in slices and lay a slice on each potato half.
Drop a small spoonful of bernaise sauce on each potato steak stack and garnish with chives if desired. Serve immediately.