Amber is at it again, baking up a storm!! She got inspiration from the Simply Citrus cookbook to make some Grapefruit Cupcakes but she wanted to make her own version from her Happy Birthday Cupcakes she had made previously!!
These cupcakes turned out delicious and perfect for Spring and Easter! I love the combination of the orange with the pink, very springlike!
I think we all here prefer to have a cupcake than a large slice of cake. They are just the right amount of sweetness and such a great treat to have! They are easy to make and easy to decorate too.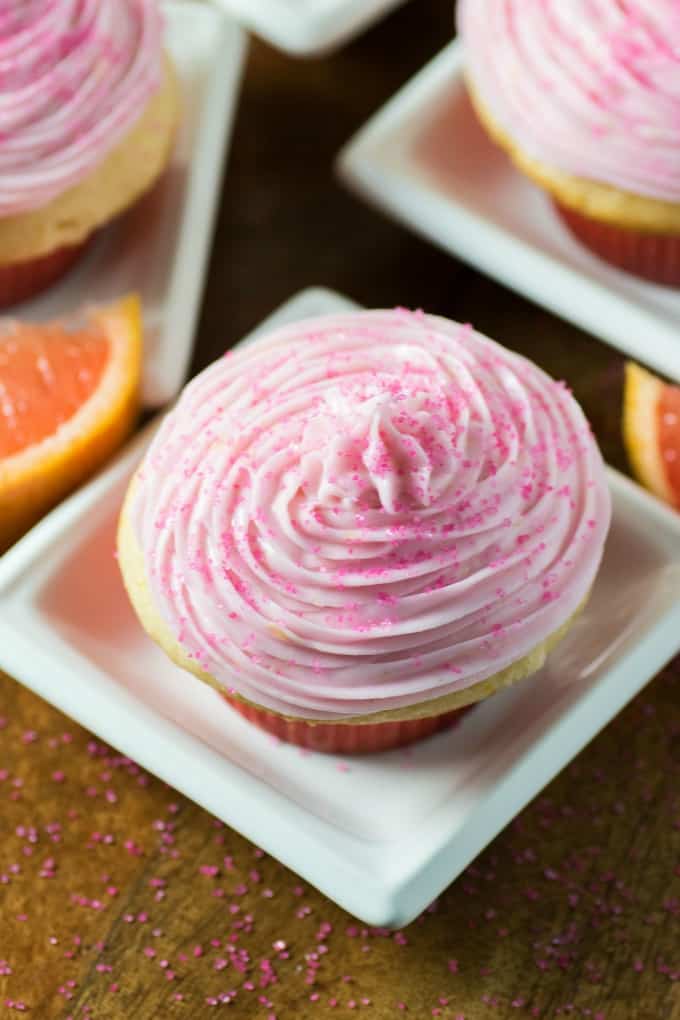 I love the tang of the grapefruit in the cupcake and the icing. It is just the perfect amount of citrus flavor. These cupcakes would be great at a little girl's baby shower, a Mother's Day brunch, or a birthday celebration too! So pretty in pink!! Grown ups and kids will equally love these gorgeous cupcakes!!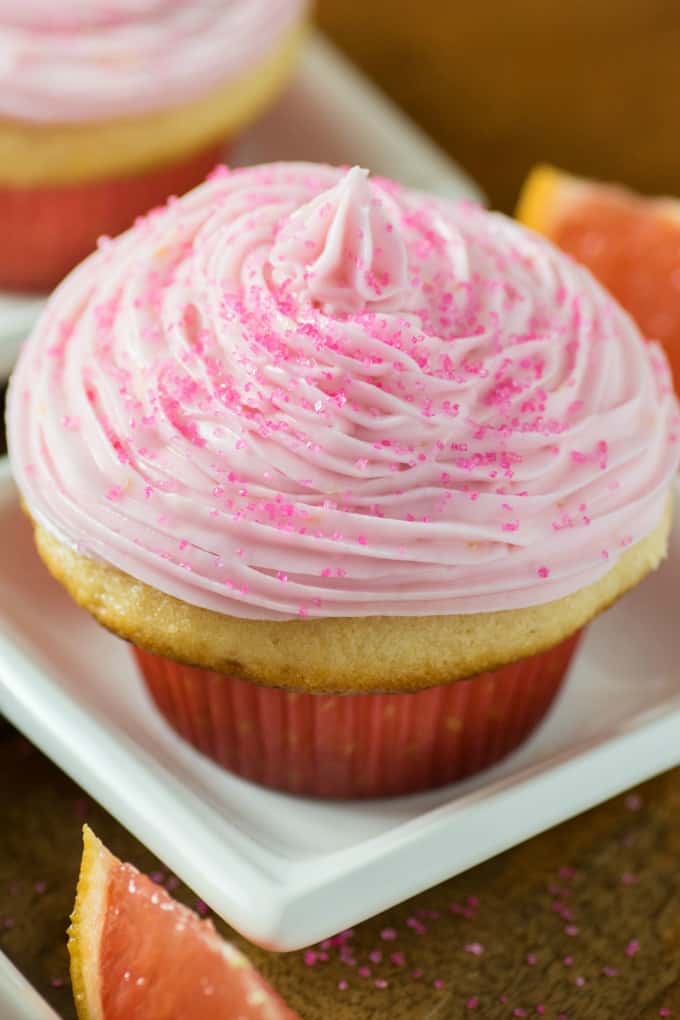 The icing is luscious made with cream cheese instead of butter as in a buttercream. Is icing the best part for you? Then it has to be good, right!! The cake though is moist and tender. I love adding in sour cream to my cakes and cupcakes, it gives them the right texture and then they are nice and moist too.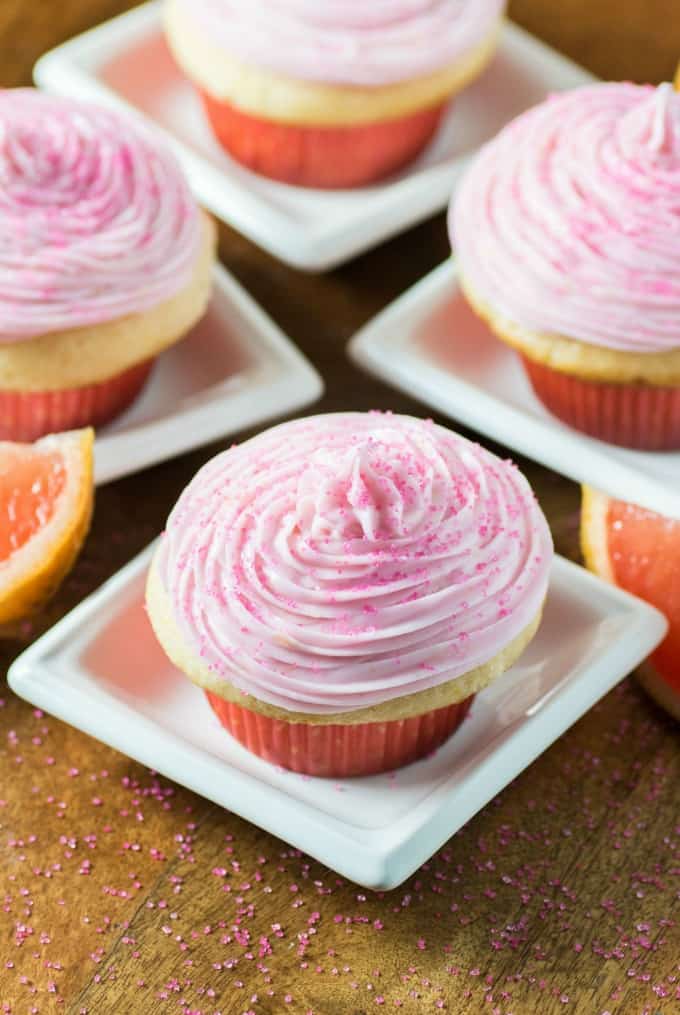 Enjoy these cupcakes for any occasion or just make them for Spring!!
The Recipe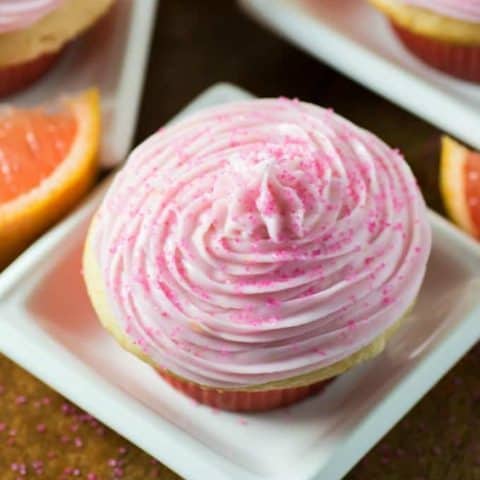 Grapefruit Cupcakes
Yield: 18
Prep Time: 40 minutes
Cook Time: 20 minutes
Total Time: 1 hour
Ingredients
3/4 cup butter, softened
1 1/2 cups sugar
3 eggs
1 tsp. vanilla
1 cup sour cream
1/4 cup milk
1/4 cup grapefruit juice
2 1/2 cup flour
2 tsp. baking powder
1/2 tsp. baking soda
1/2 tsp. salt
1 Tbsp. finely grated pink grapefruit zest
Icing
8 oz. cream cheese, softened
4 cups powdered confectioners sugar
1 tsp. grapefruit zest
2 tsp. grapefruit juice
Pink sugar
Instructions
Preheat oven to 350F. Line 18 muffin pans with cupcake liners. Cream butter and sugar together until fluffly. Add the eggs one at a time and then beat in vanilla, sour cream, milk and grapefruit juice. Mix well. In another bowl whisk the flour, baking powder, soda and salt together. Slowly add the flour into the butter mixture and mix until just incorporated. Stir in the zest. Spoon into cupcake liners ⅔ to ¾ full. Bake for 18-20 min. until they bounce back to a light touch and are lightly golden. Let cool on wire racks completely.
For the icing, cream the cream cheese in a large bowl. Carefully incorporate the icing sugar and the zest and juice and continue to beat until light and fluffy. Add more juice if necessary. Color to the desired pink colour and mix well. Place icing in a piping bag with a tip and decorate as desired. I usually use a star tip 21. You don't have to be fancy. Sprinkle with pink sugar. Place cupcakes in a covered container until you are ready to eat. Refrigerate, remove from fridge 30 min. before serving. Enjoy!!