With Spring here tomorrow I am so into light and refreshing recipes, like this Kale, Cilantro, and Chorizo Tabbouleh. That is why the cookbook Simply Citrus by Marie Asselin and photography by Catherine Côté so appealed to me for review. It is loaded with gorgeous citrus recipes including lemons, pomelos, oranges, limes, mandarins, kumquats, and grapefruit. There are also recipes for citrus products such as yuzu juice, orange blossom water, and preserved lemons. Awaken those taste buds now that the long winter is over!!
Citrus recipes are appealing to me all year round but for some reason, I enjoy them right now even. I always have lemons, limes, mandarins, and grapefruits in the house. Also, one of my favorite treats is a pomelo. If you have never had one they are like a sweet grapefruit and absolutely delicious and fun to eat!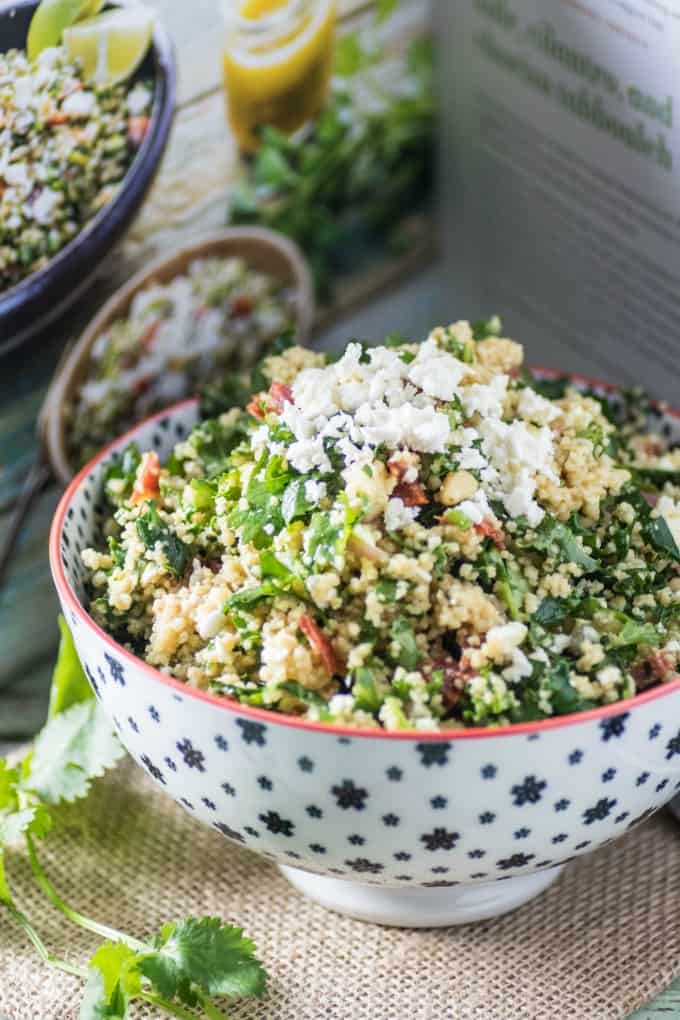 I loved how refreshing yet hardy this tabbouleh was. The addition of chorizo gives it a richness that balances lovely with the acidity of the lime. Including kale and cilantro is a nice flavoring instead of the traditional mint.
Simply Citrus Cookbook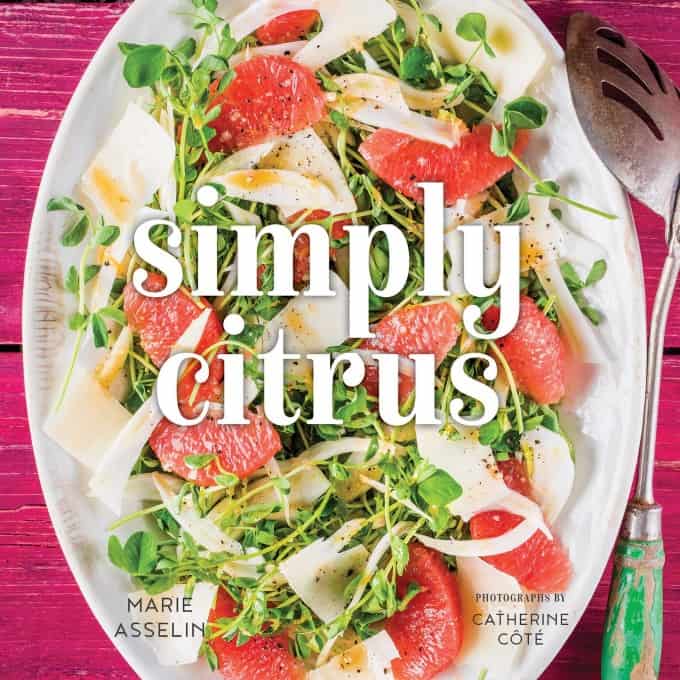 There are 60 recipes in this gorgeous sunny cookbook including ones like Orange and Ginger Pork Sliders with Slaw; Lime, Ginger, and Coconut Ceviche; Grapefruit and Pomegranate Pavlova and Cayenne Limeade.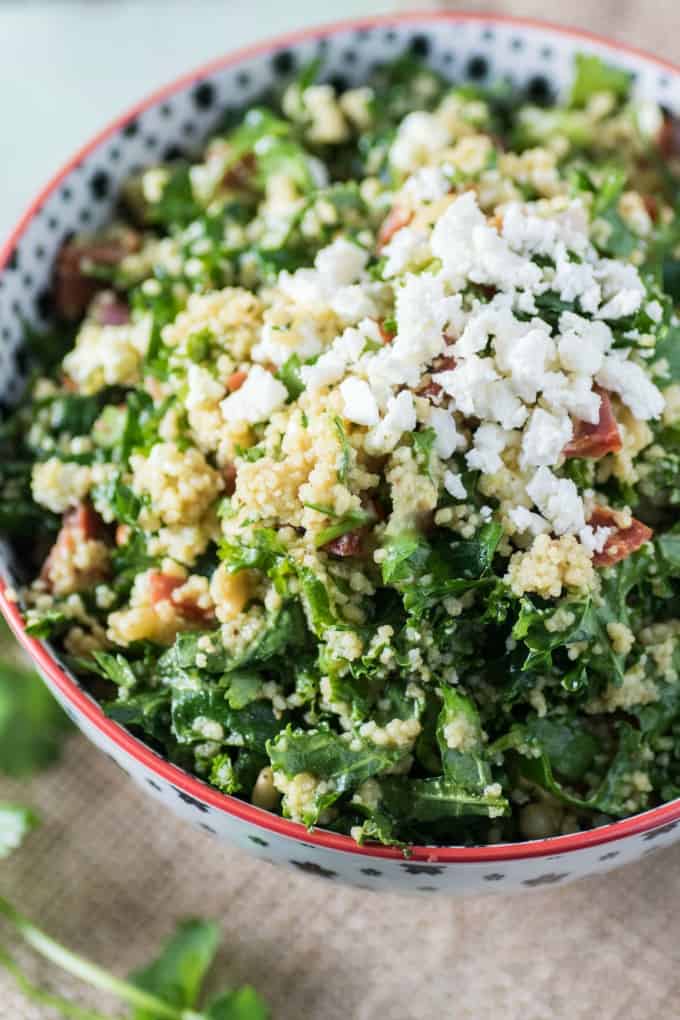 The cookbook includes a variety of appetizers, soups, salads, main dishes, desserts, and drinks recipes. It was hard to choose just one recipe to share with you!!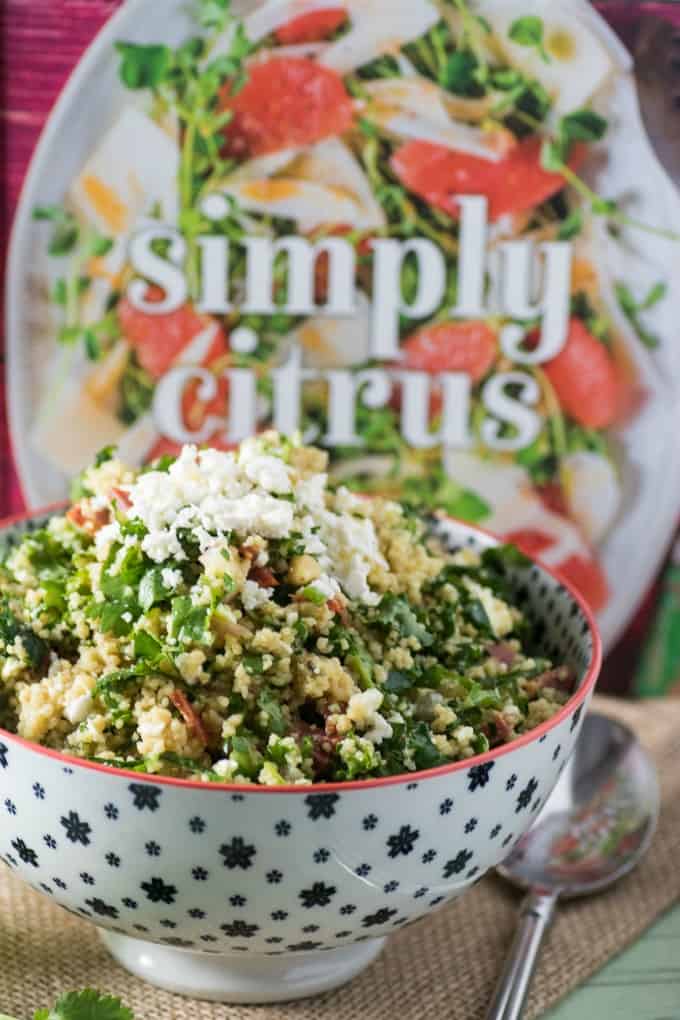 About the author: Marie Asselin is a freelance food writer, blogger, translator, stylist, recipe developer, and culinary teacher. Her blog, FoodNouveau.com, was a finalist at the 2016 Saveur Awards and won the 2017 International Association of Culinary Professionals (IACP) award for best recipe-based blog. She also won the 2017 IACP award for best food styling in a commercial food photograph. She lives in Québec City, Canada.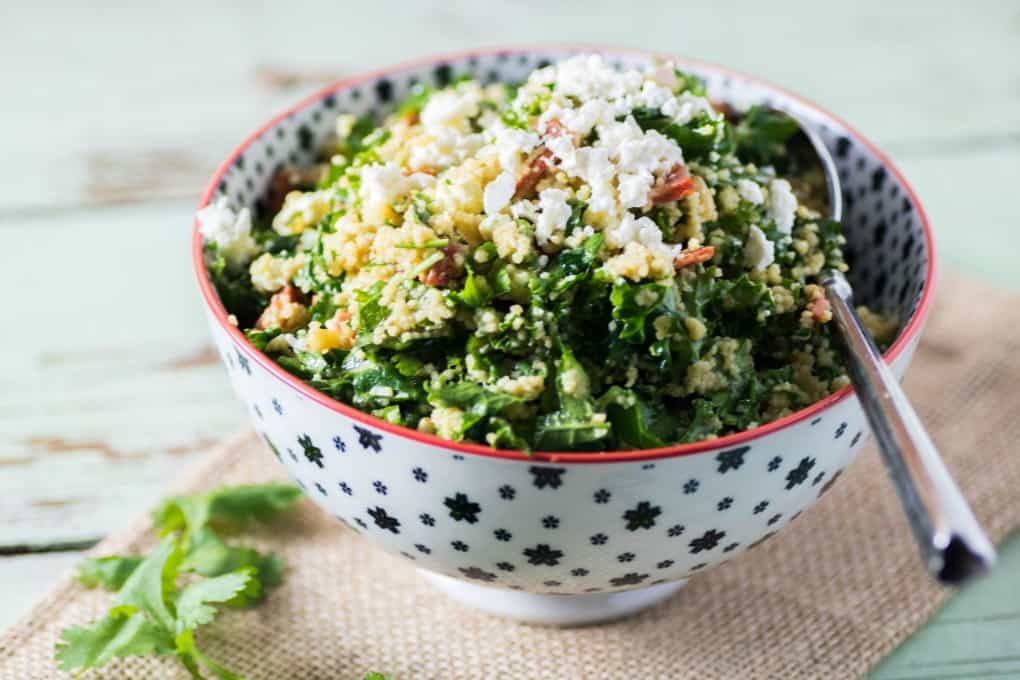 The Recipe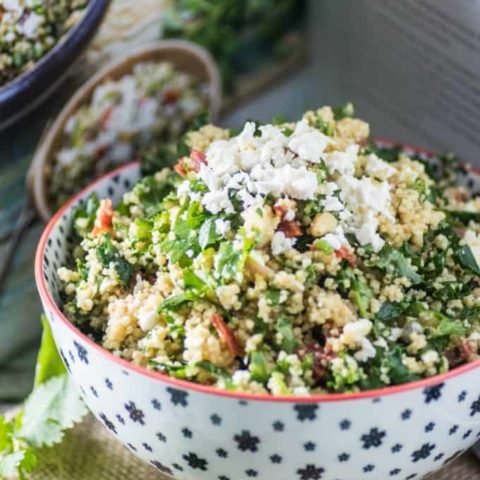 Kale, Cilantro, and Chorizo Tabbouleh
Yield: 4
Prep Time: 20 minutes
Total Time: 20 minutes
I like tabbouleh to pile on textures and flavors: it then becomes a hearty salad you could eat as a main dish if you felt like it. With salty, crunchy, and smoky elements, this nourishing version is downright dreamy served with a runny egg on top.
Ingredients
1⁄2 cup couscous
1 cup vegetable broth or water
2 leaves kale, stemmed and finely chopped (about 2 cups, loosely packed)
1⁄2 cup finely chopped cilantro leaves and stems
1⁄2 cup finely chopped flat-leaf parsley
1⁄2 cup Everyday Citrus Dressing (lime variation, page 16), plus more as needed
1⁄4 cup toasted pumpkin seeds
1⁄2 cup diced dry-cured Spanish chorizo
1⁄4 cup crumbled feta cheese
EVERYDAY CITRUS DRESSING
1⁄4 cup freshly squeezed citrus juice (lemon, lime, orange, mandarin, or grapefruit)
1⁄4 cup extra virgin olive oil
2 tablespoons white balsamic vinegar or white wine vinegar
1 tablespoon finely grated citrus zest (lemon, lime, orange, mandarin, or grapefruit)
1 tablespoon minced shallot
1 teaspoon Dijon mustard
1⁄2 teaspoon kosher salt Freshly ground black pepper, to taste
1 teaspoon ground turmeric (optional)
Instructions
EVERYDAY CITRUS DRESSING | MAKES 1⁄2 CUP
Add all the ingredients to an airtight jar. Close the jar and shake vigorously. Taste and adjust seasoning if needed. Keep refrigerated.
Place the couscous in a bowl or a large measuring cup. Bring the vegetable broth to a boil then pour over the couscous. Stir, cover with plastic wrap, and let rest for 10 minutes.
In a large bowl, combine the kale, cilantro, and parsley. Fluff the cooked couscous with a fork, and then add it to the salad (the couscous should still be warm when adding it to the salad). Toss to incorporate the couscous. Drizzle the dressing over the salad and mix well. Add the pumpkin seeds, chorizo, and feta; toss just to combine. Taste and add more dressing or adjust seasoning as needed. Transfer to a serving bowl.
Serve immediately, or refrigerate in an airtight container for up to 1 day.
Recipe from
Simply Citrus
by Marie Asselin, reprinted by permission of Gibbs Smith.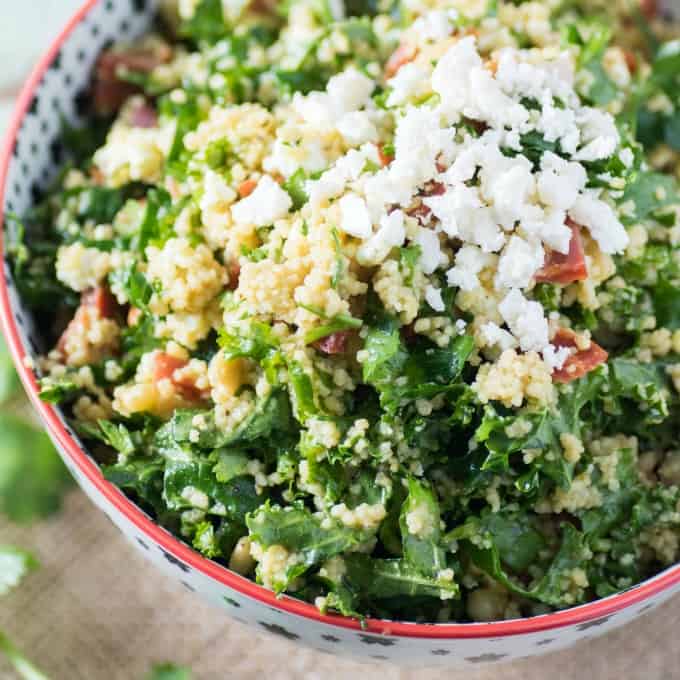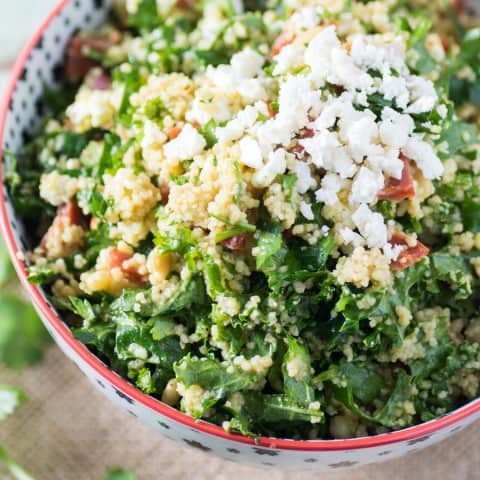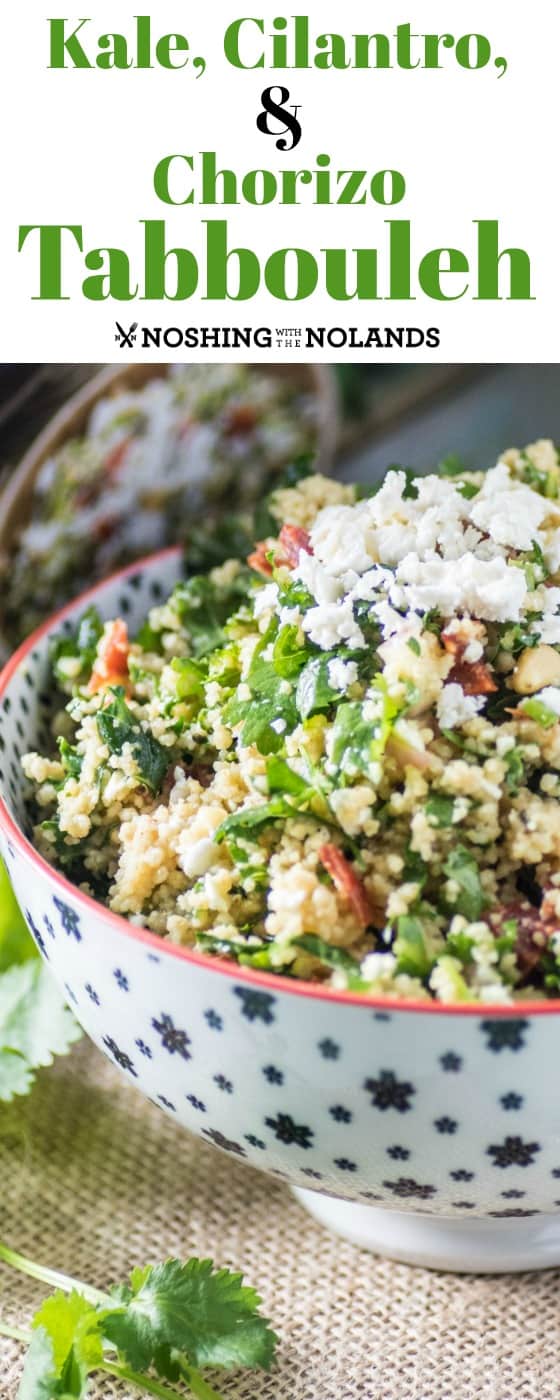 How exciting, we have a giveaway for you for a copy of this gorgeous cookbook. Contest is open to North America and a random winner will be drawn on April 3, 2018. Good luck everyone!