Oranges En Surprise
for All Things Orange at #SundaySupper
Hmmm, I was thinking what could I do for this week, maybe Orange En Surprise? I of course immediately went for the fall theme of pumpkins, bread, soups. Warm and fall like recipes but I again wanted something different. What is more orange than an orange!! Ken reminded me again of the oranges we had made when we did a Titanic dinner.
Titanic came out in 1997 and I quickly fell in love with the movie. I had found a book called "The Last Dinner on the Titanic" so decided to have a Titanic dinner party. There was a 9-course dinner menu in the book that I altered slightly. We had Lobster Thermidor and Quail with Cherries, soups, and sorbets.
Dress up!
I had everyone dress in period costumes and invited them as one of the real people on the boat with official baggage tags and boarding passes. A very fun evening!! I had a chef come in to finish each dish and serve. This is when we served the Oranges En Surprise. A light dessert for any time of the year. In 1912 it was a rarity to see citrus fruits in Northern climes so this was an extravagant dessert. It is an easy dessert to make and one that will get you ooohs and aaahs. Enjoy!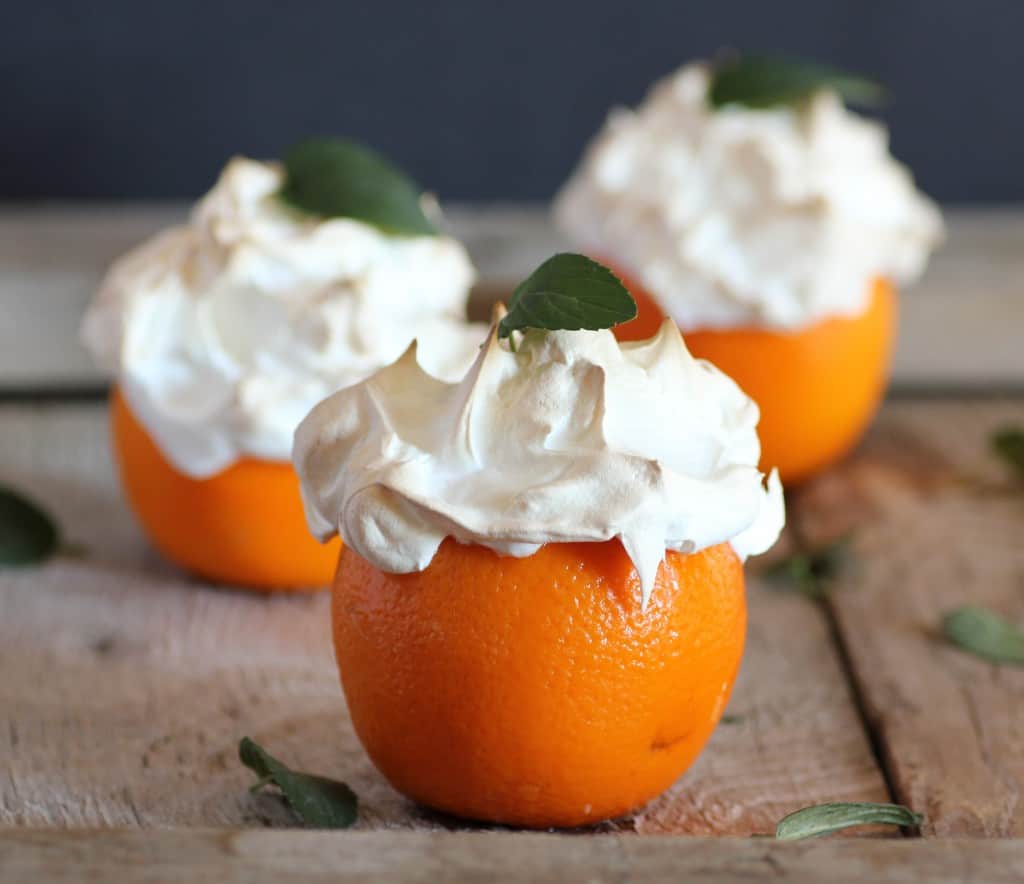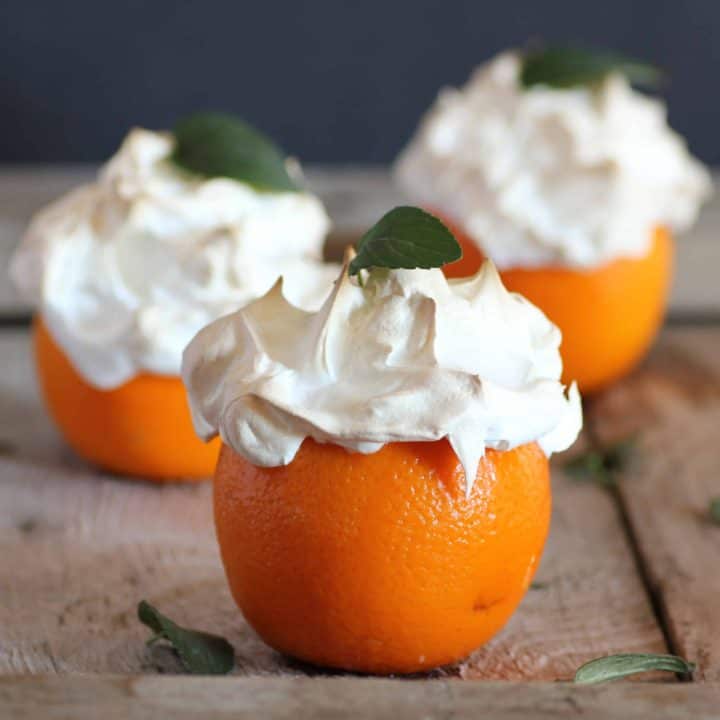 Oranges En Surprise for All Things Orange at #SundaySupper
Yield: 4 Servings
Prep Time: 30 minutes
Cook Time: 7 minutes
Inactive Time: 1 hour
Total Time: 1 hour 37 minutes
A fabulous light dessert for anytime of the year!
Ingredients
4 large navel oranges
2 cups orange sherbet
2 egg whites
Pinch of cream of tartar
1/2 cup fruit sugar
Dash of almond extract
Fresh mint leaves
Instructions
Cut off the quarter top of each orange and discard. Make sure your orange will stand up, otherwise cut a small slice off the bottom being careful not to cut through to the pulp. With a grapefruit spoon carefully remove the pulp from the interior of the orange.
Place hollowed-out oranges on a cookie sheet lined with waxed paper and place in the freezer for at least 30 min. or until rigid.
Fill the oranges with the sherbet dividing evenly and packing firmly. Freeze again for 30 min. or up to 2 days.
When ready to serve preheat the oven to 425F. In a stand-up mixer beat the egg whites until frothy and then add the pinch of cream of tartar. Continue beating and gradually add the sugar. Beat for another 3 min. or until the eggs are glossy and thick peaks form. Stir in the almond extract.
Remove oranges from the freezer and place it on a baking sheet. Cover the tops of the oranges with the meringue mixture by either piping or dolloping it on. Bake at 425F for 2 min. then lower the heat to 375F and continue to bake for 3-5 min. or until the meringue is slightly browned and set.
Garnish with a mint leaf and serve immediately.
Recipe adapted from the Last Dinner on The Titanic
The #SundaySupper family is using the spirit of the season to inspire you and will be sharing some fabulous dishes at the #SundaySupper table this week, and we do hope that you'll join us!
Just look at all of the fabulous dishes being offered up this week:
Sunrise (Breakfast and Brunch)
Erin from Dinners Dishes and Desserts is baking up some Pumpkin Chocolate Chip Muffins
Nicole from Daily Dish Recipes is making Pumpkin Donut Puffs
Patti from Comfy Cuisine is bringing Classic Orange Marmalade
Sunithi from Sue's Nutrition Buzz is making Spiced Pumpkin Ricotta Muffins with Craisins and Walnuts
Wendy from The Weekend Gourmet is cooking up some Pumpkin Maple Oatmeal
High Noon (Soups, Salads, and Sandwiches)
Renee from Magnolia Days is serving up some Butternut Squash Soup
Beate from Galactopdx is bringing her Carrot Ginger Soup
Jen from Juanita's Cocina is making some Curried Sweet Potato Salad With Cranberries and Pecans
Megan from I Run For Wine is making Skinny Roasted Butternut Squash and Italian Sausage Soup
Sarah from What Smells So Good is filling our bowls with some Spicy Sweet Potato and Coconut Soup
Alice from Hip Foodie Mom is coming with her Roasted Carrot and Red Quinoa Salad
Susan from The Wimpy Vegetarian is making Cider – Spiced Sweet Potato Soup
Tora from Tora's Real Food is bringing Butternut Squash and Tomato Soup
Melanie from From Fast Food to Fresh Food is making Monty's Pumpkin Soup
Kim from Cravings of a Lunatic is whipping up some Mandarin Chicken Salad
Sunset (Dinner and Main Dishes)
Shelia from Pippis In The Kitchen Again is serving her Roasted Squash and Ricotta with Honey
Patsy from Famfriendsfood is bringing her Carrot Souffle
Tammi from Momma's Meals is making Hearty Pork Stew
Kristin from Kwistin's Favorites is making Orange Chicken
Soni from Soni's Food For Thought is cooking up some Rigatoni with Pumpkin Ricotta Sauce
Shelby from Diabetic Foodie is cooking up some Moroccan Vegetable Stew
Brandie from Home Cooking Memories is sharing a DIY Baked Sweet Potato Bar
Amber from Mama's Blissful Bites is bringing Rice and Fig Stuffed Mini Pumpkins
By The Bonfire (Sweets, Snacks, and Sips)
Carla from Chocolate Moosey is making Pumpkin Tiramisu with Pumpkin Butter Caramel Sauce
Heather from Hezzi D's Books and Cooks is offering up some Pumpkin Cake Truffles
Shelia from Cooking Underwriter is bringing Sweet Potato Bacon Beet Salsa
Anne from Webicurean is making some Drunken Pumpkin Bread
Karen from In The Kitchen With KP is making Oven Baked Sweet Potato Chips
Leslie La Cocina De Leslie is making Sweet Potato Atole
Seet Fei from My Trials in The Kitchen is bringing Sweet Potatoes Mini Balls
Tara from Noshing With The Nolands is bringing Oranges En Suprise
Susan from The Girl in The Red Kitchen is making Pumpkin Chocolate Chip Scone with Pumpkin Glaze
Brenda from Meal Planning Magic is whipping up some Creamy Pumpkin Dip
Laura from Family Spice is making some Unprocessed and Gluten Free Pumpkin Bread
Kathya from Basic and Delicious is baking up Butternut Squash and Carrot Bread
Liz from That Skinny Chick Can Bake is serving up Pumpkin Roll with Cream Cheese Filling
Angie from Big Bear's Wife is bringing Orange Soda Pumpkin Patch Cupcakes
Sandra from Midlife Road Trip is bringing Orange ya glad it's fall! Hungarian Apricot/Walnut pastries
Join us!
Please be sure you join us on Twitter throughout the day during #SundaySupper.
We'll be meeting up at 7:00 pm(Eastern) for our weekly #SundaySupper live chat where we'll talk about our favorite recipes featuring our favorite fall color.
All you have to do is follow the #SundaySupper hashtag, or you can follow us through TweetChat.
We'd also love to feature your easy go-to recipes on our #SundaySupper Pinterest board and share them with all of our followers, too.
Come hungry!