Ready for a jello orange poke cake recipe that's insanely delicious, moist, and topped with a whipped topping? Yeah? Me too! Add some orange juice, orange jello, and vanilla pudding mix to the box of white cake mix takes this Orange Creamsicle Poke Cake over the top.
A creamsicle flavored dessert is something you really can't go wrong with, especially when it comes in the form of a cake. What is it about the combination of orange flavor, vanilla, and cool whip? It's an amazing medley of flavors. Want more? Try our Ferrero Rocher Chocolate Poke Cake for another amazing cake.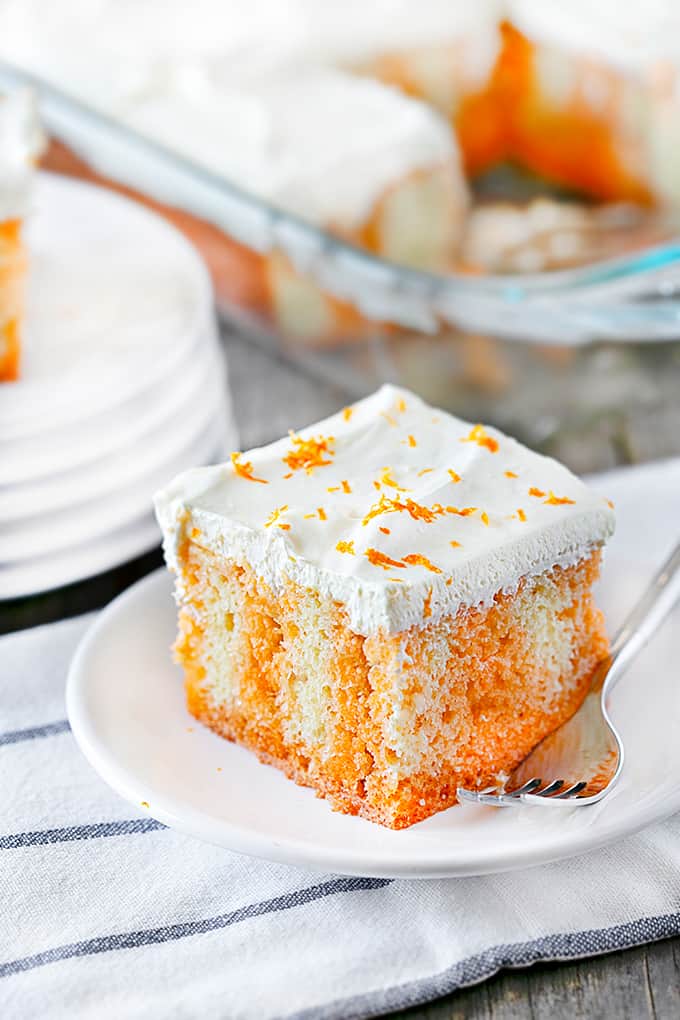 Dessert is by far one of my all-time favorite foods. And when the sweet tooth starts calling, I tend to respond, (Insert face palm). But, that's how this light and fluffy goodness came about.
Before I get too far along in the post, I'd love to make a quick introduction. My name is Kelly and I blog over at Live Laugh Rowe. It's a creative lifestyle blog that is a celebration of life, creativity and food. I'm based out of Springfield, Missouri and I couldn't be more excited to be here.
Let's get better acquainted, ok? Since I've already started introductions and shared my love for dessert, tell me something about you in the comments!
Insanely Delicious Poke Cake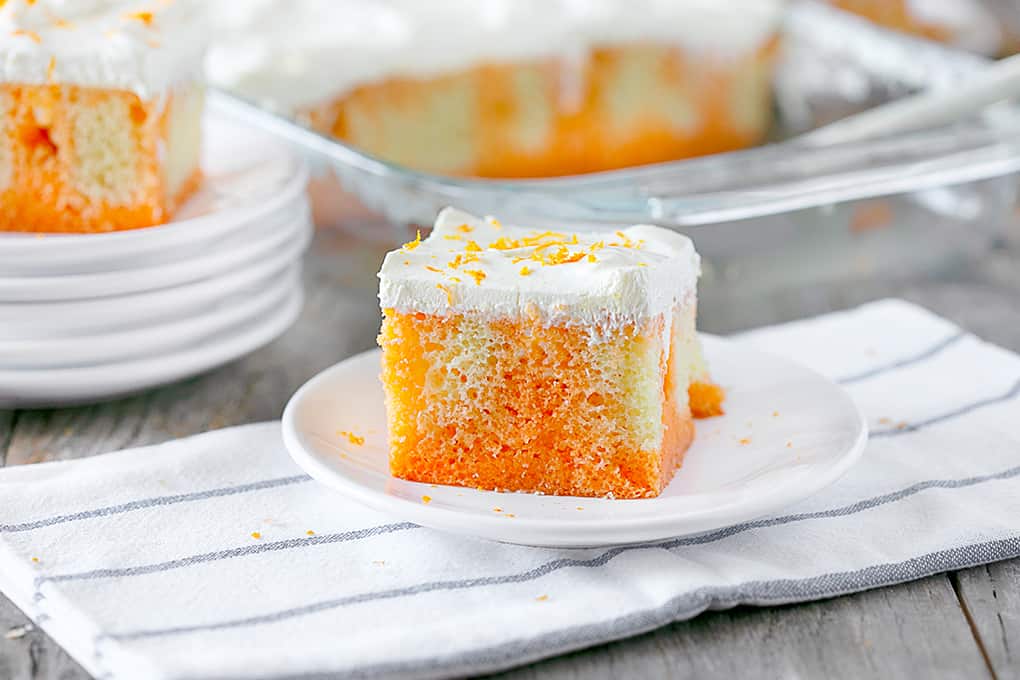 We probably should get back to the Orange Creamsicle Poke Cake recipe. If I was completely honest, it didn't last long in my home. It's super delicious and incredibly easy to make.
The hardest part is the waiting. After baking the cake, it has to cool completely for about an hour. When you add the jello mixture, it has to chill in the refrigerator for another two to three hours. And after you spread on the cool whip, there is another 30 minutes to an hour wait. It's a terrible waiting game. Nevertheless, it's totally worth it.
Something to keep in mind about all of the creamsicle desserts is that it tends to fall into the category of a seasonal treat too — the colors are festive for Halloween and fall. Right? Add some chocolate sprinkles to this and Happy Halloween.
Ingredients for an Orange Creamsicle Poke Cake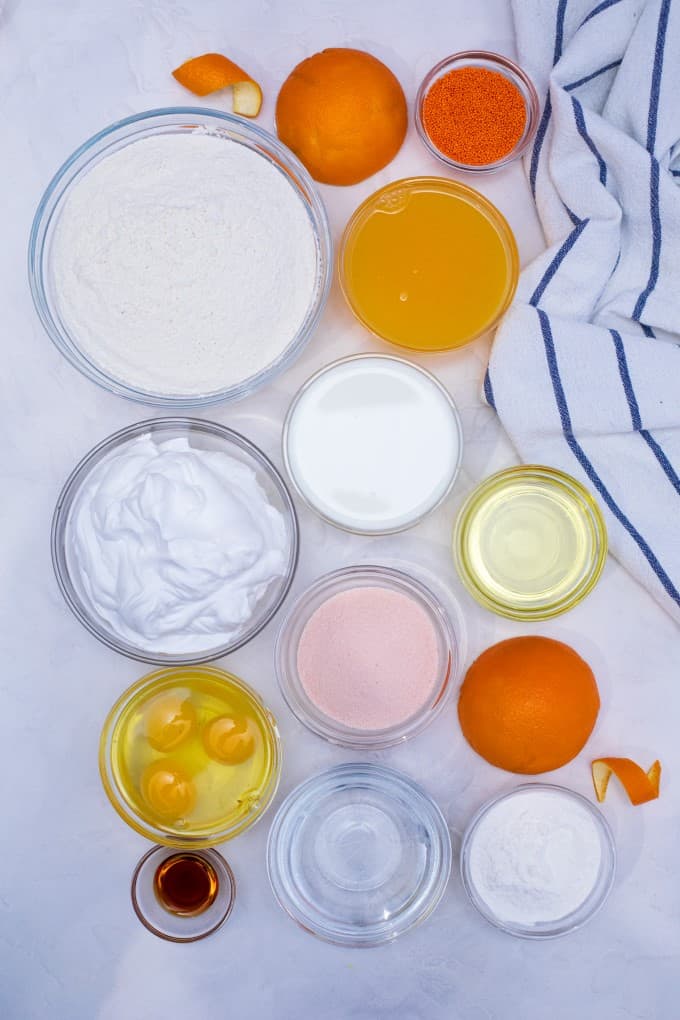 Really easy ingredients to find in any grocery store.
INGREDIENTS
CAKE
Vanilla Cake Mix
3 eggs
1 cup orange juice
1/2 cup extra virgin olive oil
FILLING
1 cup boiling water
One box (4-serving size) orange JELL-O
1 cup cold water
FROSTING
One box (4-serving) vanilla pudding
1 cup milk
8 oz. tub of Cool Whip
1 teaspoon vanilla, optional
GARNISH OPTIONS FOR THE TOP OF THE CAKE
Orange Sprinkles
Candy Orange Slices
Orange Zest
Mandarin oranges (optional)
Slices of oranges
What is a poke cake?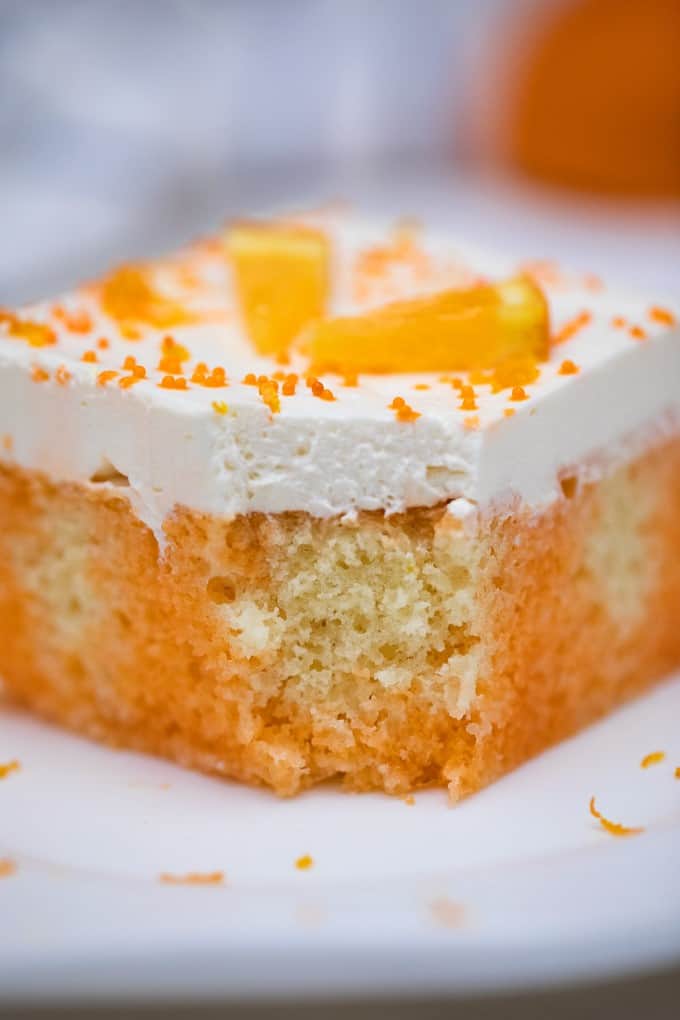 A poke cake is a baked cake that you poke holes into using a skewer (some people use a fork) so that you can pour something delicious over it. Usually, you're pouring jello, pudding, milk, pureed fruit, caramel sauce, etc.
That filling then seeps into all the holes and adds some incredible extra flavor. It also makes the cake incredibly moist.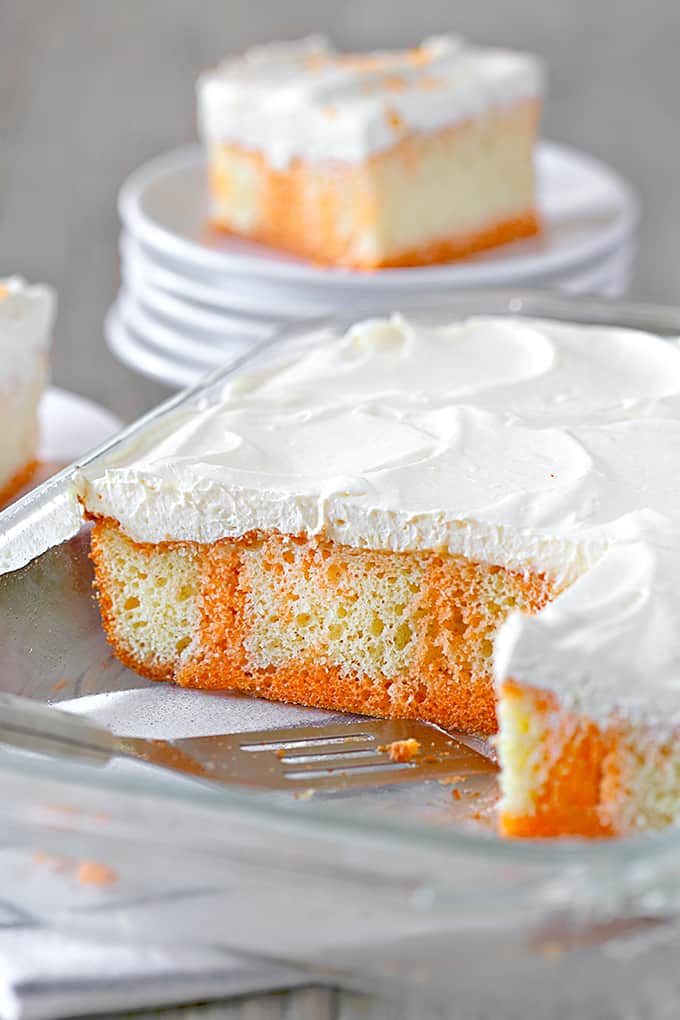 How do you poke holes into poke cake?
Ironically, I was just watching the Kids Bake Off Challenge on the Food Network this past week and the featured recipe was a poke cake. None of the five contestants (they're younger kids, probably around 10 or 11 years old) even knew what a poke cake was. Bless their hearts.
They were challenged with the following flavors: mocha, peanut butter, vanilla bean, carrot cake, and chocolate. Some had more success with their fillings than others, but I truly enjoyed watching them try something new.
Poking holes is easy to accomplish using a skewer. Some folks like to use a fork, but those make pretty small holes. I used a skewer and spun it around a time or two to make sure the poke was significant enough to have the effect I wanted it to have.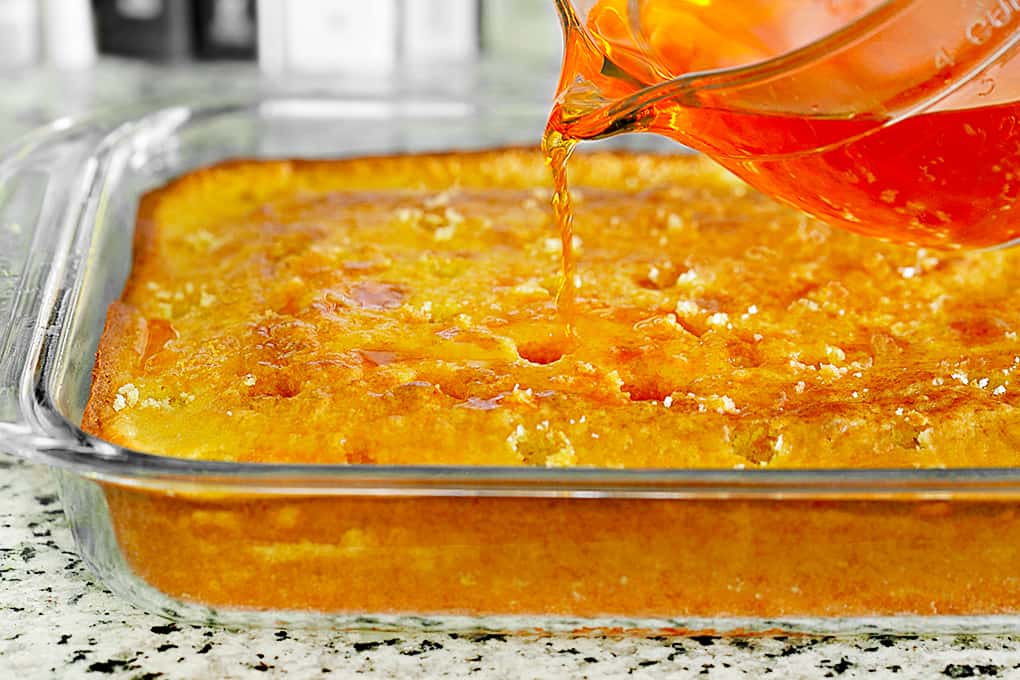 The filling can get tricky, because if it's too thick it may not properly distribute into the holes. The contestants on the baking show used forks to poke their holes and a couple of them weren't classified as poke cakes because the filling was too thick to seep into the holes.
It was a shame, but a great learning experience. Practice makes perfect, right?
Well, the good news is that using jello is an easy (and practically infallible) choice. The cake absorbs the liquid jello right up. It's kind of magical in its own kind of way.
Do poke cakes need to be refrigerated?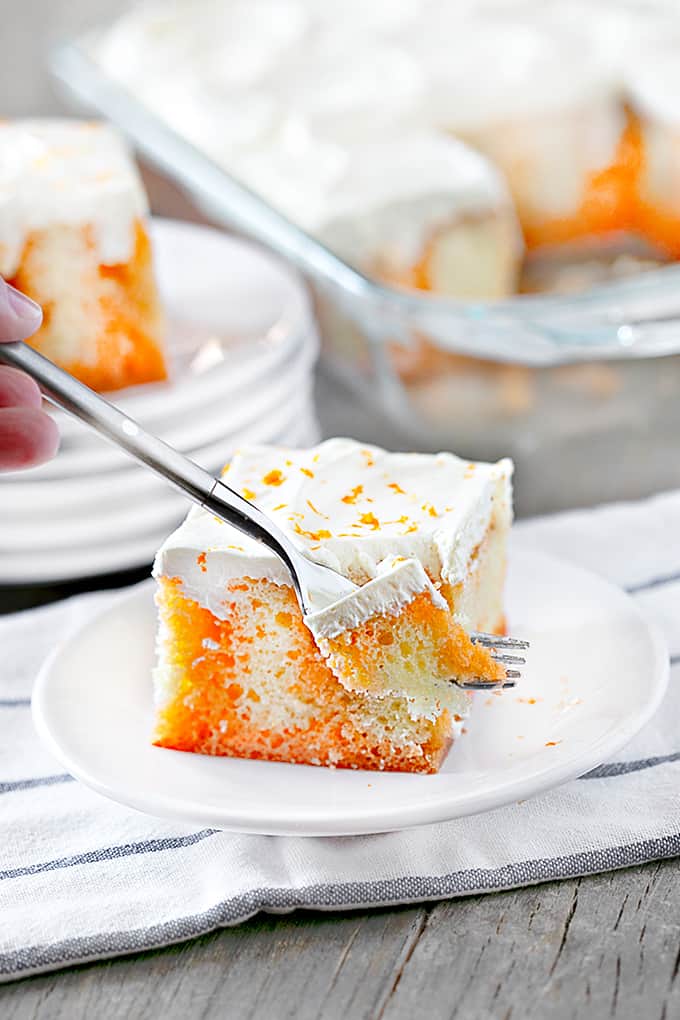 Since most poke cakes use jello, pudding, or whipped cream toppings, refrigeration is necessary. It's always good to err on the side of caution too. Some of the most popular flavors are from banana pudding, chocolate pudding, or strawberry jello.
Can you freeze a poke cake?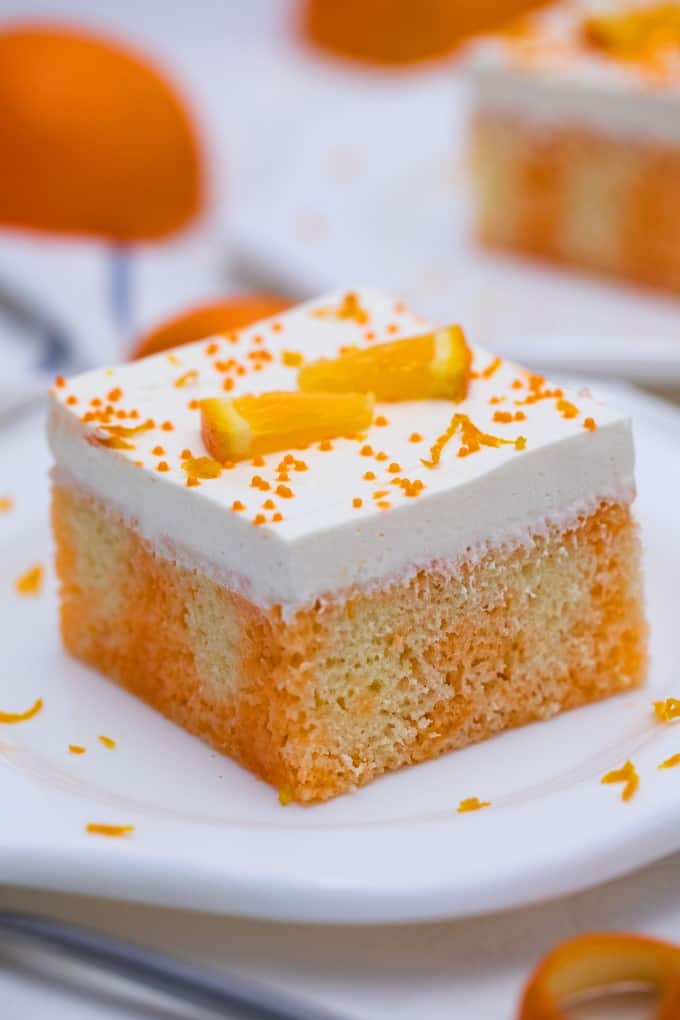 One of the best parts about cake is that it can be frozen, and that includes the poke cake. Just be sure to allow a couple of hours for defrosting before serving. A frozen dessert is a gift that keeps on giving (wink).
Just make sure to wrap it well and don't pile other items on top in case they slip into the cake and damage it.
I hope you enjoy this as much as we did. If you're interested in a frozen creamsicle treat, check out my Creamsicle Pie or these Creamsicle Pudding Shots. They're both pretty tasty too. Enjoy.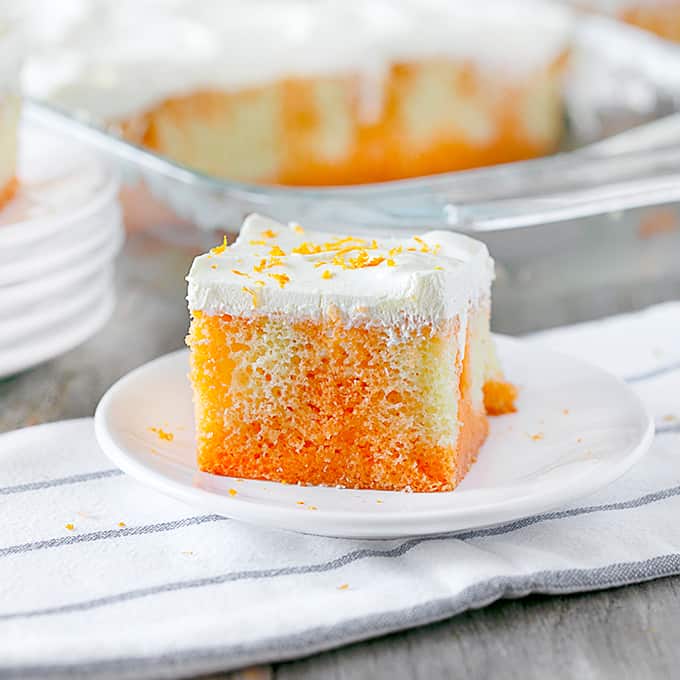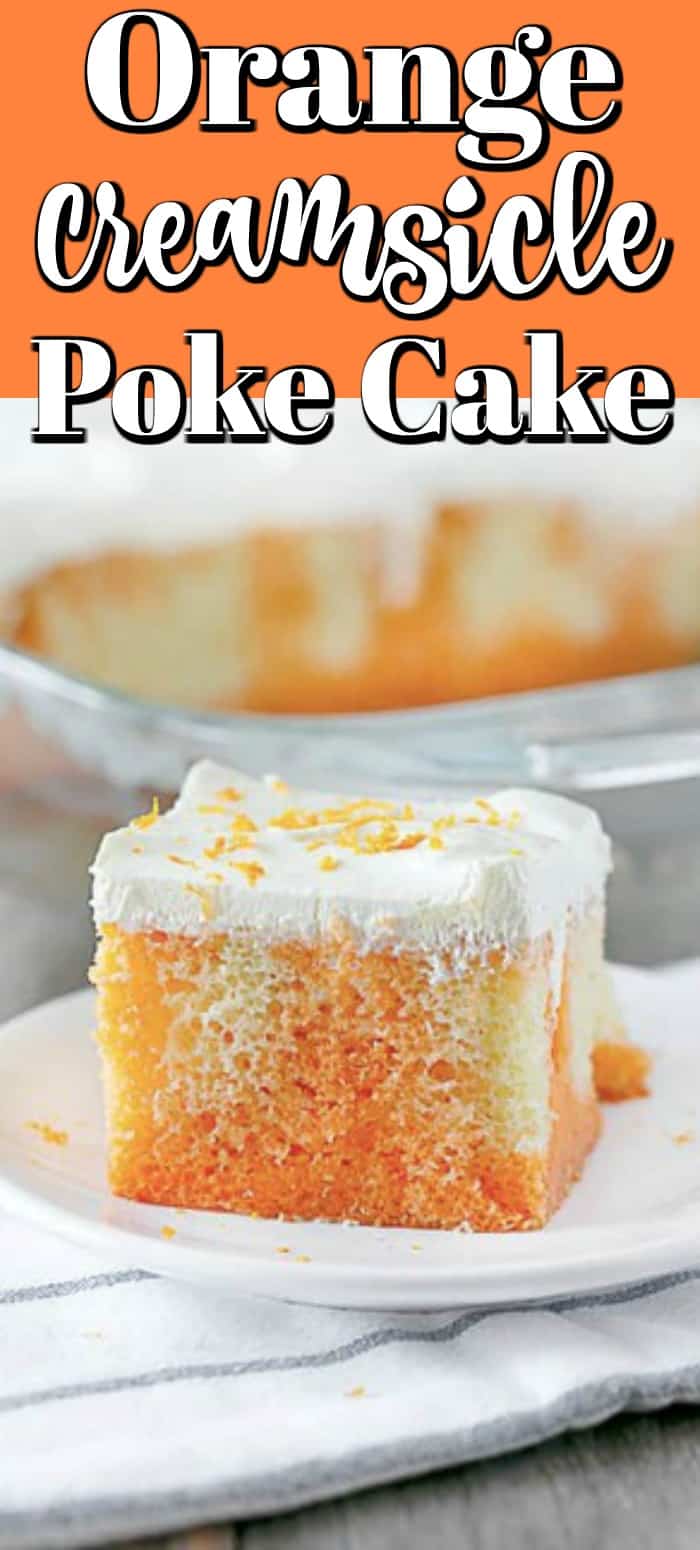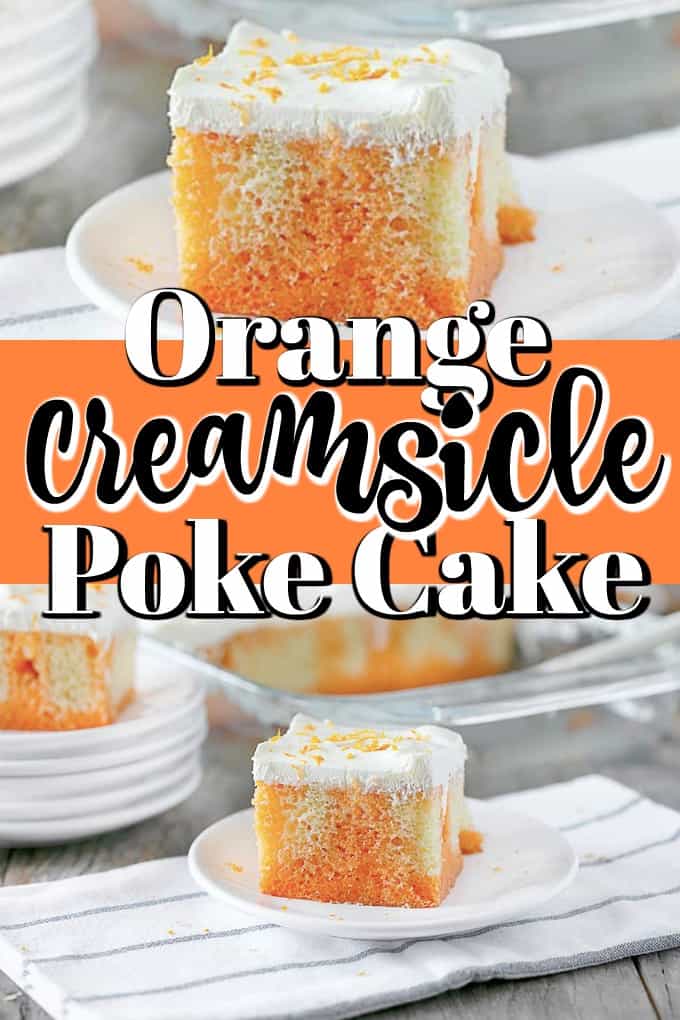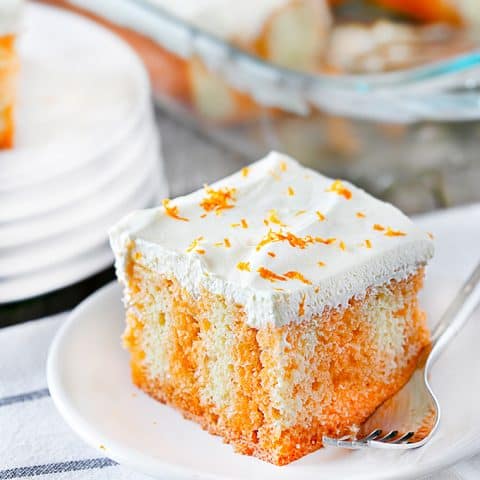 Orange Creamsicle Poke Cake
Yield: 24 pieces
Prep Time: 15 minutes
Cook Time: 30 minutes
Additional Time: 3 hours
Total Time: 3 hours 45 minutes
This Orange Creamsicle Poke Cake is insanely delicious, moist and topped with whipped cream. The orange jello and vanilla pudding takes it over the top.
Ingredients
Cake
Vanilla Cake Mix
3 eggs
1 cup orange juice
1/2 cup extra virgin olive oil
Filling
1 cup boiling water
One box (4-serving size) orange JELL-O
1 cup cold water
Frosting
One box (4-serving) vanilla pudding
1 cup milk
8 oz. tub of Cool Whip
1 teaspoon vanilla, optional
Garnish Options
Orange Sprinkles
Candy Orange Slices
Orange Zest
Instructions
Heat oven to 350ºF (325ºF for dark or nonstick pans).
Spray 13x9-inch pan with baking spray with flour.
In a large bowl, beat cake mix, eggs, orange juice, and oil with electric mixer on low speed for 30 seconds. Beat on medium speed for 2 minutes, scraping the bowl occasionally. Pour batter into pan.
Bake 28 to 33 minutes or until toothpick inserted near center comes out clean. Cool completely in pan on a cooling rack for about 1 hour.
Use a skewer to poke holes all over cake.
In a medium bowl, pour boiling water over orange JELL-O; stir until gelatin is completely dissolved. Stir in cold water. Pour gelatin mixture carefully and slowly over the cake. Refrigerate for 2-3 hours.
Beat together pudding mix, milk and vanilla in a large bowl until blended. Fold in container of whipped topping. Spread over cooled cake.
Refrigerate for at least 30 minutes before serving.
Recommended Products
As an Amazon Associate and member of other affiliate programs, I earn from qualifying purchases.
Nutrition Information:
Yield: 24
Serving Size: 1
Amount Per Serving:
Calories: 188
Total Fat: 9g
Saturated Fat: 3g
Trans Fat: 0g
Unsaturated Fat: 5g
Cholesterol: 24mg
Sodium: 187mg
Carbohydrates: 25g
Fiber: 1g
Sugar: 15g
Protein: 2g