This Boston Cream Poke Cake is a fun, easy, and delicious twist on the classic Boston Cream Pie dessert. It's made with a yellow cake mix and instant vanilla pudding, which makes it a super simple layer cake perfect for entertaining this summer or any time. It is a great cake to take to a potluck or gathering. You will get rave reviews!!
But while it's a cinch to make, a few special touches make it extra scrumptious. This is no ordinary cake mix recipe; we have a few surprises for you to take it way up!
Poke cake recipes are fun and we have made a few, Ferrero Rocher Chocolate Poke Cake, Rainbow Birthday Poke Cake and an Orange Creamsicle Poke Cake. These are very popular cakes and we love to serve them.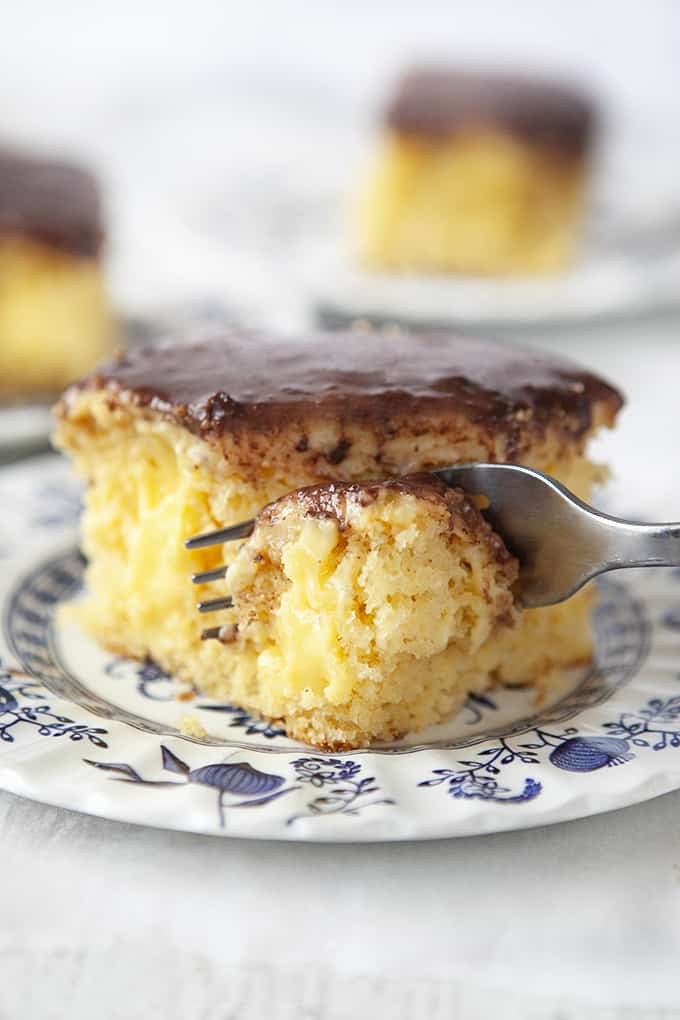 Hello again! I'm Allison from Some the Wiser and I'm so happy to be regularly contributing recipes here. If you're looking for more simple dessert recipes check out my Lemon Berry Mascarpone Tart, which is always a crowd-pleaser. Another favorite this time of year is my Dark Chocolate Strawberry Tart.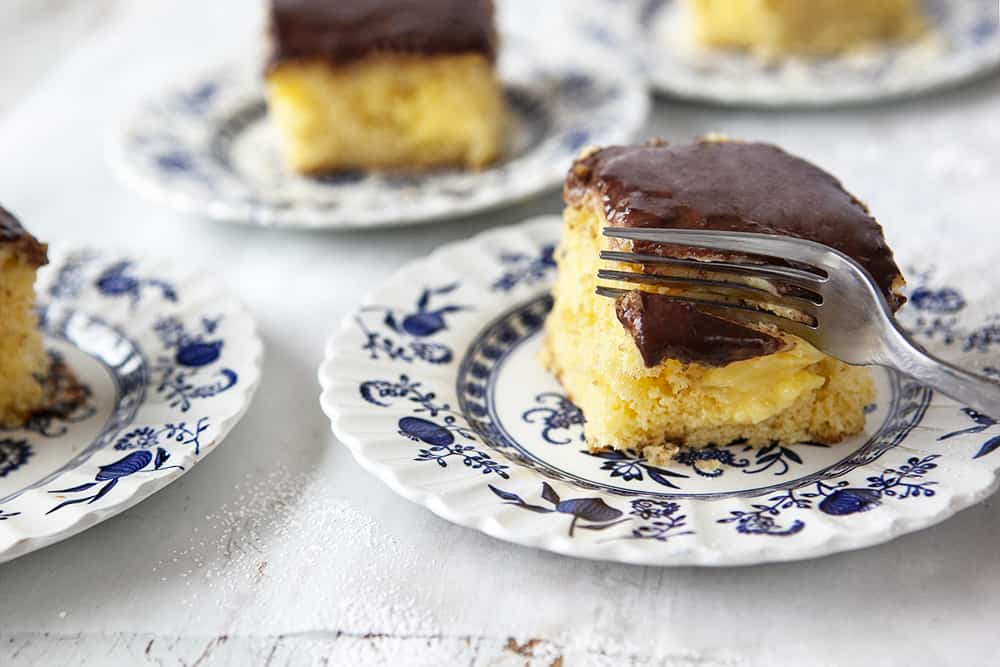 HELPFUL ITEMS FOR THIS RECIPE
This post contains affiliate links. As an Amazon Associate, I earn a small portion from qualifying purchases at no extra charge for you.
What is a Poke Cake?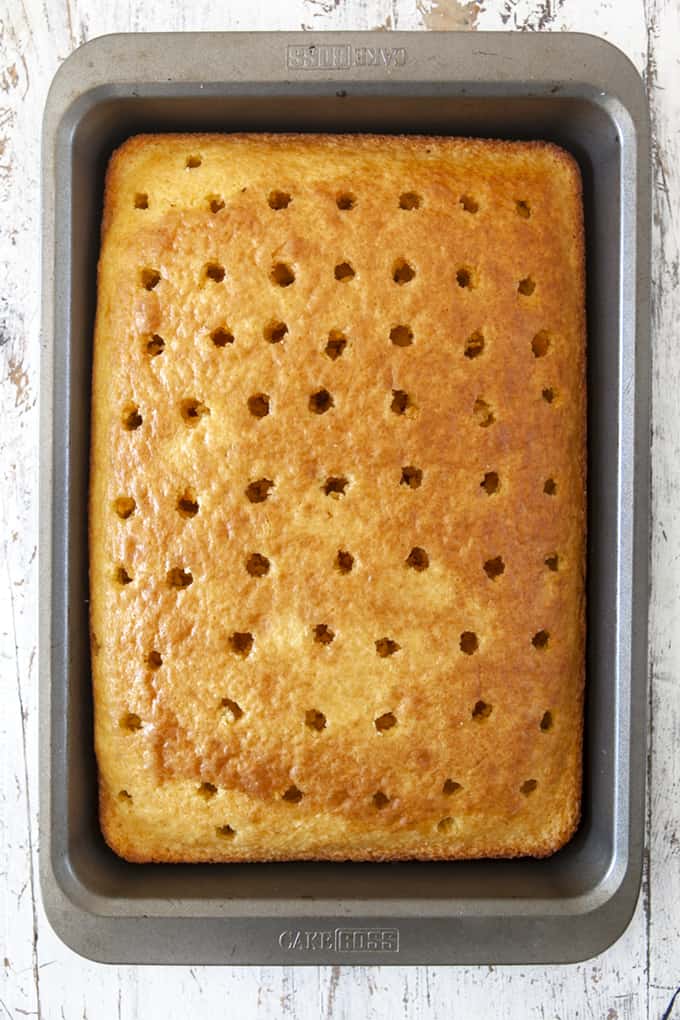 A poke cake is a cake that you poke holes in after baking and then fill the holes with syrup, cream, or another filling. The original poke cake was created by Jell-O back in the 1960's and the holes were filled with jello in its liquid form.
Since then, bakers and home cooks have gotten creative with the concept of a poke cake. The options for filling a poke cake are endless! I've made and tasted poke cakes filled with pureed fruit, pudding, chocolate, and even condensed milk.
The reason why poke cakes are so delicious is because the filled holes infuse so much flavor and moisture into the cake. It's one of my favorite types of cake for that very reason.
How Do you Poke a Hole in a Cake?
The process of poking holes in a cake for a poke cake is very simple. First, prepare the cake according to the package or recipe instructions.
When you remove it from the oven, while it is still warm, it's time to poke the holes. Don't let it cool completely. The key is to use something that makes big enough holes for the filling to absorb down into the cake.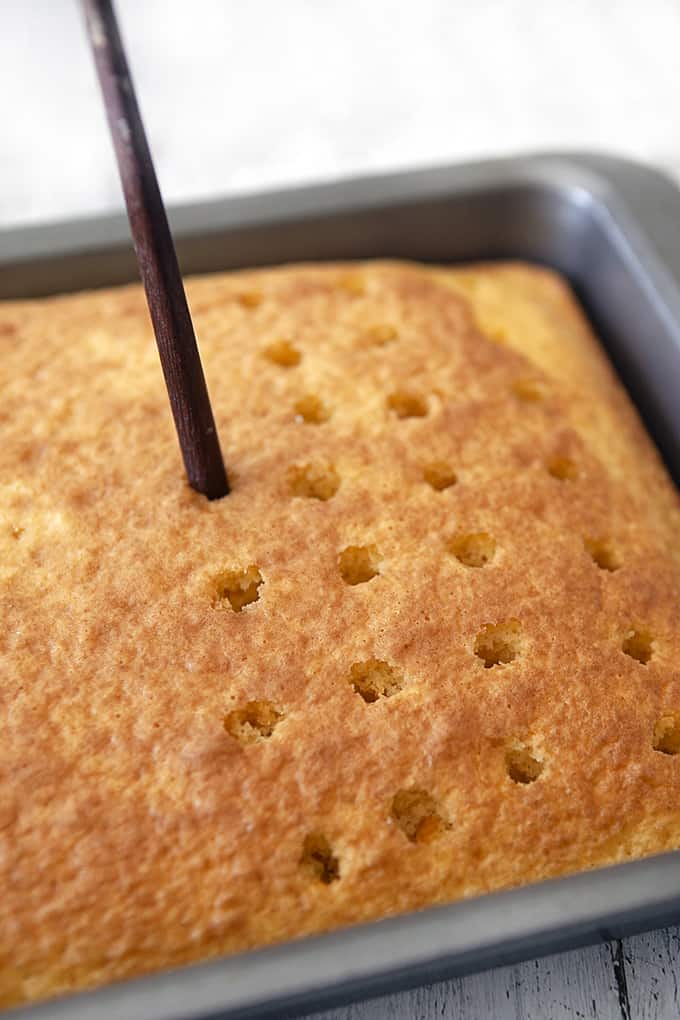 Because this Boston Cream Poke Cake is filled with instant vanilla pudding, you'll want to use something significantly larger than a toothpick. The pudding thickens quickly, so you need larger holes.
I used the fat end of a chopstick, but you could also use the round handle of a wooden spoon or even a large straw. Use something approximately the thickness of your pinky finger.
Poke the holes evenly all over the top of the cake so that the pudding filling infuses every slice and every bite of the cake.
How to Make a Boston Cream Poke Cake
While I love to bake and create in the kitchen, sometimes it is just so nice to have a super easy stand-by in the pantry, like a simple yellow cake mix and a box of instant vanilla pudding. But even when I choose something easy, I still want it to be delicious. Here's how to make this Boston Cream Poke Cake and bring it to the next level.
For the cake, you can use any yellow cake recipe you like. A box mix is fine, and that's what I used here. We are trying to keep this simple.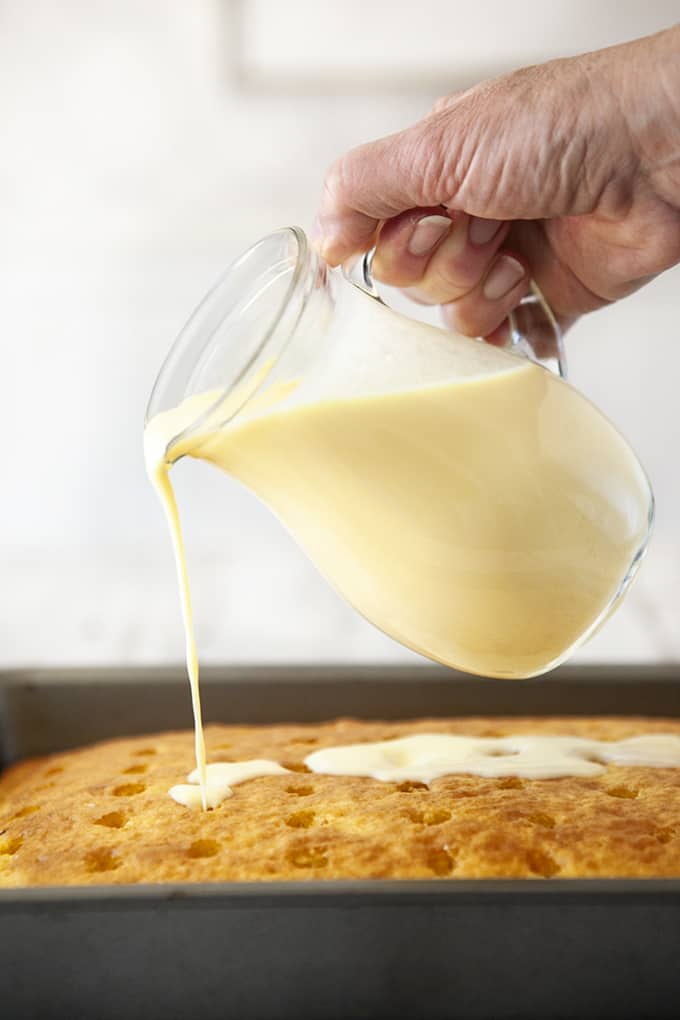 How to Make the Pudding Extra Special
For the pudding, however, homemade isn't a good option. Because you pour the pudding into the holes in the poke cake before it has thickened, you really do need to use instant pudding.
I do, however, like to add an extra special touch. I make the pudding mix according to the package instructions, but when I whisk in the milk, I also whisk in the seeds from half of a vanilla bean pod. You'll be amazed at how much extra flavor this adds. No one will ever guess it came from a box.
Take the instant pudding and pour it over the cake. It is fun to see it run into the holes. Kids can help with this cake as poking holes and watching the deliciousness run into them is great enjoyment.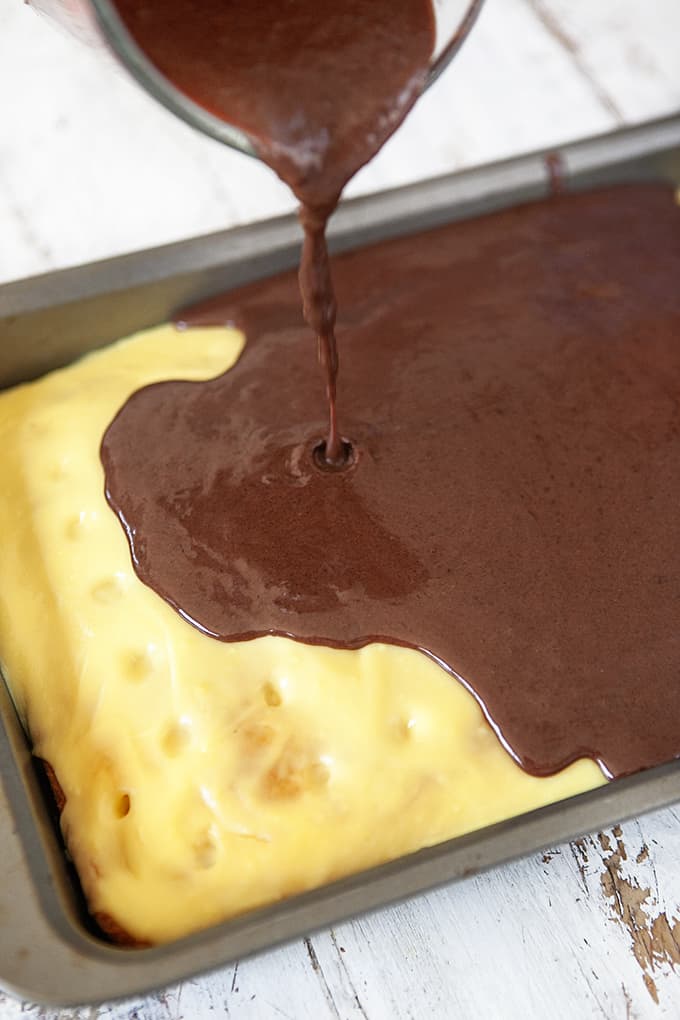 Making Chocolate Ganache
Another simple trick that takes this Boston Cream Poke Cake to the next level is the homemade chocolate ganache instead of chocolate frosting. It brings a deep and rich flavor to the cake.
The key to a really delicious ganache is to use good quality chocolate, at least 60% cacao, and heavy cream.
You can make the ganache in a double boiler, but since easy is the name of the game here, I just bring a cup of whipping cream to a boil and pour it over the finely chopped chocolate, or chocolate chips, in a medium bowl and whisk it until it's smooth. Super simple!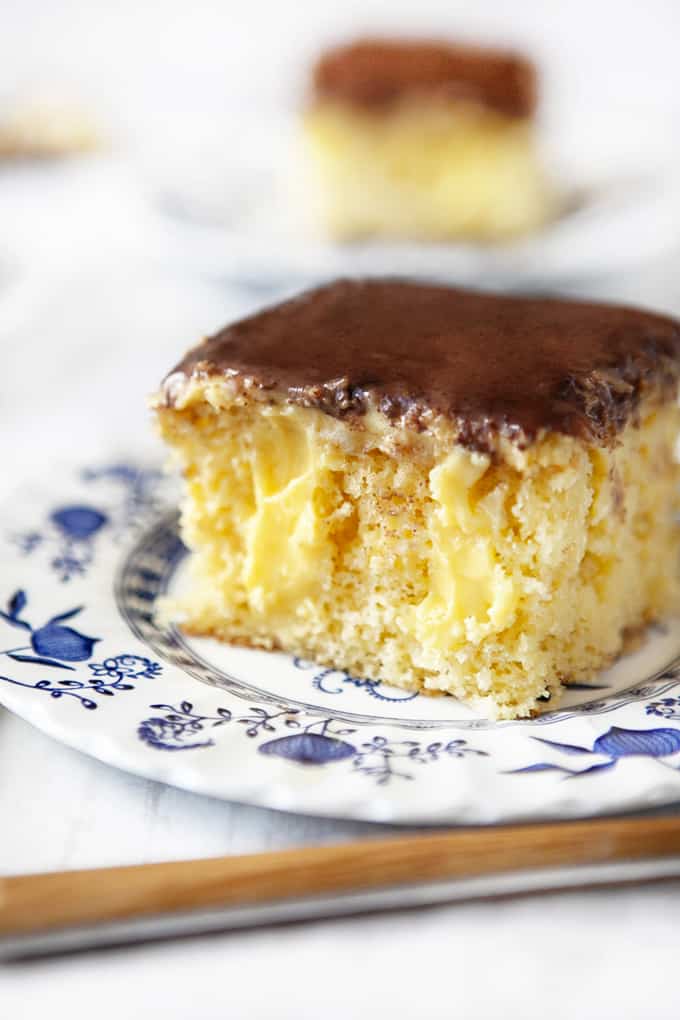 Can you Freeze Boston Cream Cake?
This cake is very easy to make, but you do need to plan ahead because it does require some chill time in the fridge. It's a great cake to make the night before you need it.
If you really want to plan ahead, you can make the Boston Cream Poke Cake and then freeze for up to 30 days. Just make sure you wrap it tightly in plastic wrap to prevent any freezer burn. Bring it to room temperature before serving.
This is great to know if there are any leftovers so that you can enjoy the cake at a later date also. Try this cake, your family and friends will love you for it.
Pin it HERE!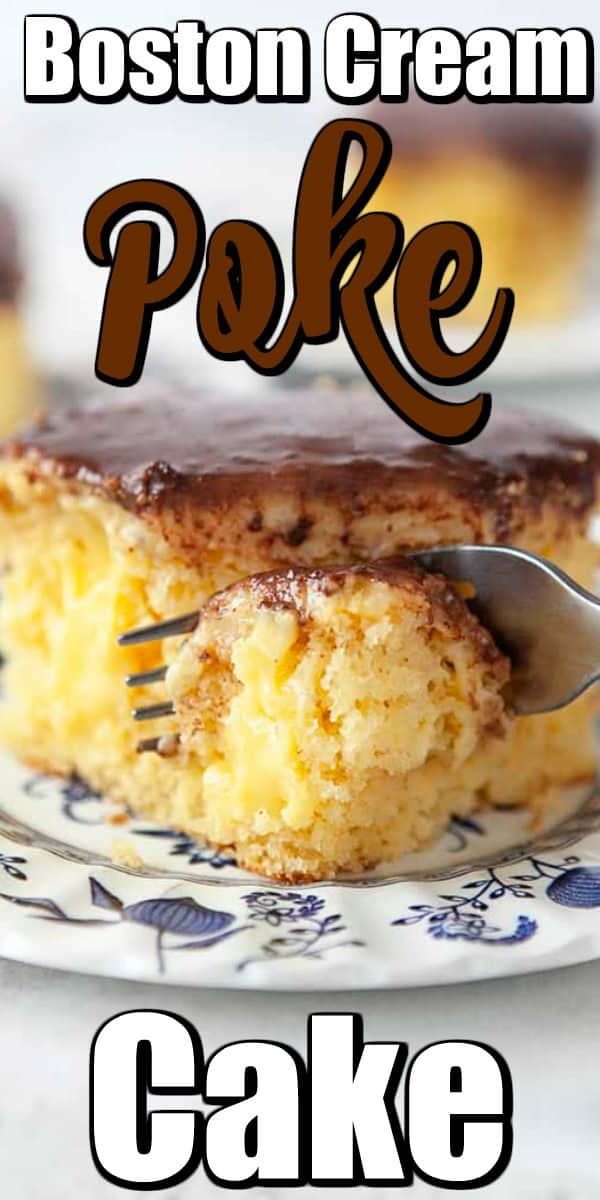 Pin it HERE!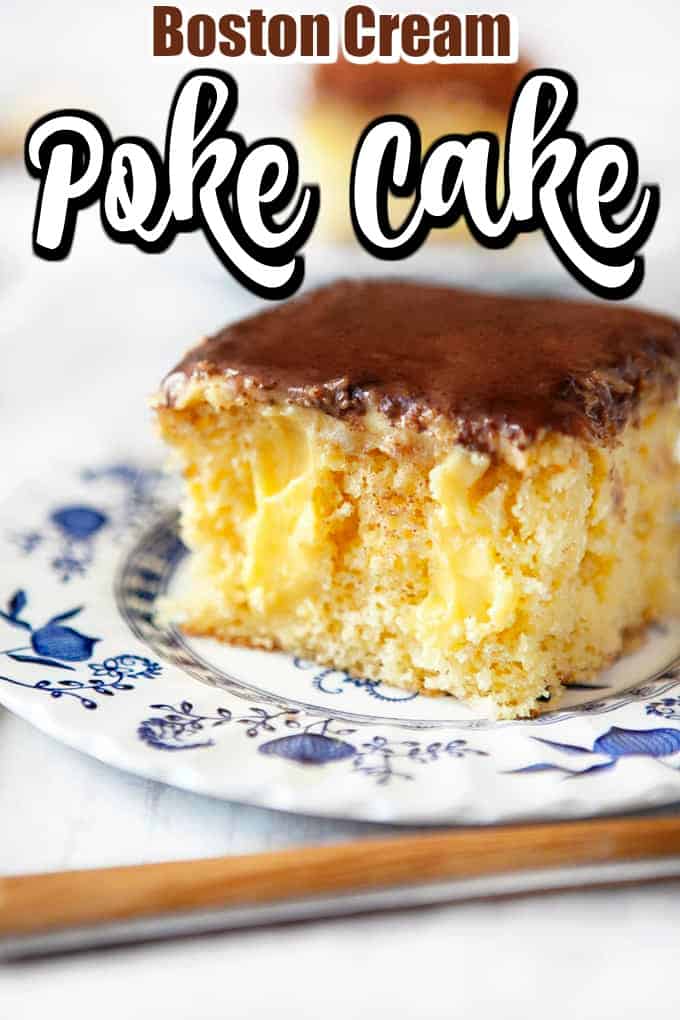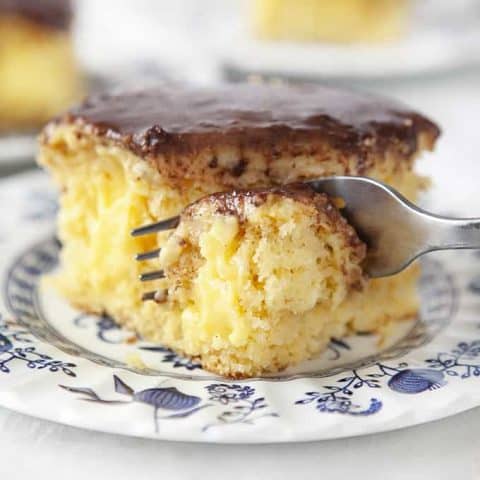 Boston Cream Poke Cake
Yield: 24
Prep Time: 30 minutes
Cook Time: 30 minutes
Additional Time: 4 hours
Total Time: 5 hours
This Boston Cream Poke Cake is a fun, easy, and delicious twist on the classic Boston Cream Pie dessert. It's made with a yellow cake mix and instant vanilla pudding, which makes it a super simple layer cake perfect for entertaining this summer or any time.
Ingredients
Yellow Cake Mix (15.25 oz) plus ingredients to prepare, i.e. oil, eggs, water
Instant Vanilla Pudding Mix (5.1 oz)
3 cups milk
seeds from 1/2 vanilla bean pod (optional)
10 ounces dark chocolate, finely chopped (or chocolate chips)
1 cup heavy cream
1 tablespoon butter
Instructions
Prepare cake according to package instructions in a 9x13" pan. Remove cake from oven and cool for 15 to 20 minutes. When it has cooled, but is still warm, carefully poke holes evenly all over the cake with something round and about as thick as your pinky finger (like the handle of a wooden spoon).
In a medium bowl, whisk together the vanilla bean seeds if using and cold milk, then whisk in the instant vanilla pudding mix until just combined, but not thickened. Very quickly, before the pudding thickens, pour it over the cake and into all the holes, gently pressing it down into the holes if needed.
Refrigerate the cake for 1 hour to cool completely and thicken the pudding.
Place the chopped chocolate and butter into a heatproof bowl. In a medium saucepan warm the heavy cream over medium-low heat until it simmers. Gently simmer for 1 minute, stirring occasionally. Pour the hot cream over the chocolate and butter and whisk until the chocolate is melted and smooth. Let the mixture cool for 10 minutes, then spread it over the top of the cake.
Chill the cake for 2 to 4 hours until the glaze is set. You can also refrigerate overnight.
Recommended Products
As an Amazon Associate and member of other affiliate programs, I earn from qualifying purchases.
Nutrition Information:
Yield: 24
Serving Size: 1
Amount Per Serving:
Calories: 153
Total Fat: 10g
Saturated Fat: 5g
Trans Fat: 0g
Unsaturated Fat: 4g
Cholesterol: 26mg
Sodium: 96mg
Carbohydrates: 14g
Fiber: 1g
Sugar: 11g
Protein: 2g
Recipe calculation was provided by Nutritionix and is an estimation only. If you need nutritional calculations for medical reasons, please use a source that you trust.