Blueberry Delight (aka Blueberry Lush Dessert) has layers of rich cream cheese filling, nutty graham cracker pecan crust, Cool Whip, and deliciously sweet blueberry pie filling. It's a no-bake treat that is perfect for summer potlucks!
When it's summer and blazing hot outside, we love no-bake treats. Be sure not to miss our Banana Icebox Cake, Lemon Lush, Lemon Blueberry Trifle, Pudding Pops, or Chocolate Pudding Pie!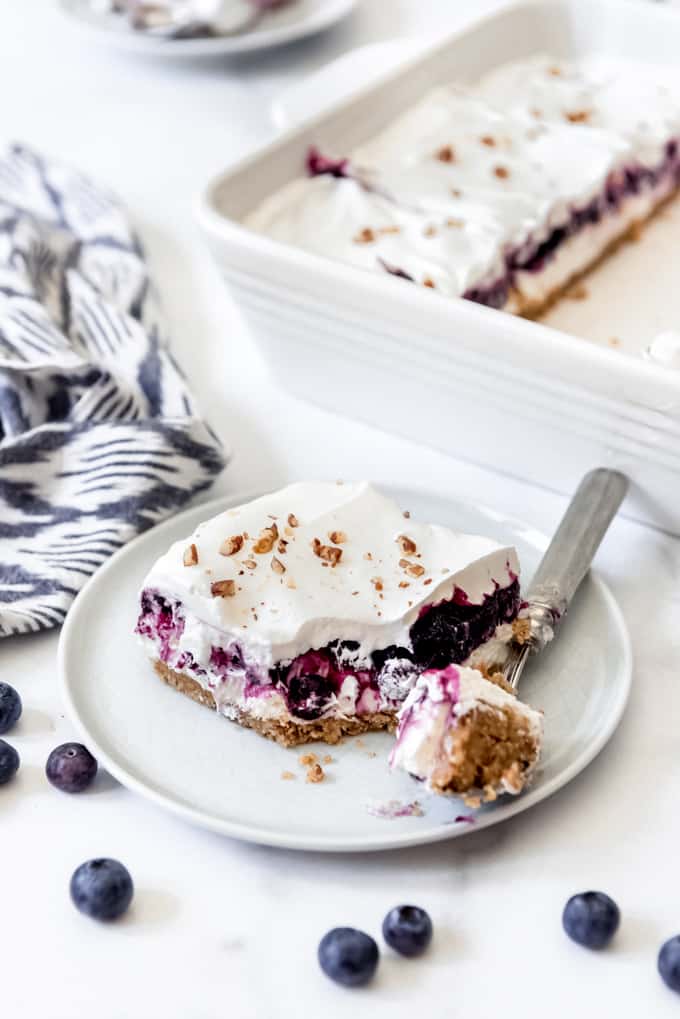 Hey there! It's Amy from House of Nash Eats back with this light, fruity dessert recipe that is so gosh-darn delightful it literally has the word "delight" in its name.
We absolutely adore blueberries, whether we are making a blueberry pie or my favorite blueberry muffin recipe (which has plenty of streusel on top, just how I like it!). If you have a blueberry obsession as well, you might also want to check out these 40 Bodacious Blueberry Recipes as well!
Helpful Items for This Recipe
This post contains affiliate links. As an Amazon Associate, I earn a small portion from qualifying purchases at no extra charge for you.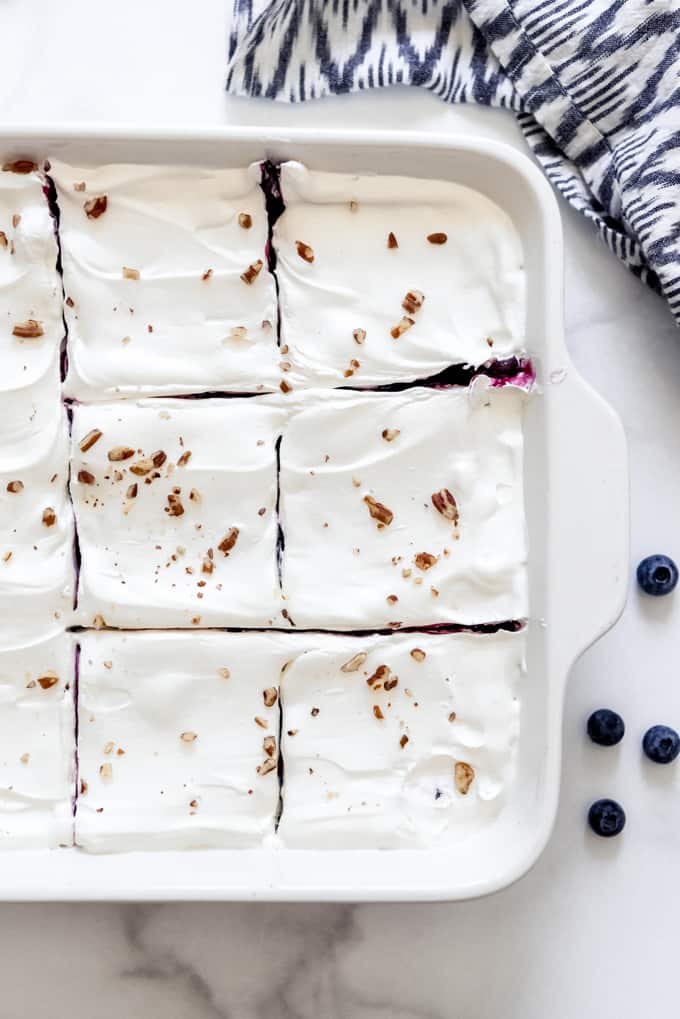 What is Blueberry Delight?
You may know this type of dessert by one of its other names: blueberry lush, blueberry yum yum, or blueberry bliss. I'm partial to the "blueberry lush" name since it sounds like it's a shortened form of the word "luscious", which accurately describes this summer dessert concoction that is essentially a no-bake cheesecake made for a crowd!
Blueberry delight is an easy recipe for a no-bake layered dessert with a graham cracker crust, creamy no-bake cream cheese layer, flavorful fruit, chocolate or pudding layer (in this case blueberry pie filling), and whipped cream on top. It's something of a hybrid of a cheesecake and a pie, except a bit fluffier and made in a rectangular baking dish.
It's quick and easy to whip up, although blueberry delight does require at least 2 hours in the fridge to set up. We think it's even better the next day, which is why it's a great option to make ahead and take with you to a summery social function like a backyard cookout. Letting it chill makes it more sliceable into squares, but even then this is a soft, creamy dessert so keep in mind that not every slice will be picture perfect. We find that's part of the charm of this homey, unpretentious dessert!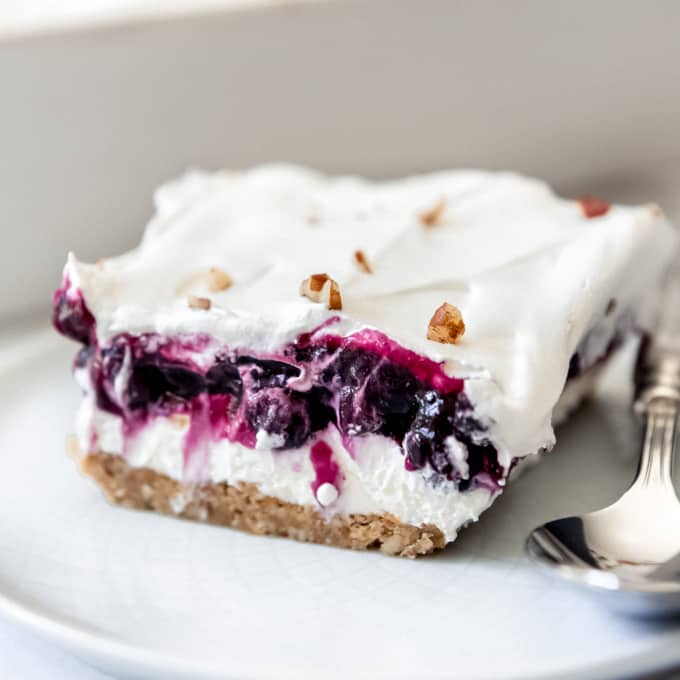 How to Make Blueberry Delight
I have nothing against taking a few shortcuts when it comes to this type of summery dessert. But each component of this recipe can be made from scratch, from the whipped cream to the pie filling. The choice is up to you!
Make the crust in a food processor or blender
I love the addition of finely chopped pecans in the graham cracker crust here. Add some melted butter and sugar, then press this into the bottom of a 9×13-inch baking dish.
You can either freeze or bake the crust to help it set up before moving on to the next layers. For this dessert to be truly no-bake, freezing the crust saves you the trouble of heating up your oven. But you can bake the crust in the oven instead for 8-10 minutes at 350 degrees F for a slightly crispier, toasted texture and flavor. It's delicious either way!
Make the creamy cream cheese layer
The next layer is essentially a no-bake cheesecake made slightly fluffier by mixing softened cream cheese and confectioners sugar with half of a 16-ounce container of thawed whipped topping, like Cool Whip. You can absolutely use 3 cups of homemade whipped cream in place of the Cool Whip here. Just whip 1 1/2 cups of heavy cream with 3-4 tablespoons of powder sugar until soft peaks form. Spread the cream cheese mixture over the set crust, making sure to nudge the filling all the way to the edges of the pan.
Top with blueberry pie filling
This is an easy summer dessert, so canned blueberry pie filling certainly makes things simpler. But you can always make the blueberry pie filling from scratch if you prefer using fresh or frozen blueberries. You want to be careful not to disturb the other layers by spooning the pie filling over the top and spreading it into an even layer.
Whipped cream on top!
Finally, spread the remaining whipped topping (another 8 ounces) over the blueberry layer, sprinkle with a few chopped pecans for garnish, then pop the whole thing in the fridge for 2+ hours or overnight. If you are going the real whipped cream route, I recommend holding off on this final layer until right before serving. Real whipped cream isn't stable like Cool Whip is and will melt in on itself overnight, so I would hold off adding that until shortly before serving.
Blueberry Delight Variations
The above approach is the classic way of making blueberry delight, but the recipe is easily adaptable to your tastes and what you have on hand.
For the crust, you can leave out the nuts and use all graham crackers. Or use Biscoff cookies, Oreos, Nilla Wafers, Pecan Sandies, or other cookies for your crust for a different flavor experience!
And when it comes to the filling, you don't have to limit yourself to just blueberries. Use any kind of pie filling like cherry, peach, raspberry, blackberry, strawberry, or apple can all be purchased premade. Or go with chocolate or lemon pudding!
With having all these options you will be making this dessert again and again!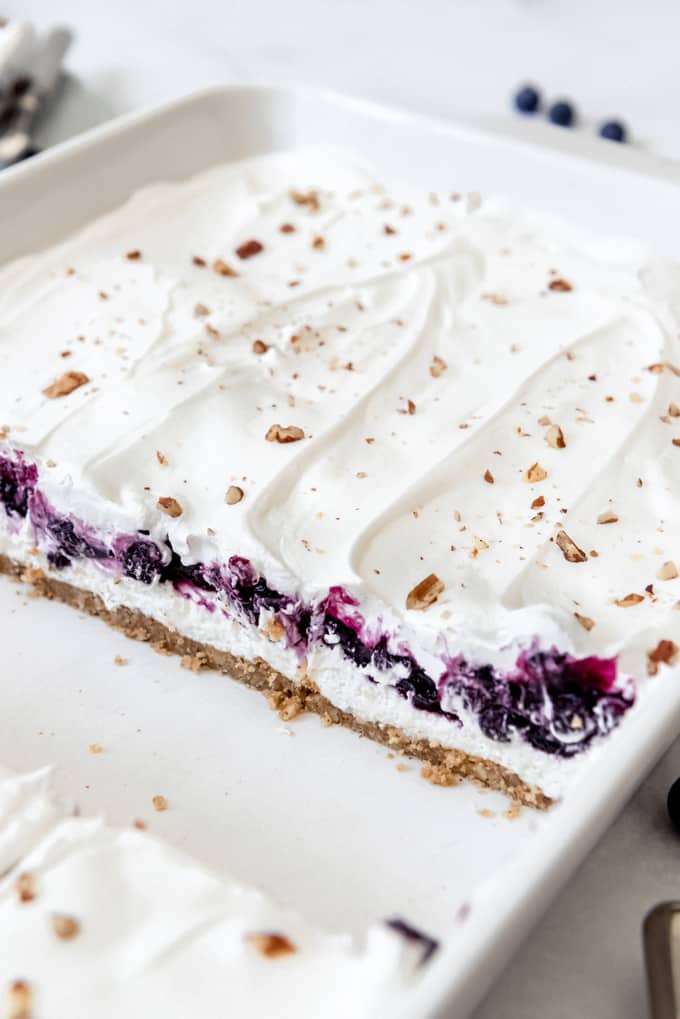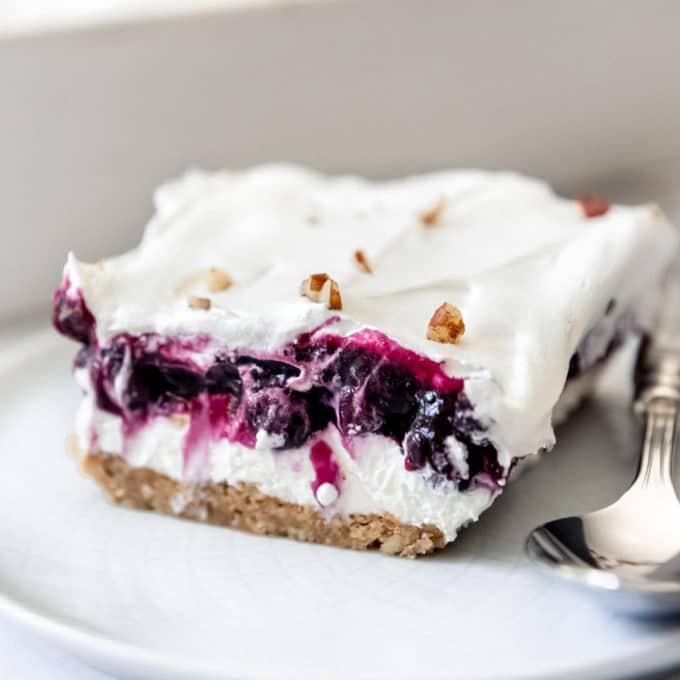 Pin it HERE!!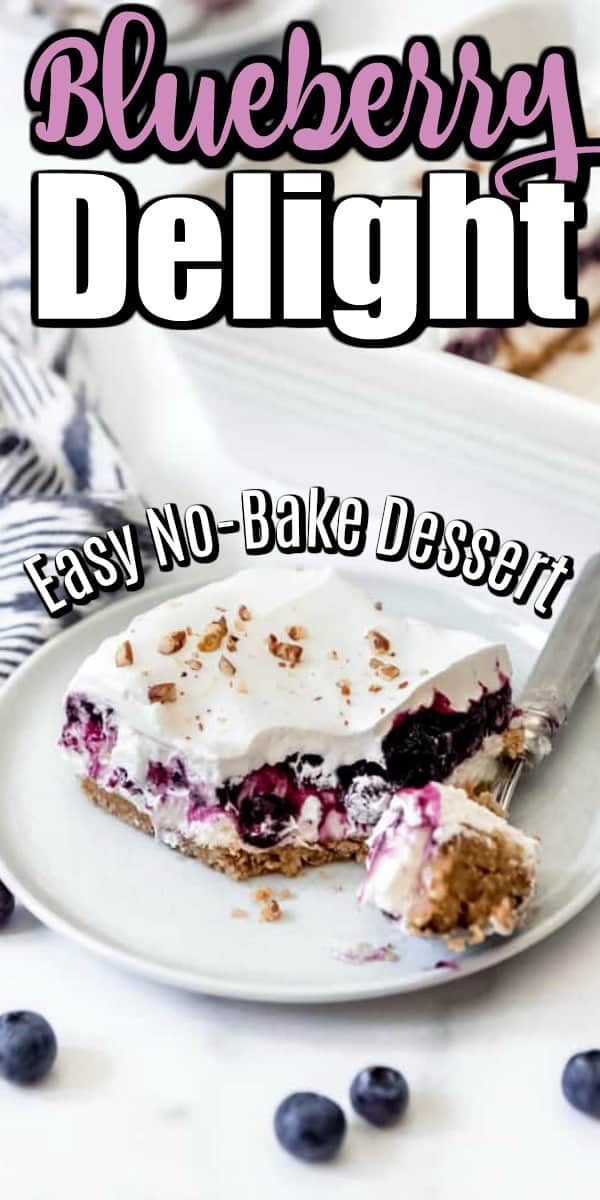 Pin it HERE!!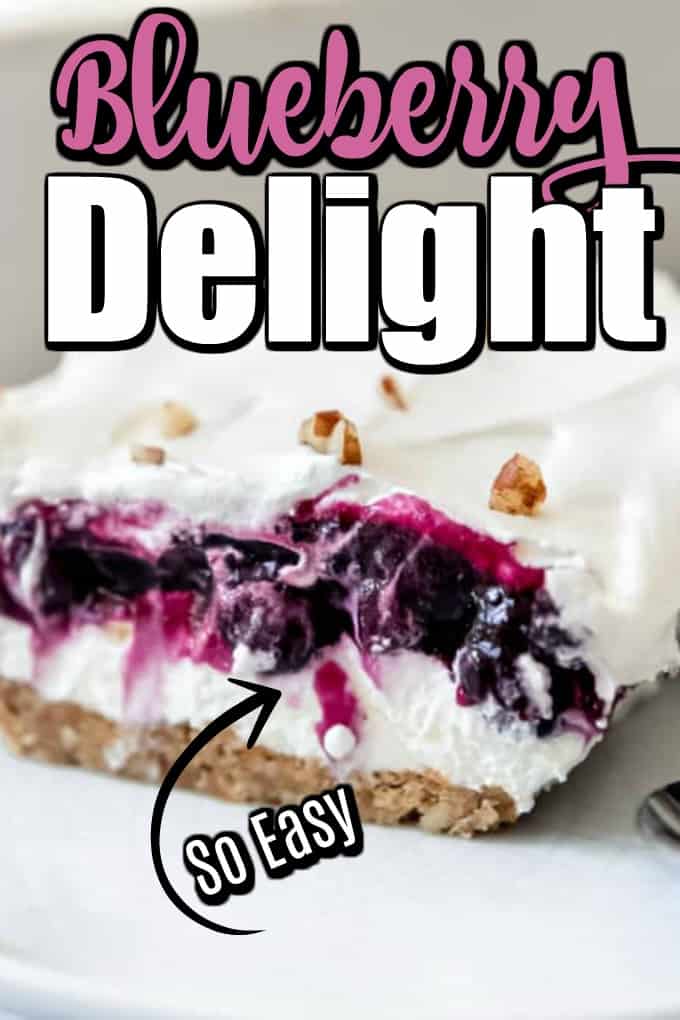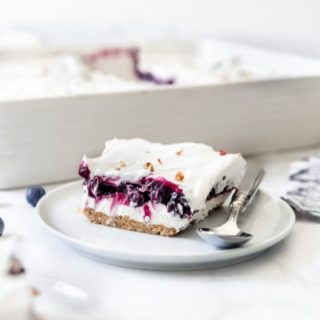 Blueberry Delight
Yield: 15 servings
Prep Time: 15 minutes
Additional Time: 2 hours
Total Time: 2 hours 15 minutes
Blueberry Delight (aka Blueberry Lush Dessert) has layers of rich cream cheese filling, nutty graham cracker pecan crust, and deliciously sweet blueberry pie filling. It's a no-bake treat that is perfect for summer potlucks!
Ingredients
Crust
1 1/2 sleeves graham crackers (13-14 sheets)
1 cup pecans
10 tablespoons salted butter, melted
4 tablespoons granulated sugar
Filling
1 (8-ounce) package cream cheese, softened to room temperature
1 cup powdered sugar
1 teaspoon vanilla extract
2 (8-ounce) containers of Cool Whip, thawed and divided
2 (21-ounce) cans blueberry pie filling
2 tablespoons chopped pecans, for garnish
Instructions
Process the graham crackers and pecans in a food processor or blender until they are fine crumbs. Add the butter and sugar and process again to combine. Press into a 9x13-inch baking dish and freeze for 10 minutes while preparing the middle layer.
Beat cream cheese, vanilla and powdered sugar in a medium bowl using an electric mixer until smooth. Add one container of thawed Cool Whip, beating until smooth. Spread over the crust, making sure to go all the way to the edges of the pan.
Spoon the blueberry pie filling over the cream cheese layer. Dollop the remaining container of Cool Whip over the blueberry layer, carefully spreading it over the top in an even layer. Sprinkle with the remaining pecans.
Chill in the fridge for 2+ hours or overnight to set up. Slice and serve.
Notes
If desired, bake the crust at 350 degrees F for 8-10 minutes for a firmer texture, then cool completely before filling.
Recommended Products
As an Amazon Associate and member of other affiliate programs, I earn from qualifying purchases.
Nutrition Information:
Yield: 15
Serving Size: 1
Amount Per Serving:
Calories: 203
Total Fat: 15g
Saturated Fat: 6g
Trans Fat: 0g
Unsaturated Fat: 8g
Cholesterol: 22mg
Sodium: 92mg
Carbohydrates: 16g
Fiber: 1g
Sugar: 11g
Protein: 1g