Not only is this Lemon Blueberry Trifle mouthwateringly delicious and incredibly easy, but it's also a perfectly stunning dessert. You can make one large trifle bowl to share or smaller individual trifles – both are a feast for the eyes and the mouth!
If you're looking for more easy and delicious lemon-flavored desserts to make at home right now, be sure to check out this Lemon Berry Peach Trifle and these Lemon Pie Bars, Mini Lemon Spring Bundts, Lemon Sweet Rolls, or this Lemon Lush. All of these Lemon desserts are perfect for Spring and Easter! Or maybe Blueberry has your fancy and you would like an Easy Homemade Blueberry Pie!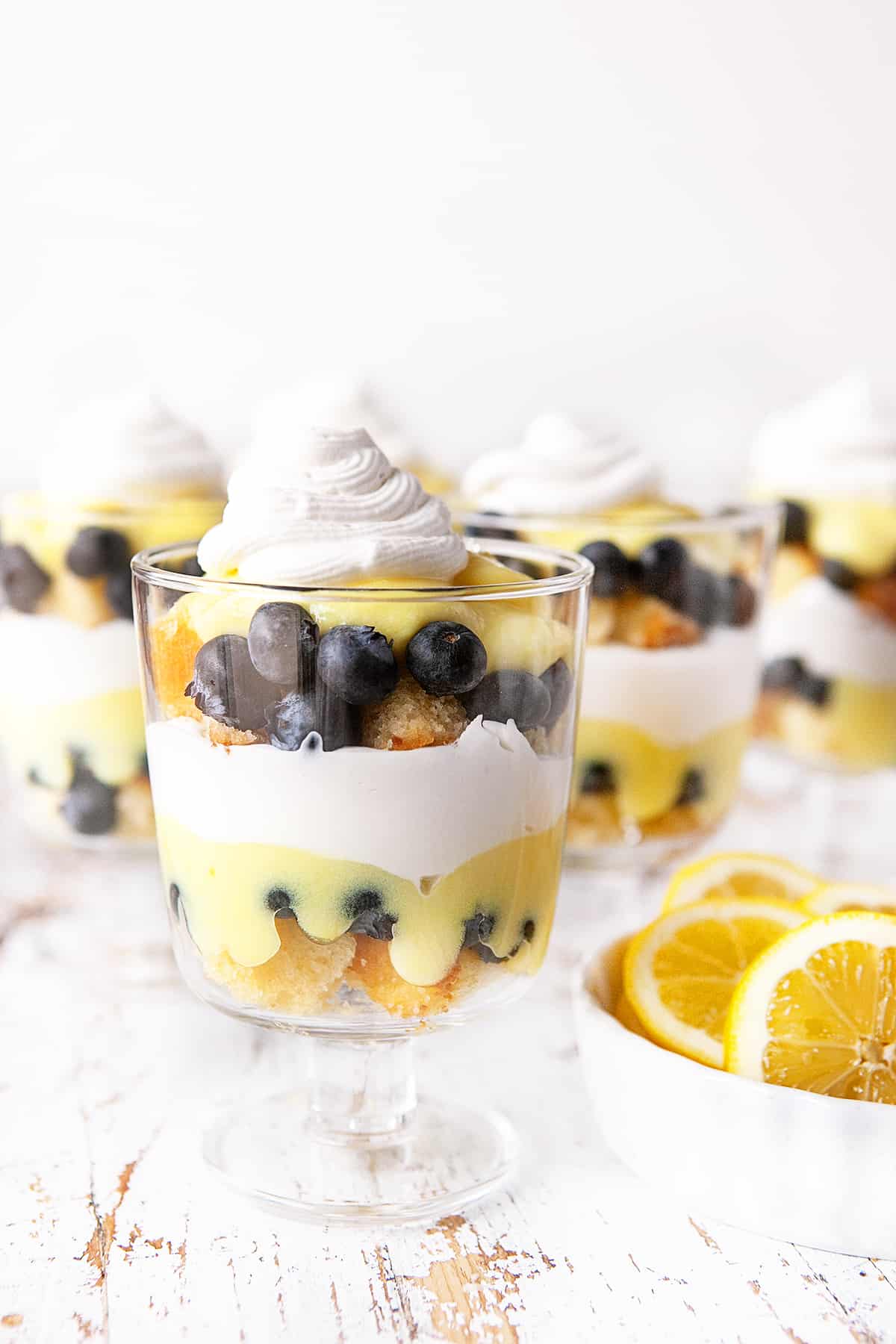 Hello again, it's Allison here from Some the Wiser. Lemon is my most favorite flavor to cook with, so I'm excited to be sharing such a delicious lemon dessert with you here. Be sure to also check out my favorite Lemon Cream Scones and this gorgeous Lemon Berry Tart!
Helpful Items For This Recipe
This post contains affiliate links. As an Amazon Associate, I earn a small portion from qualifying purchases at no extra charge for you.
Lemon Blueberry Trifle with Pound Cake
One of my favorite types of recipes is the back-pocket-dessert recipe, i.e. a recipe that's so simple and so good that you want to keep a copy of it in your back pocket so you can use it all the time. This Lemon Blueberry Trifle is that kind of recipe!
It's so nice to have a really simple dessert recipe (and it's a big bonus that this one is also such a show-stopping dish to put on the table, too!). Whether you're entertaining guests, making something special for a holiday, or you just want a nice dessert after Sunday dinner, this trifle will hit the spot.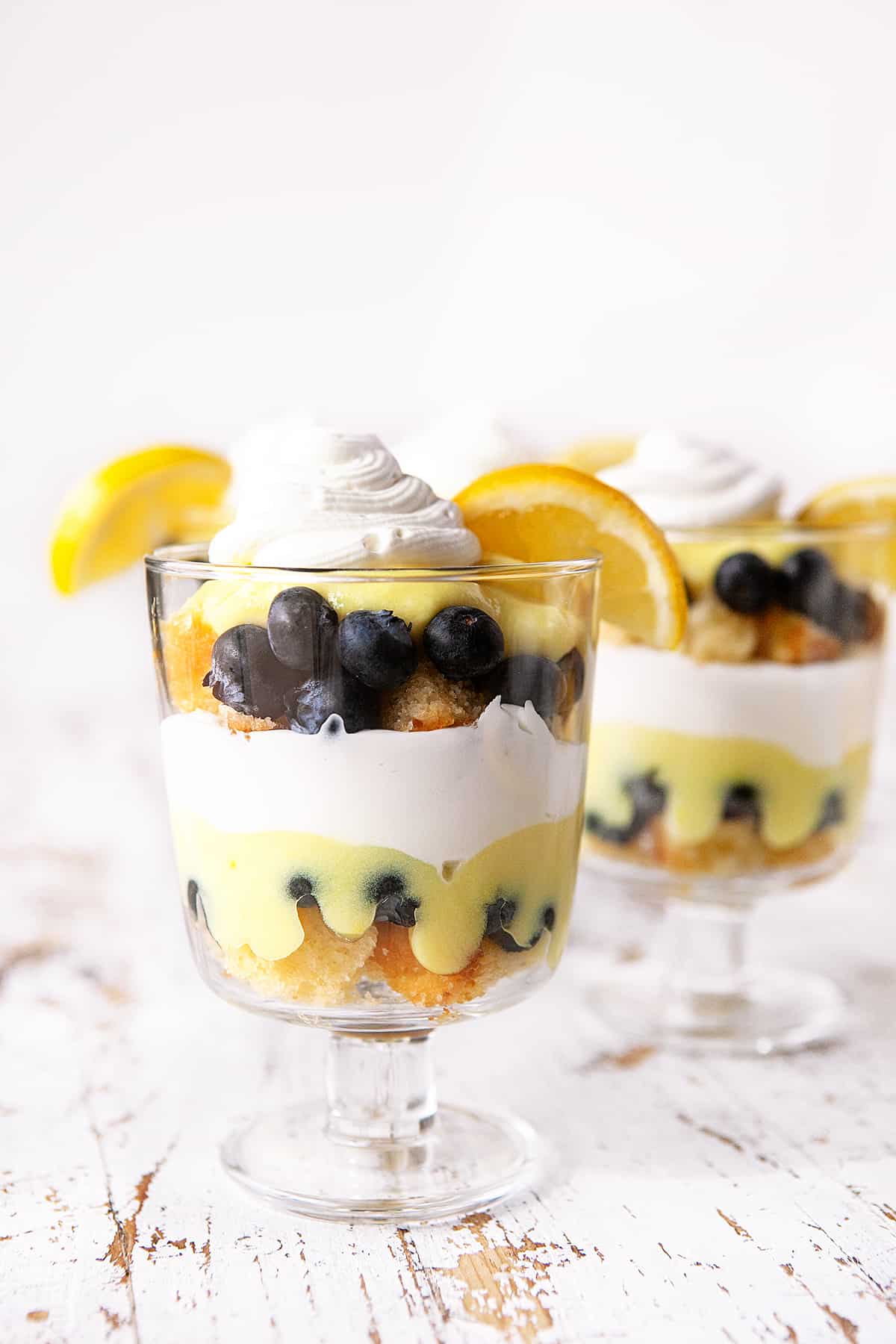 It's a really bright, flavorful dessert. The tart lemon adds a big burst of flavor to every bite and pairs really well with the fresh blueberries. The sweet pound cake balances out the tart lemon and blueberry flavors, while the lightly sweetened whipped cream is the refreshing finishing touch.
The best part of this blueberry trifle recipe is how simple it is. You can make a cake from scratch, which tastes great, but if you're short on time, you can also use a store-bought cake. The instant lemon pudding is a cinch, too, and it only takes a few minutes to assemble the whole thing!
A trifle is easily the best dessert when you want minimal effort for maximal effect!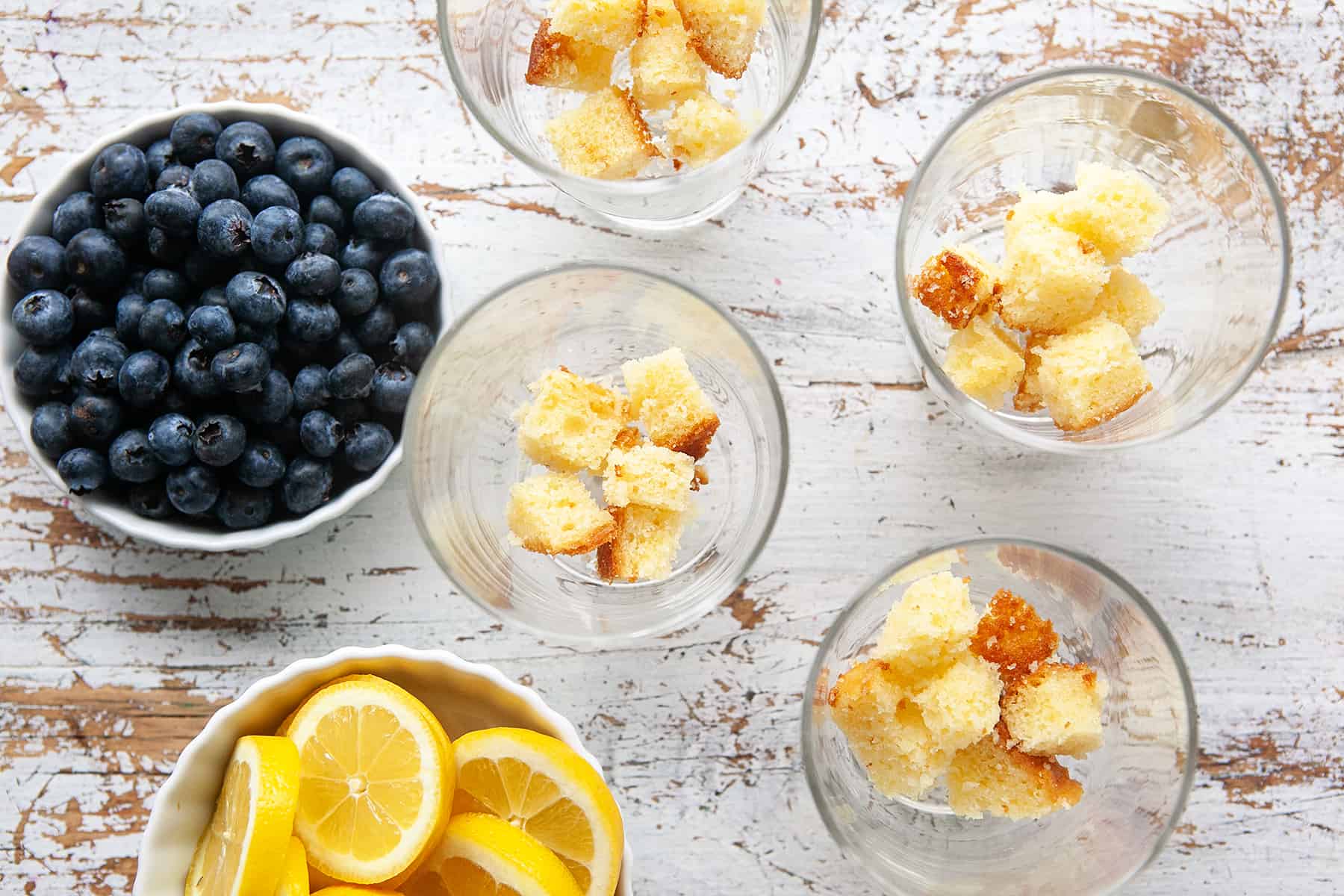 What Ingredients are in a Lemon Blueberry Trifle?
When it comes to trifles, there are a lot of variations. You can use lemon curd or lemon pudding. Some trifles are made with angel food cake, others with pound cake. You can switch up the fruit or berries. You can make a lemon trifle with cream cheese, a whipped topping, or even whipped cream.
The goal, of course, with the trifle, is to compose all of the different layers so that they all perfectly complement each other for the best possible tasting dessert.
I've tried this Lemon Blueberry Trifle several different ways and settled on these ingredients for the most delicious trifle layers:
Pound Cake (because it soaks up the tart lemon flavor perfectly and is just the right sweetness)
Lemon Pudding Mix (for a bright but mild and creamy lemon flavor)
Lemon Zest (to add a little zing to the pudding)
Fresh Blueberries (because they go so well with lemon)
Freshly Whipped Cream (because you can sweeten it just right and add a touch of vanilla extract so that it's a refreshing layer between the sweet and tart layers of the trifle)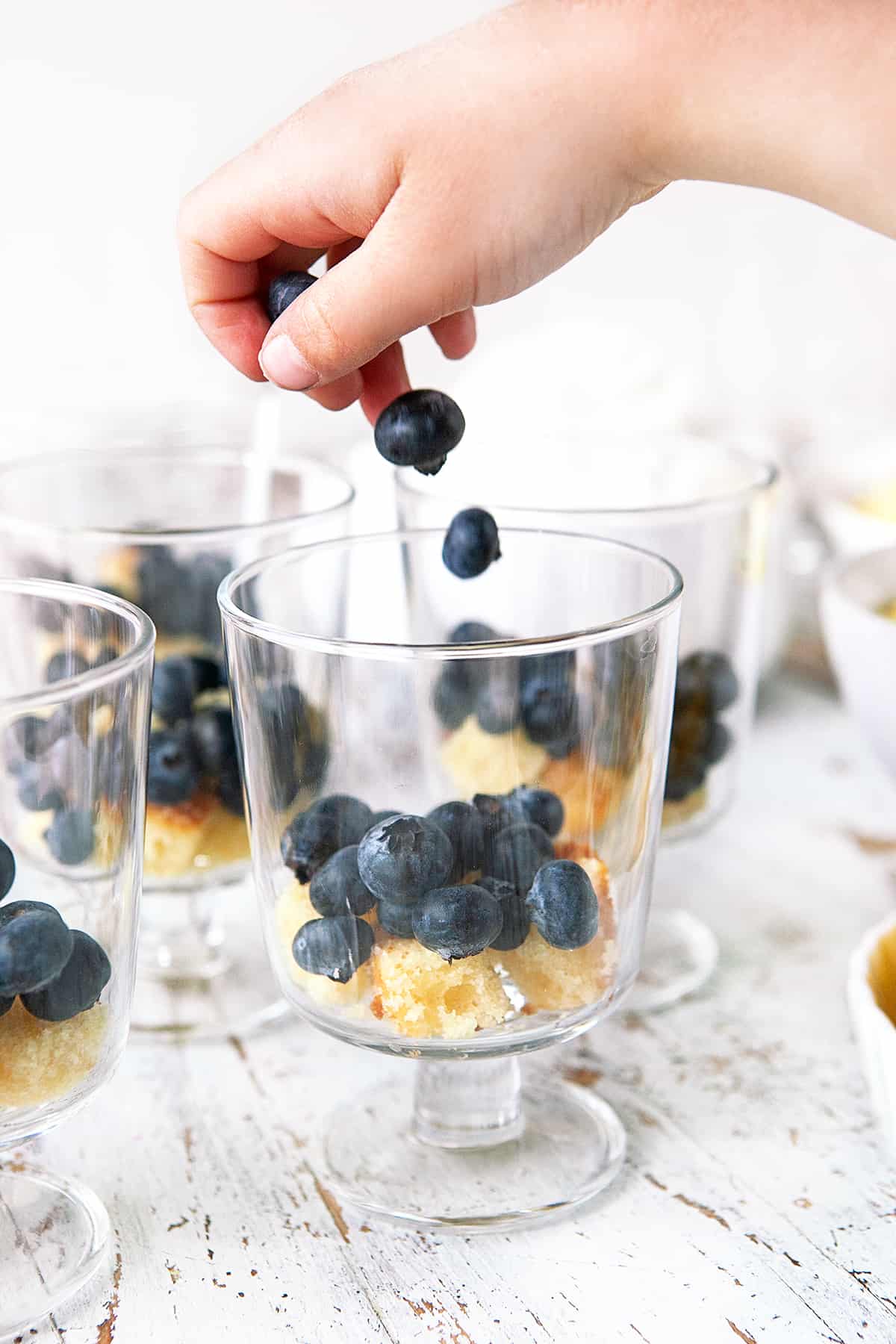 How to Make a Lemon Blueberry Trifle
When I said a trifle was really easy to make, I meant it! Once you have your ingredients, you're just minutes away from a perfectly assembled dessert.
First, decide whether you want to use a large bowl or trifle dish and just make one big dessert or individual dessert dishes. This recipe can make one large trifle that serves 10 people or 10 to 12 individual trifle dishes. I'm partial to the individual trifle dishes because they look so pretty and are so easy to serve.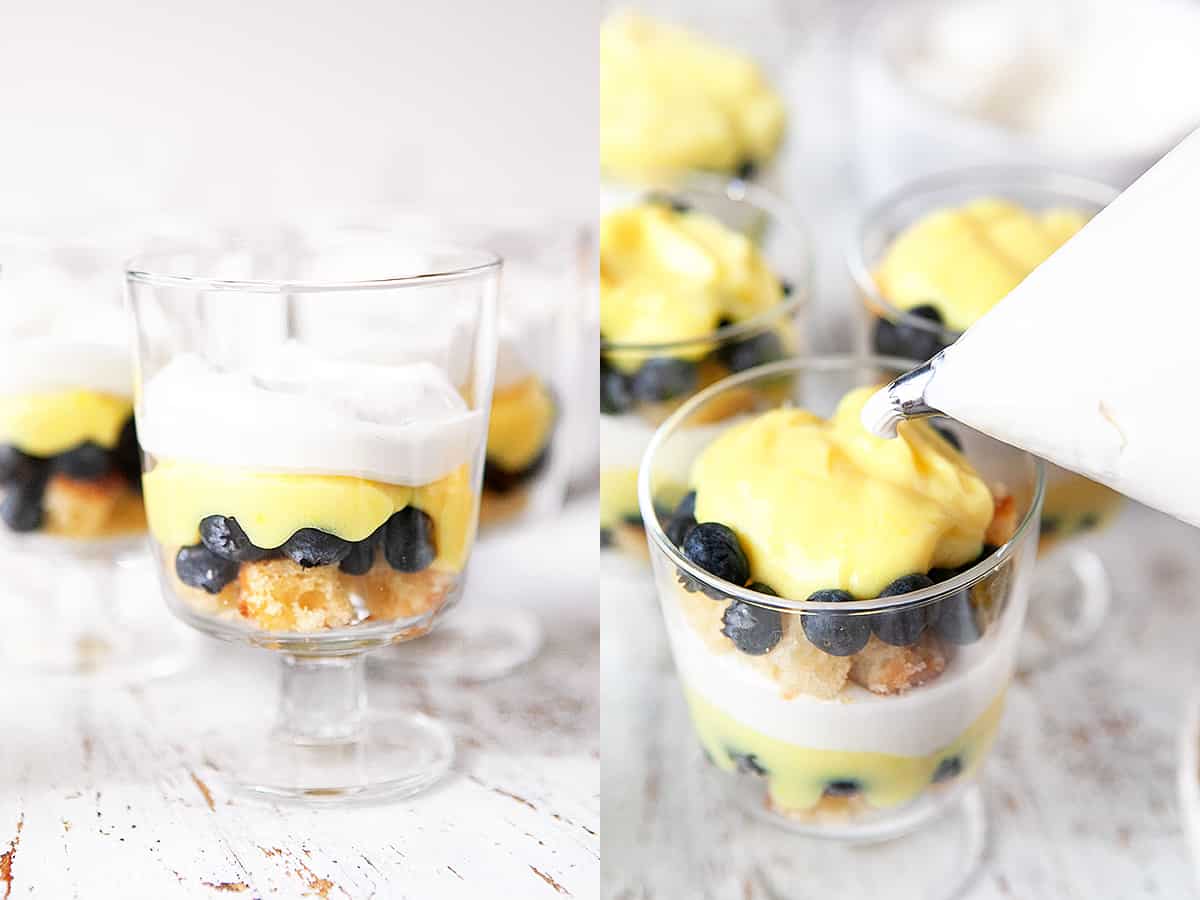 Next, gather your ingredients. If you're making a pound cake from scratch, be sure to let it cool before turning it into cake cubes. Go ahead and whip the cream, mix up the instant pudding, and rinse and dry your fresh blueberries.
Once you're ready to start assembling the trifle, you're going to work in repeat layers. Start with the cake and spread 1/3 of the cake cubes in the bottom of the trifle dish. Follow this up with 1/3 of the blueberries, then 1/3 of the pudding. Top it with a dollop of the whipped cream and repeat.
In my large trifle dish, I repeated the layers three times. In my smaller individual trifle dishes, I only repeated the layers twice.
To finish it off, I piped the last scoop of whipped cream on to make it a little fancier, but this isn't strictly necessary. I also garnished the trifle with some fresh lemon wedges.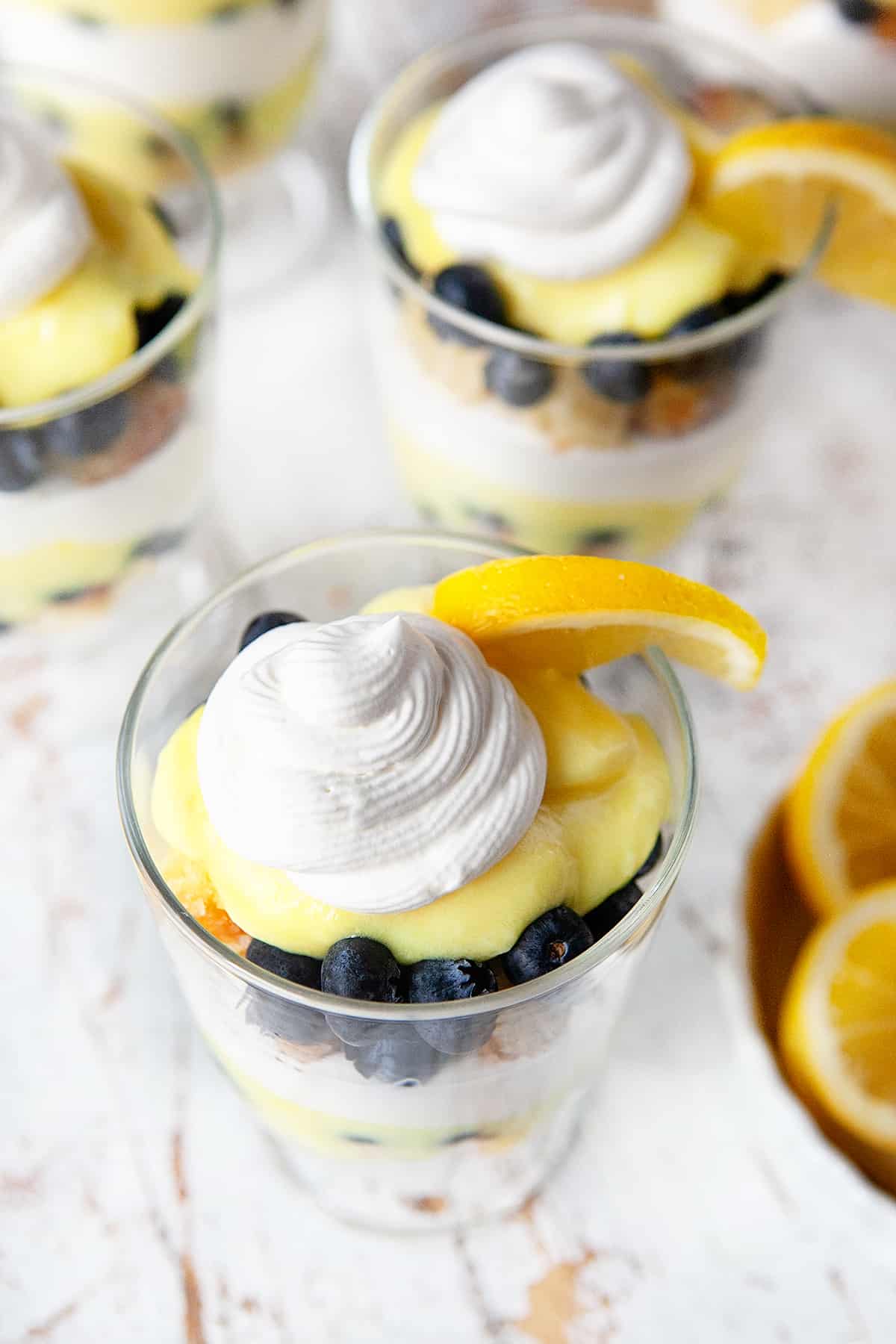 Finally, refrigerate the trifle for at least 2 hours and up to 6 hours. This allows the flavors to settle and let the pound cake soak up some of the lemon pudding. They just don't taste quite as good at room temperature, so try to not skip this step!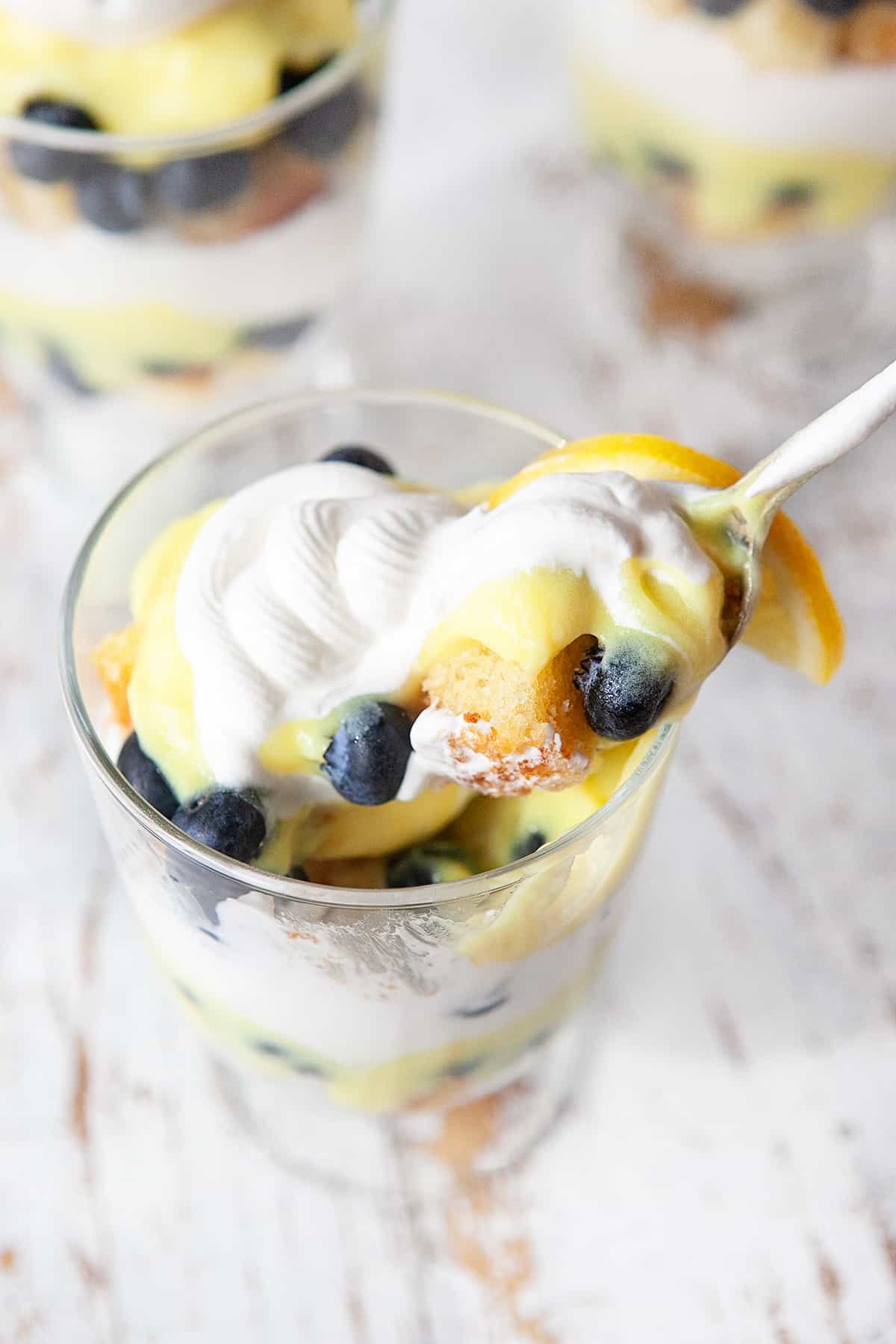 And now we're to the best part. Go ahead and take a great big bite of this absolutely delicious Lemon Blueberry Trifle. You earned it! Sure, it was easy to make, but easy can still taste so good.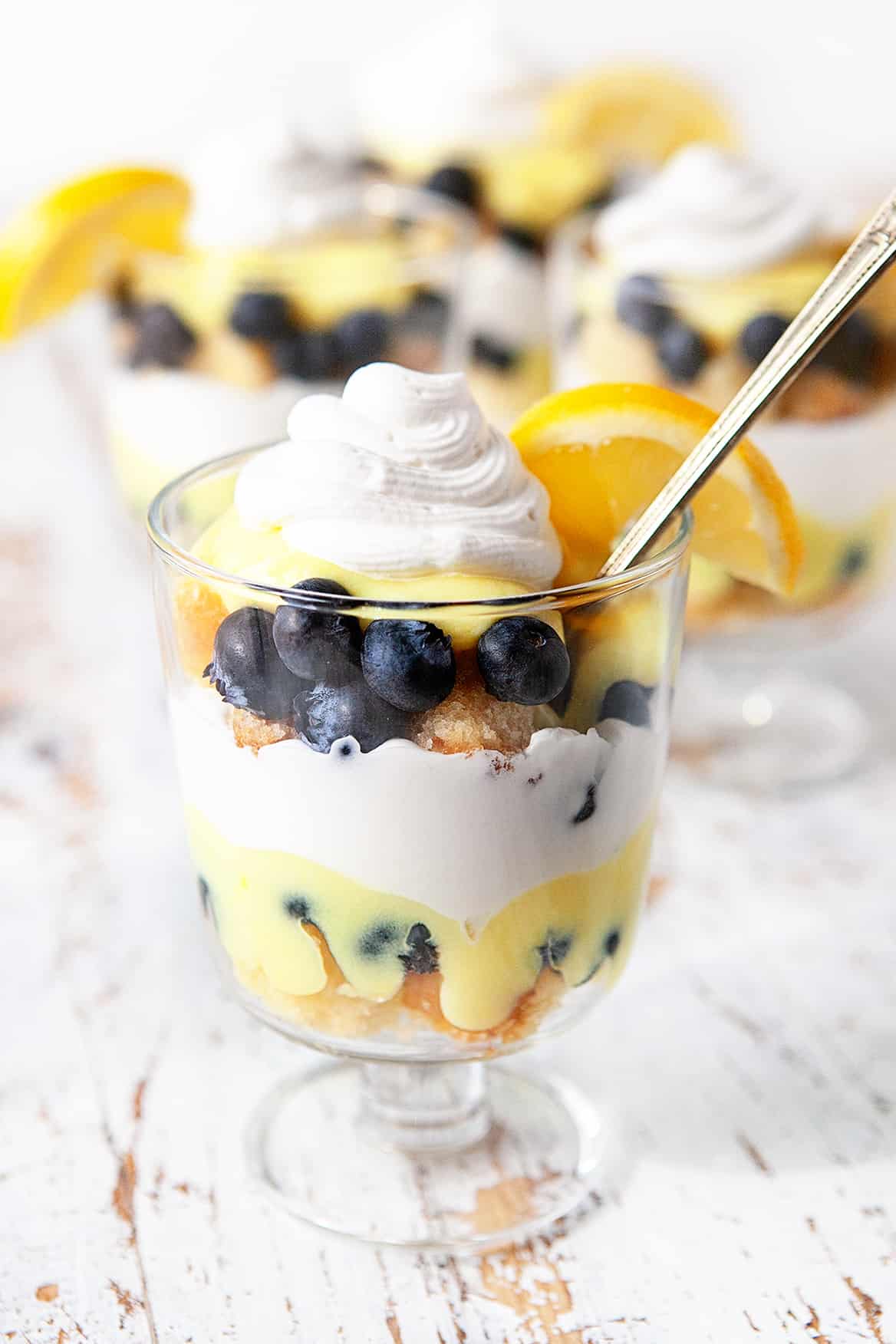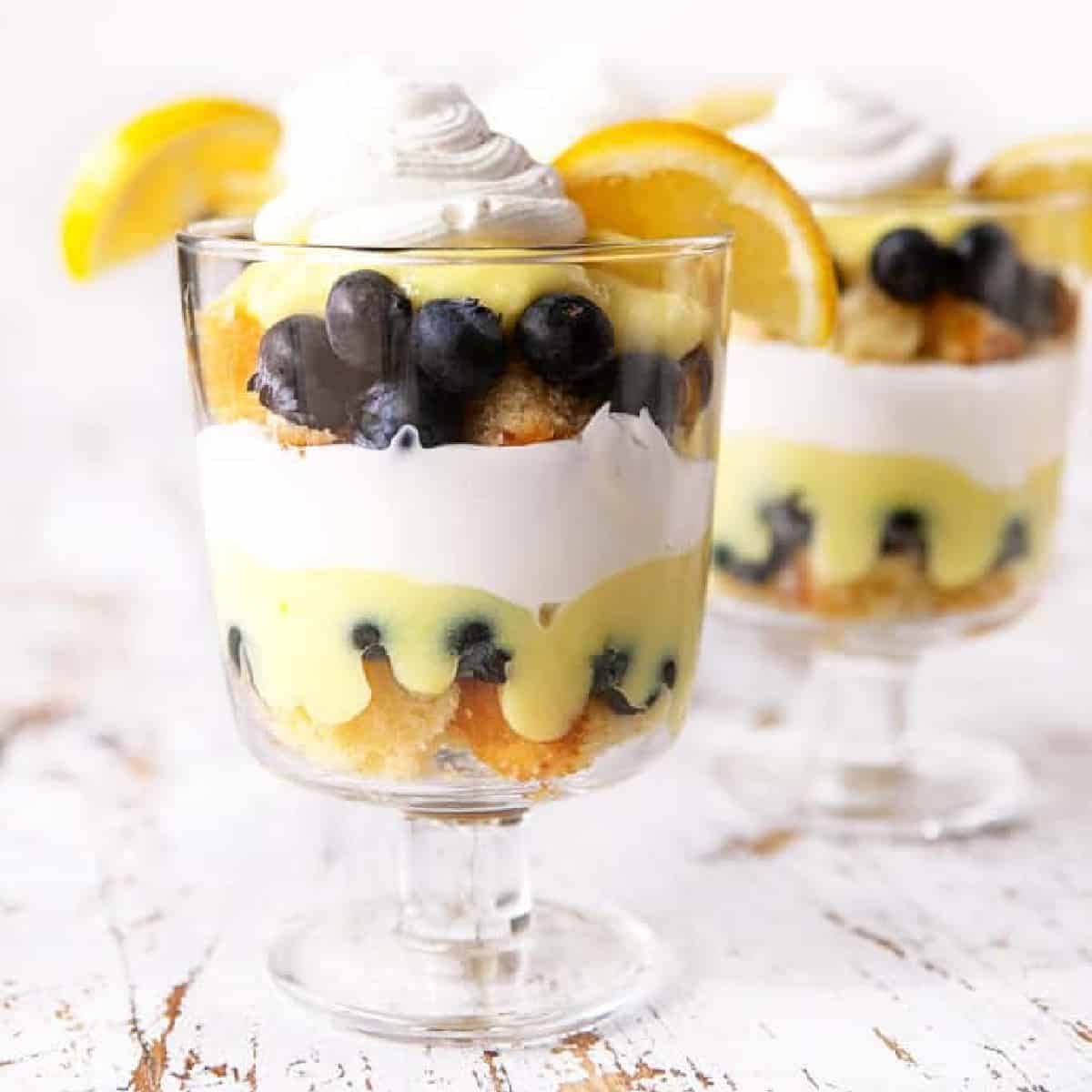 Pin it HERE!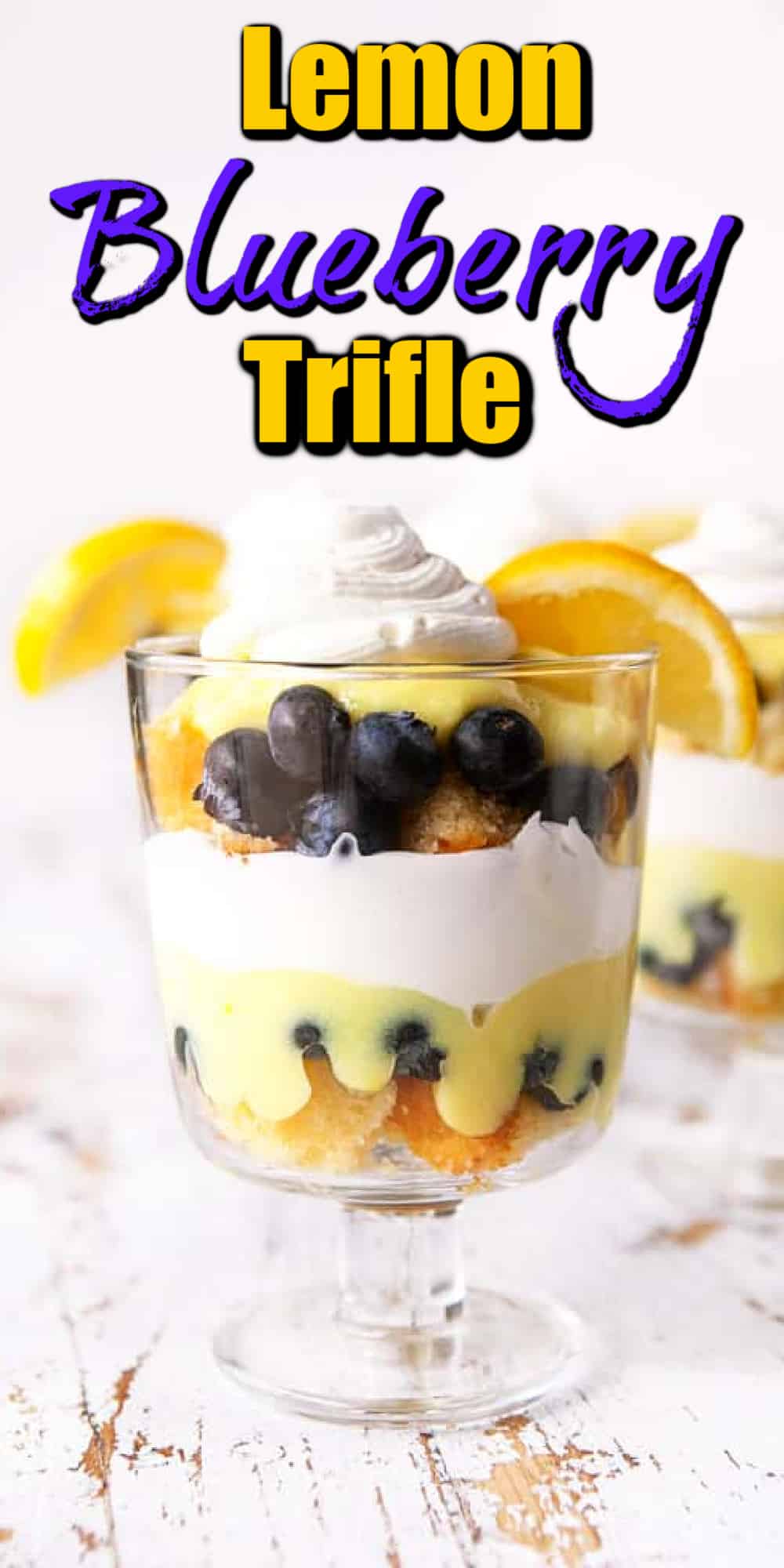 Pin it HERE!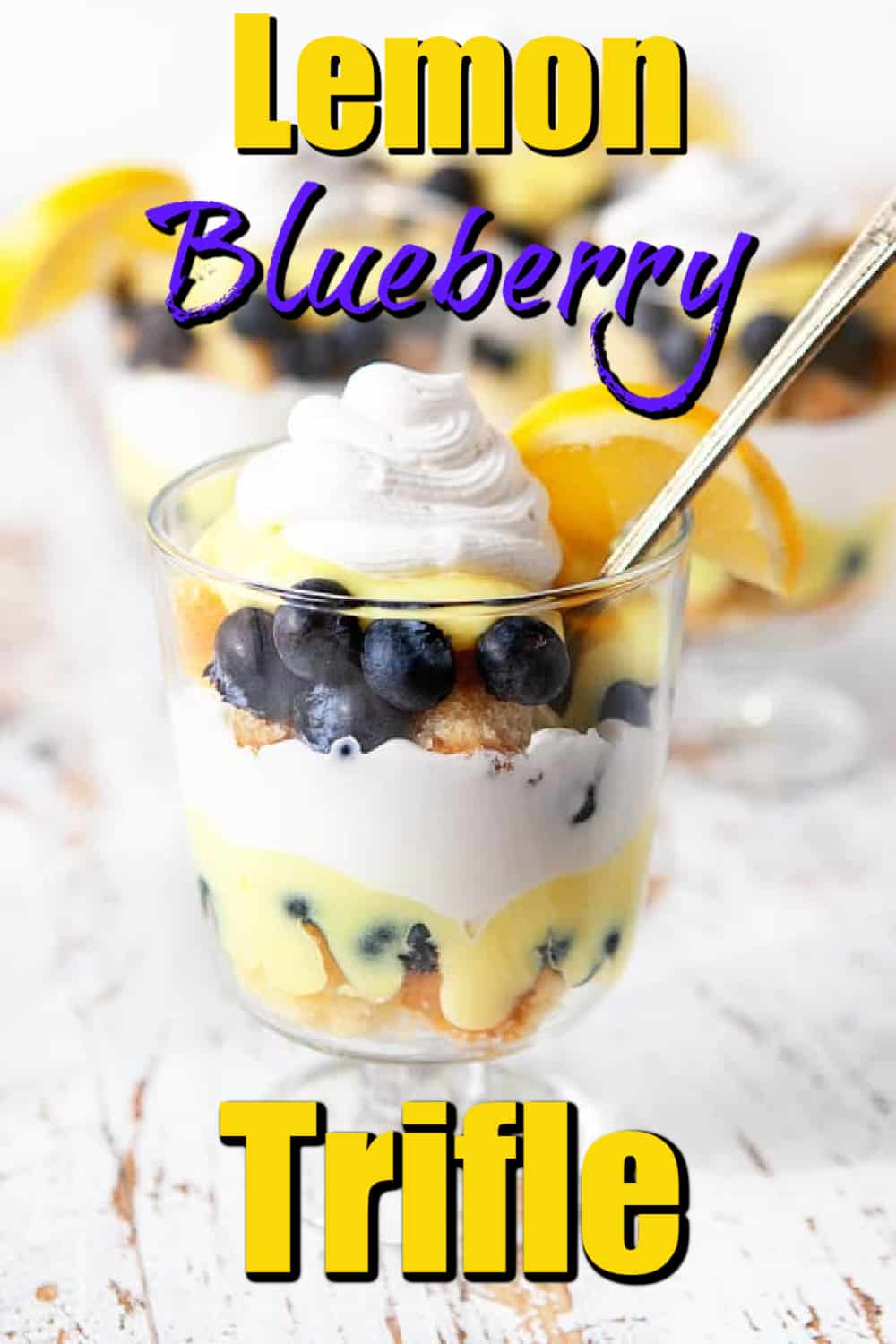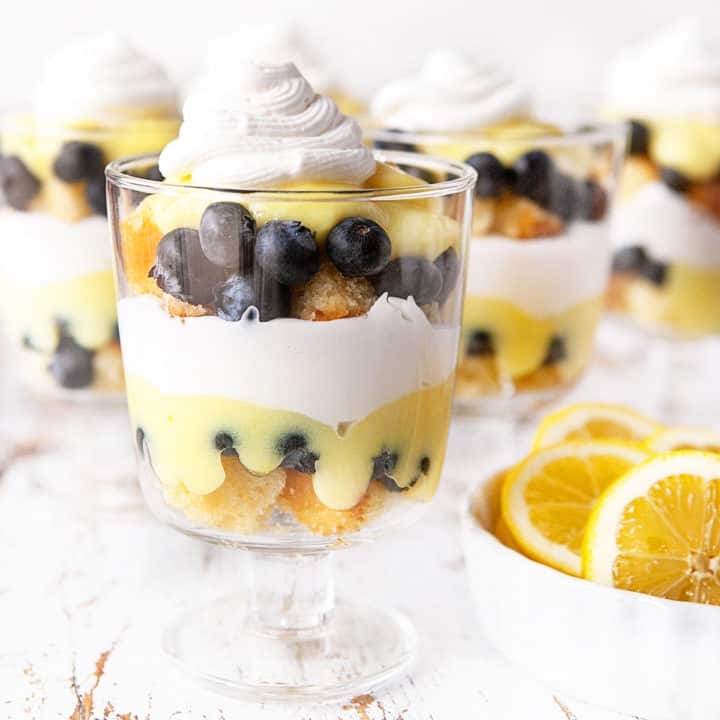 Lemon Blueberry Trifle
Yield: 10 to 12 servings
Prep Time: 15 minutes
Additional Time: 2 hours
Total Time: 2 hours 15 minutes
This stunning trifle can be made in one large trifle dish with three layers or in smaller individual trifle dishes with two or three layers (depending on the size of your dessert dishes).
Ingredients
1 (9x5) loaf pound cake, cooled (store-bought works too)
2 cups heavy whipping cream
1/4 cup granulated sugar
1 teaspoon vanilla extract
2 (3.4 ounce) boxes instant lemon pudding
4 cups cold milk
1 tablespoon lemon zest
2 pints fresh blueberries
fresh lemon wedges for garnish (optional)
Instructions
Slice the pound cake into 1-inch slices, then cut into bite-size pieces. Set aside.
In a standing mixer (or large bowl with electric hand mixer), whisk the heavy cream, sugar, and vanilla on high speed until it forms stiff peaks. Cover and store in fridge until ready to use.
Prepare the instant pudding in a large bowl by whisking together both boxes of pudding mix, the cold milk, and the lemon zest. Let it set completely (about 10 minutes).
If you are making this in a large trifle dish, you will repeat the layers three times (smaller individual trifle dishes may only require you to repeat the layers twice). Begin with a layer of cake cubes, followed by blueberries, then lemon pudding, then whipped cream. Repeat either two or three times. You can pipe the final layer of whipped cream or just dollop it on.
Refrigerate for at least two hours or up to six hours. This step will allow the flavors to blend and the cake to soften and soak up some of the lemon pudding. Garnish with lemon wedges just before serving.
Recommended Products
As an Amazon Associate and member of other affiliate programs, I earn from qualifying purchases.
Nutrition Information:
Yield: 10
Serving Size: 1
Amount Per Serving:
Calories: 307
Total Fat: 21g
Saturated Fat: 13g
Trans Fat: 1g
Unsaturated Fat: 6g
Cholesterol: 67mg
Sodium: 127mg
Carbohydrates: 27g
Fiber: 2g
Sugar: 15g
Protein: 6g
Recipe calculation was provided by Nutritionix and is an estimation only. If you need nutritional calculations for medical reasons, please use a source that you trust.