Disclosure: I was compensated for this post by The Little Potato Company. All opinions and experiences are my own.
These Easy Lemon Feta Mediterranean Potatoes are full on flavor from lemon, herbs, and feta. They are the perfect simple Little potatoes side dish to go with so many delicious entrees.
This dish is an amazing side using The Little Potato Company Creamer potatoes, and all comes together in a matter of minutes! How, you ask, when they look this good? Let me show you how! Also, try our delicious Garlic Herb Smoked Potatoes for another excellent recipe.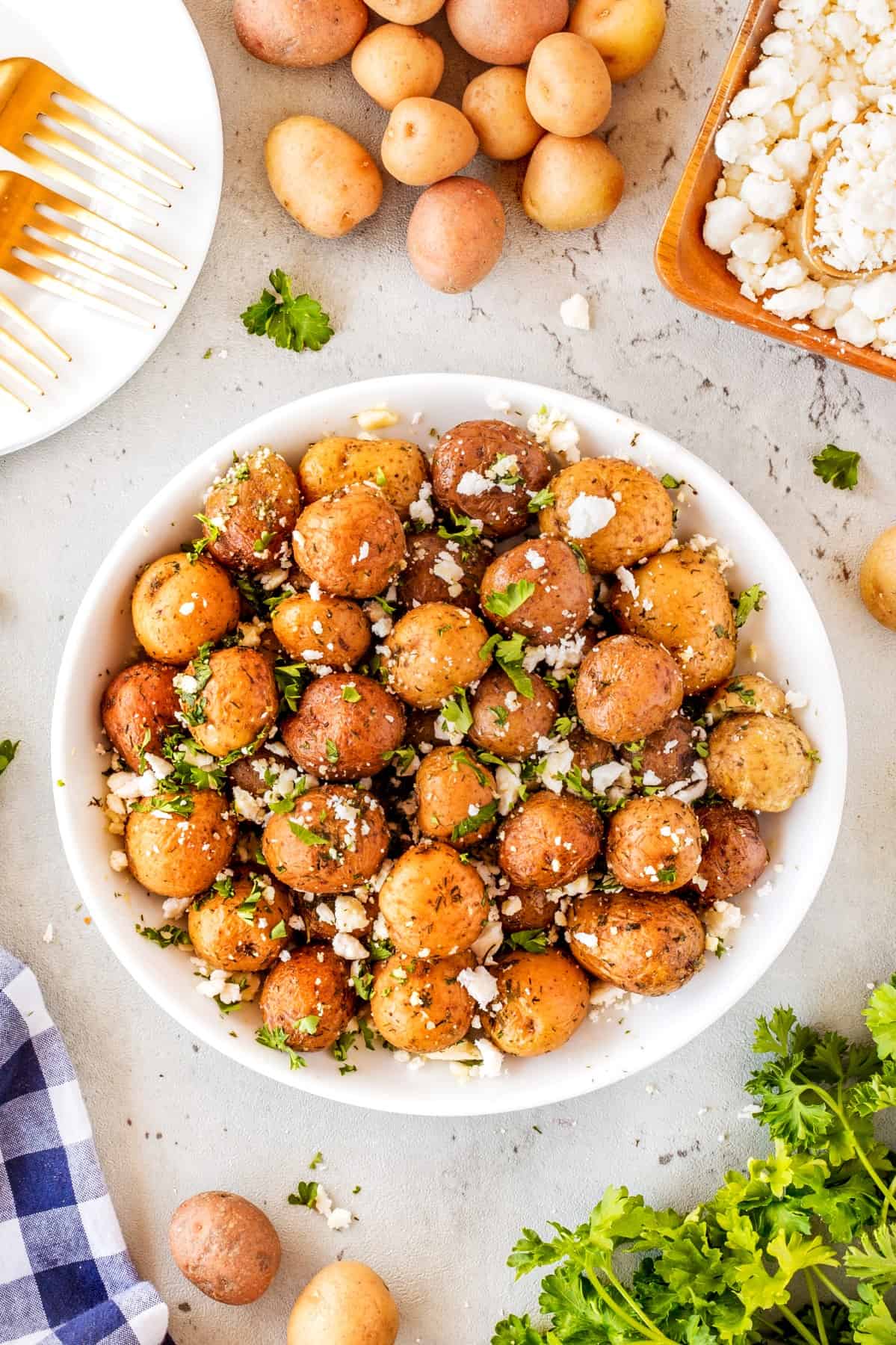 We have been making recipes for busy moms and dads that are barely a recipe lately, but fantastic ideas to help you get dinner on the table fast and easily and yet deliciously.
Recipes like Cajun Roasted Potatoes, Red Pesto Potatoes, and Extra Crispy Roasted Potatoes are all amazing and just as easy as this recipe we have for you today.
What Are The Ingredients That Go Into Easy Lemon Feta Mediterranean Potatoes?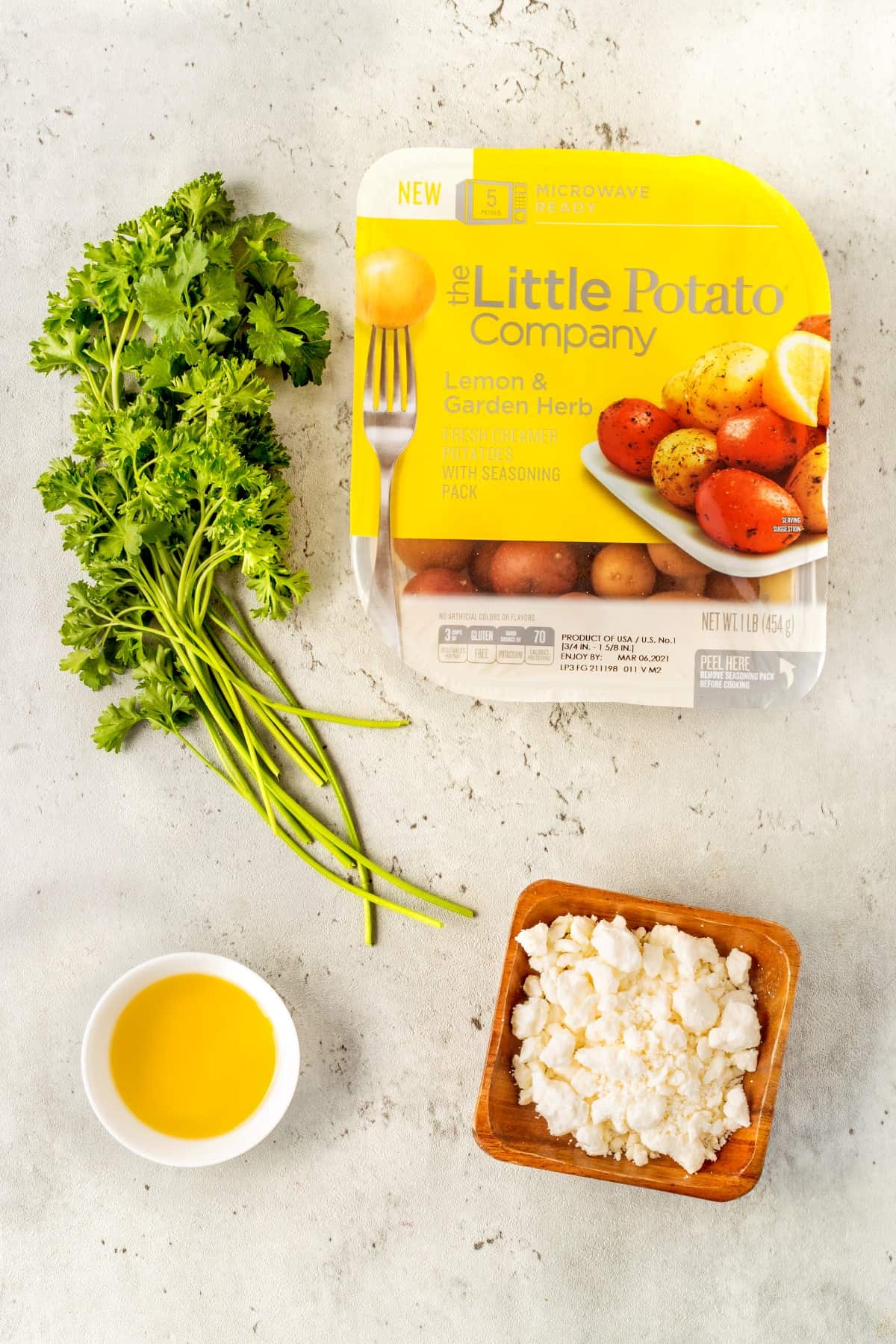 Very simple ingredients go into this recipe, but the flavors that occur are anything but simple.
Lemon & Garden Herb microwave-ready packs are inspired by the bright, fresh flavors of the Mediterranean. Garden herbs and a gentle hint of lemon work so well with the robust flavors of feta and fresh parsley to make a side dish that is unforgettable. We have made this dish over and over again. It is amazing with simple grilled souvlaki and tzatziki.
The microwave packs we are showing you today with Creamer potatoes are ready in just 5 minutes; this sure helps out on busy weeknights. Besides this amazing Lemon and Herb, they also come in Garlic Parsley and Savory Herb. All wonderful to make a quick side dish in your microwave.
Ingredients
Microwave package of Lemon and Herb Little Potato Company Potatoes
Olive oil
Fresh parsley, chopped
Crumbled feta
How To Make Easy Lemon and Herb Mediterranean Potatoes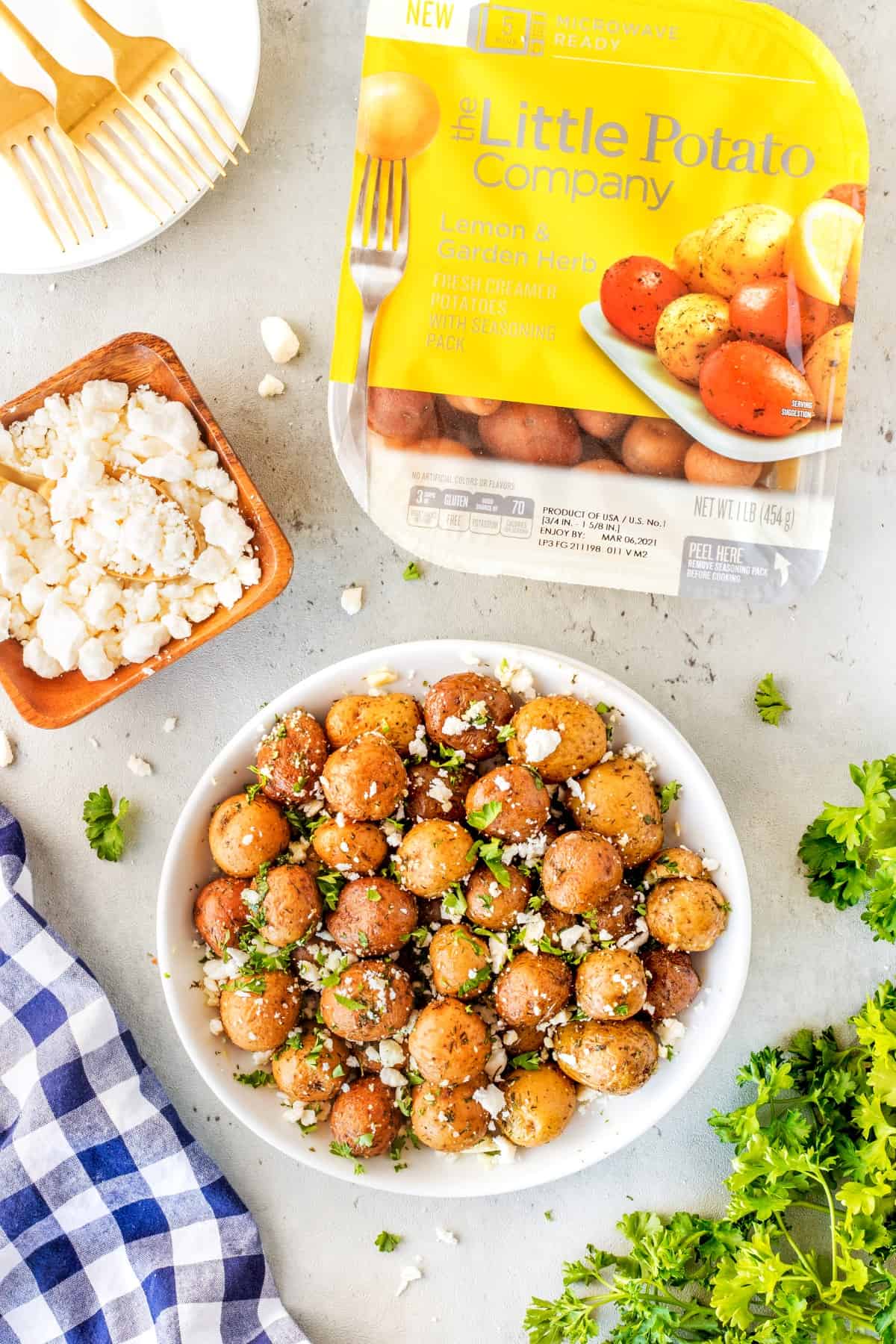 This recipe makes amazing Greek potatoes without even having to slice potatoes or make potatoes wedges. Serving these Creamer potatoes whole is just perfect.
They come with the best seasoning blend, so you don't even have to worry about that. They have the perfect balance of salt and pepper already added. Plus, they are a great gluten free option also.
Microwave the potatoes as per the package directions.
Add the herb packet and olive oil to the little potatoes, mix to coat the potatoes.
Transfer the potatoes into a serving dish and sprinkle with parsley and crumbled feta.
Serve immediately.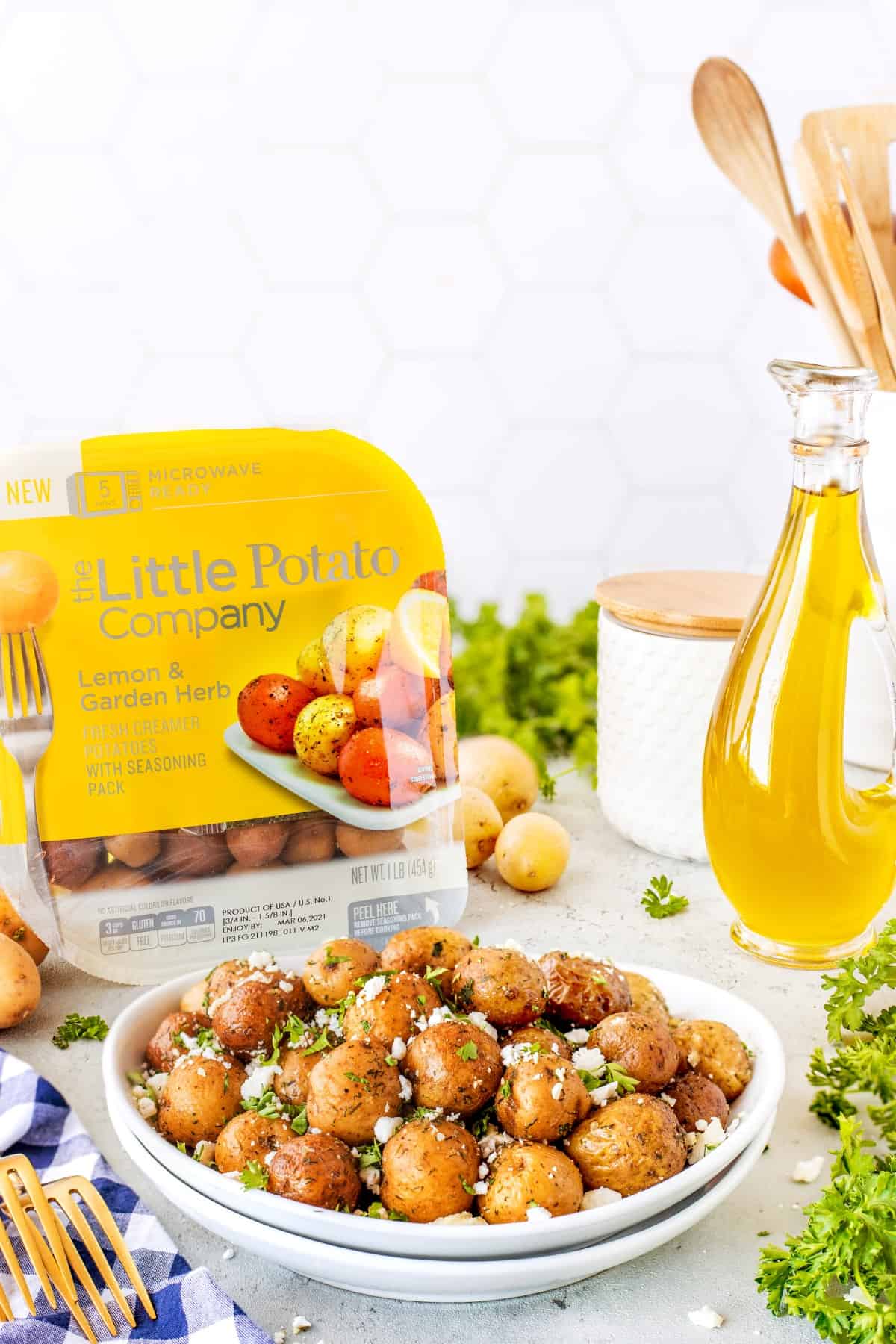 One of the best parts of these potatoes is that you can even serve them right in the package as the container is BPA-free.
It has also been designed with easy-to-hold tabs and pour spouts for easy plating, so it's that easy. No fuss, no mess, no dishes!! That has a big busy mom/dad stamp of approval right there!!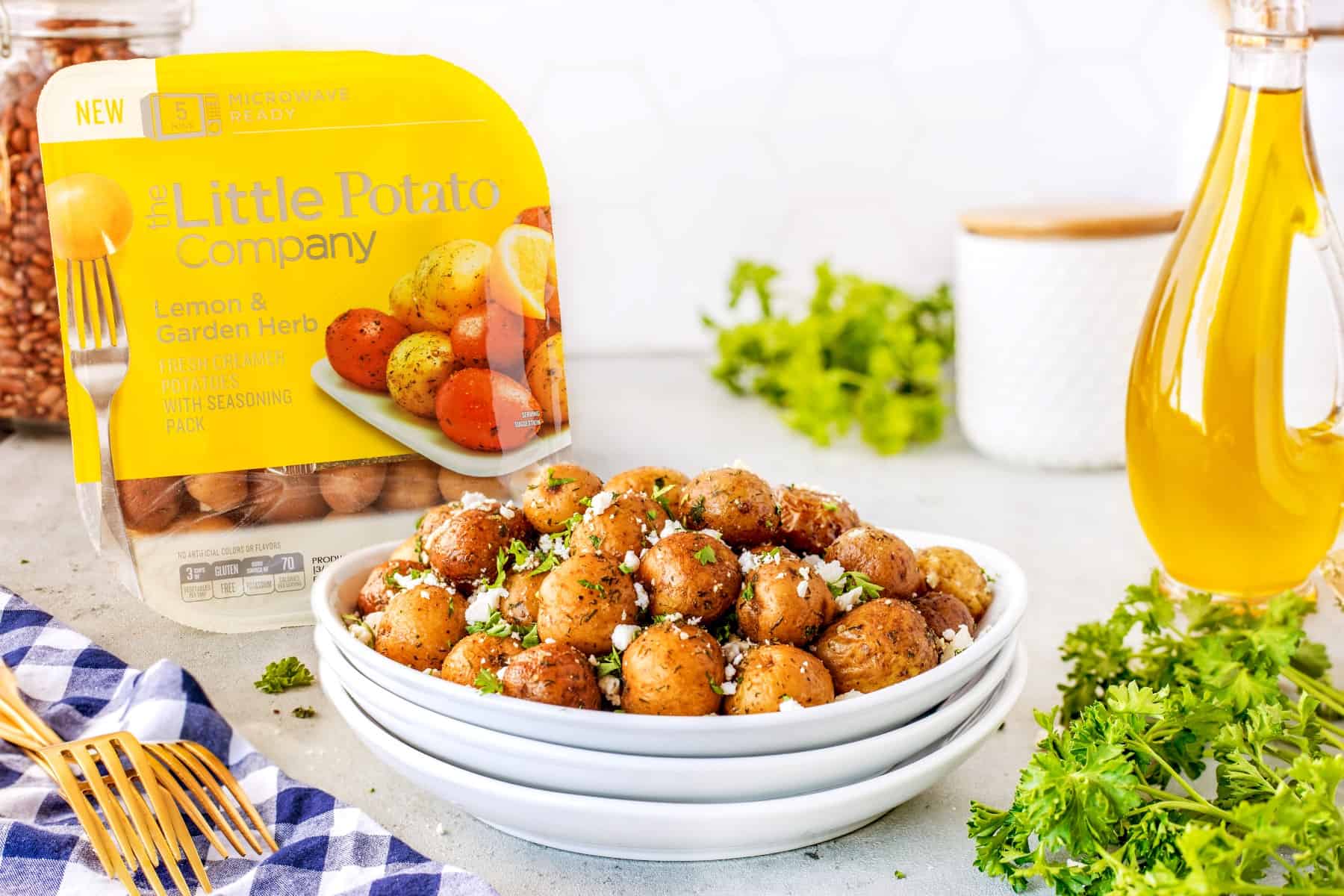 The Little Potato Company's Creamer potatoes are so easy to use, they come pre-washed and require no peeling. The naturally flavorful skin is meant to be eaten.
They are also conveniently the right size, so the Little potatoes cook evenly and to the same doneness. So you won't have one potato that is hard and undercooked and another that is overcooked. Each Little potato is the perfect bite.
How Easy Are These Potatoes Compared To The Traditional Greek Potatoes?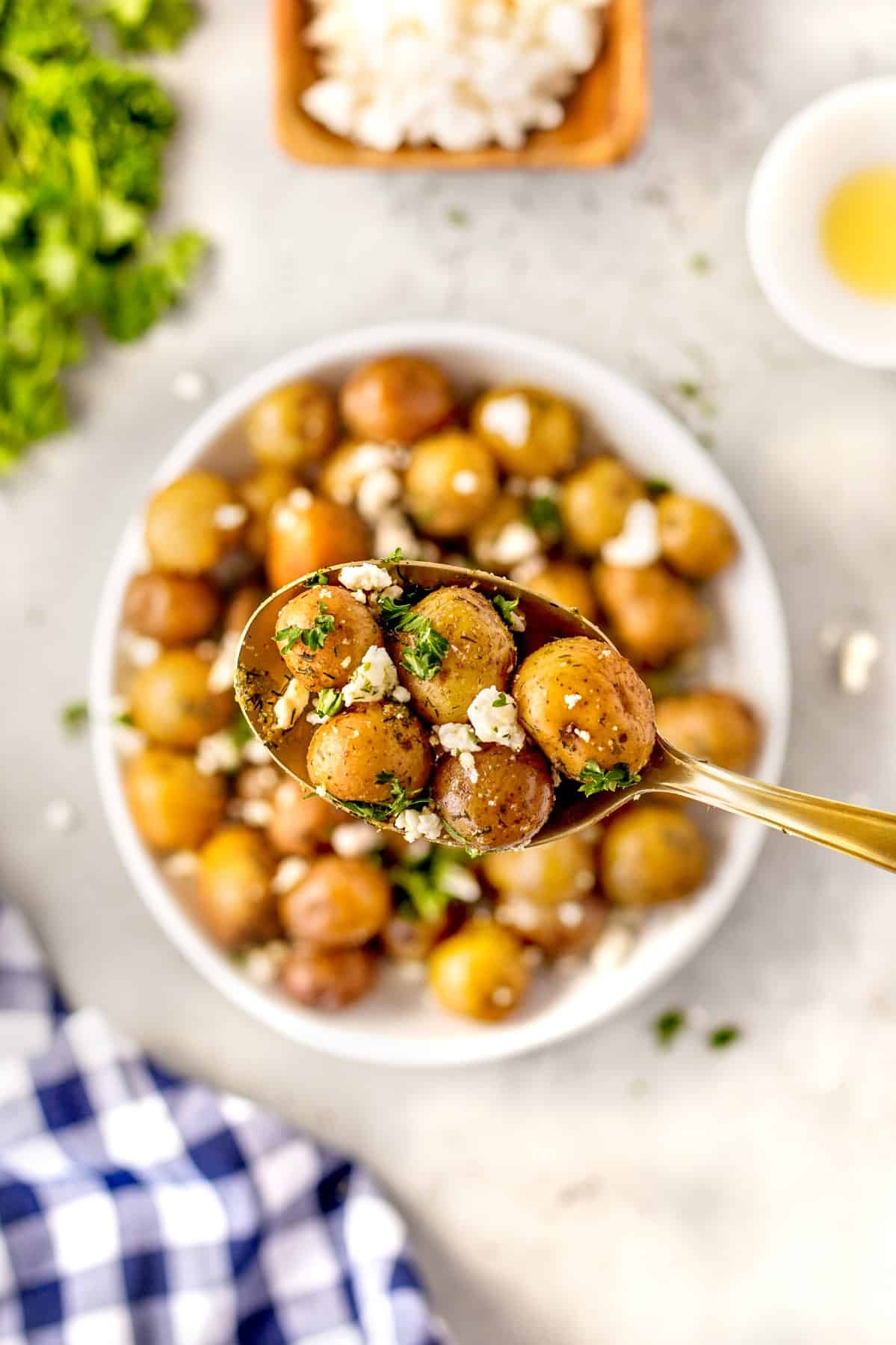 Look at the beautiful golden brown skin color once they are cooked, delicious looking.
Traditional Mediterranean or Greek potatoes take a lot more effort than these very easy potatoes to do.
First, you have to preheat the oven to 400 F at least, and then there is cutting, slicing, and adding them to a large bowl to season with lemon juice, etc.
Then baking for at least 40 minutes and messing with a baking sheet. Don't get me wrong, they are delicious, but that is a whole lot more work, effort and time compared to 5 minutes in the microwave and toss and serve.
This recipe is great for any night of the week and gives you amazingly delicious potatoes every time in a matter of minutes.
What is the Healthiest Way to Prepare Potatoes?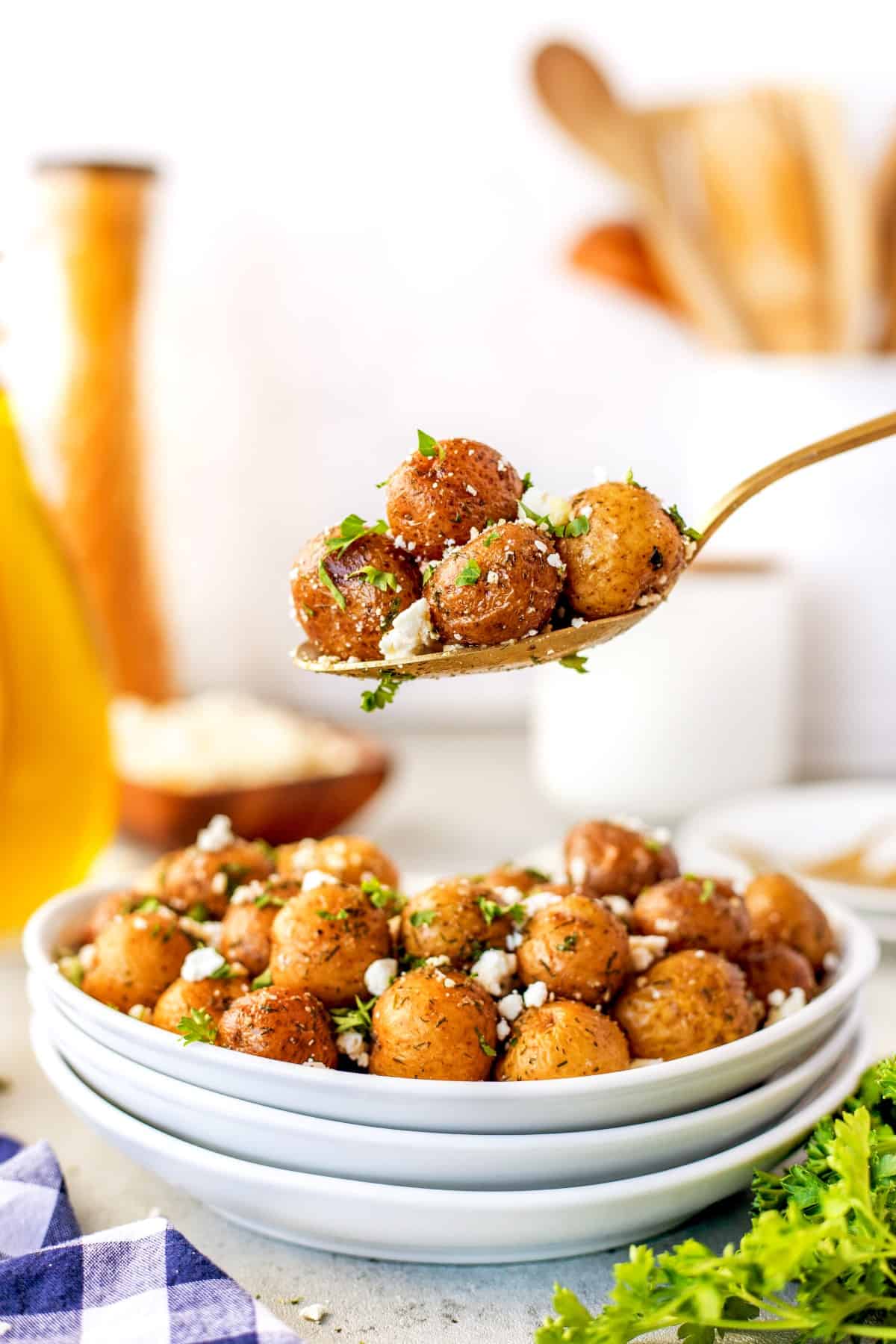 Baking or microwaving a potato causes the least amount of nutrients to be lost. So right off the bat you are getting a healthier potato as Creamer potatoes are naturally loaded with essential vitamins and minerals and are fat, cholesterol, sodium, and gluten free!
Use a healthy oil like olive oil, and this makes them good for you also. Going light on the cheese and heavy on the herbs will give you the healthiest combination for a delicious side dish too.
Are Creamer Potatoes or Little Potatoes Just Small or New Potatoes?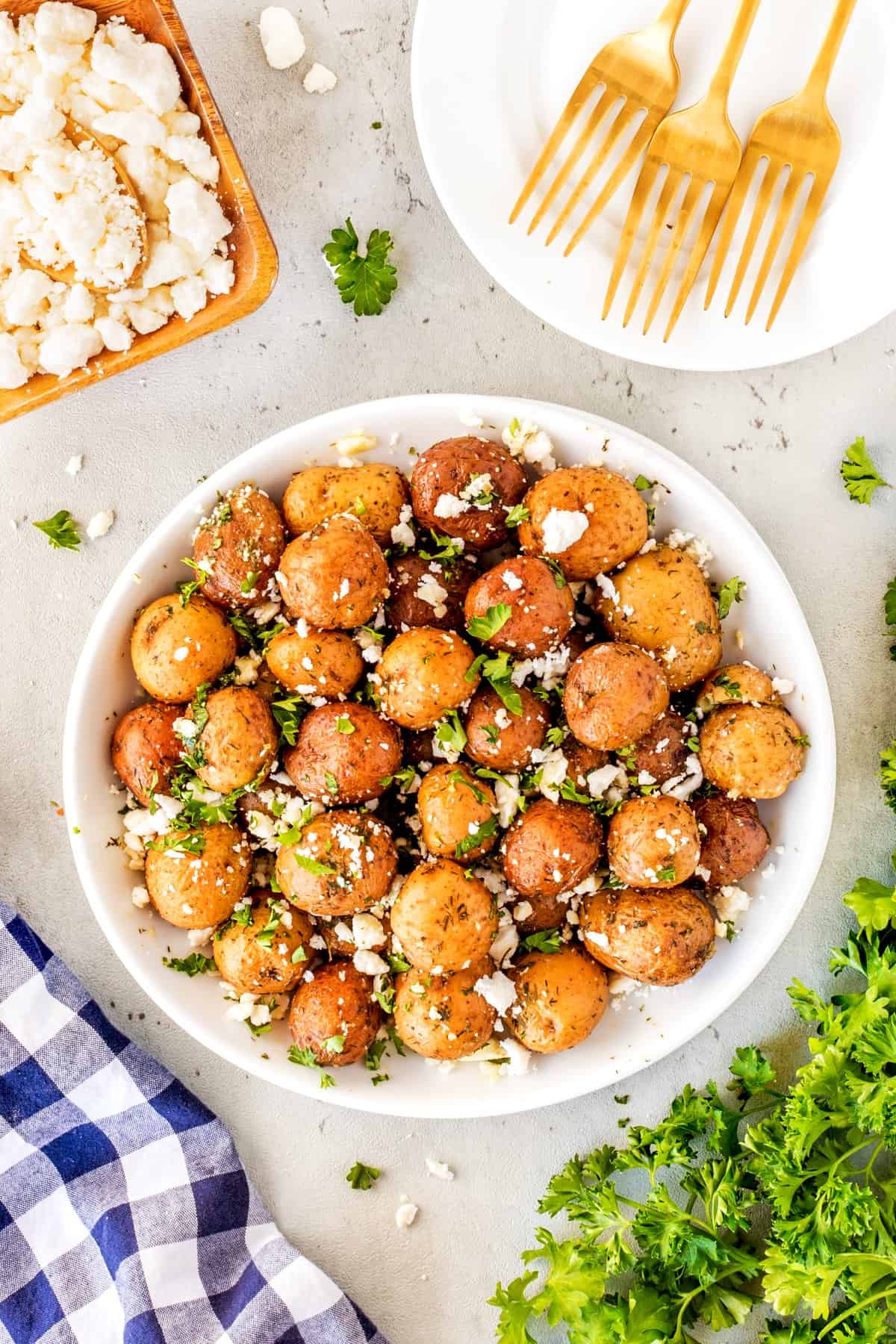 Creamers or Little potatoes are fully grown potatoes and are meant to be bite-sized. They are just the smallest of the potato family. Creamer potatoes are like cherry or grape tomatoes in the tomato family.
Little potatoes are so easy to prepare, and they are meant to be enjoyed with skins on. So never is there any peeling required. They have a natural buttery flavor and a creamy texture. And can be cooked up in as many ways as its giant russet relative but with so much more ease.
They are perfect for our busy lifestyles. There are loads of great recipes here for your convenience to help with everyday cooking to serving company.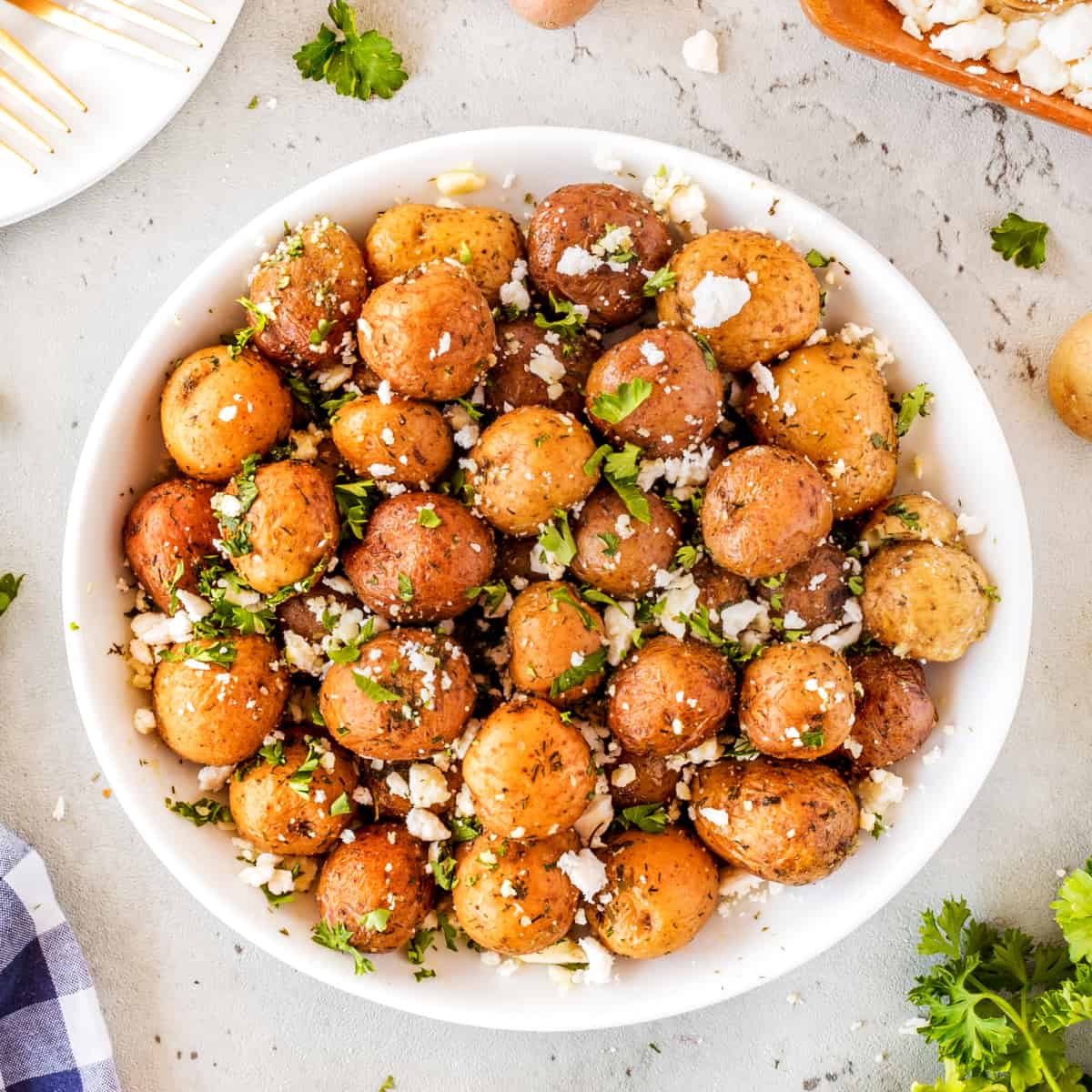 Pin it HERE!!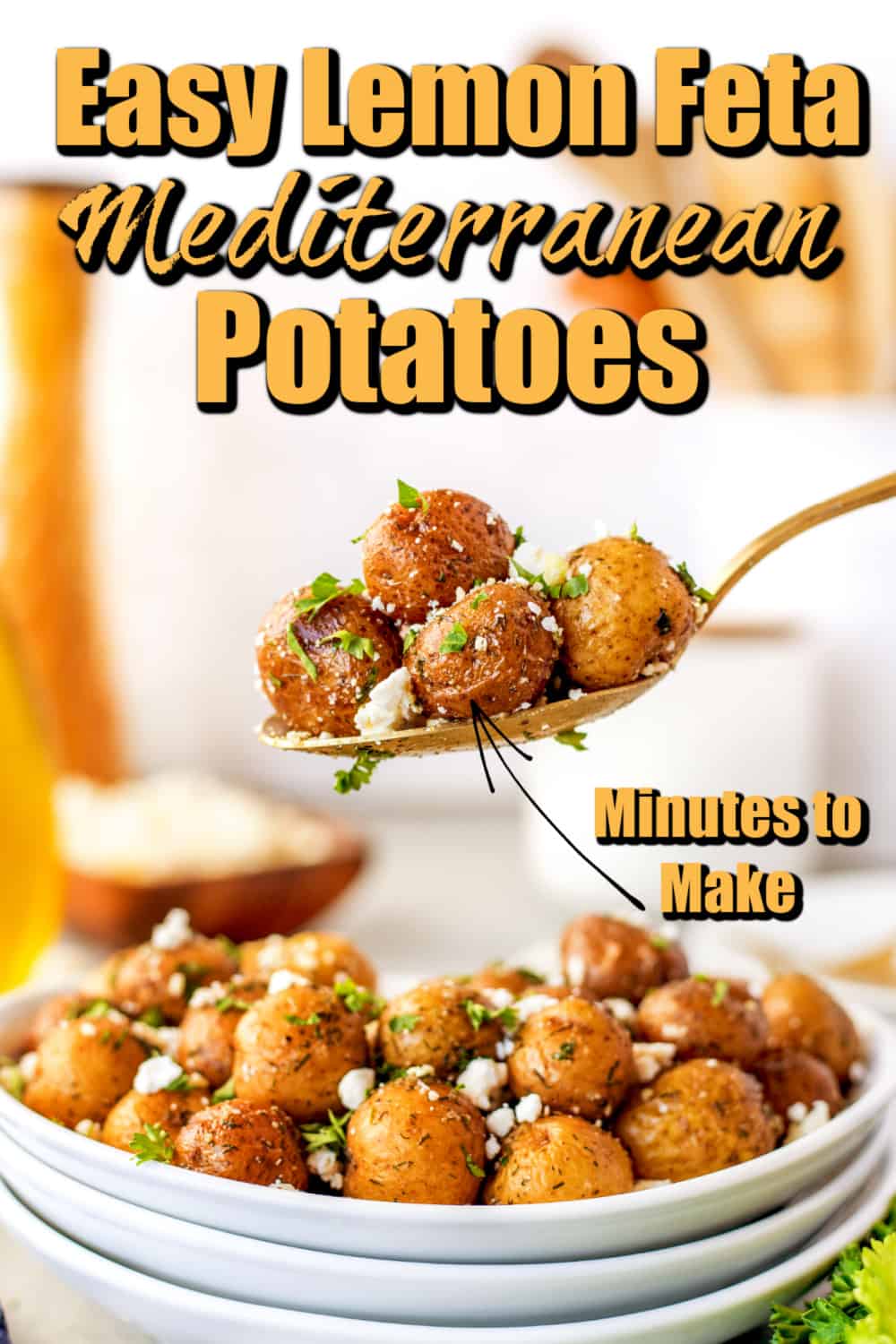 Pin it HERE!!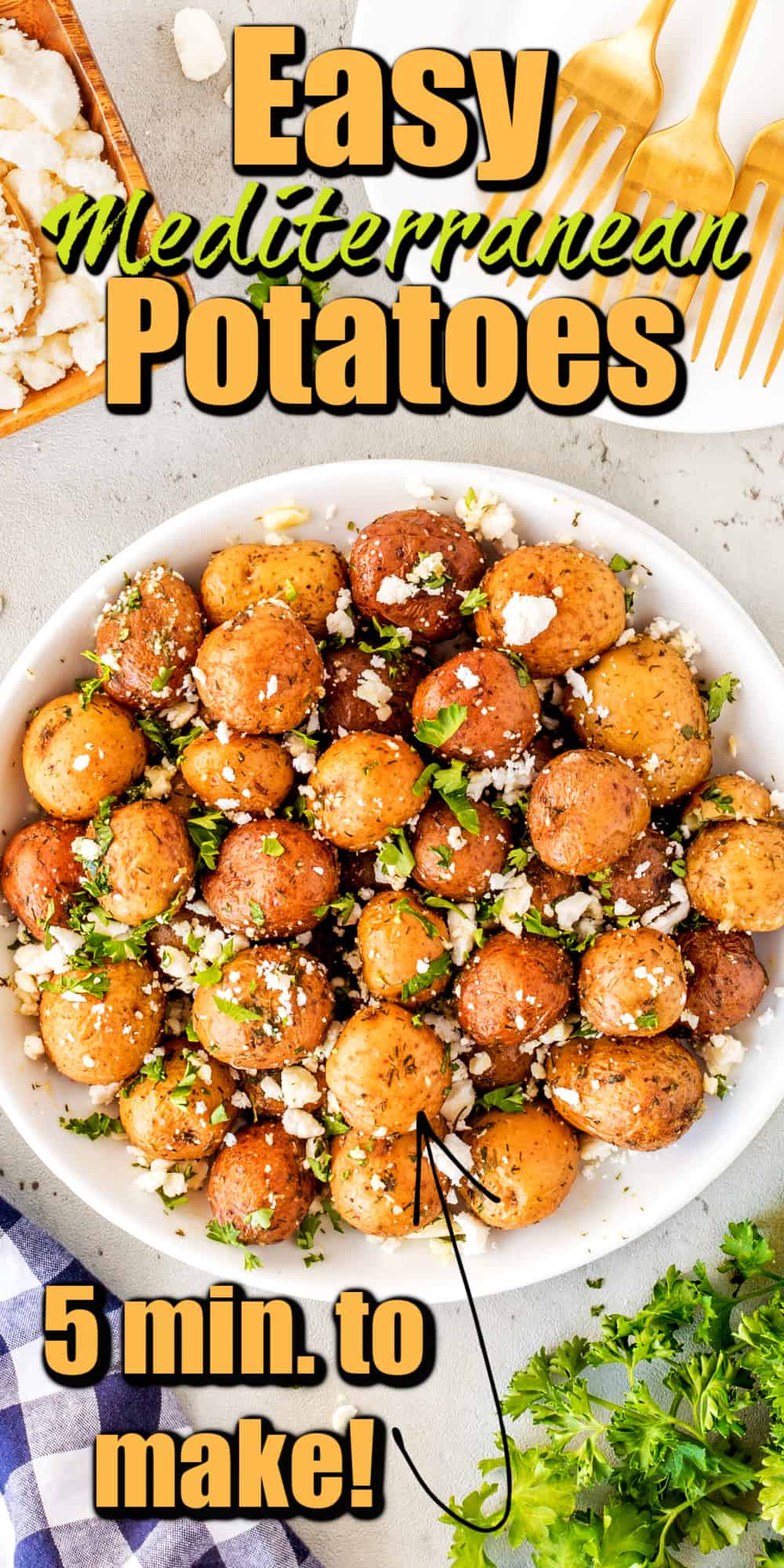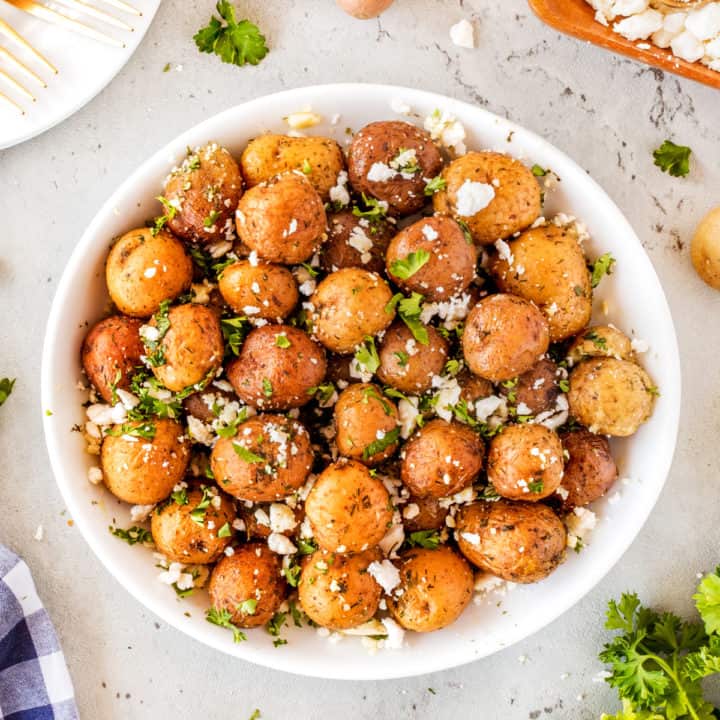 Easy Lemon Feta Mediterranean Potatoes
Yield: 4 servings
Prep Time: 1 minute
Cook Time: 5 minutes
Total Time: 6 minutes
Easy Lemon Feta Mediterranean Potatoes make the perfect fast and simple side dish for weeknights. The wonderful herb blend with a hint of lemon goes perfectly with the tang of feta cheese and fresh parsley. All made in a matter of minutes.
Ingredients
1 lb. microwave package of Lemon and Herb Little Potato Company Potatoes
2 Tbsp olive oil
2 Tbsp fresh parsley, chopped
1/3 of a cup crumbled feta
Instructions
1. Microwave the potatoes as per the package directions.
2. Add the herb packet and olive oil to the little potatoes, mix to coat the potatoes.
3. Transfer the potatoes into a serving dish and sprinkle with parsley and crumbled feta.
4. Serve immediately.