Lemon Berry Peach Trifle
I love a wonderful trifle at any time of year. This easy, no-bake dessert is always a hit! Lemon Berry Peach Trifle is made with store-bought pound cake, livened up with a little Limoncello, and store-bought lemon curd and frozen fruit. Buying these ingredients is a guaranteed time-saver! All it takes is to whip some cream and assemble. Trifle could not be easier!!
The rich cream is flavored with raspberries and it all pulls together so lovely. Dive right down and get a big scoop!! Making this ahead of time only improves the flavor. I didn't decorate the top because of using frozen fruit and was afraid of them bleeding as they defrosted. I just decided on a big pillowy topping of the raspberry-flavored whipped cream.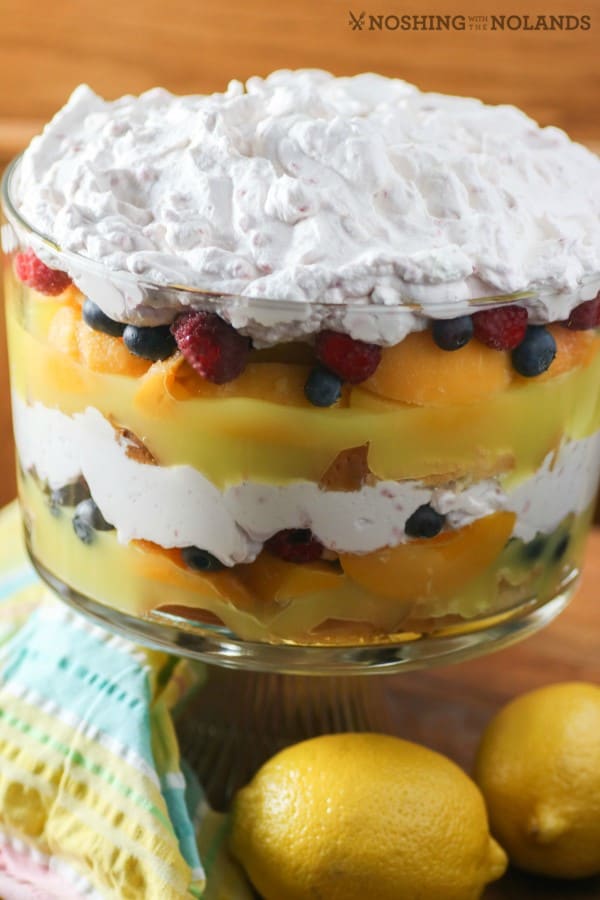 I put the fruit in frozen and it slowly defrosted and melded throughout the day. This dessert is ready when you are. When made in the morning the fruit will have time to defrost over the day when served at night. If you are making this for a brunch then make it the night before. It will be perfect for Easter, Mother's Day and right through the summer.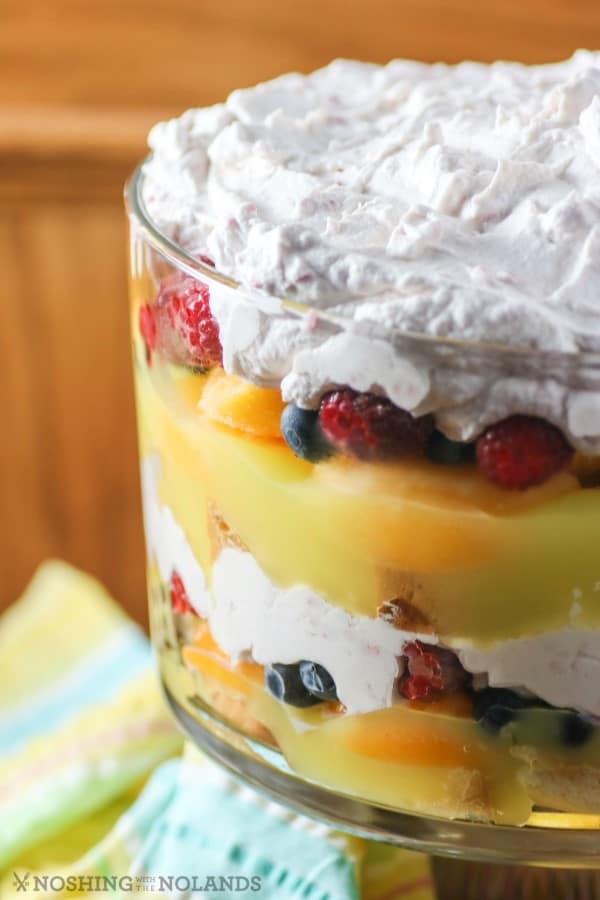 True to form, trifle is an English dessert that consists of cake, fruit, custard and whipped cream. It is usually spiked with sherry but the addition of the limoncello is light and just adds a nice lemony flavor to the pound cake, it is not overpowering at all. A trifle can be varied vastly from it original form and created into so many different tasting desserts like the one I have for you today. Normally a trifle has custard layers but to add some more lemony zest I used a lemon curd.
The Recipe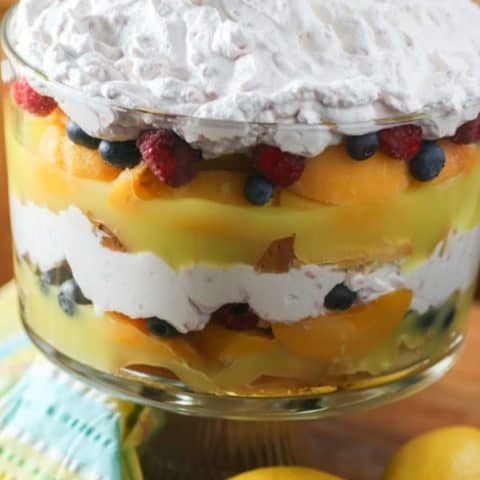 Lemon Berry Peach Trifle
Yield: 10-12 serving
Prep Time: 20 minutes
Total Time: 20 minutes
Purchasing ready made products, like pound cake and lemon curd make this dish as easy as can be and a huge time-saver.
Ingredients
400 gm. bag frozen raspberries
600 gm. bag frozen peaches
6 oz. fresh blueberries
3 cups whipping cream
1/3 cup berry or fine sugar
1/2 store bought pound cake or enough for two layers
2 Tbsp. limoncello
500 ml. lemon curd
Instructions
Place a bowl and whippers in the freezer to get cold to whip the cream. Take one cup of the frozen raspberries, microwave and strain through a fine mesh strainer. Discard the seeds and pulp.
Whip the heavy cream in the cold bowl slowly adding in the sugar. Add the raspberry puree and continue whipping to form soft peaks.
Layer half of the pound cake in a trifle dish, drizzle on 1 Tbsp. of limoncello. Top with half the lemon curd. Top with half the remaining raspberries, peaches and blueberries, (add the raspberries and peaches in frozen). Top with 1/3 of the whipped cream.
Repeat layers, topping with the remaining whipped cream.
Chill in the refrigerator until ready to serve, making sure the fruit has defrosted.