Are you a seafood lover but don't make it at home? This recipe will change that for you. Tired of the ho-hum pasta dishes you always serve? Shellfish is really very easy to cook and work with and is always a celebration. I thought these Creamy Lobster Shrimp Stuffed Shells would be perfect for any special occasion. Valentine's Day is just around the corner and this pasta dish would make a very romantic dinner.
With strong scissors I cut straight down each of the lobster shells and then pulled up the meat to sit on top. They were then buttered and quickly broiled leaving them juicy and flavorful. This tutorial will show you how to do this method and more! It is such an easy way to enjoy lobster. Want more lobster then try our ever-popular Lobster Bisque, always a winner.
Want another great seafood recipe? Try our Copycat Buca di Beppo Salmon Sorrento, Amazing Shrimp Roll Recipe, or Lemon Garlic Shrimp Kabobs, just mouth-wateringly good.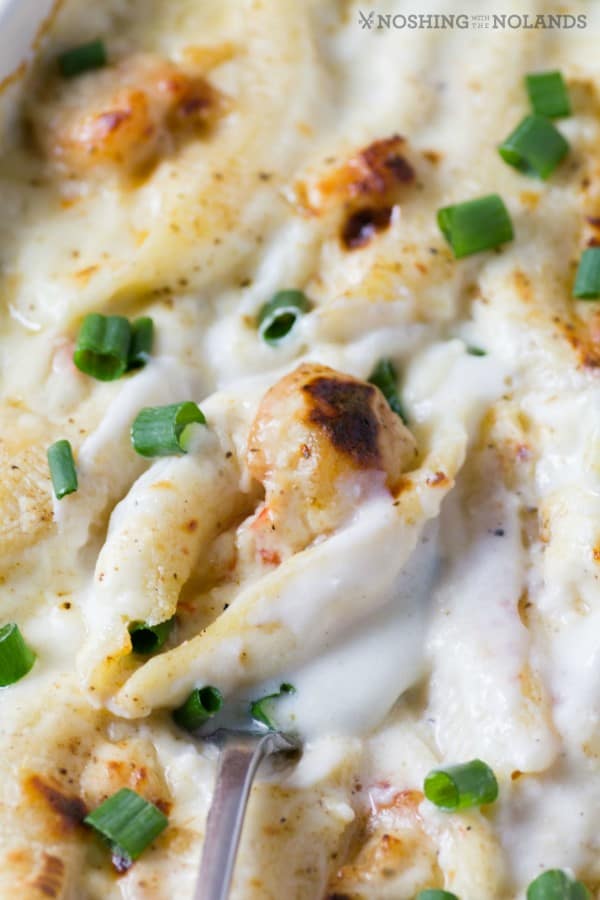 The shrimp I quickly pan fried with the onion and peppers leaving them also full of wonderful flavor. The lobster and shrimp were then combined with a few other ingredients and stuffed into pasta shells. A lovely Parmesan cream sauce was then poured over top and a quick bake in the oven got the dish bubbly and slightly browned.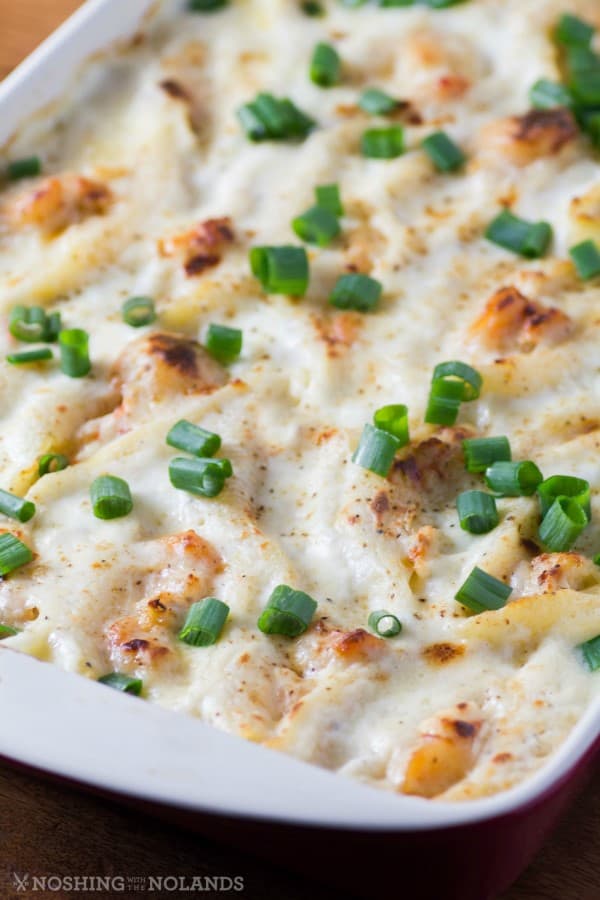 Creamy, full of seafood and heavenly. This dish will get you rave reviews from everyone! Casseroles overall are very easy to make and I love the little cook time in the oven so you can have a break or do the tidy up before dinner is served. Some fresh hot rolls and a simple salad will make this dinner complete!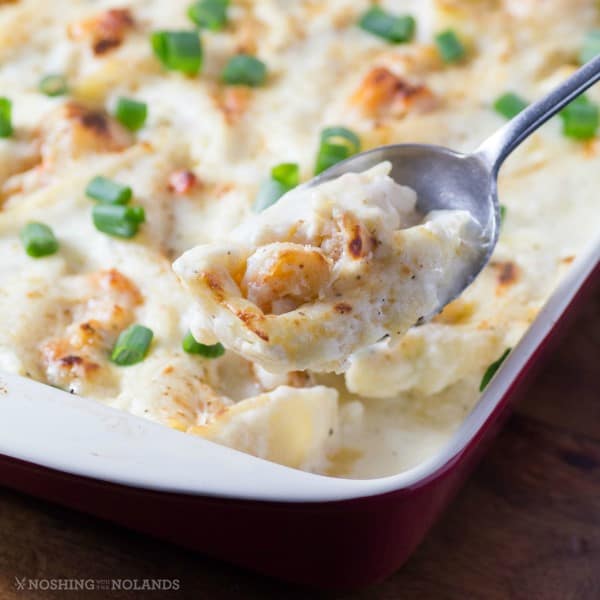 The Recipe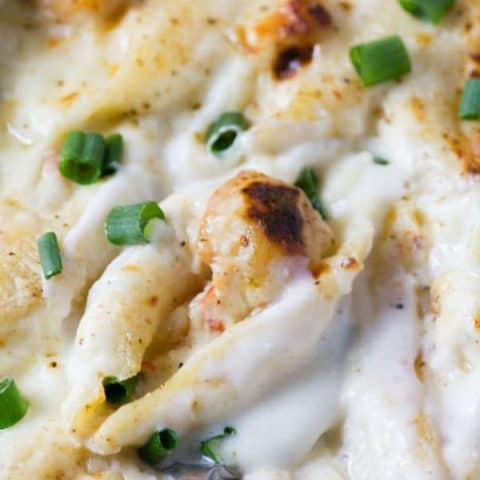 Creamy Lobster Shrimp Stuffed Shells
Yield: 8 servings
Prep Time: 30 minutes
Cook Time: 50 minutes
Total Time: 1 hour 20 minutes
This Creamy Lobster Shrimp Stuffed Shells recipe is easy to make and is gorgeous enough to serve at any special occasion.
Ingredients
25 jumbo pasta shells
5 oz. lobster (about 3 medium tails)
2 Tbsp. red pepper, minced
2 Tbsp. onion, minced
1 Tbsp. butter plus 1/4 cup butter, plus more for lobster
1 pkg. frozen shrimp, 71/90 count, thawed
1 1/2 tsp. Old Bay seasoning, plus more for top
Freshly grated ground pepper and salt
1/4 cup flour
4 cups 2% milk
Large pinch of nutmeg
Few dashes hot sauce
1 1/2 cups Parmesan cheese
1 large egg, beaten
1/2 cup mozzarella, grated
1/3 cup ricotta cheese
Green onions, for garnish, optional
Instructions
Fill a large pot with salted water and cook the pasta shells according to package directions. Drain and rinse and set aside.
Cut the shells of the lobster tails down the center with a sharp knife or strong scissors. Gently pull the lobster up and over the shell. Clean the tail of the digestive tract. Brush lightly with 1 Tbsp. butter and place on a rimmed baking sheet. Broil for 5-7 min. until just cooked through, the meat will become soft and white. Allow to cool and then cut into bite sized pieces. Place in a medium sized bowl.
Meanwhile, in a medium skillet add the 1 tbsp. butter and saute the onion and red pepper for 1 min. Add the shrimp and continue to saute for about 3-4 min. until just pink and cooked. Add the Old Bay seasoning and pepper. Set aside.
In a small saucepan, melt the 1/4 cup butter and whisk in the flour. Cook for 1 min. while whisking. Slowly add the milk while continuing to whisk. Heat the sauce until bubbly and thickened. Season with freshly ground pepper, salt, nutmeg and hot sauce. Stir in Parmesan until melted. Set aside.
Add the shrimp mixture to the lobster, along with the egg, mozzarella cheese, and ricotta cheese. Mix gently.
Preheat oven to 350F. Grease a 9x13" pan. Stuff each shell with one rounded Tbsp. of the seafood mixture and place in pan. Pour cheese sauce over the shells. Sprinkle on more Old Bay seasoning on the top. Bake for 30-35 min. until slightly browned and bubbly. Serve topped with green onions if desired.
Recipe adapted from
Taste of Home
.