Today I have Nancy here from Gotta Get Baked. I met Nancy through #SundaySupper and I am always excited to see what she has created next. I am very happy that she is here today to share with you one of her amazing recipes. You can follow Nancy on Facebook or Twitter to see all of her drool worthy pictures and recipes. I now give the floor to Nancy and her Lemon Angel Food Trifles by Gotta Get Baked!! Enjoy!!
"Howdy, readers of Noshing with the Nolands. I'm Nancy of Gotta Get Baked. I'm extremely lucky to be guest posting today for Tara, the wonderful, fabulous brains behind this space. When she sent out her feelers looking for March guest posts, I immediately volunteered because I think Tara is awesome and I love and admire her blog. Plus, it's always fun to meet a fellow Canuck food blogger. There are some things that are so quintessentially Canadian, it takes another Canuck to truly understand and appreciate them.
Spring Flavors
Tara gave me a lot of leeway for what I could blog about, with the sole suggestion that I make something evocative of spring. Done and done. It may still be absolutely miserable outside but there are definite signs that spring is coming. As much as I hate that blasted time change, at least it's actually light out when I leave my office.
A few trees and flowers are starting to bloom and the air is warmer here on the west coast. Bright colored clothes are appearing on store shelves, making me yearn for hot, lazy days of summer that still seem so far off. In honor of this pleasant turning of the seasons, I wanted to bring Tara something decadent yet light, sweet but not cloyingly so. A treat that can be enjoyed with a cuppa tea while sitting in the diluted early spring sunshine (or in the case of eastern Canada, lingering blizzards. For Vancouver, endless rain!).
So, to breathe a little bit of that fresh, clean, springtime feeling into your day, I give you Lemon Angel Food Trifles.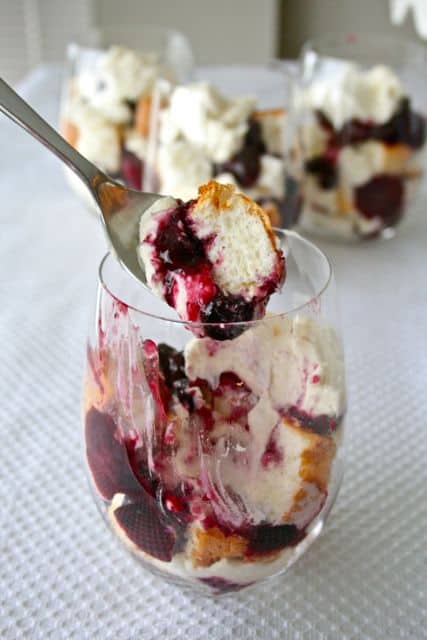 Lemon Angel Food Cake (lightly adapted from Ina Garten)
Recipe
1 1/4 cup sifted superfine sugar, divided (I used ordinary sugar that I whizzed in the food processor to make it extra-fine)
1 1/3 cups sifted cake flour
1 1/2 cups egg whites, at room temperature (from approximately 10 to 12 eggs)
3/4 tsp salt
1 1/2 tsp cream of tartar
2 tsp vanilla extract
zest of 2 lemons
1) Preheat your oven to 350 degrees F.
2) In a medium bowl, combine 1/2 cup of sugar with the flour and sift together 4 times. Set it aside.
3) Place the egg whites, salt and cream of tartar in the bowl of an electric mixer fitted with a whisk attachment and whisk on high speed until you have medium-firm peaks, for about 1-2 minutes. With the mixer on medium speed, add the remaining 1 1/2 cups of sugar by sprinkling it over the beaten egg whites. Whisk for a few minutes until thick and shiny. Add the vanilla and lemon zest. Continue mixing until the mixture is very thick, about 2-3 more minutes.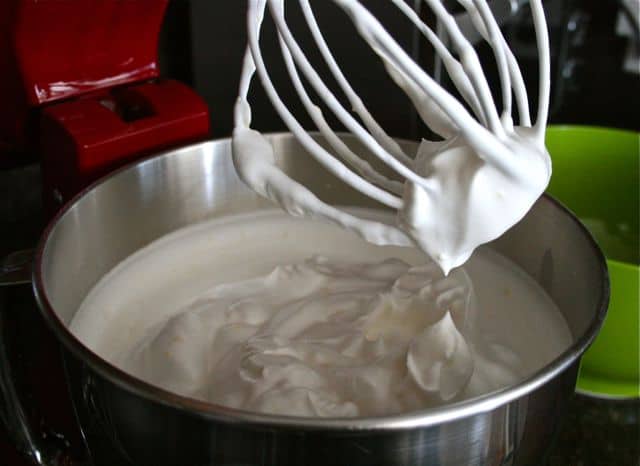 4) Sift about 1/4 of the flour mixture over the egg whites and using a rubber spatula, gently fold the flour into the batter. Continue adding the flour by fourths by sifting and folding until the flour is incorporated into the egg white.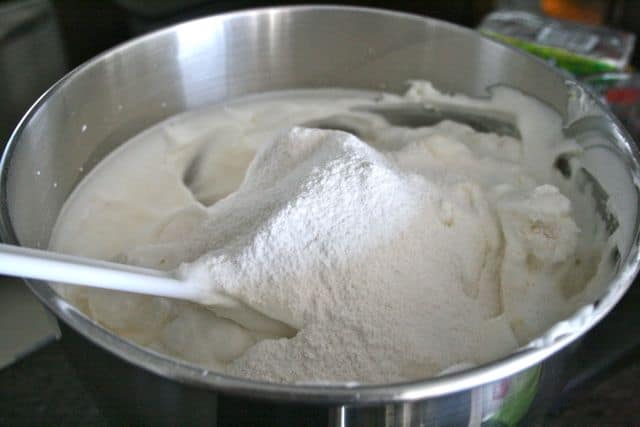 5) Pour the batter into an ungreased 10-inch tube pan. Smooth the top with a rubber spatula and bake for 35-40 minutes, until it springs back to the touch. Remove the cake from the oven and invert the pan onto a cooling rack until cool.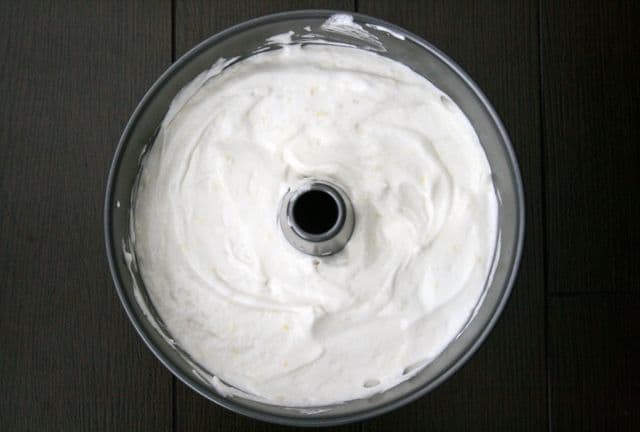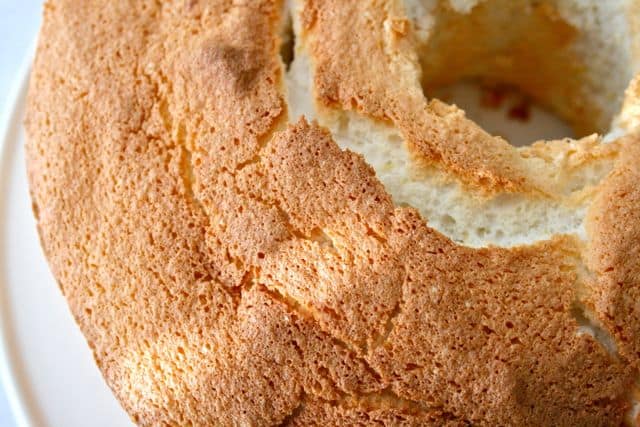 Blueberry Peach Compote
1 1/2 cup frozen or fresh blueberries
3 peaches, fresh or frozen, diced
1/4 cup sugar
3 tbsp corn starch
Instructions
Place the fruit into a small sauce pan over medium heat. When the liquid starts coming out of the fruit, smoosh (yes, that is a professional baking term) the fruit with a wooden spoon. As it starts to boil and bubble, add the sugar. Keep cooking until the fruit softens and starts breaking apart.
Dissolve the corn starch in a tablespoon of water. Add the corn starch slurry to the fruit and allow the mixture to come to a boil and thicken. You can add more corn starch if the mixture isn't thick enough to your liking.
Because all my fruit was frozen, a LOT of liquid came out. I actually removed about 1/4 cup of liquid so that my fruit compote would be thicker and have a more intense flavour.
When finished cooking, remove from the heat and cool to room temperature. If not using right away, store in the fridge.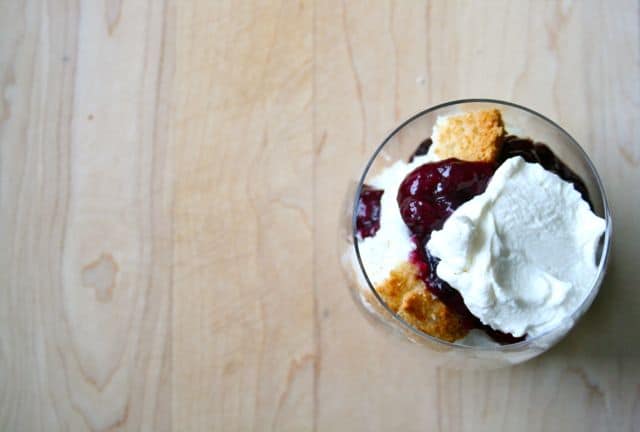 Faux Devonshire Cream
(adapted from The Joy of Baking)
1 tub mascarpone cheese, softened (275 grams/9 ounces)
1 cup whipping cream
2 tbsp vanilla extract
3 tbsp sugar (more or less, according to taste)
Place all the ingredients into a medium bowl or the bowl of your stand mixer. Mix it together a bit with a wooden spool or rubber spatula (or else the cream will splash everywhere once you turn your machine on). Using an electric mixer or your stand mixer (fitted with whisk attachment), whip the ingredients together until smooth and creamy. Taste as you go along – you can add more vanilla and/or sugar until you reach your desired taste.
Assembly
Cut your cake into bite sized squares (about 2X2 inches). Place a layer of cake on the bottom of your container, top with fruit compote, then the faux Devonshire. Keep layering until you reach the top of your container. Chill in the refrigerator before eating.
This trifle tasted amazing. I loved the combination of fruit flavours and the faux Devonshire is good enough to eat with a spoon. I was so happy to finally dig into a cup of trifle after I finished taking my photos. I sat there beside the big windows in my apartment, staring off into the distance and allowing the contrasting textures and flavours to play on my tongue. A nice small reprieve in the last days of winter.
Thanks so much, Tara, for having me!"