Garlic Chicken Pasta with Prosciutto
This easy Garlic Chicken Pasta with Prosciutto is a delicious dinner that tastes restaurant quality but so simple to make at home. Lots of wonderful garlic adorns the chicken, tomatoes, and peppers in an easy dish. Your family will ask for this again and again.
If you don't want to have the oven on in the summer months you can blacken the peppers up easily to peel them on the BBQ. That is the only step that doesn't make this a one-pot meal. Even easier would be to buying already roasted red peppers in a jar!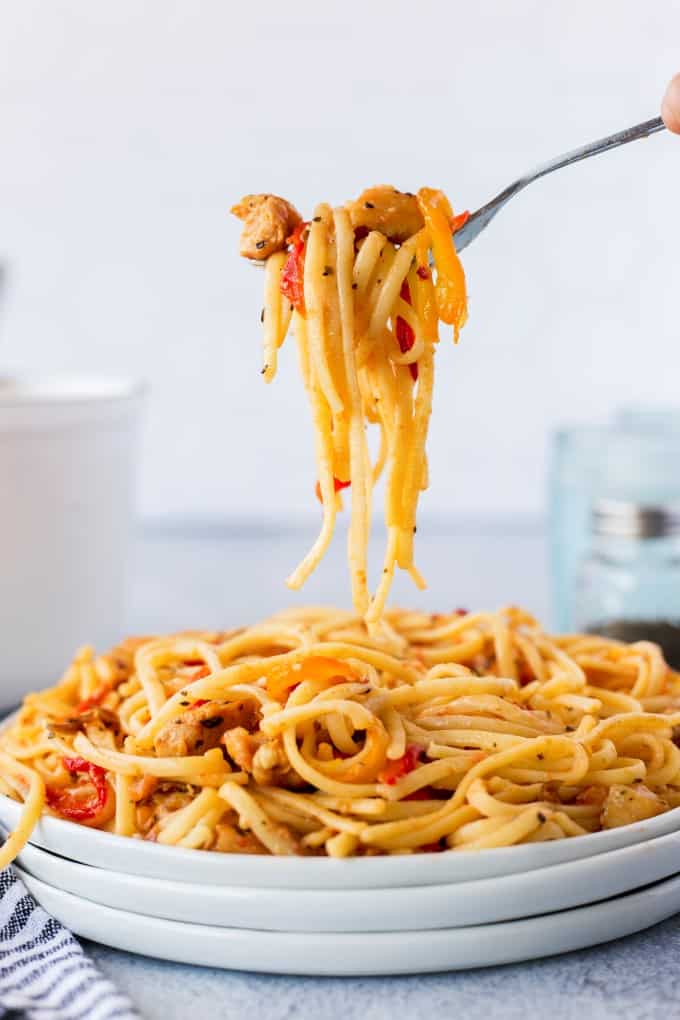 Helpful Items For This Recipe
This post contains affiliate links. As an Amazon Associate, I earn a small portion from qualifying purchases at no extra charge for you.
How to Make Garlic Chicken Pasta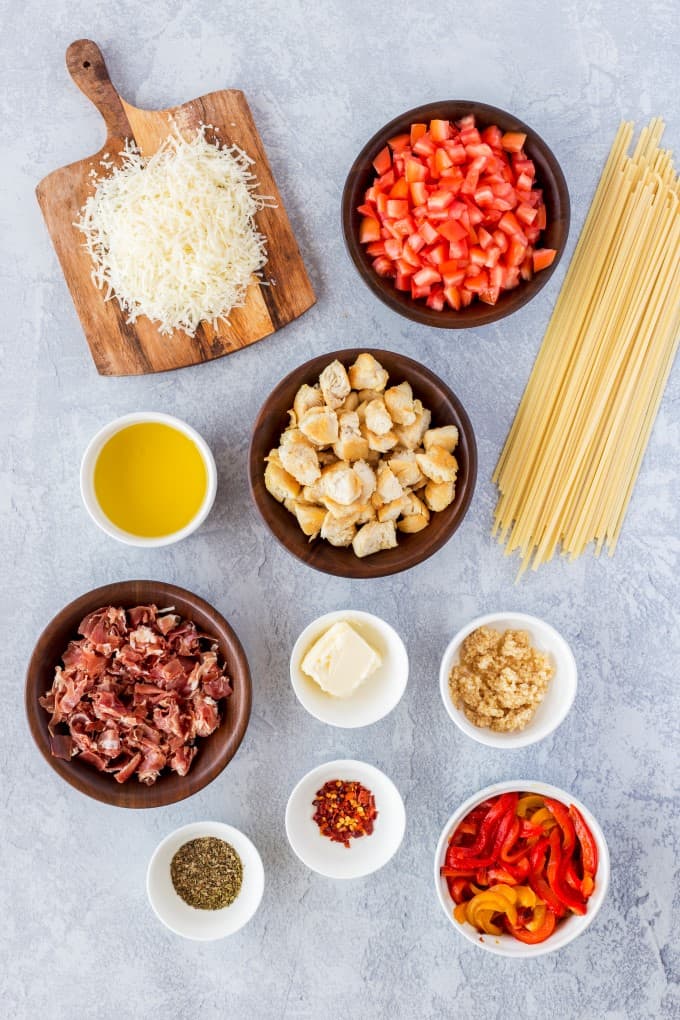 Ingredients
Sweet peppers (red, yellow or orange)
Olive oil
Garlic
Tomatoes
Prosciutto cut into small pieces
Cooked chicken
Butter
Italian seasoning
Red pepper flakes
Linguini
Parmesan
This super easy pasta has simple ingredients that you can find in any grocery store. Have you tried cooking prosciutto before? It turns out wonderfully. We cook it a lot instead of bacon, it becomes paper-thin crispy and delightful. Great in this recipe and many others!!
The very first step is to roast the peppers but as I mentioned you can use jarred peppers too. Heat the oven to 450F and put a rack at the top of the oven. Place peppers cut side down on a foil-lined baking sheet. Roast on top rack for 20-25 min. or until the skin is charred and pulling away from the pepper. Let cool at room temperature, peel and slice into thin strips.
Heat the oil in a large non-stick frypan and add garlic and cook until lightly golden brown and soft. Add the tomatoes and then the prosciutto.
Continue Adding The Ingredients
Next, add the chicken followed by the butter, Italian seasoning, and red pepper flakes, sauté for 12-15 minutes. The prosciutto should be just starting to become slightly crispy, careful not to overcook it. Season with salt and pepper being careful with the salt as the prosciutto is salty.
There is no need for heavy cream or even chicken broth in this pasta, it is perfectly done with the amazing ingredients it has, no need for a sauce per se. When you melt butter into the dish it creates a lusciousness and that is all that is needed along with the other ingredients like Parmesan cheese.
Meanwhile, in a large stockpot bring salted water to a boil and cook the linguini as per the packaged directions until al dente. Reserve a cup of the pasta water then drain the pasta and return it to the stockpot. Add the tomato/chicken mixture to the pasta along with the roasted peppers and parmesan cheese.
Cook on low heat adding the reserved pasta water as needed until the cheese has melted, the peppers are heated and stirring the mixture to combine. This recipe is so good you will want to dive right into the pot!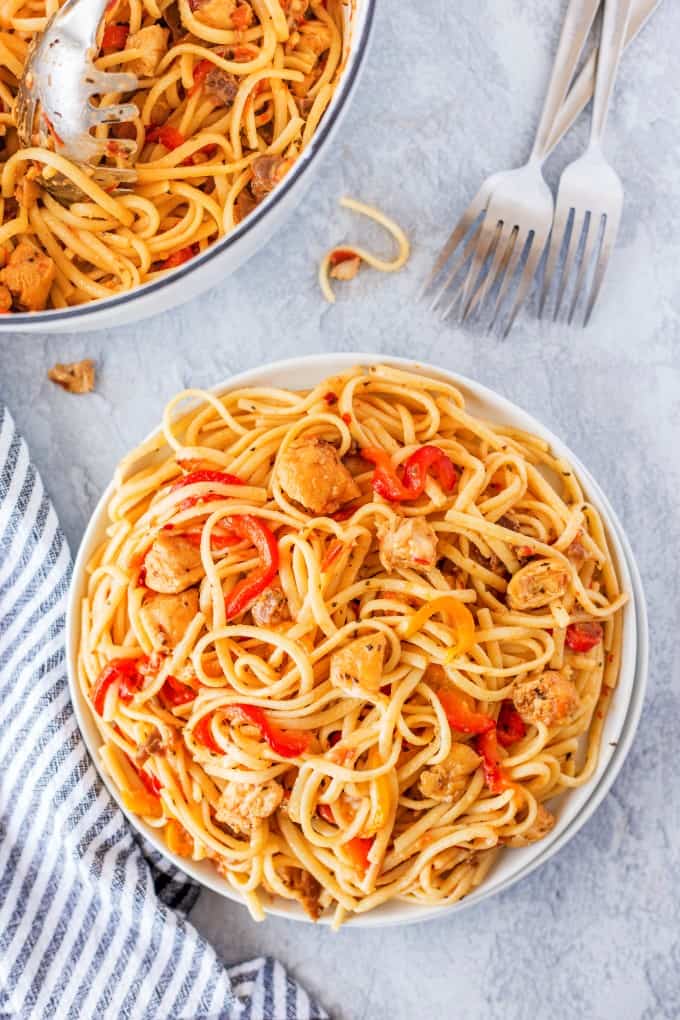 Next is serving the delicious pasta that took you no time at all to create. I love simple pasta like this in the summer months equally to the colder months. Pasta is a favorite year-round.
What Goes Well with Garlic Chicken Pasta?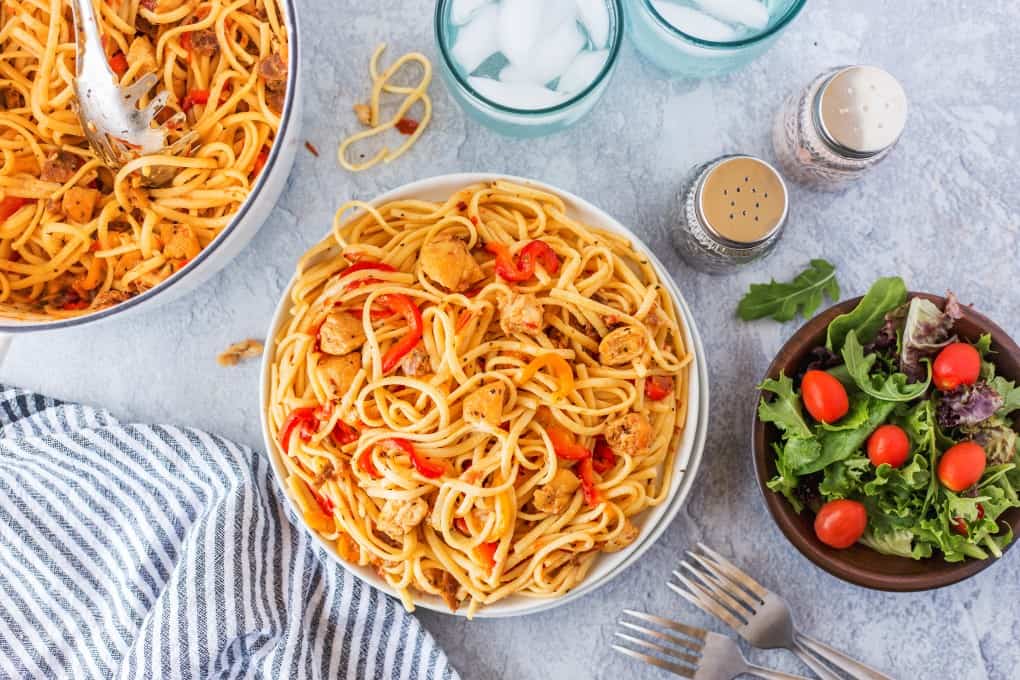 Well as shown here I just have a simple salad of greens and tomatoes. That literally is a go-to salad for me with a drizzle of balsamic vinegar and olive oil or another dressing. Nothing fancy as the star of the show is the pasta.
In the summer months, you may want to serve some lovely grilled vegetables as a side dish. In the winter months, a ratatouille would be wonderful also. And for any time of the year, a classic Caesar Salad is always a popular side dish. Additional side dishes like this bump up your weeknight meal to a weekend feast!!
How do I Cook Chicken Before Adding Pasta?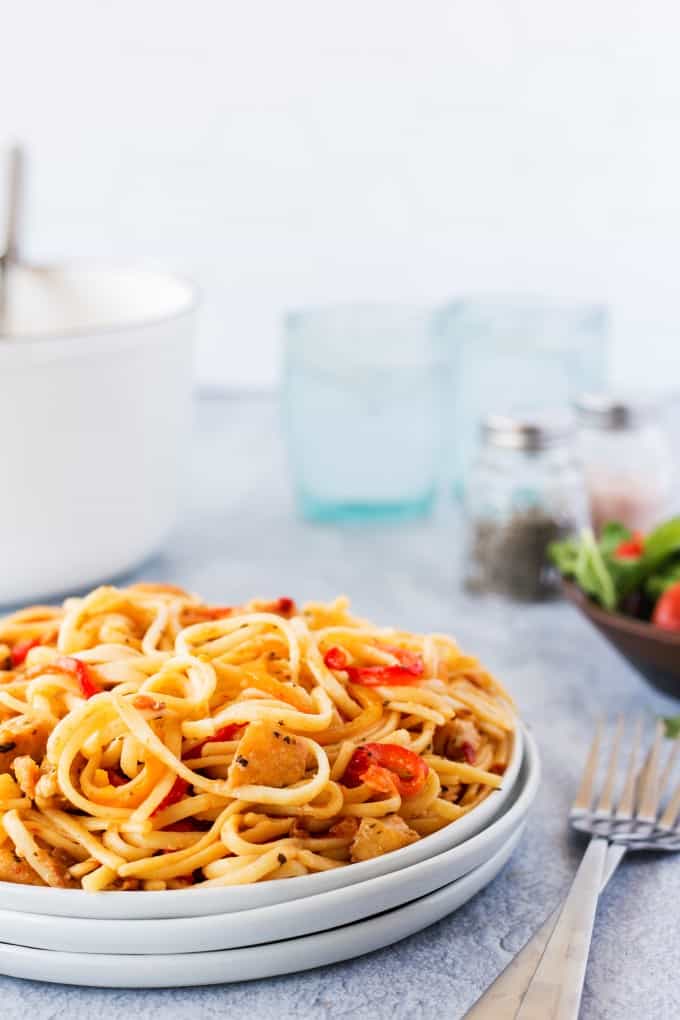 This recipe asks for cooked chicken so it is an easy recipe to use up leftovers or to buy already cooked chicken. But what if you have uncooked chicken for this recipe? What is the best way to cook it?
I would use chicken breast for this recipe but chicken thighs would work wonderfully also. Cut your chicken into bite-sized pieces and saute in olive oil with salt and pepper.
Cook until just reaching 165 F. (test with a reliable thermometer like a Thermapen) and remove from pan. Continue with the recipe from the start setting the chicken aside.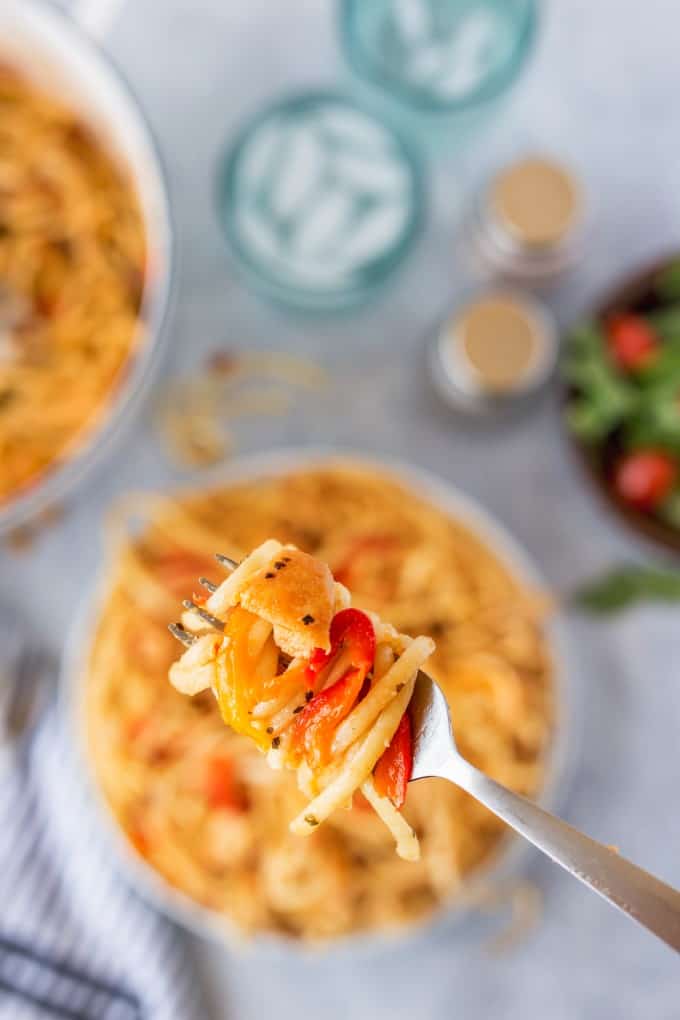 Pasta is something that so many people love to make and love to eat. Here are some other easy pasta recipes that we enjoy also:
Paglia e Fieno (Straw and Hay)
Spaghetti and Meatballs in Marinara Sauce
Stovetop Lobster Mac and Cheese
Baked Tortiglione with Three Cheeses, Vine Tomatoes, and Herbs
Pasta with Proscuitto Peas Mint and Lemon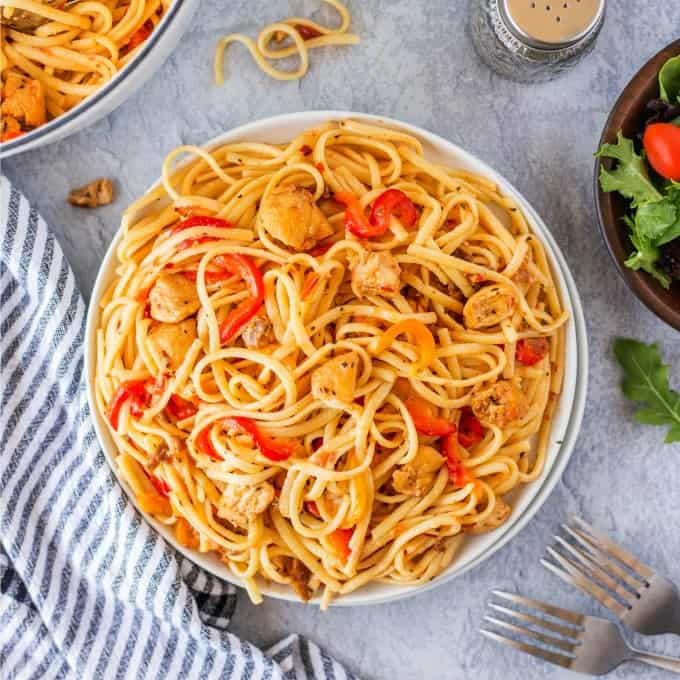 Pin it HERE!!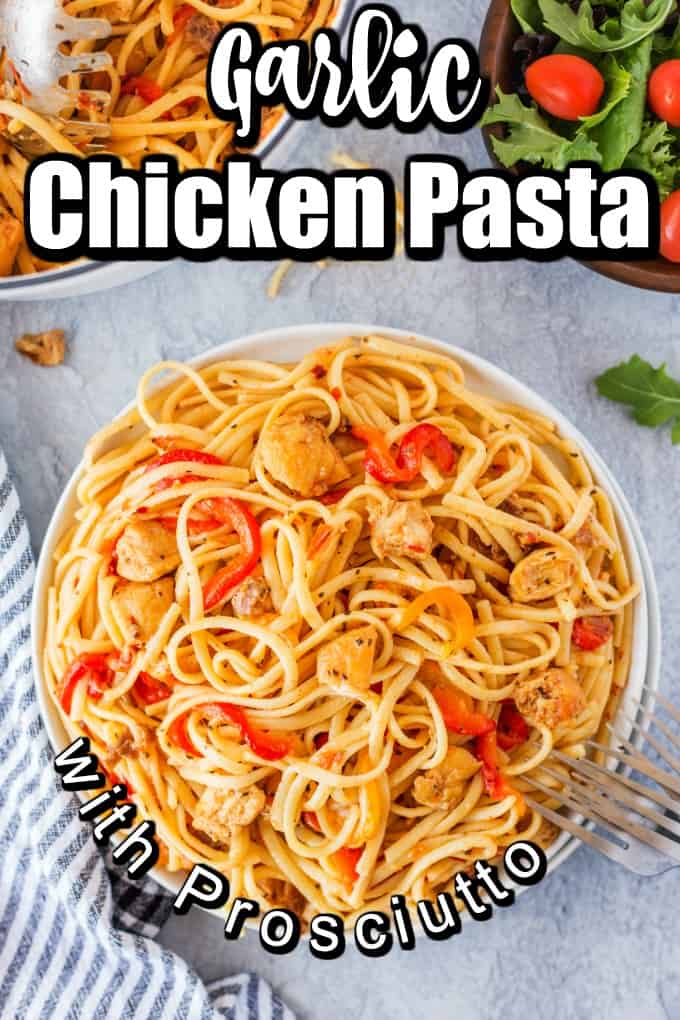 Pin it HERE!!