This Easy Chorizo Pasta recipe is the perfect dinner ready in under 30 minutes with simple-to-find items in your grocery store. All prepared in one pot with Spring vegetables and a Spanish Chorizo, you will make it on repeat. Trust me.
Life is busy and we all need simplicity without compromising the flavors. The crunch of the vegetables with your al dente pasta is the best combo with the chorizo.
Cooking this recipe is really simple for an insanely delicious meal. Bonus, leftovers are perfect for the kids' lunches or yours!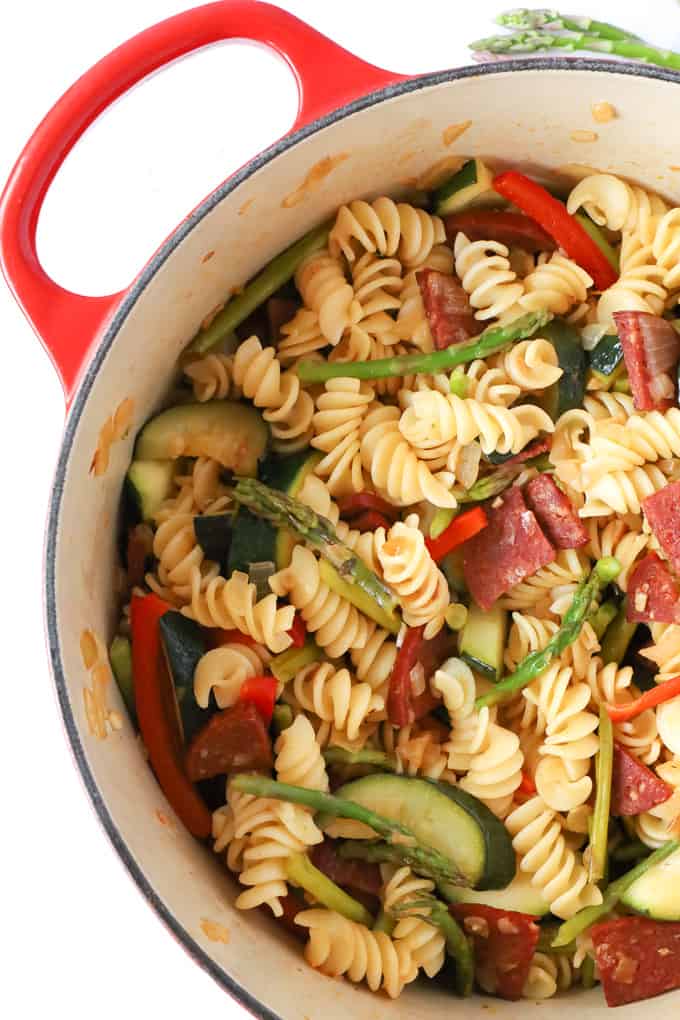 Helpful Items for This Recipe
This post contains affiliate links. As an Amazon Associate, I earn a small portion from qualifying purchases at no extra charge for you.
Hello there, my name is Melanie and I am really excited to be part of the Noshing with the Nolands tribe. I blog at Bon Appét'Eat where I share easy and elegant recipes and I season it often with a French flair. Please do come to say 'Hi'.
I demystify recipes to get you back in the kitchen. There is some for everyone, from your sweet tooth to easy dinner for weekdays like my Spanish garbanzos fritos or this Roasted Carrots and Potatoes.
Also, speaking of easy dinner and ready in no time, let's look at this chorizo pasta recipe together.
What Is Chorizo? How To Eat it?
Chorizo is a Spanish sausage generally made of pork. It is seasoned with paprika. It can be smoked as well; this is how they prepare it in Portugal.
You can eat it raw when thinly cut. You can sautee it in the pan like in this easy pasta chorizo recipe. When cooked, it becomes crispy which is a great texture in your dish.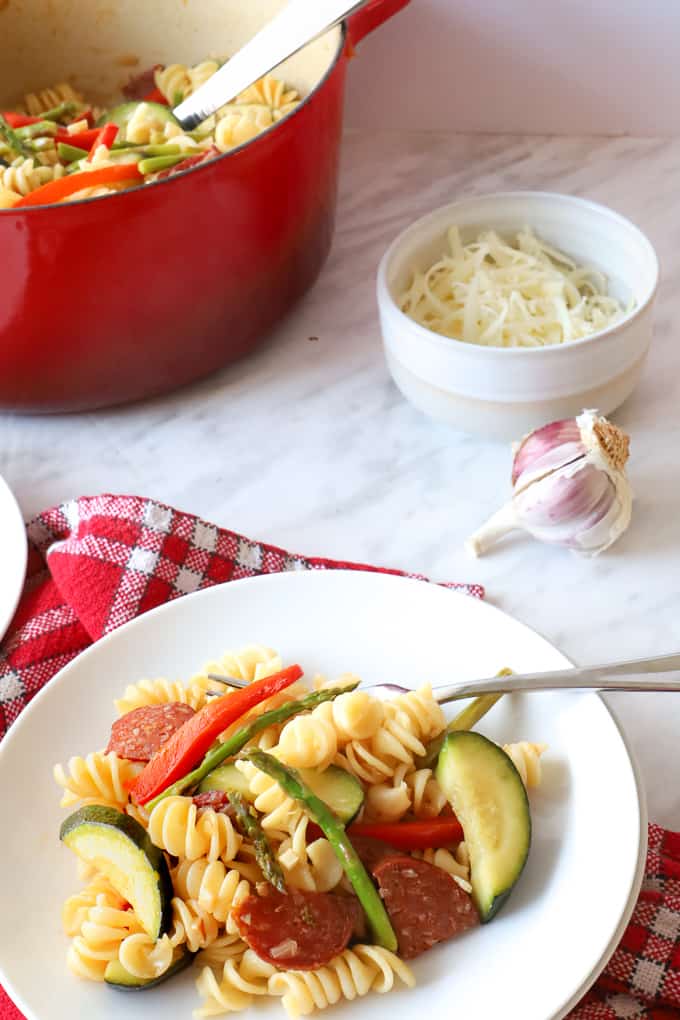 What Is Good With Chorizo?
Truthfully. Everything! Mild chorizo would be more of a crowd-pleaser if you have kids around the table. The spicy chorizo sausage would be good if everyone likes it.
Pasta is great with chorizo and so is rice. Spanish meals often have this protein and it gives an amazing flavor to the dish. Also, chorizo goes very well with chicken.
Lastly, for your next brunch, consider marrying your eggs with some chorizo, like in an omelet, for example.
How To Prepare This Chorizo Pasta Recipe?
This recipe is really simple and quick to put together. As a mother in a busy family, this kind of meal saves my life and sanity. I make sure to make enough for dinner and lunches for the next day.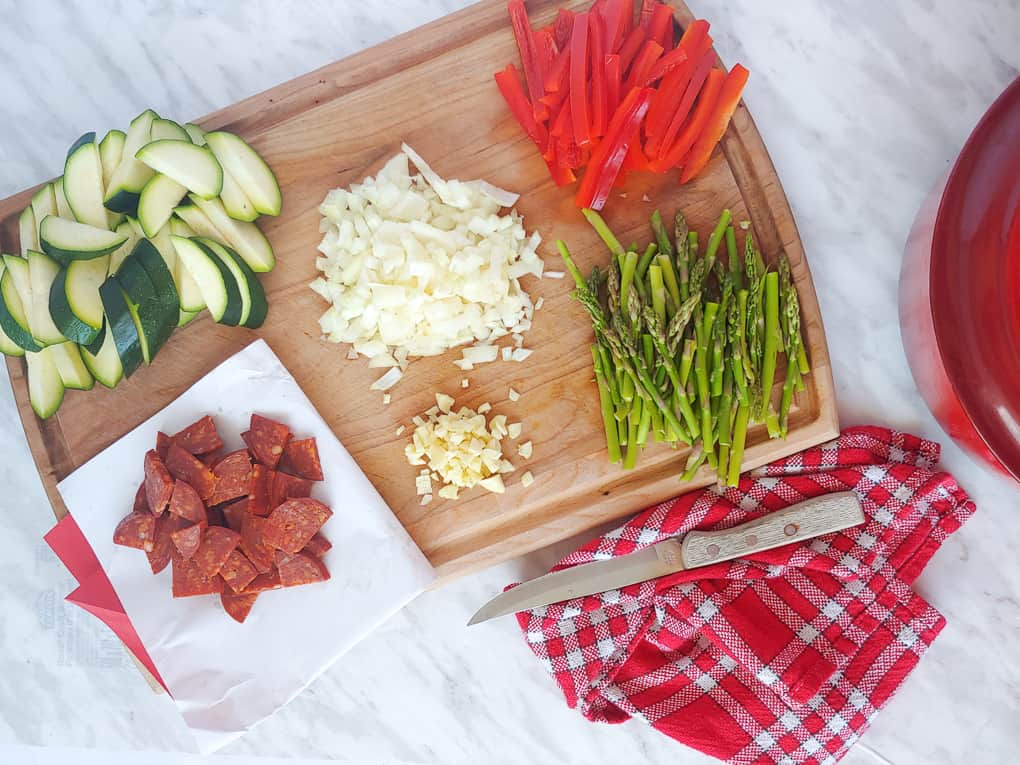 Firstly, in a large pot, cook the pasta in salted water as directed on the package. Drain and set aside.
Meanwhile, prepare all your ingredients. Wash, chop, and cut as directed in the recipe.
In a large skillet over medium-high heat, lightly drizzle some olive oil and cook the chorizo. A few minutes later, add the onion and garlic and stirring occasionally until fragrant and transparent. Next, you can add your zucchini, asparagus, and red peppers. Season with salt and pepper.
Note: It only takes a few minutes, stirring gently; you want your zucchini to stay on the crunchy side or 'al dente' and not become too mushy.
Lastly, drain your pasta and add pasta to your vegetables and chorizo then toss everything together. Close the lid for a few minutes. Now, what happens? The steam of the vegetables and the olive oil and the fat of the chorizo is going to create a nice juicy coating for your chorizo pasta dish. De-li-cious!
This chorizo pasta is by definition delicious and really simple to put together. It is a recipe that can be put together in 30 minutes to have a colorful and delicious meal on the table. The bonus is that the leftovers for the next day can be enjoyed warm or cold.
A few variations if necessary
If you are gluten intolerant, you can adapt this recipe with gluten-free pasta.
Does someone want more protein on their plate? Here are a few suggestions that pair so well with the chorizo. Add some pieces of grilled chicken, bacon or even some shrimps or prawns to it! It will be even more delicious.
Do you want more vegetables or colors in your dish? Add some mushrooms or cherry tomatoes – at the same time, you would add the zucchinis, etc.
Lastly, once plated, you can add some chopped basil, olives or cheese to your plate.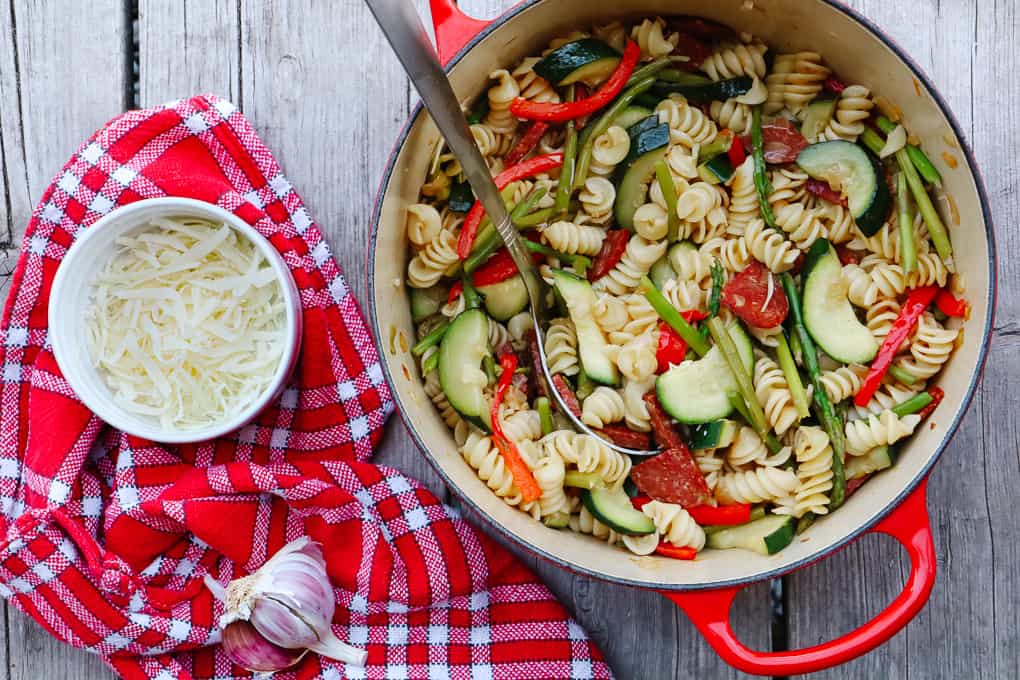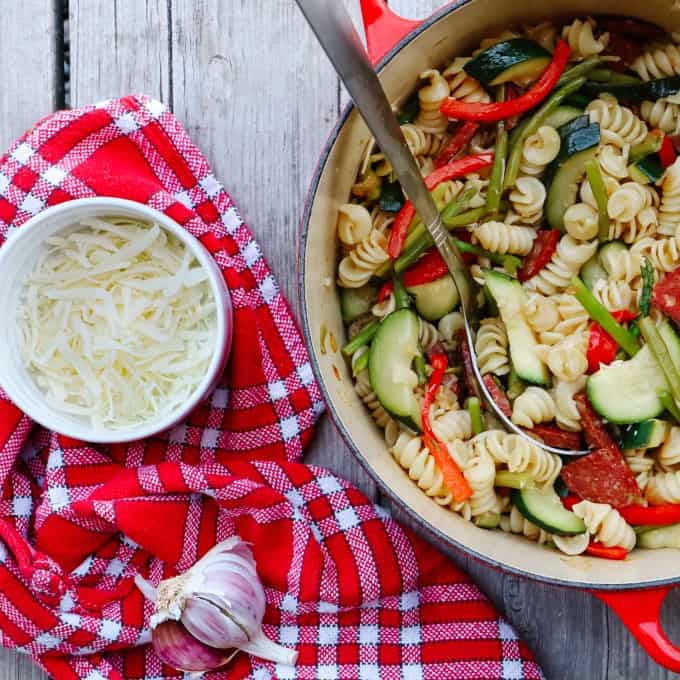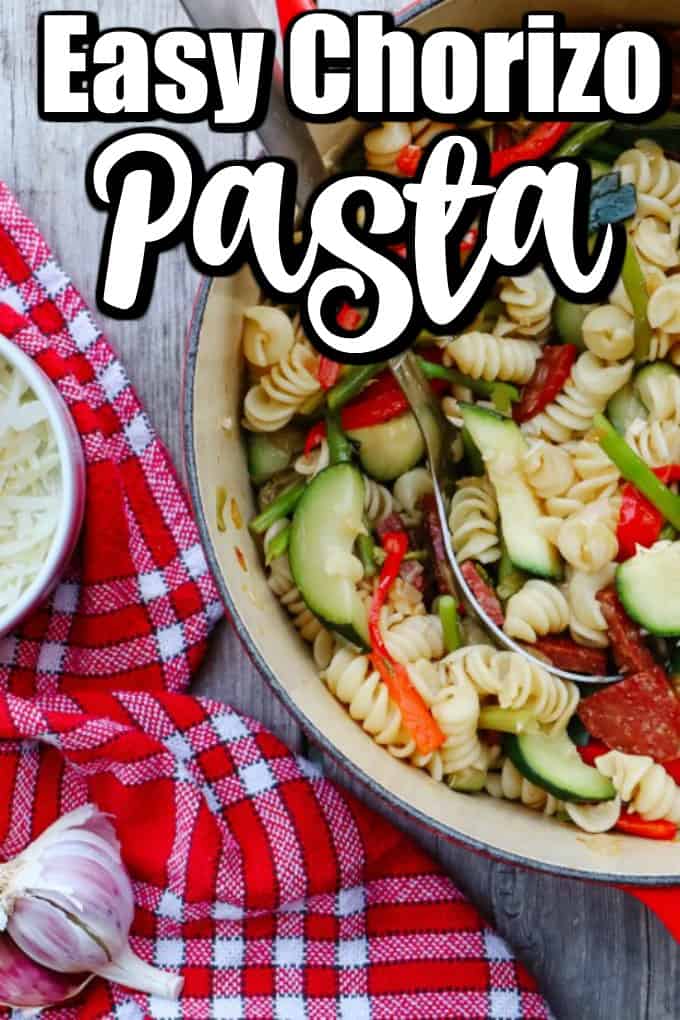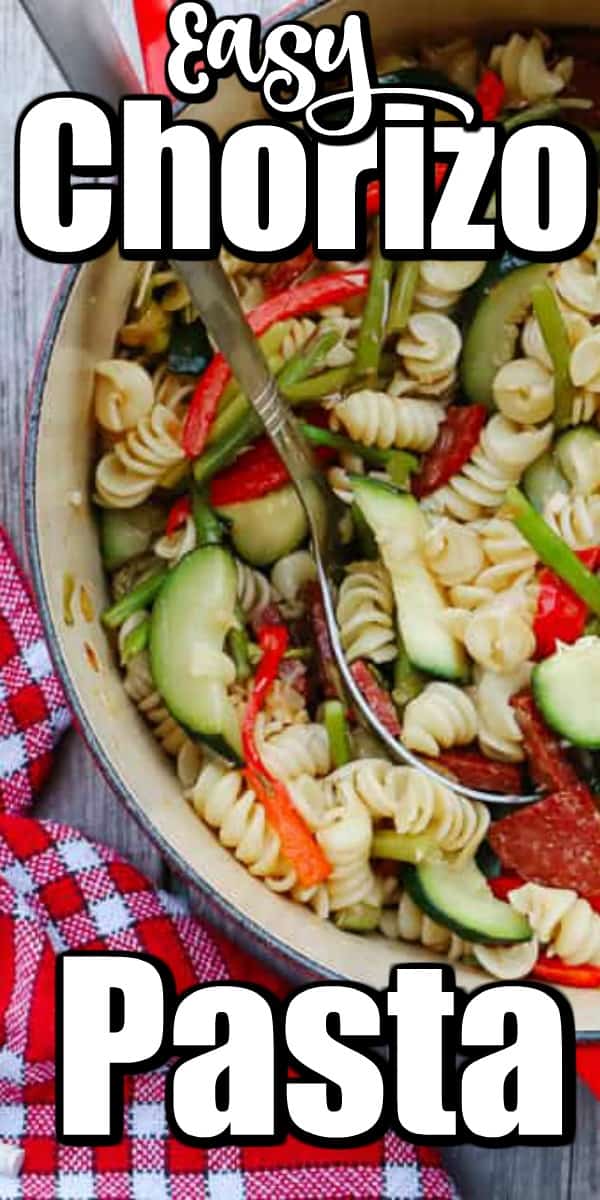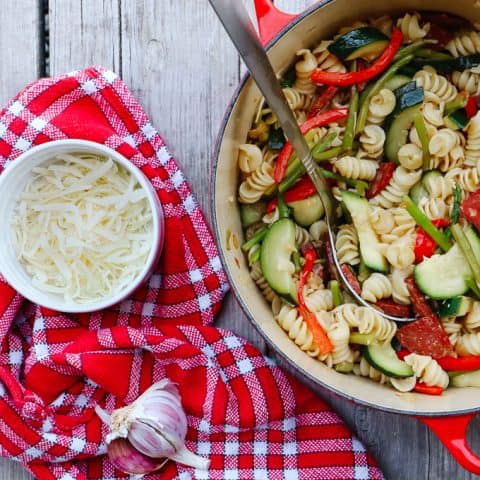 Easy Chorizo Pasta
Yield: 6 portions
Prep Time: 10 minutes
Cook Time: 20 minutes
Total Time: 30 minutes
This Easy Chorizo Pasta recipe is the perfect dinner ready in under 30 minutes. All prepared in one pot with Spring vegetables and a Spanish Chorizo, you will make it on repeat. Trust me.
Ingredients
250g of pasta (which represents about half a pack)
1 tbsp of olive oil
12 slices of chorizo
1 onion
3 cloves of garlic
2 zucchinis
1 red pepper
20 thin asparagus
Salt to taste
Instructions
Cook your pasta as directed on the box. Drain and set aside.
Prepare and cut all your ingredients: Chop your onion and garlic, cut your zucchinis in thick slices and then in 4. Julienne your pepper. Trim the bottom of your asparagus if necessary and then cut in 3.
On medium/high heat, in a large skillet (the one you used for your pasta), sauté your chorizo for 3 minutes. The edges will start to crisp lightly.
Add in your onion and garlic. Cook for 5 minutes until translucent, stir occasionally.
Add the zucchinis, pepper and asparagus. Add salt. Stir gently. Close the lid, lower the heat and cook for 10 minutes.
Add in the pasta, toss well, close the lid again and cook for another 2 minutes.
Serve and add cheese to taste.
Nutrition Information:
Yield: 6
Serving Size: 1
Amount Per Serving:
Calories: 381
Total Fat: 25g
Saturated Fat: 9g
Trans Fat: 0g
Unsaturated Fat: 15g
Cholesterol: 50mg
Sodium: 811mg
Carbohydrates: 22g
Fiber: 3g
Sugar: 4g
Protein: 19g
Recipe calculation was provided by Nutritionix and is an estimation only. If you need nutritional calculations for medical reasons, please use a source that you trust.