Old Time Squash Casserole
I have a gorgeous Old Time Squash Casserole for you for your Thanksgiving table. This is a recipe that I loved the second I tried it.
This year I have been experimenting with different squash ever since we did Squash Fest for #SundaySupper. I am in love with the Red Kuri squash. There are loads of different squash out there so substitute your favorite.
I have always made a sweet squash dish with acorn, like this one, Acorn Squash with Cinnamon and Cranberries.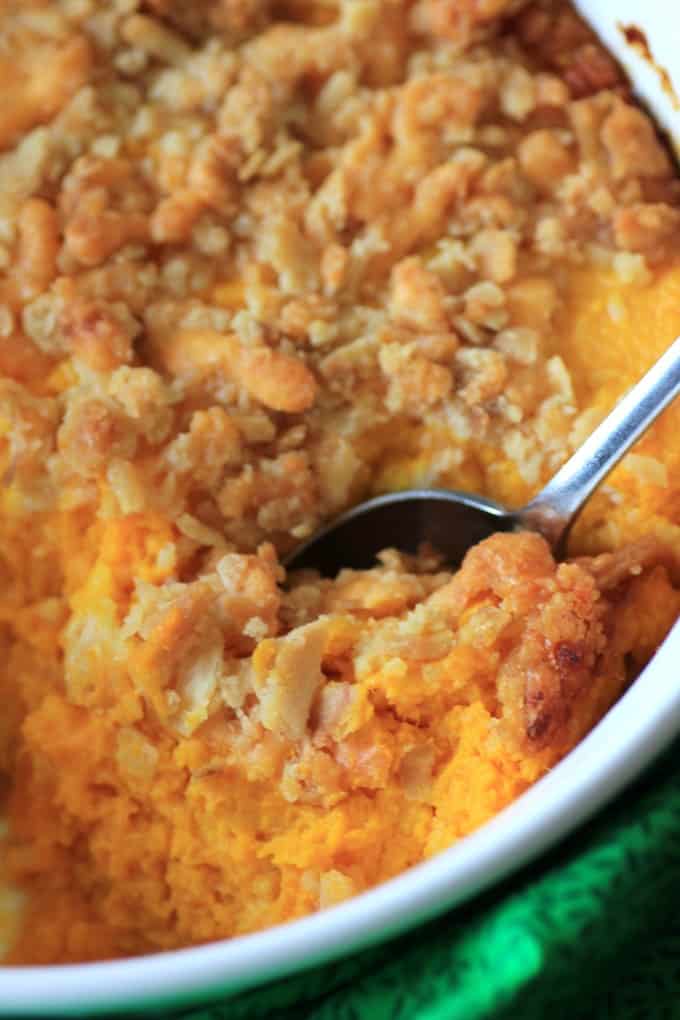 There are several side dishes that are perfect for Thanksgiving and other holidays. With the holidays fast approaching, now is the time to start your planning.
One of our favorite side dishes at any Thanksgiving table is this delicious Old Time Squash Casserole recipe. This savory casserole dish can be made with summer squash, butternut squash or even spaghetti squash.
No matter what your squash preference, this delicious combination of cheddar cheese, crushed crackers, melted butter and more, make up the perfect side dish.
I really liked this recipe because it is savory. It is light and fluffy with a hint only of garlic and onion. The delicious cheddar cheese shines through and goes so nicely with the squash.
Enjoy this recipe for your Thanksgiving or holidays!!
I am honored to have been chosen for this recipe to be one of The Ten Best Family Food Blogs from AllFreeCasseroleRecipes!! Now that is pretty cool!!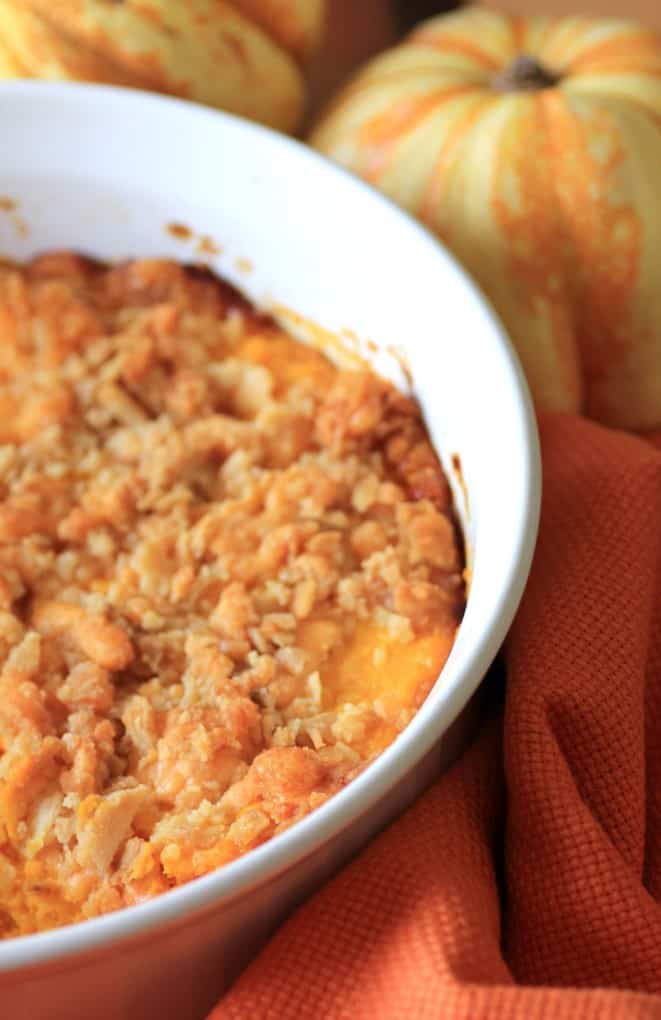 How do you Make Squash Casserole?
When you are making a squash casserole, you are going to want to make sure that you find the type of squash that works best for your family.
There are several different squashes to choose from, as well as several flavor combinations you can use. If you are looking for a sweet squash casserole recipe, those are usually made with ingredients like marshmallows, brown sugar and even cinnamon.
There are savory squash mixtures out there too, using ingredients such as onions, garlic, and cheese like this recipe. Depending on what flavor profile you choose for your squash casserole, there are several ways to put together a delicious and easy baked squash casserole this year.
Check out this CHART to help you choose the perfect squash for your next casserole.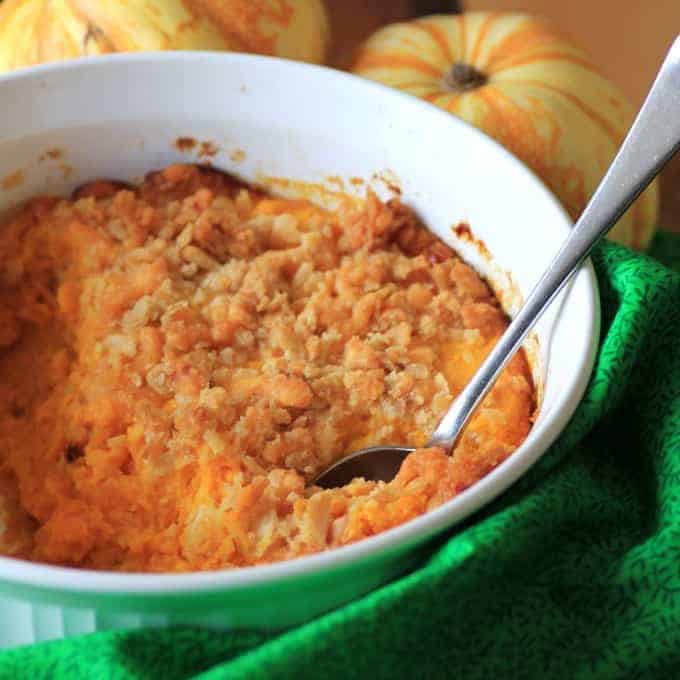 This Old-Time Squash Casserole recipe has been a family favorite on our Thanksgiving table for years and we hope it will become a family favorite for you as well.
Have a wonderful Thanksgiving!!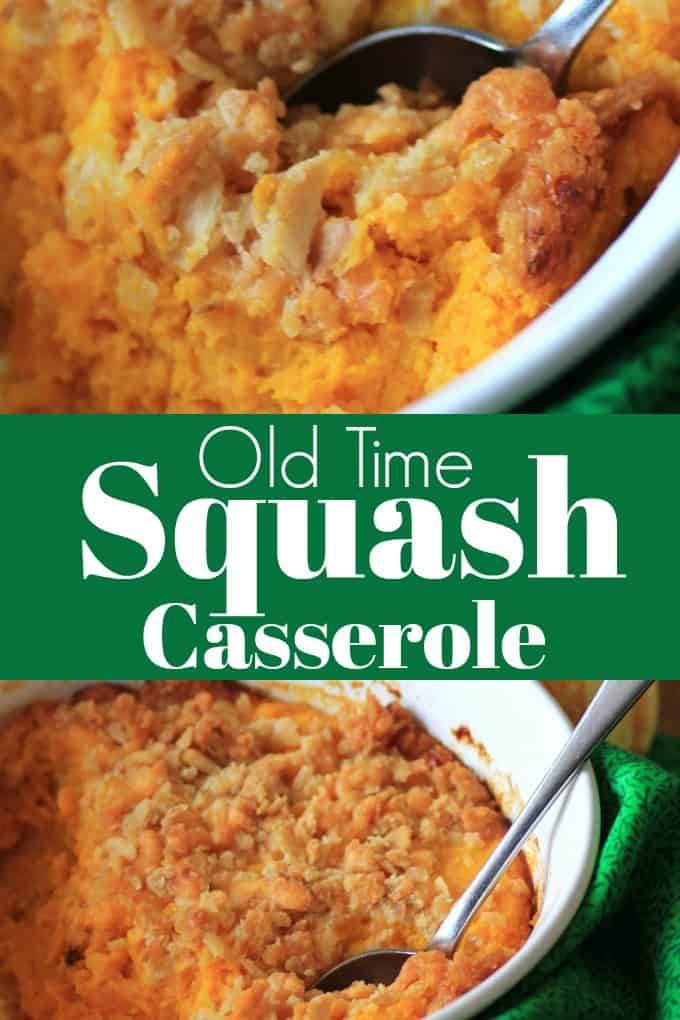 Old Time Squash Casserole Recipe
Yield: 8
Old Time Squash Casserole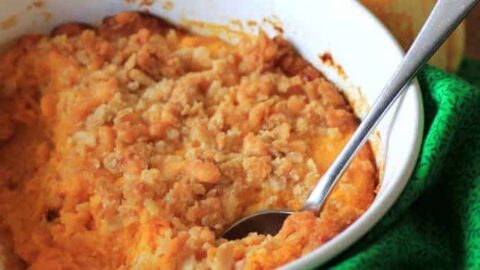 A cheesy savory squash casserole perfect for your Thanksgiving table.
Cook Time
1 hour
5 minutes
Total Time
2 hours
5 minutes
Ingredients
2 lbs. red kuri squash or your favorite squash, peeled, seeded and cut into 1" cubes
1 clove garlic, minced
2/3 cup onion, diced
1/4 cup evaporated milk
2 eggs
1 tsp. salt
1/2 cup water
4 Tbsp. butter, divided
1 cup grated cheddar cheese
1/2 cup cracker crumbs, divided
2 Tbsp. melted butter
Instructions
Butter a 2-3 quart casserole and set aside. In a large pot add the squash, garlic, onion, salt and water to cover and bring to a boil. Cover the pot and simmer for 20-30 min. until the squash is tender. Remove from heat and drain.
Preheat the oven to 350F. Mash the hot squash with the butter. Beat the eggs with the evaporated milk and beat into the squash. Reserve 3 Tbsp. of cheddar cheese. Add the rest of the cheddar cheese and 1/4 cup of the crackers.
Melt the last of the 2 Tbsp. of butter and mix with the remaining 1/4 cup of crackers and 3 Tbsp. of cheese. Sprinkle on top of the squash. Bake for 30-35min. or until bubbly and browned.