What are Shishito Peppers? How do I Cook Them? Shishito Peppers are one of the hottest new ingredients being featured in recipes right now. Eating blistered shishito peppers on their own make a great appetizer or side dish.
Fortunately for the spice-averse, the hot is more referring to the trend than the spiciness of the pepper. Since they are in more demand now it is easier to find shishitos and they are also popping up on restaurant menus too.
Shishito peppers are considered a mild chili pepper – coming in between 50-200 Scoville Heat Units. They are a bright green pepper that, although they do eventually turn red as they mature, are often eaten green.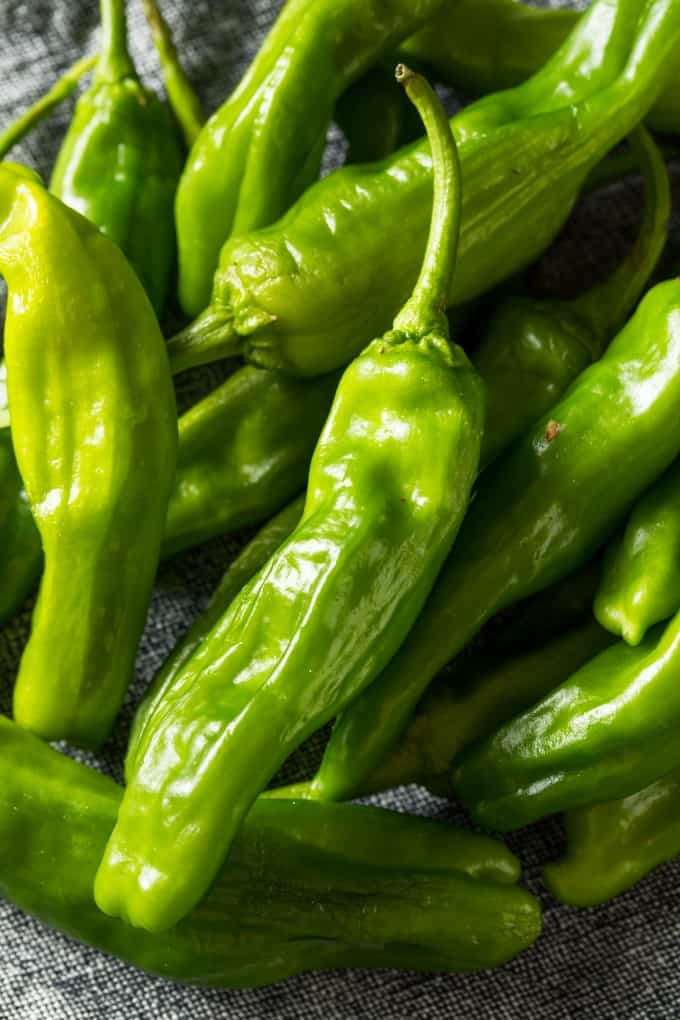 Shishito peppers are Japanese peppers that are great when roasted or blistered and are a perfect gluten-free snack too. They are interchangeable in recipes with Spanish padrón peppers – so if you're at a Farmer's market, you may find one but not the other – buy what you can find.
Helpful Items for This Post
This post contains affiliate links. As an Amazon Associate, I earn a small portion from qualifying purchases at no extra charge for you.
Are Shishito Peppers Hot?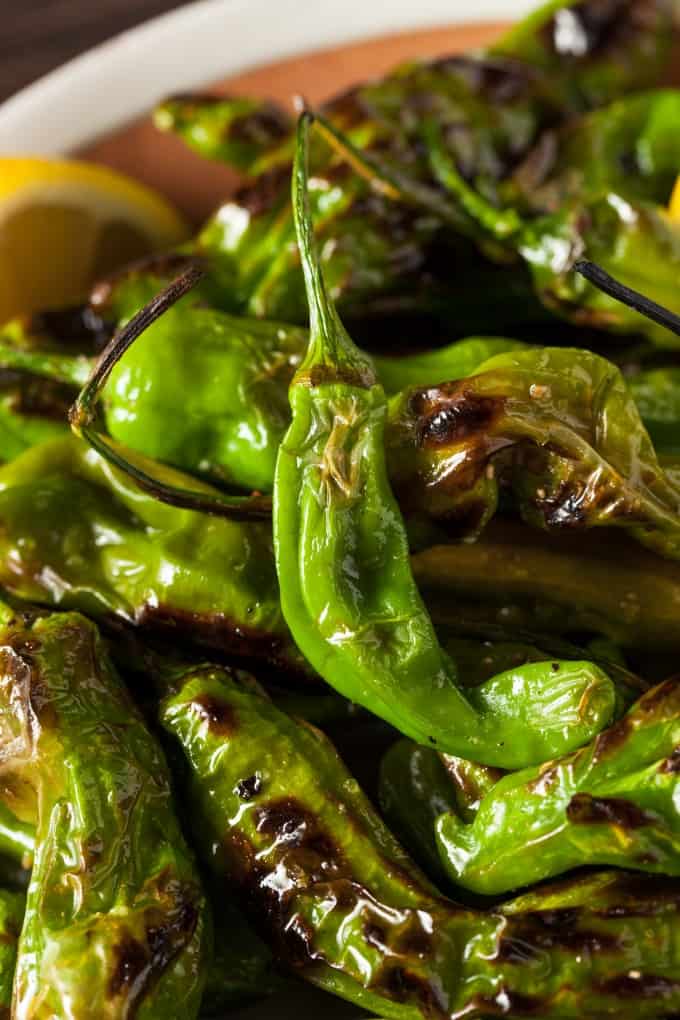 I first discovered them years ago when I was watching The Chew and Michael Symon was speaking about how delicious they were.
I found them for the first time at Trader Joe's when we were down in the San Diego area and bought them and cooked them up and had fun sharing them with the kids to see who got the hot one.
They are not considered to be hot. Most shishito peppers are under 150 Scoville Heat Units – which is only a little bit spicier than a bell pepper.
They are considerably less hot than a banana pepper, which is still considered a relatively mild pepper. Roasting the peppers makes them a bit sweeter so that helps with the spiciness as well.
However, you should be aware that about 10% of these peppers have an extra spicy kick and there's no real way to tell until you bite into them. It's a little like Russian roulette for your taste buds!
Don't worry though – even the spicy ones only measure at 200 Scoville Heat Units, and a spicy pepper like a jalapeno is about 5000!
Can You Eat Shishito Peppers Raw?
Like any pepper, you can eat shishito peppers raw. They're small (only 3-4 inches long) so they're perfect for snacking. While they're perfectly fine to eat raw, when you cook shishito peppers they become the culinary stars of the show.
I recommend eating the whole pepper except for the top but keeping the tops on during cooking provides you with a little handle to hold them better.
What Do Shishito Peppers Taste Like?
Shishito peppers have a fresh peppery grassy citrus flavor similar to a green pepper but with more sweetness. They aren't normally hot except for that 1 in 10 chance and even so that is quite mild and a pleasant surprise for many.
You can substitute them for a green pepper in a lot of your recipes too. They are high in Vitamin C and therefore great for your heart health.
How to Pick a Shishito Pepper?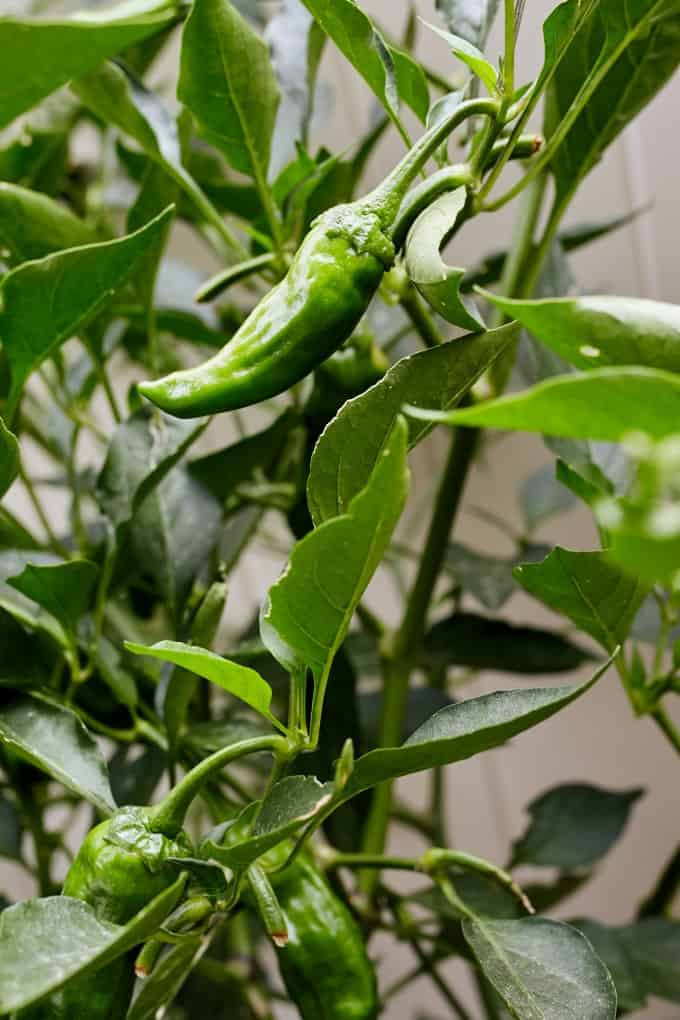 The first thing you need to do is pick the right pepper. You should look for peppers that are between 2 and 5 inches long. You want to get peppers that are firm – as they are fresher.
Shishito peppers are almost all wrinkly and look sort of misshapen, so don't let that dissuade you from a pepper! You can get these peppers at grocery stores and farmer's markets from late summer into fall, but specialty vegetable stores and Asian markets sometimes have them year-round!
Once you've bought the peppers, they'll last a few days in a crisper drawer. Don't let them get too soft though or they lose some flavor. Wash them before you cook them, but don't remove the stem if you don't want to.
How Should You Cook Shishito Peppers?
The best way to cook shishito peppers is to roast them. Peppers should always be roasted quickly at a higher temperature. If you cook peppers for too long, they'll go soft. While they're still quite good, it's a very different texture.
A cast-iron or heavy skillet is a great way to cook shishito peppers and it's super easy to whip them up as an appetizer. Simply warm the cast iron skillet under the broiler – until water sizzles when it's dropped on it. Coat the peppers in olive oil, and add the peppers to the hot skillet.
You can cook the peppers either under the broiler or you can put it on the stovetop – place the skillet over medium-high heat. Make sure the peppers are in a single layer – it's the contact with the skillet and their thin skin that gets the blisters you want.
Cook for a couple of minutes and then stir with a spatula or spoon – you'll want to flip them over so they're evenly cooked. Once they're done (it should only take about 5 minutes), remove from the oven or off the burner.
Sprinkle some sea salt and add a dash of lemon juice and serve warm. There is no need for a dipping sauce, just gobble them down like this playing a little Russian roulette to see who gets the hot one.
Have you cooked with shishito peppers before? Are you going to try them now? Let me know in the comments!
Pin it HERE!

Pin it HERE!