No-Bake Chocolate Pudding Pie is a simple, classic dessert that never goes out of style and made with homemade chocolate pudding. It's often made with a box of Jello Instant Pudding, but it's not only easy to make a pudding pie from scratch, but it's also insanely delicious!
This Chocolate Pudding Pie recipe is a crowd favorite every time I make it. It's a great recipe to bring to a potluck or serve to guests for easy entertaining, but be prepared for everyone to ask you for the recipe! Also, try our amazing Banana Icebox Cake, or this gorgeous Old-Fashioned Oatmeal Pie for a great classic recipe.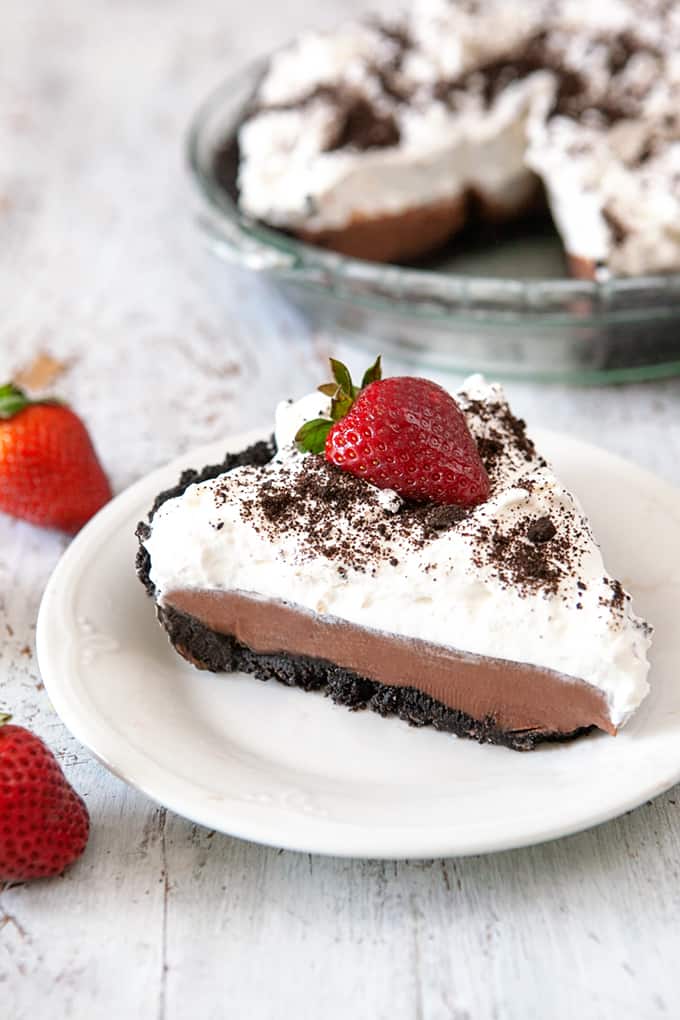 HELPFUL ITEMS FOR THIS RECIPE
This post contains affiliate links. As an Amazon Associate, I earn a small portion from qualifying purchases at no extra charge for you.
Hello there! I'm Allison from the blog Some the Wiser and I'm so happy to share delicious recipes here too on Noshing with the Nolands.
Right now, I'm obsessed with all things strawberry, like these Strawberry Scones with Fresh Strawberries, which we've made at least once a week for the past month. I also haven't been able to resist these super easy Strawberry Napoleons. As you can see, I even managed to work some fresh strawberries into this chocolate pudding pie recipe too.
THE BEST Homemade Chocolate Pudding Pie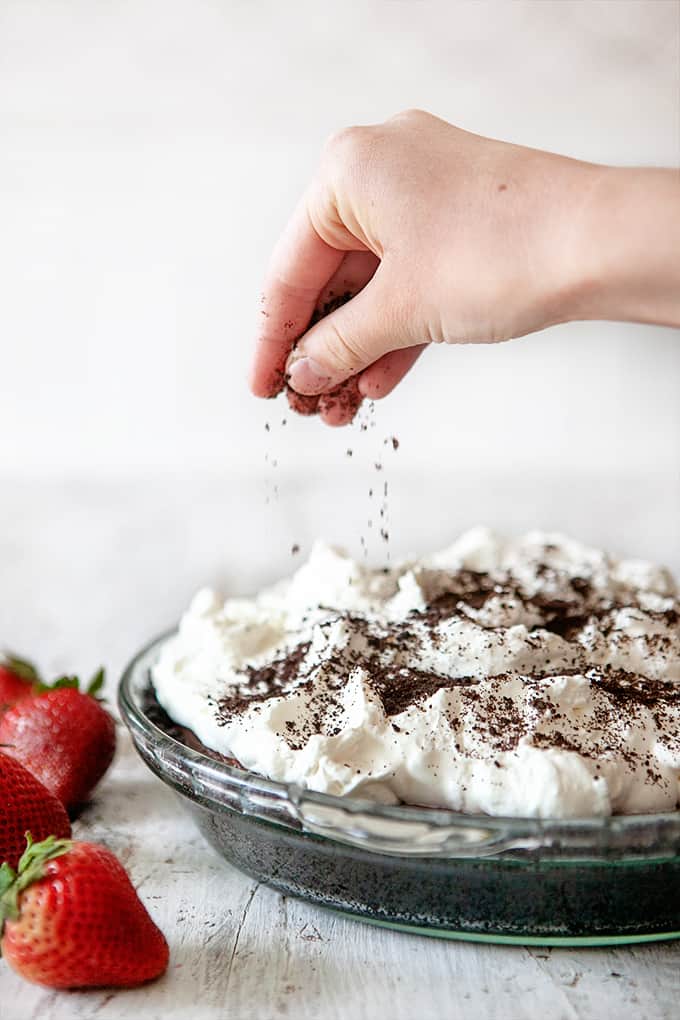 There is definitely nothing wrong with using a pudding mix to whip up a simple pudding pie. We all need kitchen shortcuts from time to time! However, the very best chocolate pudding pie is made from scratch. But don't worry, it's really quite simple to make and the incredibly rich flavor is worth the extra steps.
This particular pudding pie recipe is extra easy because it's entirely no-bake. A lot of pudding pie recipes use a graham cracker crust, which is certainly an option. However, when I make a chocolate pie I like to really commit to the "chocolate" part. So, to make this chocolate pudding pie even better, I use crushed Oreo cookie crumbs for a rich and buttery chocolate flavored crust.
Every slice of this pie is heavenly, from the chocolate cookie crust and the rich homemade chocolate pudding filling to the fluffy whipped cream topping. You're going to love it!
How to Make a Chocolate Pudding Pie from Scratch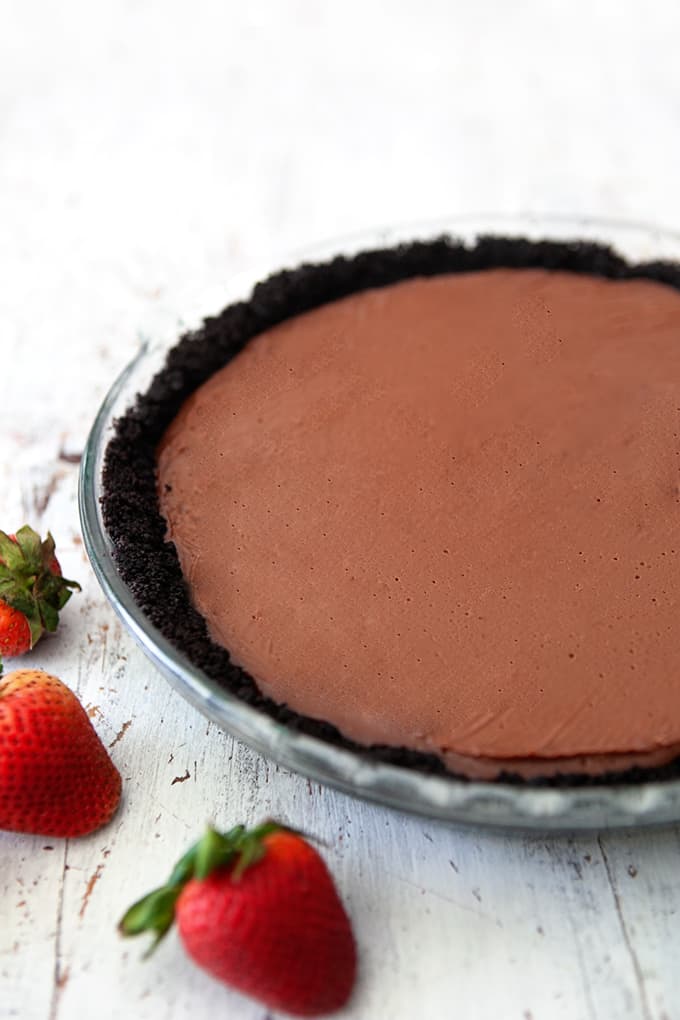 To begin, you'll whip up the chocolate cookie crumb crust. To save a step, I like to buy a box of Oreo Cookie Crumbs, but you can certainly crush up a package of regular Oreo cookies – you'll just want to scrape off the frosting first.
The pie crust is a cinch! You just mix the cookie crumbs with melted butter and press the mix into a 9-inch pie plate. Instead of pre-baking the crust, I just stick it into the freezer for 30 minutes while I make the rest of the pudding pie.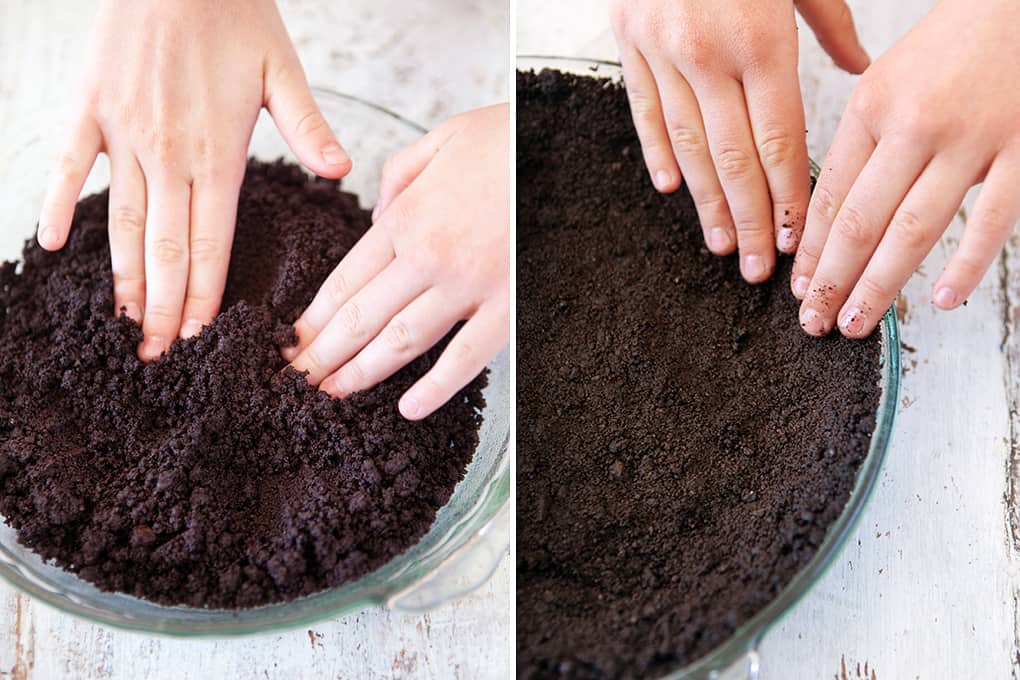 How to Make Chocolate Pudding Pie Filling From Scratch
If you've ever made homemade pudding, pudding pie filling is very similar. However, there are a few little tweaks you'll want to make to ensure that the pie sets up and is thick enough. The egg yolks that are used as a thickener need a little help.
The crucial ingredient for a stable pudding pie filling is gelatin. Without it, the pudding won't hold its shape when you slice the pie and you'll have more of a pudding mess than a tasty dessert.
Just dissolve 1 teaspoon of flavorless gelatin in two teaspoons of cold water. You'll then whisk that into the milk and proceed like a normal pudding recipe.
The most important tip for making pudding from scratch is to measure out all of the ingredients before you begin. The pudding is made on the stovetop over medium heat and it only takes a few minutes from start to finish whisking constantly, so prepping beforehand is important.
After the pudding is done, remove from heat to add the chocolate. After you pour the pudding into the prepared crust, immediately cover it with plastic wrap, pressing it directly onto the top of the pudding to prevent it from forming a skin.
Let it cool at room temperature for an hour, then, pop it into the fridge for at least 5 hours (and up to 24 hours) until it is completely set.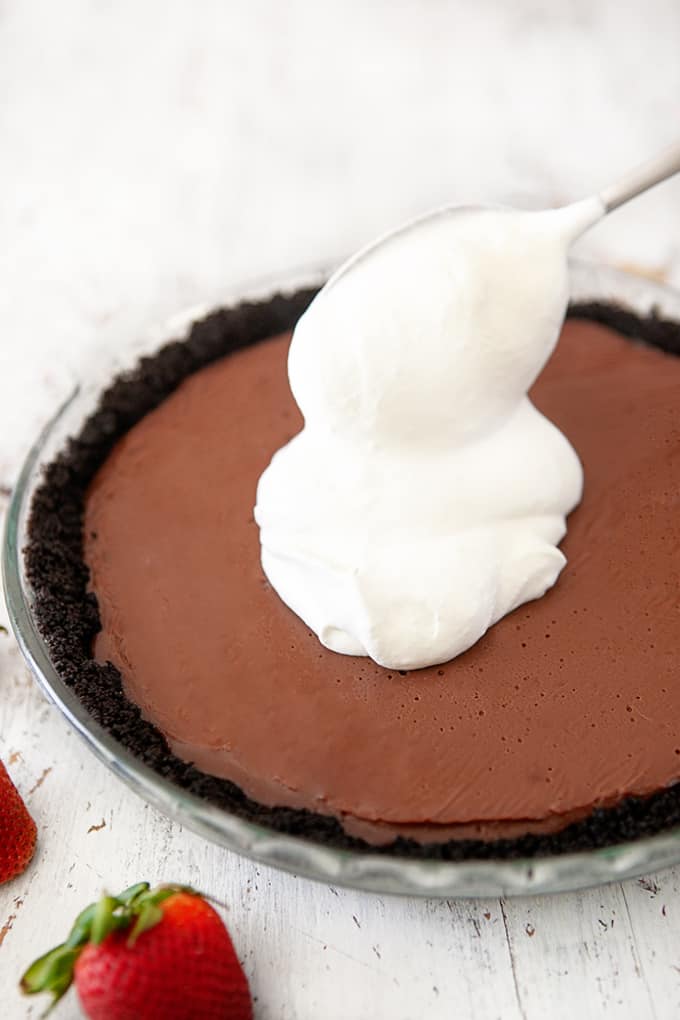 When the pie is set, chilled and firm, you can add the whipped cream topping. Some people use Cool Whip, but I much prefer freshly whipped cream. Beat heavy cream until soft peaks form. I like to pile the cream on top in big mounds and then sprinkle it with more cookie crumbs or chocolate shavings. Fresh berries, like strawberries or raspberries, make a wonderful garnish and taste delicious with the chocolate too.
The only thing left to do now is cut yourself a great big slice and dig in. Each rich chocolate bite will practically melt in your mouth!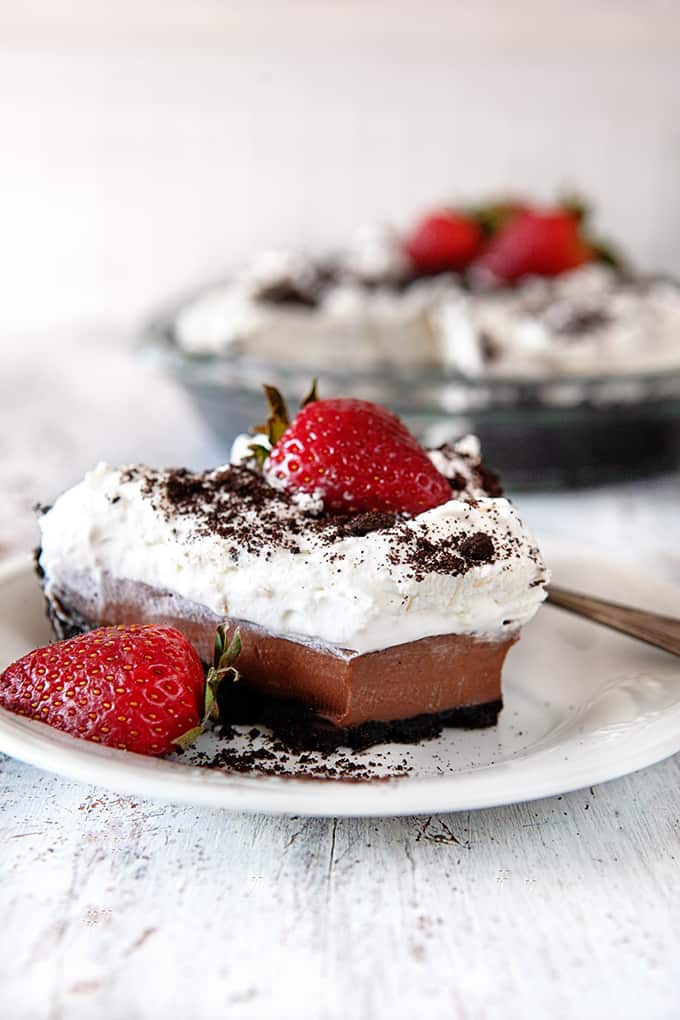 How Long is Chocolate Pudding Pie Good For?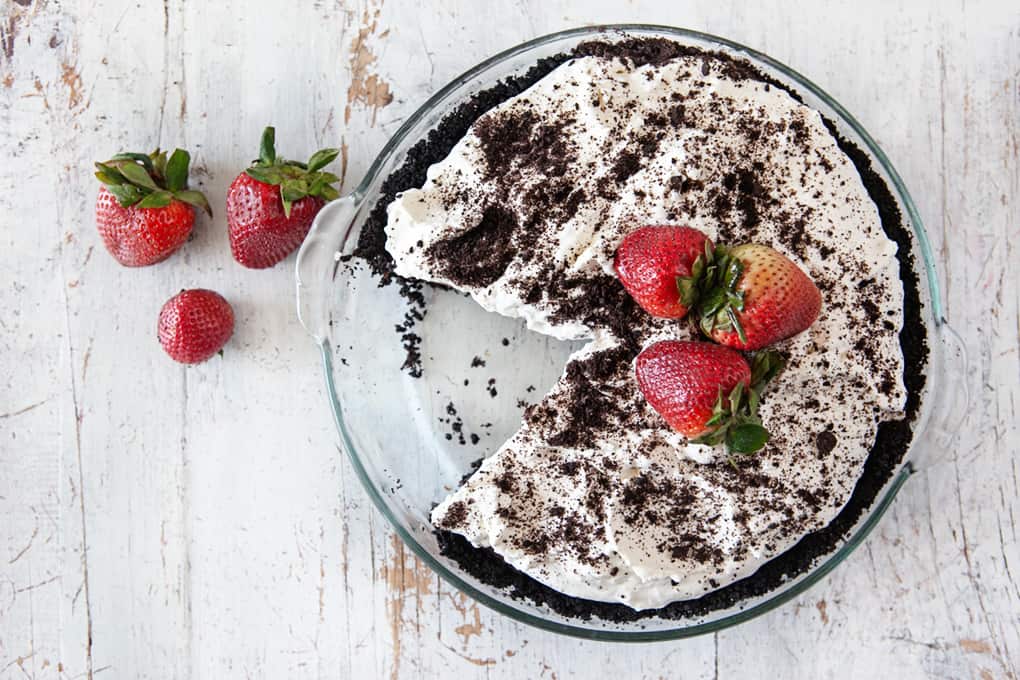 Well, I can't imagine this pie lasting very long that is for sure. In our house it is gobbled down the second it is served. It will although keep in the refrigerator for two days.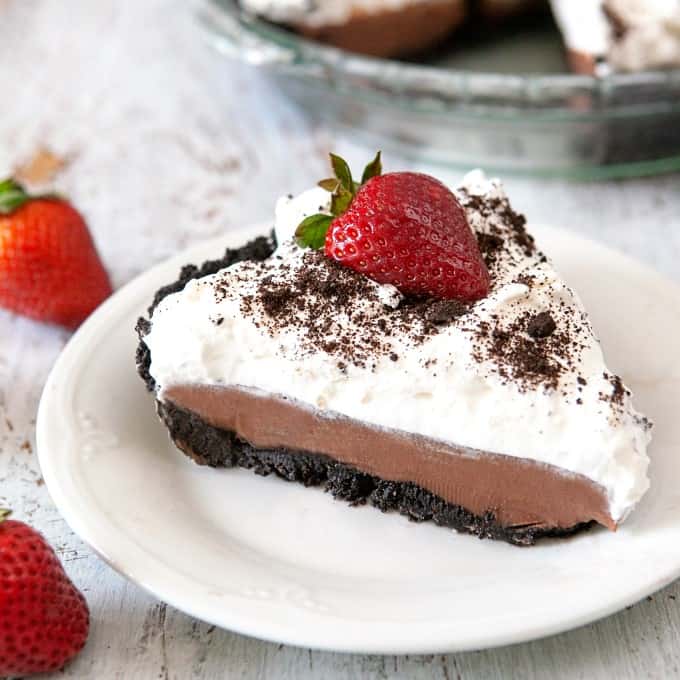 Pin it HERE!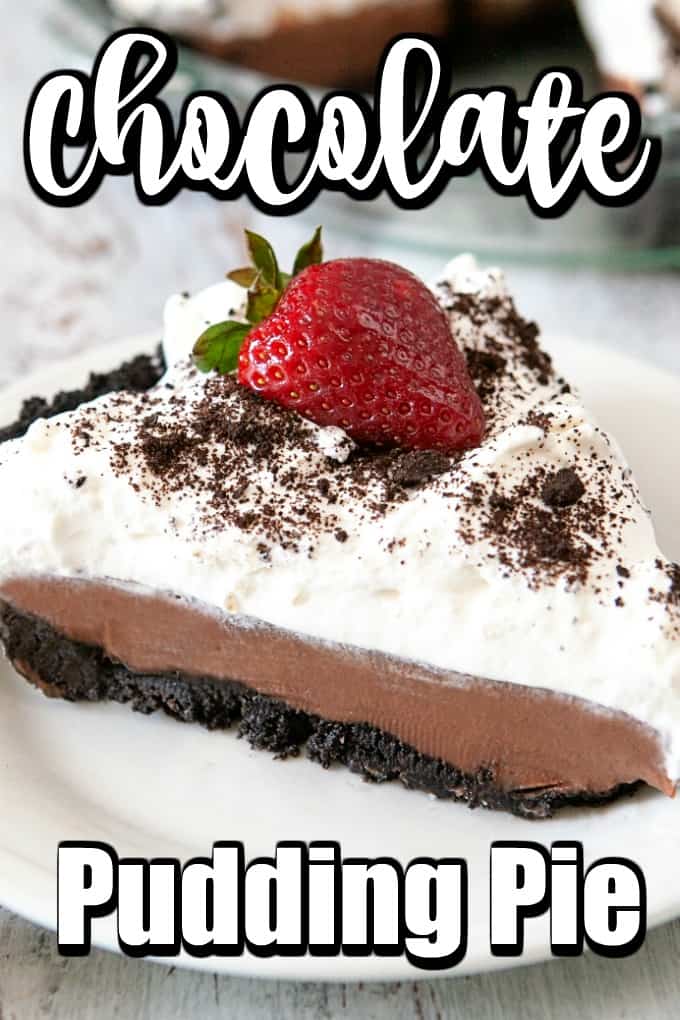 Pin it HERE!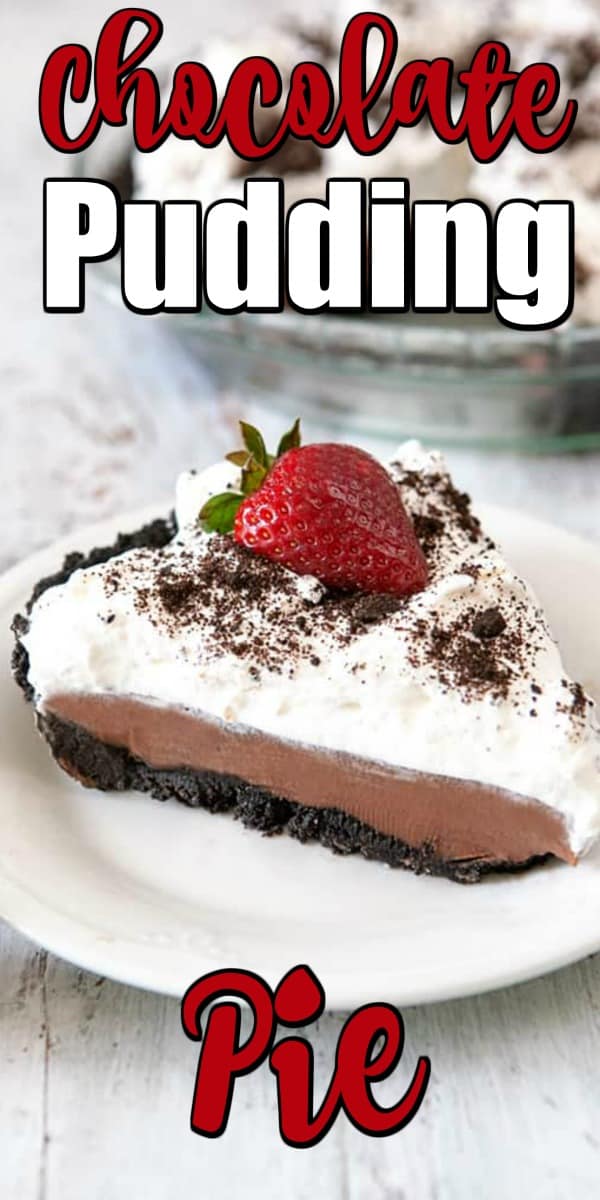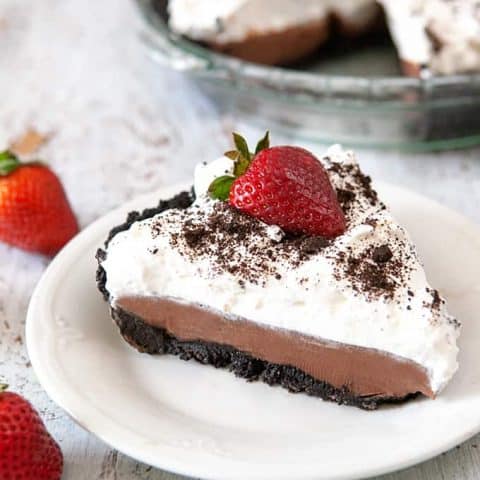 Chocolate Pudding Pie
Yield: 8 to 10
Prep Time: 30 minutes
Additional Time: 6 hours
Total Time: 6 hours 30 minutes
This classic no-bake Chocolate Pudding Pie is easy to make and even easier to eat! With a chocolate cookie crust, homemade chocolate pudding filling, and whipped cream topping, it's rich and delicious.
Ingredients
Crust
2 cups Chocolate Oreo Cookie Crumbs
1/2 cup butter, melted
Pudding Filling
2 tablespoons cold water
1 teaspoon unflavored gelatin
2 cups whole milk, divided
2/3 cup sugar
3 tablespoons corn starch
2 large egg yolks
6 ounces dark or semi-sweet chocolate, coarsely chopped
Whipped Topping
1 cup whipping cream
1/4 cup powdered sugar
1 teaspoon vanilla
Instructions
For the crust, mix together the melted butter and cookie crumbs then press tightly into the bottom and sides of a 9-inch pie plate. Freeze for at least 30 minutes.
For the pudding, make sure to have all ingredients measured and ready before proceeding. In the bottom of a medium saucepan, dissolve the gelatin in the water and let it thicken for 1 minute. Turn the stove on to medium low heat and whisk in 1 1/2 cups of the milk.
While the milk is warming, combine sugar and cornstarch in a medium bowl, stirring well. In a small bowl, whisk the egg yolks and the remaining 1/2 cup of milk together. Add egg yolk mixture to sugar mixture, stirring well.
When the milk is hot and bubbles begin to form (not boiling, just hot), very slowly pour about a 1/2 cup of the hot milk into the egg mixture, whisking constantly. Return the milk and egg mixture to the pan, whisking constantly. Bring to a boil while continuing to whisk constantly, then reduce heat and simmer until the pudding is thick, about 1 or 2 minutes.
When the pudding is thick and bubbling, remove from heat and stir in the chocolate. Pour the mixture into the prepared pie crust. Immediately cover the pie with a sheet of plastic wrap, pressing the plastic directly onto the pudding to prevent a skin from forming.
Let the pie cool for 1 hour at room temperature, and then refrigerate for at least 5 hours. I like to leave it overnight.
Make the whipped cream, using a standing mixer or hand mixer with whisk attachment and a large bowl. Pour in all ingredients and beat on high until cream is stiff and peaks form. Scoop the whipped topping onto the chilled pie. Garnish with additional cookie crumbs, chocolate shavings, or fresh berries if desired and serve immediately.
Recommended Products
As an Amazon Associate and member of other affiliate programs, I earn from qualifying purchases.
Nutrition Information:
Yield: 10
Serving Size: 1
Amount Per Serving:
Calories: 587
Total Fat: 38g
Saturated Fat: 22g
Trans Fat: 1g
Unsaturated Fat: 12g
Cholesterol: 120mg
Sodium: 178mg
Carbohydrates: 58g
Fiber: 2g
Sugar: 49g
Protein: 8g
Recipe calculation was provided by Nutritionix and is an estimation only. If you need nutritional calculations for medical reasons, please use a source that you trust.