Golden baked to perfection, this Buttermilk Blueberry Scones recipe has a tender, flaky inside bursting with juicy blueberries. Finished with a topping of crunchy turbinado sugar, they are the ultimate home bakery treat.
Bake the best of a brunch situation and whip up these tasty Buttermilk Blueberry Scones for your breakfast table. They're so easy and quick to mix up using ingredients from the pantry (plus a little freezer magic). In no time at all, you'll have a kitchen filled with the amazing aroma of fresh baking and eager eaters.
They'll love the flaky texture accented with pops of tart, juicy frozen or fresh blueberries and the final crunch of turbinado sugar. Serve them alongside a hearty Turkey Sausage Hash Brown Casserole or simply smear them with Blueberry Rhubarb Jam and clotted cream at tea time.
Hello again from Bernice…I'm the recipe developer, photographer, and food lover over at Dish 'n' the Kitchen. Today I'm sharing my simple recipe for Buttermilk Blueberry Scones with you.
What I love is that these scones are so quick to make and almost impossible to resist. They can be made with frozen blueberries or using dried cranberries (or other fruit) as I have done here. When I serve them for brunch, I serve them alongside a delicious fruit salad and everyone is happy!
Helpful Items for This Recipe
This post contains affiliate links. As an Amazon Associate, I earn a small portion from qualifying purchases at no extra charge for you.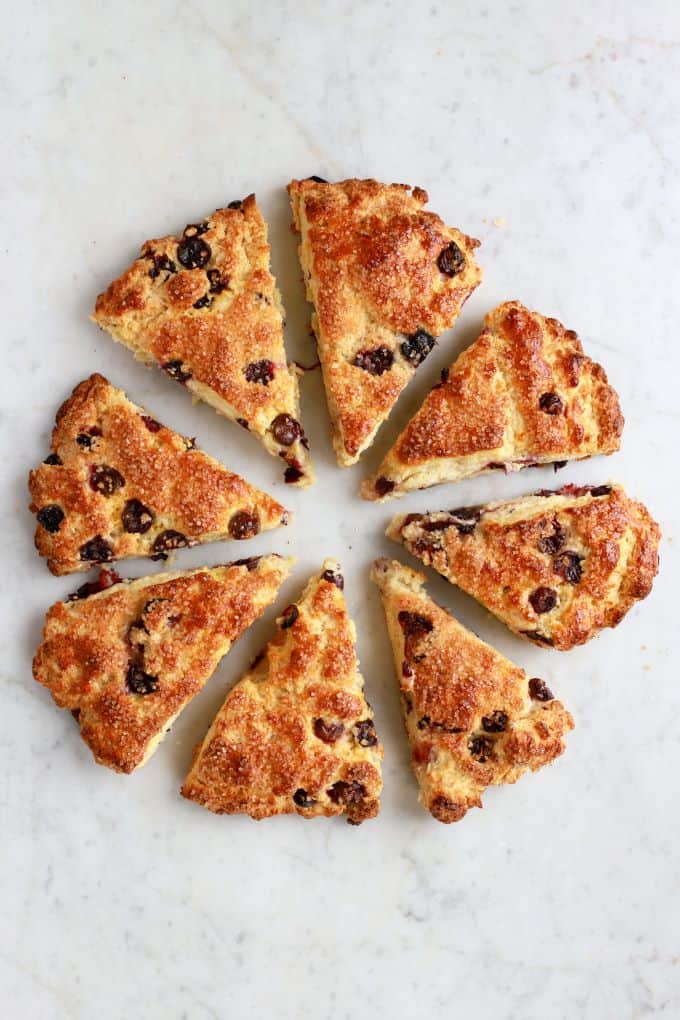 What Are Scones?
A scone is a type of quick bread made using wheat, barley, or oat flour baked on a baking sheet. Unlike yeast breads, quick breads such as scones do not require a period of proofing as they are quickly leavened using baking powder.
They can be cut into round shapes using a biscuit cutter, free-formed, or cut into large triangles before baking.
Traditionally, scones (pronounced 'skawns') are thought of as an English, Scottish, or Irish baking staple and are mostly savoury in flavour. Additionally, they tend to have only a few added ingredients such as currant, cheese, raisins, or dates.
In North America, scones (pronounced 'skowns') tend to be sweetened with sugar and include a higher variety of sweet add-ins such as chocolate chips, blueberries, cranberries, and nuts.
Furthermore, they may sometimes be topped with coarse sugar such as turbinado or maple sugar.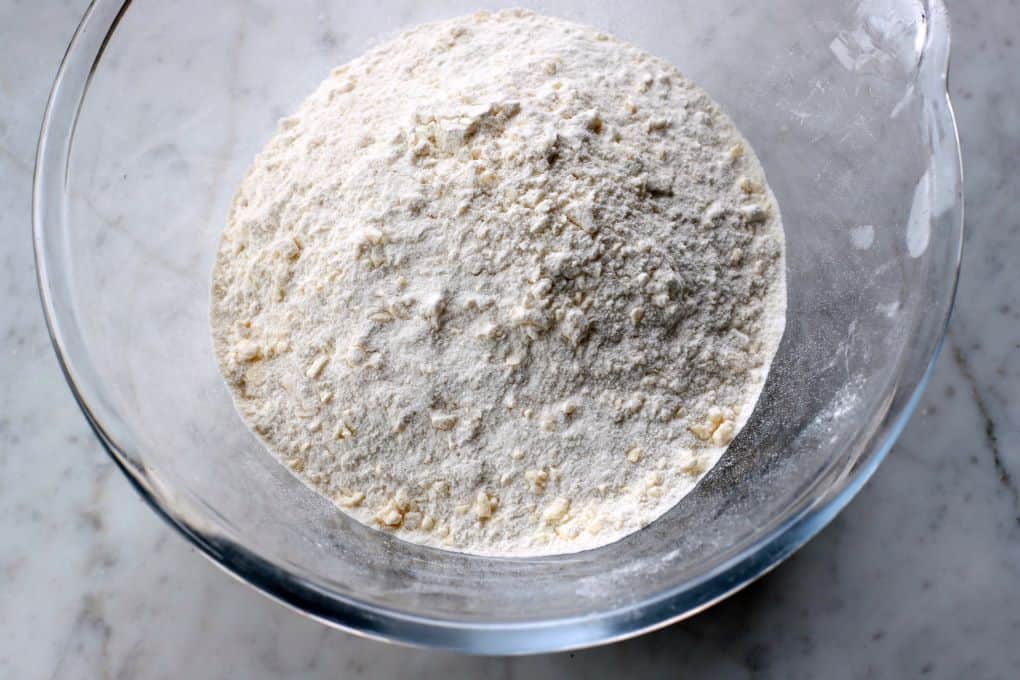 How to Make Blueberry Scones
Are you ready to get baking? Start by preheating your oven to 400 F. Place all the dry ingredients including the lemon zest in the large bowl of a food processor and cut in the cold butter. Pulse a few times (and it really only takes a few times!) to get that very coarse sand flour texture (see above).
Dump the buttery flour into a large bowl. Next, combine the wet ingredients, buttermilk and egg in a measuring cup or small bowl. Add them to the flour mixture and mix it a few times using a wooden spoon. Add in the frozen blueberries and mix a few times again. Be careful not to overmix.
Turn the mixture out onto parchment paper instead of a lightly floured surface and incorporate the remaining dry ingredients into the dough using your hands. Pat into a rough circle, then use a rolling pin to roll the dough out to approximately 4 cm (1 1/2 inches) thickness. Brush the top of the dough with an egg yolk or use extra buttermilk then scatter the turbinado sugar overall (if using).
Cut into eight wedges and arrange them 2 inches apart on a parchment-lined baking sheet. Finally, bake the scones in a 400 F. oven for 15-20 minutes or until dark golden in colour. Serve immediately with a pat of butter.

Helpful Tips for Making Perfect Blueberry Scones
There is nothing worse or more wasteful than a rock hard scone. Fortunately, here are a few tips to save you from failing at this recipe:
Preheat the oven and have the baking sheet ready to go.
Start with the coldest butter possible not room temperature for this recipe. If using frozen, grate it directly into the dry ingredients.
Work quickly or use a food processor to get that coarse sand texture with minimal contact.
Do not overmix! Stir slightly with a wooden spoon a few times, then add in the frozen blueberries.
Never thaw the blueberries. They must be added in frozen to avoid juicy purple scones.
For easy lifting, turn the dough out, and finish it on a piece of parchment paper.
Apply toppings to the scones BEFORE you cut them.
Separate wedges so that there is room for a bit of spreading and for uniform baking.
Out of buttermilk? Just mix 2 tbsp white vinegar into a scant cup of milk and allow to sit for 10 minutes.
Using cream instead? Adjust the recipe to use 4 tsp baking powder to 1 cup of heavy cream or use a combination of milk and cream to equal one cup.
Making savoury scones? Simply omit the sugar.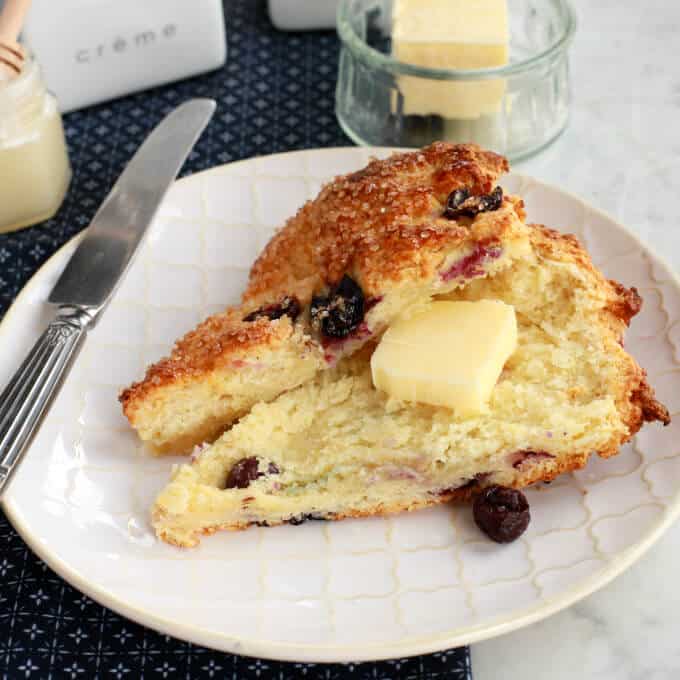 Other Variations on Blueberry Scones
Baking a batch of blueberry scones is a wonderful way to whip up a quick treat for breakfast, brunch, or tea time. The ingredients are simple pantry staples plus a little dairy. Buttermilk is not absolutely necessary to make this recipe work. The beauty of this recipe is that you can use up whatever dairy you have in your fridge. Don't be afraid to use up that slightly expired cream or plain old milk.
Next, feel free to use any add-ins you may have on hand or choose your favourite flavour combo (sweet or savoury) from below.
strawberry and chocolate
apples and cinnamon
maple and walnut
cranberry and lemon zest
chocolate and orange zest
triple berry combination
raspberry and almond
savoury herb scones
any shredded cheese
ham and cheese
pizza scones with pepperoni, etc.
sun-dried tomato and goat feta
Finally, go ahead and top the scones as per your own personal preferences. I have used brushed egg yolk and turbinado sugar in this recipe. However, these blueberry scones would be delicious topped with a quick icing drizzle, like a lemon glaze and toasted flaked almonds.

How to Store Scones
Scones are always best eaten fresh out of the oven, smeared with butter. However, in the unlikely event of leftover scones store them on their own plate on your counter.
Consume them the next day either cold or reheated in a microwave for 30 seconds at a time. Leftover scones also freeze and reheat quite well.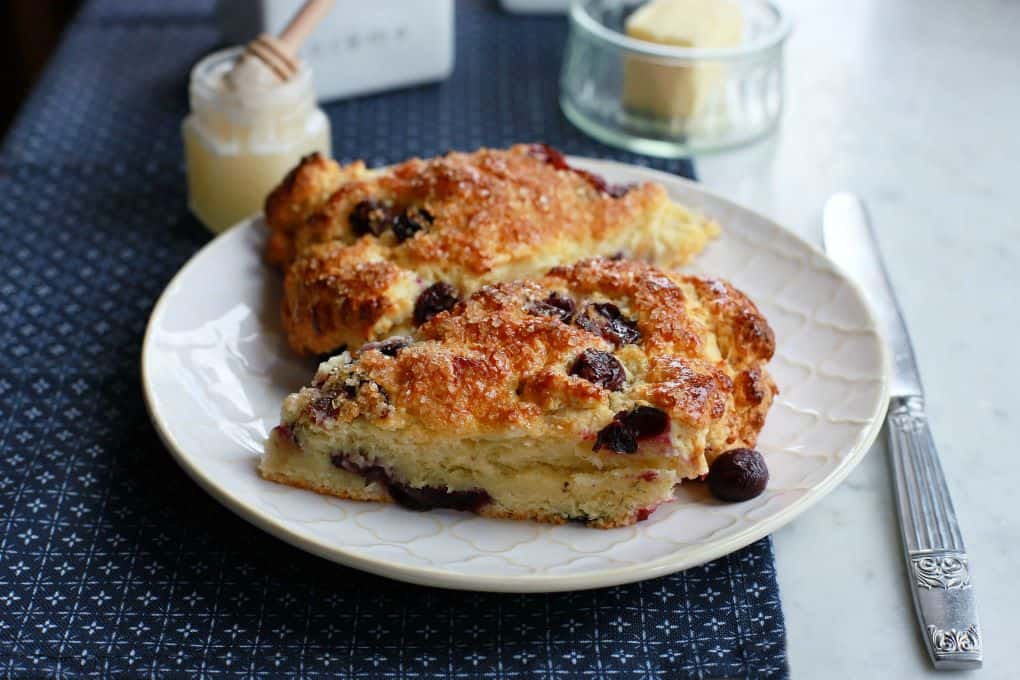 Can I Make Blueberry Scones Ahead of Time?
Absolutely, you can pre-batch scones to enjoy at a later time. Pre-batching can be done in two ways.
Bake the scones as outlined above, allow them to cool completely, then freeze them in an air-tight container or freezer bag. Thaw for a few hours (or in the fridge overnight) before reheating in the microwave for 30 seconds. To reheat in an oven, place them on a baking sheet and reheat them at 300 F. for 10 minutes.
Freeze the scones before baking. Place the wedges on a baking sheet and freeze for at least an hour. Once they are frozen, it's easier to place them in a freezer bag or container as they won't stick together. Bake from frozen as directed above (adding a few minutes onto the baking time) or thaw overnight then bake as per instructions.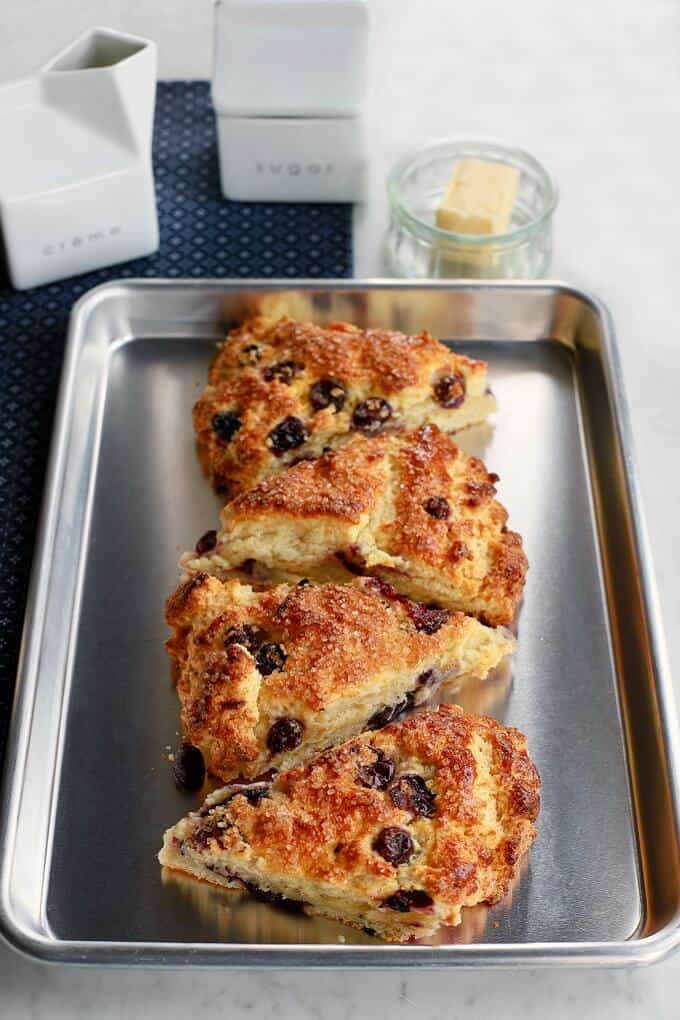 Pin It HERE!!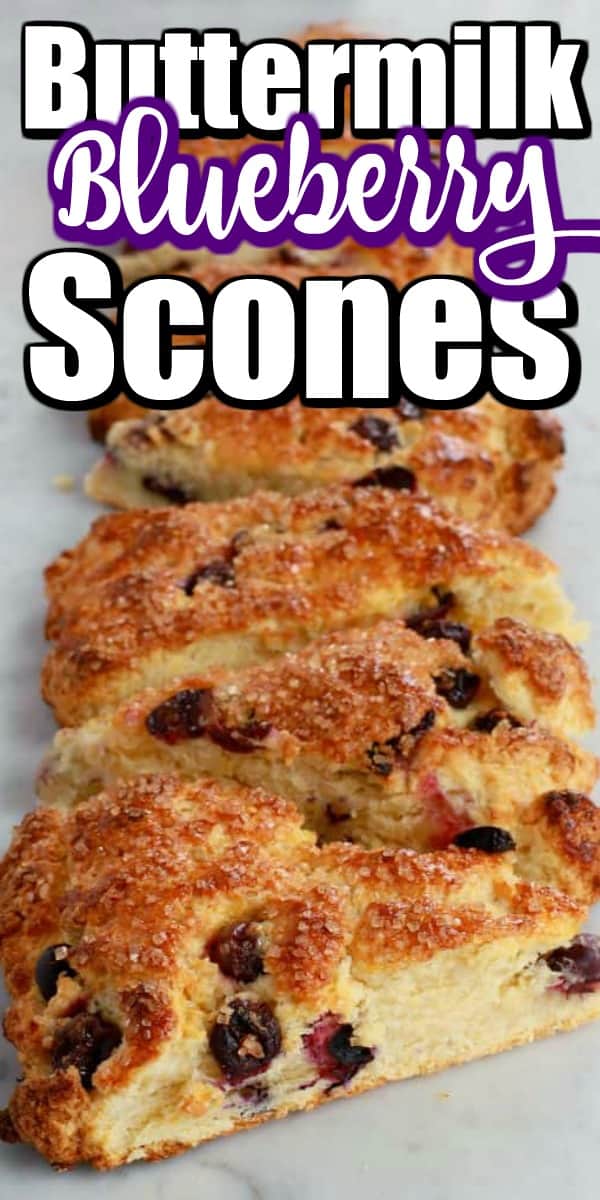 Pin It HERE!!!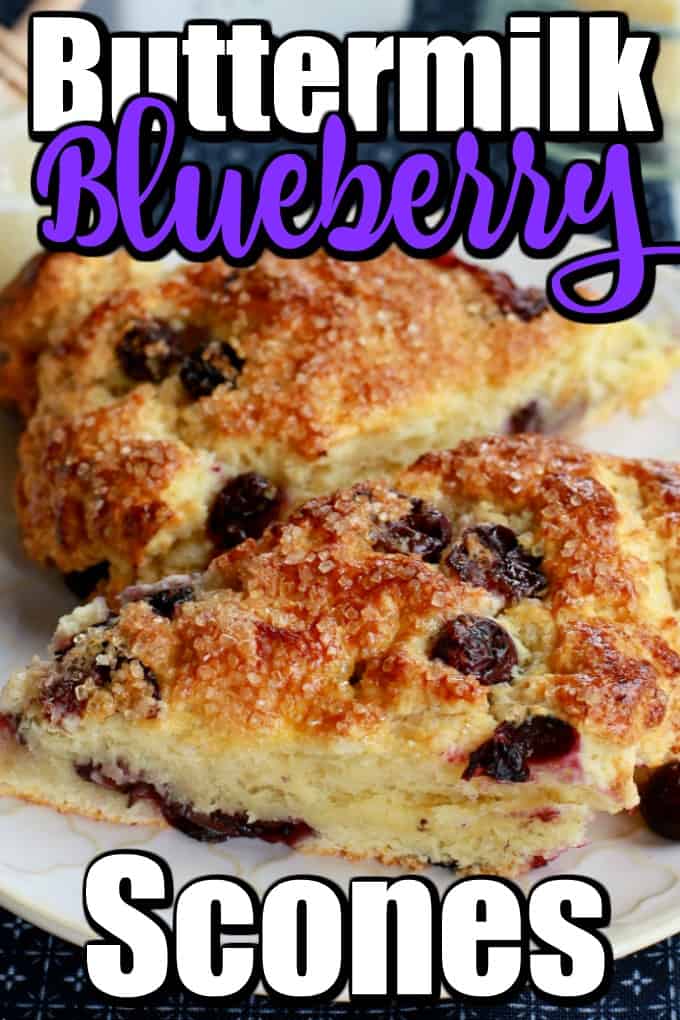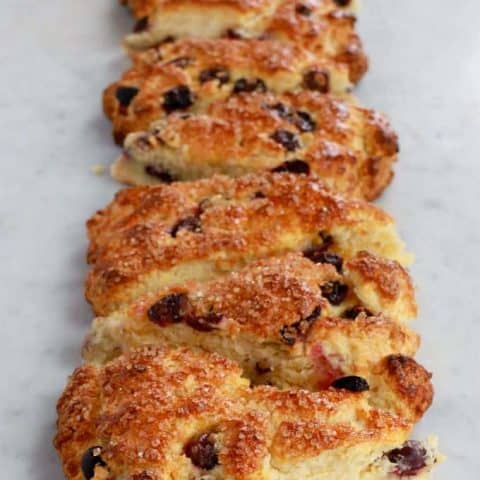 Best Buttermilk Blueberry Scones
Yield: 8 Scones
Prep Time: 15 minutes
Cook Time: 15 minutes
Total Time: 30 minutes
Golden baked to perfection, these Buttermilk Blueberry Scones have a tender, flaky inside bursting with juicy blueberries. Finished with a topping of crunchy turbinado sugar, they are the ultimate bakery treat.
Ingredients
3 cups flour
1/2 cup sugar
2 1/2 tsp baking powder
1/2 tsp salt
3/4 cup cold unsalted butter
1 egg; beaten
1 cup buttermilk
3/4 cup frozen blueberries
1 lemon; zested
turbinado or other coarse sugar (optional)
Instructions
Preheat oven to 400 degrees F (200 degrees C).
In a large bowl, combine flour, sugar, baking powder, lemon zest, and salt. Cut in cold butter. Quickly, rub the butter into the dry mixture until the butter is pea-sized. (I do this in a food processor. Just add all the dry ingredients first, cut in the butter, then pulse until the butter is pea-sized).
Mix the egg and buttermilk in a small bowl, and stir into the flour mixture until just moistened. Do not over-mix.
Add frozen blueberries, and stir slightly to incorporate them into the dough.
Turn the dough out onto parchment paper, and use your hands to incorporate any remaining dry ingredients.
Roll or pat dough out into a 1 1/2 inch (4 cm) thick round. Brush with egg yolk or buttermilk then scatter turbinado sugar over the top (if using).
Cut into 8 wedges and place, spaced apart, onto a parchment-lined baking sheet. Feel free to cut into shapes of equal size instead of wedges.
Bake 15 minutes in the preheated oven, or until golden brown.
Notes
Out of buttermilk? Just mix 2 tbsp white vinegar into a scant cup of milk and allow to sit for 10 minutes.
Using cream instead? Adjust the recipe to use 4 tsp baking powder to 1 cup of heavy cream or use a combination of milk and cream to equal one cup.
Making savoury scones? Simply omit the sugar.
Recommended Products
As an Amazon Associate and member of other affiliate programs, I earn from qualifying purchases.
Nutrition Information:
Yield: 8
Serving Size: 1
Amount Per Serving:
Calories: 406
Total Fat: 19g
Saturated Fat: 11g
Trans Fat: 0g
Unsaturated Fat: 6g
Cholesterol: 70mg
Sodium: 368mg
Carbohydrates: 53g
Fiber: 2g
Sugar: 16g
Protein: 7g
Recipe calculation was provided by Nutritionix and is an estimation only. If you need nutritional calculations for medical reasons, please use a source that you trust.