Cranberry Orange Scones
Disclosure: I was compensated for this post with the mentioned cookbook. All opinions and experiences are my own.
Buttery Cranberry Orange Scones are a keto-friendly recipe that is perfect for the holidays. If you are on a keto diet then carry right along on your diet with these scones as they are a great festive treat. They are also gluten-free and dairy-free and make a perfect holiday breakfast or afternoon tea.
Not overly sweet plus some lovely tangy pops of cranberries and lots of fragrant orange zest make this scone recipe stand out among the rest. They can be enjoyed at any time of the year but especially special for December.
At a quick glance, you can see we are not a keto recipe site but I love to explore other recipes and bottom line if they are good then I am making them.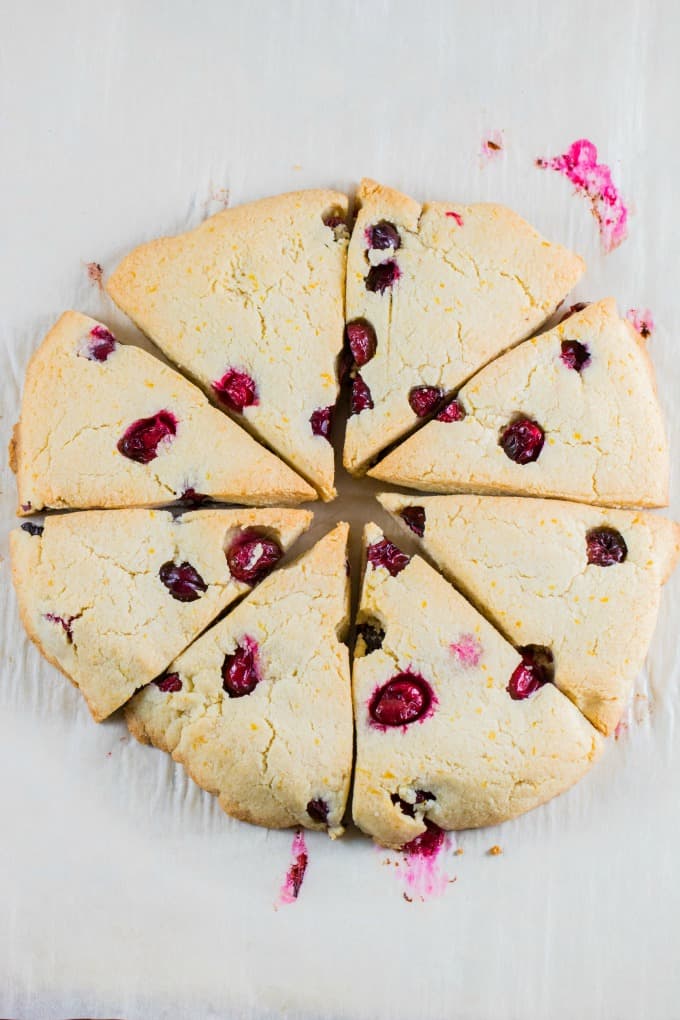 Helpful Items for This Recipe
This post contains affiliate links. As an Amazon Associate, I earn a small portion from qualifying purchases at no extra charge to you.
The Wholesome Yum Easy Keto Cookbook
Easy Keto Cookbook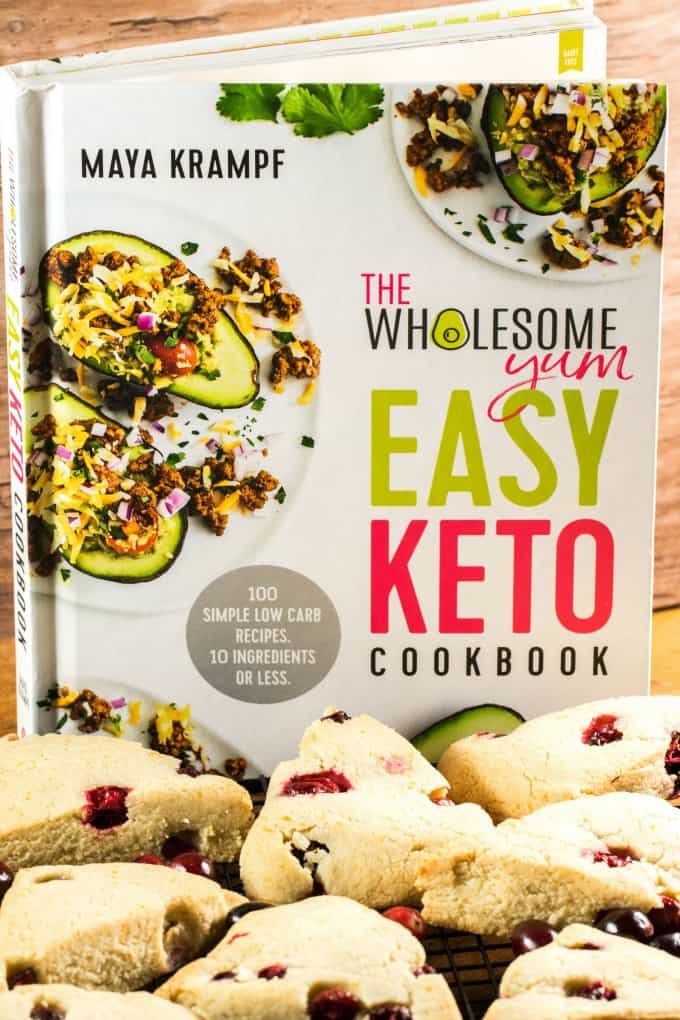 I have to admit that I have a cookbook addiction. I love to get a new cookbook and run through the pages. My paper fetish used to be with magazines but I have really backed off on those as publications have disappeared.
So getting a new cookbook is even more exciting and I just love this latest one from Wholesome Yum called Easy Keto Cookbook where I found these amazing Cranberry Orange Scones.
The cookbook is by Maya Krampf, who wrote this cookbook to help people with the daunting task of embarking on a keto diet. She wrote the cookbook to show readers how simple, sustainable and enjoyable this lifestyle can really be.
The cookbook is packed with 100 easy-to-prepare, delicious, ketogenic recipes!! Recipes like Flourless Chocolate Chip Peanut Butter Waffles or Crispy Keto Chicken Fingers. And to make the recipes even easier Maya has kept the ingredients to 10 or less for each recipe.
How to Make Cranberry Orange Scones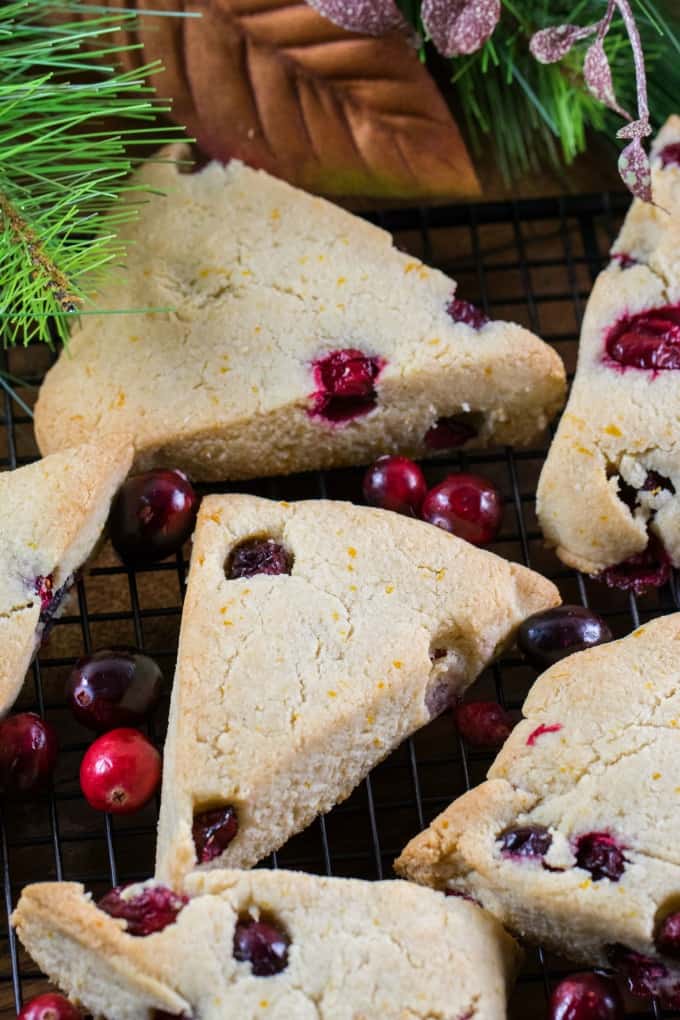 This was a very easy recipe to make but before we get to put it together let's talk about the ingredients first. Because this is a keto recipe you might not all be familiar with the ingredients unless you are already on a keto diet. So let me help you out and list and describe them first.
You will want to stock your pantry with some of these items to use again at a later date.
Blanched Almond Flour
Almond flour is a go-to replacement for all-purpose flour in recipes. You have to make sure it is blanched and finely ground as it does work differently to regular flour as it doesn't have the binding capabilities that gluten has. Avoid "almond meal" or almond flour that is speckled and not blanched.
Erythritol
Erythritol is a natural sugar-free sweetener and used in a lot of keto baking recipes. It can come in granulated and powder form just like sugar can. Erythritol is about 70% as sweet as sugar. It does not get metabolized and rarely causes digestive issues like some sweeteners can.
Baking Powder
Baking powder is common in almost all baking and not just keto recipes. It is a leavening agent that is used to increase the volume and lighten up the texture of the baking. There is no need for baking soda in this recipe.
Sea Salt
Sea salt, like its name, is derived from the sea. Because it has been less processed it contains more magnesium, potassium, and calcium and therefore, more natural colors too.
Coconut Oil
Coconut oil is said to be healthy fat. It is extracted from the meat of the coconut. It is high in saturated fat so it has some controversy about it. Cold butter that has then been melted can be substituted in this recipe if you don't need them to be dairy-free.
Orange Zest
Orange zest should not be confused with orange peel. Only the very outside of the orange is taken with a fine grater as the white pith of the orange is bitter and unpleasant. In this recipe to get the orange flavor, you can also use 1/2 to 1 teaspoon orange extract instead of the orange zest.
Vanilla Extract
Vanilla extract has become an essential ingredient in North American desserts. One that you see commonly in almost all baking. Vanilla extract is derived from soaking vanilla bean pods in a mixture of ethanol and water.
Egg
Eggs are used in baking frequently also as they add moisture to baked goods, provide a "glue" to hold ingredients together, they create structure and help thicken also.
Cranberries
Cranberries are a common holiday ingredient, and in most recipes, including this one and you can use either fresh cranberries or frozen. Do not thaw frozen cranberries though but add them in frozen or the scones will be too soggy. I don't recommend dried cranberries for this recipe.
The ingredients then pull together in 5 minutes by first adding the dry ingredients, almond flour, erythritol, baking powder, and sea salt to a medium or large bowl.
Then in a small bowl whisk together the melted coconut oil, orange zest, vanilla, and egg. Stir the wet mixture into the almond flour mixture, pressing with a spoon or spatula, until a uniform dough forms.
Lastly, the cranberries are added in by pressing or stirring them into the dough. The dough is shaped into a disk and sliced into eight pieces like a pizza and then baked.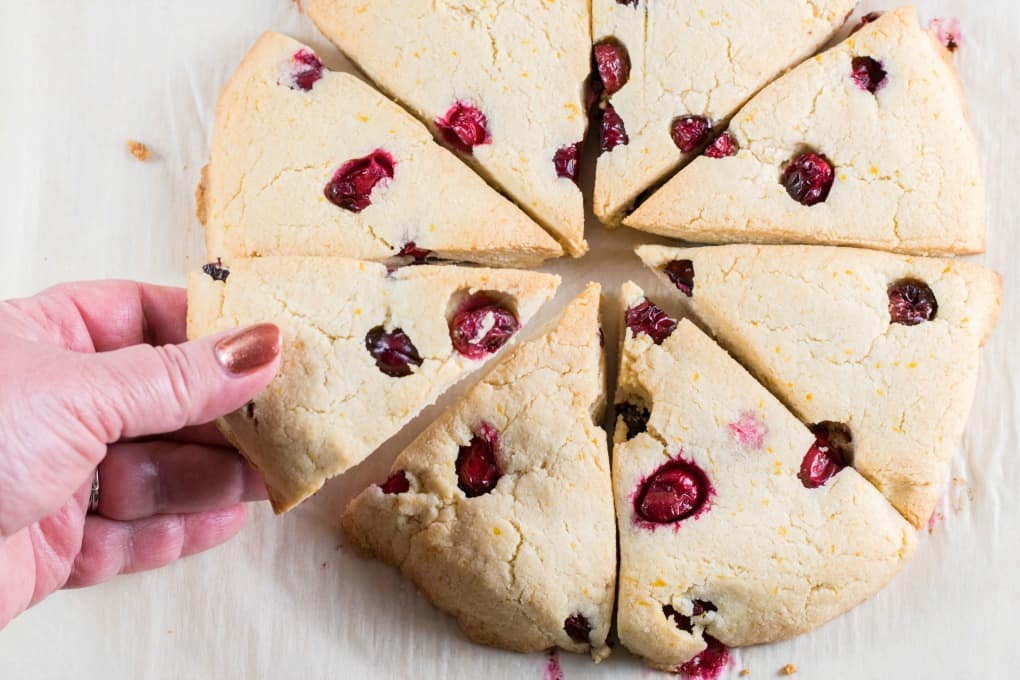 For me, scones are one of my favorite breakfast items so I was very excited to try this recipe with some ingredients we don't normally use. I have to say they are fantastic albeit different than a flour-based scone but just as enjoyable.
They have a different texture but a wonderful flavor from the blanched almond flour plus the bursting whole cranberries not only give you that tartness but color too. The orange zest just marries perfectly.
No need to brush the tops with anything or add an orange glaze to these scones; they are sweet and flavorful on their own.
Can You Freeze These Scones?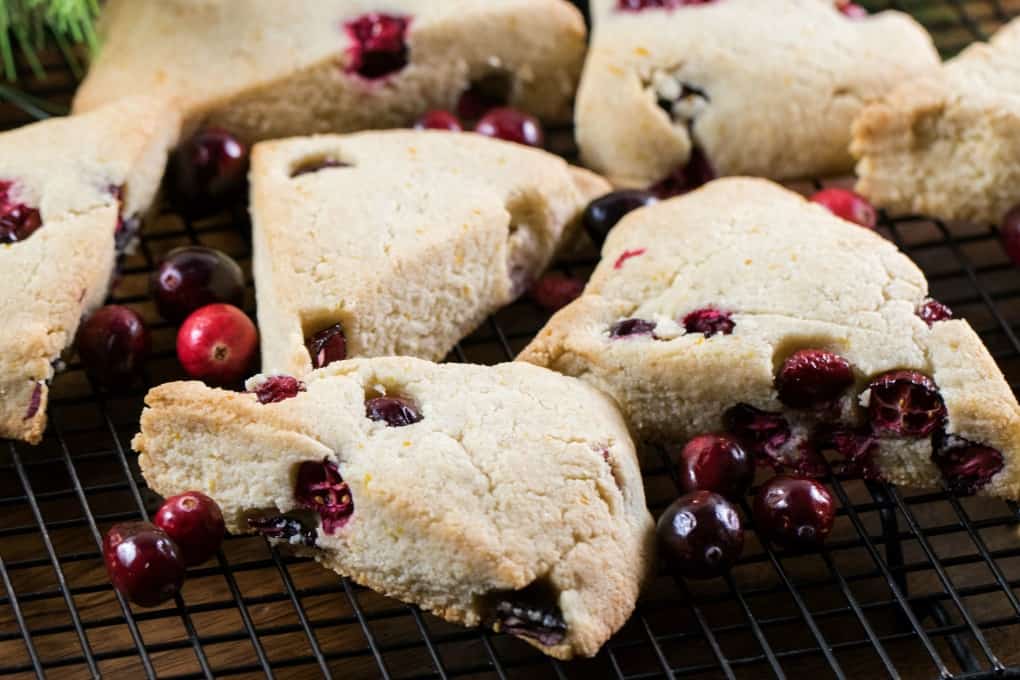 You can freeze these scones. I have to say I was kind of hoarding them for myself as I said I love a scone for breakfast.
They did successfully freeze but I did enjoy them fresh better. They also did stay fresh at room temperature or the refrigerator for a few days in a sealed container.
So bake up a bunch and share. If you are on the keto diet or need a gluten-free or dairy-free option then this is a recipe for you to enjoy over the holidays!!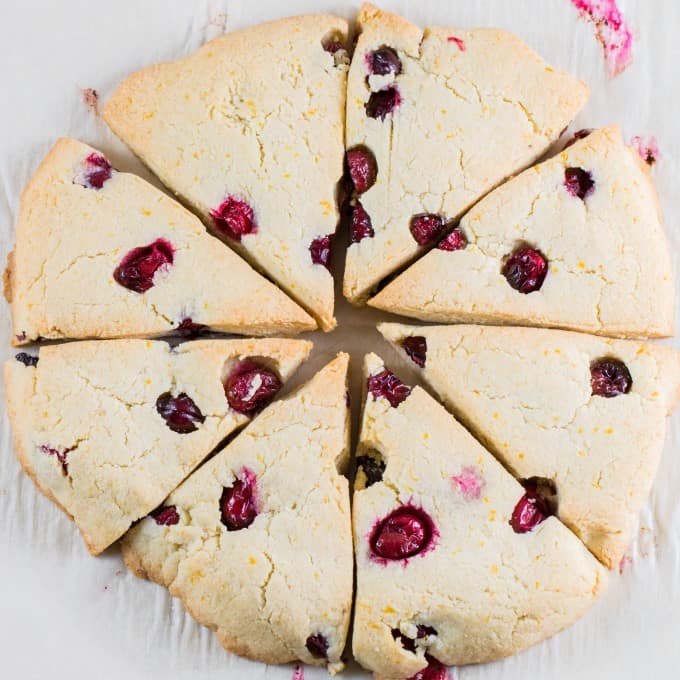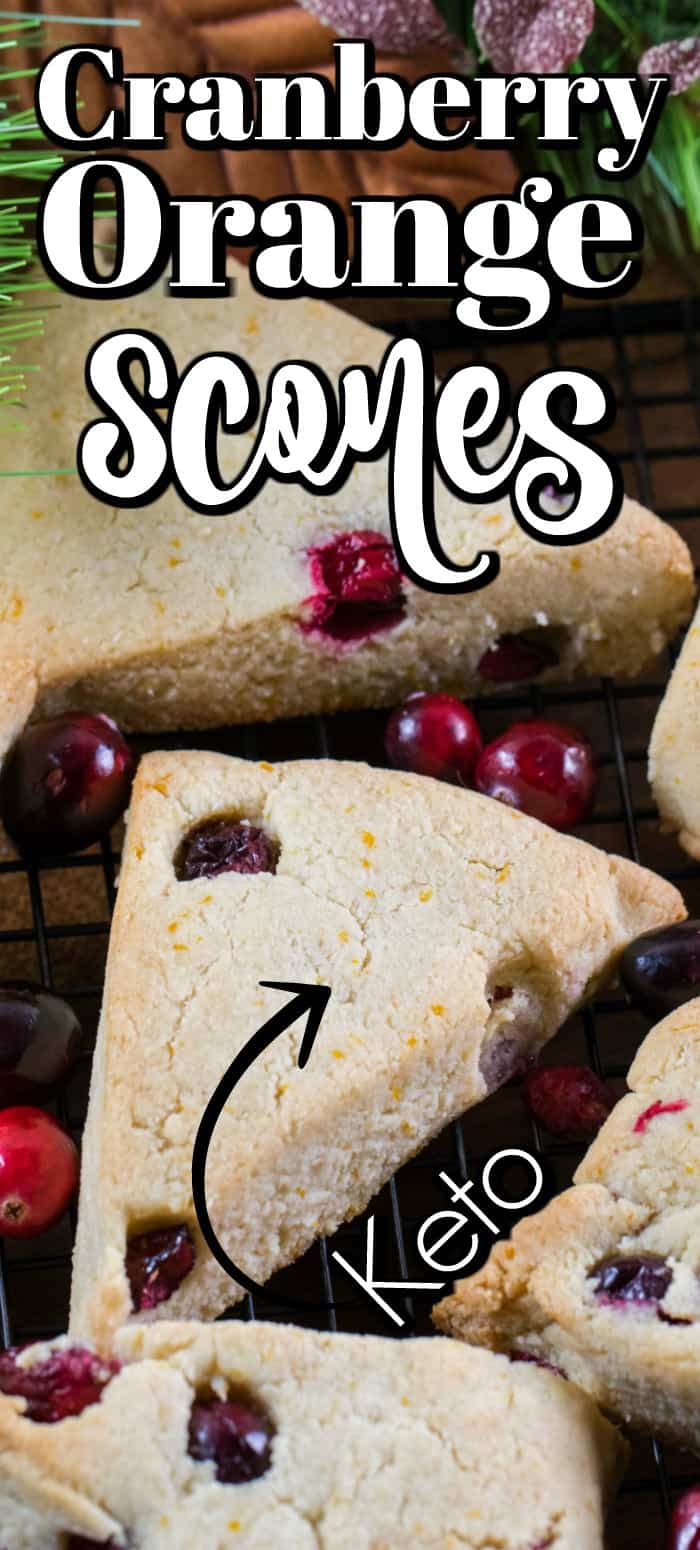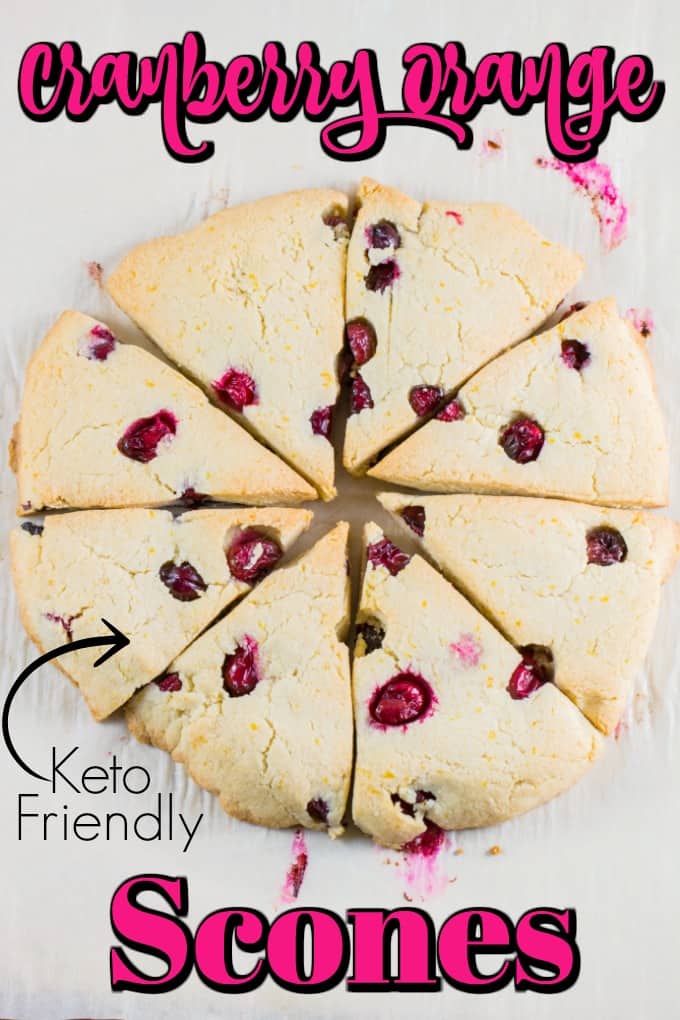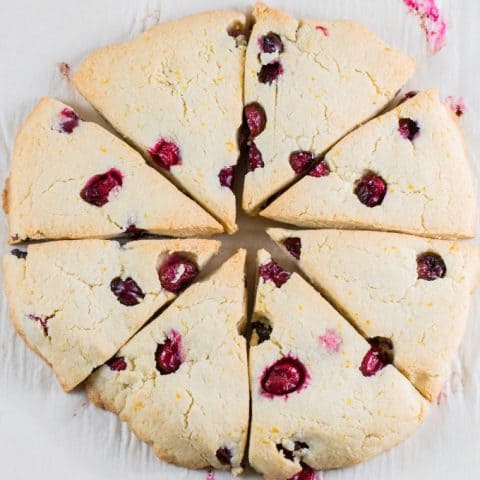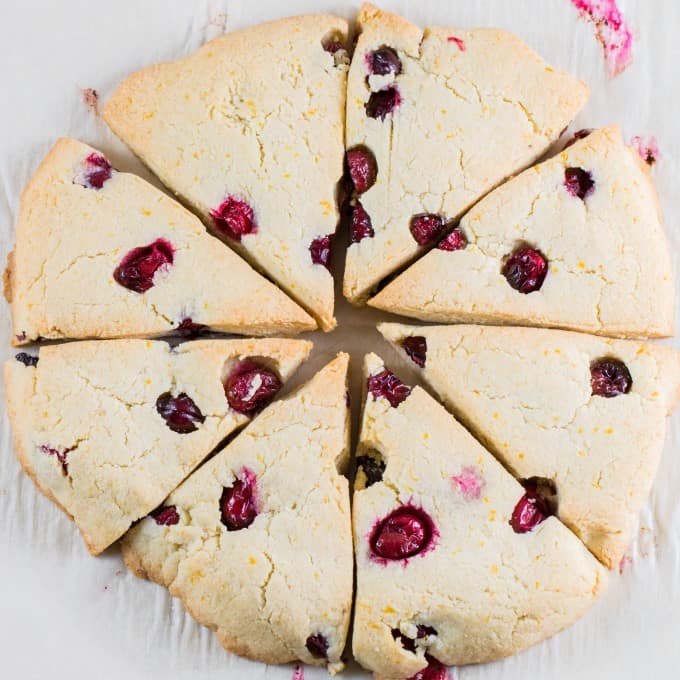 Cranberry Orange Scones
Yield: 8 scones
Prep Time: 15 minutes
Cook Time: 22 minutes
Total Time: 37 minutes
Before switching to a low carb lifestyle, one of my favorite pastimes was sitting in a coffee shop with my laptop or a friend, cradling a steaming latte and a scone. A lot has changed since then, but my love for scones sure hasn't! I hope these keto-friendly cranberry-orange scones will remind you of your favorite coffee shop, as they do for me, every time I make them.
Ingredients
2cups (8 ounces) blanched almond flour
1/3 cup erythritol
1/2 teaspoon baking powder
1/4 teaspoon sea salt
1/4 cup coconut oil, melted
2 tablespoons orange zest
1/2 teaspoon vanilla extract
1 large egg
1/2 cup (2 ounces) cranberries, fresh or frozen
Instructions
Preheat the oven to 350°F. Line a baking sheet with parchment paper.
In a medium bowl, combine the almond flour, erythritol, baking powder, and sea salt.
In a small bowl, whisk together the melted coconut oil, orange zest, vanilla, and egg. Stir the wet mixture into the almond flour mixture, pressing with a spoon or spatula, until a uniform dough forms, (the dough should be pliable and dense, but not crumbly; add a little more coconut oil, a teaspoon at a time, if it's very dry.) Stir and press the cranberries into the dough.
Place the dough onto the lined pan and form a disc shape, about 1 inch thick and 6 inches in diameter. Cut into 8 wedges, like a pie or pizza. Move the pieces about 1 inch apart. Bake for 18 to 22 minutes, until golden.
Cool completely on the pan to firm up. (Scones will fall apart if you move them before cooling.)
Notes
Permission given by and excerpted from THE WHOLESOME YUM EASY KETO COOKBOOK by Maya Krampf. Copyright © 2019 by Maya Krampf. Excerpted by permission of Harmony Books, an imprint of Penguin Random House LLC. All rights reserved. No part of this excerpt may be reproduced or reprinted without permission in writing from the publisher.
Recommended Products
As an Amazon Associate and member of other affiliate programs, I earn from qualifying purchases.
Nutrition Information:
Yield: 8
Serving Size: 1
Amount Per Serving:
Calories: 156
Total Fat: 14g
Saturated Fat: 6g
Trans Fat: 0g
Unsaturated Fat: 7g
Cholesterol: 23mg
Sodium: 111mg
Carbohydrates: 4g
Fiber: 2g
Sugar: 1g
Protein: 4g
Recipe calculation was provided by Nutritionix and is an estimation only. If you need nutritional calculations for medical reasons, please use a source that you trust.