Turkey Spring Roll Recipe – Cranberry Dipping Sauce
Disclosure: I was compensated for this post. All opinions and experiences are my own.
Turkey Spring Roll Recipe – Cranberry Dipping Sauce. It is Canadian Turkey season at the Noland's and we try to incorporate as much turkey as we can in the holidays as possible. It is our daughter's number one protein and when she saw this Turkey Spring Roll Recipe with Cranberry Dipping Sauce her eyes were wide with anticipation.
She honestly can't get enough turkey!! We do many recipes all year round like "Everything Bagel" Turkey Cheddar Crescent Rolls to Giant Juicy Turkey Burgers to Cheesy Ground Turkey Enchiladas and more!!
But the holidays hold a special charm for her, ourselves and our guests. For Amber, it is the combination of turkey and cranberries that make it even more special. So I came up with this recipe with her in mind and she adored it.
Canadian Turkey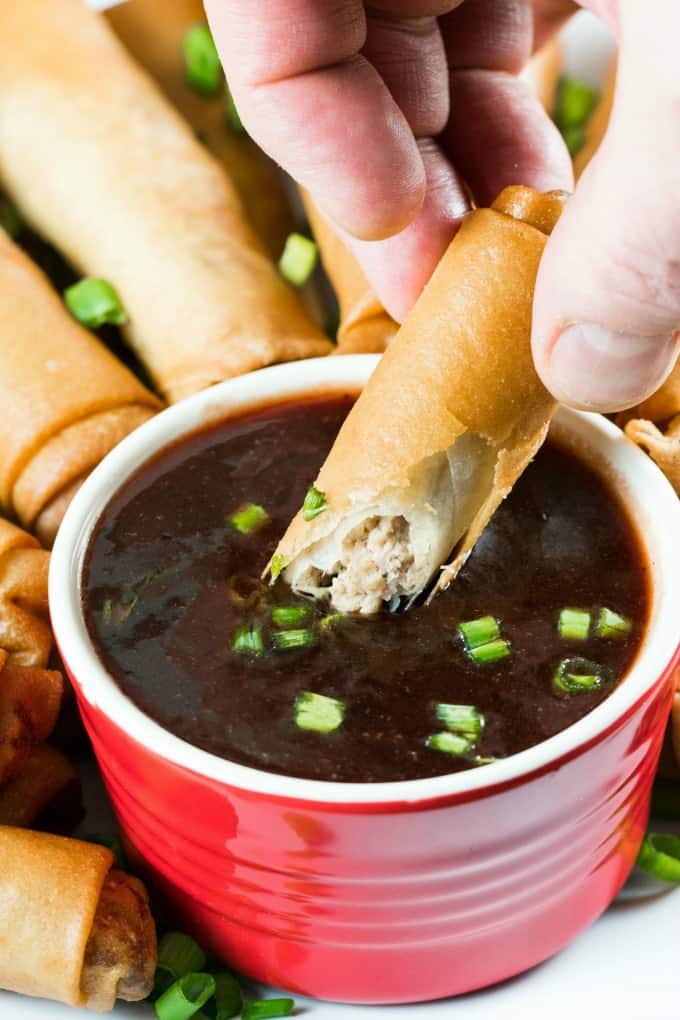 Canadian Turkey has loads of wonderful entertaining tips, appetizer recipes, meal suggestions and planning pointers for the holidays. This will allow you less time in the kitchen and more time enjoying the festivities with your family and friends.
Great recipes like Turkey Taco Cups that are partially made up to three days ahead of time and then finished up on the day of entertaining saves you tons of time in the kitchen when you would rather be with friends and family.
Now let's see how to make these amazing Turkey Spring Rolls.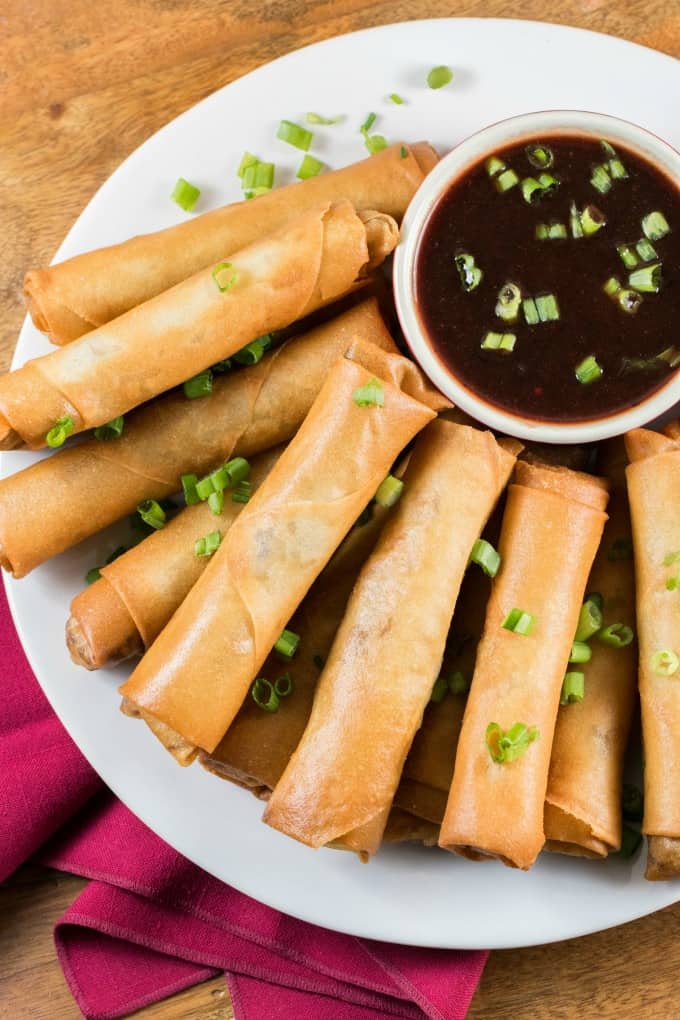 How Do You Use Spring Roll Wrappers?
Spring roll wrappers are easy to use and to find in any grocery store. They come conveniently packaged and no need for any prep besides opening the package. Do leave them covered though with a damp kitchen towel on your work surface so they won't dry out as you work with them.
The first step is to make your filling using lots of wonderful Canadian Turkey, leftover turkey could be used for this recipe also. You want the turkey to shine through and pair lovely with the cranberry dipping sauce.
In a skillet or wok over medium heat saute your garlic and ginger for a minute and then add your ground turkey and saute until it is cooked through. Then add in your cabbage mixture and continue to cook until wilted.
Follow up with your seasonings and cornstarch. Make sure your filling is not watery if so continue to cook. Set aside and let cool.
Get your ingredients ready for rolling, bring over your cooled filling, your spring roll wrappers covered with a damp towel and a small bowl of flour and water mixed together. Lay out your first wrapper in a diamond shape.
Next place about 2 Tbsp. of filling onto the lower third of the spring roll as shown above.
Continue with the Assembly
Then fold your two sides into the middle and roll up snuggly, doesn't need to be super tight. Moisten the top of the spring roll with the flour/water mixture along both sides and finish to roll.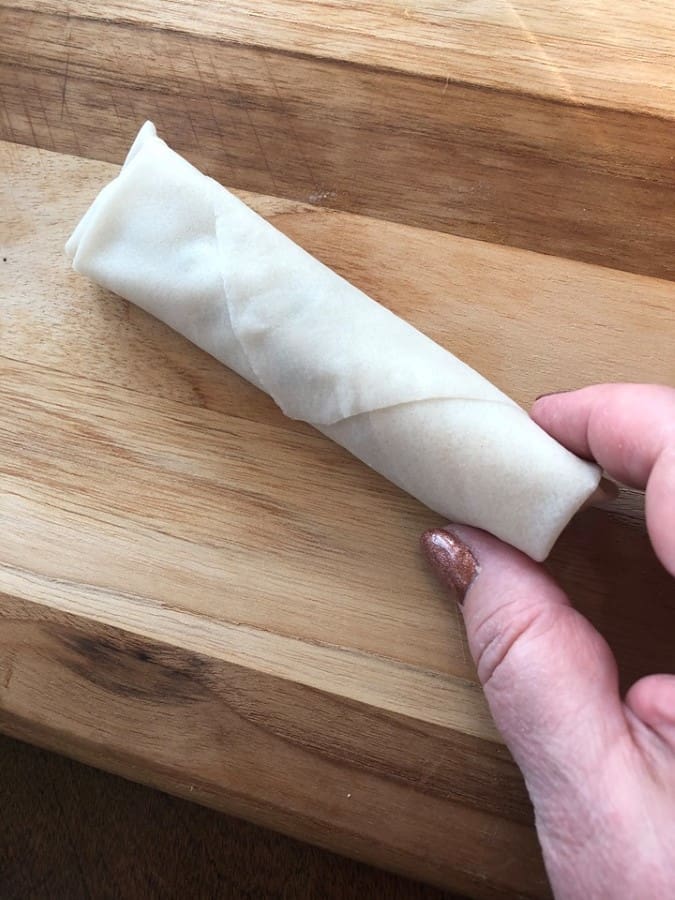 Now you have your turkey spring roll ready for the fryer!! You can make a little assembly line and gain some helpers but it really does go fast and so very easy to make.
After the are made cover them also with a slightly damp cloth and store in the refrigerator until your ready to fry them to deliciousness.
Fry to a Golden Delicious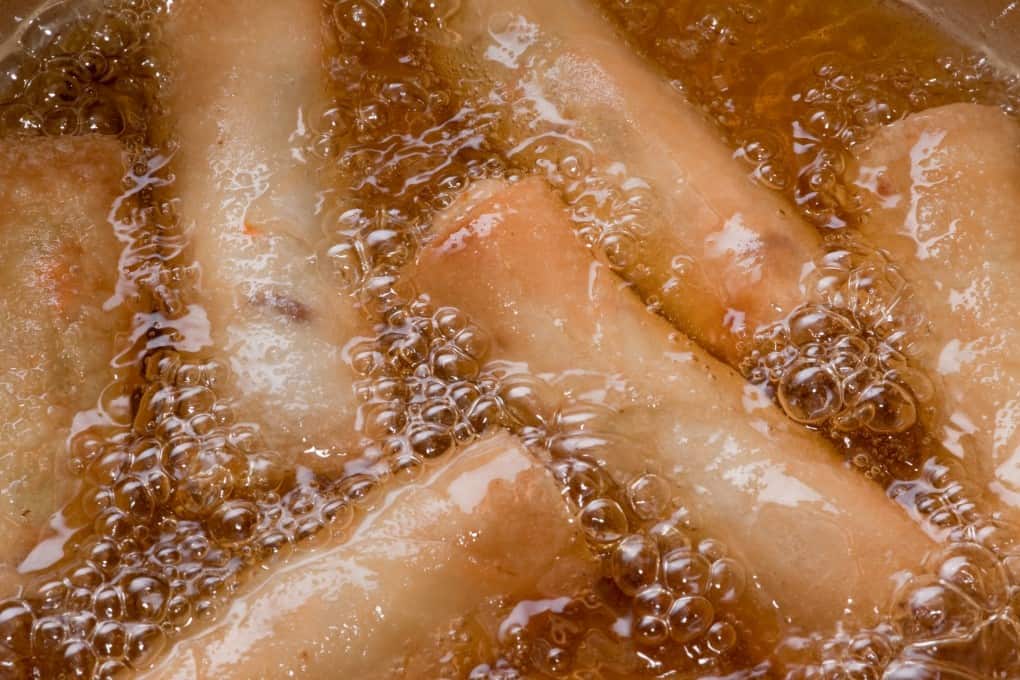 After all of the spring rolls are assembled fill a wok or deep fryer with oil and cook in batches deep frying them until golden brown for about 3-4 minutes turning as needed.
Drain on a paper towel-lined plate. If you would like to make them far in advance then you can freeze them and cook them from frozen.
They are better this way than having them fried, frozen and reheated but that is also doable if there are leftovers after making a big batch.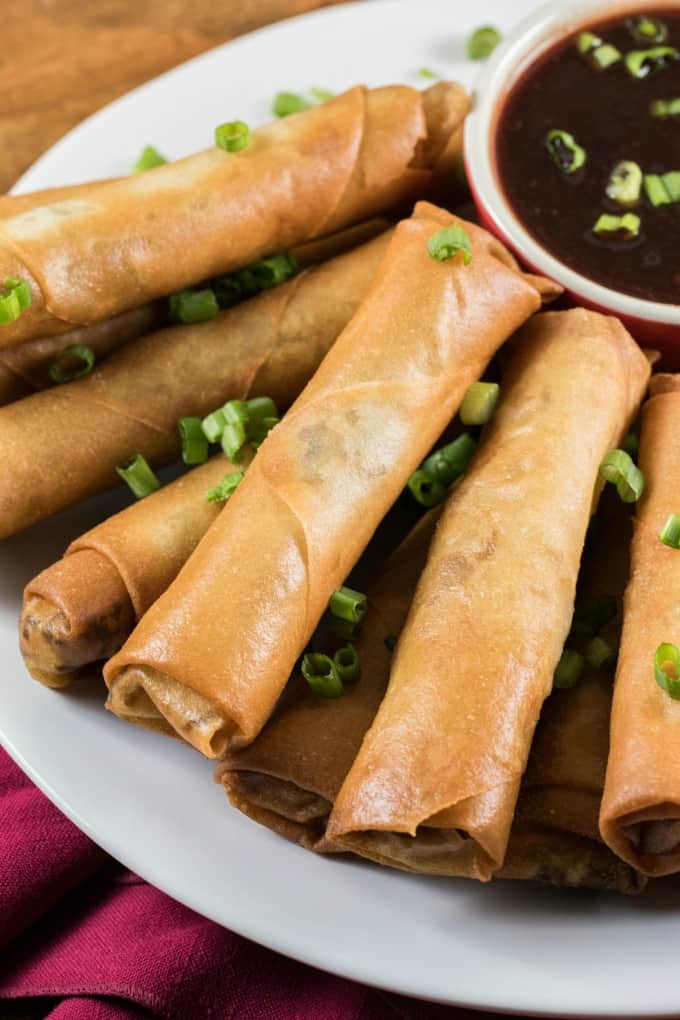 Turkey is lovely in so many dishes and ground turkey is extremely easy to work with. Whether you are a seasoned chef or a novice cook, ground Canadian Turkey can help you make show-stopping meals from appetizers to mains. Let me help you with a few ideas.
5 Ways to Entertain with Ground Turkey
Season ground turkey mix with your favourite spices while cooking. Store cooked portions in freezer bags for a quick start when needed.
Use seasoned cooked ground turkey, a little bit of your favourite cheese, and jalapeno jelly in puff pastry pockets or puff pastry shells for a quick appetizer.
Cook seasoned the ground turkey with canned tomatoes to make a base for individual servings of pasta or chili that can be made ahead of time and warmed up for a hot dish to serve when guests arrive.
Combine seasoned cooked turkey and taco spice to make a base for self-serve mini tacos or burritos. Make a do-it-yourself serving station by setting out various toppings.
Use ground turkey to stuff mini veggies like cherry tomatoes or miniature peppers. Top with a little bit of sour cream or crème Fraiche.
Stuffed Roasted Turkey Breast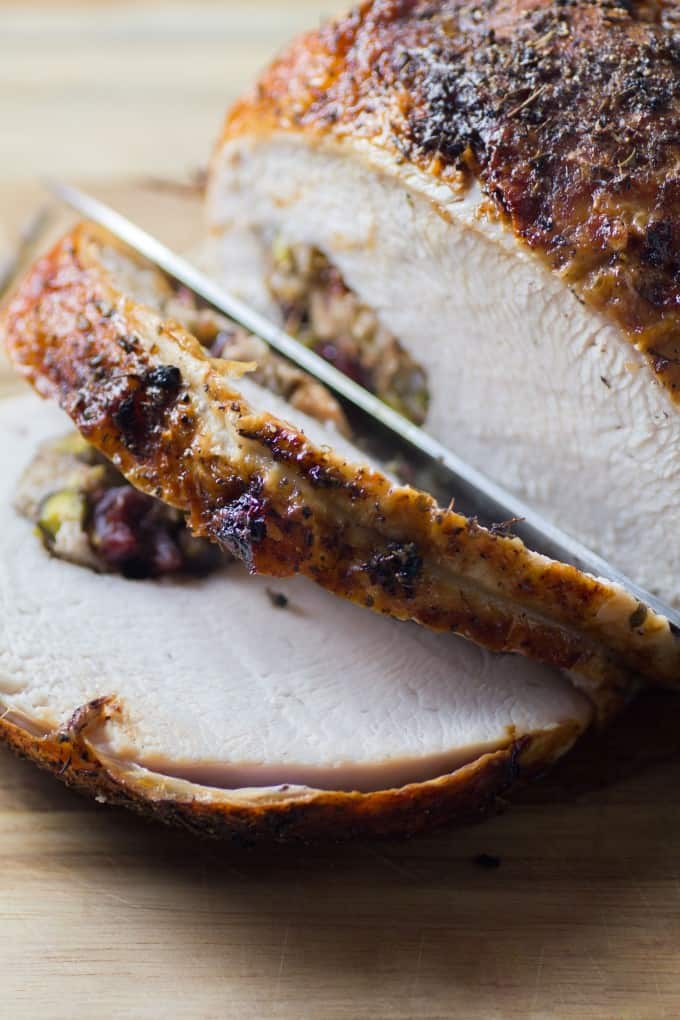 Turkey can feed a crowd or feed a small family too. We always do a small Stuffed Roasted Turkey Breast on Christmas Day as it is just the three of us and then serve a much bigger meal on Boxing Day to company.
This recipe is fabulous to serve to company too of course and is so simple and easy to make.
Turkey adapts to many flavor profiles so when we have leftovers we love to do something like a Curried Turkey Pot Pie. With so many options it is easy to make the turkey the star of the show. It is very versatile and a real crowd-pleaser.
What is Usually in a Spring Roll?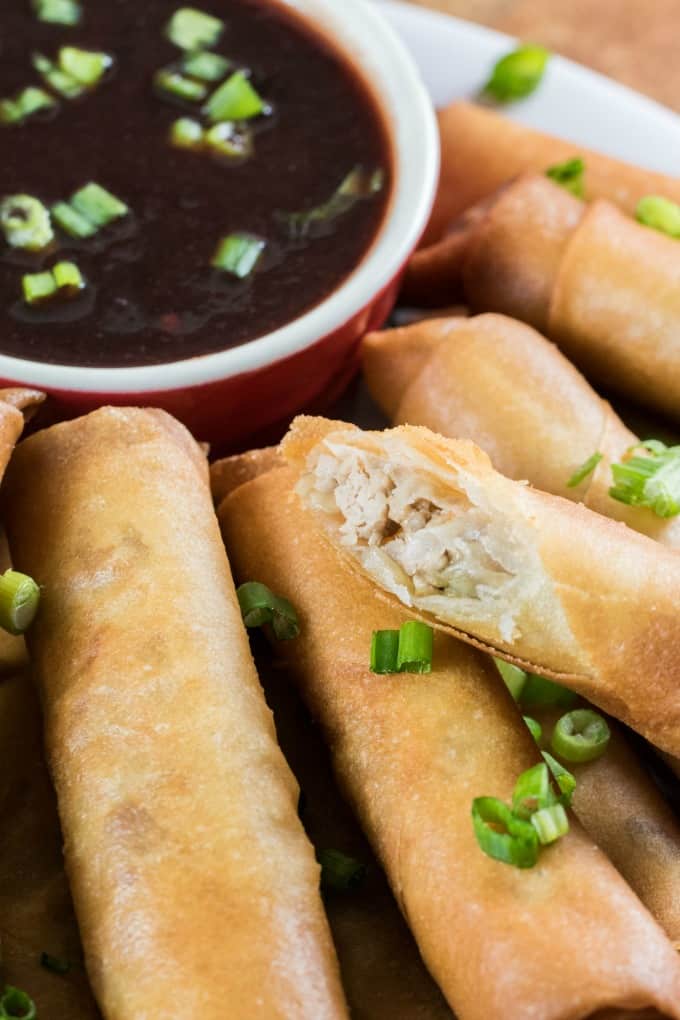 We didn't vary too much from an original spring roll with our recipe. A spring roll usually consists of a protein and vegetables such as cabbage, carrots, bean sprouts and sometimes mushrooms. They have seasoning from oyster sauce, soy sauce, Worcestershire sauce, fish sauce, hoisin sauce, sesame oil etc.
Spring rolls are native to many Asian cultures and you will see them in Thai cuisine, Vietnamese food, Chinese restaurants and more. Egg rolls were more popular while I was growing up but now spring rolls have taken over I would think as you see them more and more on menus.
Crispy on the outside and flavorful on the inside with the great flavors that turkey provides. The Asian inspired Cranberry Sauce is the perfect accompaniment for our wonderful holiday appetizer instead of the traditional sweet and sour sauce.
What is the Difference Between a Spring Roll and an Egg Roll?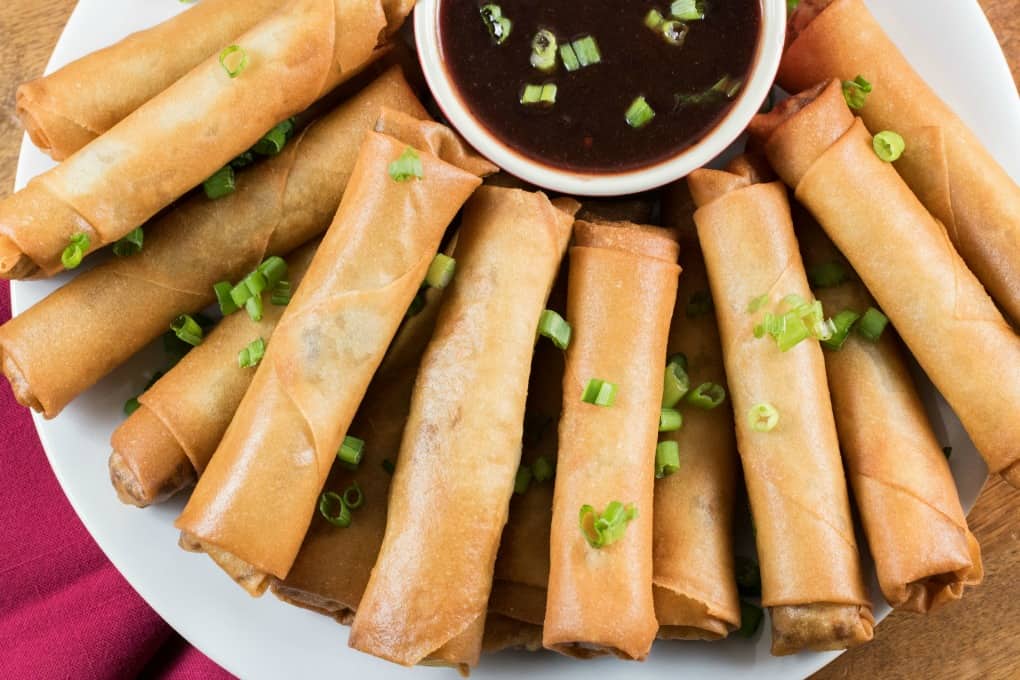 Making fresh spring rolls with turkey will make your gathering or party a huge success. You can also make egg rolls too with Canadian Turkey. At first glance a spring roll is thinner and sleeker with a smooth outer shell.
The egg roll in comparison is covered in small bubbles. An egg roll really crunches and then is chewy as a spring roll shatters when bitten. The dough of a spring roll doesn't contain egg like an egg roll has and suggests with its name giving it a completely different experience.
As for fillings, the sky is the limit really. Mmmm, think of a turkey cheeseburger in an egg roll wrapper or a turkey taco in a spring roll wrapper. The only thing that is limiting is your imagination.
Get creative and get an appetizer like this ready for the holidays, game day or any family gathering. Happy Holidays everyone!!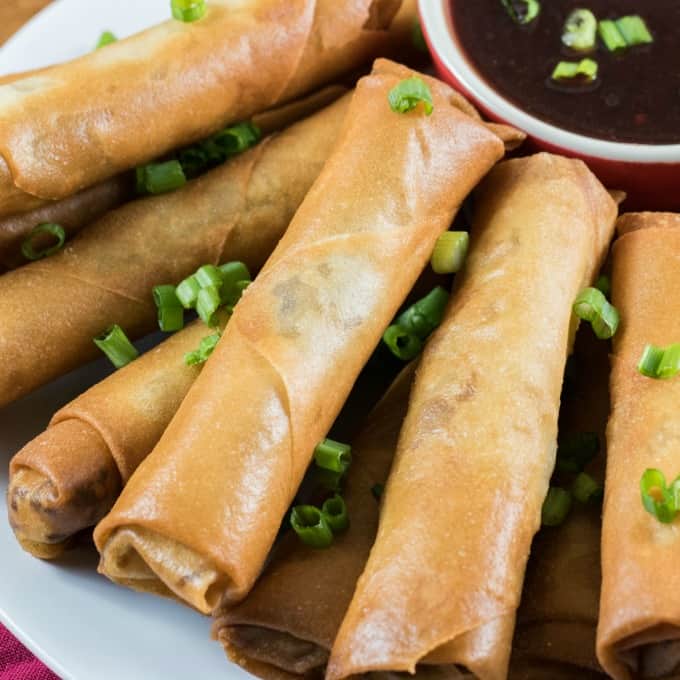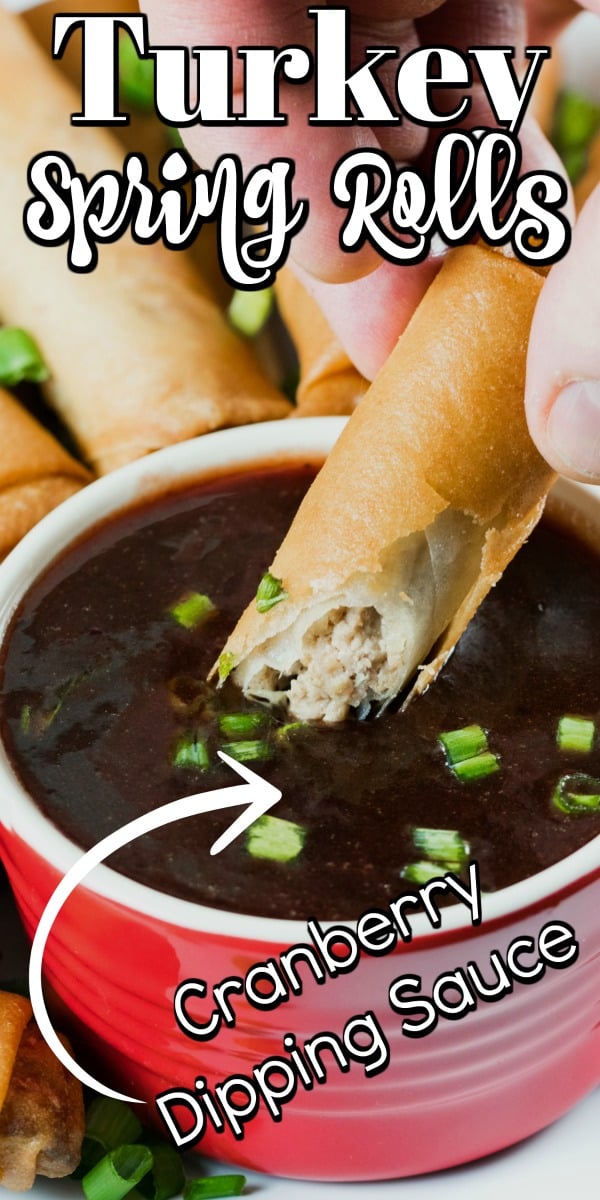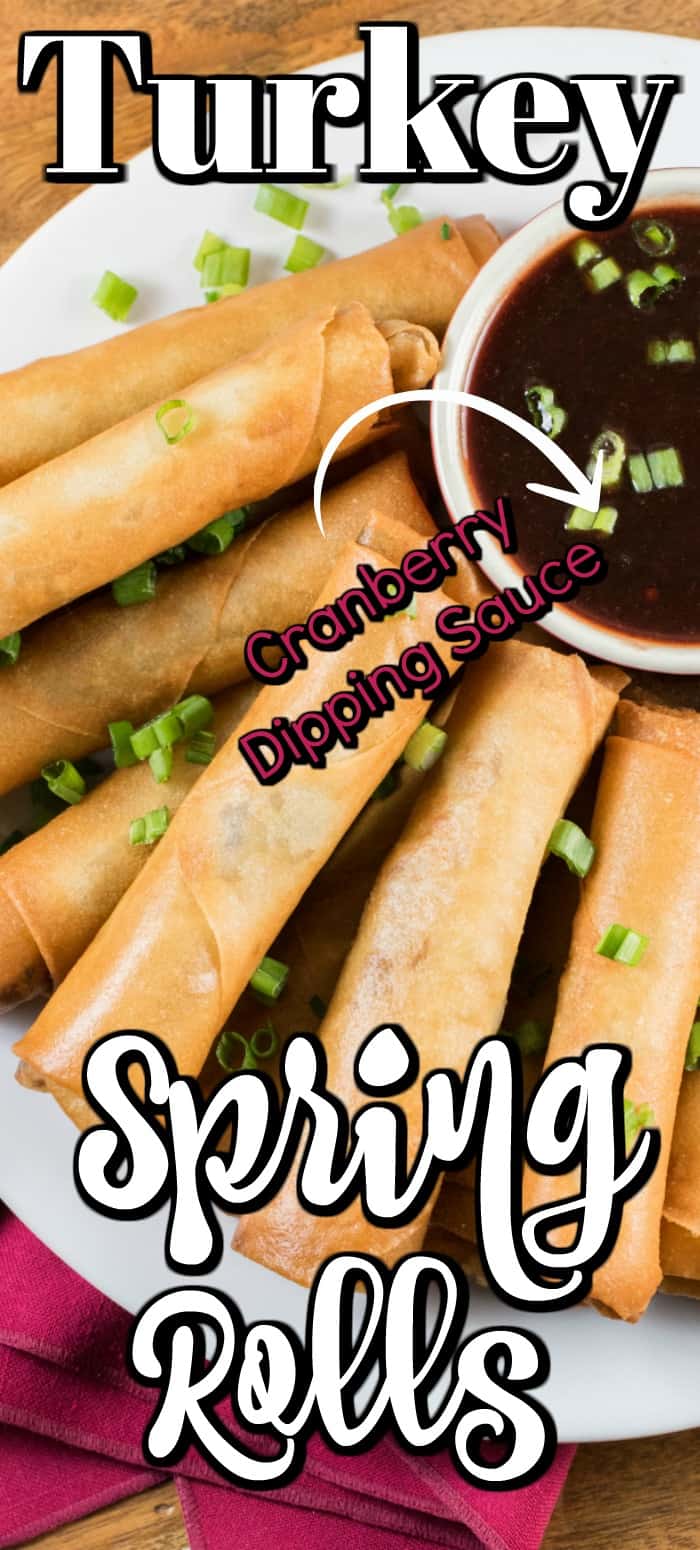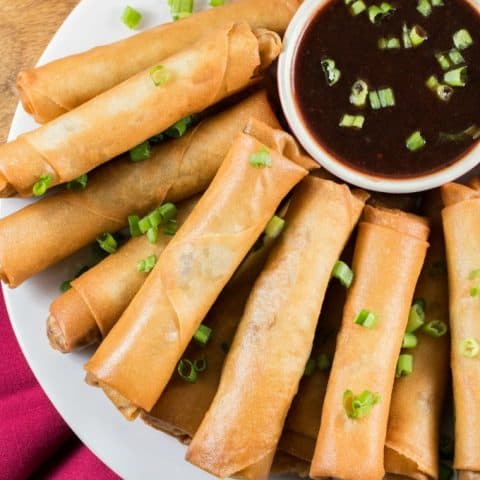 Turkey Spring Roll Recipe - Cranberry Dipping Sauce
Yield: 18 spring rolls
Prep Time: 40 minutes
Cook Time: 16 minutes
Total Time: 56 minutes
This Turkey Spring Roll Recipe with a Cranberry Dipping Sauce will be a holiday favorite. The combination of turkey and cranberries is always a hit!! The crunchy exterior and savory turkey interior will have them coming back for more.
Ingredients
1 lb. ground turkey
1 Tbsp. olive oil
2 tsp. garlic, minced
2 tsp. ginger, minced
3 cups fresh shredded coleslaw mix with carrots
2 Tbsp. oyster sauce
2 tsp soy sauce
1 tsp. cornstarch
2 green onion, chopped
1 Tbsp. flour mixed with 1/4 cup of water
Cranberry Dipping Sauce
1 cup cranberry sauce
3 Tbsp. low sodium soy sauce
1 Tbsp. rice wine vinegar
1 Tbsp. sesame oil
4 Tbsp. brown sugar
2 Tbsp. water
Pinch of salt
Instructions
For the filling in a wok or a skillet heat the olive oil over medium heat and saute the garlic and ginger quickly for 1 minute. Next, add the turkey and saute until cooked through.
Add the cabbage mixture and cook for 3 minutes until wilted. Stir in the cornstarch, Oyster sauce, and soy sauce. Cook until the moisture is evaporated. The filling should not be watery. Set aside to cool.
Set up a work surface with your spring roll wrappers out of the package and covered with a damp tea towel. Mix your flour and water together in a small bowl. Set your pan of turkey filling close by.
Place a spring roll wrapper on your work surface in a diamond shape. Place a heaping tablespoon of filling in the lower third of the spring roll. Fold up the bottom onto the filling and tuck in slightly under the filling. Fold the two sides into the middle and roll up until almost to the top. Use the flour/water mixture to seal and finish rolling. (See pictures in the post). Place on a sided baking tray and continue with the other 17 or so until done. The spring roll should be about 1 1/2" wide.
Pour enough oil halfway full in a wok or alternatively use a deep fryer. Heat on medium-high until hot but it shouldn't be smoking. You put a small piece of bread in to see if it bubbles up quickly to see if it is hot.
Carefully place spring rolls in the oil (4 or 5) at a time and cook in batches until golden brown, turning as needed. Cook for about 1 to 1 1/2 minutes. Remove and drain on a paper towel-lined plate.
Whisk the cranberry dipping sauce together and serve with the spring rolls.
Notes
Make Ahead
You can freeze the spring rolls ahead of time and fry from frozen. You can also freeze after they are cooked and reheat but they aren't nearly as good.
Nutrition Information:
Yield: 18
Serving Size: 1
Amount Per Serving:
Calories: 176
Total Fat: 10g
Saturated Fat: 2g
Trans Fat: 0g
Unsaturated Fat: 7g
Cholesterol: 30mg
Sodium: 285mg
Carbohydrates: 14g
Fiber: 1g
Sugar: 11g
Protein: 7g
Recipe calculation was provided by Nutritionix and is an estimation only. If you need nutritional calculations for medical reasons, please use a source that you trust.