Warm Gingerbread Cake with Calvados Caramel Sauce
Disclosure: I was compensated for this post with a cookbook by Random House. All opinions and experiences are my own.
When a new gorgeous cookbook comes out I want it like no other, but when it is from one of my favorite bakeries, then I want it even more. This is the case with Giselle Courteau's second cookbook Duchess at Home where I discovered this Warm Gingerbread Cake with Calvados Caramel Sauce.
Holidays are made special with desserts like this with wonderful homey spices that give an amazing aroma to your whole house. The flavors of gingerbread are one of my treasured memories growing up as a child.
The warmth and goodness associated with cinnamon, ginger, cloves, and anise tied together with molasses is something that can be enjoyed in so many baked goods for the holidays. Simple variations of those ingredients with some additions are also found in cookies like our Ginger Stars or Speculoos or our Festive Gingerbread Cupcakes!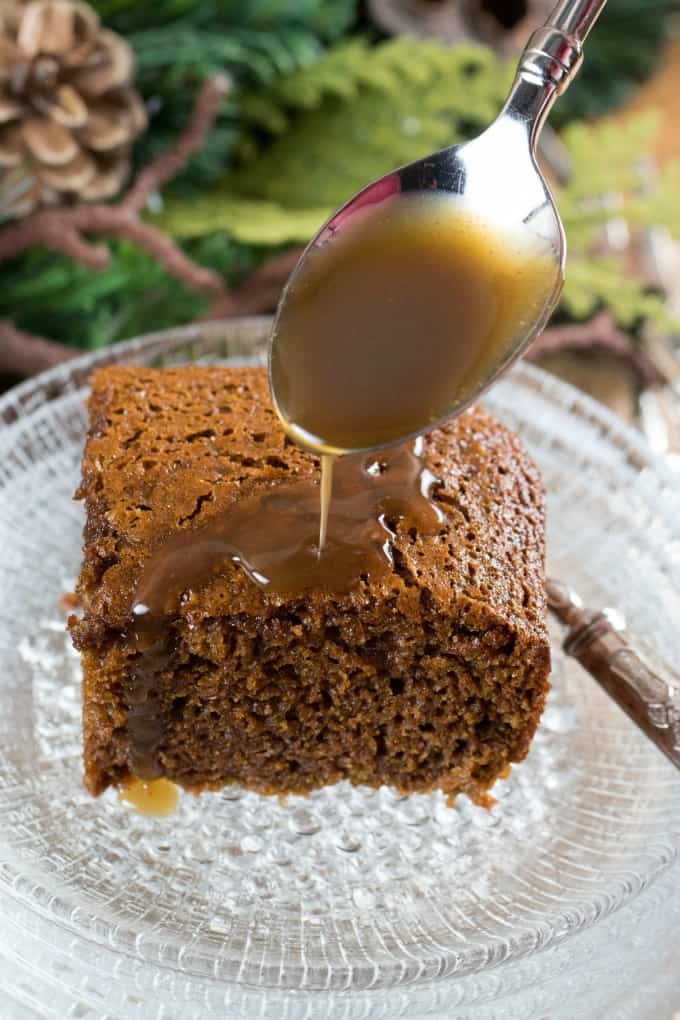 This amazing recipe is not only easy but out of this world delicious. It will be one we will be making for the holidays again for sure. It is an easy 9×13″ cake that also feeds a crowd as well. The way to take it over the top though is to add the Calvados Caramel Sauce.
The added sauce makes this dessert rich, buttery and so appealing. It is a must and one that you will not want to omit. Everyone that had a slice of this cake when we made it raved and wanted the recipe so I am happy to offer it up now to you and them.
Duchess at Home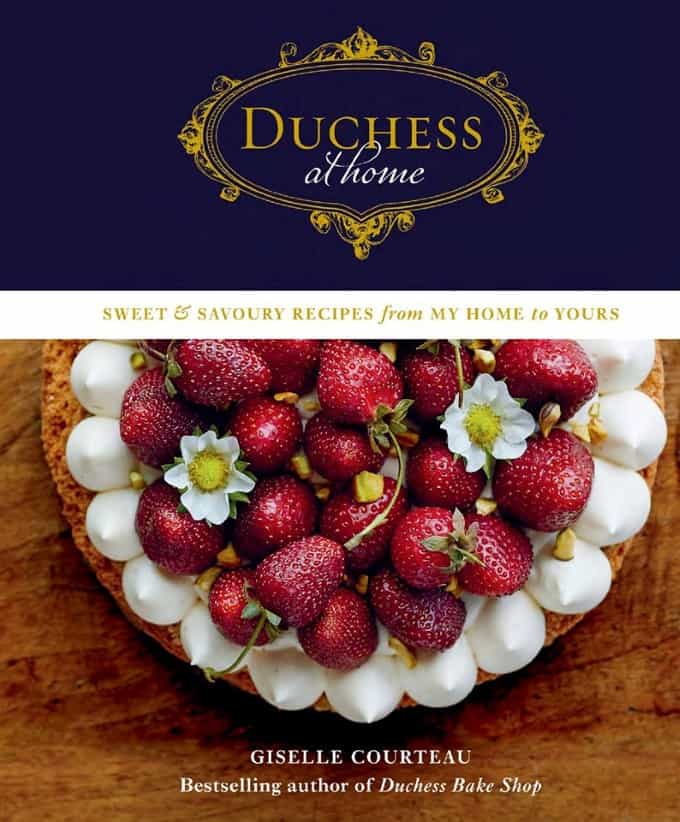 Giselle Courteau's second splurge into cookbook writing has brought her back home and showing us, for the most part, easy to make at home recipes. Her first effort was more about the pastries that she sells in her wonderful shop in Edmonton, Alberta.
For me and almost all of us, we just don't have the time, patience or ability to create gorgeous patissier masterpieces at home, so making it easy yet divine is a much more approachable route for me, and I am sure for you too.
Giselle's cookbook is filled with not only scrumptious baked goods like cookies, galettes and tartes but also warming soups and stews, hearty breads, and flavorful preserves. It is a page-turner of a cookbook with stunning photography and many step by step photographs too.
There is even a section devoted entirely to Christmas, so don't waste a second in grabbing your copy of this excellent cookbook.
Some of my favorite recipes that I can't wait to try are White Wine Pain Perdu, Rosemary Gruyere Brioche Loaves, Maple and Beer Baked Ham, French Onion Soup and the classic Croquembouche.
We have made all of these recipes in our home and I would love to try Giselle's take on them!!
How to Make Gingerbread Cake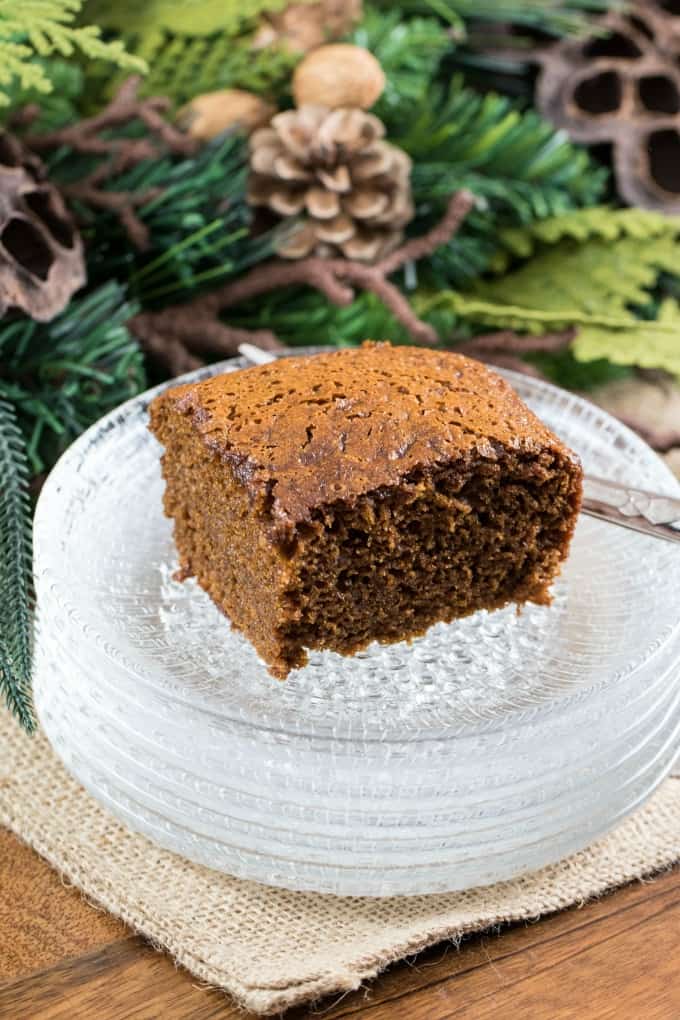 As I said before this is an easy cake recipe to make. Ken jumped into the kitchen to make this dessert for us today. It takes easy to find ingredients like all-purpose flour, baking soda, cinnamon, ginger, cloves, star anise and salt for the dry ingredients.
The richness comes in the next ingredients, dark brown sugar, molasses, honey, vegetable oil, and eggs. Then to add a little interest Giselle adds in lemon zest too.
The process to make the cake is standard with mixing the dry ingredients together and setting aside. Then the brown sugar, molasses, and honey are mixed together in a large bowl and then the oil and after mixing followed by the eggs.
Then dry ingredients are added alternating with boiling hot water. You then pour your cake batter into a 9×13″ prepared pan and allow for 35-40 minutes baking time at 350F. or until a toothpick inserted comes out clean.
To make the Calvados Caramel Sauce just melt the butter in a saucepan over medium heat and then add the brown sugar. Heat and stir until the sugar is dissolved. Slowly pour in the whipping cream and whisk. Remove from heat and add the Calvados and vanilla.
There you have it, a gorgeous cake that is easy to make, a great make-ahead, sublime in flavor and perfect for the holidays. Yup, I ticked off that box for you!! Happy Holidays!!
How to Store Gingerbread Cake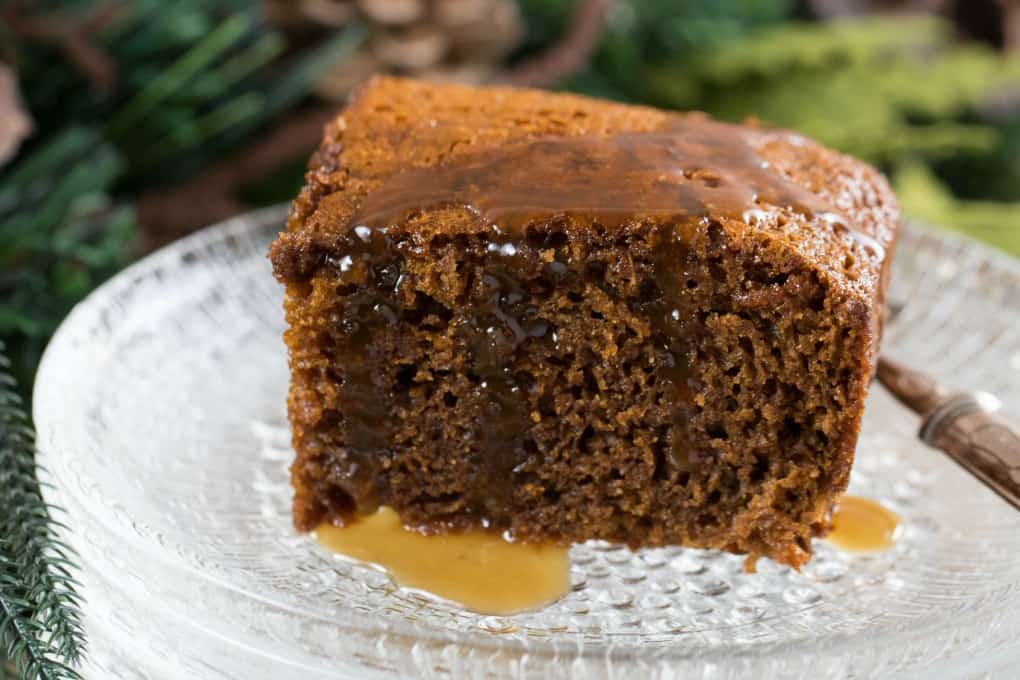 This gingerbread cake is very easy to store. We just literally lifted it from the 9×13″ pan using the parchment paper and placed it in a rectangular container and sealed it.
The cake remains nice and moist and tender in a sealed container but it does make it very tempting to have yet another slice. It is also easily portable to any holiday gathering and will garnish you rave reviews from everyone that has it.
This recipe reminds me of our own Easy Apple Brandy Sticky Toffee Pudding. Another great recipe for the holidays also.
How Long Does Gingerbread Cake Keep?
Storing the cake in a tightly sealed container it will last on the counter for 5 days without refrigeration if you are not constantly wanting to dive to eat it like we were.
So this makes a great make-ahead dessert for the holidays. It was just as good on day one as it was on day five.
The Calvados (apple brandy) Caramel Sauce stores well in the refrigerator for 5 days too and just needs to be reheated before serving.
Nothing takes the stress out of the holidays like having dishes that are prepared well in advance.
Can you Freeze Gingerbread Cake?
Cakes in general freeze well if wrapped well and stored in a tightly sealed container. They will keep up to 3 months. Just thaw and serve.
The one key is to make sure your cake is completely cooled. If it is not it can get moisture trapped in and can become soggy.
A 9×13″ cake is harder to wrap so you may want to use two 8″ round or square pans. Using two cake pans will allow you to easily wrap and store smaller cakes.
Slide those cakes right in beside your Make-Ahead Mashed Potatoes which we love to freeze as they turn out just as good as ever!!
Then you can just make your caramel sauce and top with a dusting of powdered sugar, whipped cream or ice cream if desired.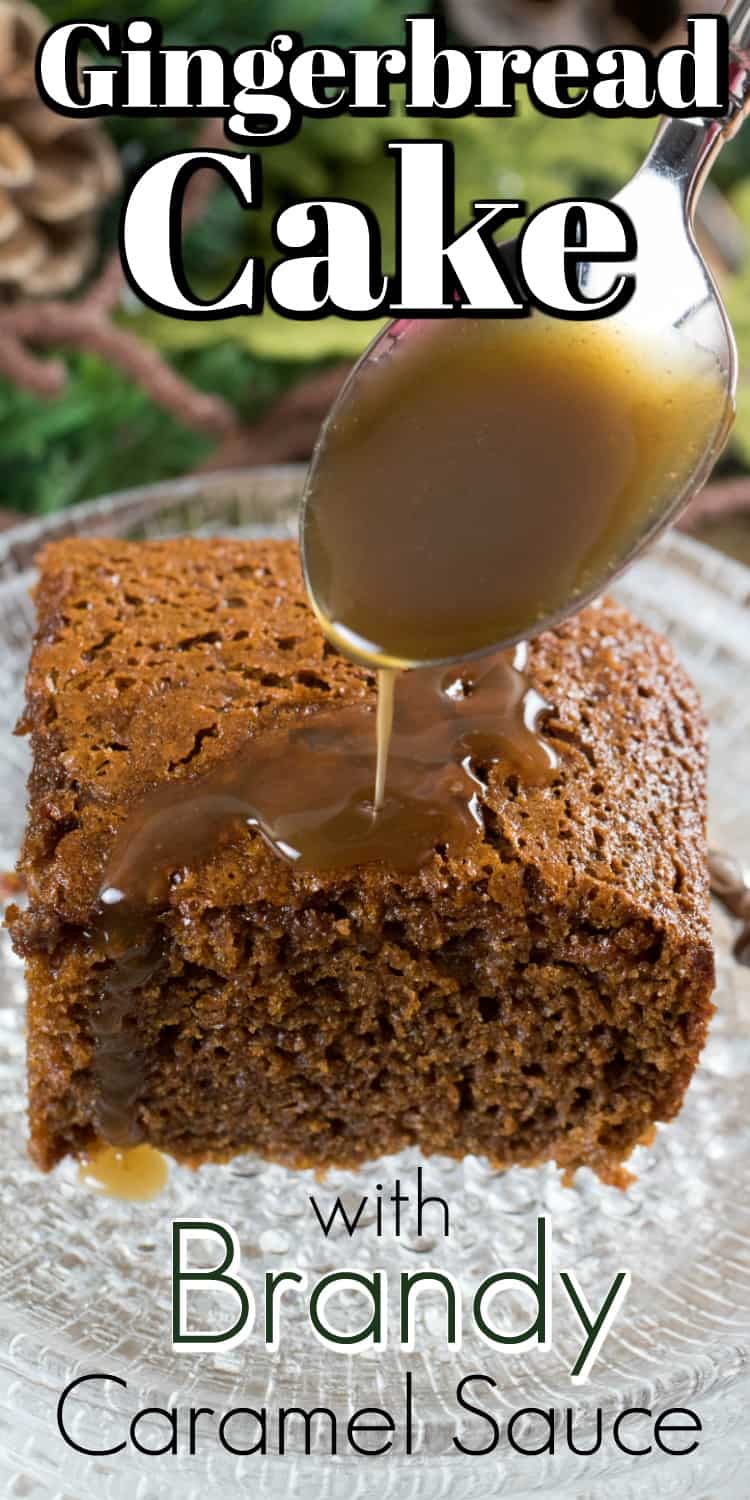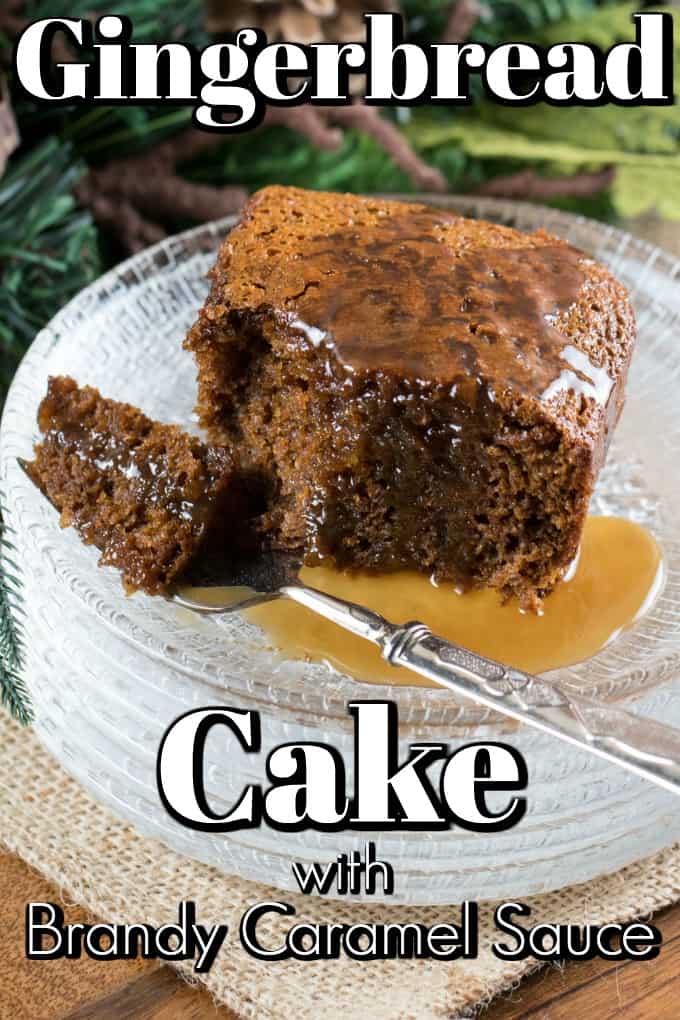 Warm Gingerbread Cake with Calvados Caramel Sauce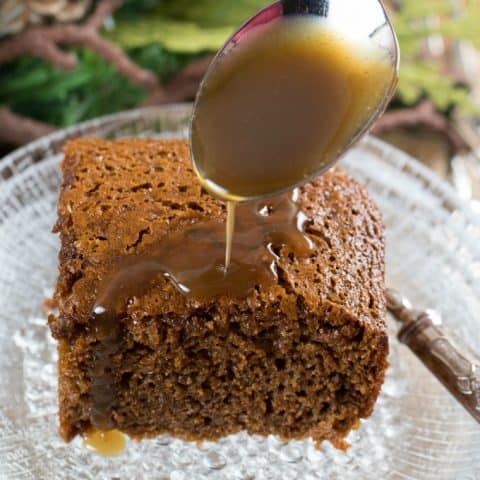 Warm Gingerbread Cake with Calvados Caramel Sauce
Yield: 12 Servings
Prep Time: 30 minutes
Cook Time: 40 minutes
Total Time: 1 hour 10 minutes
If you're ever driving the cider route in Normandy, there's a charming little restaurant in Cambremer called Au P'tit Normand that is a nice place to stop for lunch. Their warm pain d'épices (gingerbread) in calvados caramel sauce is the perfect comfort dessert. When I asked the owner about it, she replied, 'Oh, I just threw it together. It's just a standard pain d'épices—nothing special.' Well, for me, it was pretty special, and this is my homage to it.
Ingredients
Cake
340 g (2⅓ cups) all-purpose flour
1½ tsp baking soda
½ tsp ground cloves
3 tsp ground cinnamon
1 tsp ground ginger
½ tsp ground star anise
½ tsp salt
220 g (1¼ cups firmly packed) dark brown sugar
200 g (⅔ cup) fancy molasses
140 g (⅓ cup + 2 Tbsp) liquid honey
210 g (1 cup) vegetable oil
2 large eggs
335 g (1⅓ cups) boiling water
zest of 1 lemon
Sauce
115 g (½ cup) unsalted butter
150 g (¾ cup firmly packed) dark brown sugar
120 g (½ cup) whipping cream
1 tsp vanilla extract or paste
2 Tbsp calvados (optional)
vanilla ice cream, to serve
Equipment
You will need a stand mixer fitted with a paddle attachment and a 9-by-13-inch baking dish.
Instructions
To Make the Cake

1 Preheat your oven to 350°F (180°C). Spray the baking dish with vegetable oil and line it with parchment paper. Put a kettle on to boil.

2 Sift together the flour, baking soda, spices, and salt and set aside.

3 Place the brown sugar, molasses, and honey in a stand mixer bowl. Mix on medium speed for about 1 minute. Scrape down the sides of the bowl.

4 With the mixer on low speed, slowly add the oil. Once incorporated, scrape down the sides of the bowl. Turn the mixer up to medium and mix for 1 minute.

5 Add the eggs and mix until smooth and well incorporated.

6 Turn the mixer down to low speed and add the dry ingredients and the boiling water, alternating three parts dry with two parts water and beginning and ending with the dry. Scrape down the bowl between each addition. Add the lemon zest and mix until just combined.

7 Pour the batter into the prepared baking dish. Bake for 35 to 40 minutes, until a toothpick inserted in the centre comes out clean.

To Make the Sauce

8 Melt the butter in a saucepan over medium heat. Add the brown sugar and cook until dissolved. Slowly pour in the whipping cream and continue to cook, whisking, until the sauce thickens slightly. Remove from heat and whisk in the vanilla and calvados if using.

9 To serve the pain d'épices, cut out pieces while still warm and top generously with warm sauce. Serve with vanilla ice cream.

Storage and Serving

This gingerbread will keep at room temperature for up to five days. The sauce can be kept in the refrigerator for up to four days. Reheat both before serving.
Notes
Recipe excerpted from Duchess at Home by Giselle Courteau. Text copyright © 2019 Giselle Courteau. Design and Photography © 2019 Sarah Hervieux. Published by Appetite by Random House®, a division of Penguin Random House Canada Limited. Reproduced by arrangement with the Publisher. All rights reserved.
Recommended Products
As an Amazon Associate and member of other affiliate programs, I earn from qualifying purchases.