Apple Dapple Cake is a simple vintage cake filled with warming spices, pieces of apple and topped with a sweet 'n' salty brown butter glaze.
This cake is perfect for your Thanksgiving table, and best of all, it freezes well, so it is a great make-ahead cake for the holidays.
Fall is around the corner and a new crop apples are about to make their Autumn debut at markets everywhere. As comfort food slowly replaces summer barbecues and picnics I'm looking forward to hearty dishes such as Curried Turkey Pot Pie and steaming bowls of Slow Cooker Italian Wedding Soup.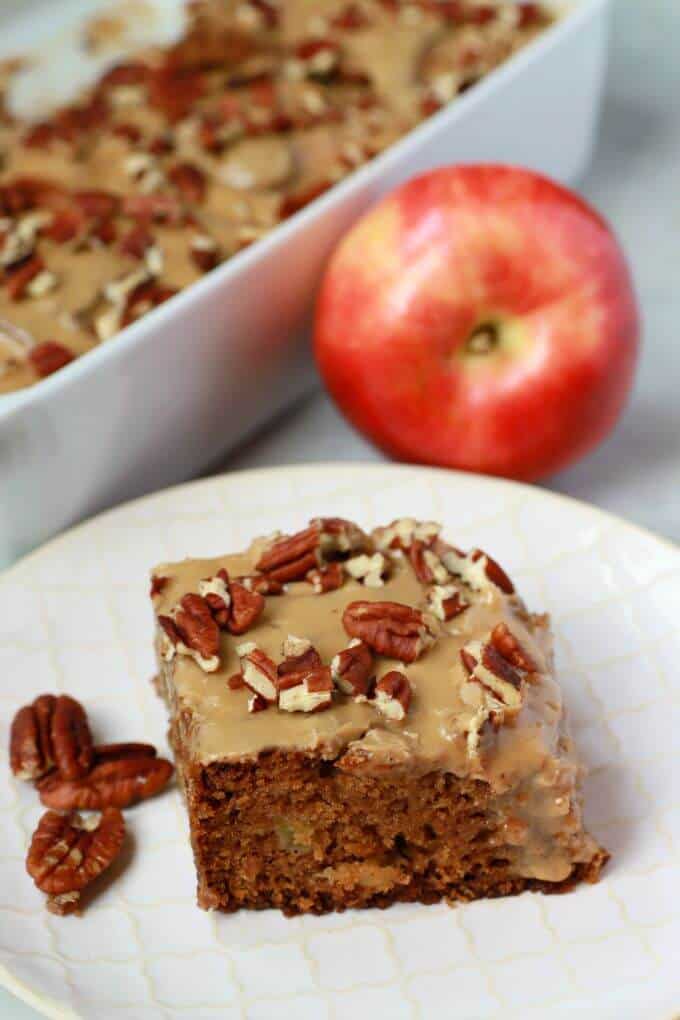 Helpful Items For This Recipe
This post contains affiliate links. As an Amazon Associate, I earn a small portion from qualifying purchases at no extra charge for you.
Non-Stick 9 x 13-Inch Pan With Lid
Apple Dapple Cake
There's no mistaking it. This apple cake is pure fall comfort on every level. The crumb is tender and moist while the flavour is like a warm hug.
Large pieces of cooked apple are dotted throughout the cake, while the showstopping brown butter glaze creates flavours reminiscent of caramel apple.
The apples lend to the moistness of the cake plus both the sour cream and canola oil keep it from drying out and add to the texture too. I love adding both of these to a cake.
Eating this cake while it's still warm is truly one of life's great pleasures.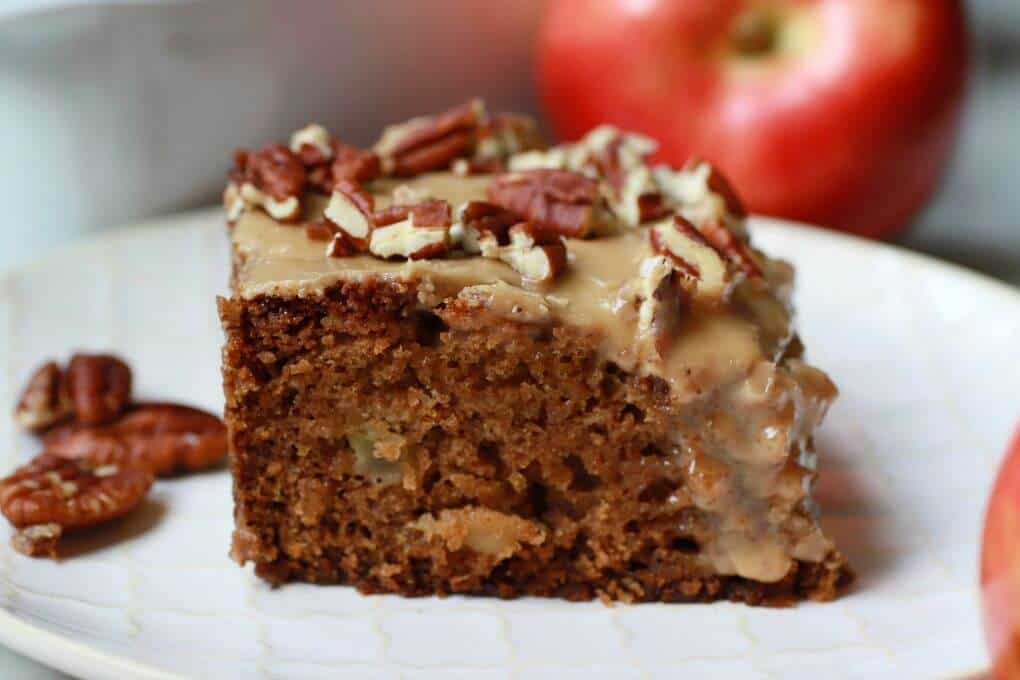 What is Apple Dapple Cake?
This classic cake recipe first appeared in mid century cookbooks as a moist, even damp cake studded with fresh apples and pecans.
It's simple to make and contains basic baking ingredients that you probably already have in your pantry.
The characteristic rippled surface is due to its being jam-packed with apples and nuts. The craggy surface catches all the delicious drizzled brown butter glaze (or brown sugar sauce), another hallmark of this old fashioned treat.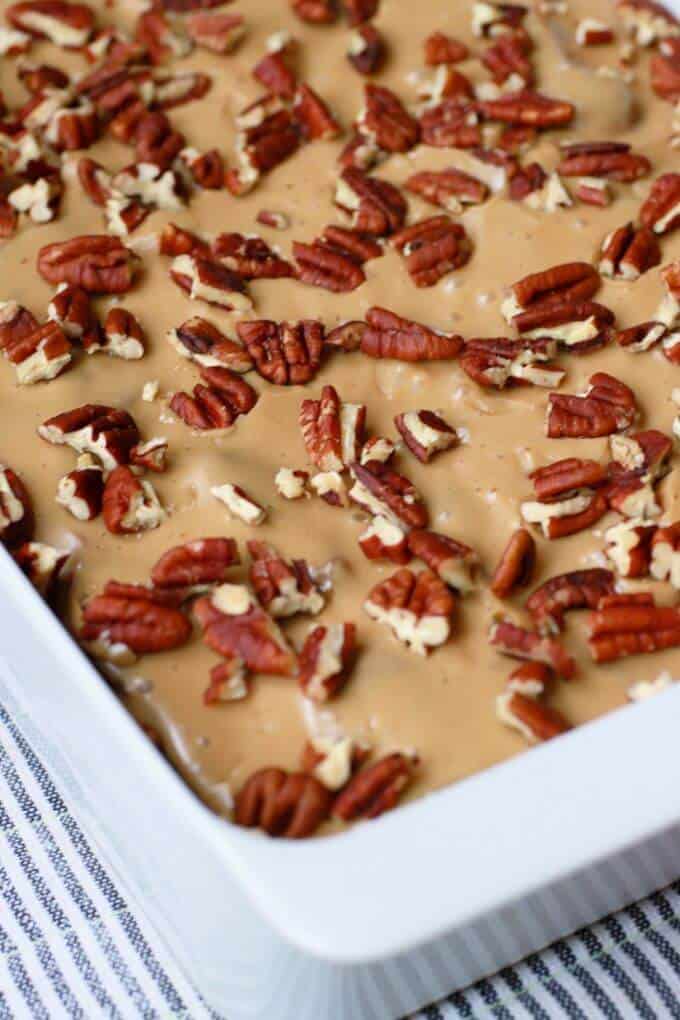 The sweet glaze appears in many variations from a thin sauce to a thick, almost frosting-like topping. The one constant when it comes to glazing this cake is that it occurs while the cake is still warm.
Glazing the cake while still warm allows the glaze to soak into the surface of the cake and it becomes part of what makes this cake so moist and flavourful. That final touch is literally the icing on the cake!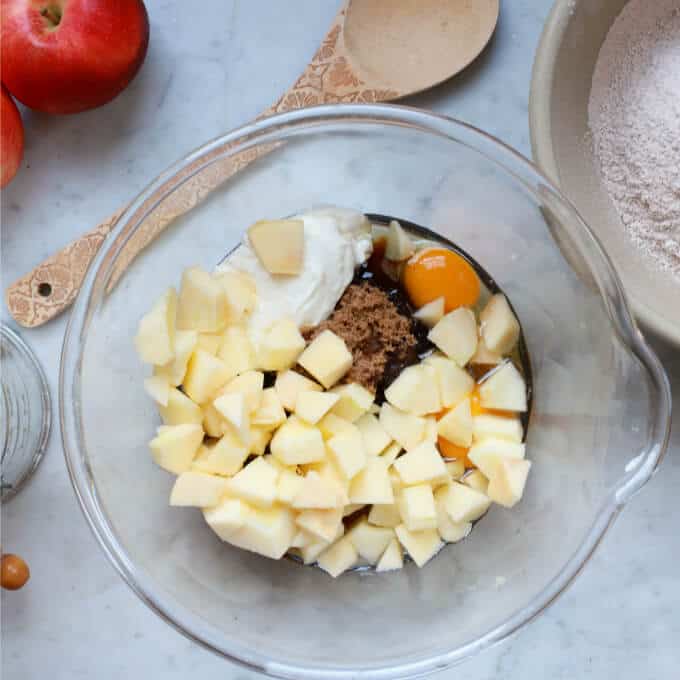 How to Make this Cake
This is a very straightforward cake and it is very simple to bake. The recipe calls for basic pantry ingredients and doesn't require any extra equipment other than two bowls, a sifter, measuring cups, a knife, a mixing spoon, and an oven.
Begin by sifting the dry ingredients (flour, baking soda and spices) together in a medium bowl. Then mix the other ingredients together in a large bowl. Gradually add the dry ingredients into the wet ingredients, then mix in the peeled and cored apples.
Pour the batter into a prepared pan (9 x 13 cake pan or a bundt pan) and bake for 45 minutes or until a cake tester comes out clean. It's so simple.
Ingredients
Cake flour
Baking soda
Cinnamon
Cloves
Salt
White sugar
Brown sugar
Sour cream
Canola oil
Eggs
Vanilla
Apples (Jonagolds, Cortlands, Honey Crisps, Pink Ladies, Braeburns, or Granny Smith apples)
Brown Butter Frosting
Butter
Milk
Brown sugar
Salt
Powdered (icing) sugar
Pecans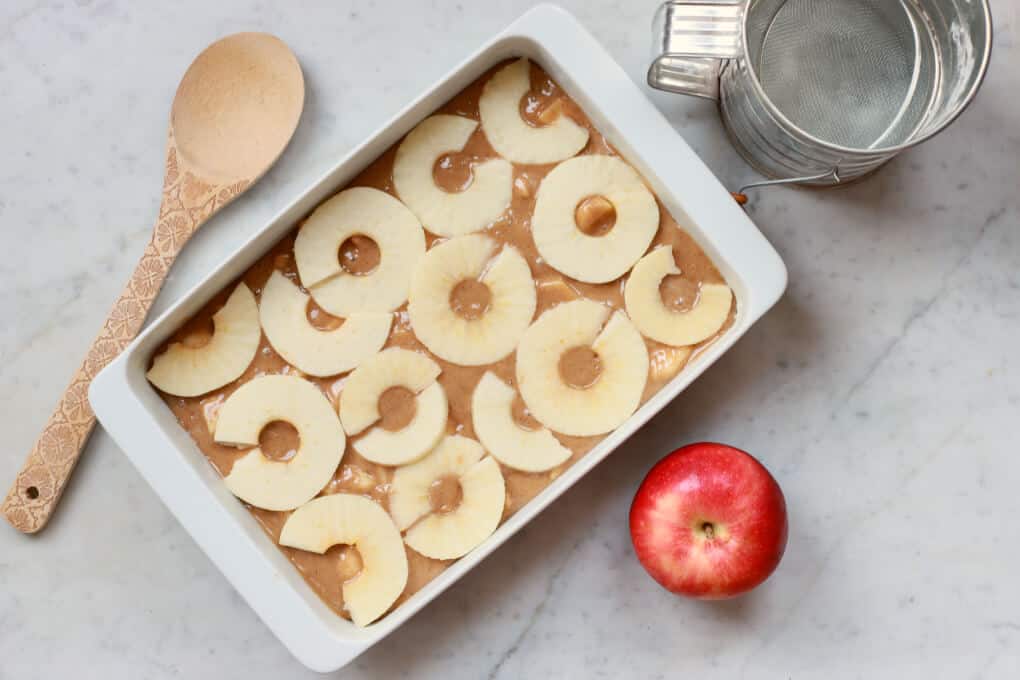 How to Make the Brown Butter Glaze
Hey there, it's Bernice from Dishnthekitchen.com. I love sharing my family's time tested recipes such as Grandma's Rhubarb Strawberry Pie and her Creamed Fresh Peas with Basil. There's nothing like the taste of home to bring absolute comfort in uncertain times.
This Brown Butter Glaze is based on my family's traditional doughnut glaze. It is a cooked glaze, where the butter, white sugar and milk are boiled gently together and allowed to cool slightly.
Next, powdered sugar, salt, and vanilla extract are added to make a thin glaze. It's perfect for drizzling onto freshly made doughnuts.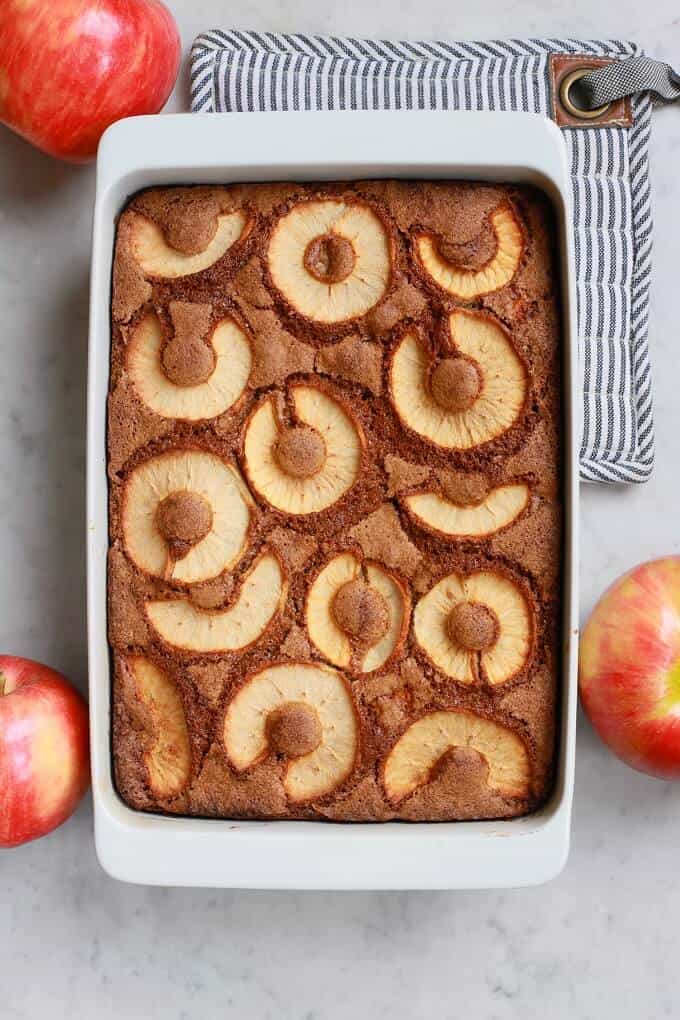 The twist for this recipe requires the butter to be cooked first until it becomes nutty and delicious. Then brown sugar is added instead of white sugar.
Finally, the thickness of the glaze is related to how much powdered sugar is added. For this recipe there are three cups of powdered sugar in the glaze. Feel free to reduce the sugar and adjust the glaze to your liking.
If you would rather skip the sweet brown butter glaze, simply use a strainer to lightly dust the surface of the cake with powdered sugar. The effect on the uneven surface is quite stunning!
Which Apples are Best for Baking into a Cake?
Apple Dapple Cake is quite sweet so it is best to use apples that have a sweet, yet sour or tart flavour profile.
Use baking apples that keep their shape such as Jonagolds, Cortlands, Honey Crisps, Pink Ladies, Braeburns, or Granny Smith apples.
Honey Crisps or Pink Ladies have become my latest favorite baking apple as I used to always go for a Granny Smith.
Which Baking Pan is Best for Apple Dapple Cake?
There's no need for fancy cake pans when baking this marvelous cake. A simple 9 x 13 inch baking pan is used for this recipe.
However, feel free to use a smaller 8 x 11-inch pan (the cake will be taller) and even a bundt pan or tube pan.
Keep in mind that if you use another style of pan, the baking time will change accordingly. It's always best to bake the cake for the bulk of the baking time, test it with a cake tester and adjust accordingly.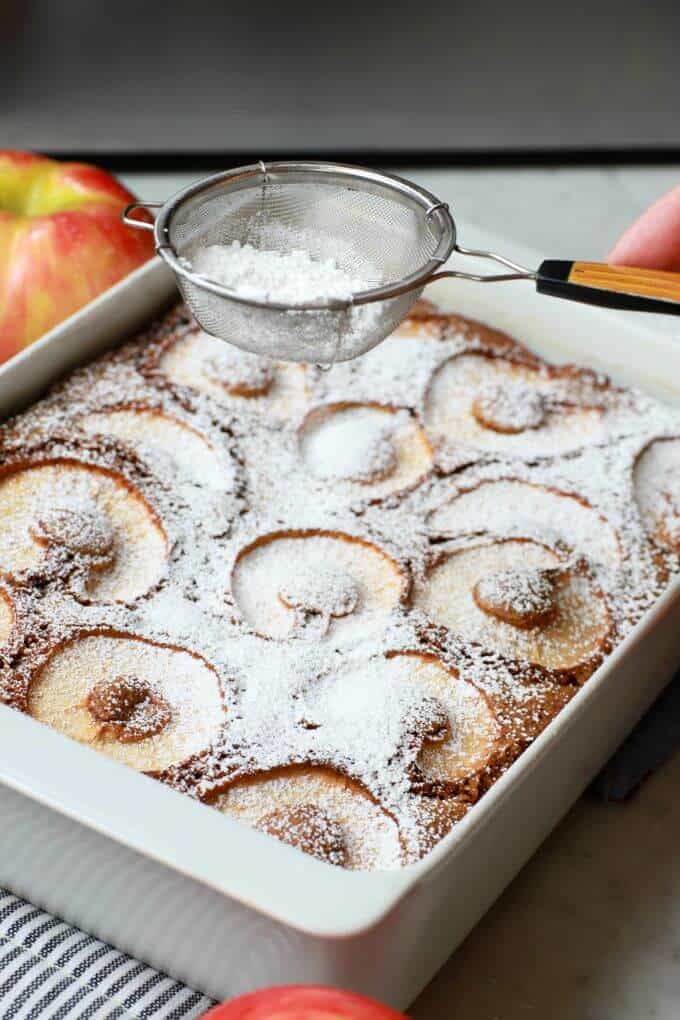 Tip for Making a Great Cake
always use room temperature eggs
use cake flour for a lighter crumb
sift flour together with dry ingredients for an airy texture with no lumps
add dry ingredients to wet ingredients in stages
grease pan well so cake squares can easily be removed from the pan
peel the apples to avoid having tough apple skins after baking
whisk the brown sugar glaze vigorously or process it in a blender to avoid lumps
pour caramel sauce over warm cake
eat a huge slice while the cake is still warm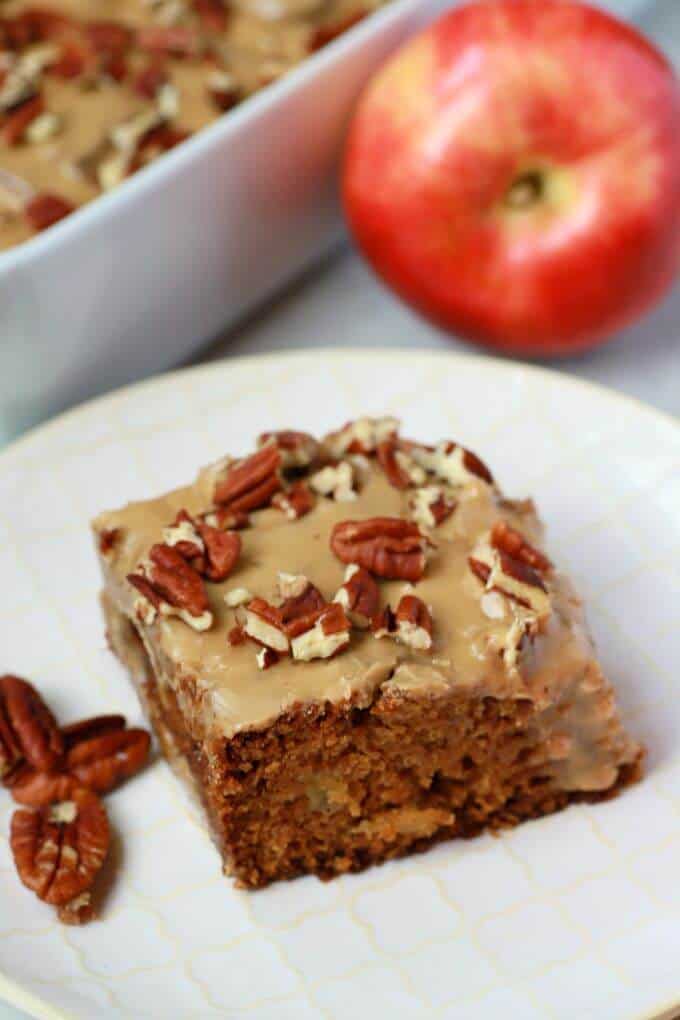 How to Store Apple Dapple Cake
Store any remaining cake in the pan for up to 4 days. Simply cover the pan with plastic wrap or beeswax wrap and store it on the counter so you can snack on it regularly.
Think of this cake for breakfast the next morning!! Heavens that would pull me right out of bed.
If you would like to make the cake ahead of time just let it cool completely then wrap with both plastic wrap and then foil. Place it in the freezer for up to 3 months.
Other Apple Recipes To Enjoy
Apples are fantastic at any time of year but really seemed to be a fall treat. I love a great candy apple or a caramel apple, something that I didn't get as a child but in truth it makes you appreciate a gorgeous apple even more in the fall months.
Apples are a fruit that we have on hand year round though and love to include them in so many recipes like the ones I have to share with you today.
Easy Apple Brandy Sticky Toffee Pudding
Fall Harvest Salad with Champagne Apple Cider Vinaigrette
Cranberry Apple Slow Cooker Carrot Recipe
Copycat Wendy's Apple Pecan Chicken Salad
Apple Boubon Moscow Mule Recipe
Pin it HERE!!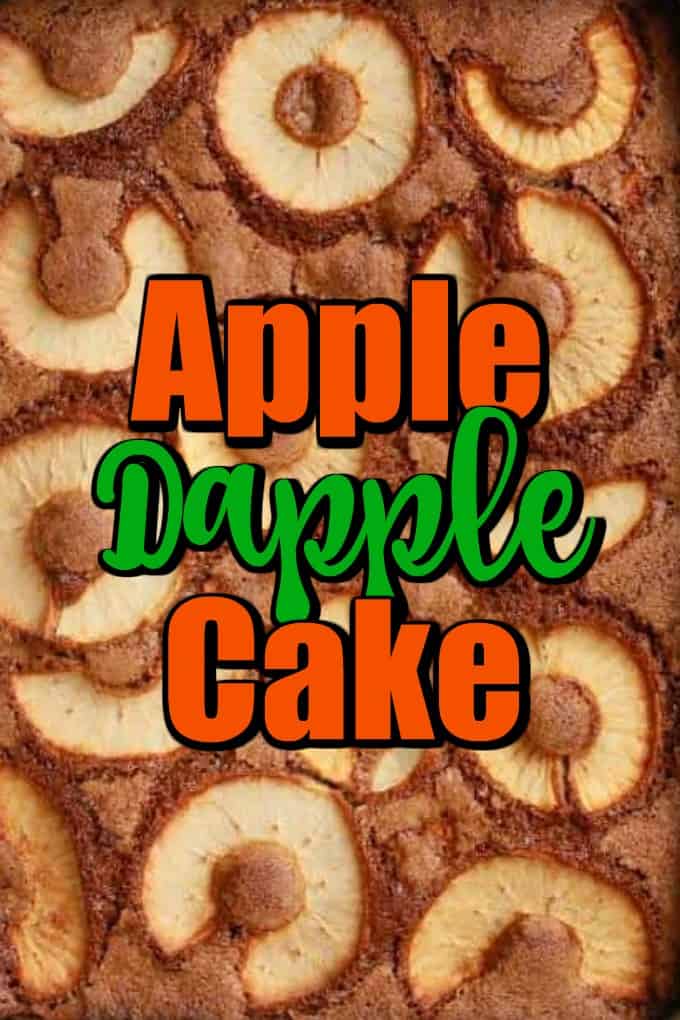 Pin it HERE!!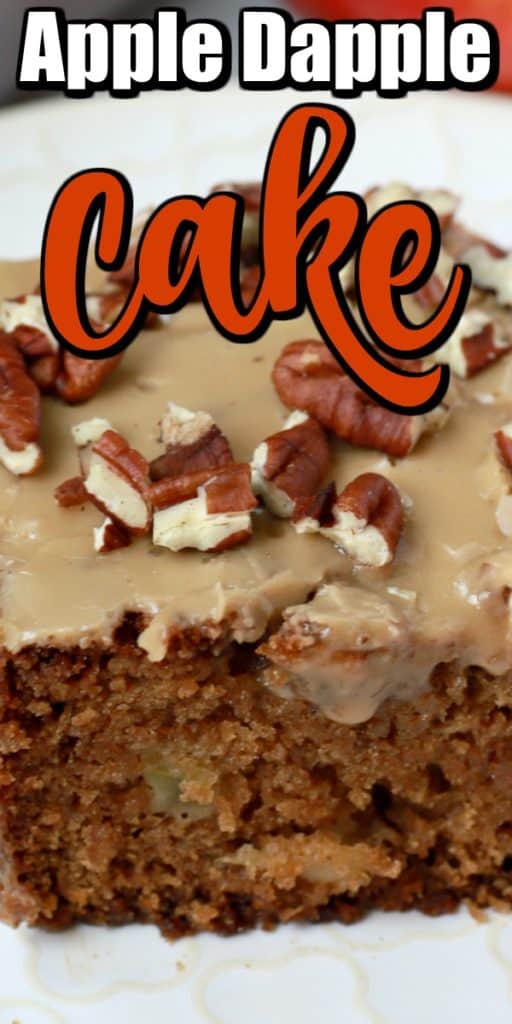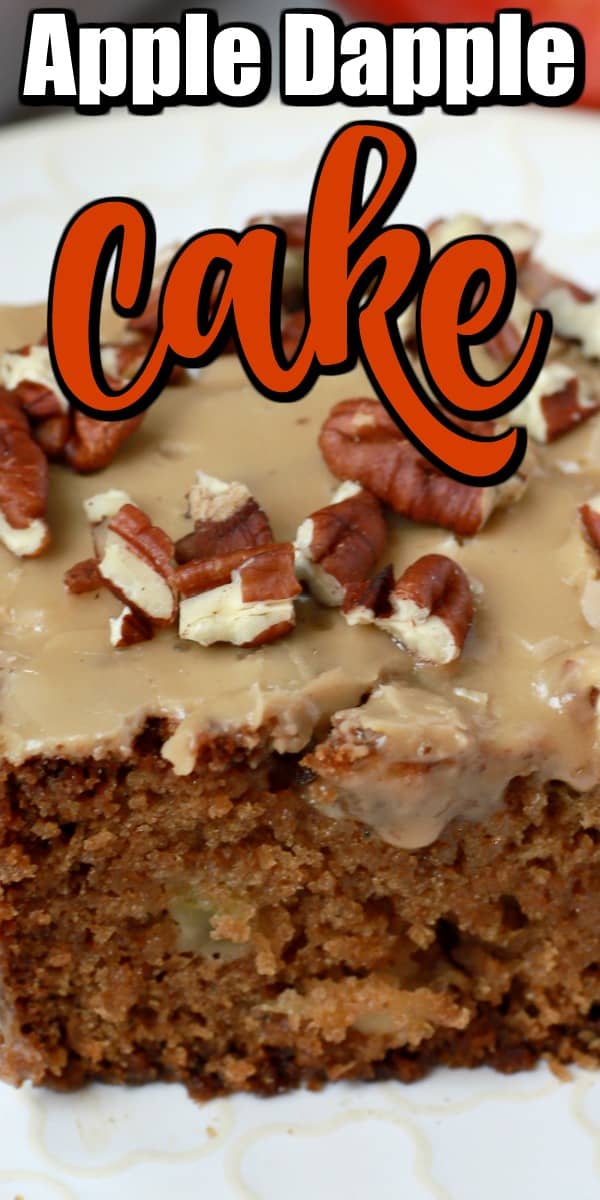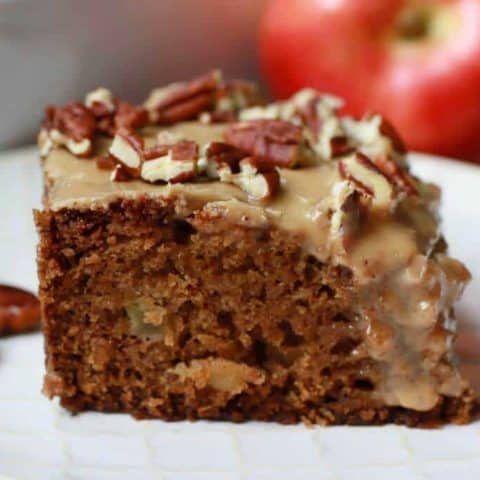 Apple Dapple Cake
Yield: 12 servings
Prep Time: 25 minutes
Cook Time: 1 hour
Total Time: 1 hour 25 minutes
Apple Dapple Cake is a simple vintage cake filled with warming spices, pieces of apple and topped with a sweet 'n' salty brown butter glaze.
Ingredients
2 cups cake flour
1 tsp baking soda
2 tsp ground cinnamon
1/4 tsp ground cloves
1 tsp salt
1 cup white sugar
1 cup brown sugar
1/4 cup sour cream
3/4 cup canola oil
2 eggs
2 tsp vanilla
3 apples; peeled, cored, and chopped (Jonagolds, Cortlands, Honey Crisps, Pink Ladies, Braeburns, or Granny Smith apples)
1 apple; peeled, cored, and sliced into rings (optional)
FOR THE FROSTING
1/2 cup butter; unsalted
1/2 cup milk
1 cup brown sugar
1/2 tsp salt
2 - 3 cups powdered (icing) sugar
1 cup pecans; chopped
Instructions
Pre-heat oven to 350 F. Prepare a 9 x 13 baking pan by rubbing the bottom and sides with butter.
Sift the dry ingredients (flour, baking soda, cinnamon, cloves, salt) together over a medium bowl.
In a large bowl, mix all of the wet ingredients (sour cream, oil, eggs, vanilla) together with the two sugars.
Add dry ingredients to the wet ingredients in three separate additions, stirring each time.
Peel, core, and chop three apples and mix into the wet batter. Slice the other peeled and cored apple into rings. Pour into prepared baking pan.
Slightly smooth out the lumpy batter and arrange rings on the surface of the batter.
Bake at 350 F for 45 minutes, then test cake with a wooden skewer. If it is still quite soft and gooey, bake for another ten and test again. Cake is done when the skewer comes out clean.
FOR THE BROWN BUTTER FROSTING
While the cake is baking, melt 1/2 cup butter in a medium saucepan. Allow it to foam up and darken slightly. The butter is 'browned' when it has darkened and released a sweet nutty aroma.
Add the brown sugar and milk to the browned butter and allow to come to a rolling boil.
Remove from heat and let sit 10 minutes.
At this point, the solids have separated. Add the mixture to a blender and process until smooth.
Add the salt, then icing sugar one cup at a time (processing in between additions) until you have reached the desired consistency.
Pour over warm cake. Scatter chopped pecans over the glaze. Let sit for ten minutes and serve.

Notes
If you wish to skip the frosting, simply finish the top of the cake with a light dusting of powdered (icing) sugar.
Recommended Products
As an Amazon Associate and member of other affiliate programs, I earn from qualifying purchases.
Nutrition Information:
Yield: 12
Serving Size: 1
Amount Per Serving:
Calories: 572
Total Fat: 30g
Saturated Fat: 7g
Trans Fat: 0g
Unsaturated Fat: 21g
Cholesterol: 55mg
Sodium: 425mg
Carbohydrates: 75g
Fiber: 3g
Sugar: 53g
Protein: 4g