Cranberry Apple Slow Cooker Carrots is an easy and unique side dish perfect for Thanksgiving, Friendsgiving, or Christmas. Cooking them in a slow cooker brings out their natural sweetness and I love cooking carrots this way!
I'm back with another drool-worthy recipe for you! Hi, it's me, Jordan, by the way! We met last month over the Fall Harvest Salad I shared with you. I'm usually over at jz-eats.com, but today I'm here sharing an easy to make side dish perfect for fall!
Summer honestly went by way too fast for me. I can't believe we're already talking about Thanksgiving and Christmas. However, the weather here in Maryland is about as ready for fall as I am. It's not. Lately, we've had days in the 80's which is so not normal for this time of year! Or try our Caramelized Carrots, they are great for Easter too.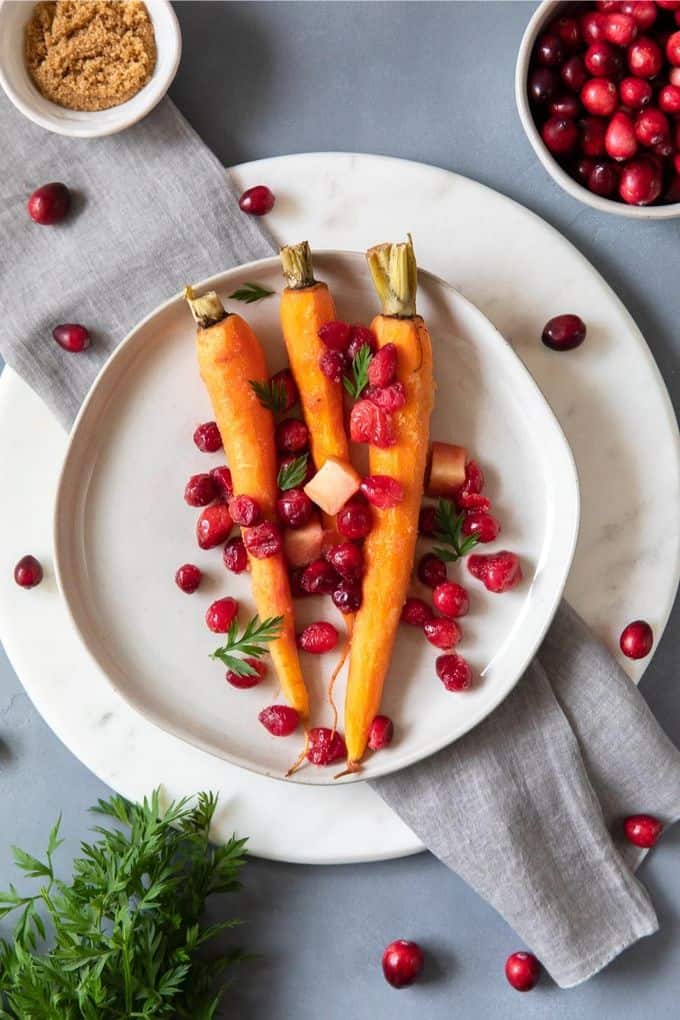 Helpful Tips, Tricks, and Equipment
This post contains affiliate links. As an Amazon Associate, I earn from qualifying purchases.
Slow Cooker Carrots
Anyways, I want to tell you all about these carrots and why you're going to love them so much. I already love carrots anyway I can get them from roasted carrots to simple butter carrots and don't forget carrot cake!!
Around the holidays, we tend to use up every square inch of our kitchen, every rack in the oven, and every burner on the stove. Even the microwave seems to be occupied at all times!
That's why I love crock pot recipes. I can put all the ingredients in the slow cooker, set it and forget it. Sometimes, I will even plug it in outside of the kitchen so I can have all the counter space.
If you're bringing these slow cooker carrots to a friend or family's home, slow cookers are easily transportable and can be plugged in anywhere to keep your dish warm. I loathe fighting over stove and oven space at Friendsgiving, so these slow cooker carrots are a lifesaver!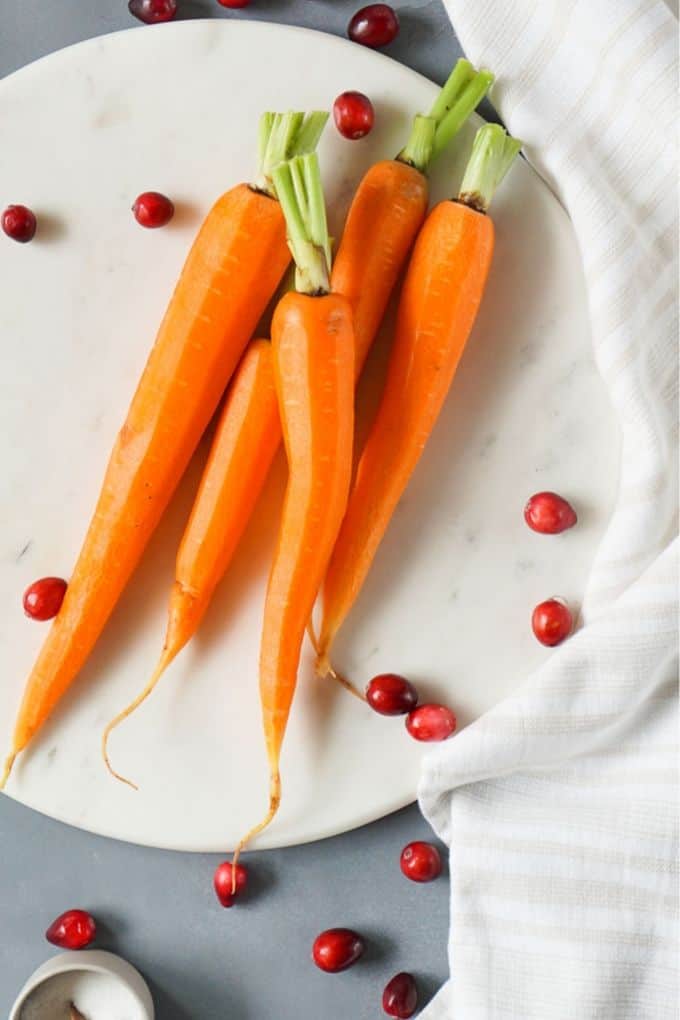 Glazed carrots are such an easy way to elevate plain carrots and just make them shine. Who cares what the cook time is when you are using a completely different appliance. I love how freeing this recipe is.
Slow Cooker Carrots Ingredients
This isn't just any old carrot recipe, these are cranberry-apple slow cooker carrots. Two fall staple ingredients brought together to create a sweet and tangy side dish that just screams fall!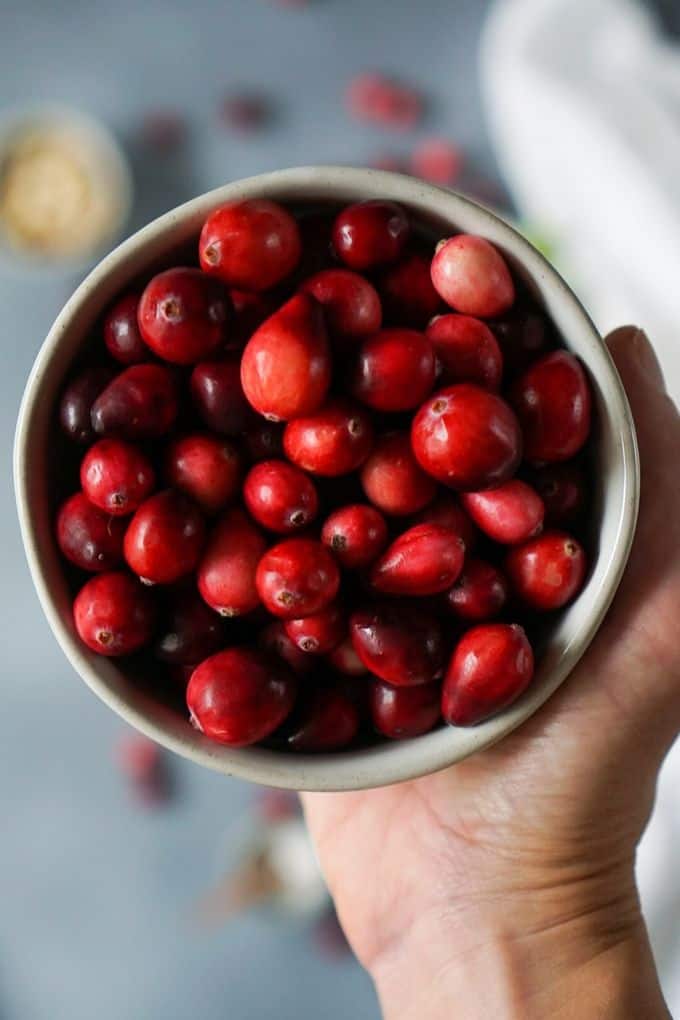 We're using fresh cranberries and apples, a heaping of brown sugar to balance out the tart flavor of the berries, and some maple syrup to create a sticky glazey sauce for slathering over the carrots.
How to Make Slow Cooker Carrots
Slow cooker carrots are one of the easiest things I've ever made! The prep is simple and you don't even have to think about the carrots while they cook for several hours.
When I first made this recipe I used full-sized carrots. I put all the ingredients in the slow cooker together and stirred them after about an hour to combine everything.
The next time I tested the recipe, I decided to chop the carrots into 1-inch medallions, combine all of the ingredients in a saucepan, and then transfer them to the slow cooker. I liked this method MUCH better. Baby carrots work too and don't require extra prep (peeling and chopping) so I've listed them in the ingredient section of the recipe card rather than full-sized carrots.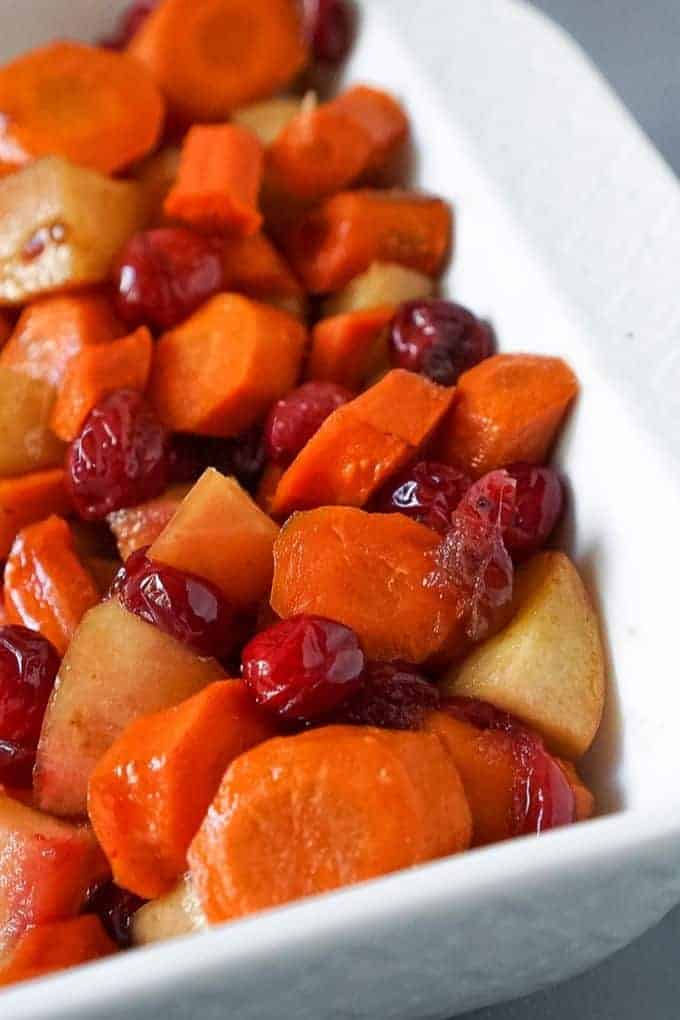 To make the carrots, start by heating a medium-sized saucepan with butter over medium-low heat. Once the butter has melted, add the maple syrup and brown sugar. Stir until the brown sugar is completely dissolved and there are no clumps in the mixture.
Next, mix in the cranberries, apple, and carrots until they are fully coated in the sauce. If you are using full-sized carrots, pour the cranberry sauce mixture over them in the slow cooker and toss until fully coated. Cook everything on low for 4 hours.
Some Questions You Might Have About This Carrot Recipe
What type of carrots should I use?
I tested this recipe a few times and actually preferred using baby carrots or full-sized carrots sliced into 1-inch medallions. I found it easier to coat the carrots this way. They are easier to eat, too! Full-sized carrots make a really nice presentation though.
Which herbs can I use in this recipe?
Herbs like rosemary or parsley taste great with these slow cooker carrots. Be careful not to add too much rosemary or it will overpower the other flavors.
I love to garnish the carrots with fresh chopped parsley or a few of the carrot top leaves. The carrot tops can be bitter, so don't use too many!
Can I caramelize the carrots?
If you want a nice, sticky caramelization on the carrots, place them on a foiled baking sheet and broil them on high for 2 minutes. Watch them carefully so they don't burn!

What to serve with slow cooker carrots
Other slow cooker recipes
More easy side dishes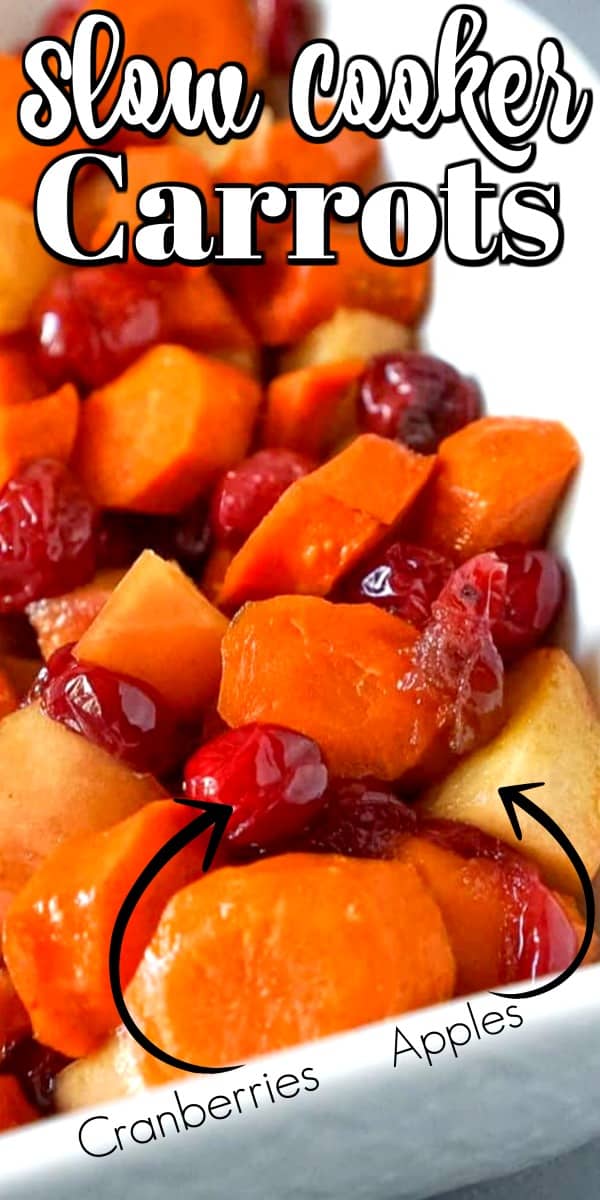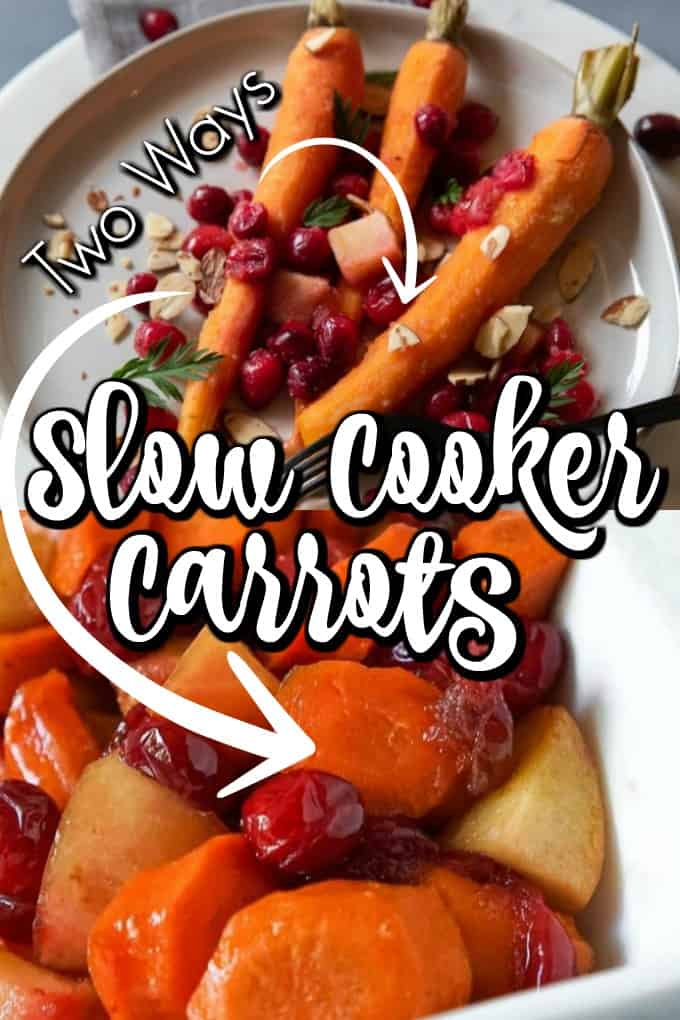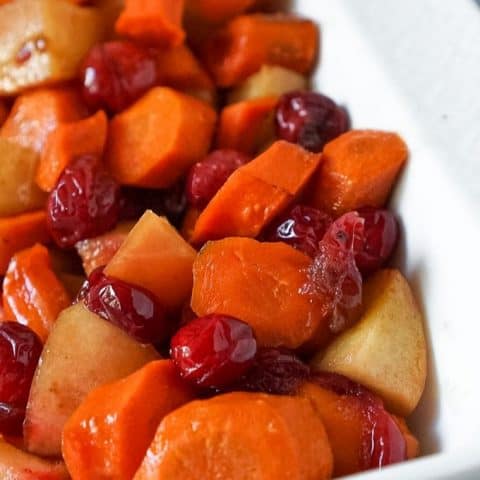 Cranberry Apple Slow Cooker Carrots Recipe
Yield: 4
Prep Time: 10 minutes
Cook Time: 4 hours
Total Time: 4 hours 10 minutes
Cranberry Apple Slow Cooker Cooker Carrots Recipe is an easy side dish for the holidays that frees up the oven for other uses. We have two variations of the recipe to show you.
Ingredients
16 oz baby carrots*
1 cup fresh cranberries
1 apple, cubed, I used a honey crisp
1/4 cup butter
1/3 cup maple syrup
1/2 cup brown sugar
Instructions
Soften butter in a medium-sized saucepan over medium-low heat.
When butter is melted, add maple syrup and sugar, stirring until the sugar has completely dissolved and there are no clumps. Remove the saucepan from the heat and add cranberries, apple, and carrots, toss to coat completely.
Transfer all ingredients to the slow cooker and cook on low for 3 hours.*
Notes
If using full sized carrots, drizzle the cranberry sauce mixture over them in the slow cooker and toss to coat.
This recipe produces firm carrots that still have a little crunch, if you prefer softer carrots, cook on low for 4 hours.
Recommended Products
As an Amazon Associate and member of other affiliate programs, I earn from qualifying purchases.
Nutrition Information:
Yield: 4
Serving Size: 1
Amount Per Serving:
Calories: 310
Total Fat: 12g
Saturated Fat: 7g
Trans Fat: 0g
Unsaturated Fat: 4g
Cholesterol: 31mg
Sodium: 190mg
Carbohydrates: 53g
Fiber: 4g
Sugar: 45g
Protein: 1g