I like trying different things with veggies to bring out their natural goodness. Roasting is a favorite of ours, so I thought I would make this simple Garlic Roasted Broccolini. It is a simple side dish that roasts to a beautiful golden brown quickly in 20-25 min.
Man, was this roasted broccolini recipe good, we all raved over it. Roasting broccolini in the oven brings out a nutty flavor to it. We make this recipe all the time.
I know sometimes broccolini isn't always easy to find, not all grocery stores carry it and it can be a little pricey but this made the best side and it couldn't have been easier.
The garlic flavor infused so nicely throughout the broccolini. The olive oil crisped up the edges and gave it a little crunch. The Kosher salt and freshly ground pepper added the right zing. This dish could not be simpler yet tasting so fantastic!
When broccoli or broccolini is cooked correctly it brings out a gorgeous green color and that makes it so pretty to serve. If you enjoy this recipe you have to check out our Spiced Roasted Cauliflower, another dish that is very popular on our site.
How to Roast Broccolini in the Oven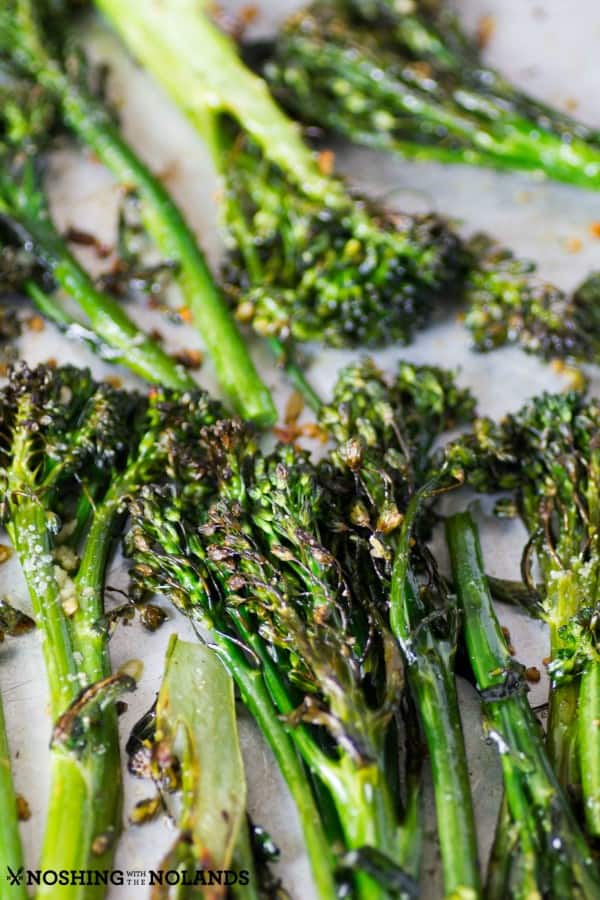 Roasting broccolini is easy; you just need a rimmed baking sheet, salt and pepper, garlic, good quality olive oil and, of course, the broccolini. It only takes about 20 to 25 minutes until the broccolini is done. Keep the broccolini in a single layer on your sheet pan for the best result.
This dish would be an excellent side to a great beef dinner, roast or steaks. It would also marry with fish, chicken, and pork nicely. I like to add in a different veggie every now and then and therefore keep things fresh for our family meals!! No one wants the same veggies over and over again!
Did you know that broccolini can also be called Brocolette, Sweet Baby Broccoli, Asparation and Brocoletti. I have only seen it by broccolini but that is interesting. Have you seen it called anything else before?
It is also good to know that broccolini was developed as a natural hybrid rather than being genetically modified.[5]
Is Broccolini Healthy?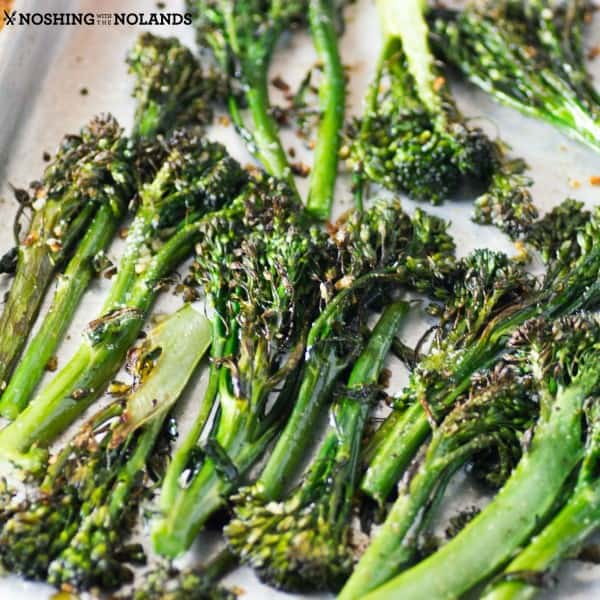 Broccolini is a very healthy vegetable and is good for heart health too because it has a decent amount of potassium. It also contains good amounts of vitamin A and vitamin C. These two vitamins have effects that help with inflammation.
If I can get vegetables into my family in a delicious way where they look forward to the meal, then we are all winning.
Try this recipe on for size and I hope you like it as much as we do. It is the best way to do broccolini and so simple too!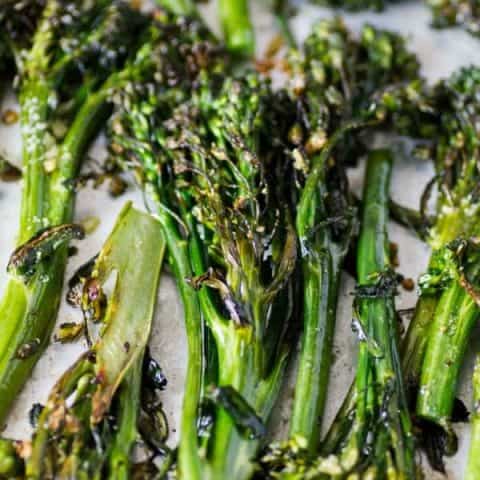 Garlic Roasted Broccolini
Yield: 4 servings
Prep Time: 5 minutes
Cook Time: 25 minutes
Total Time: 30 minutes
A simple way to make broccolini fantastic by roasting it with garlic and olive oil.
Ingredients
2 bunches broccolini
1 heaping tsp. minced garlic
2 Tbsp. olive oil (good quality EVOO)
Kosher salt
Freshly ground pepper
Instructions
Preheat oven to 400F. Wash and trim the broccolini and cut in portions for the larger pieces. Lay on a rimmed baking sheet. Mix the garlic with the olive oil. Toss the broccolini with the olive mixture. Sprinkle with Kosher salt and pepper. Roast for 20-25 min. or until tender and crispy. Check after 15 min. and toss if necessary.
Nutrition Information:
Yield: 4
Serving Size: 1
Amount Per Serving:
Calories: 81
Total Fat: 7g
Saturated Fat: 1g
Trans Fat: 0g
Unsaturated Fat: 6g
Cholesterol: 0mg
Sodium: 163mg
Carbohydrates: 4g
Fiber: 2g
Sugar: 1g
Protein: 1g
Recipe calculation was provided by Nutritionix and is an estimation only. If you need nutritional calculations for medical reasons, please use a source that you trust.