Cheesy Sloppy Joe Macaroni Casserole
Do you have a thing for comfort food? I sure do, plus comfort food usually equates to fairly easy dishes like this Cheesy Sloppy Joe Macaroni Casserole. This cheesy, beef, saucy scrumptious casserole will have you coming back for seconds but it makes lots so that is okay. A big 9×13″ pan will feed an army or a smaller family for a few nights.
I love casseroles like this, full of flavor, spices, beef, pasta, cheese. What is not to love?!! A nice crunchy salad and you have dinner on the table. This is perfect fare for a weeknight meal and one that kids and adults will love!
Need a great potluck dish, this would serve as a real winner to take anywhere you need a dish. I bet it will be the first one to disappear.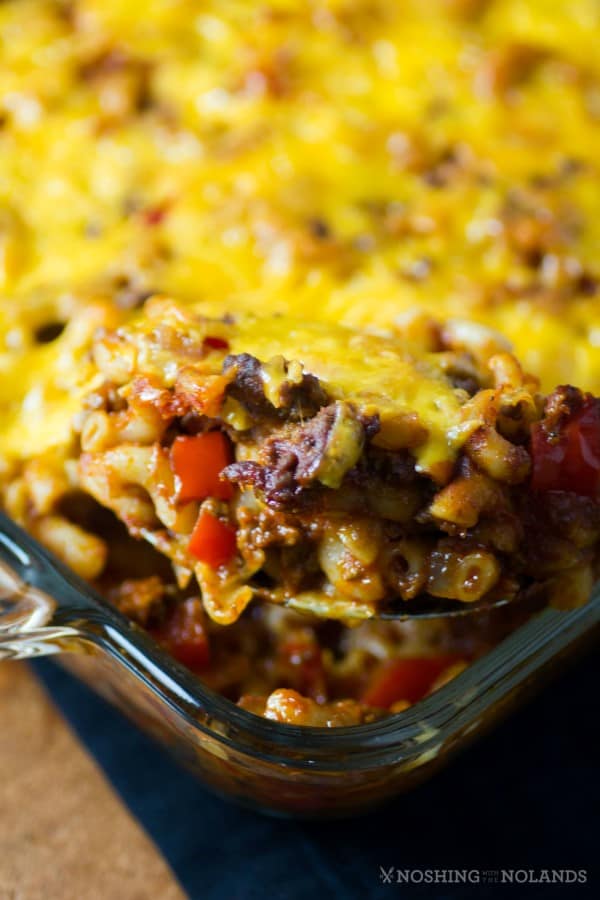 Pass your plate over and I will serve some up to you!! Do you want two or three scoops? You can always come back for more, there is lots!!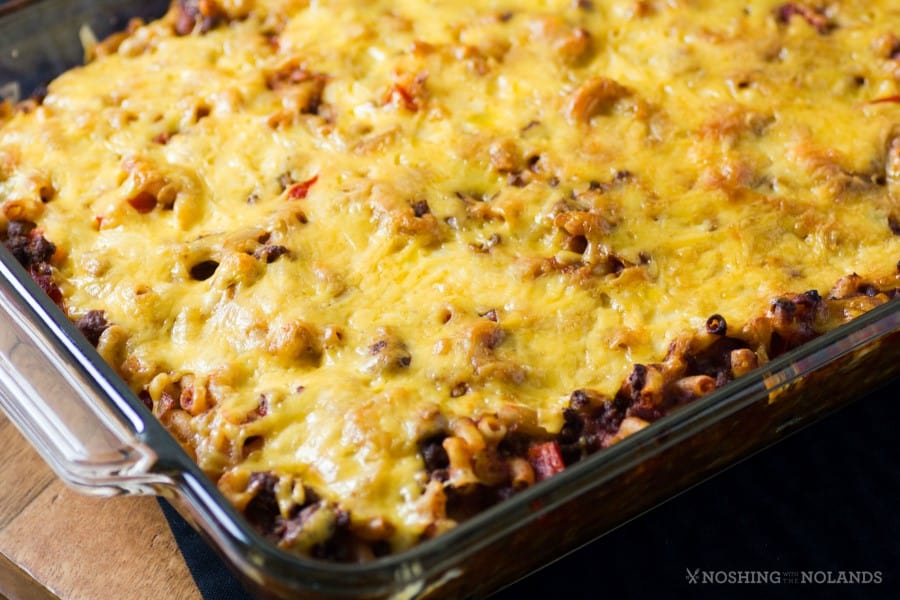 With sports at full tilt this time of year, this is an easy supper to make ahead and then pop in the oven when you get home. The kids will be loving this one, who doesn't love a great sloppy joe after the big game!! This would work well being tossed into the freezer too for busy nights. Take it out in the morning and defrost, then it is ready to be popped in the oven and heated up in a hurry.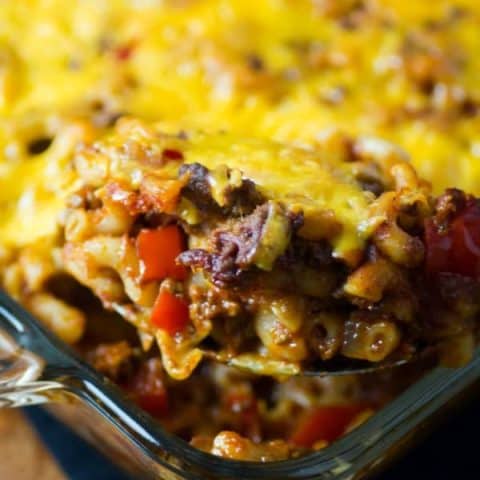 Cheesy Sloppy Joe Macaroni Casserole
Yield: 6-8 servings
Prep Time: 20 minutes
Cook Time: 25 minutes
Total Time: 45 minutes
A great make ahead casserole that will be ready when you are on busy nights. It is pure comfort food with all the flavors of a great Sloppy Joe.
Ingredients
1 Tbsp. olive oil
1 red bell pepper, diced
1 yellow onion, diced
4 tsp. finely chopped garlic
1 1/2 lbs. lean ground beef
2-(14 oz.) cans tomato sauce
1 small can (5.5 oz.) tomato paste
2 tsp. chili powder
2 tsp. cumin
2 tsp. Kosher salt or salt to taste
1/2 cup beef broth
2 Tbsp. red wine vinegar
2 Tbsp. Worcestershire sauce
3 Tbps. brown sugar
12 oz. macaroni, cooked in salted water according to package
2 cups grated cheddar cheese
Instructions
Pour the olive oil into a large skillet and on medium heat saute the beef until browned. Add in the peppers, onions and garlic and cook until tender.
Preheat oven to 400F. Meanwhile, in a medium bowl stir the tomato sauce with the tomato paste along with the chili powder, cumin, beef broth, vinegar, Worcestershire, and brown sugar. Stir to combine. Add into the beef mixture when cooked. Let simmer on low heat to thicken for about 5-10 min. Add in the pasta and stir well. Place the mixture in a 9x13" pan and sprinkle with the cheese.
Bake for 20 min. or until the casserole is bubbling and the cheese is melted.
The uncooked casserole can be made ahead of time and frozen or covered and refrigerated. If frozen thaw. The baking time will have to be increased if the casserole is cold, probably by 10-15 min.