These Roasted Brussels Sprouts with Parmesan are packed with flavor and make an amazing side dish. We love Brussels sprouts!! Using only 5 ingredients, this is a recipe that you can whip up in less than 30 minutes — and devour in five minutes.
Have you ever thought that the recipes with a gazillion ingredients must be good but they look incredibly complicated? And regardless as to how good they look, you avoided them at all costs? Guilty as charged.
Well, over the years I've concluded that simple recipes with simple ingredients can be just as tasty, if not tastier (wink-wink). For example, remember the Green Beans Almondine, Pan-Fried Carrot and Parsnip Recipe, or Slow Cooker Creamed Corn recipe? Or how about the Rice Cooker Rice Pilaf? Both are easy to make and incredibly delicious dishes. I call that winning, friends.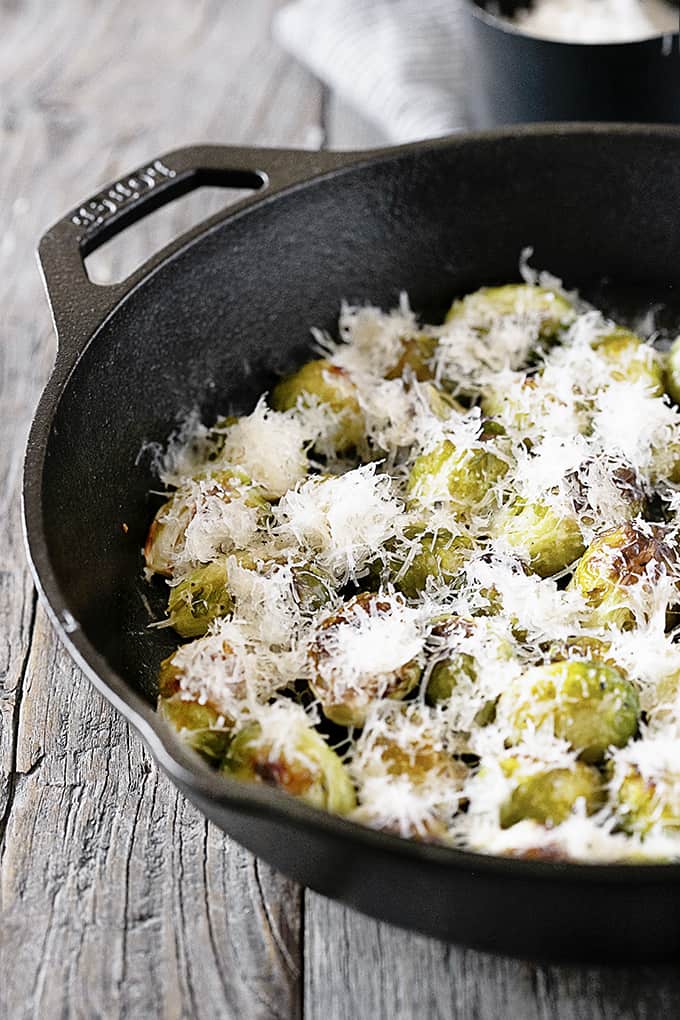 Helpful Items for This Recipe
This post contains affiliate links. As an Amazon Associate, I earn a small portion from qualifying purchases at no extra charge for you.
Hey guys. It's me, Kelly. I'm back today to share this savory, hearty green vegetable side dish with you. And just in case we haven't met yet, I'm the creator and writer behind the blog, Live Laugh Rowe. We celebrate life, creativity, and food in our little corner of the web. Feel free to swing by and say hi.
Any vegetable lovers out there? I'm so grateful that I love vegetables. And brussels sprouts are at the top of that list, especially if they're roasted. Upon discovering how amazing they tasted when roasted, I could probably eat them a couple of times a week. Roasted vegetables are the best!!
Did you know that brussels sprouts are also called mini or little cabbages? I was not aware of this until recently. However, it makes sense — and if you like cabbage, you're sure to like brussels sprouts. I love the rich, nutty flavor of them.
How do you destem brussels sprouts?
To destem brussels sprouts, you'll need a paring knife to trim the bottom stem off of the sprouts. Be sure to remove any blemished leaves by simply peeling them off and discarding. Yep, it's that easy.
What goes good with roasted brussels sprouts?
For fruits and vegetables, brussels sprouts go well with carrots. apples, dried cranberries, red potatoes, onions, and spinach. When it comes to meat, pair the sprouts with bacon, chicken, salmon, beef short ribs, scallops and a variety of steaks. Don't forget that cheese can be a good pairing as well.
Today we're making parmesan Brussels sprouts, but shredded cheddar and bleu cheese can add a savory addition to the dish or plates. Being that Brussels sprouts are such a versatile side dish, they can pair well with many other side dishes as well.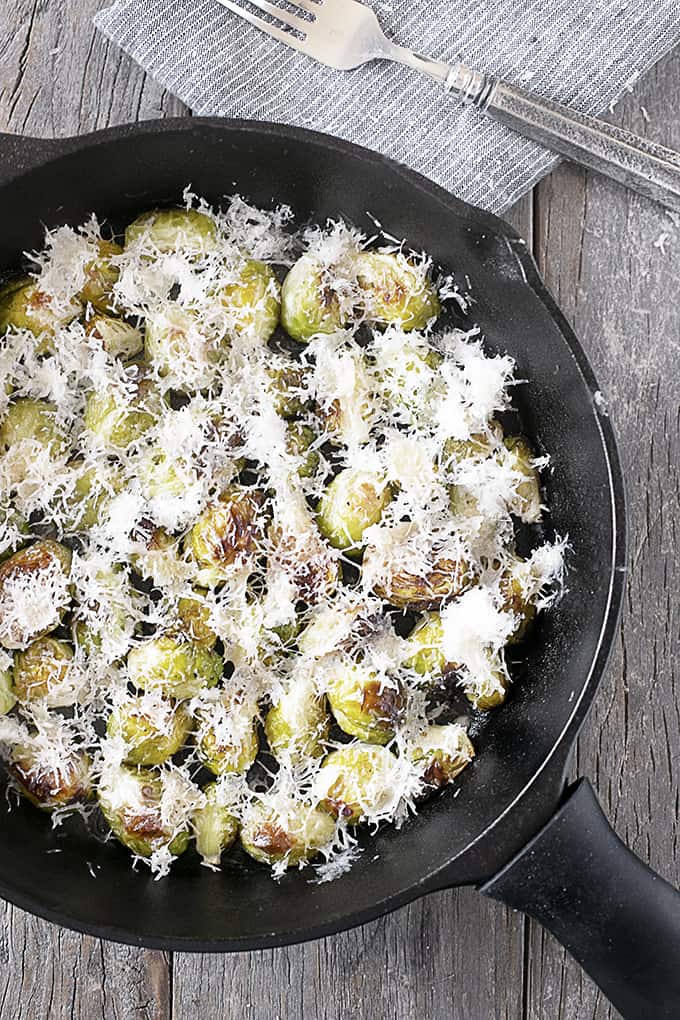 How to Make Roasted Brussels Sprouts with Parmesan Cheese
Ingredients:
Brussels Sprouts
Extra Virgin Olive Oil, or oil of choice
Salt and Pepper, to taste
Shredded Parmesan or Parmigiano-Reggiano
Non-stick cooking spray
Preheat oven to 400 F. If using a cast iron pan, place the pan in the oven while warming.
Let's wash, trim and cut the brussels sprouts in half (lengthwise). If the sprouts are smaller, leave them whole for cooking. Place them in a large bowl.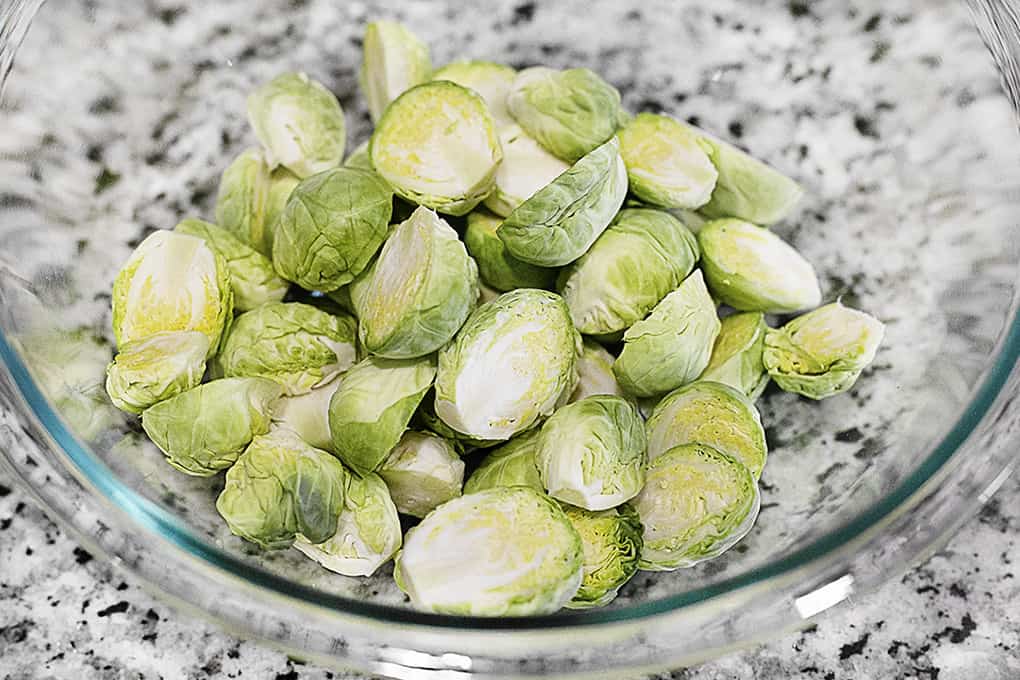 Next, toss the brussels sprouts with the olive oil. Season with salt and pepper.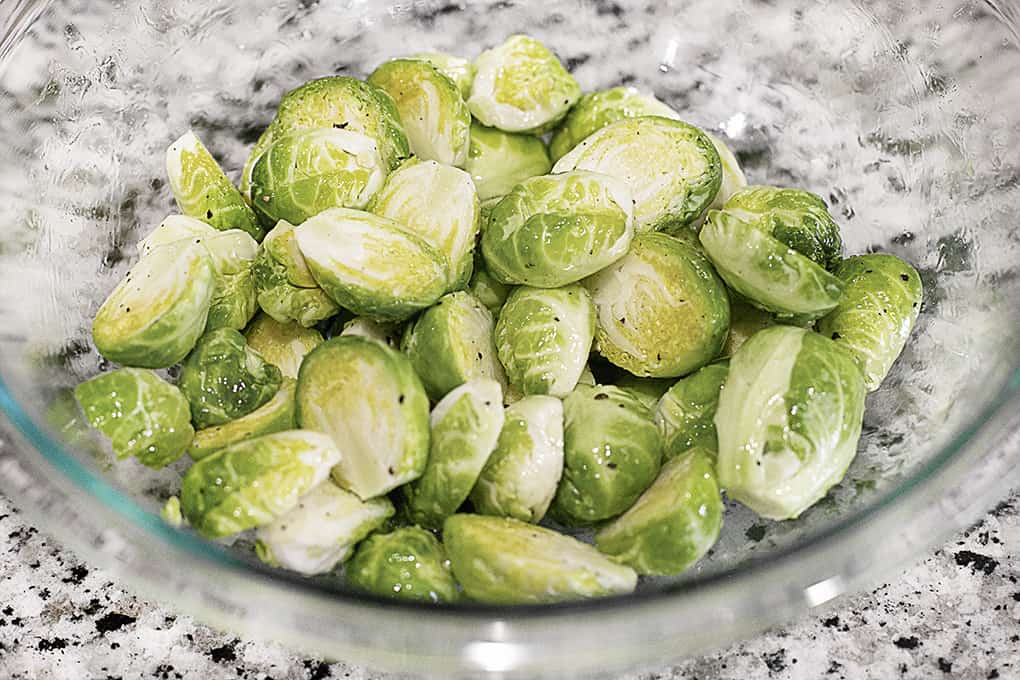 Carefully remove the hot skillet from the oven (if you're using a cast iron pan) and spray with cooking spray. If you're using a baking sheet, line it with aluminum foil and spray with cooking spray.
Add brussels sprouts in a single layer, cut side down and bake until tender and browned 25-35 minutes. Keep in mind that the size of the brussels sprouts will have an impact on the cooking time.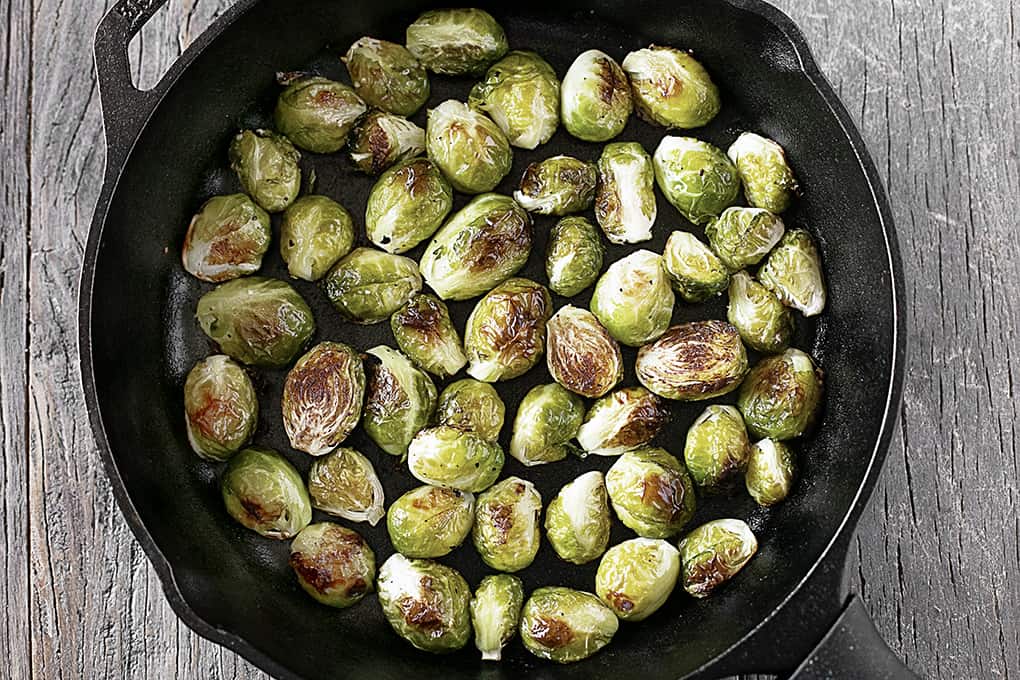 Sprinkle shredded parmesan cheese onto the brussels sprouts before serving. An option to add a little extra flavor is to add some lemon zest before serving as well. Bacon is another tasty add-on to elevate the dish.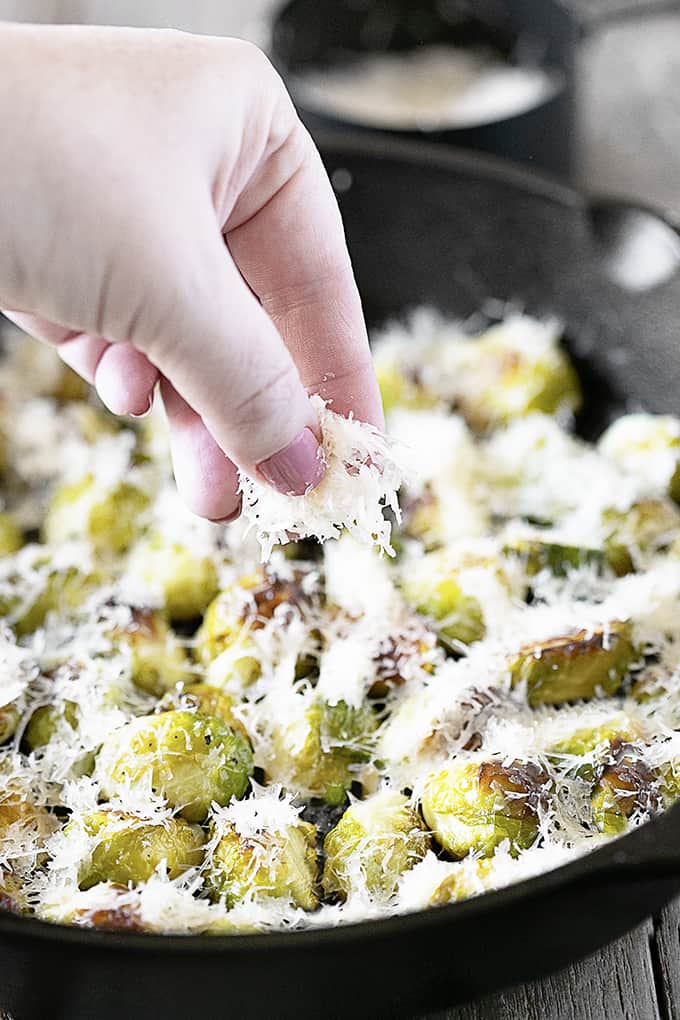 These parmesan roasted brussels sprouts are simply the best!! Make them for your next meal; your family will rave for them again and again. They make a great weeknight side dish as they are so easy to make but taste like they belong on your Sunday dinner table.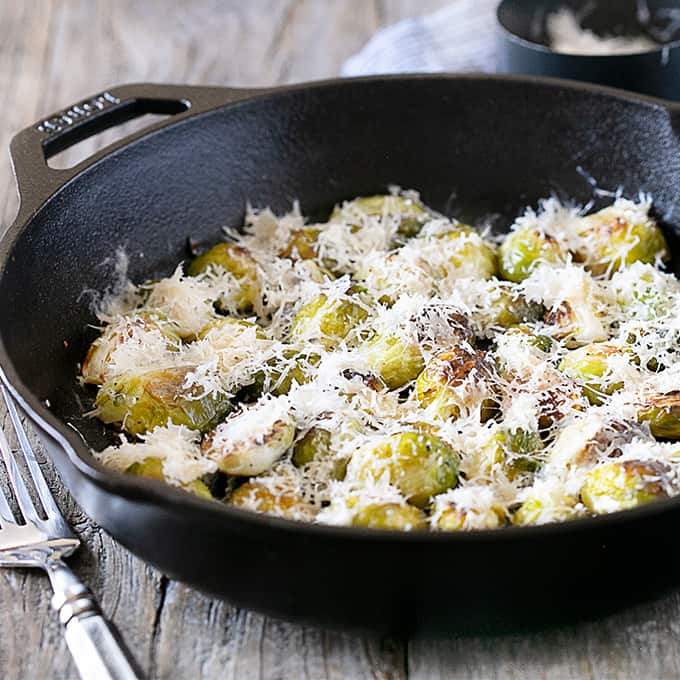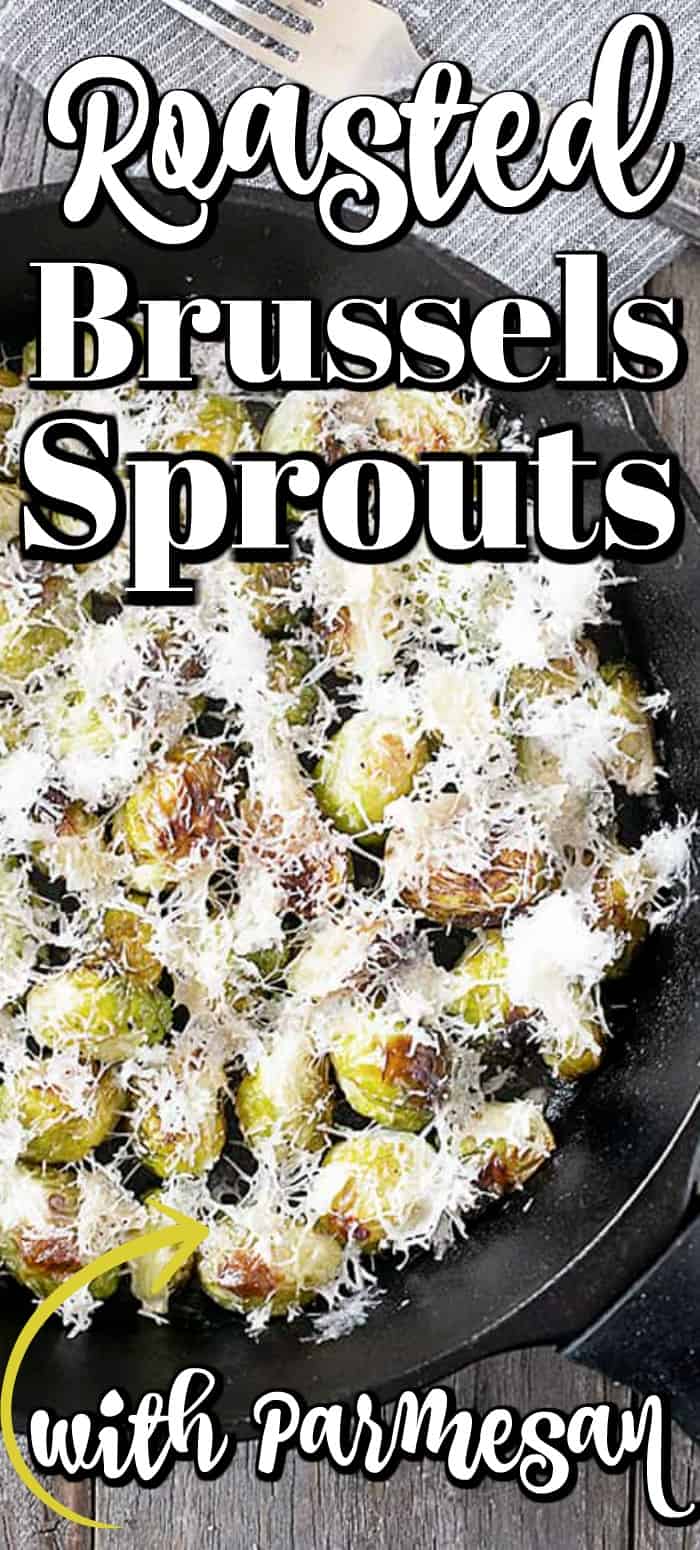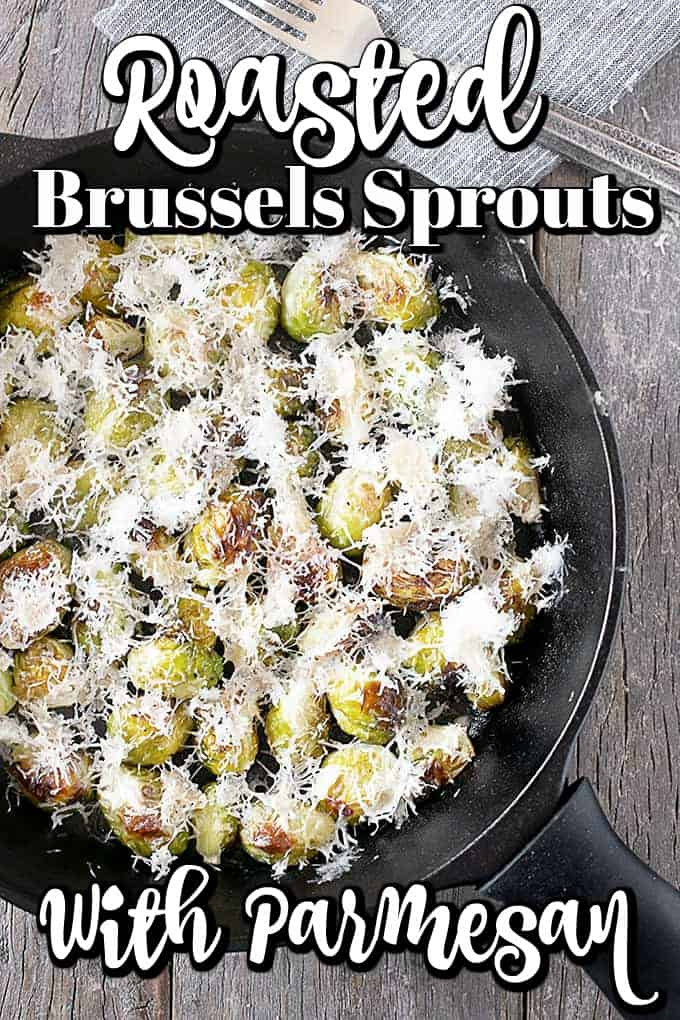 Roasted Brussel Sprouts Recipe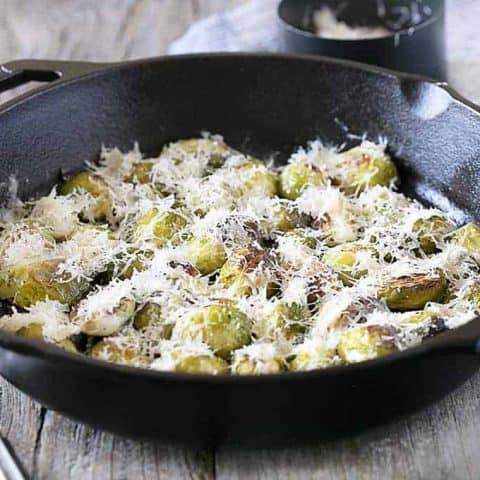 Roasted Brussels Sprouts with Parmesan
Yield: 4 servings
Prep Time: 10 minutes
Cook Time: 30 minutes
Total Time: 40 minutes
These Roasted Brussels Sprouts with parmesan is a hearty green vegetable side dish made with only five simple ingredients. Perfect for a side dish or a snack!
Ingredients
Non-stick cooking spray
1 lb. brussels sprouts, halved
2 tablespoons extra virgin olive oil
Salt, seasoned to taste
Pepper, seasoned to taste
3/4 to 1 cup parmesan cheese, shredded
Instructions
Place a 10-inch cast-iron pan in the oven and preheat the oven to 400 F.
Wash, trim and slice brussels sprouts lengthwise.
Toss the brussels sprouts with the extra virgin olive oil in a bowl and season with salt and pepper.
Remove the cast-iron skillet from the oven (carefully) and spray with cooking spray.
Place brussels sprouts in a single layer in skillet. Roast until brown and crispy, approximately 25-35 minutes.
Notes
If using a baking sheet to roast brussels sprouts, place aluminum foil on the baking sheet and spray with non-stick cooking spray. Oven temperature and cooking time remain the same.
Recommended Products
As an Amazon Associate and member of other affiliate programs, I earn from qualifying purchases.
Nutrition Information:
Yield: 4
Serving Size: 1
Amount Per Serving:
Calories: 165
Total Fat: 12g
Saturated Fat: 4g
Trans Fat: 0g
Unsaturated Fat: 7g
Cholesterol: 11mg
Sodium: 424mg
Carbohydrates: 9g
Fiber: 3g
Sugar: 2g
Protein: 9g
Recipe calculation was provided by Nutritionix and is an estimation only. If you need nutritional calculations for medical reasons, please use a source that you trust.