These deliciously crispy Air Fryer Brussels Sprouts are the best way to enjoy a plate of vegetables. With only three ingredients (sprouts, olive oil, and salt), you can transform these healthy vegetables into an irresistibly crunchy side dish. You can even dress these Air Fryer Brussels Sprouts up with a little bit of bacon, and maple syrup, and/or balsamic vinegar for a vegetable dish everyone will want to bite into.
For more tasty side dish ideas, be sure to check out our Air Fryer Diner Home Fries, Air Fryer Easy Garlic Bread, or our Best Fried Zucchini. Or for a main make this divine Air Fryer Roast Chicken.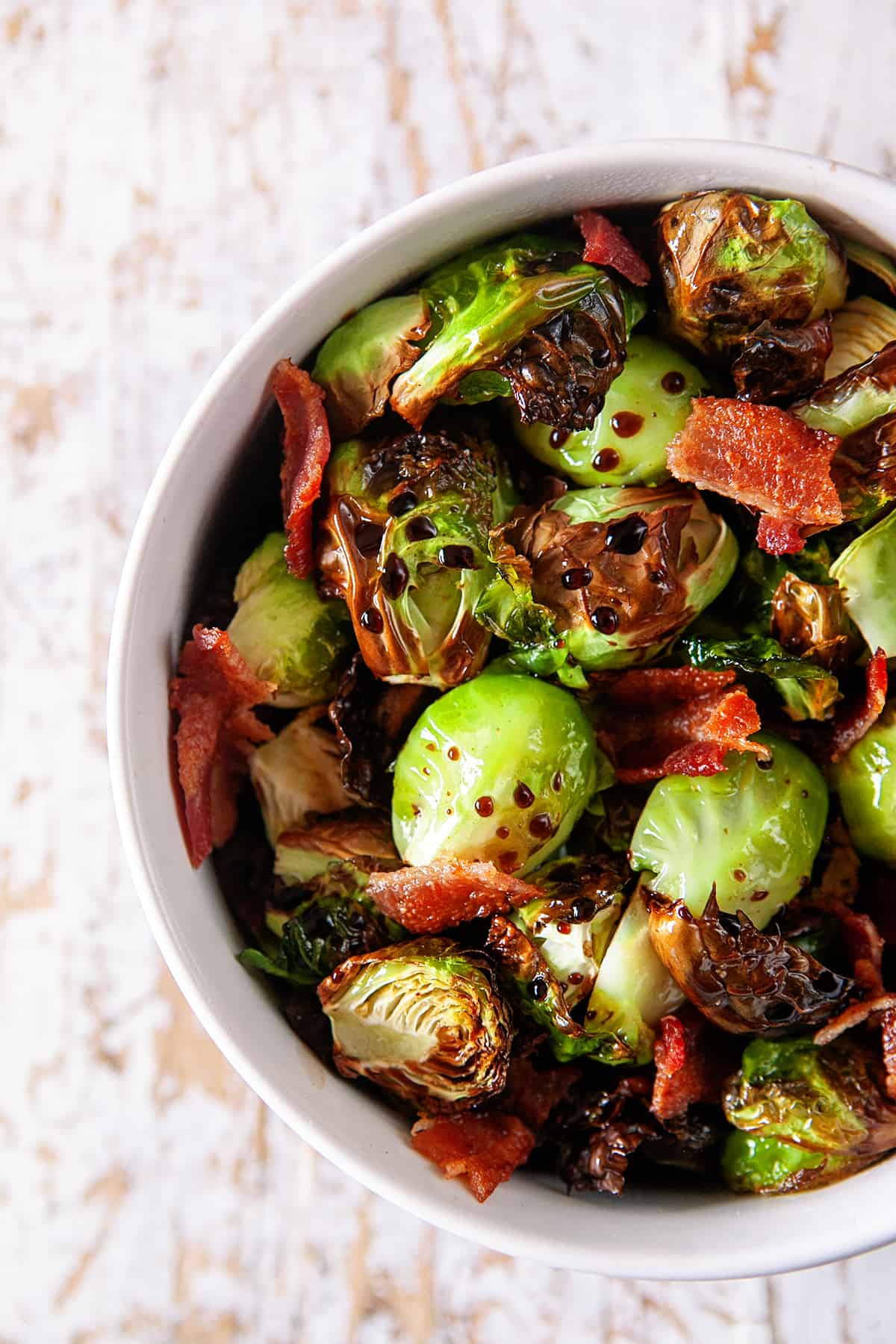 Subscribe To Our Weekly Newsletter
Helpful Items For This Recipe
This post contains affiliate links. As an Amazon Associate, I earn a small portion from qualifying purchases at no extra charge to you.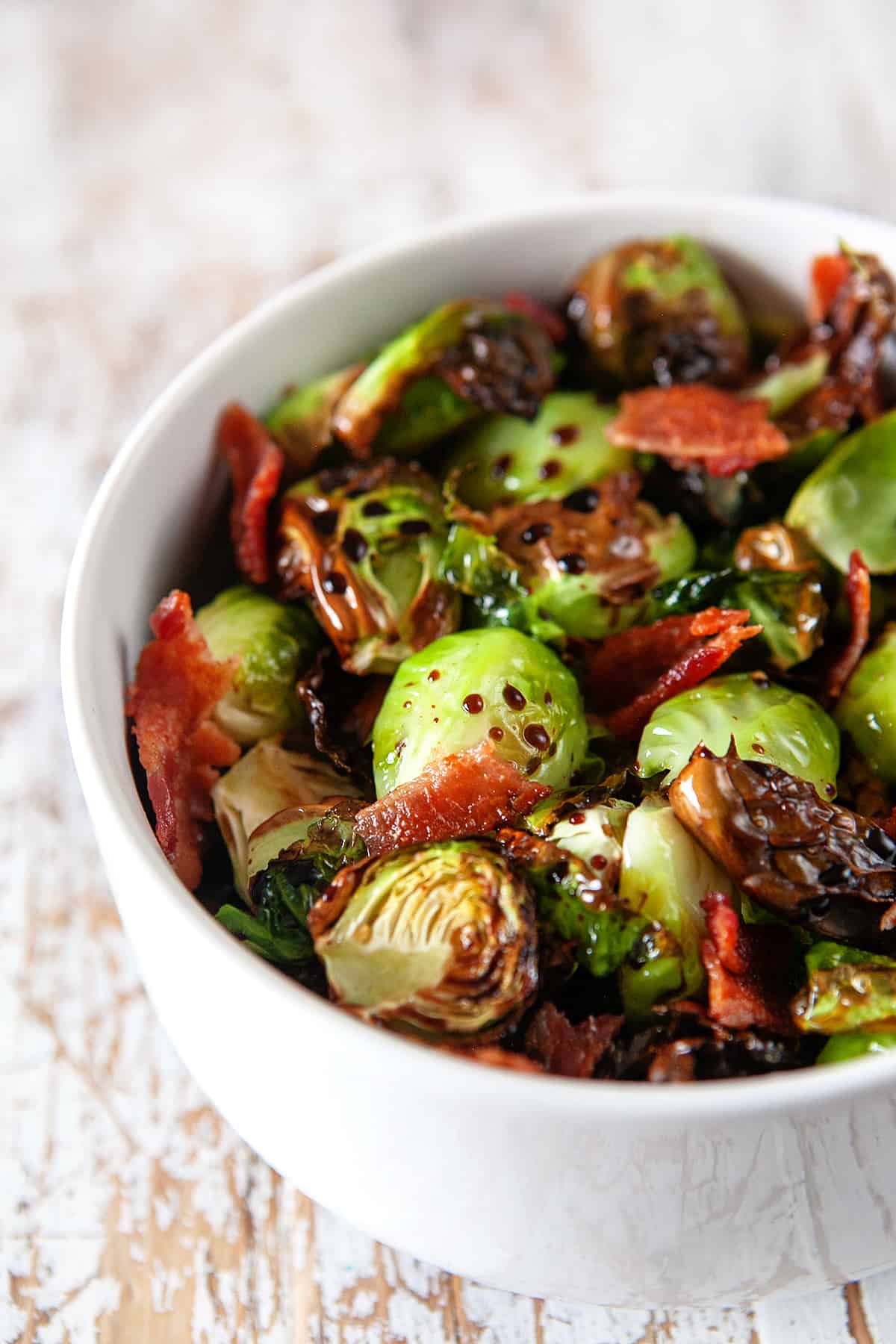 Ingredients for Air Fryer Brussels Sprouts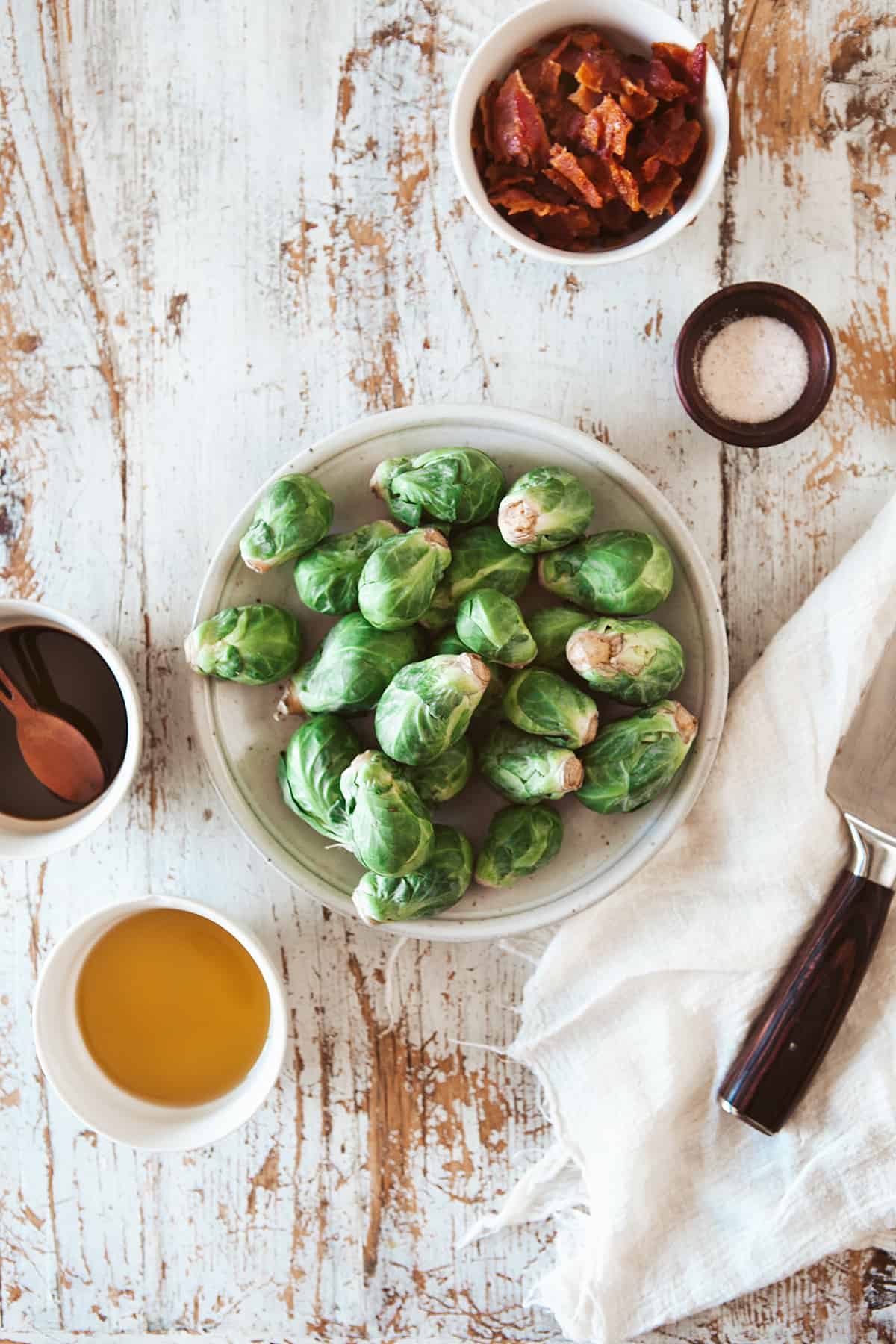 Air Fryer Brussels Sprouts are one of the easiest vegetable side dishes you'll ever make! For the basic recipe, you only need three ingredients:
Brussels Sprouts (fresh is best, but frozen works in a pinch)
Olive Oil
Salt
If you want to give the sprouts a little more pizazz (which I highly recommend), you can toss the air-fried sprouts with a little bit of balsamic vinegar, maple syrup, and bacon. The finished dish will be the perfect blend of crunchy + sweet + salty, and it tastes so good that you'll have a hard time believing you're eating a plate of cruciferous vegetables!
How to Make Air Fryer Brussels Sprouts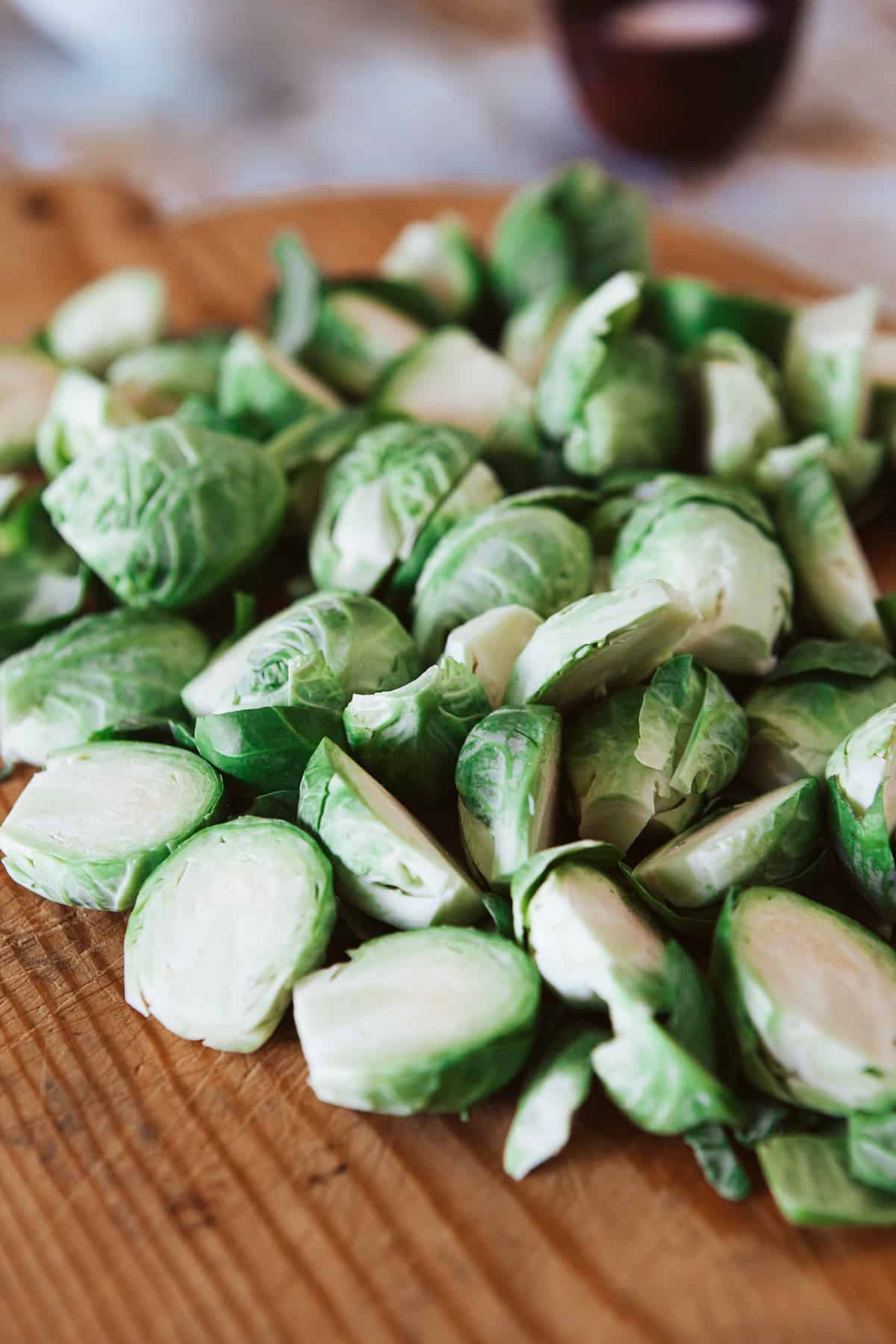 The first step in making Air Fryer Brussels Sprouts is to trim off the stems and halve the sprouts. If the sprouts are extra big, you can even quarter them.
If you're using frozen Brussels Sprouts, you won't be able to cut them before you cook them. For smaller sprouts, this will work just fine. However, frozen sprouts larger than a quarter may not get quite as crispy.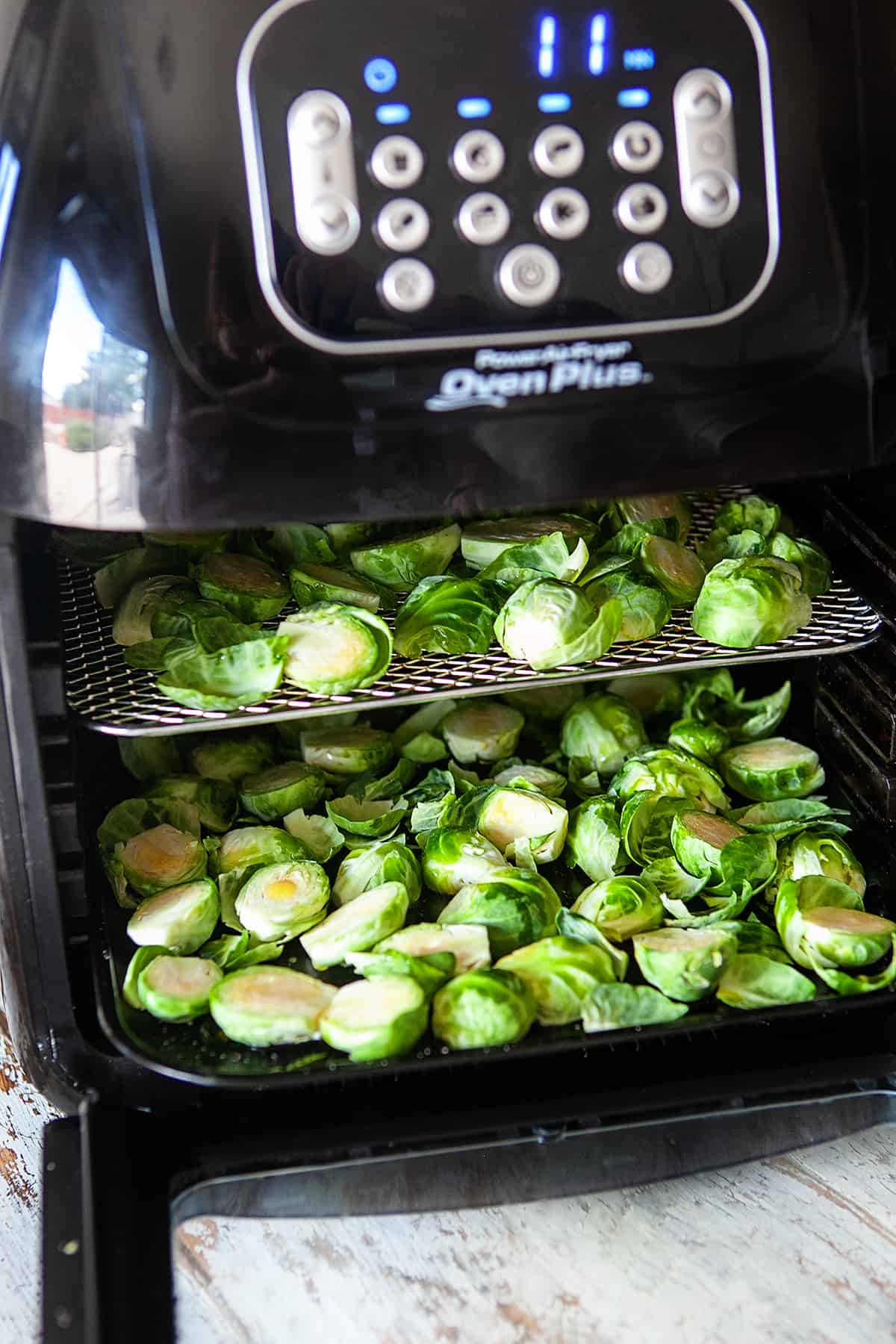 Once you've halved the sprouts, just toss them with the olive oil, sprinkle them with salt, and then spread them out in your air fryer in a single layer. Some air fryers have baskets, and you'll just spread a single layer in the basket. Other air fryers, like the one I used here, have trays, and I was able to cook two trays at a time and still achieve maximum crispiness!
While you can cook good roasted brussels sprouts in the oven at a high temperature, I actually think the air fryer works the very best for sprouts. With the air fryer, the sprouts get perfectly tender on the inside and delightfully crispy on the outside. In approximately 15 minutes in the air fryer, you'll have the tastiest cooked brussels sprouts you've ever tried!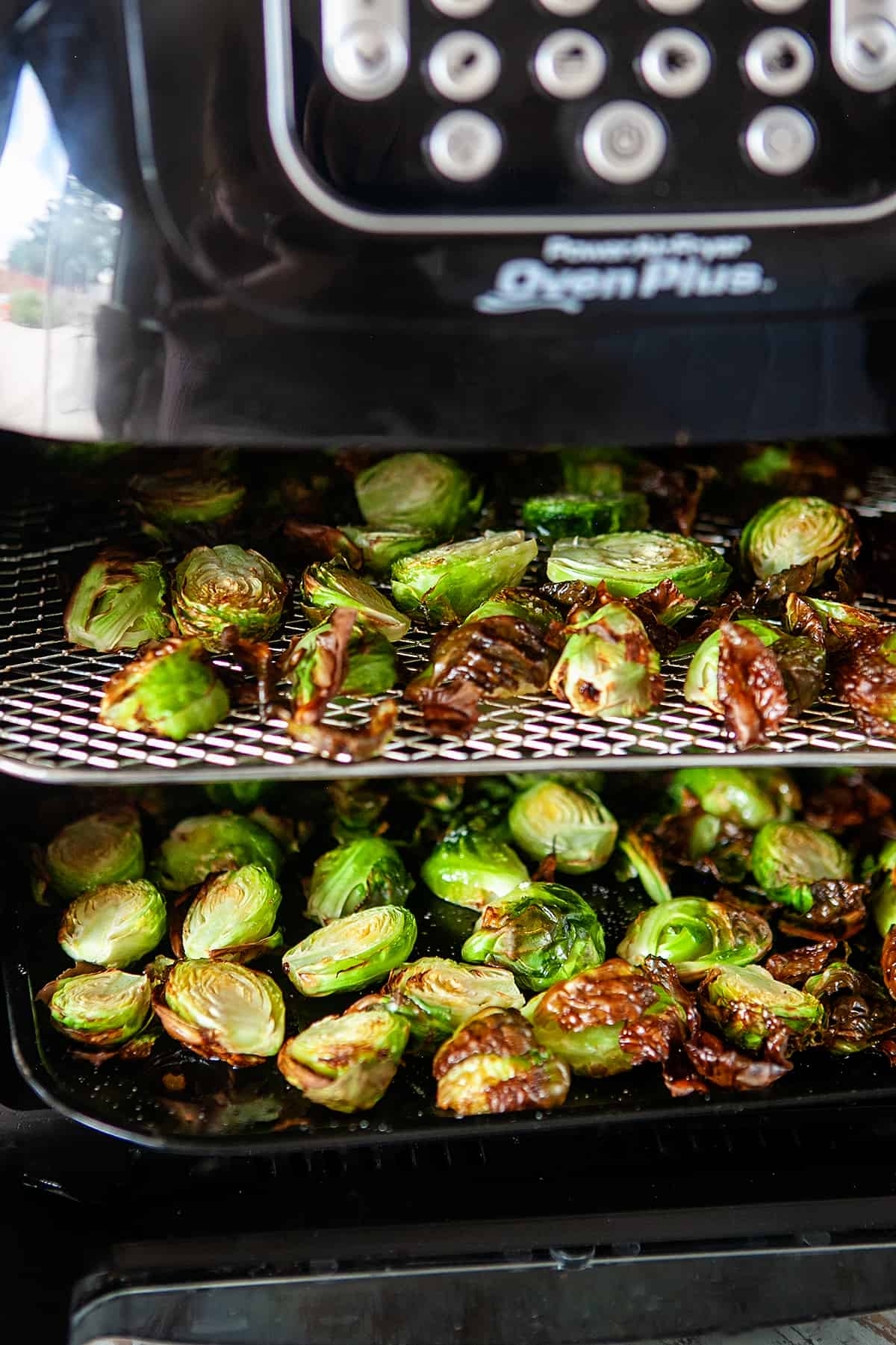 When they are done air frying, you can eat them as is, or you can dress them up a bit with bacon and a drizzle of balsamic vinegar and/or maple syrup. Whatever you do, eat them quickly because they are the most delicious and the most crispy when they're fresh out of the fryer.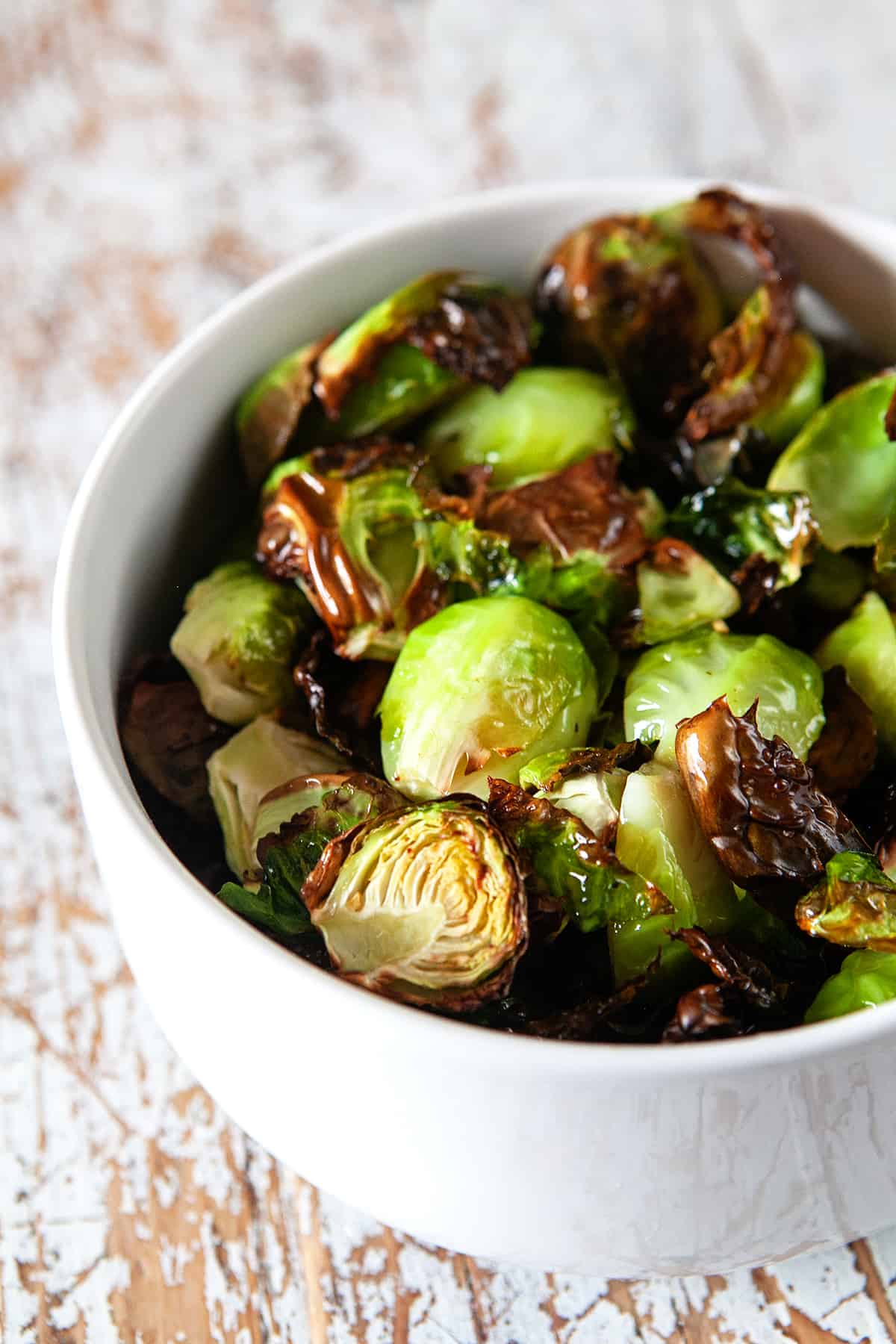 How Long to Cook Brussels Sprouts in an Air Fryer
If you are using fresh brussels sprouts that have been halved (or quartered if they were very large), you'll want to cook them in the air fryer at 400 degrees Fahrenheit for approximately 15 minutes. At about 7 minutes, toss them so they cook evenly, then begin checking them for doneness at about 12 minutes. The finished sprouts will be golden all around the edges and fork-tender through the middle.
If you are using frozen brussels sprouts, the perfect cook time will depend on the size of the sprouts. If they are large, add up to five extra minutes to the cooking time. If they are small, they'll likely be done around the 12 to 15-minute mark. Just keep an eye on them so they don't burn!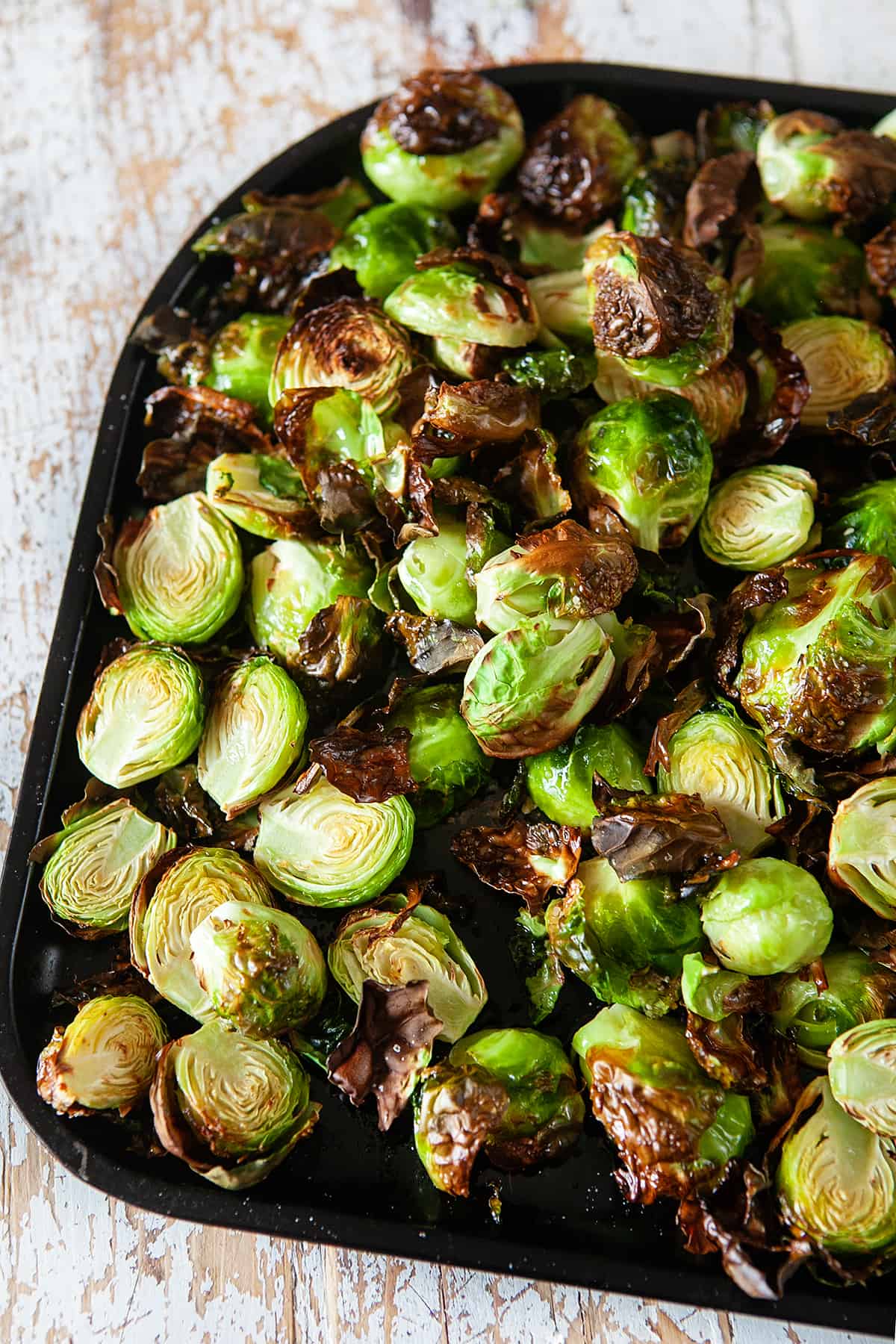 Do you need to soak brussels sprouts before cooking?
In most cases, it's not necessary to soak your sprouts before roasting or air frying. However, if you have brussels sprouts from your garden or from the farmer's market, there can be small bugs hiding between the leaves, in which case a soak in cold water will help clean the sprouts and ready them for eating.
Most of the time, the bags of brussels sprouts you buy at the grocery store are ready to trim and cook without any need for soaking.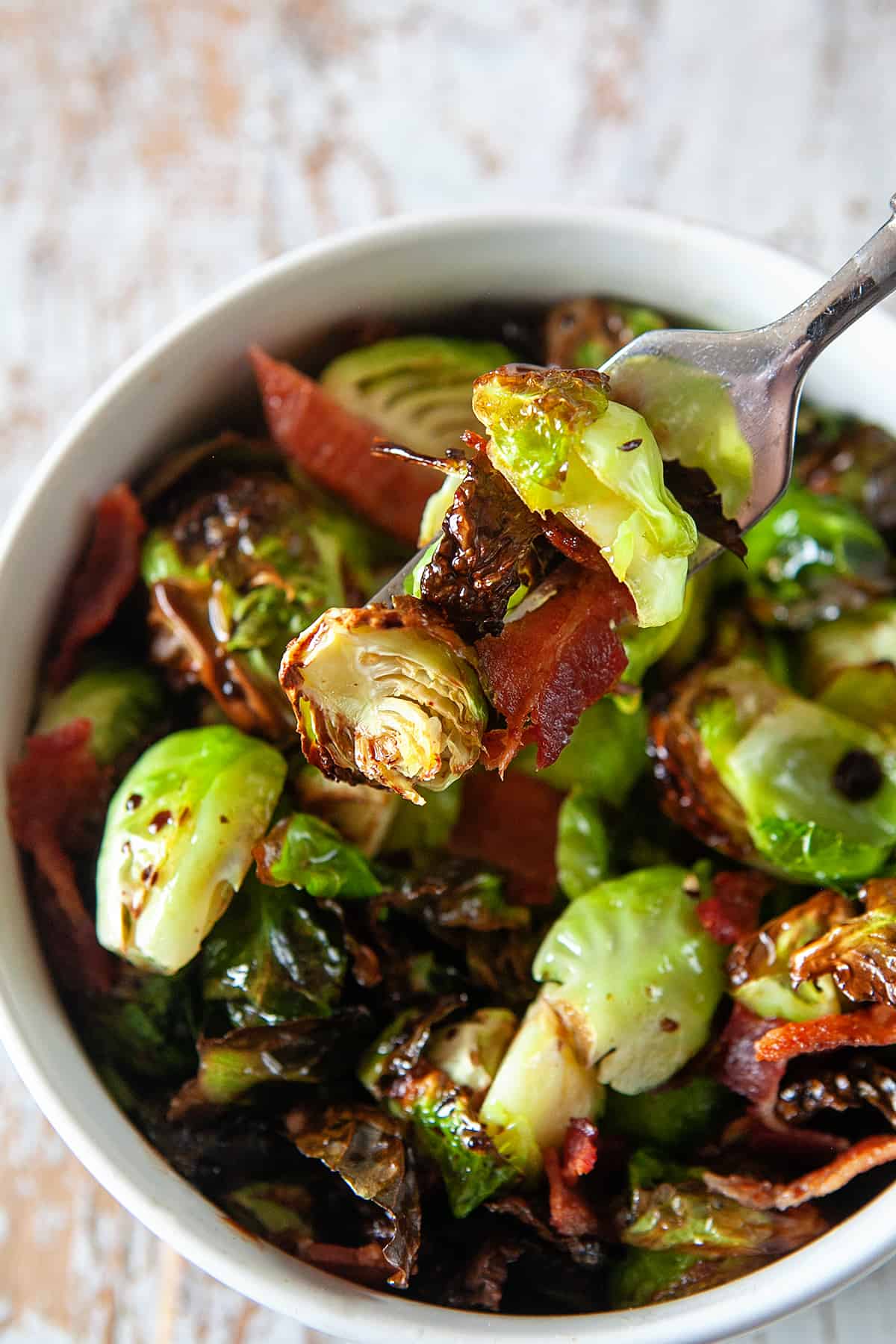 How do you cook Brussels Sprouts so they are not bitter?
If you've ever bitten into a boiled brussels sprout, then you know why they have such a bad wrap. Depending on how you prepare them, brussels sprouts can taste very bitter. However, there are few ways to avoid that bitter taste:
Use a fat while cooking the sprouts. In this case, we toss the sprouts in olive oil before air frying.
Add salt before you cook the sprouts to cut the bitterness.
Roast or Air Fry the sprouts. A high dry heat caramelizes the sprouts and makes them sweeter.
Drizzle them with something sweet before serving, like honey, maple syrup, or balsamic vinegar.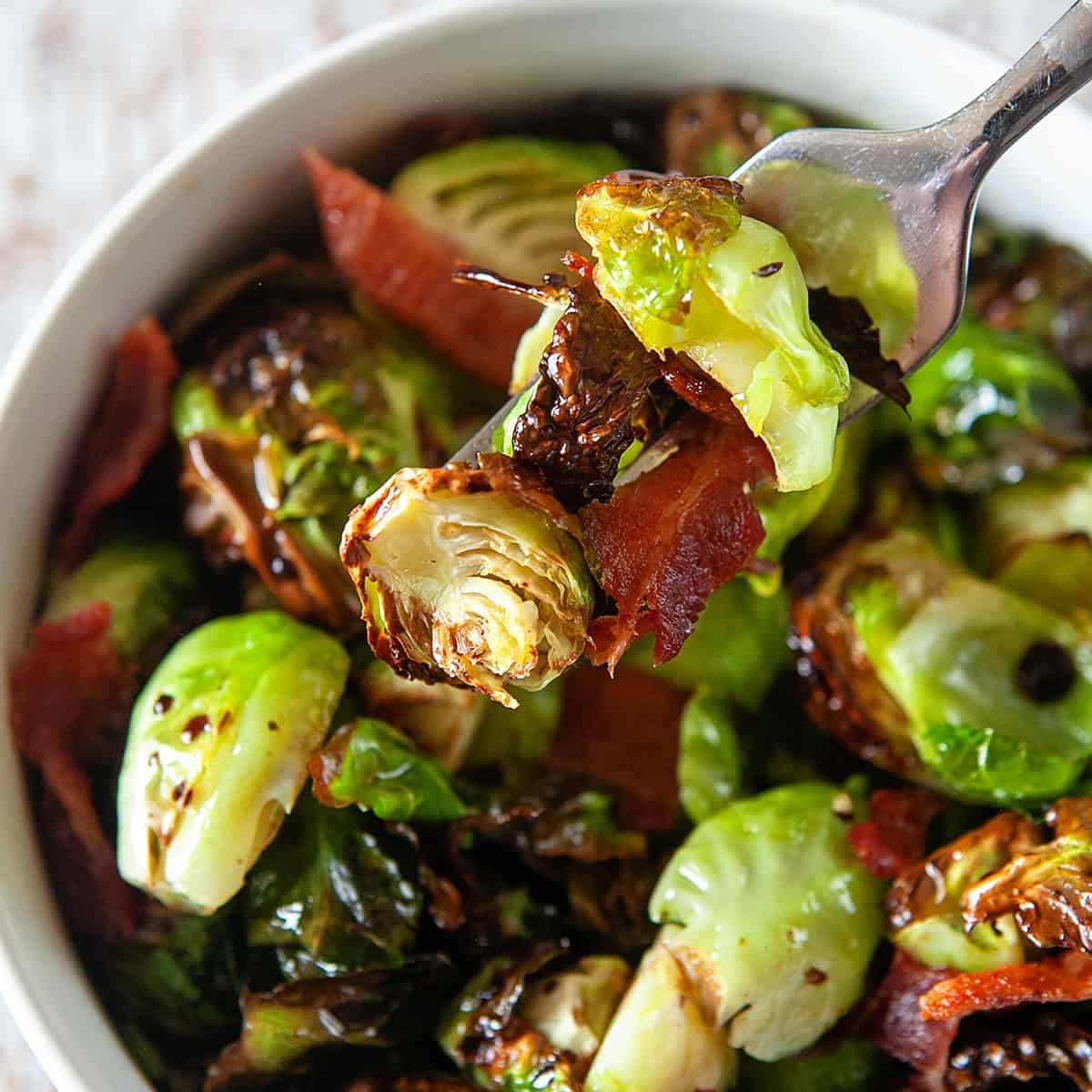 Pin it HERE!!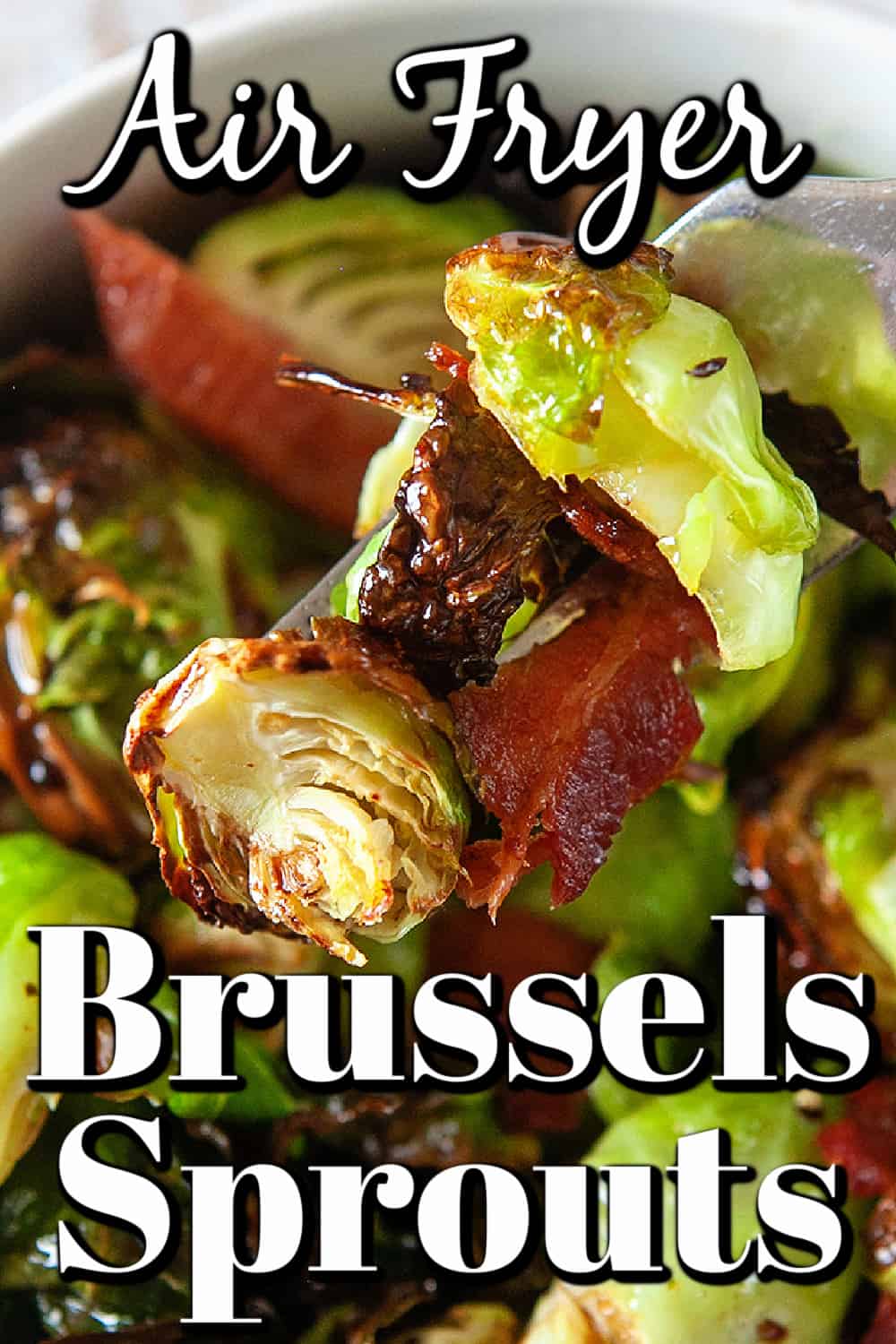 Pin it HERE!!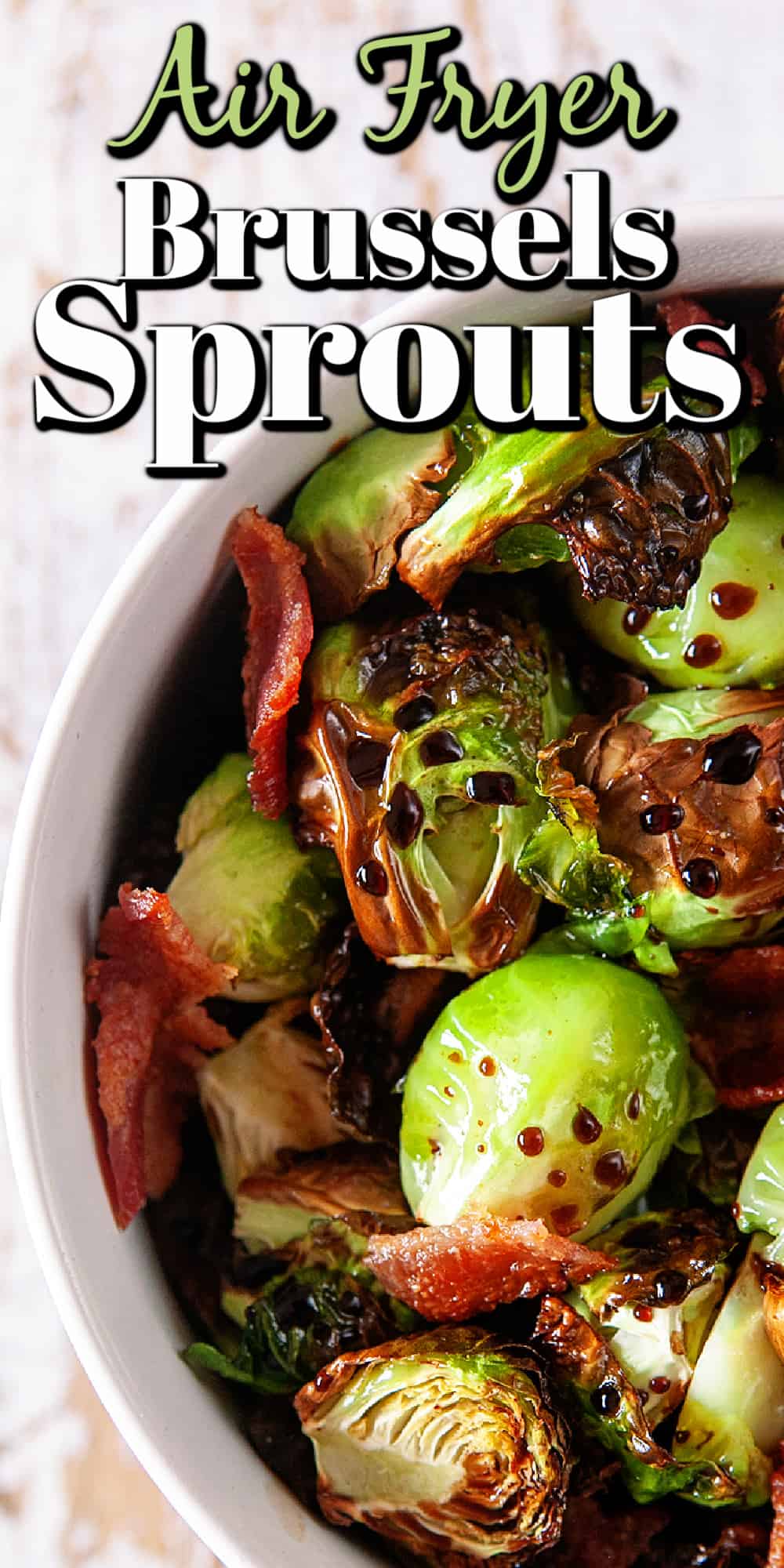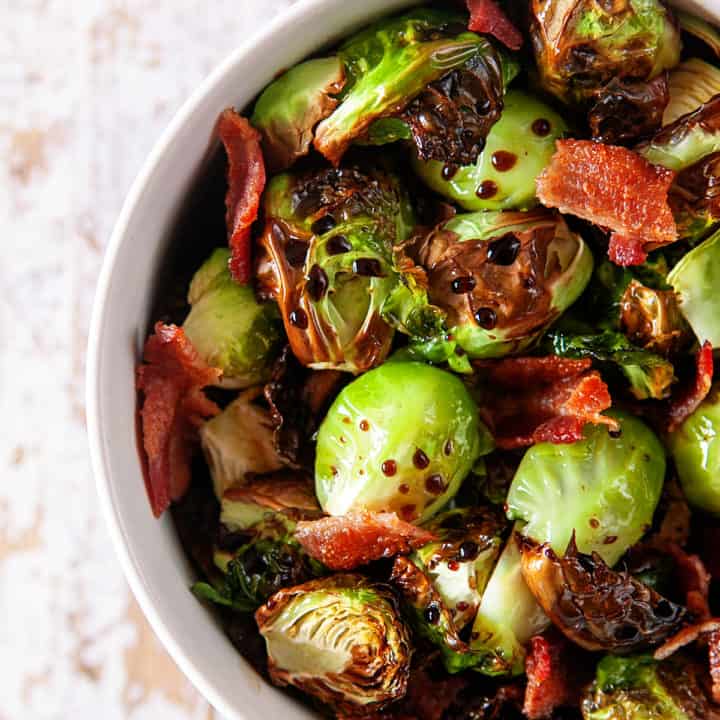 Air Fryer Brussels Sprouts
Yield: 4 to 6
Prep Time: 5 minutes
Cook Time: 15 minutes
Total Time: 20 minutes
Crispy Air Fryer Brussels Sprouts with Bacon, Balsamic Vinegar, and Maple Syrup. Crunchy on the outside and perfectly caramelized inside.
Ingredients
1 pound fresh brussels sprouts, trimmed and halved (don't discard the leaves that fall off)
1 tablespoon olive oil
1/2 teaspoon kosher salt
1 tablespoon maple syrup
1 tablespoon balsamic vinegar
1/4 cup crumbled, cooked bacon (about 3 to 4 strips of bacon)
Instructions
Preheat air fryer to 400 degrees Fahrenheit for 5 minutes.
Toss the trimmed and halved brussels sprouts (and any leaves that fall off) with the olive oil and salt. Arrange them in a single layer in the air fryer basket (or trays).
Cook for 15 minutes, tossing them at 7 minutes. Since air fryers vary, begin checking for doneness at 12 minutes. The finished sprouts with be golden and crispy on the outside, fork-tender through the middle.
Immediately after cooking, drizzle with the syrup and vinegar, then toss with the bacon crumbles. Serve immediately.
Recommended Products
As an Amazon Associate and member of other affiliate programs, I earn from qualifying purchases.
Nutrition Information:
Yield: 4
Serving Size: 1
Amount Per Serving:
Calories: 110
Total Fat: 6g
Saturated Fat: 1g
Trans Fat: 0g
Unsaturated Fat: 4g
Cholesterol: 5mg
Sodium: 267mg
Carbohydrates: 12g
Fiber: 3g
Sugar: 6g
Protein: 5g
Recipe calculation was provided by Nutritionix and is an estimation only. If you need nutritional calculations for medical reasons, please use a source that you trust.