Fudgy Chocolate Prune Cake
Disclosure: I was compensated for this post. All opinions and experiences are my own.
Want a little decadence for Valentine's Day? Something that you and a loved one can feel like you are indulging in together? I have the perfect cake recipe; a Fudgy Chocolate Prune Cake will be amazing to share for this holiday celebration.
You get wonderful flavor when you are using California Prunes as they are unlike other prunes in distinct flavor. They are fresh, sweet, rich, and offer reliable consistency.
Baking with California Prunes gives you more moisture in your baked goods to give you that amazing fudgy quality like in this cake we have for you today. They were just simply roughly chopped, simmered in a liquid and added to the cake.
Caramel Prune Bourbon Sauce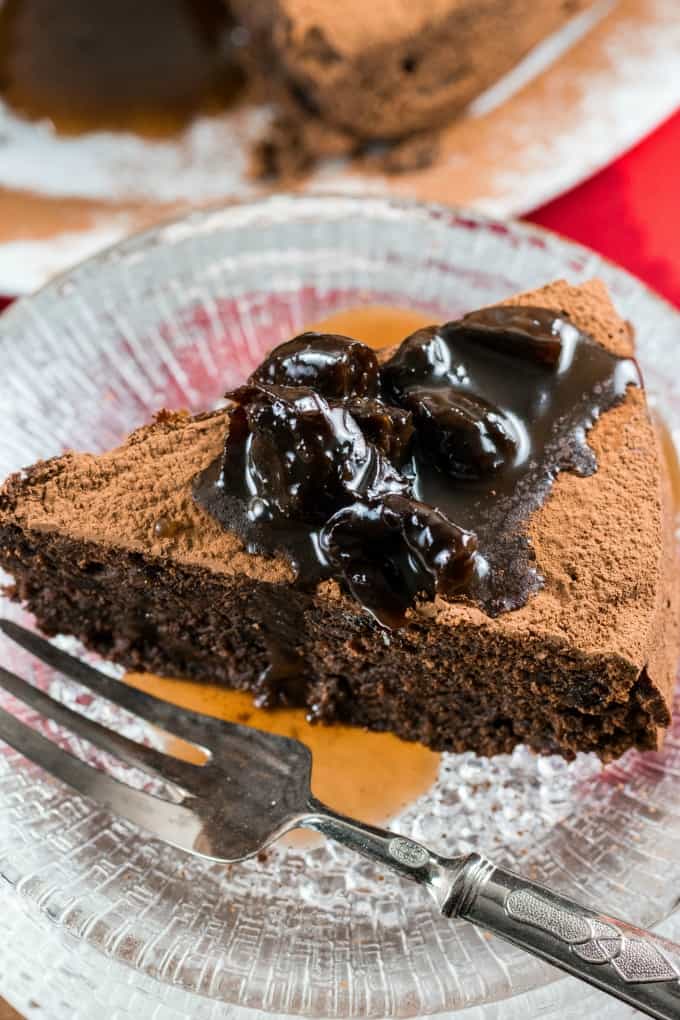 Then we added more prune goodness on top of the cake with a Prune Bourbon Caramel Sauce. Did I get you at bourbon? The California Prunes in the cake were also simmered in bourbon.
Not a fan of the alcohol. No problem, just simply leave it out but trust me it is the bomb in this dessert.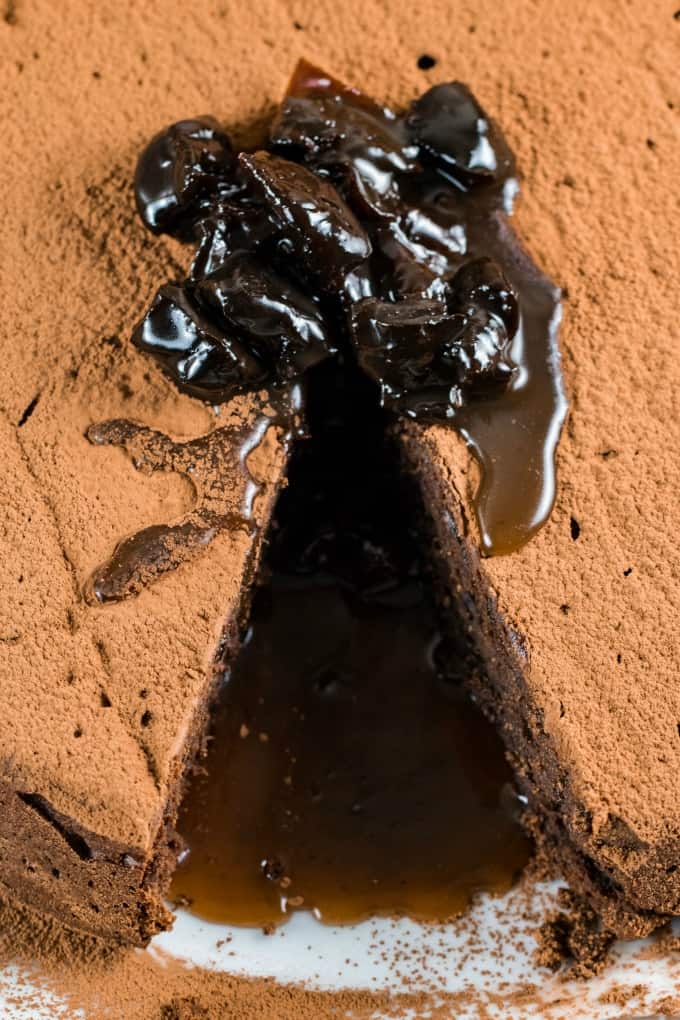 Adding in Calfornia Prunes is a lovely natural nutritious ingredient and a great alternative to artificial ingredients. Prunes can be enjoyed whole, diced, or pureed and go just as well with savory dishes as they do sweet.
Add them to proteins (chicken, beef, or pork) in a sauce or grains chopped up like in couscous, rice, wheatberries or more. They are also great on salads and I just love that sweet hit with a cheese and nut combination.
Speaking of cheese, California Prunes also go great on a charcuterie board served whole or made into a jam. Prunes enhance both savoury and sweet.
No-Bake California Prune Power Balls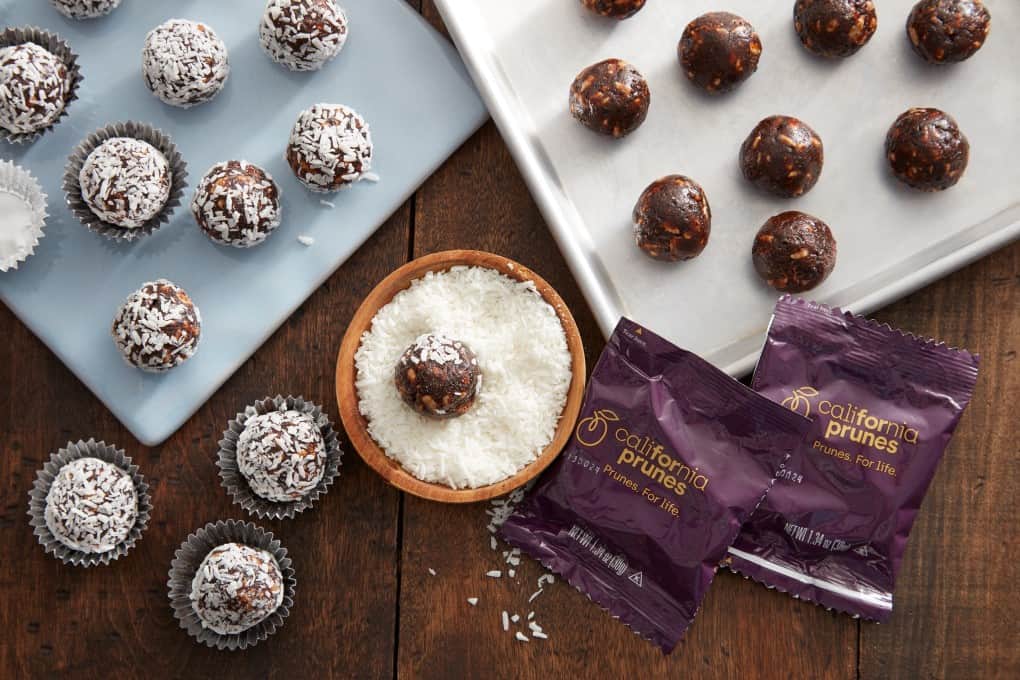 Did you know that California Prunes besides great gut health also are heart-healthy and wonderful for your bones? A serving of 5 prunes can support good gut health but also have all these benefits.
Prune Nutrition
Bone health: Calfornia Prunes are very high in vitamin K and contain manganese. These two nutrients contribute to the maintenance of normal bones. Eating 5 to 6 prunes daily helps slow bone loss in postmenopausal women.
A perfect fit for healthful diets: California Prunes promote satiety, so you are less likely to be hungry between meals.
A Superfood: Prunes contain vitamin B2, potassium, magnesium, and boron.
Blood sugar control: Prunes have a low glycemic index, which can help maintain blood sugar levels.
Improved digestion: A single serving of prunes (5) is a source of fibre; helping you maintain good digestive health.
Cholesterol management: Fibre and other compounds in prunes can help maintain healthy cholesterol levels.


These No-Bake California Prune Power Balls are the perfect on-the-go-snack. They are super easy to make and can be enjoyed at any time of the day.

From lunchboxes to a morning or afternoon munch to a sip and snack with wine and cheese, these little power balls can be enjoyed all day long.

Our daughter and her friends have so enjoyed these on long car rides too; they love the sweetness from the prunes and the crunch from the rice crisp cereal and unsalted sunflower seeds.

How to Cook Prunes for Cake

Back to the cake at hand now. So how do you cook the California Prunes for the cake? I like them nice and jammy and for me, a little bourbon went a long way. I only used 1/4 cup of bourbon and then 1/4 cup of water.

Place the chopped prunes in a small pan and cook them with the water and bourbon. Don't want the taste of bourbon, just use all water. Easy as that. Bring to a boil and then slow boil them on the stove for 5 min. and cook until soft; after cooling they are ready for your cake.

How to Make Prune Cake

Once the prunes are ready and lovely and jammy, the rest of the cake falls into place. You have to melt the chopped chocolate and butter using a double boiler method. This can be accomplished with a heatproof bowl over a pot of simmering water. Stir until melted and smooth and then set aside.

Next, you need to, in a bowl, combine the egg yolks, sugar, and teaspoon vanilla. Sift the flour and cocoa together and add it to the egg mixture. Gently fold in the prune mixture.

Egg whites at a soft peak are now folded in, in two batches. Pour it into a prepared baking pan, smooth top and bake for 35 -40 minutes. Let the cake completely cool in the pan and it should lift right out.

There is no need for baking soda or baking powder in this recipe as the eggs give you the height you need and the prunes allow the cake to be fudgy.

How to Make The Prune Caramel Sauce

To make the caramel sauce simply melt the butter in a saucepan over medium heat and bring to a slow simmer. Add the brown sugar and boil and cook until dissolved.

Slowly pour in the whipping cream and continue to cook, whisking, until the sauce thickens slightly. Remove from heat and whisk in the bourbon if using. Add the quartered prunes. Serve warm with the cake.

California Prunes are Premium Prunes

California has world-famous growing conditions with lush valleys, ancient nourishing soil plus endless sunshine. These conditions provide The California Prune Board (CPB), which represents 800 growers and 28 packers, with the ability to have generations of expertise in perfecting their craft for more than 150 years.

They have the highest quality agricultural standards of any nation. California is the world's largest producer of prunes and Canada is the 3rd largest exporter of California Prunes.

Let's all see the wonderful nutritional benefits of incorporating more prunes in our diet with all the wonderful recipes that The California Prune Board can supply us.

Pin it HERE!

Pin it HERE!

Fudgy Chocolate Prune Cake

Yield: 12 servings

Prep Time: 25 minutes

Cook Time: 40 minutes

Total Time: 1 hour 5 minutes

This Fudgy Chocolate Prune Cake is made with California Prunes to give it a moist, rich, sweet flavor. It is a perfect cake to indulge in with a loved one for Valentine's Day!

Ingredients

Cake
1 1/2 cups California Prunes, roughly diced
1/4 cup bourbon
1/4 cup water
10 oz. good quality semi-sweet chocolate, chopped
2/3 cup salted butter, diced
4 eggs, separated
1 tsp. vanilla
1/2 cup packed brown sugar
1 cup all-purpose flour
1/4 cup cocoa powder plus more for dusting
Caramel Prune Sauce
1/2 cup California Prunes, quartered
1/2 cup salted butter
3/4 cup brown sugar
1/2 whipping cream
2 Tbsp. bourbon

Instructions

Place the 1 1/2 cups roughly diced California Prunes in a small saucepan with the bourbon and water. You may use all the bourbon or all water. Bring to boil and then reduce to simmer for 5 min.
Preheat oven to 325F. Prepare a 9" cake pan by buttering and then placing a round piece of parchment on the bottom of the baking pan. To get the size of the bottom of the pan easily just place the pan on the center of a parchment sheet and outline the bottom of the pan and then cut it out just inside the line. This should now fit easily in your pan.
Place the chopped chocolate and diced butter in a heatproof bowl over a pot of simmering water. Make sure the bottom of the bowl is not in the water. Stir until melted and smooth. Remove from heat and set aside.
Sift together the flour and cocoa and set aside.
Using a standup mixer with a paddle attachment beat the egg yolks with the vanilla and sugar. Add in the melted chocolate and stir. Add in the flour and cocoa and stir until combined. Fold in the prune mixture.
In another clean bowl beat the egg whites until soft peaks form. Fold into the batter in two batches and fold until just mixed. Pour into prepared cake pan and bake for 35-40 minutes.
When the center of the cake feels firm and spring back slightly with a light touch the cake is done. Let cool completely in the pan.
Invert onto a serving dish keeping cake bottom side up. Dust with cocoa powder.
Melt the butter in a saucepan over medium heat. Add the brown sugar and cook until dissolved. Slowly pour in the whipping cream and continue to cook, whisking, until the sauce thickens slightly. Remove from heat and whisk in the bourbon if using. Add the quartered prunes. Serve warm with the chocolate cake.

Nutrition Information:

Yield: 12 servings Serving Size: 1
Amount Per Serving:Calories: 530Total Fat: 28gSaturated Fat: 17gTrans Fat: 1gUnsaturated Fat: 10gCholesterol: 115mgSodium: 202mgCarbohydrates: 67gFiber: 4gSugar: 47gProtein: 6g

Recipe calculation was provided by Nutritionix and is an estimation only. If you need nutritional calculations for medical reasons, please use a source that you trust.