Homemade Granola Recipe
What if you could make your own granola in less than an hour? Guess what? You can. This is a delectable Homemade Granola recipe that will have you coming back for more… and more… and more. (hee-hee) You can even make delicious Granola Cookies with your homemade granola.
We love granola in this house. Such a great use of old-fashioned oats and so easily made on a sheet pan too. It stores well at room temperature in an airtight container giving you access to a snack at any time of the day.
Last year was the first time I tried my hand at making granola. Subsequently, I quickly learned that it doesn't compare to the store-bought version, friends. Plus, you can customize the ingredients to fit your dietary needs or preferences. For example, I'm not a fan of having dried fruit in my granola, especially if I'm adding it to yogurt — so I can choose to leave that out. Right?
Maybe you've tried our Christmas Granola, Playground Granola Bars, or these granola bars with blueberries and chocolate chips. Well, today we're moving from bars to a crunchy, crumbly granola recipe. It's delicious; therefore, you're going to enjoy every bite.

Helpful Items for This Recipe
This post contains affiliate links. As an Amazon Associate, I earn a small portion from qualifying purchases at no extra charge for you.
Stainless Steel Mixing Bowl Set
Delicious Granola
Hey friends. It's me again, Kelly from Live Laugh Rowe. I'm excited to share this delicious homemade granola recipe with you today. And just in case we haven't met yet, I'm the creator and writer behind the blog, Live Laugh Rowe.
One of my favorite things about granola is its versatility. From a topping on your yogurt to a bowl of cereal, or even enjoying it as a healthier snack option. In other words, it's certain to fill a craving every now and again. Better yet, it's incredibly easy to make too.
Another fun fact is that a lot of the ingredients for today's recipe are pantry staples (almonds, pecans, oats, brown sugar, etc), at least for me they are. What about you?
Want to make granola seasonal? Try adding in pumpkin spice flavors in the fall or adding in dried orange zest in the summer or spring. Adding in chocolate chips makes it seem so much more decadent, add these at Christmas and wrap up your homemade granola as a gift.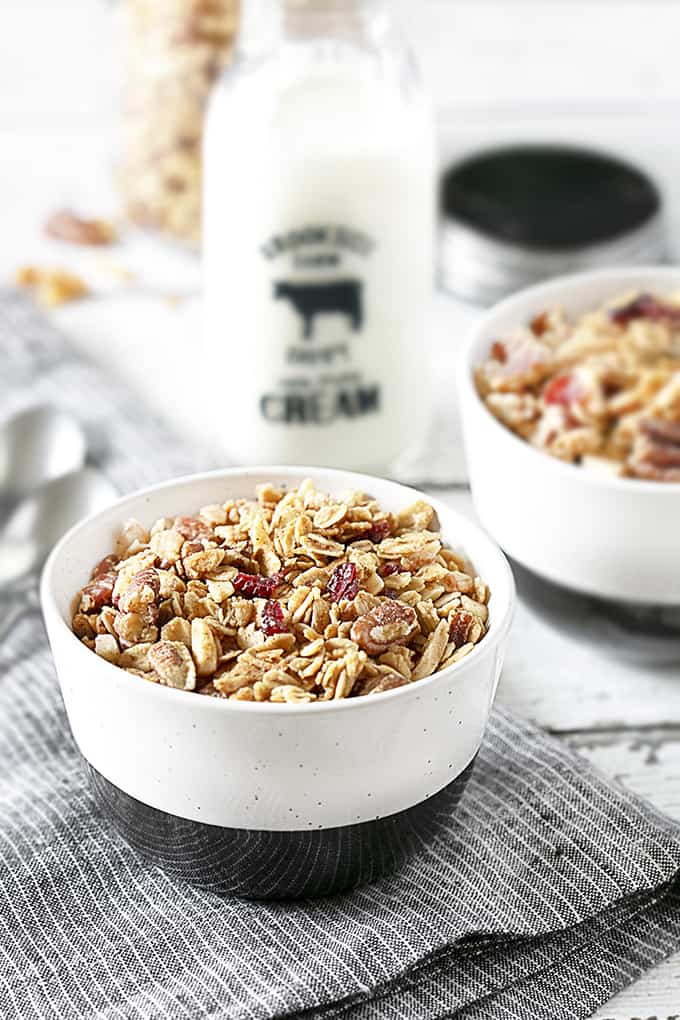 Last fall I shared this Cranberry and White Chocolate Granola recipe; however, sometimes you might want something a little different — like these AMAZING Dilly Oyster Crackers.
In addition to being delicious, these crackers can be whipped up in no time with only five ingredients too. (p.s. they didn't last long at all).
So, if you're a snacker, like me, it's nice to have some options on-hand. These types of recipes can come in handy for road trips too. Snacks for the win. Let's dig into this nutty, flavorful granola recipe (and I'll answer a couple of questions you might have).
Is Homemade Granola Healthy?
In short, granola can be healthy, but it's important to know what to look for in the ingredients. Keep an eye out for sugars, saturated fat, the calorie count and what fillers you are using.
Oats offer up impressive numbers in fiber and iron and nuts and seeds add heart-healthy unsaturated fats and some protein but make sure it is all in balance.
There are also different oils you can use to keep your granola healthier. For example, coconut oil is a healthier choice but you can also use olive oil, canola oil, macadamia nut oil, try the oil of your preference. If you're watching your saturated fat intake, olive oil is a better choice!
Do a little research and be sure to eat granola in smaller portions when possible. A 1/4 cup to a 1/2 cup is really all you need to be completely satisfied.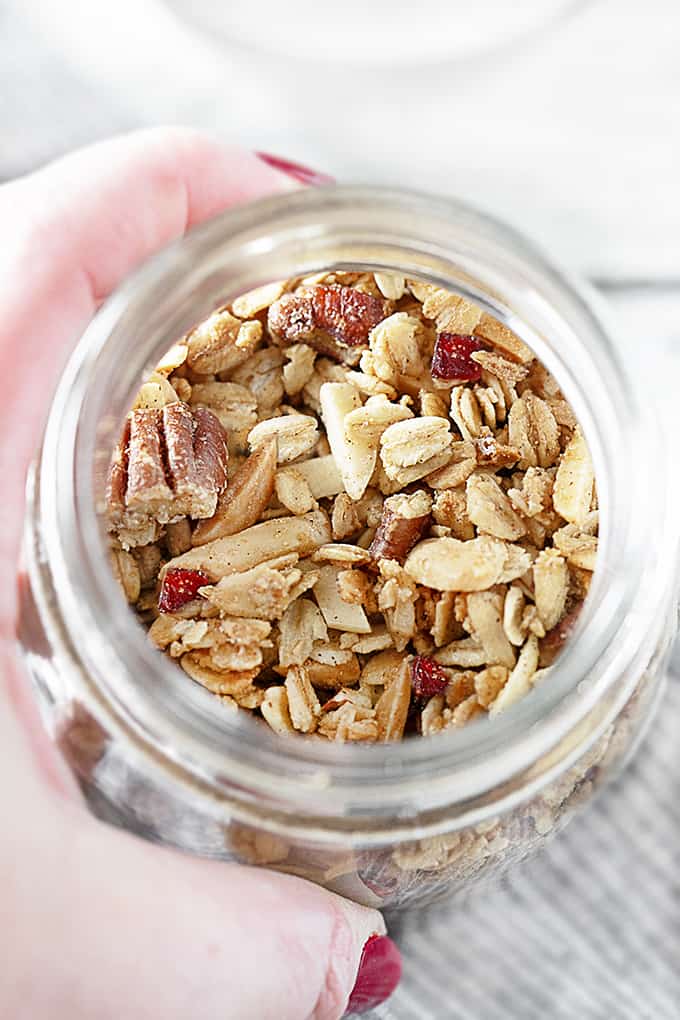 Can I Freeze Homemade Granola?
Yes, you can freeze granola. Most importantly you'll freeze granola just like cookies, by wrapping it tightly in a plastic wrap or a freezer bag. Freeze the granola up to three months.
In addition, if adding dry fruits, it's best to plan on adding them after freezing. Sometimes the dried fruit can get very hard.
How to Make Homemade Granola
Ingredients:
old-fashioned rolled oats, if you are wanting to make this gluten-free make sure the brand you are using is certified GF
almonds, or a nut that you prefer
pecans
brown sugar
canola oil, or your preferred kind of oil
maple syrup, other sweeteners work too like honey
vanilla extract, the next three ingredients are pretty standard fare and make a great flavor combination for your granola
cinnamon, you can use other spices like ground nutmeg, cloves, ginger and/or allspice.
salt
Optional Ingredients:
Dried fruits like dried cherries, apricots, pineapple, raisins, cranberries, etc.
Shredded coconut or flaky or whatever you prefer
Pepitas, chia seeds, etc.
Sunflower seeds
Other nuts like macadamias, basil nuts, walnuts, etc.
Honey, use this instead of the maple syrup
Peanut butter or other nut butters. You can use natural peanut butter to cut down on the sugars. Mix this into the syrup.
Chocolate chips, use a semi-sweet or dark chocolate chip again to cut down on the sugars. Adding in the chocolate turns your granola to a real treat for dessert too.
Let's start by grabbing our dry ingredients (except the salt and cinnamon) and mixing them together in a large bowl.
After that, we'll whisk together oil, maple syrup, vanilla extract, salt, and cinnamon. Pour over the oat mixture and stir to combine.
Spread the granola mixture onto a rimmed baking sheet and spread evenly. Bake and stir occasionally, until golden.
Let the granola cool completely and store in an airtight container. It can also be served right away and indulged upon when it is still slightly warm.
How Long Does Homemade Granola Last?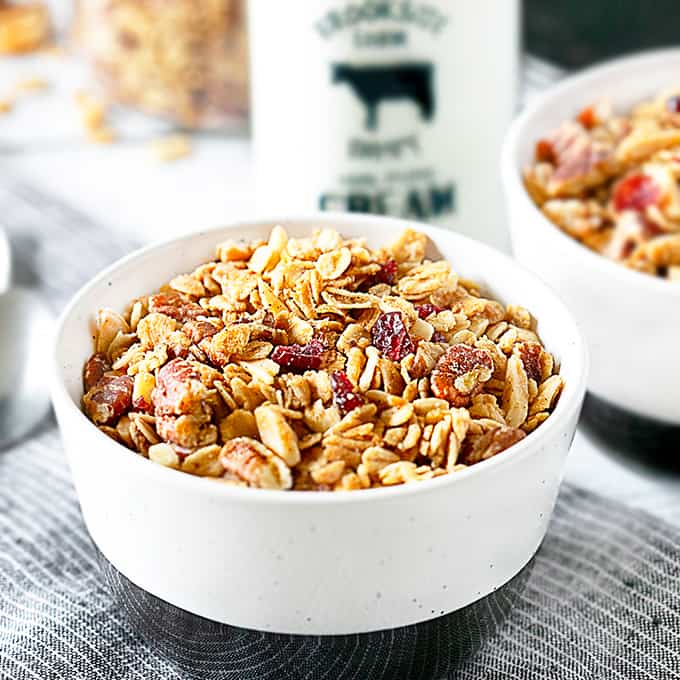 Besides freezing how long does granola last? As long as the granola has been dried properly and stored in an airtight container it can last up to 2 to 6 months. Never would it last that long in our house though. We all love granola and it is gobbled down quickly.
Make sure to store it in a cool and dry place also.
Granola Clusters
Do you like granola clusters? For crispier granola that will hold together in clusters, whip one egg white into the syrup mixture. This will have the ultimate chunky granola that you love.
Clusters are a great grab-and-go snack or pick me up. Plus, besides a snack or breakfast, granola, when it is this good, can be served on ice cream for dessert. Need a dessert in a pinch? Granola and ice cream will surely fit the bill. I love a creamy and crunchy combination myself.
Other Breakfast Recipes for the Win!
Pin it HERE!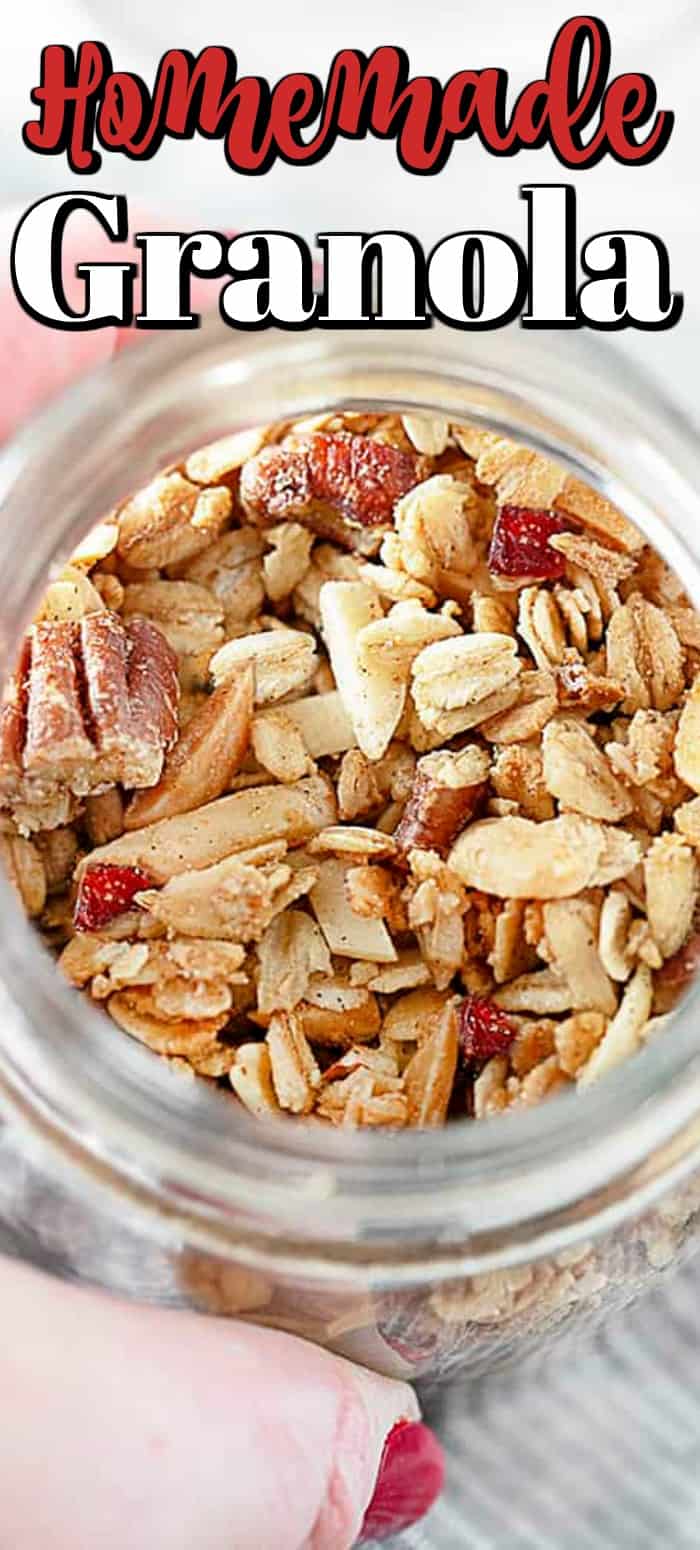 Pin it HERE!!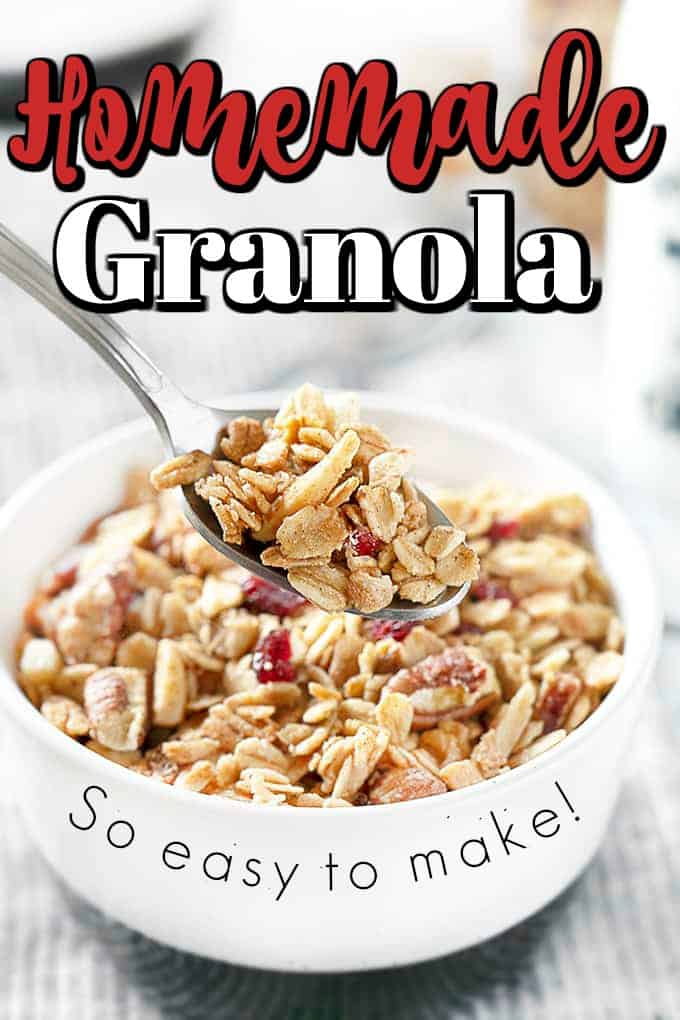 Homemade Granola Recipe
Homemade Granola
Yield: 6 cups - 12 - 1/2 cup servings
Prep Time: 10 minutes
Cook Time: 25 minutes
Total Time: 35 minutes
Sweetened with maple syrup, this Homemade Granola recipe is a delicious, crunchy treat. Whether it's for breakfast or a snack, plan to come back for more.
Ingredients
1/4 cup canola oil
1/2 cup maple syrup
1 teaspoon vanilla
1/2 teaspoon cinnamon
pinch of salt
1/2 cup slivered almonds
1/2 cup pecans, chopped
3 cups old fashioned oats
1/2 cup light brown sugar
3/4 cup dried cranberries*, chopped
Instructions
Heat the oven to 325 F.
In a large bowl, stir together the oats, nuts, and brown sugar.
In a separate bowl, whisk oil, syrup, vanilla extract, salt, and cinnamon.
Pour liquid mixture over the oat mixture and stir well to combine.
Spread the mixture onto the sheet pan, spread evenly.
Bake, stirring occasionally, until golden (approximately 20-25 minutes).
Let granola cool completely and break up into chunks or pieces. Store in an airtight container.
Notes
*Substitute any dried fruit for the cranberries and chopping is optional.
*Store in an airtight container at room temperature for up to 2-6 months.
Tip: For crispier granola that will hold together in clusters, whip one egg white into the syrup mixture.
Recommended Products
As an Amazon Associate and member of other affiliate programs, I earn from qualifying purchases.
Nutrition Information:
Yield: 12
Serving Size: 1
Amount Per Serving:
Calories: 267
Total Fat: 11g
Saturated Fat: 1g
Trans Fat: 0g
Unsaturated Fat: 10g
Cholesterol: 0mg
Sodium: 17mg
Carbohydrates: 40g
Fiber: 4g
Sugar: 23g
Protein: 4g
Recipe calculation was provided by Nutritionix and is an estimation only. If you need nutritional calculations for medical reasons, please use a source that you trust.