Chewy Granola Cookies baked to perfection with a perfectly chewy texture and a hint of granola crunch. The flavors of coconut, pineapple, and macadamia nuts bring you to the tropics without ever leaving home.
These cookies are baked with the addition of granola. Use what you have on hand or bake some up fresh with our Homemade Granola Recipe. If you are looking for even more granola recipes, these Playground Granola Bars or our Christmas Granola make the perfect snacks on the go.
Chewy granola cookies make a great back-to-school treat, either in a lunch box or when returning home after a long day in the school trenches. These cookies will be a welcome sight at any time of the day!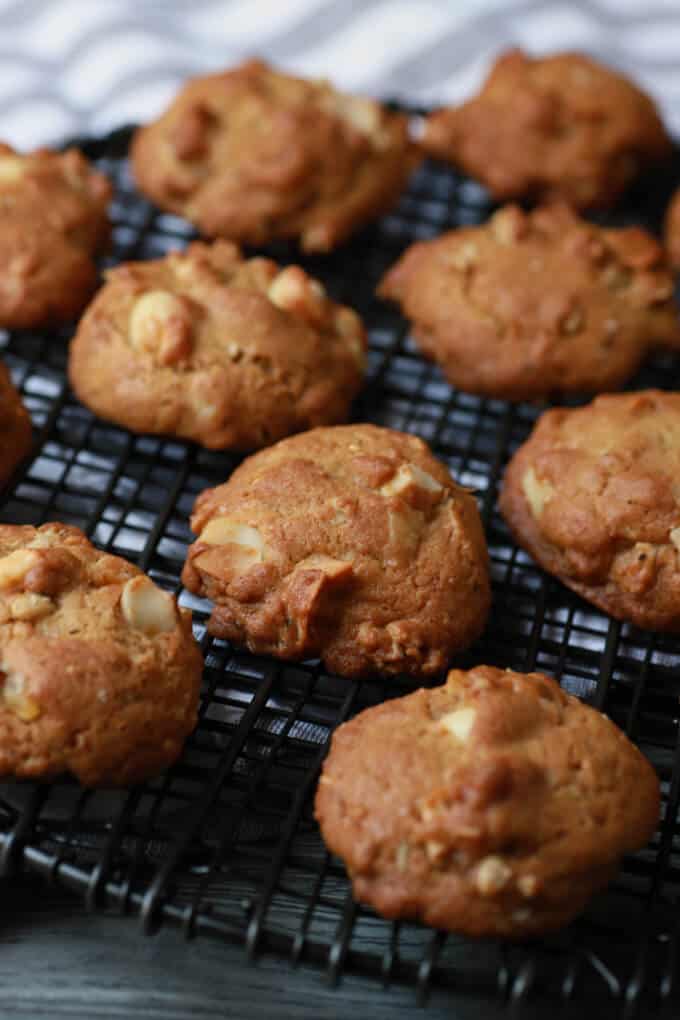 Tropical Coconut Chewy Granola Cookies
Granola isn't just for breakfast anymore! These soft baked cookies have just the right chew factor and the perfect amount of crunch from the added granola.
These cookies are bigger (in flavour) on the inside than you would expect. Take a nibble, and you'll be transported to a coconut lover's paradise complete with sweet dried pineapple and crunchy macadamia nuts.
Bake them up anytime for a quick tropical treat. They are the perfect cookie for on-the-go snacking or tucked into kid's school lunches.
Helpful Items for This Post
This post contains affiliate links. As an Amazon Associate, I earn a small portion from qualifying purchases at no extra charge for you.
Baking Sheet Set with Cooking Racks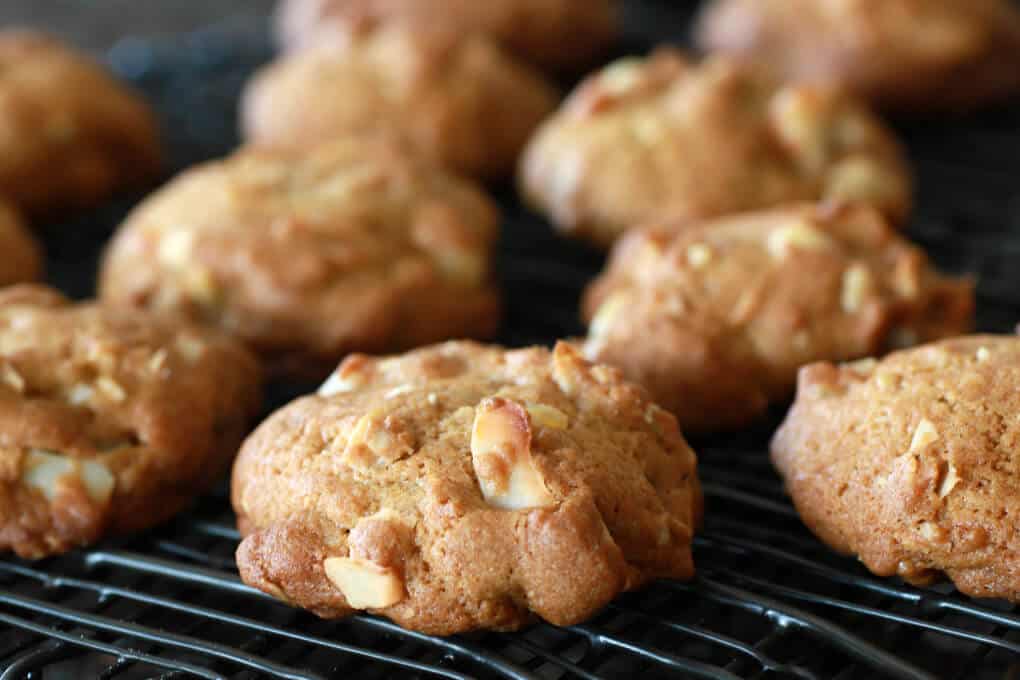 Hello there, it's Bernice from dishnthekitchen.com and I am so excited to share this great cookie recipe with NWTN readers! I have been dreaming about making tropical themed cookies for at least a year and here they are!
Cookies at our house don't last very long. When I bake up these Oatmeal Chia Coconut Hemp Chocolate Chip Cookies (phew!) they are gone within a day.
Let's talk lunch boxes for a moment…these ultra cheezy Cheesebuns are popular with kids and adults. Make them with any cheese you like or dress them up as Pizza Buns!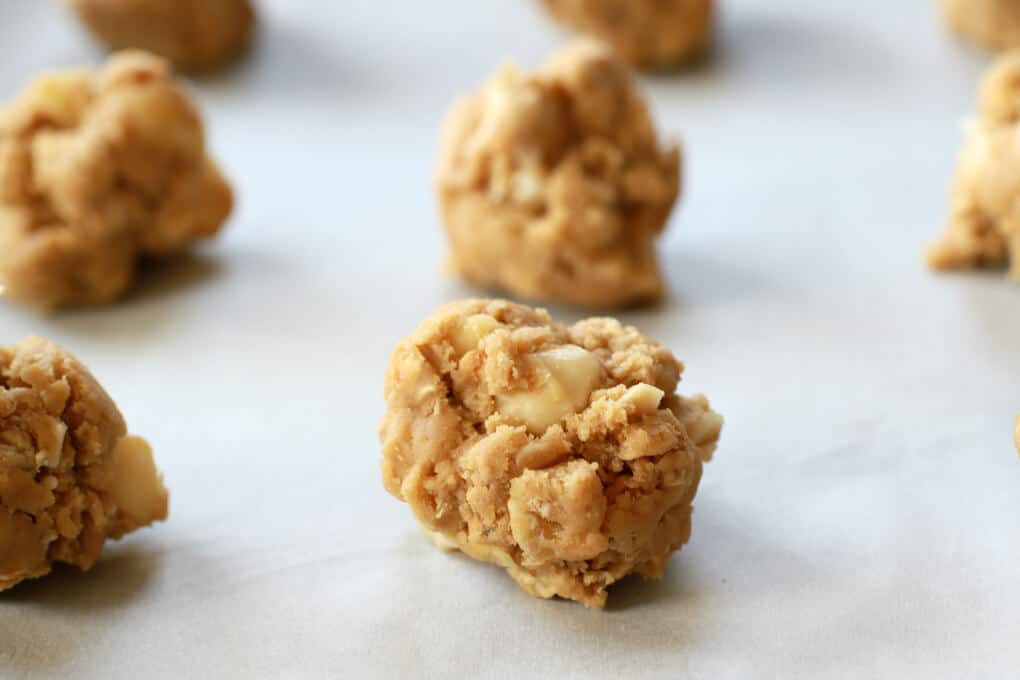 Tasty Tropical Ingredients
These granola cookies are triple packed full of coconut flavour. They are made using coconut oil, coconut extract, and coconut flakes. Any coconut flakes will do, from large flakes to shredded. They are a coconut lover's dream!
While we're talking extract, the cookies would also be delicious with traditional vanilla extract and amazing with RUM extract.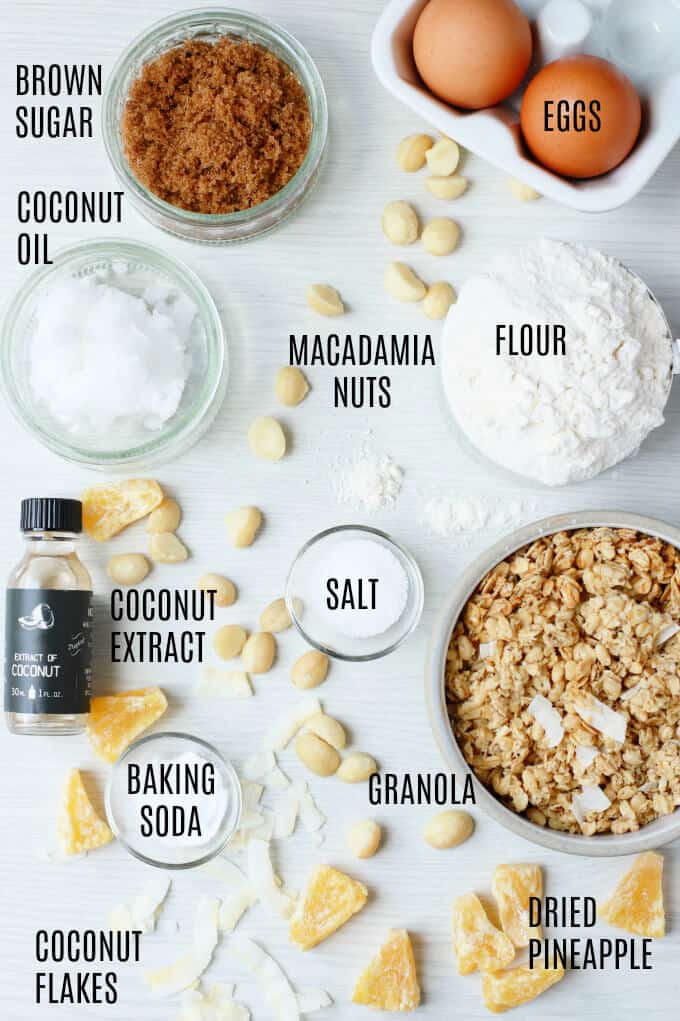 Ingredients
Coconut oil
Brown sugar
Eggs
Rum or coconut extract
All Purpose Flour
Baking soda
Salt
Candied dried pineapple
Granola
Macadamia nuts
Coconut flakes
If you are unable to source sweetened dried pineapple chunks, try other dried tropical fruits such as banana chips or papaya.
Macadamia nuts really increase the 'crunch' factor in this recipe but go ahead and switch them up using your favourite nut.
Lastly, let's talk granola. Freshly homemade granola will give these cookies the best flavour and texture. However, if you need to use up store bought granola from your pantry, no one is judging. These cookies are the perfect way to use up old granola.
Alternatively, if 'Tropical' isn't your thing, these cookies are quite versatile. Just leave out the coconut, pineapple, and macadamia nuts and replace with an equivalent amount of your preferred add ins.
These add-ins can include your favourite kind of chopped nuts like pecan, walnuts, hazelnuts or cashews, dried fruits like apples, apricots, craisins (dried cranberries) or raisins. White or semi-sweet chocolate chips to make the ultimate chewy chocolate chip granola cookie.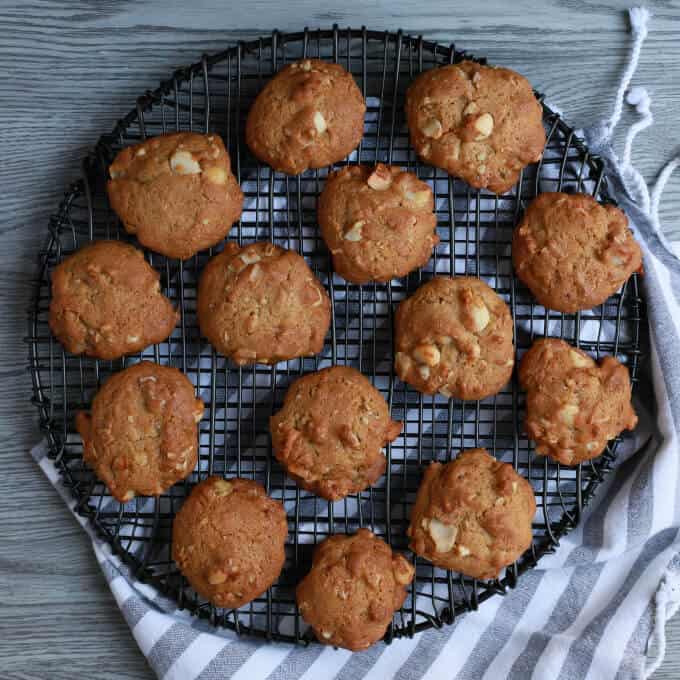 How to Make Tropical Coconut Chewy Granola Cookies
These are some special cookies. The dreamy tropical flavours and chewy, yet crunchy texture really set them apart from your average cookie.
While I usually begin baking cookies by creaming butter and sugar together, these cookies begin differently. They are made with coconut oil, which is solid at room temperature.
PS. Now is a great time to pre-heat your oven to 350 degrees Fahrenheit.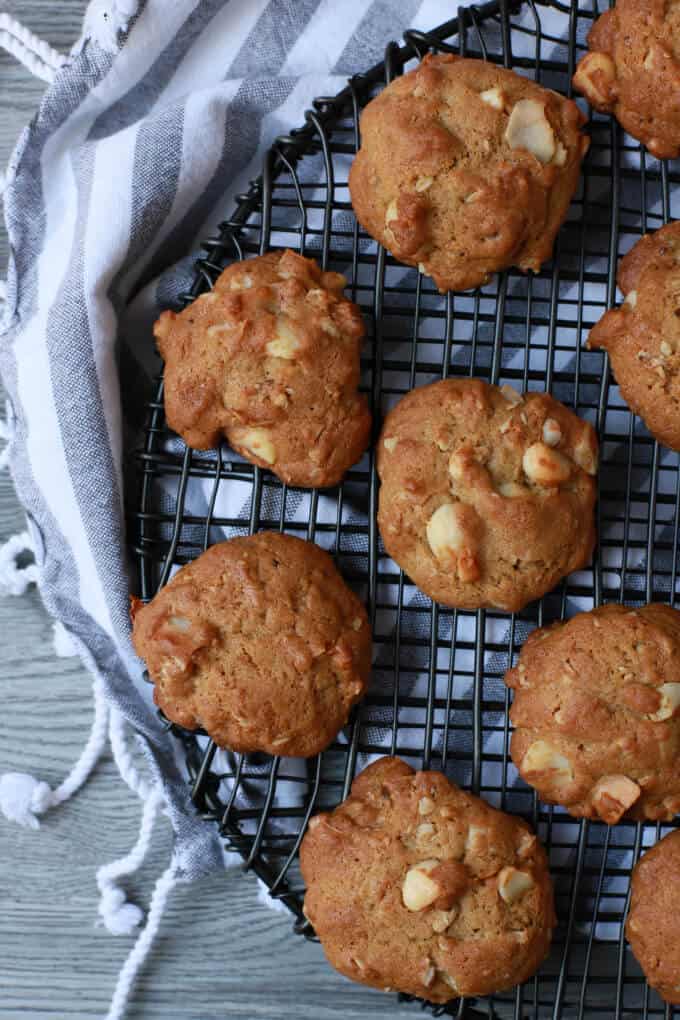 The Best Granola Cookies Ever!
The coconut oil needs to be softened before it is creamed with the brown sugar. You can achieve this by microwaving it for a few seconds or by placing it in a cup in a bowl of boiling water. It doesn't take much heat or time to melt coconut oil.
Using the paddle attachment of a stand mixer, cream the coconut oil and brown sugar together for a few minutes. You can also use a large bowl and wooden spoon if you prefer.
Next, add the eggs (always room temperature) and coconut extract.
Why room temperature eggs you ask? Room temperature eggs won't number one, reduce the temperature in your cookie dough, therefore, requiring them longer to bake. They also mix better when warmer and your cookies will rise more easily.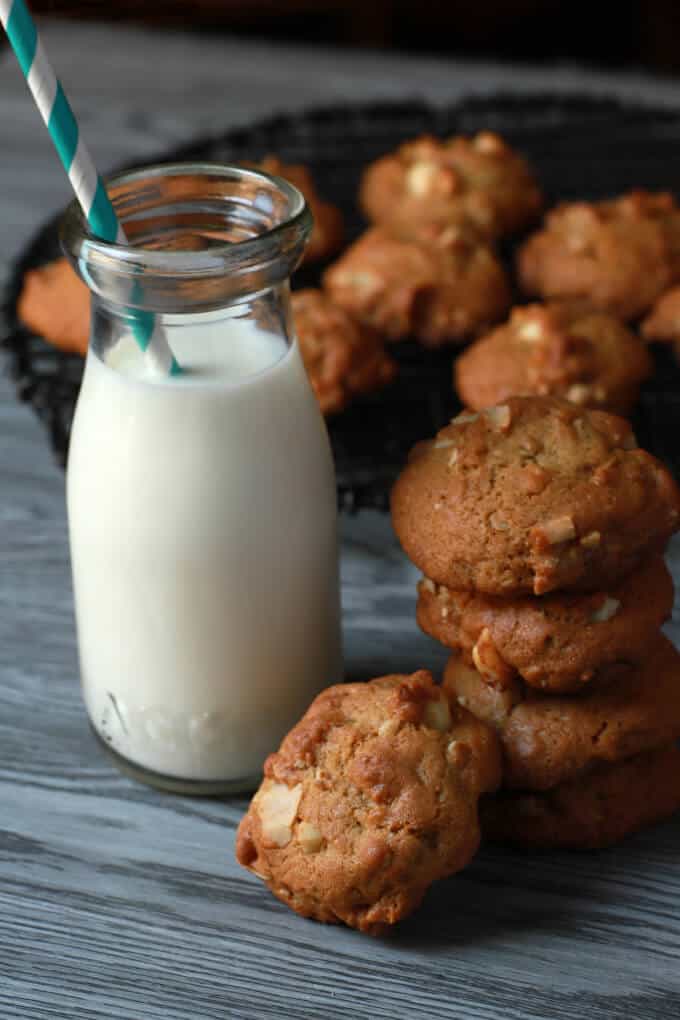 With the mixer still running, add in the flour, baking soda, and salt. The dough will come together, but it's a good idea to scrape down the sides of the bowl so that the dough is mixed well.
At this point, the dough should be fairly stiff. Detach the mixing paddle and mix in the add-ins (coconut flakes, pineapple, macadamias) using a wooden spoon and some old fashioned elbow grease.
Chill the dough for an hour before scooping it by rounded tablespoon onto parchment paper lined baking sheets. Alternatively, use a cookie scoop if you have one.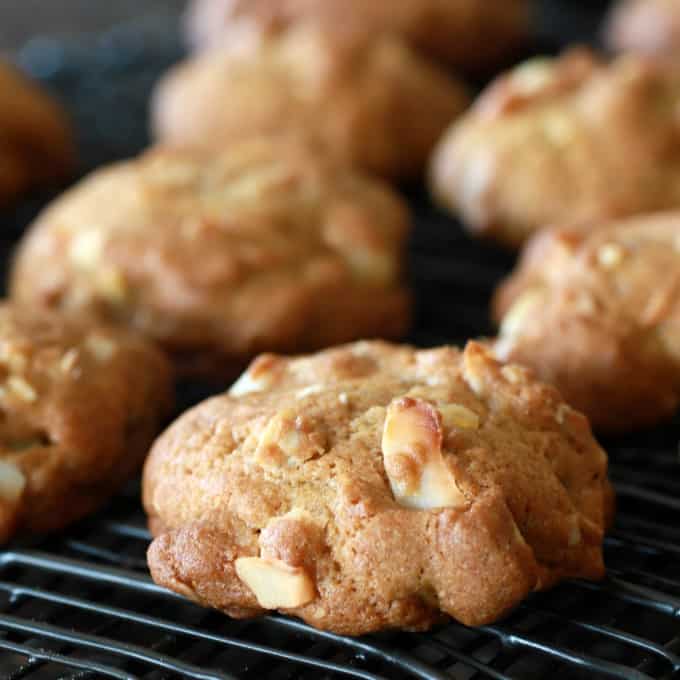 Baking the Granola Cookies to Perfection
Ovens are temperamental appliances and can often vary widely in temperature. Even though the dial says 350 F, it may be baking at a few degrees above or below this optimal cookie temperature.
This is the reason I have given a range of 10-14 minute baking time, with 12 minutes being the average bake time.
The first time you bake these cookies, keep a close eye on how they are baking. If your oven runs 'hot' you'll need less baking time than one that runs 'cool'.
The cookies should be slightly golden with a darker bottom and still quite soft if you poke them with your finger. Careful! They are hot.
Baking sheets with parchment paper help to bake the cookies to perfection also making sure the bottoms don't get too browned. Plus the non-stick quality of parchment lets you remove the cookies easily from the baking sheets without cracking or breaking them.
Cool the cookies on a wire rack, then enjoy!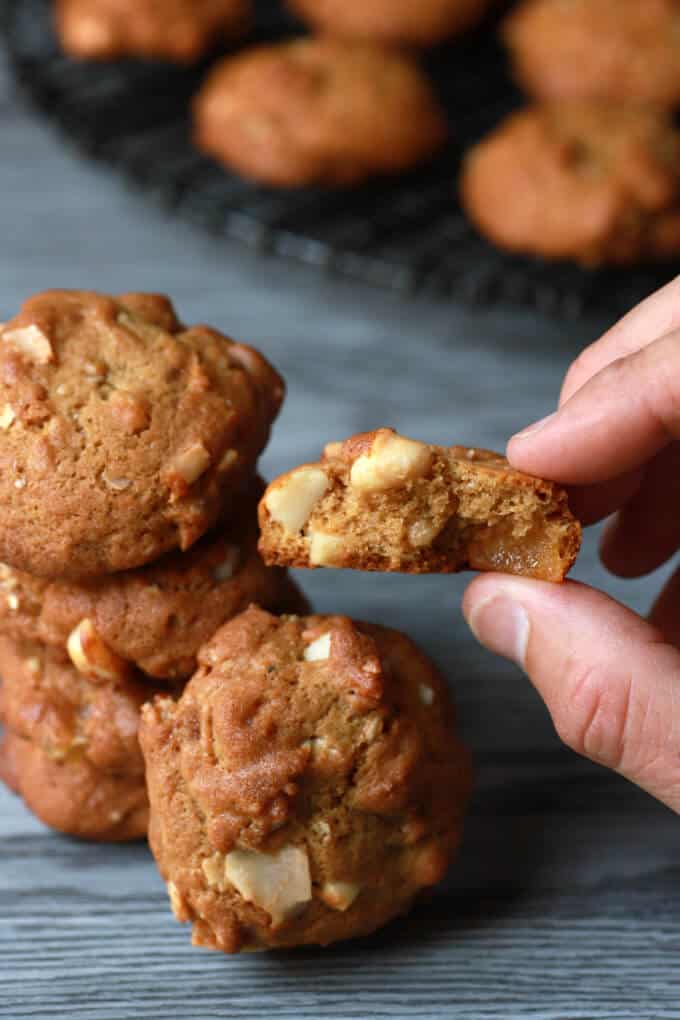 Storing Baked Cookies
I like to keep these cookies on the kitchen counter and grab one every time I walk by. Let's pretend for a moment that they won't disappear as soon as they come out of the oven…
Store the Tropical Coconut Chewy Granola Cookies in a cookie jar or tin for up to a week. They freeze well too. Just make sure they are in an airtight container so they don't end up tasting like 'freezer'.
Most cookies do freeze well except fragile cookies like tuiles, florentines, lace, and such. If the batter is liquidy don't try to freeze either the batter or the cookie. You won't have success. Otherwise, freeze away.
That's it. You and I both know they won't last that long.
More Great Cookie Recipes
Cookies, cookies and more cookies!! We don't make cookies that often so when we do we want them to be really good! Here is a short list of some of our favorite cookies!! Enjoy!!
Easy Snickerdoodle Hershey Kiss Cookies
Speculoos Cookies (Classic Recipe)
Gluten Free Chocolate Walnut Cookies
Better Than Dad's Copycat Oatmeal Coconut Cookies
Pin it HERE!!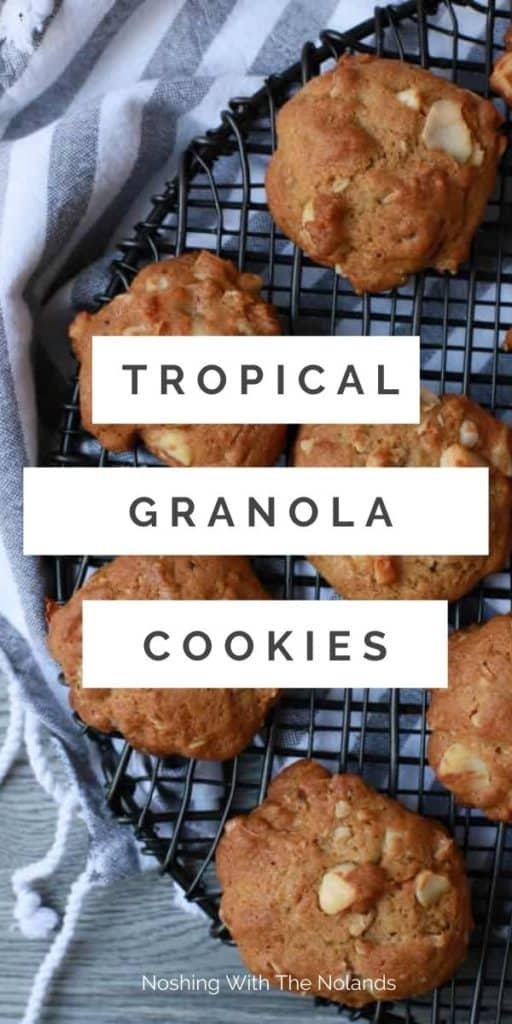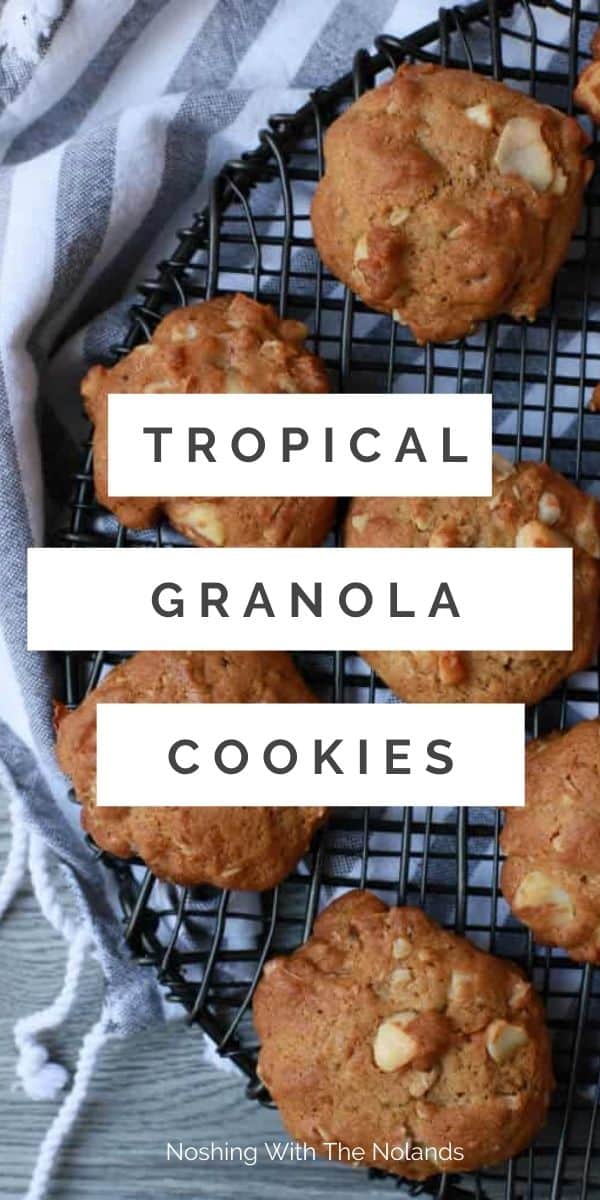 Pin it HERE!!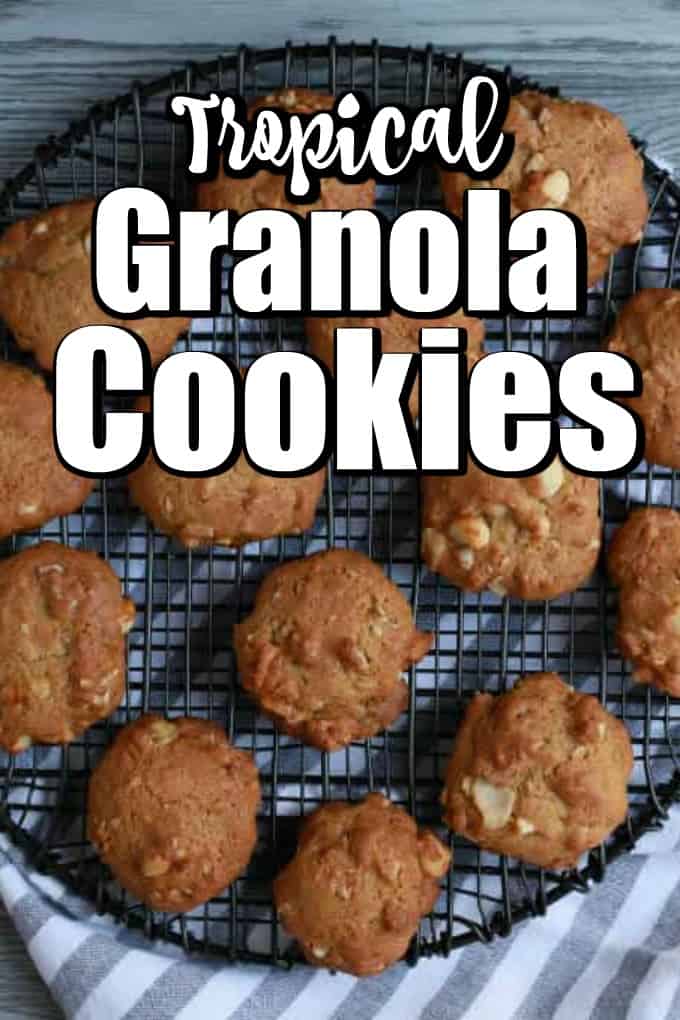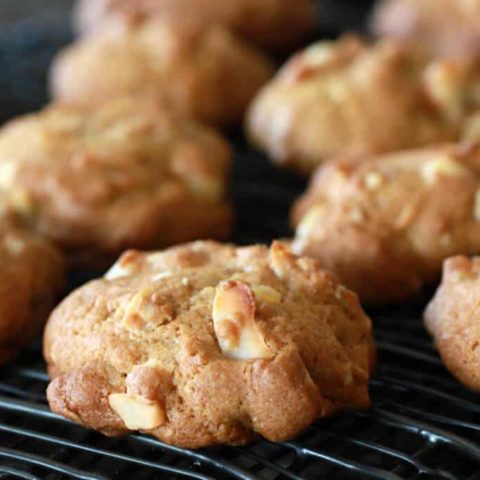 Tropical Coconut Chewy Granola Cookies
Yield: 24 cookies
Prep Time: 20 minutes
Cook Time: 28 minutes
Additional Time: 1 hour
Total Time: 1 hour 48 minutes
Chewy Granola Cookies baked to perfection with a perfectly chewy texture and a hint of granola crunch. The flavours of coconut, pineapple, and macadamia nuts bring you to the tropics without ever leaving home.
Ingredients
1/2 cup coconut oil
1 cup brown sugar; packed
2 eggs
1 tsp rum or coconut extract
1 1/4 cups flour
1 tsp baking soda
1/2 tsp salt
1/4 cup candied dried pineapple; chopped
1/2 cup loose granola
1/4 cup macadamia nuts; chopped
1/4 cup large coconut flakes
Instructions
Beat coconut oil and brown sugar in the bowl of a stand mixer (or by hand) together until well combined. Keeping the motor running, add in eggs, then extract.
Blend in flour, baking soda, and salt. Mix well, scraping down the sides of the bowl as you go.
Stir in pineapple, coconut, and macadamias. The dough will be quite stiff and you may need to do this by hand.
Chill the dough for an hour.
Pre-heat oven to 350 F. Line baking sheets with parchment paper.
Evenly space dough by dropping it in heaped tablespoons onto parchment paper (12 cookies per sheet).
Bake in a 350 F oven for 10-14 minutes. Remove and let cool on wire racks.
Nutrition Information:
Yield: 24
Serving Size: 1
Amount Per Serving:
Calories: 146
Total Fat: 8g
Saturated Fat: 5g
Trans Fat: 0g
Unsaturated Fat: 2g
Cholesterol: 16mg
Sodium: 122mg
Carbohydrates: 17g
Fiber: 1g
Sugar: 11g
Protein: 2g
Recipe calculation was provided by Nutritionix and is an estimation only. If you need nutritional calculations for medical reasons, please use a source that you trust.