Speculoos Cookies (Classic Recipe)
Bake up some perfectly crisp 'n' spicy Speculoos Cookies (Classic Recipe) for the holidays or any time using this great recipe. One bite and you'll be transported to a nostalgic era.
Have you ever had a Speculoos Cookie, they are also called Speculaas? The aroma that fills your home as you bake these pleasantly spiced buttery cookies brings feelings of nostalgia to family and friends. The warmth from the spice blend makes these a perfect wintery cookie. For another delightful European treat try our amazing Orange Madeleine Cookies or for that spice again try our Festive Gingerbread Cupcakes.
They have such a delicate crispness and delicious flavor, you will fall in love with them at first bite. Try them on their own or with a cup of tea or hot chocolate. Since they are nice and crisp, they make the perfect dunking cookie!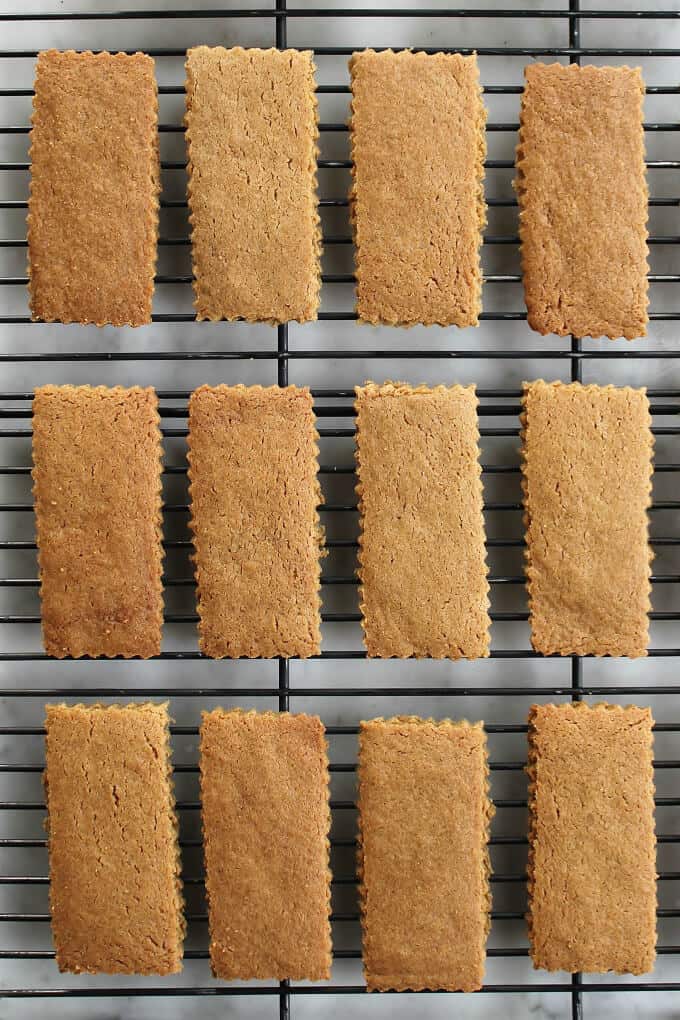 Hi everyone! My name is Bernice and today I'm kicking off my holiday baking season here on Noshing With The Nolands. Baking cookies is an important part of my family's Christmas preparation, so I have quite a few favorite holiday recipes over at my blog, Dish 'n' the Kitchen.
We always spend Christmas Eve feasting on a French Canadian Tourtière then finish with a tray of sweets that always includes a few types of shortbread. These Speculoos Cookies will fit right in on the cookie tray!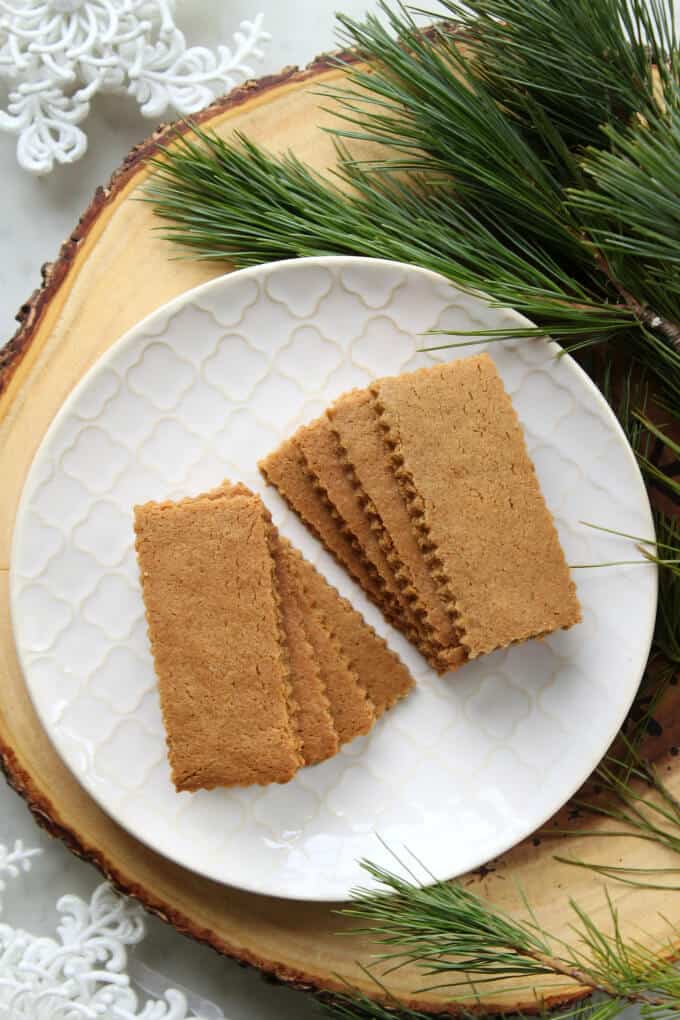 What Are Speculoos Cookies?
Speculoos (or Speculaas) Cookies in their most simple form are a roll and cut shortcrust cookie. They can be quite plain to look at but it's what's inside that counts. These cookies have a buttery, delicate crumb scented with a combination of warming speculaas spices.
Most commonly, these spices include cinnamon, nutmeg, ginger, clove, and cardamom but may also differ regionally with additions of white pepper, mace, and anise.
The other ingredients that go into this cookie are unsalted butter, dark brown sugar, an egg, all-purpose flour, baking soda, and salt.
They are made in a traditional way of first creaming the butter and sugar together until it is light and fluffy, then add the egg and then the flour mixture which is the dry ingredients.
Sometimes, the cookies can be decorated with a few sliced almonds pressed slightly into the dough just before baking.
You may have had this type of cookie from Biscoff before. They are a popular brand that makes this type of cookie. Making them at home for the holidays will bring a smile to everyone's face.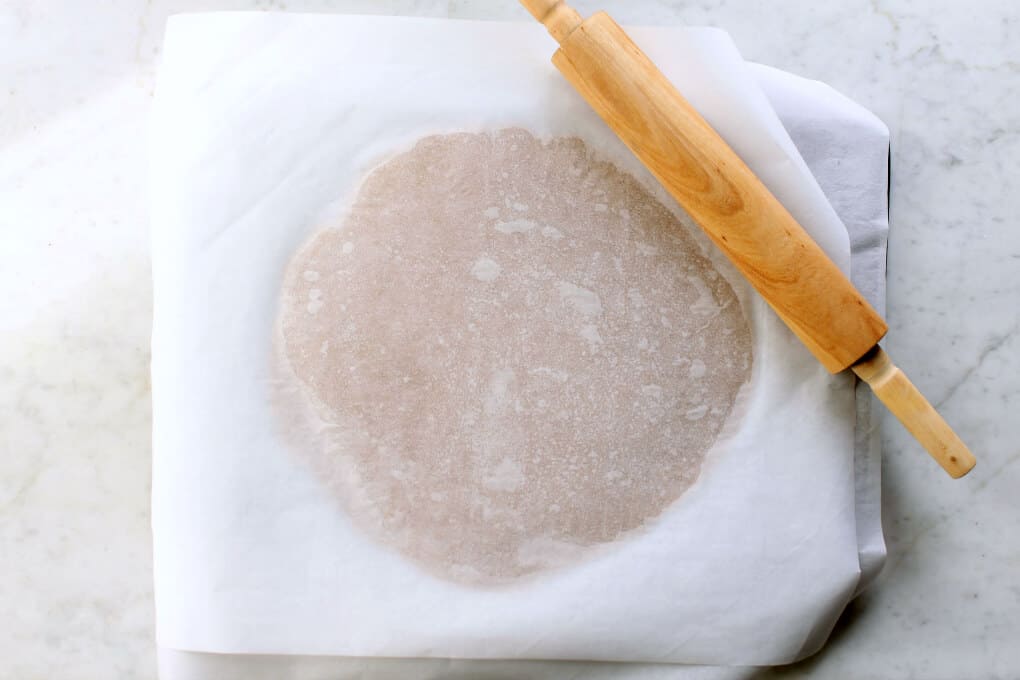 Speculoos are mostly served unadorned, although many come in various shapes including the famous Voortman Windmill Cookies. For the more traditional shaped varieties, a cookie mold (called a springerle mold) is used to create intricate scenes on the cookies.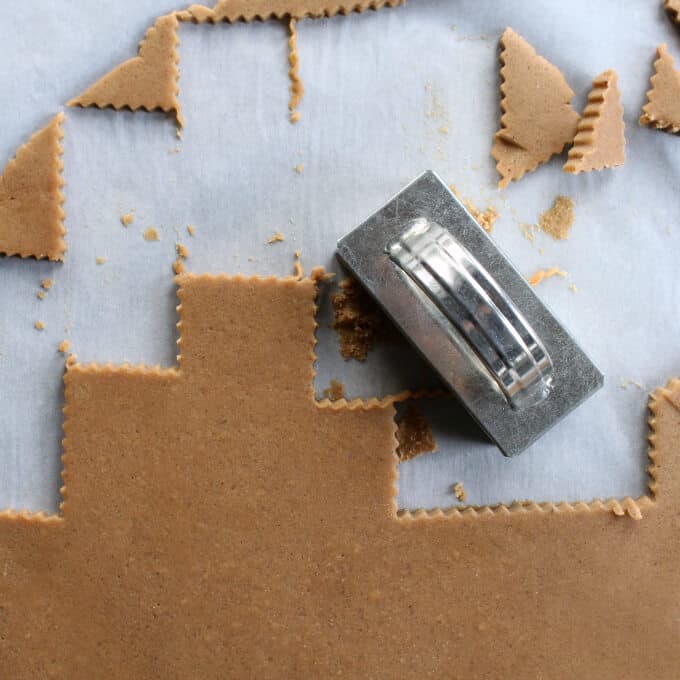 Where Are Speculoos Cookies From?
Speculoos, which are sometimes called Speculaas, Speculoos, Dutch Windmill Cookies, Belgian Spice Cookies, spekulatius (German), and Biscoff Cookies are originally from The Netherlands. However, different varieties that vary in taste and texture are found in other parts of Europe.
Served on St. Nicholas' Day, these cookies were originally made using hand-carved molds and mirrored the shape of the generous saint. Since the Latin word for mirror is speculum, this is one plausible explanation for the origin of the name Speculoos.
You don't have to be a pastry chef to make this simple cookie, using any mold will work well or simply slicing them into rectangles.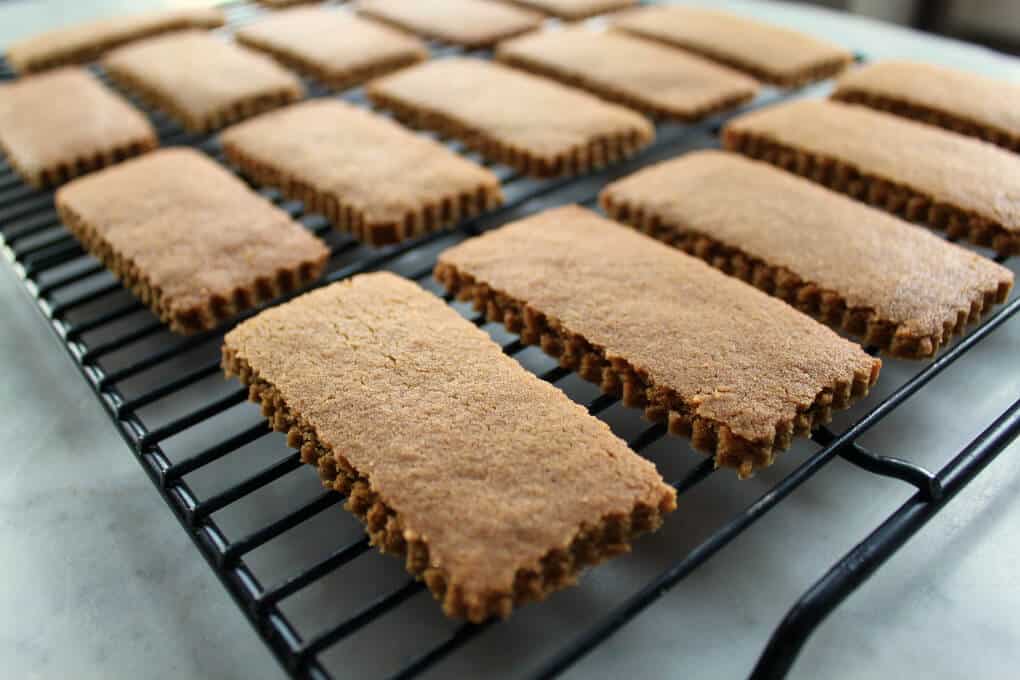 Modern Speculoos Cookies
These days Speculaas cookies are manufactured by many companies. You can even buy them at Walmart and Trader Joe's! Keep your eye open for the most well know brands like Voortman and Biscoff. However, there is nothing like the smell, texture, and taste of a freshly make Speculoos Cookie.
Speculoos cookie butter or speculoos spread is a rich spread made from ground speculoos cookies and butter is one of life's most delicious pleasures. It's entirely addictive and totally calorie-free. Don't say I didn't warn you!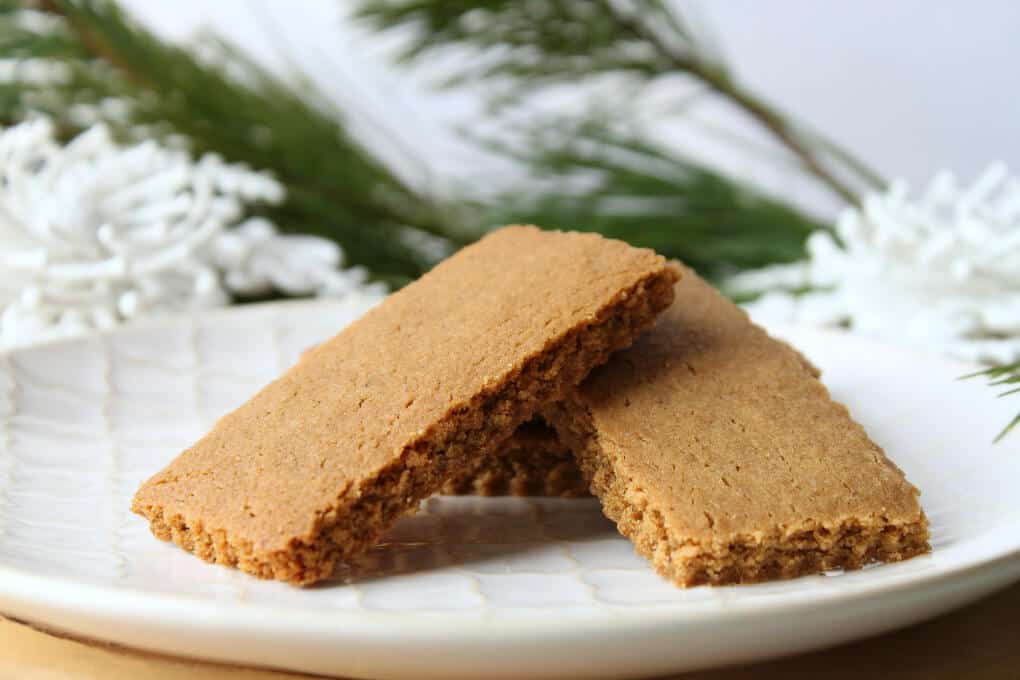 Baking Tips for Great Speculoos Cookies
Use room temperature unsalted butter.
Cream the butter with the sugar until it becomes paler in color (this may take a while!).
Use a room temperature egg.
Preheat the oven and prepare the baking sheets with parchment paper.
Whisk the dry ingredients together in a separate bowl before adding to the butter/sugar/eggs.
Do not over mix the dough. Mix until all ingredients have come together, then turn the dough out on a clean surface and mix by hand, if necessary.
Roll between two sheets of parchment paper, anchoring the bottom of the sheets between your body and the work surface and rolling in an upward motion.
Allow the dough to chill for 20-30 minutes before cutting into shapes.
Once from the oven, place them on a rack to cool.
INGREDIENTS
Unsalted butter
Dark brown sugar
1 large egg
All-Purpose flour
Finely ground Almond Flour
Salt
Baking soda
Ground cinnamon
Ground ginger
Ground cloves
Ground nutmeg
Ground cardamom
Sliced almonds (optional)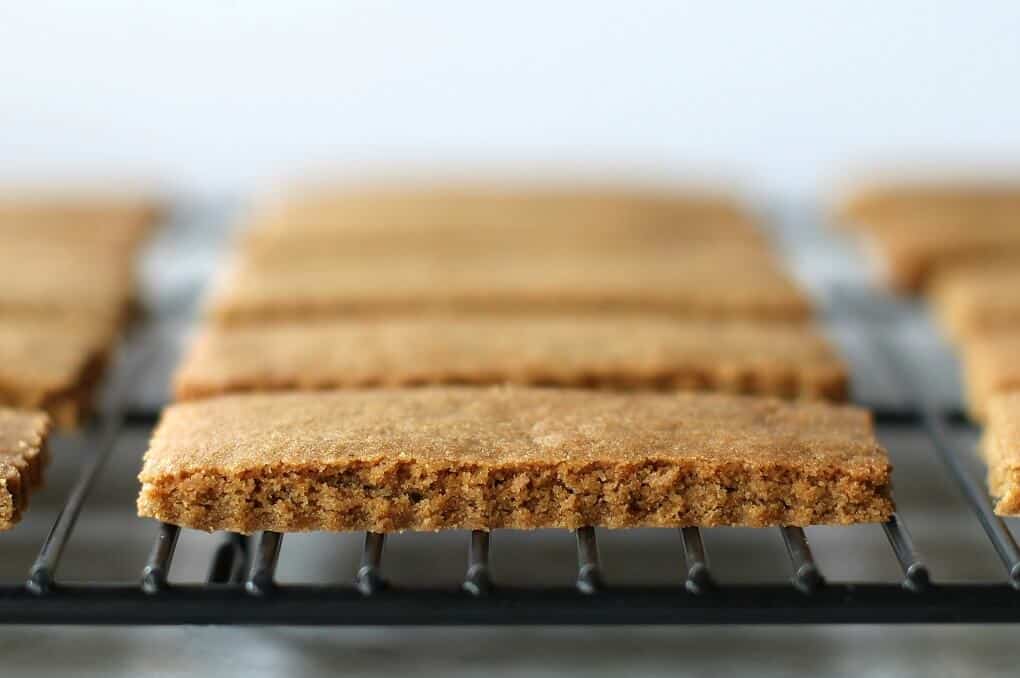 How to Store Your Speculaas
These cookies are very sturdy and will keep for at least a week in an airtight container. They freeze well which makes them a great choice if you are starting your Christmas baking a bit early.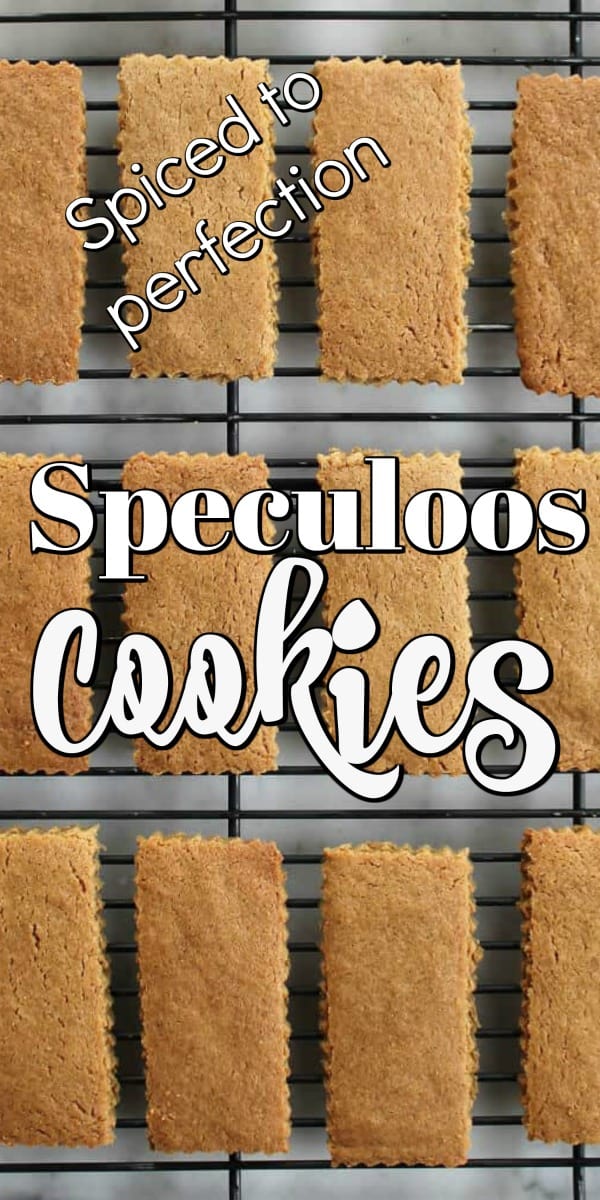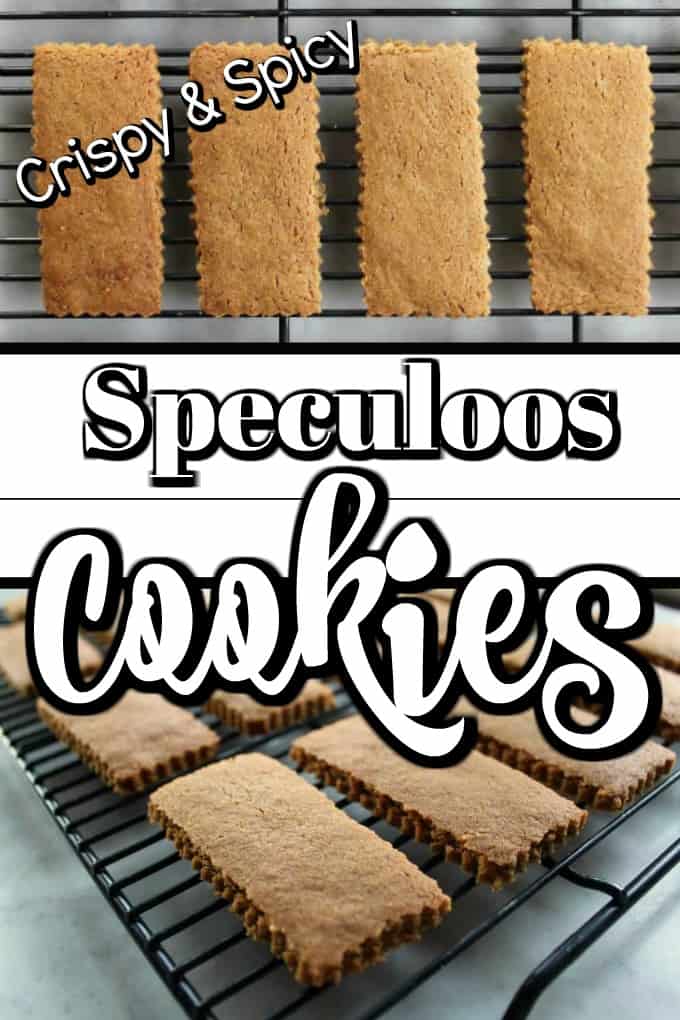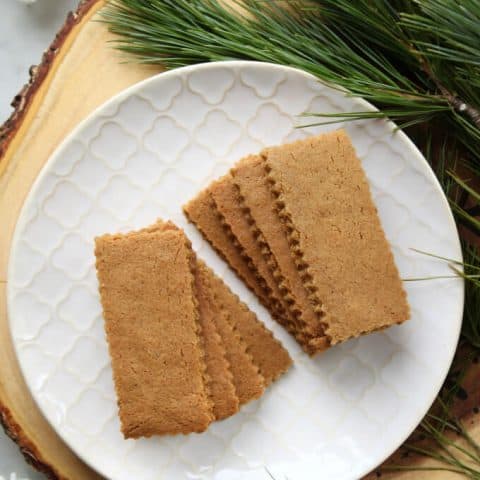 Festive Speculoos Cookies (A Classic Recipe)
Yield: 24 cookies
Prep Time: 45 minutes
Cook Time: 10 minutes
Total Time: 55 minutes
Bake up some perfectly crisp 'n' spicy Speculoos Cookies using this classic recipe. One bite and you'll be transported to a wintery wonderland.
Ingredients
1/2 cup unsalted butter; room temperature
1/2 cups dark brown sugar; packed
1/2 cup white sugar
1 large egg; room temperature
1 1/2 cups flour
1/3 cup finely ground almond flour
1/4 tsp salt
1/2 tsp baking soda
1 1/2 tsp ground cinnamon
1 tsp ground ginger
1/4 tsp ground cloves
1/2 tsp ground nutmeg
1/4 tsp ground cardamom
1/3 cup sliced almonds (optional)
Instructions
Using a stand mixer or hand held mixer, cream the butter and sugar together until the mixture becomes lighter in colour.
Add egg to the butter/sugar and mix in well.
Measure all dry ingredients into a bowl and whisk slowly to combine.
With the mixer on low speed, gradually add dry ingredients. Let them come slightly together then turn out on a clean surface and finish mixing by hand.
Cut two large lengths of parchment paper and place dough in between them.
Steady the end of the paper in between your body and the counter while you roll the dough in an upward motion.
Roll dough out in an even fashion until it reaches 1/4 inch thickness. Chill for 20-30 minutes.
Pre-heat oven to 350 F. Remove dough from refrigerator and cut into desired shapes. Place shapes 1 inch apart on a parchment lined baking sheet. Press sliced almonds on top, if using.
Bake for 8-10 minutes. Remove and allow to cool on a baking rack. Store in an airtight container for up to 7 days or freeze.
Recommended Products
As an Amazon Associate and member of other affiliate programs, I earn from qualifying purchases.