I love a pretty cookie for the holidays and have made these Snowflake Sugar Cookies for so many years but have never shared them with you. They are not hard to make but they do take time. It can be a fun family project also that can pull everyone together to pitch in!!. The dough makes quite a lot, I never know how many dozen as they are always in different sizes. This year I did half snowflakes and Amber has done other shapes like mittens, reindeer, stars, snowmen etc. to decorate later. You can just pop them into the freezer and when you have some good quality family time pull them out and decorate.
Adding these very pretty cookies to a big tray of sweets, makes your tray even more appealing. They make everything look so festive!! This sugar cookie dough is very forgiving, so if you mess up rolling it out then just ball it up again and re-roll once more. You can use almost every scrap of this dough. I originally got the recipe from a friend of mine, Carla and over the years have nipped and tucked it slightly.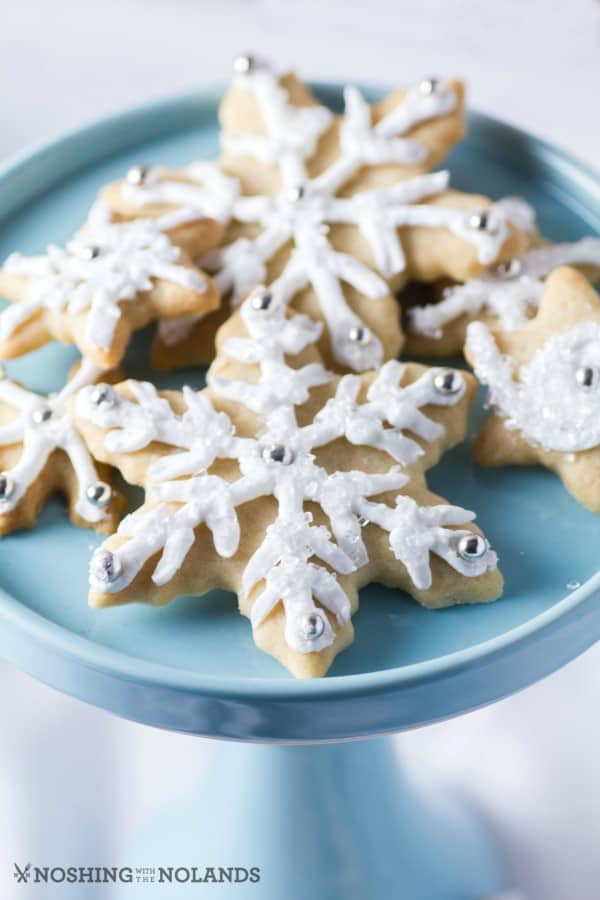 Putting the larger white sparkling sugar (like sprinkles) on these cookies makes them sparkle and then decorating them with silver dragees adds the perfect elegance. Both of these can be located in craft or kitchen stores or online. I make a royal icing and then thin it down to the desired consistency. I do make mine quite thick as my hands are always very warm and that changes the temperature of the icing to have it flowing easily for me.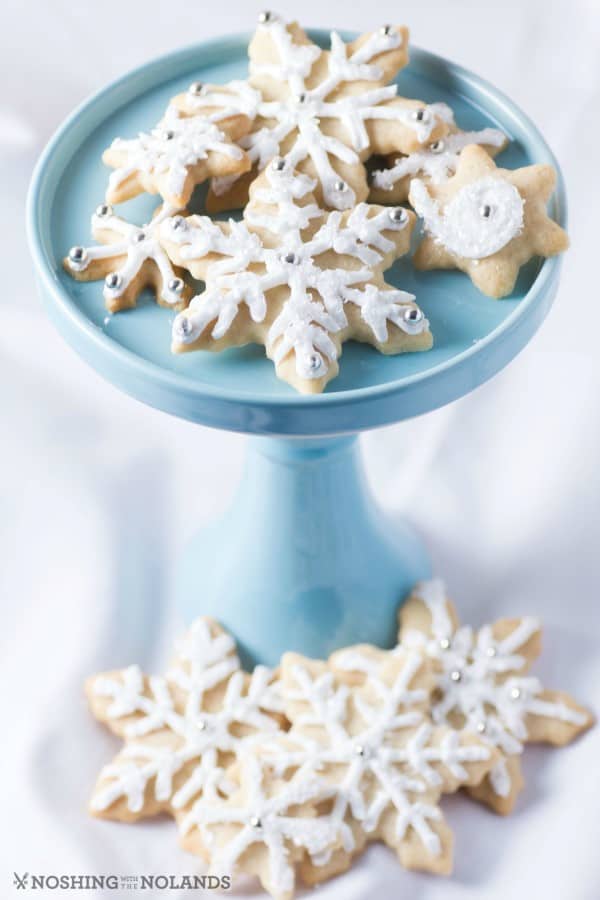 These are a winter cookie and not necessarily a Christmas cookie, so they can be enjoyed past the holidays too. They would be great paired with my whimsy Polar Bear cookies for a fun winter tray of goodies. Perfect for a skating or tobogganing party!
The Recipe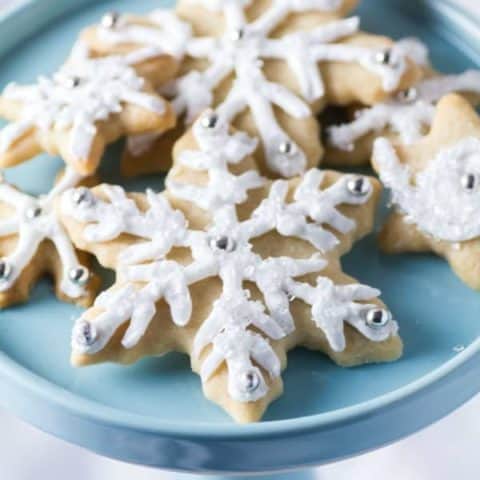 Snowflake Sugar Cookies
Cook Time: 10 minutes
Total Time: 10 minutes
Ingredients
1/2 cup brown sugar
1/2 cup white sugar
1 cup butter, softened
2 eggs
1 tsp. vanilla
1/2 cup white corn syrup
pinch of salt
2 tsp. baking powder
3 1/4 cups flour
Icing
3 Tbsp. meringue powder
4 cups icing sugar
5-6 Tbsp. water, then more to get desired consistency for piping
Sparkling white sugar
Dragees
Instructions
In a stand up mixer cream butter and sugars together and then beat in eggs until well mixed. Add vanilla and syrup. Whisk together dry ingredients and add slowly, mixing well until all is incorporated. Chill the dough well, best if done overnight. Roll out dough onto a well floured surface and cut into various snowflake shapes. Bake at 325F for 8-10 min. on a lightly greased cookie sheet. Let cool 5 min. on the tray and then remove to further cool on a cooling rack.
For the icing, using a standup mixer with a paddle attachment, mix together the meringue powder, icing sugar and water. Beat until stiff peaks form and it has lost its sheen. Add in more water to desired thickness. Fill a piping bag (cover remainder with a damp cloth) and pipe on snowflake lines or whatever you like. Work quickly as the icing dries fast. Gently press into the sparkling sugar and add dragees if desired. Let dry completely on a cookie rack and then store in an air tight container in the freezer until ready to serve.