Ginger Star Cookies
These Ginger Star Cookies will remind you of the spice cookies your Grandma used to make. Perfectly flavored, buttery and so good — they don't even need frosting.
Maybe you've tried our Fruit Cake Cookies, Christmas Sugar Cookies, Florentines, or even the Polar Bear Cookies. Well, today I thought I'd "spice" things up (see what I did there?) with these delicious Ginger Star Cookies.
Once you start with these spicy cookies you can't stop eating them. They are a great recipe that will be loved by your family and friends.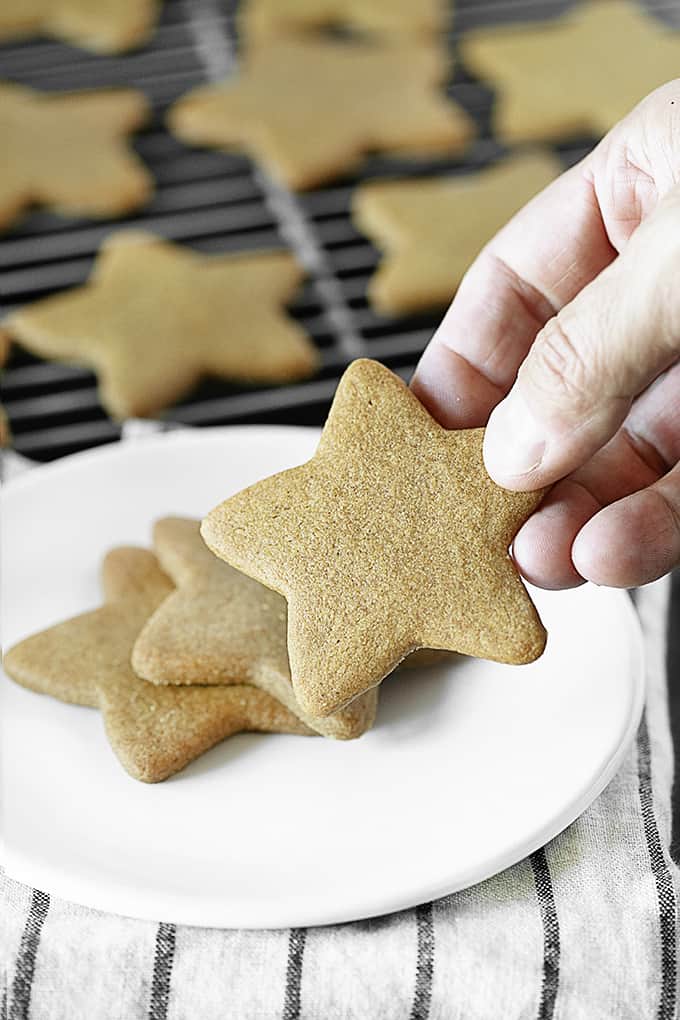 Helpful Items for This Recipe
This post contains affiliate links. As an Amazon Associate, I earn a small portion from qualifying purchases.
Star Cookie Biscuit Cutter Set 10
I'm always amazed at all of the incredible cookie recipes that surface around the holidays. I mean, we eat cookies all year long, but in December and around Christmas — we bake and eat all the cookies. And you know what? There are so many wonderful recipes to choose from.
Hello friends! It's Kelly again, stopping in from Live Laugh Rowe. I'm always so excited to share a recipe with all of you here, but these cookies might be my favorite to date.
I recently shared these mouthwatering Slow Cooker Candied Pecans. However, I need to warn you that they're a bit addictive… so be very careful (wink-wink). However, they make a great holiday gift or treat! Anywho, I can't wait to share this cookie recipe with you.
Delicious Spiced Cookies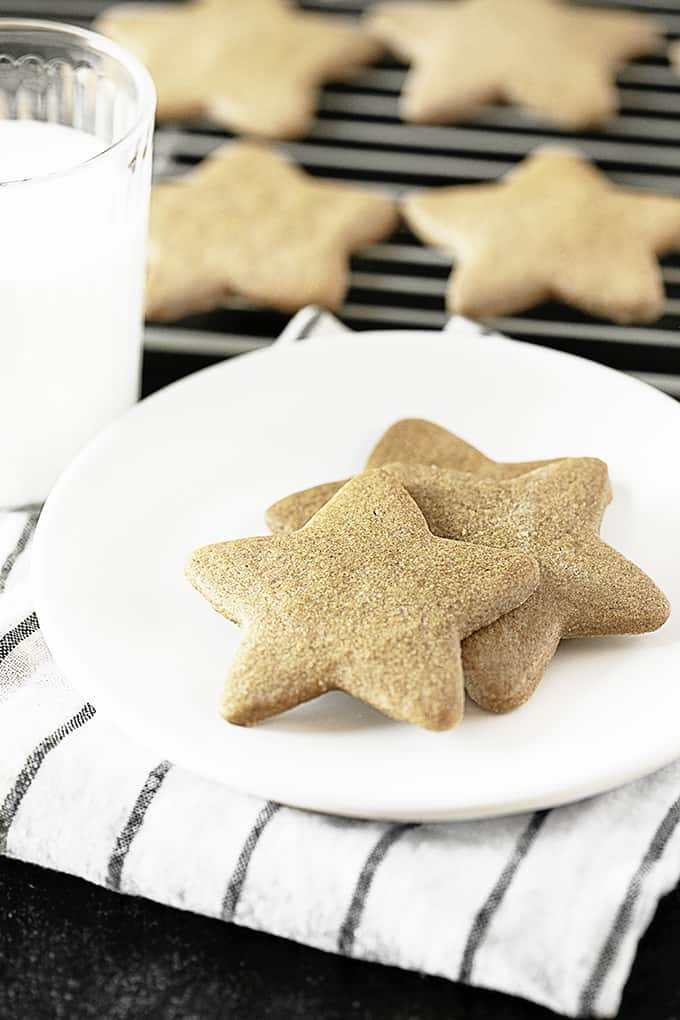 Cookies and baking hold a very special place in my heart, and not just because they're yummy and fun to bake. Ha-ha. They always make me think of the times when my sister and I would spend days with our mom making holiday cookies. Some days were more fun than others, but they were memorable moments, nonetheless.
There's something about the sound of a rolling pin on the counter and hoping you get the thickness of your dough just right before pushing the cookie cutter down and hoping it went through the dough (which that usually depends on the quality of the cookie-cutter).
I guess you could say there's an art to it, but most of us just go with what we know and hope for the best.
Cookie Memories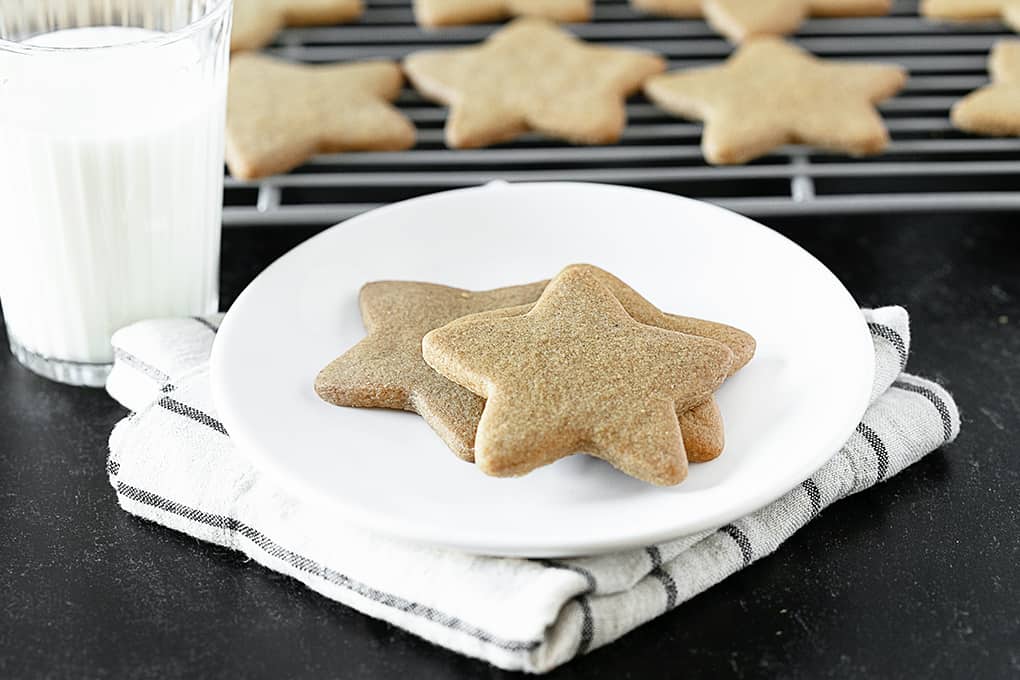 I distinctly remember when we were living in Upstate New York, I was probably in junior high or high school. We had a friend visit from Pennsylvania and she made this amazing Cream Wafer Cookie Recipe. It seemed so complicated at the time but tasted so delightful. However, I've been making those cream wafer cookies year after year. So, it turns out that they weren't that hard to make — a little time consuming, but worth it.
Then there's the Chocolate Chip Cookies my sister and I made every year (once we were old enough). Our Uncle would say that we made the best Chocolate Chip Cookies and we would giggle.
Why? Because we always made the recipe on the back of the Nestle Chocolate Chip bag. Ha! Of course, we were flattered and told him that's what we did, but he swore they were the best. Maybe he was lying, maybe not — but those memories stick with you.
Is there a cookie recipe that takes you on a walk down memory lane? Which one is it and why?
How to Make Ginger Star Cookies
Start by mixing the sugar and room temperature butter in a bowl. Some recipes use brown sugar but we used white sugar for this recipe. Beat at medium speed.
Add egg, molasses, and vanilla — beating until well blended. Then in a large bowl whisk together the dry ingredients, the flour, baking soda, ground cinnamon, ground ginger, salt and ground cloves. Add these to your butter mixture and beat at a low speed until well mixed.
Some ginger cookies recipes use crystallized ginger which I also like but this one keeps it simple with ground ginger that many should already have in their spice drawer.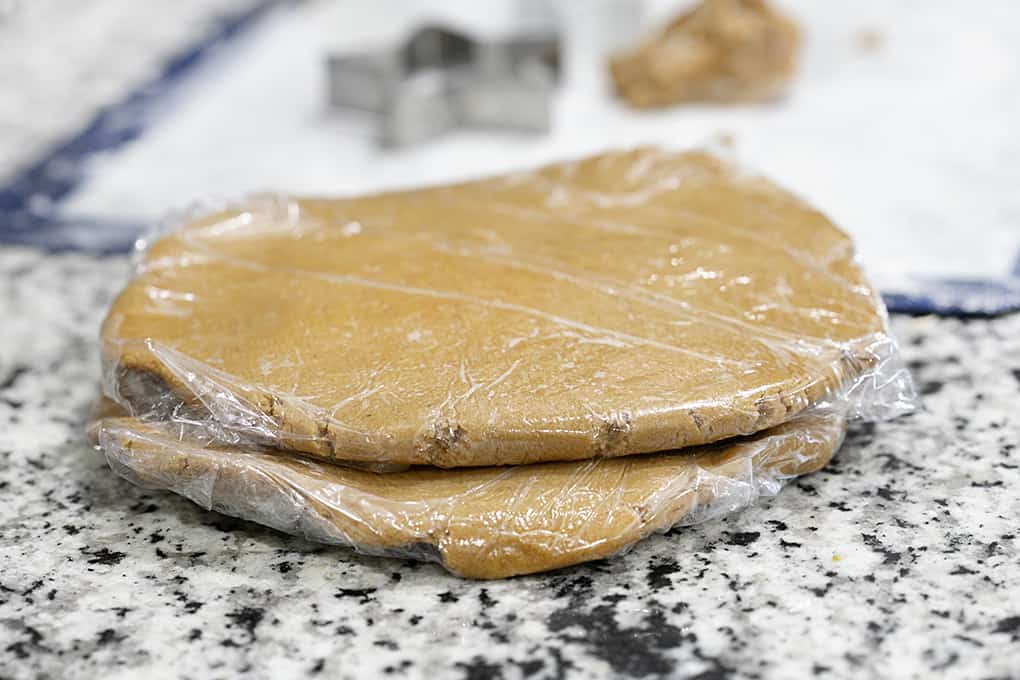 Once the dough is complete, you'll divide it into thirds. Shape each third into a ball, then flatten to about 1/2-inch thickness. Wrap in plastic wrap and refrigerate for 1-2 hours until firm — up to 3 days. I refrigerated mine overnight.
Preheat oven to 375º F. Roll dough on a lightly floured surface (one-third at a time, keeping the remaining dough in the refrigerator) to 1/8-inch thickness.
Using a star cookie cutter of choice (preferably 2 to 3-inch), cut and place 1-inch apart onto an ungreased cookie sheet. Bake 5-7 minutes or until light brown. Cool for one minute on a cookie sheet, then remove to wire racks to cool.
You don't even need a prepared baking sheet as these are just baked directly on the baking sheet. Easy peasy!!
How to Decorate Star Christmas Cookies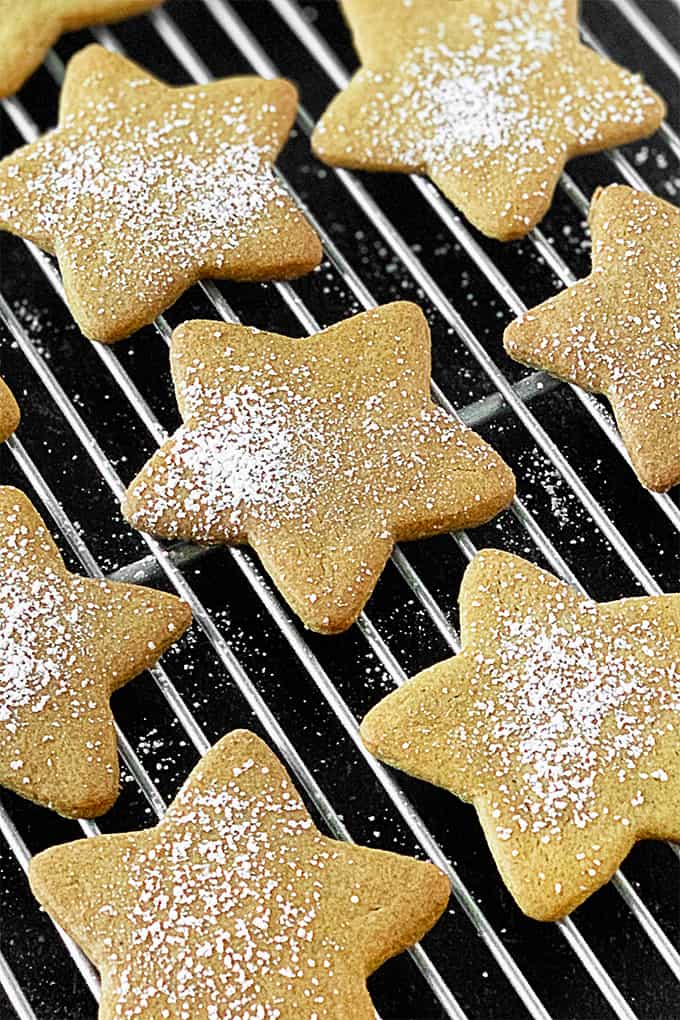 Sifting powdered sugar over the completely cooled cookies is an option, but fun and delicious too. The powdered sugar adds a little twinkle to the stars.
You can also ice these cookies with a thin simple glaze giving them a little shimmer and add some sprinkles or decorative sugar too if you like.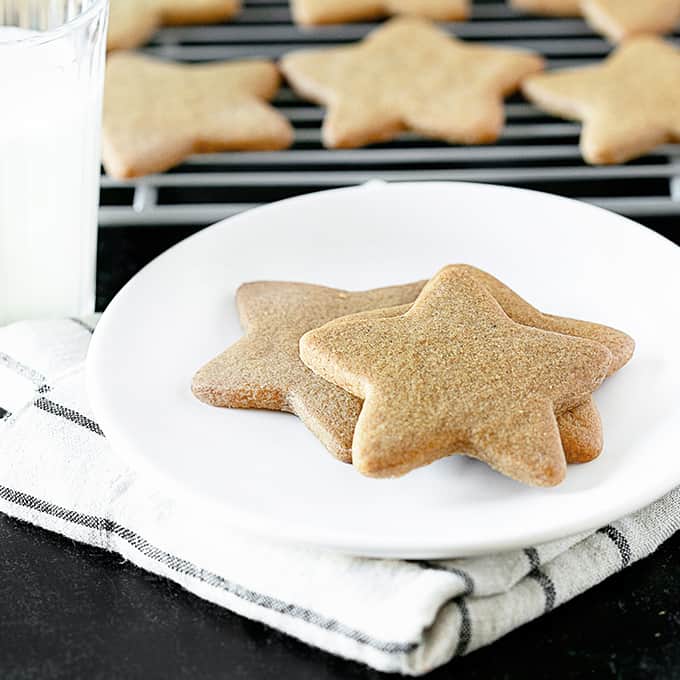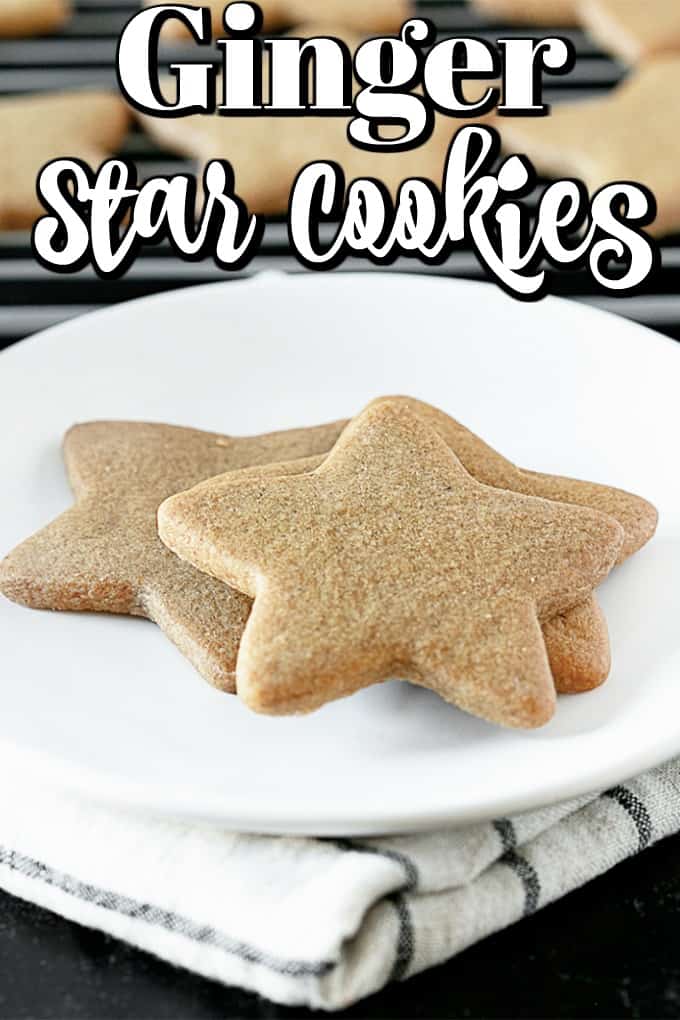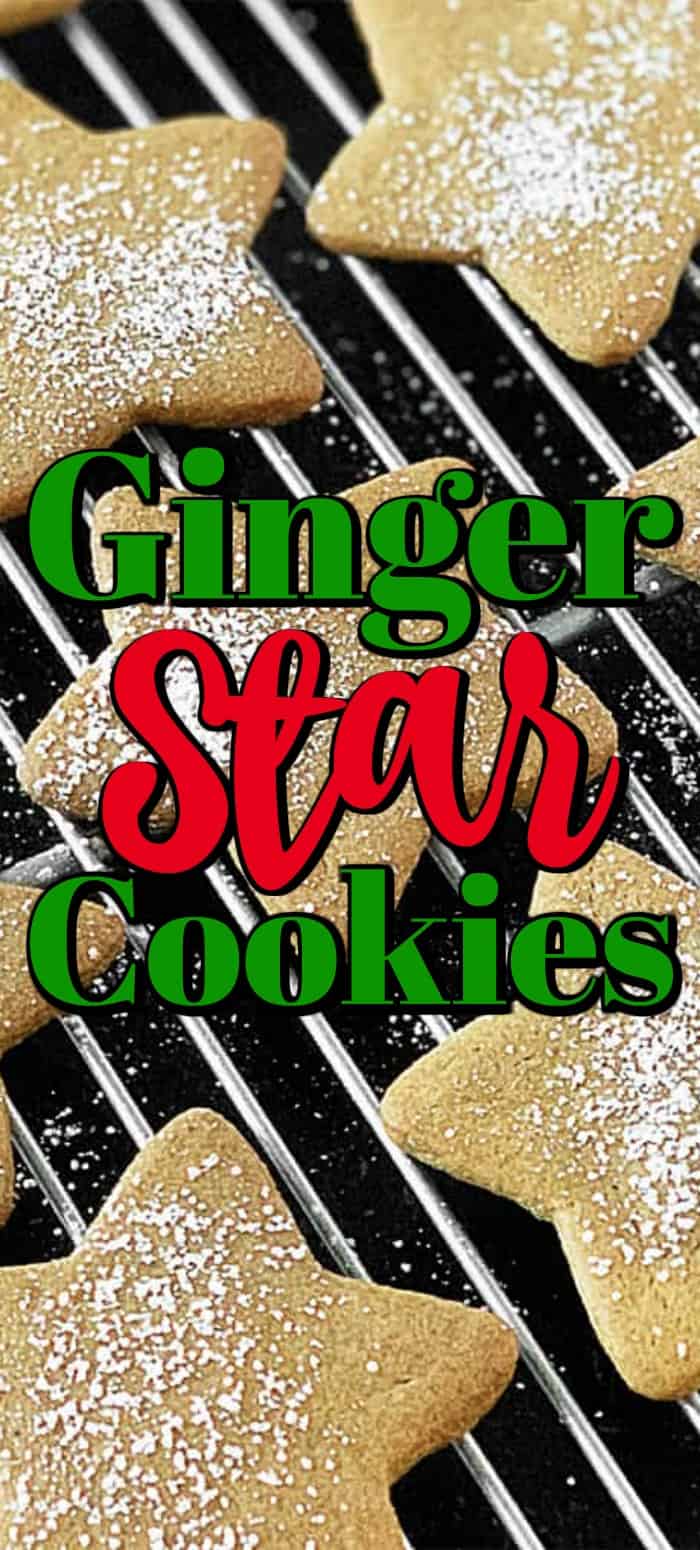 Ginger Star Cookies Recipe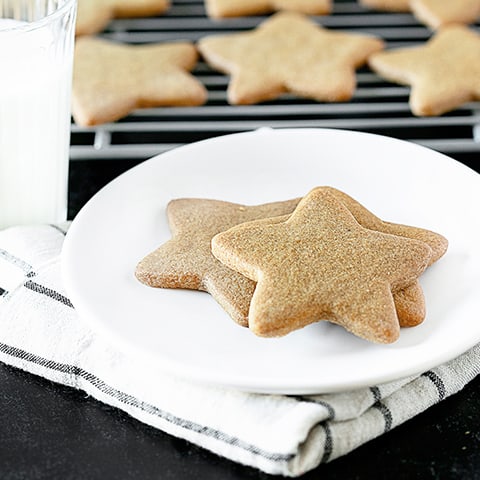 Ginger Star Cookies
Yield: 75-80
Prep Time: 2 hours
Cook Time: 7 minutes
Total Time: 2 hours 7 minutes
Ginger Star Cookies that remind you of the spice cookies Grandma used to make. Perfectly flavored, buttery and so good -- they don't need frosting.
Ingredients
1 1/4 cups sugar
1 cup salted butter, softened
3 tablespoons molasses
1 large egg
1 teaspoon vanilla
3 cups all-purpose flour
1 1/2 teaspoons baking soda
2 teaspoons ground cinnamon
1 teaspoon ground ginger
1/4 teaspoon salt
1/4 teaspoon ground cloves
Powdered sugar, optional
Instructions
Combine sugar and butter in a bowl. Beat at medium speed, scraping the bowl often, until creamy.
Add egg, molasses, and vanilla; continue beating until well mixed. Add all remaining ingredients (except powdered sugar), beat at low speed until well mixed.
Divide the dough into thirds. Shape each third into a round ball; flatten to approximately 1/2-inch thickness. Wrap in plastic wrap. Refrigerate 1-2 hours until firm or up to 3 days. I refrigerated my dough for 24 hours.
Heat oven to 375 F
Roll out dough on a lightly floured surface, one-third at a time (keeping remaining dough refrigerated), to approximately 1/8-inch thickness.
Cut with 2 to 3-inch star cookie cutters(s). Place 1-inch apart onto ungreased cookie sheets. Bake 5 to 7 minutes or until set. Cool 1 minute on cookie sheet; remove to a cooling rack.
Cool completely. Sift powdered sugar over cooled cookies, optional.
Recommended Products
As an Amazon Associate and member of other affiliate programs, I earn from qualifying purchases.
Nutrition Information:
Yield: 80
Serving Size: 2
Amount Per Serving:
Calories: 59
Total Fat: 2g
Saturated Fat: 1g
Trans Fat: 0g
Unsaturated Fat: 1g
Cholesterol: 8mg
Sodium: 50mg
Carbohydrates: 9g
Fiber: 0g
Sugar: 5g
Protein: 1g
Recipe calculation was provided by Nutritionix and is an estimation only. If you need nutritional calculations for medical reasons, please use a source that you trust.