Noland's Homemade Stuffing Recipe
Do you have a recipe that you have come up with entirely on your own? Well as I am sure you know we have many here at Noshing With The Nolands. This easy Noland's Homemade Stuffing Recipe was not something anyone showed me as I was growing up. My gran made the stuffing, my mom made it but I wasn't really part of what they did.
So over the years and now it is many (yikes!), I have made my own recipe for Thanksgiving dinner or Christmas dinner with yummy bits that I like to see in a stuffing. I need to have the crunch, that is where water chestnuts and celery come in. I like to have some sweetness to contrast so I add in cranberries plus they add festive colors and flavors.
The list goes on so let's delve into this recipe further. If you are a carbohydrate lover then you will adore the great bread stuffing recipe if it is in the turkey or cooked separately, it doesn't matter. Also, try our Old-Fashioned Cornbread Dressing for a change-up!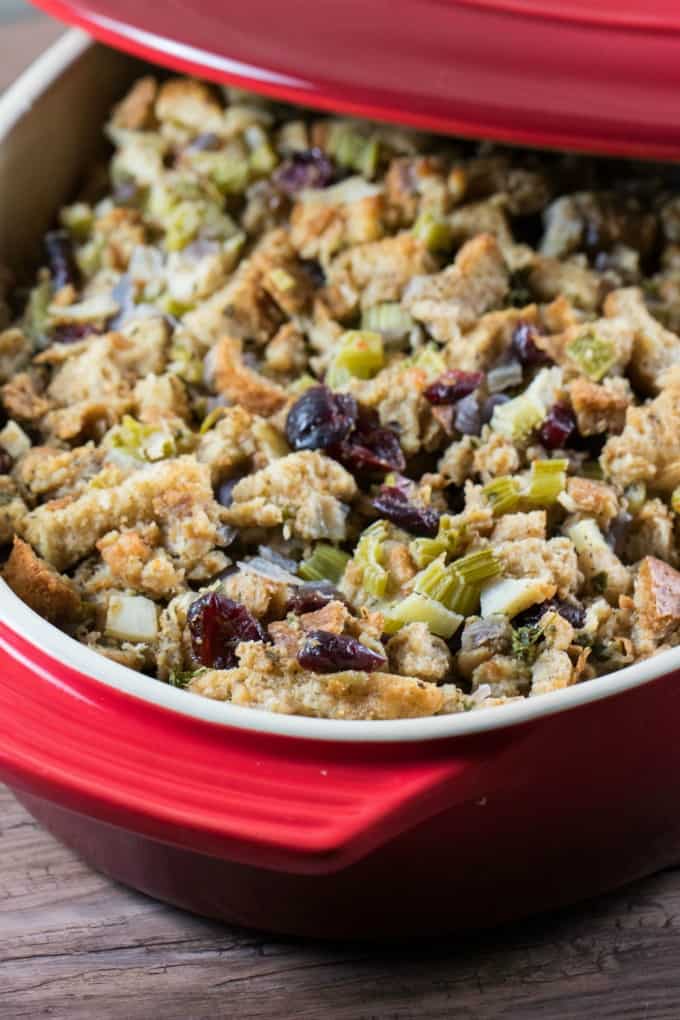 Stuffing comes in all shapes and sizes if you may. In the south, Southerners love cornbread stuffing. Native Americans like to use wild rice in their stuffing.
Heck, we even have General Foods that have been making instant stuffing since 1975!! I love that in an easy dinner with our Three Ingredient Pork Chops. One recipe that Amber likes to whip up for us, but I digress.
Yup, we love our stuffing!! And it shows up on our holiday tables for Thanksgiving, Christmas, and Easter!!
How to Make Homemade Turkey Stuffing Recipe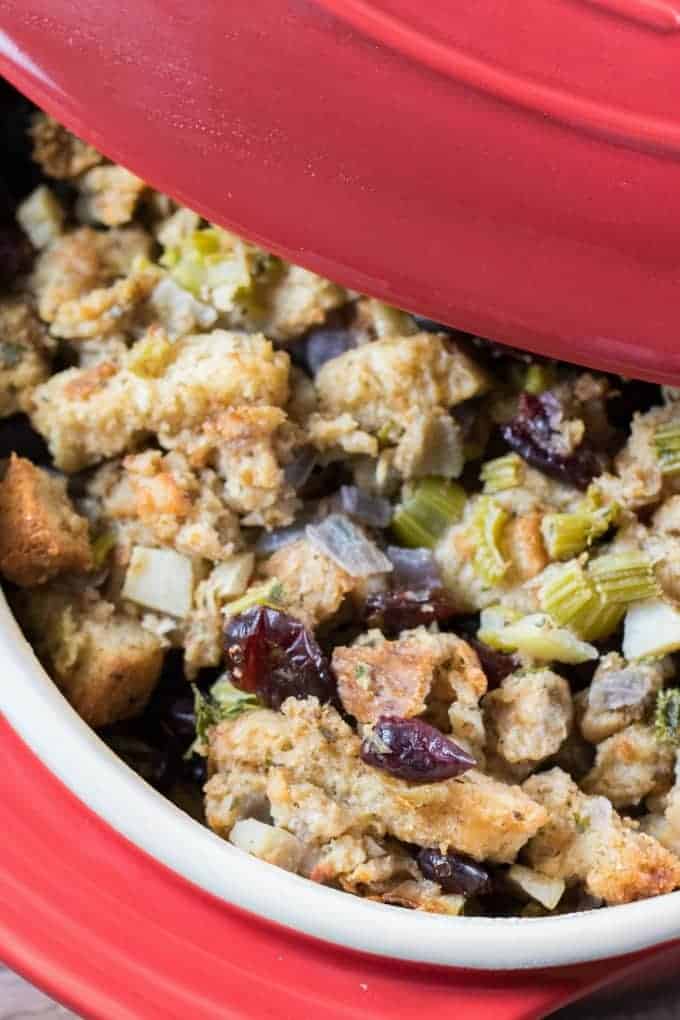 Making stuffing is really pretty easy and following our recipe will give you great results every time. To start, put the butter in a large skillet over medium heat and add the onions and celery and saute until translucent. Remove them and set aside. Then in the same skillet brown the sausage.
In a large bowl have at the ready your bread cubes, staler the better or even dried like croutons, cranberries, chopped water chestnuts, parsley, poultry seasoning (you can use fresh herbs or dried herbs too), salt, and pepper. When you have finished cooking the sausage add it in and then followed by the onions and celery.
You can use wheat bread as I did in this variation of our stuffing, artisan bread or white bread or the kind of bread of your choosing. It just needs to be stale or even roasted or toasted or store-bought dried stuffing cubes or your stuffing will be too soggy.
Pretty darn easy so far, isn't it? Now for the maybe slightly tricky part. This all depends on preference and how dry your bread is. Add your turkey stock or chicken broth to the desired moistness. I like a moist but not soggy stuffing. You can add some, mix, add some more and mix again, checking that all the bread gets moistened.
There you have it, stuffing is made!! You can now put that into your turkey or put it in a baking dish to pop in the oven later. Just preheat the oven and make sure to cover with foil and bake!
Can You Make Dressing the Day Before?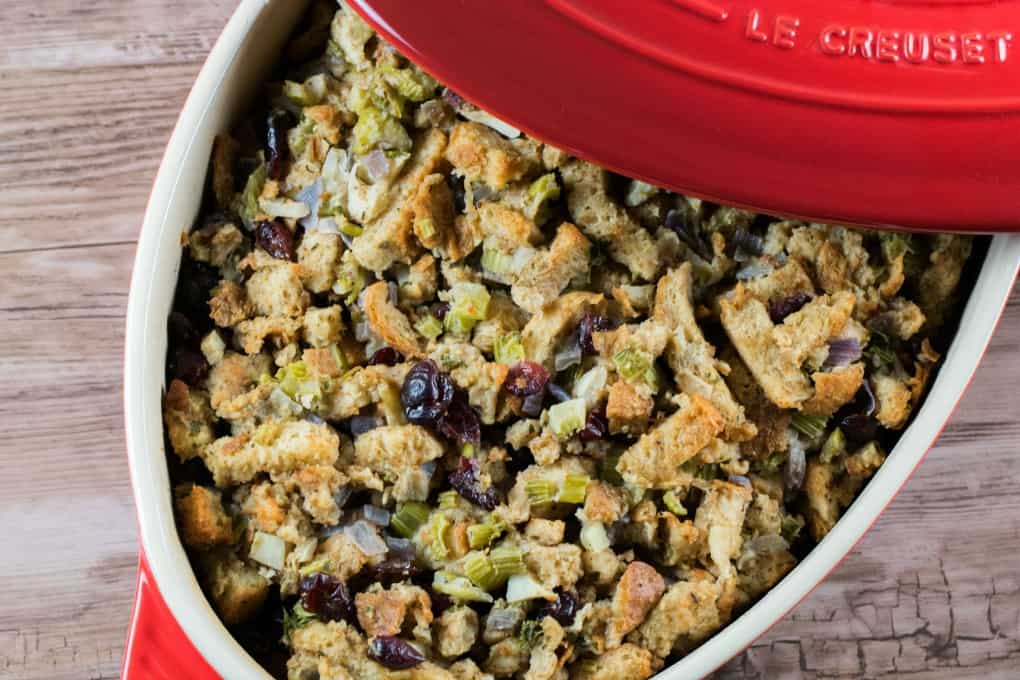 The answer to this is yes, you can make a Thanksgiving stuffing the day before. As long as all your ingredients are cooked, especially any protein, you can make this stuffing ahead of time, even two-three days, ahead.
If you want to make it further ahead just simply freeze it and then thaw and heat.
When putting stuffing into a turkey a very safe practice is to have both of them at the same temperature. You don't want to put a hot stuffing into a cold turkey. So let your ingredients cool down in the refrigerator or make it a day or two in advance.
What is the Difference Between Stuffing and Dressing?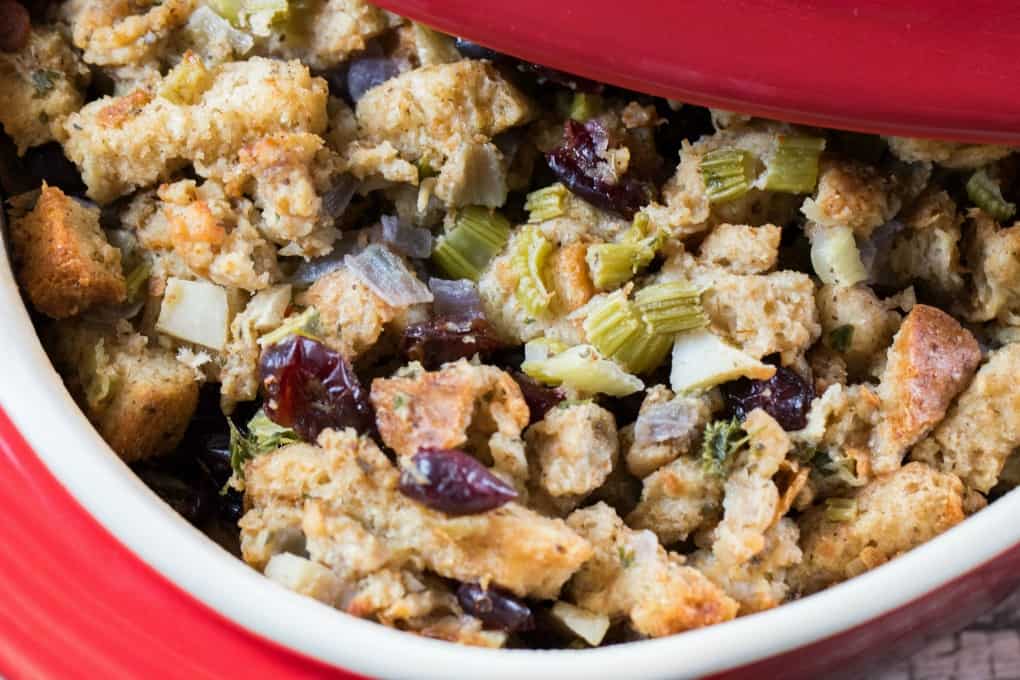 Basically they are the same thing. In the Southern US states, it is usually referred to as dressing, in the more northern climes it is referred to as stuffing. The dressing can be stuffed into a bird and stuffing can be put into a casserole.
In either area, I am sure you could use the terms interchangeably but it is always nice to ask if you are visiting what they prefer to call it. Enjoy this recipe and Happy Holidays!!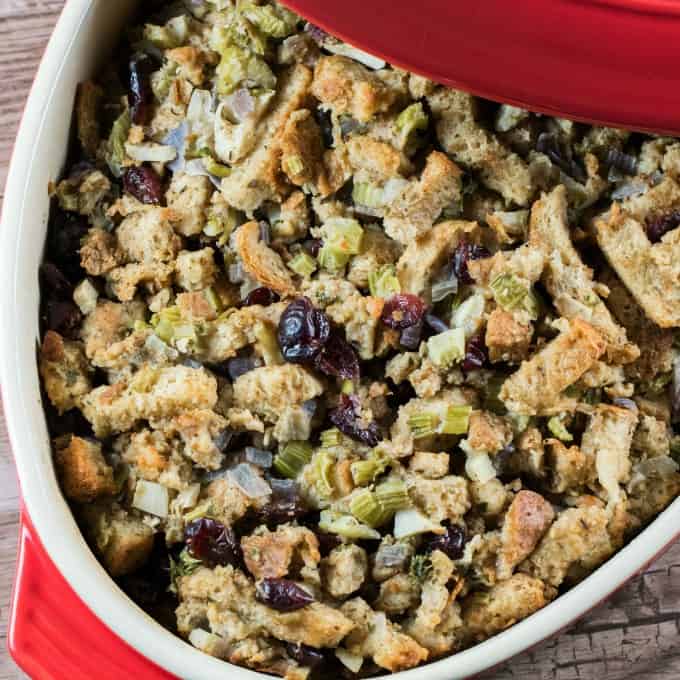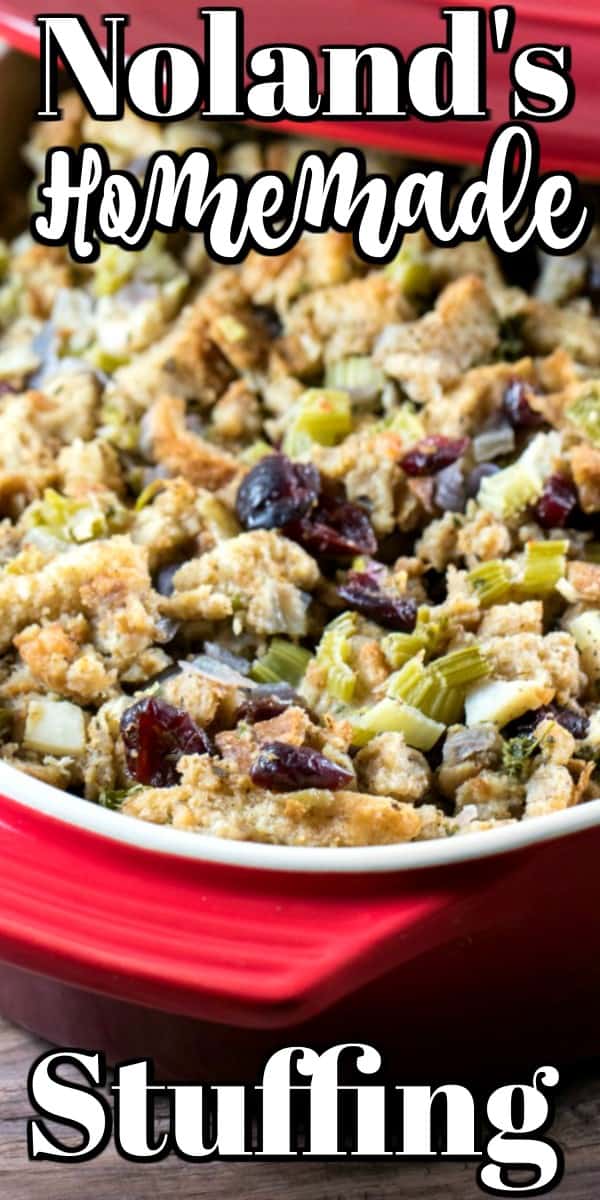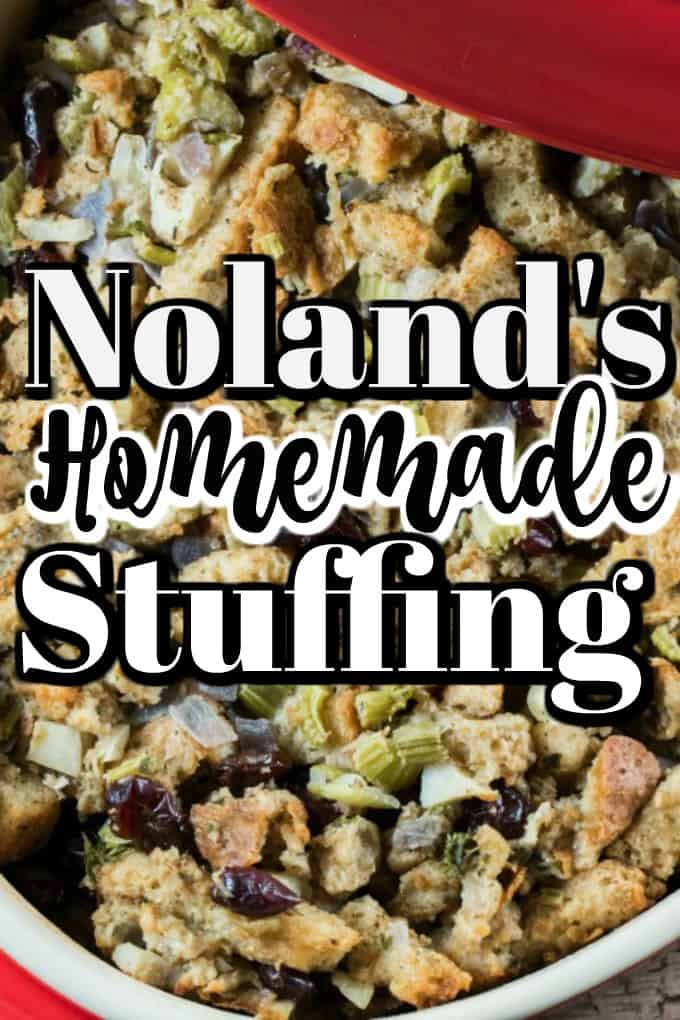 Noland's Homemade Stuffing Recipe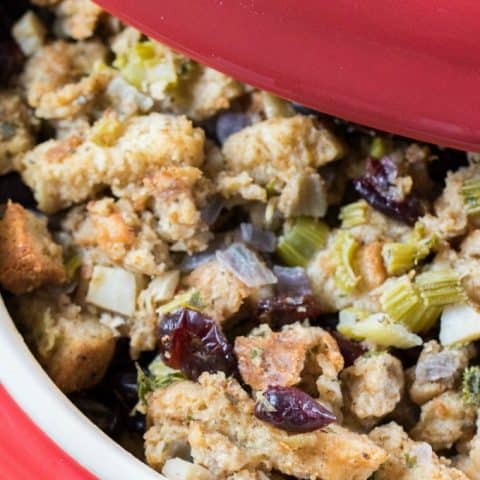 Noland's Homemade Stuffing Recipe
Yield: 12 servings
Prep Time: 30 minutes
Cook Time: 1 hour
Total Time: 1 hour 30 minutes
There is nothing like a great stuffing to add to your holiday table. Noland's Homemade Stuffing Recipe we have been making for at least 20 years. With added cranberries for color and water chestnuts for crunch, the beauty of a great stuffing is that you can make it your own too.
Ingredients
1 pkg. (375 gms) frozen sausage, thawed
8 Tbsp. butter
6 celery stalks with leaves, diced
2 medium onions, diced (sweet, red or regular)
1 lb. package plain or seasoned bread stuffing cubes
1 can (218 ml.) sliced water chestnuts, drained and roughly chopped
1/3 cup fresh parsley, chopped
1 cup dried cranberries
1 1/2 tsp. Kosher salt or to taste
1/2 tsp. freshly ground pepper
1 1/2 Tbsp. poultry seasoning, if powdered use less or to taste
3 1/2 cups turkey stock, homemade or store-bought chicken stock, more if needed
Instructions
In a large heavy non-stick skillet add the butter and saute onion and celery until translucent and soft but not browned, about 10 min. Remove and set aside to cool. In the same pan brown the sausage and then remove to cool.
Meanwhile, in a large bowl add your stuffing cubes, parsley, water chestnuts, cranberries, salt, pepper, and poultry seasoning.
Once the onions, celery, and sausage are cooled add to the bread cube mixture. Mix to combine well. Add turkey stock to moisten to desired texture.
Stuff into your turkey making sure the turkey and stuffing are the same temperatures. Otherwise, place in a greased 9x13" casserole dish and refrigerate until ready to heat.
When ready to serve preheat oven to 350F. You can remoisten with more stock if desired. Cover with a lid or aluminum foil. Bake until heated through, 30-40 min. Uncover and let cook for 10 minutes. Serve immediately.
Recommended Products
As an Amazon Associate and member of other affiliate programs, I earn from qualifying purchases.
Nutrition Information:
Yield: 12
Serving Size: 1
Amount Per Serving:
Calories: 252
Total Fat: 15g
Saturated Fat: 7g
Trans Fat: 1g
Unsaturated Fat: 8g
Cholesterol: 27mg
Sodium: 734mg
Carbohydrates: 26g
Fiber: 2g
Sugar: 13g
Protein: 5g
Recipe calculation was provided by Nutritionix and is an estimation only. If you need nutritional calculations for medical reasons, please use a source that you trust.