This Old-Fashioned Cornbread Dressing is the mouthwatering delicious Southern side dish you need for the holidays. With a tender buttermilk cornbread base, this classic dressing is stuffed with apples, sausage, and fresh sage to make the most flavorful dressing you've ever tasted!
Looking for more holiday side dishes? Be sure to try our Candied Yams, Traditional Cheesy Broccoli Casserole, Cheesy Cauliflower Casserole, Turnip Puff, or our Roasted Mashed Butternut Squash. All of these pair perfectly with a holiday turkey or ham.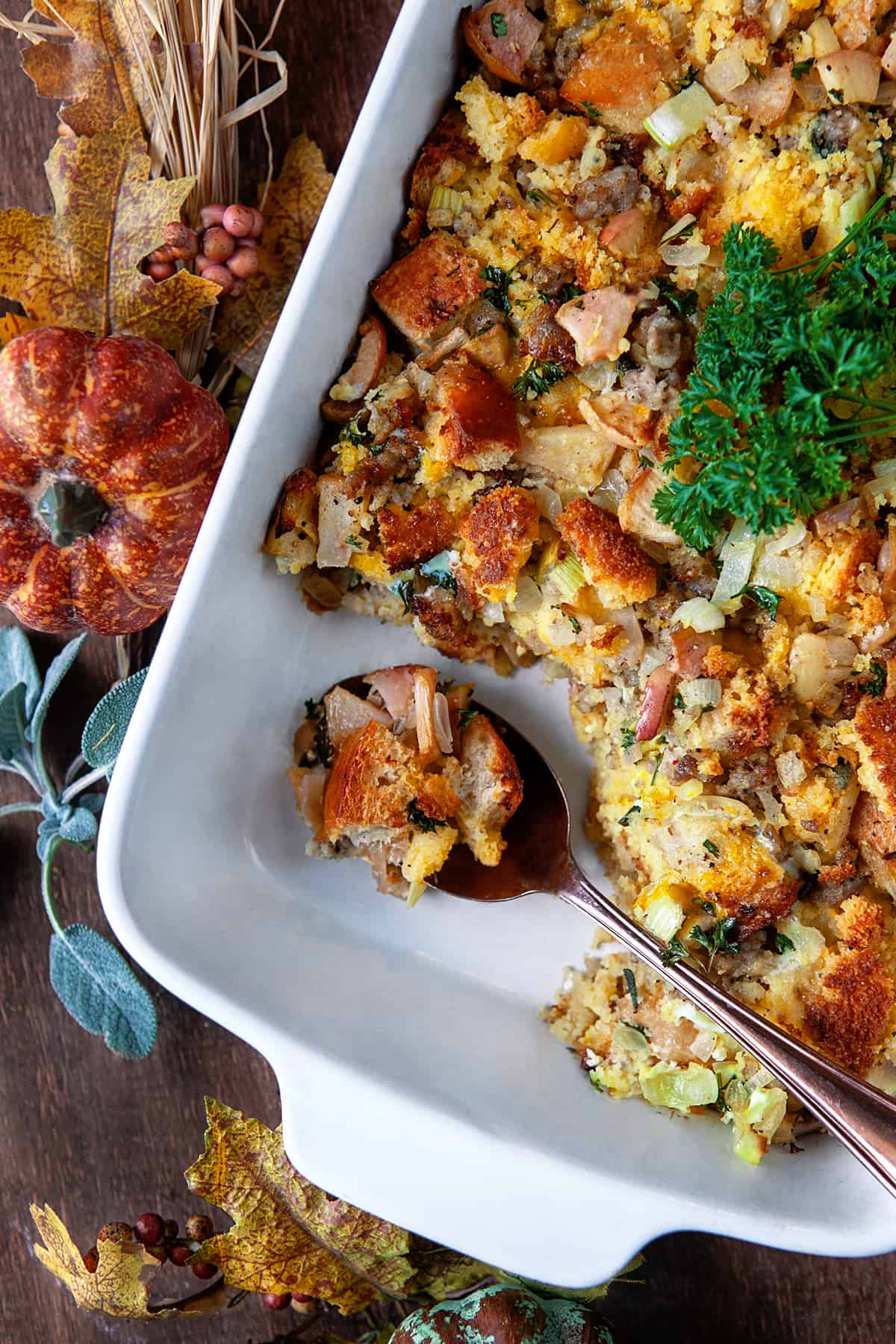 What Is In Cornbread Dressing?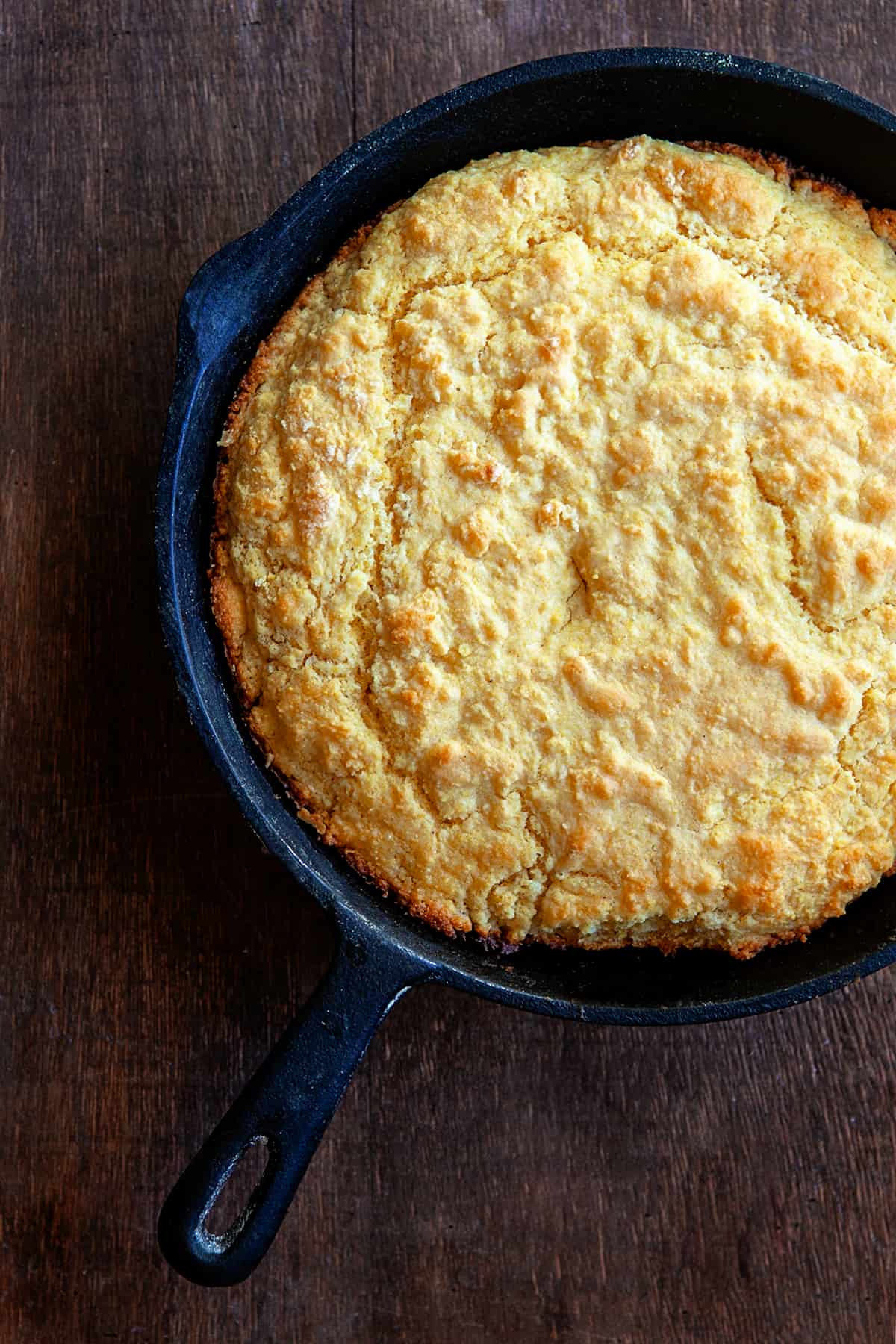 This Old-Fashioned Southern Cornbread Dressing isn't hard to make, but you will want to plan ahead so that you have all of the necessary ingredients. It may look like a lot of ingredients, but each item adds so much flavor!
INGREDIENTS
Butter
Onion
Celery
Apples (like Gala or Honey Crisp)
Italian Pork Sausage
Buttermilk Cornbread – I used this recipe for Cast Iron Skillet Cornbread, which only took 10 minutes to whip up, and we had a few pieces leftover to snack on!
Day Old French Bread (or similar crusty white bread)
Fresh Sage
Fresh Parsley
Poultry Seasoning
Eggs
Turkey or Chicken Broth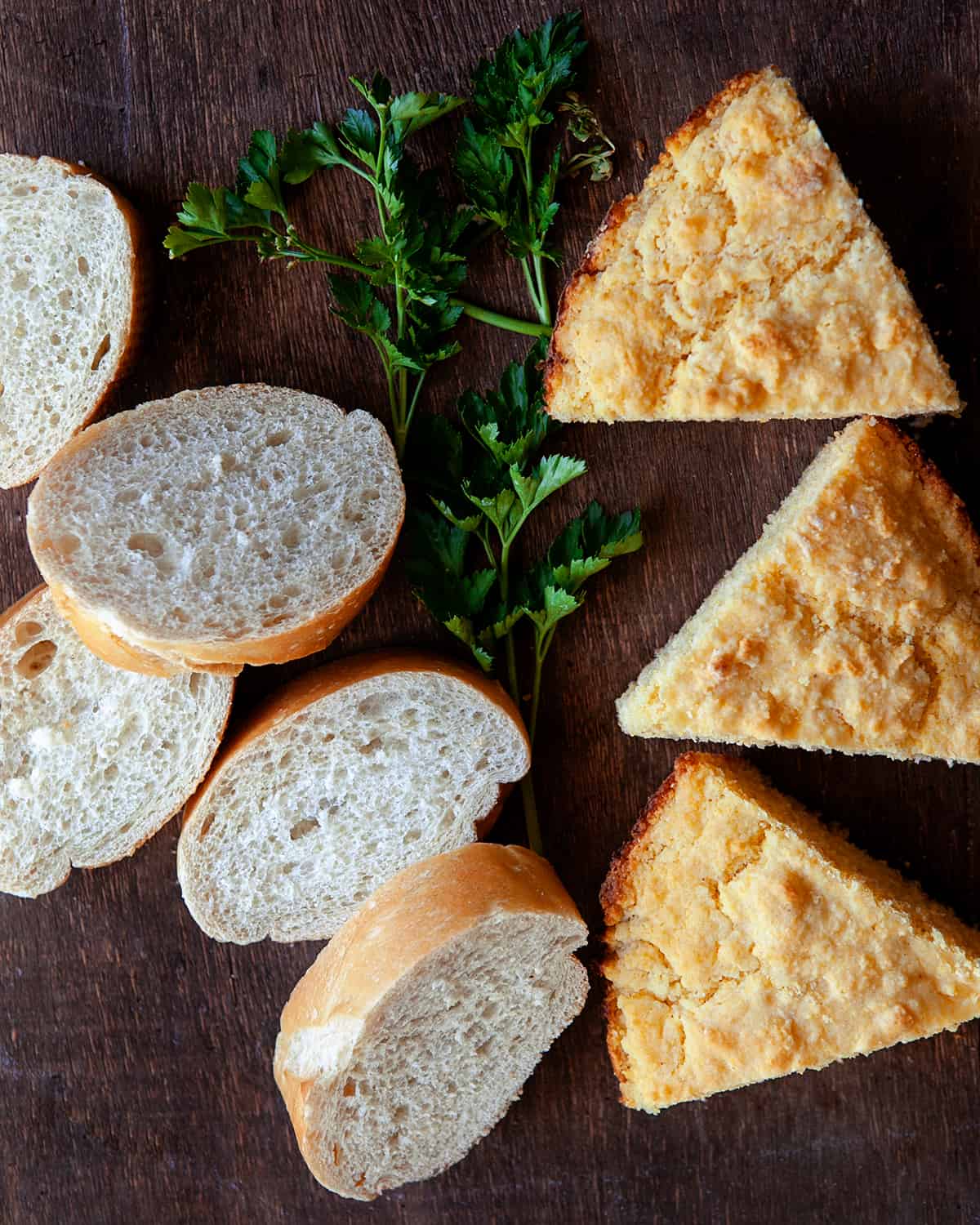 How To Make Cornbread Dressing
Homemade Cornbread Dressing is my favorite part of every holiday meal. Luckily it's easy to make and can even be prepared ahead of time and cooked just before the big meal.
Note: You'll want to make the cornbread mixture ahead of time, so it has time to cool. I make it the night before. Also, you'll want to be sure that whatever cornbread recipe you decide to use, it's not too crumbly and can hold its shape when you tear it into pieces.
First, preheat the oven to 350 degrees Fahrenheit.
Then, in a large skillet over medium heat, sauté the onions, celery, and apples that have been cut into small pieces in butter until they are soft. Transfer these to a large bowl and then cook the sausage over medium heat in the hot skillet, crumbling it with a spatula as it cooks.
Using a slotted spoon to drain off any grease, transfer the sausage to the bowl with the onions, celery, and apples.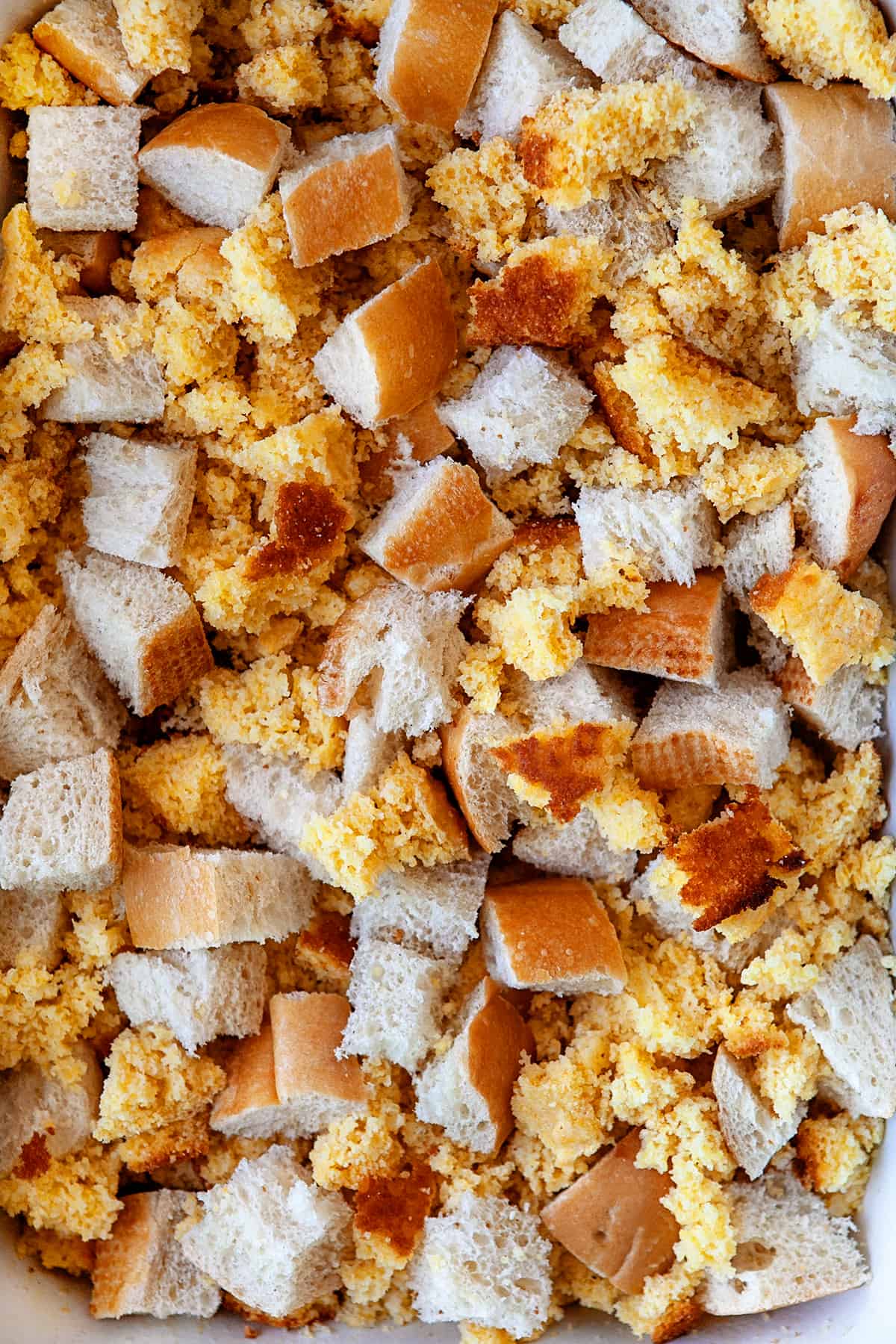 Tear the cornbread and French bread into bite-size pieces roughly the same size. This is a rustic, old-fashioned southern-style cornbread dressing, so don't worry too much about getting the bread perfect. The cornbread will be a bit more crumbly, but that's no problem – just toss all the crumbs into the bowl!
Pour in the eggs, herbs, and spices with the bread, onions, apples, celery, and sausage. Using a large wooden spoon, gently stir to combine everything. Spoon the mixture into a 13 x 9 glass baking dish.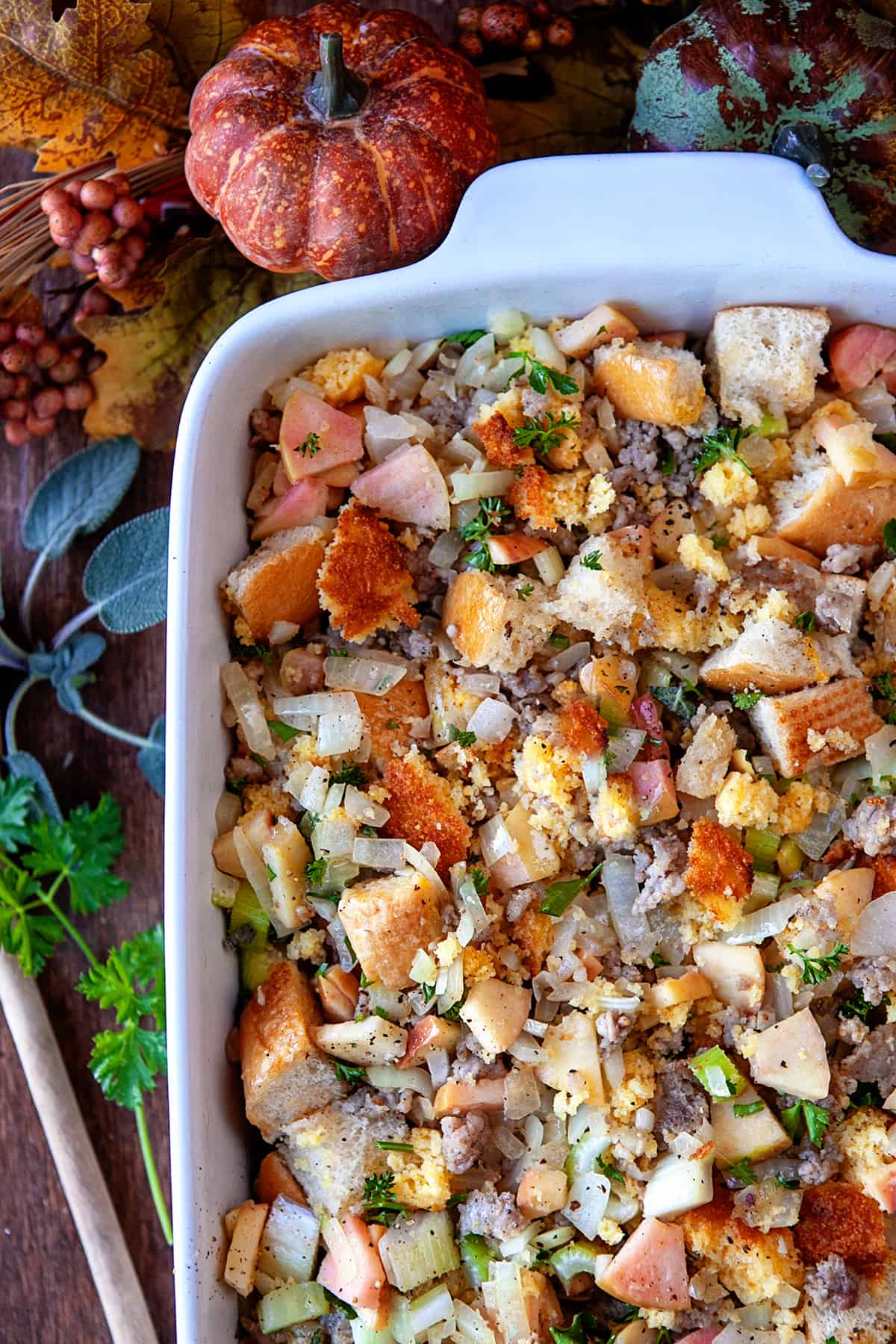 Finishing Off The Dressing
If you have juices from a cooked turkey for Thanksgiving dinner, you can pour it over the top of the dressing. If not, just use chicken or turkey broth. You'll want to pour enough broth over the dressing to really moisten it.
Then, add a few grinds of pepper from a pepper grinder over the top.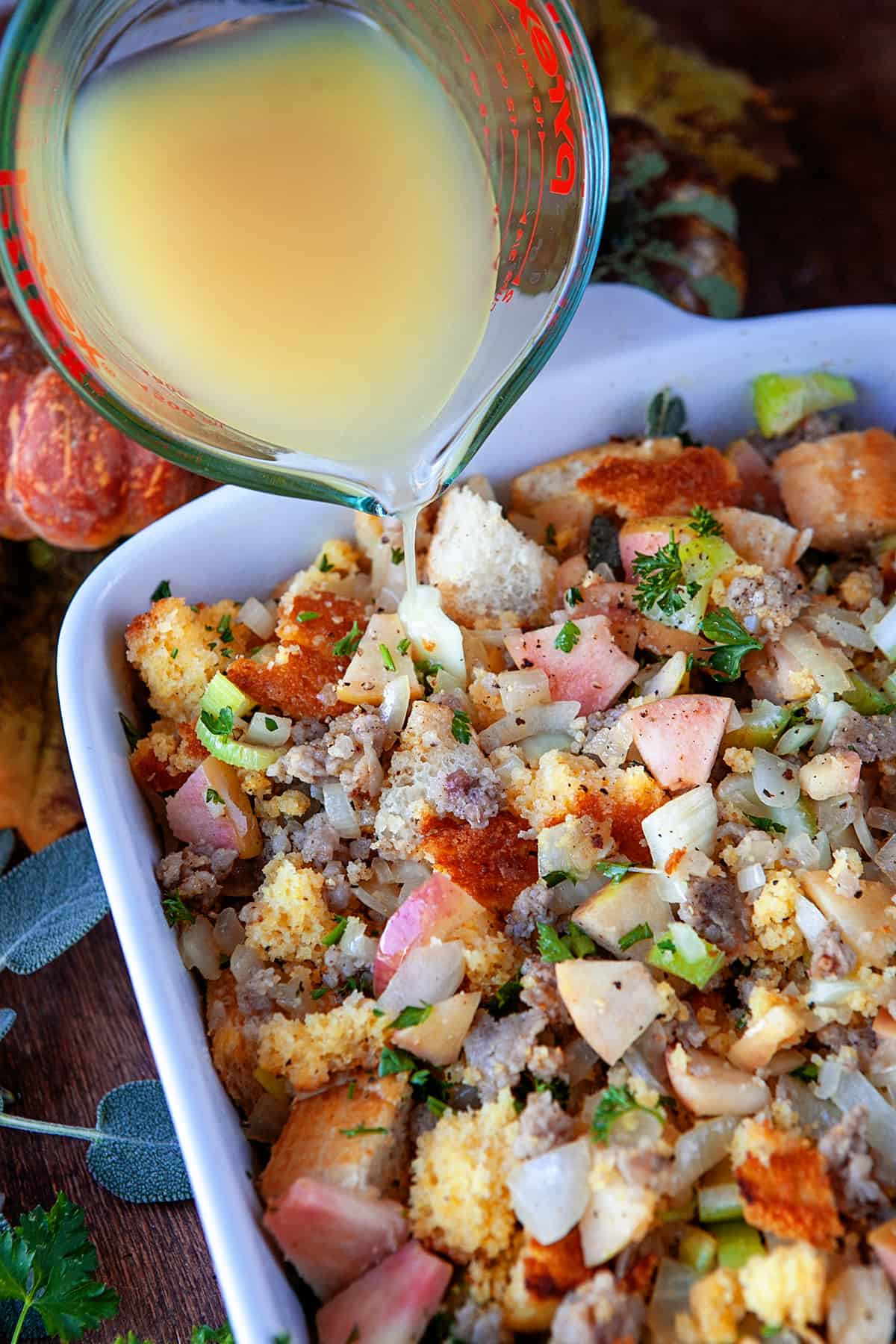 Bake the cornbread dressing uncovered until it begins to brown on top and is firm to touch for about 45 minutes.
What is the Difference Between Dressing and Stuffing?
While the ingredients of stuffing and dressing don't differ, what distinguishes the two is the cooking method.
Stuffing is literally stuffed inside the cavity of a turkey and cooked there. It isn't common for people to make stuffing like this anymore for a few reasons. First, there is an increased risk of food-borne illness. Also, to avoid food-borne illnesses, you often have to cook the turkey for longer to ensure the stuffing inside is thoroughly cooked, which can result in a very dry bird.
Dressing, however, is cooked in a separate dish. This is our preferred method largely because we love the crunchy golden brown layer on top of the soft stuffing underneath, which can only be achieved when it's cooked in a separate casserole dish.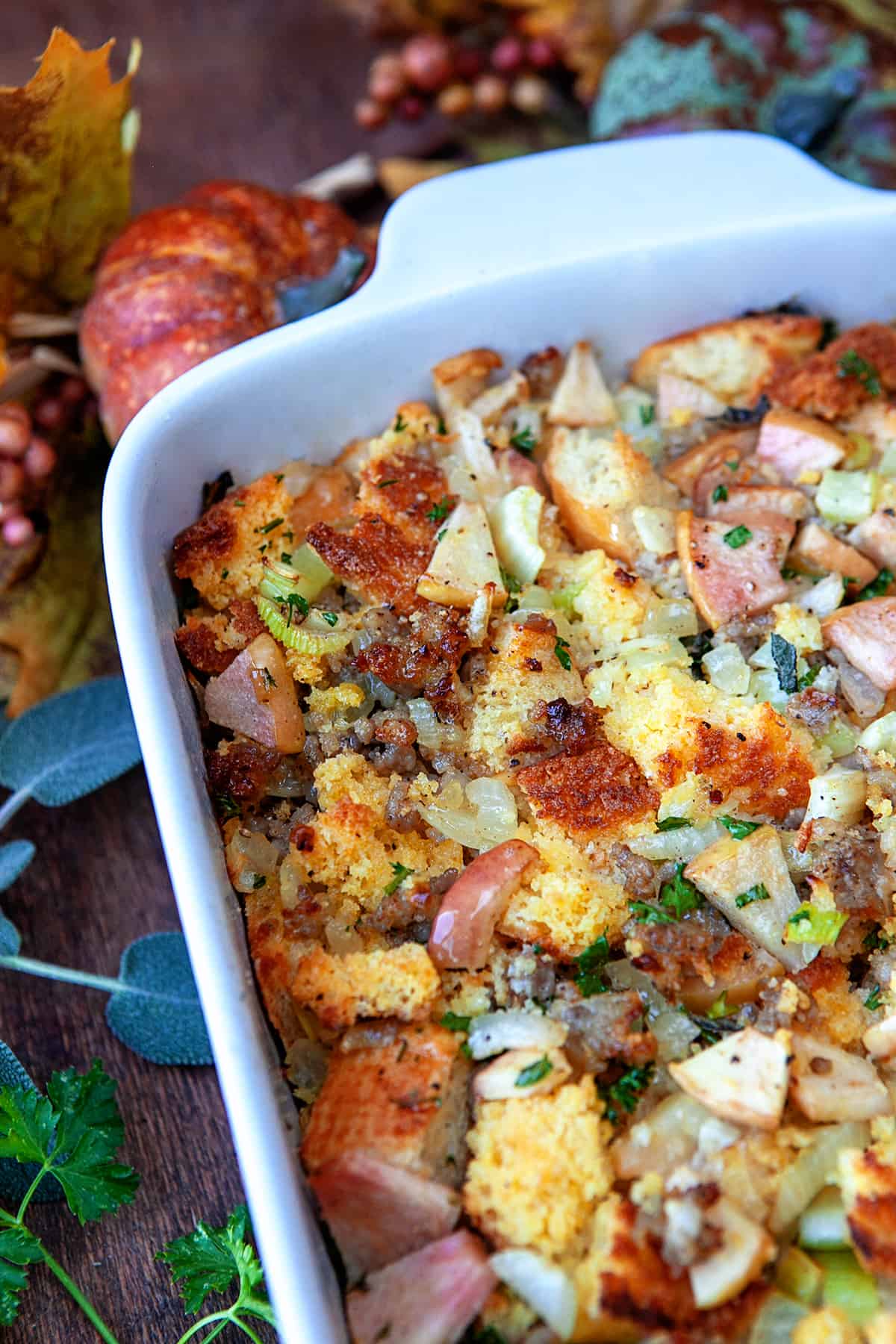 Can You Freeze Cornbread Dressing?
Yes, you can freeze cornbread dressing. However, you probably won't want to freeze the dish after you bake it. Instead, prepare the dressing up to the point of baking and then freeze it.
When you're ready to use it, defrost it in the fridge and then bake according to the recipe. This is a great way to prep for big holiday meals!
You can also prepare the dressing up to the point of baking and then put it in the fridge for a day or two before you bake it.
I wouldn't leave the dressing in the freezer for more than a month. It is best used up fairly quickly.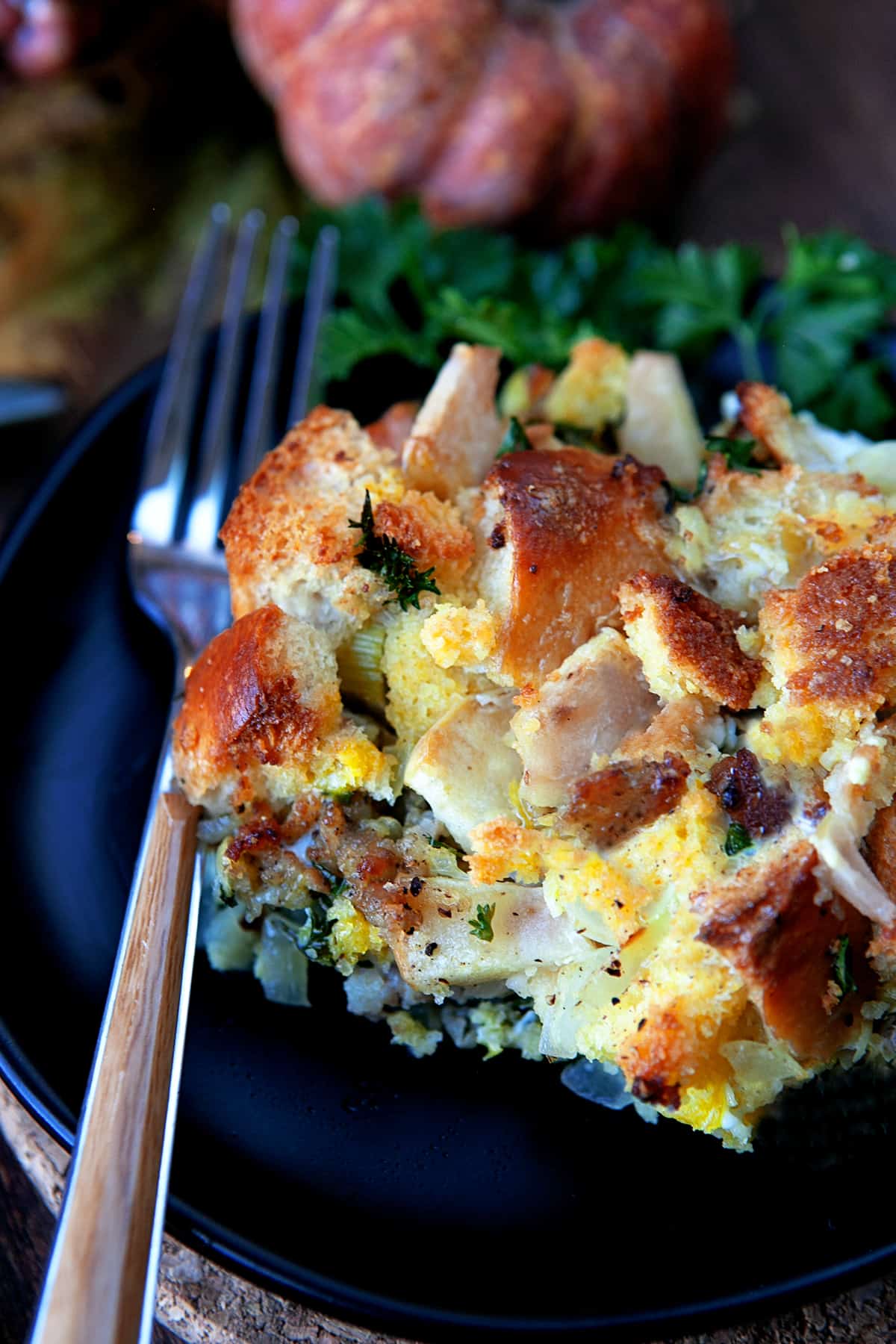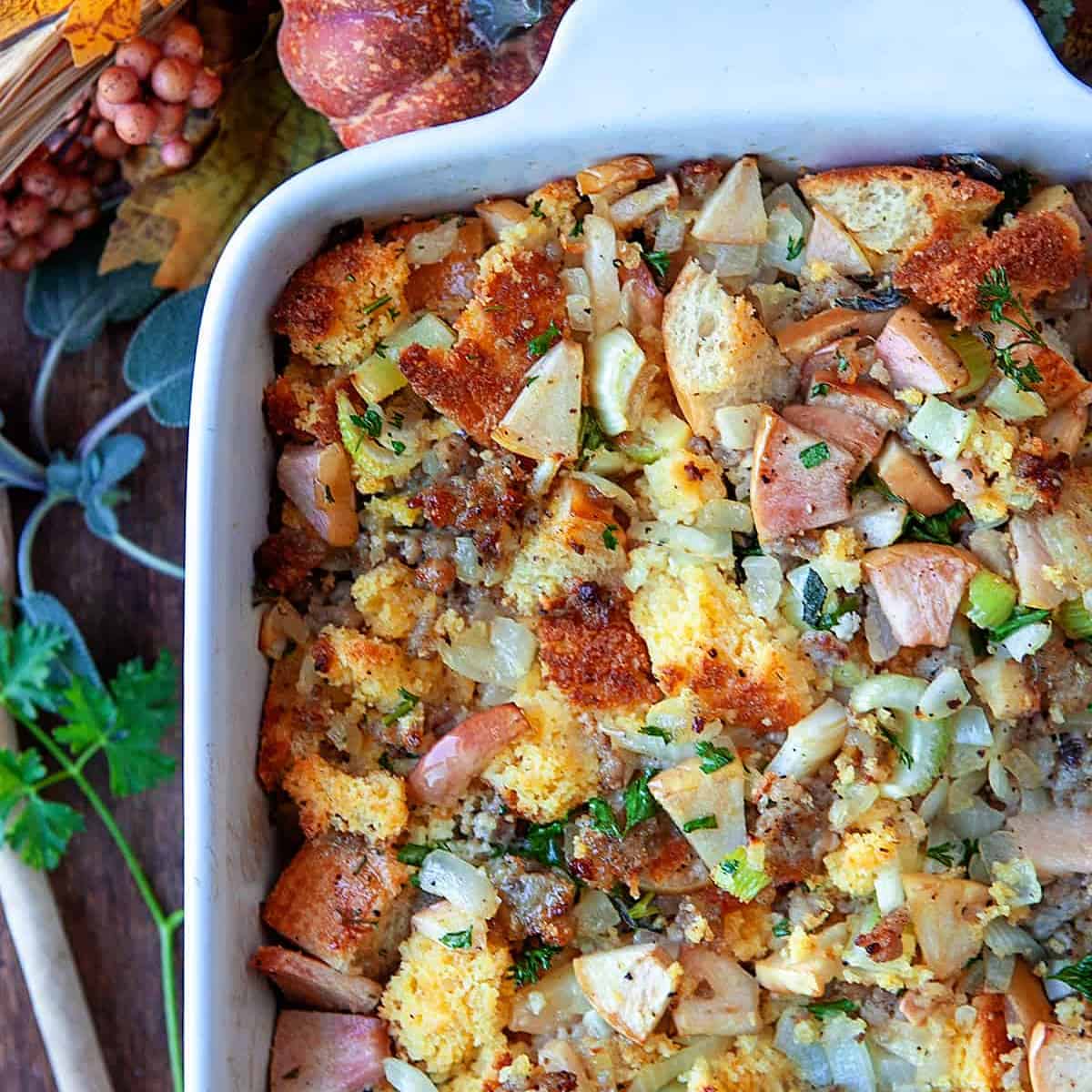 Pin it HERE!!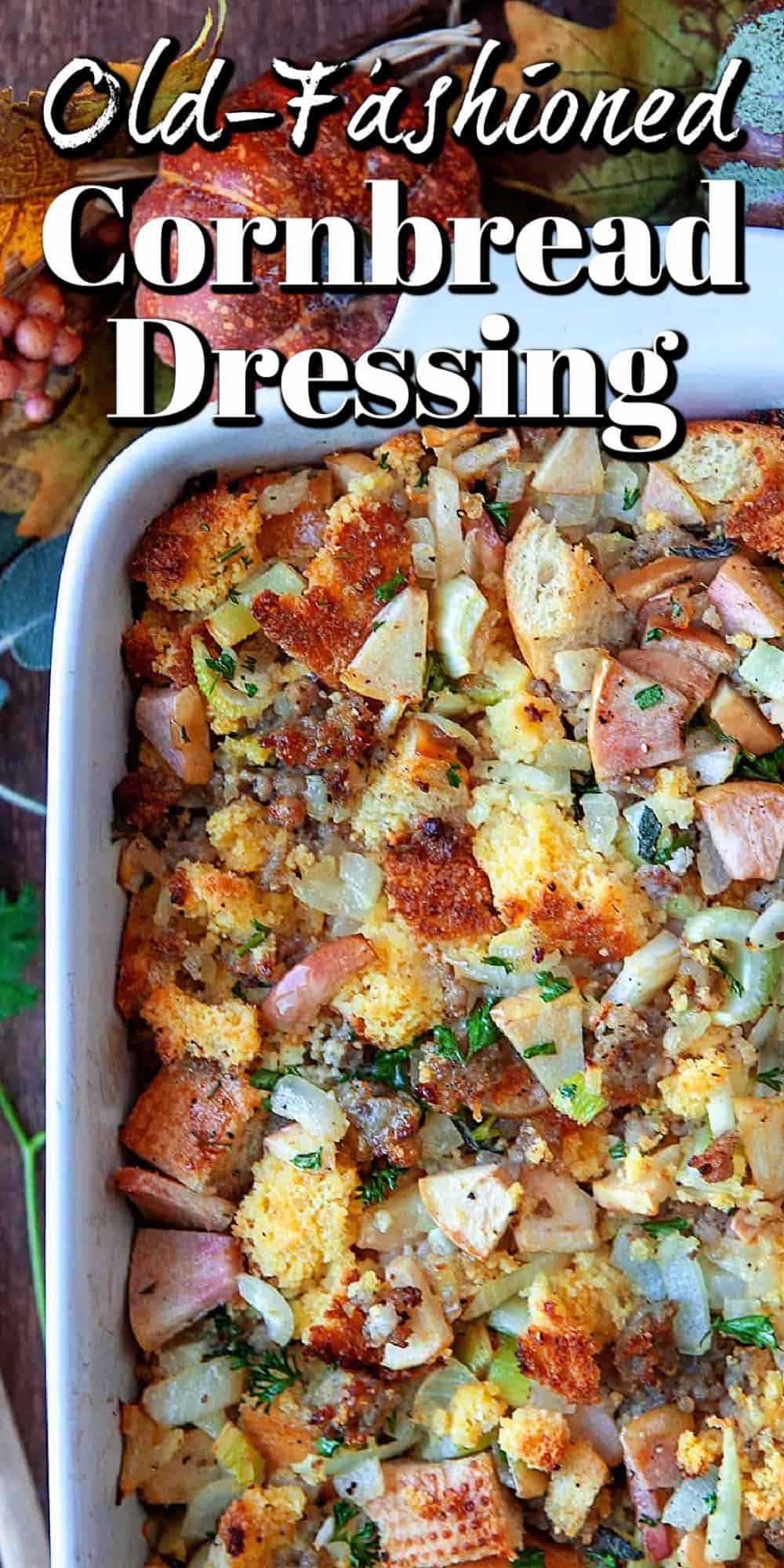 Pin it HERE!!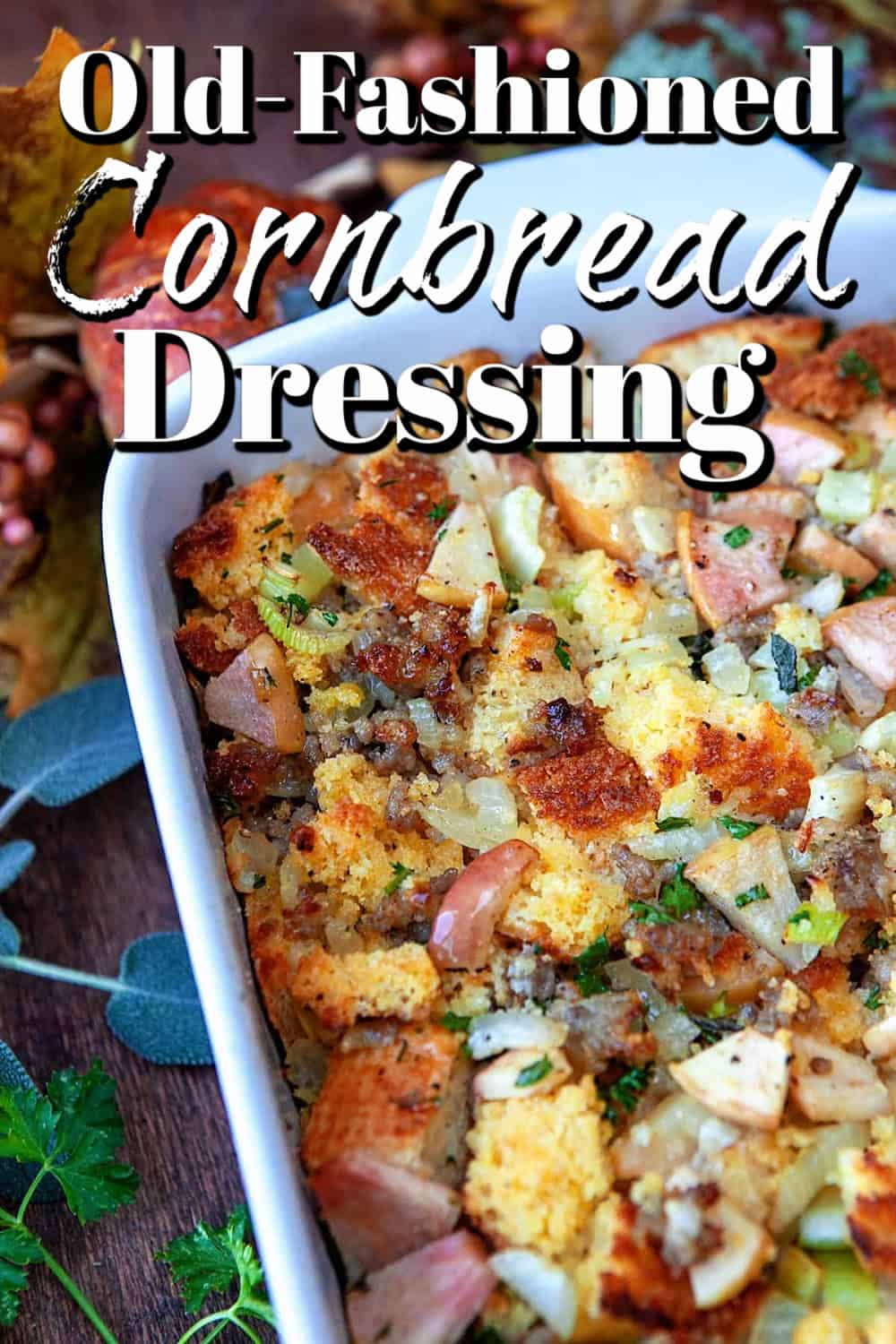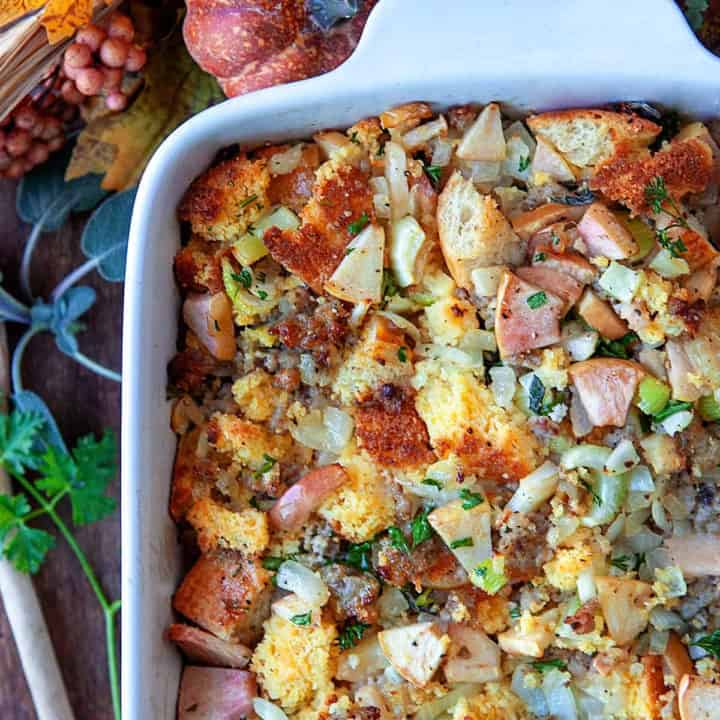 Old-Fashioned Cornbread Dressing
Yield: 8 to 10 servings
Prep Time: 35 minutes
Cook Time: 45 minutes
Total Time: 1 hour 20 minutes
This Southern Style Old-Fashioned Cornbread Dressing uses buttermilk cornbread as a base and is full of delicious flavor! Perfect for any holiday table!!
Ingredients
6 tablespoons salted butter, divided
2 medium yellow onions, chopped
2 medium unpeeled apples (like Gala), chopped
1 cup chopped celery, about 2 large ribs
1 pound Italian sausage
5 heaping cups Buttermilk Cornbread pieces (see note)
3 heaping cups day-old French Bread pieces
3 tablespoons fresh sage leaves, chopped
1/2 cup fresh parsley leaves chopped
1 teaspoon poultry seasoning
3 eggs, beaten
freshly ground black pepper
2 to 3 cups turkey or chicken broth
Instructions
Preheat oven to 350 degrees Fahrenheit.
In a large skillet over medium heat, melt 2 tablespoons of the butter. Add the onion and cook until soft, 3 to 5 minutes. Transfer the onions to a large mixing bowl.
Add 2 more tablespoons of butter to the hot skillet over medium heat and then stir in the apples and celery and cook for another 5 to 6 minutes, or until they are softened. Transfer the apples and celery to the mixing bowl with the onions.
In the same hot skillet, cook the sausage over medium heat until browned and cooked through, about 7 minutes, gently breaking it up into crumbles with a spatula as it cooks. Using a slotted spoon to drain off the excess grease, add the sausage to the mixing bowl with the onion mixture.
Add the cornbread and French bread pieces to the bowl, along with the beaten eggs, sage, parsley, and seasoning. Gently stir (or mix with your hands) until the mixture is evenly moist. Spoon it into a 9 x 13 glass baking dish.
Drizzle two cups of broth evenly over the cornbread mixture in the baking dish. Check to see if it is evenly moist. If all of the liquid is immediately sucked up by the bread and there are no juices in the dish, go ahead and add another cup of broth, 1/4 cup at a time - you don't want it to be soupy, but you do want it all to be very moist. Melt the last two tablespoons of butter and drizzle them over the top.
Bake uncovered for 40 to 50 minutes, or until the top is golden brown and the mixture is firm to touch. Cool for 5 minutes before serving.
Nutrition Information:
Yield: 10
Serving Size: 1
Amount Per Serving:
Calories: 536
Total Fat: 31g
Saturated Fat: 13g
Trans Fat: 0g
Unsaturated Fat: 18g
Cholesterol: 206mg
Sodium: 915mg
Carbohydrates: 21g
Fiber: 2g
Sugar: 12g
Protein: 41g
Recipe calculation was provided by Nutritionix and is an estimation only. If you need nutritional calculations for medical reasons, please use a source that you trust.