Creamy, garlicky, and incredibly easy to prepare, this Roasted Mashed Butternut Squash is the perfect side dish. Just a few ingredients and minimal steps to prepare, it goes to show you that the simplest things are sometimes the most delicious! This recipe is also very versatile and adapts to your taste and main dish.
Butternut squash is such a great alternative to the traditional mashed potatoes (which we will love forever) but also is also a great vegetable that is adaptable to so many recipes such as Sage Havarti Butternut Squash Lasagna or even Gingered Butternut Squash Soup.
Hi there, It's Melanie from Bon Appét'Eat. It's been a lot of fun to be part of the Noshing with the Nolands team. Please come by and say hi on my blog if you have a chance! I'm really happy to share a butternut squash recipe today as I'm a great fan myself! I have this amazing butternut squash, spinach and goat cheese roll-ups, and this creamy butternut squash soup that I make often during the cold winter!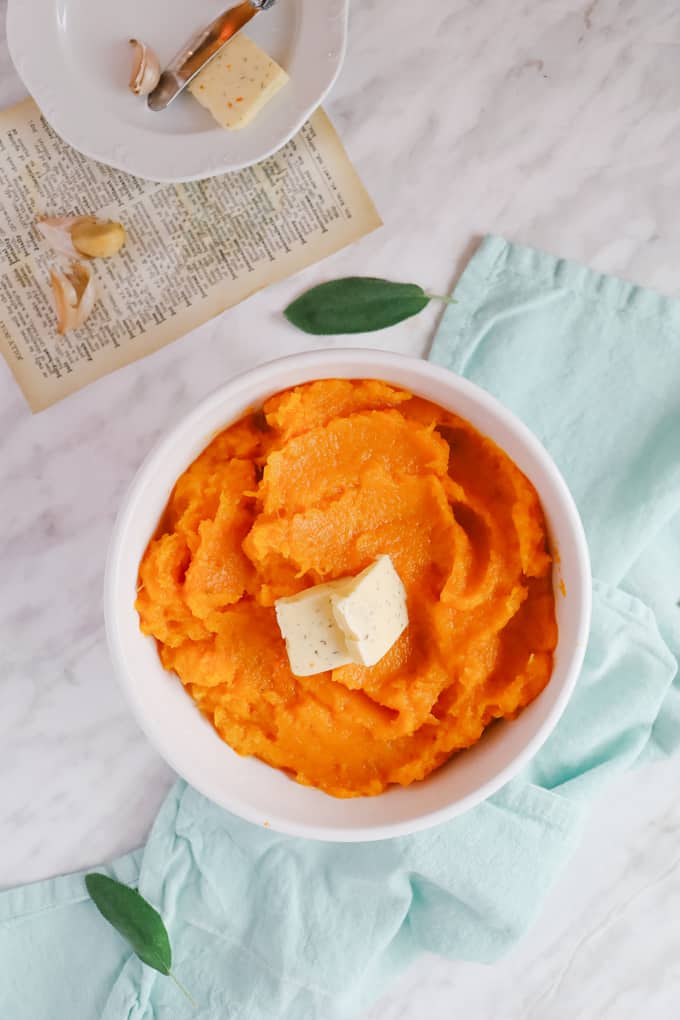 Helpful Items For This Recipe
This post contains affiliate links. As an Amazon Associate, I earn a small portion from qualifying purchases at no extra charge for you.
Extra Large Bamboo Cutting Board
Ceramic Rectangular Baking Pans Set
How To Make Mashed Butternut Squash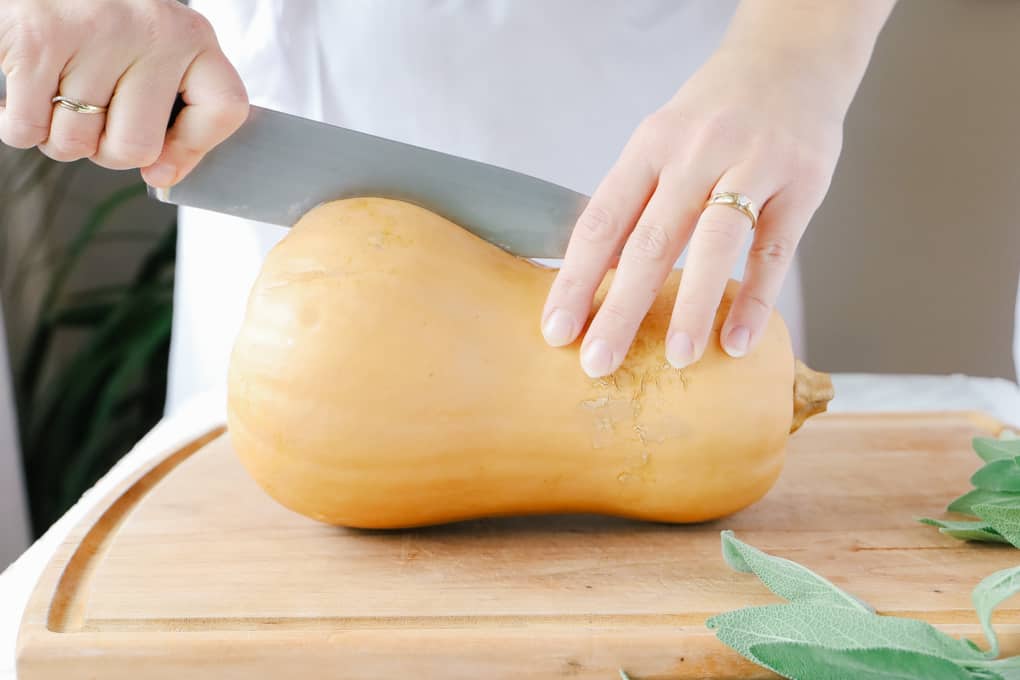 There are a few ways to prepare this recipe! I love this version, roasted in the oven because I find it to be the most flavourful of all and also the less demanding when it comes to preparation.
First, pre-heat your oven to 400 degrees Fahrenheit. Take your butternut squash, a sharp knife, and a cutting board. Make sure your cutting board is stable and not sliding (tip: place a piece of wet paper towel on your counter and then put your board on top). Make sure your vegetable and hands are dry so there are not slippery. Hold safely and firmly when cutting.
Cut the squash in half and scoop the seeds out.
Note: you can save the seeds to roast them, follow the same recipe as the one for the pumpkin seeds! No waste and a yummy and healthy snack!
Do You Need To Peel Butternut Squash Before Cooking?
If you are roasting your butternut squash, you do not need to peel it as you will scoop the flesh out of it.
With other techniques, such as steaming or boiling, it is better to peel it beforehand.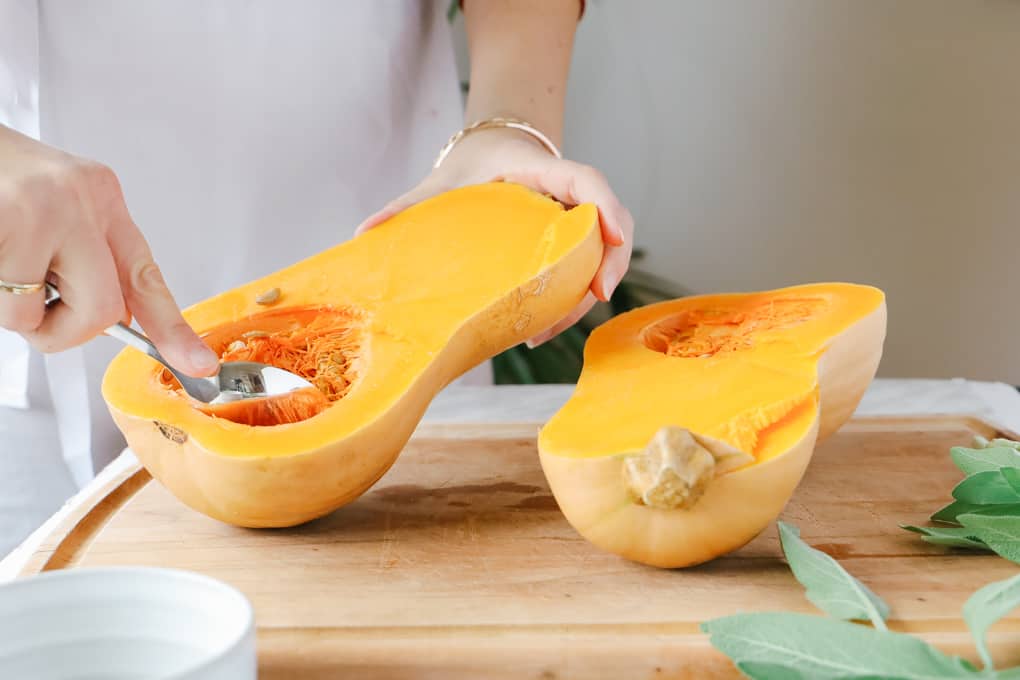 Next, you then drizzle with olive oil and season with salt and pepper. And place face down in the oven for 30 minutes to an hour depending on the size of your vegetable. To check its doneness, put a knife or fork through the thicker part, it should go through smoothly.
Once out of the oven, give it a few minutes so you can handle it with your hands. Have a large mixing bowl ready is handy so you can scoop out the flesh and place it in the bowl.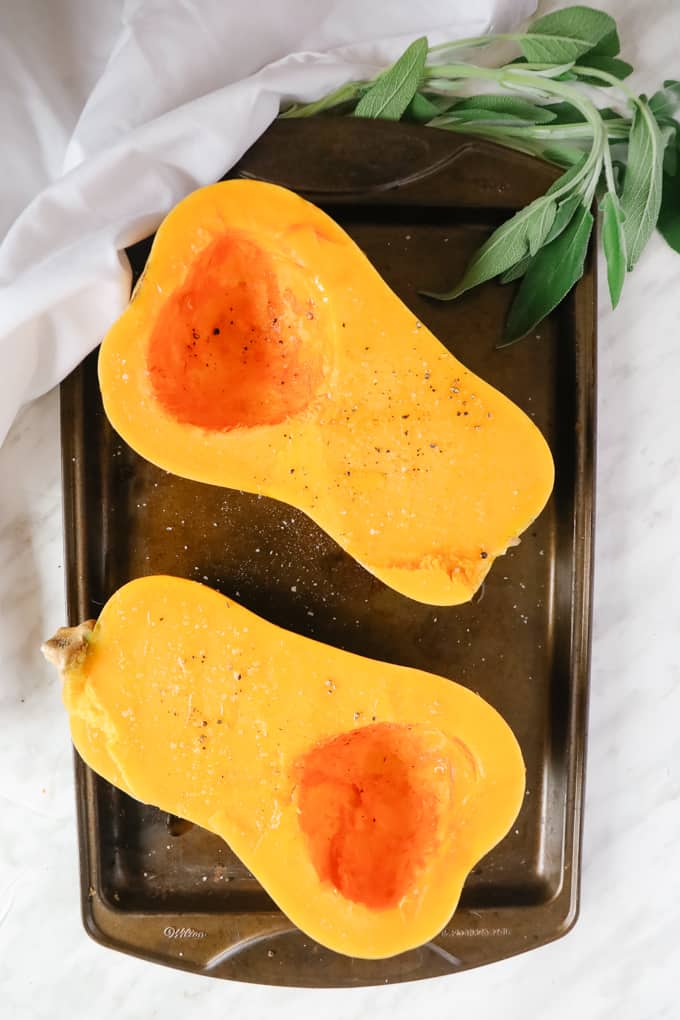 Using a potato masher or alternatively, a fork, mash your butternut squash until smooth. Now, time to make this delicious side dish extra creamy with some heavy cream, butter or compound butter and stir away.
EXTRA: I roasted a few garlic cloves to mash and add to the dish. (*chef's kiss!)
This is the beauty of this side dish, you can let your creativity flow and adapt it to your taste.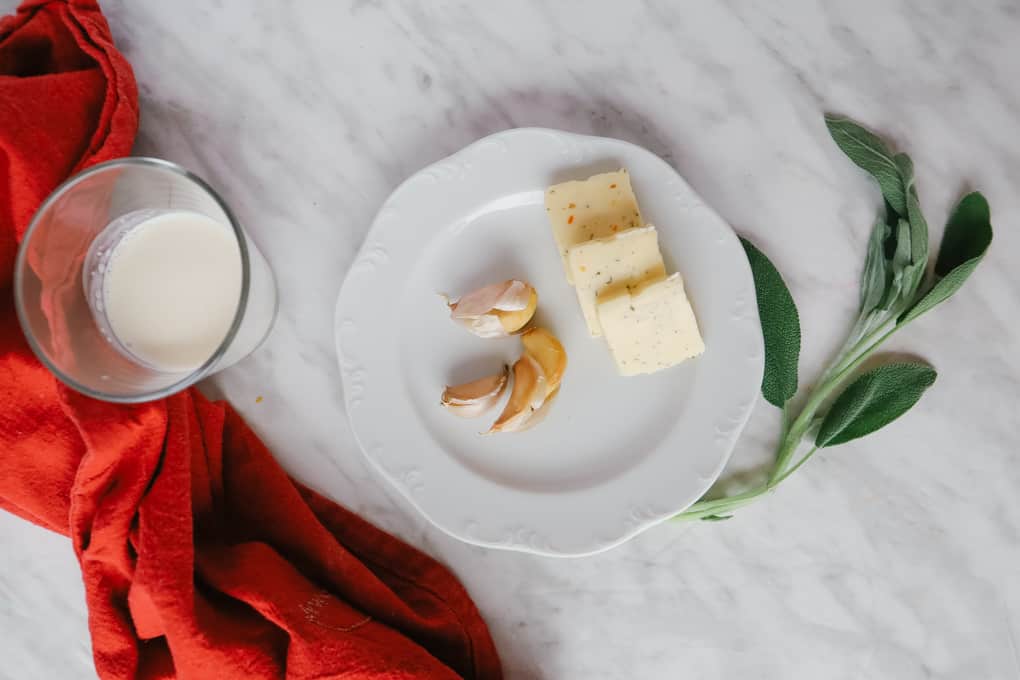 How Do You Roast Butternut Squash Mash?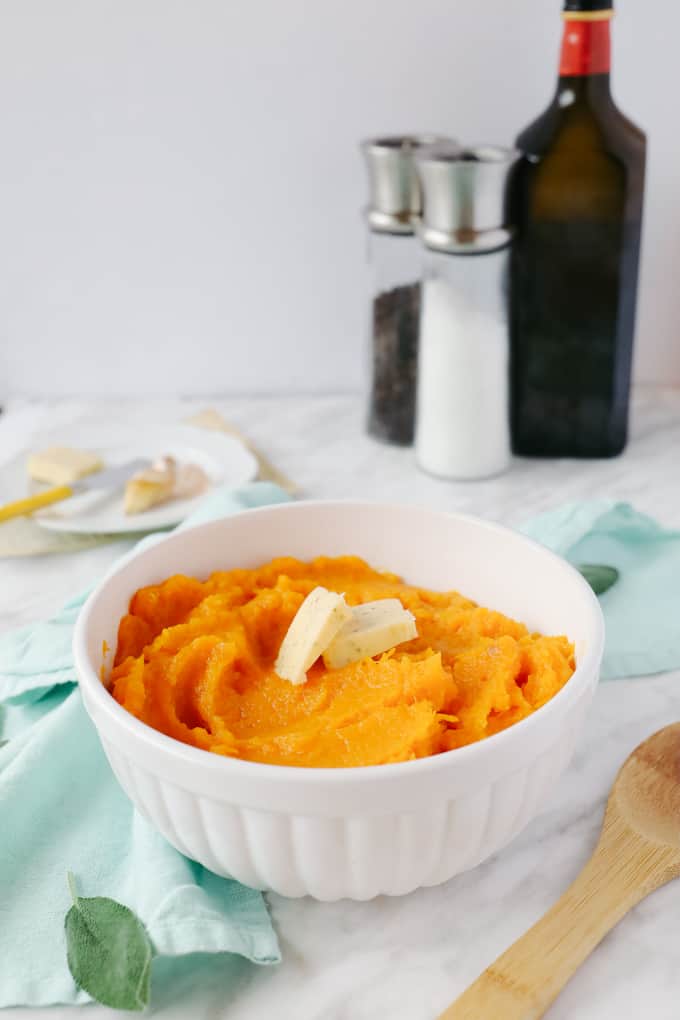 This is the simplest version to make the mashed butternut squash recipe as it only requires you to cut your vegetable in half and season it before placing it in the oven.
As a guide, here is the time you should bake your squash according to its size:
– 2-pound squash: 30-40 minutes
– 4 pounds squash: an hour
How Do You Season Mashed Butternut Squash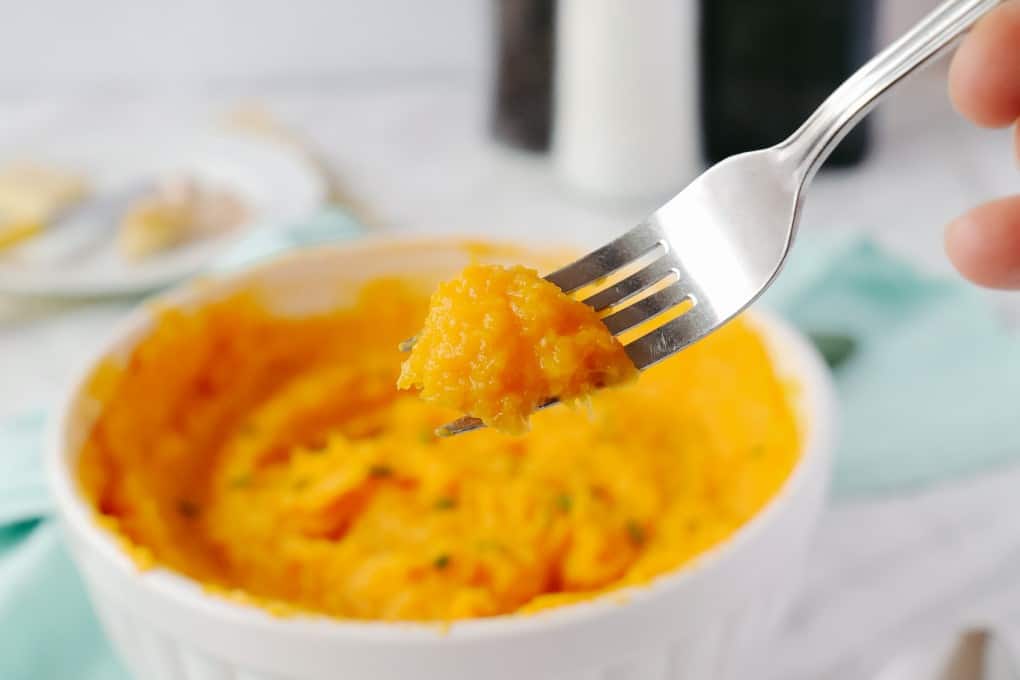 There are 2 ways to season your butternut squash:
Before roasting it:
Classic and simple: drizzle some olive oil or brush with some melted butter, add salt and pepper.
Sweet and savory: sprinkle some brown sugar on top. It will caramelize and add a little sweetness to your dish. Keep your squash cut side up for this.
Garlicky: add some garlic cloves to the baking sheet (roast 15 minutes only) to add to the mash.
After roasting it:
Fancy it up: In a pan, melt some butter and place a few sage leaves, cook until crispy. Crumble a few in the mash and use the other ones as a garnish.
Herbs: Chop some fresh rosemary very finely or sprinkle in some dry Herbes de Provence.
Why Is My Butternut squash Watery?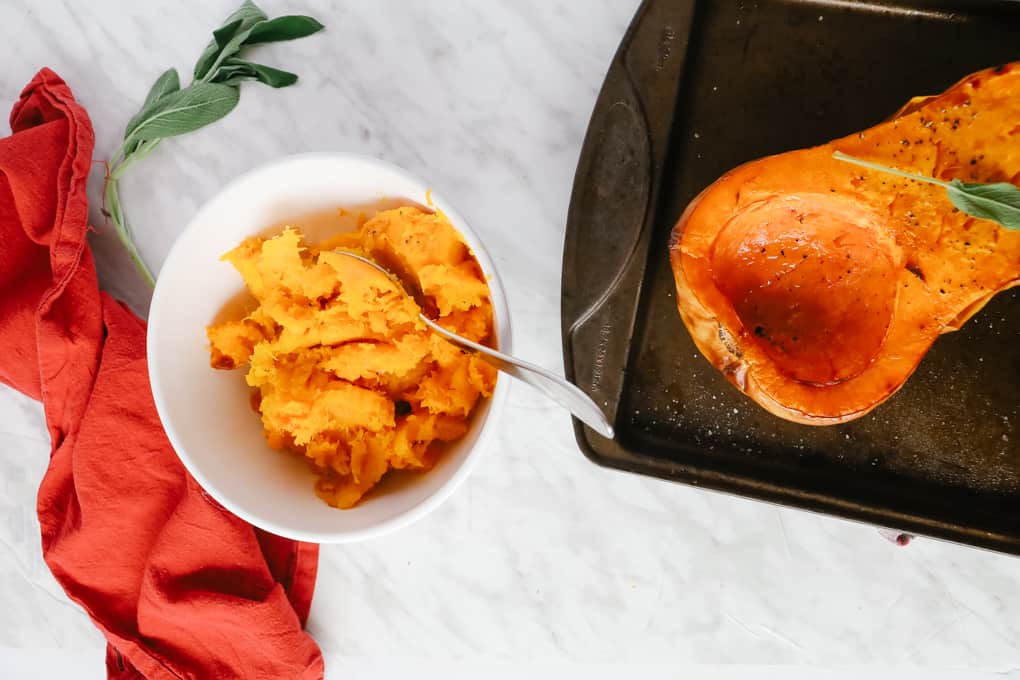 There could be a few reasons to having a watery mash. If you boiled your vegetable, it will have absorb water. Make sure to drain it well, and squeeze gently to remove excess moisture.
When roasting, I find that the moisture evaporates. However, if you wish, you can add a step to prevent a watery dish. After slicing your butternut squash, generously sprinkle with salt on the flesh side. Set aside for 30 minutes a least. It will pull the excess water, rinse, dry and follow the rest of the recipe.
Can You Steam Butternut Squash?
Absolutely, like any other root vegetable, you can cube them and steam or boil them until tender.
How Long To Boil Butternut Squash To Mash?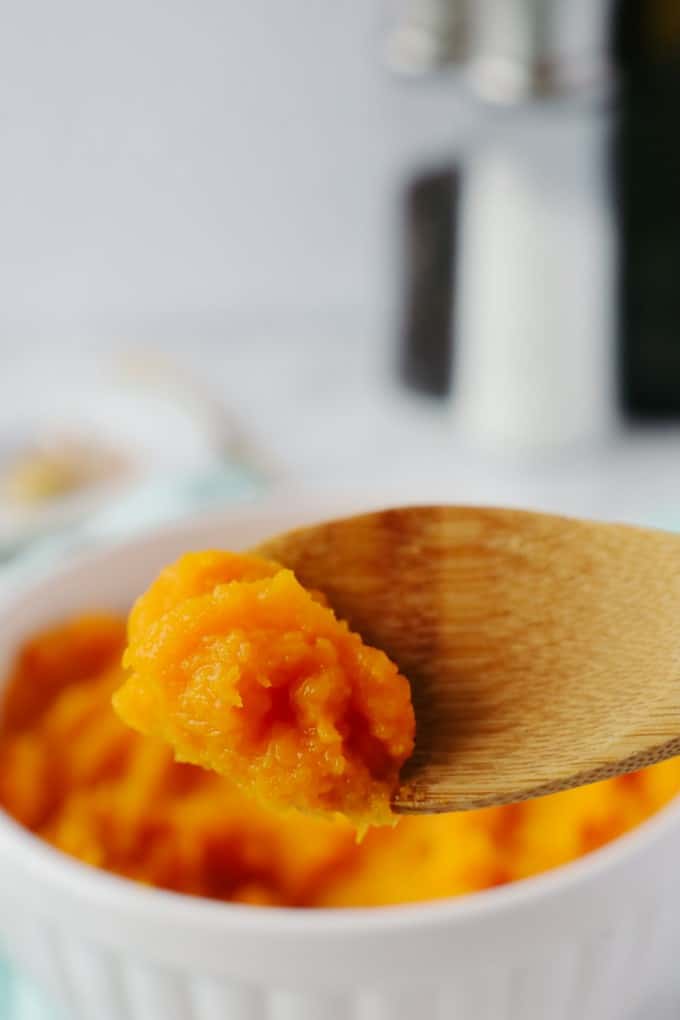 For an inch cube size, 15 minutes boiling should suffice but to check, use a knife to pierce through the flesh.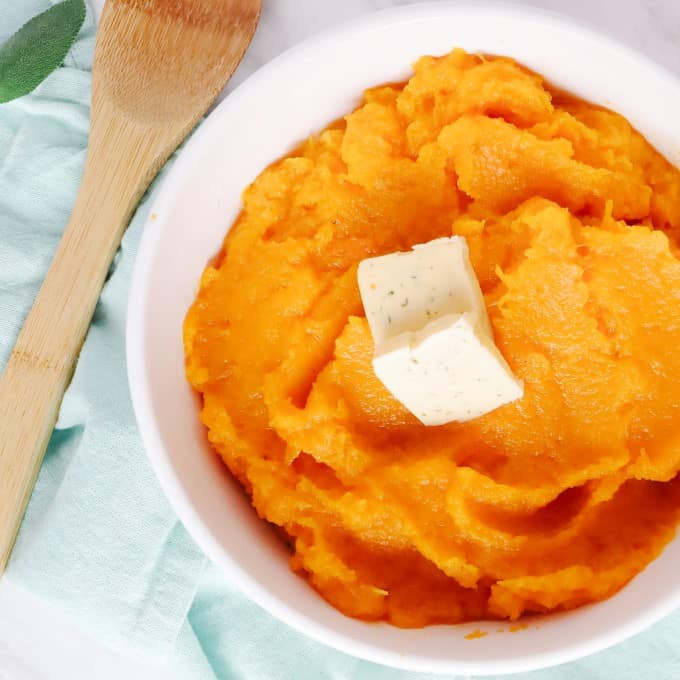 Pin it HERE!!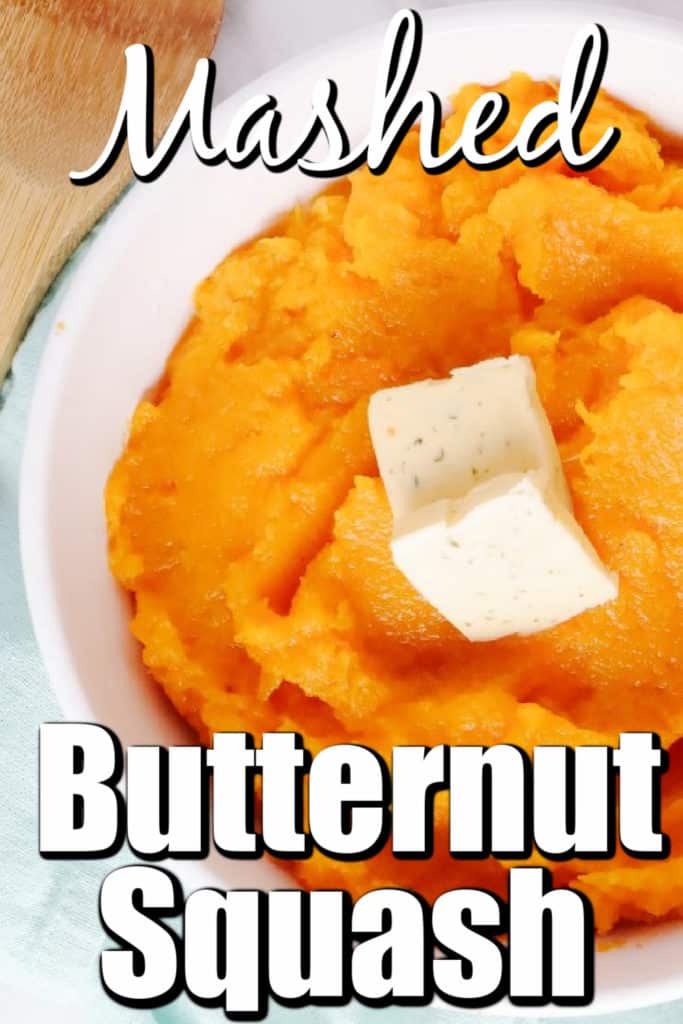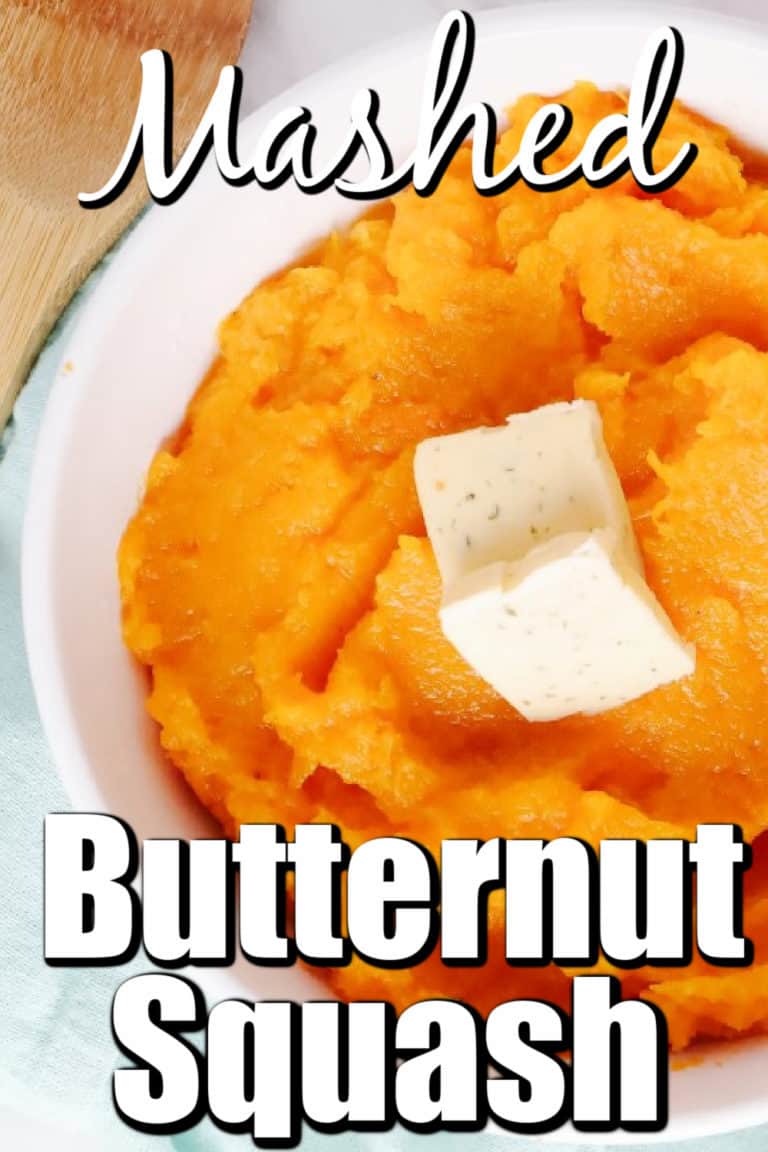 Pin it HERE!!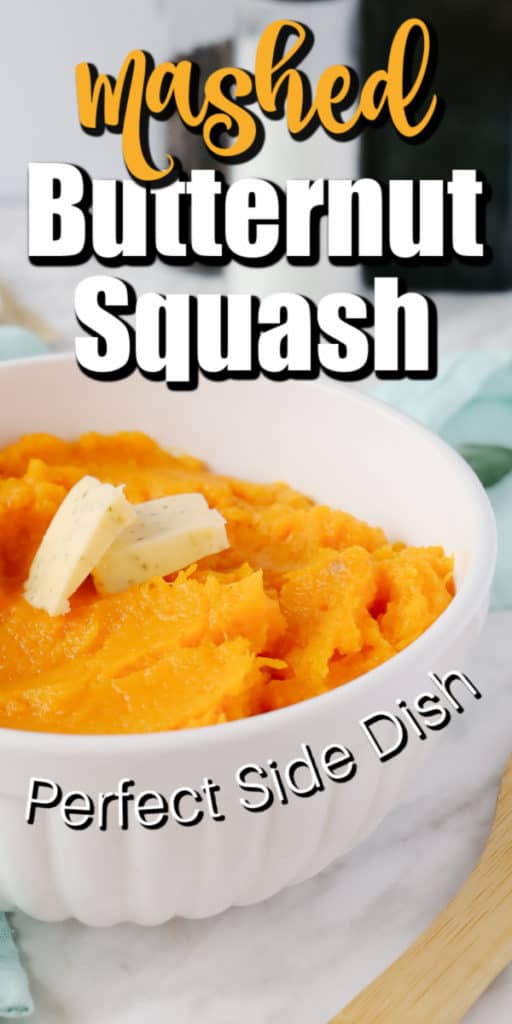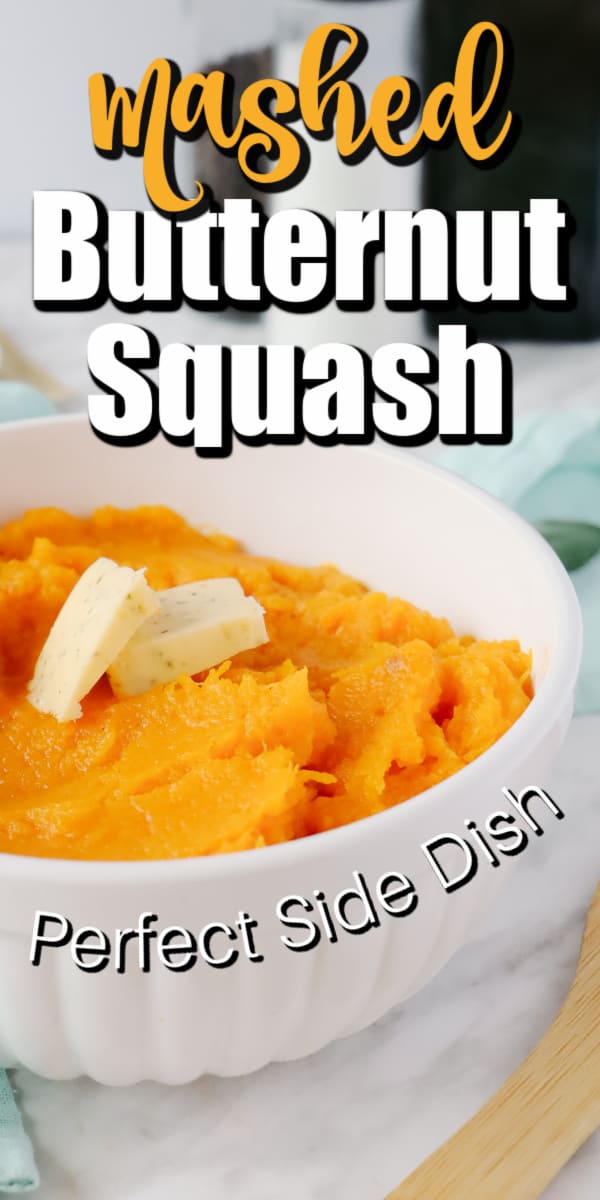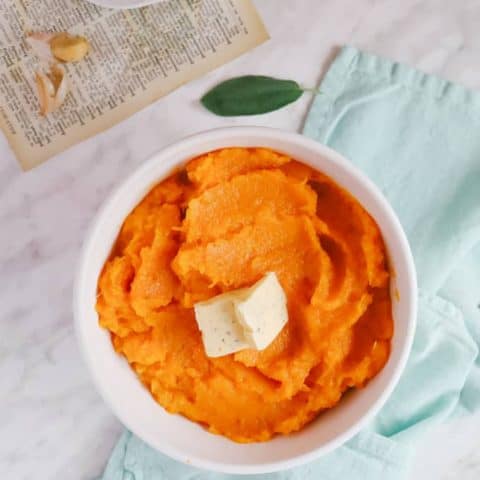 ROASTED MASHED BUTTERNUT SQUASH
Yield: 4 servings, 3 cups
Prep Time: 10 minutes
Cook Time: 1 hour
Additional Time: 10 minutes
Total Time: 1 hour 20 minutes
Creamy, garlicky, and incredibly easy to prepare, this roasted mashed butternut squash is the perfect side dish.
Ingredients
4 pounds butternut squash
1 tsp of salt
A pinch of pepper, to taste
1 tbsp of olive oil
3 garlic cloves, optional
3 tbsp of butter
1/4 cup heavy cream (35%)
5-6 sage leaves, optional
Instructions
Preheat your oven to 400 degrees Fahrenheit.
Cut the butternut squash in half. Scoop the seeds out.
Place your squash, face-up, on a baking sheet.
Drizzle with olive oil, season with salt and pepper.
Bake for 1 hour or until your knife pierce smoothly the thicker part of the squash.
Once out of the oven, give it a few minutes so you can handle it with your hands.
Scoop out the flesh and put it in a large mixing bowl.
Using a potato masher, mash your butternut squash until smooth.
Add the heavy cream, butter, and stir away.
Serve while hot.
Optional: In a pan, melt some butter and place a few sage leaves, cook until crispy. Crumble a few in the mash and use the other ones as a garnish.
Notes
Notes:
If you roasted some garlic, mash it on a small plate with a fork and add it to the butternut squash.
Alternatively, flavor with some fresh chopped herbs or dry ones.
Nutrition Information:
Yield: 4
Serving Size: 1
Amount Per Serving:
Calories: 342
Total Fat: 18g
Saturated Fat: 9g
Trans Fat: 1g
Unsaturated Fat: 7g
Cholesterol: 40mg
Sodium: 673mg
Carbohydrates: 49g
Fiber: 15g
Sugar: 9g
Protein: 5g
Recipe calculation was provided by Nutritionix and is an estimation only. If you need nutritional calculations for medical reasons, please use a source that you trust.