Sage Havarti Butternut Squash Lasagna
Fall is fast approaching and my love for squash and pumpkin will be coming on strong!! This Sage Havarti Butternut Squash Lasagna was also made because of my abundance of sage. Plus, I love the combination of squash and sage together. This is a rich and divine lasagna that is very entertaining worthy. It is vegetarian so can be served on its own or as a side to many meat entrees.
I have had a long love affair with this Mushroom, Spinach and Four Cheese Lasagna, another vegetarian pasta option and one that we have made countless times. Don't get me wrong, I do love a traditional lasagna with meat but there are so many other ways to enjoy lasagna too!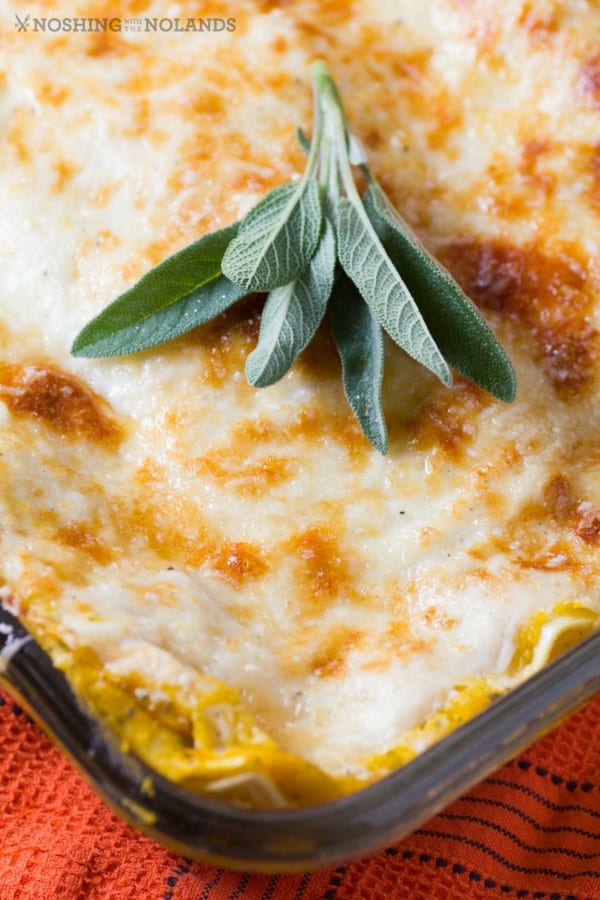 This delicate but divine lasagna is layers of sage infused butternut squash, along with havarti cheese and bechamel sauce. It is a creamy, cheesy wonderfully rich pasta recipe. This dish will rapidly become a new favorite for your fall entertaining.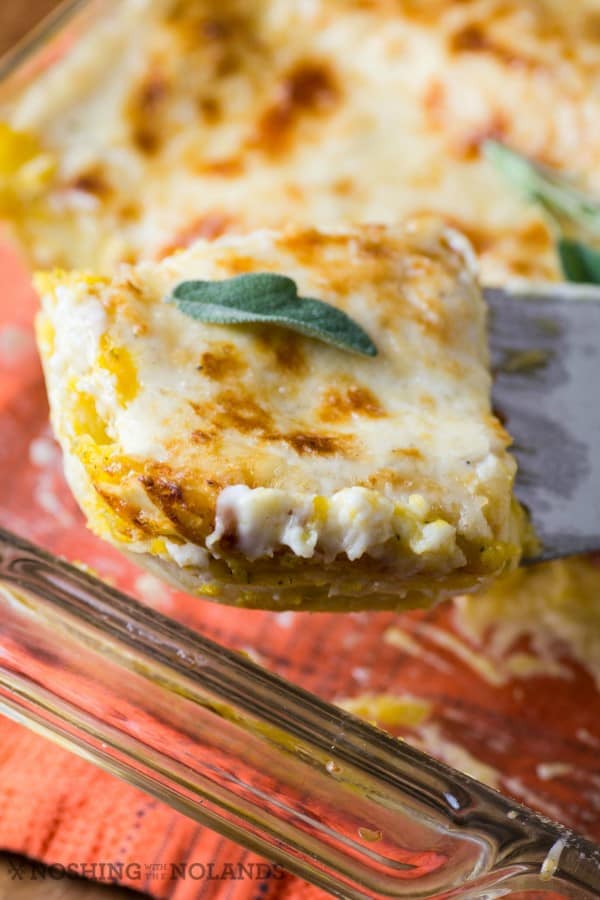 When I was doing my research to make this recipe I saw some of the recipes asked for you to peel a butternut squash. Well, I thought it would be way easier to bake it, cut side down and then just simply scoop out the squash. That was a very easy alternative. On that same baking sheet I popped the sage in to crisp it up and release some of it's flavor.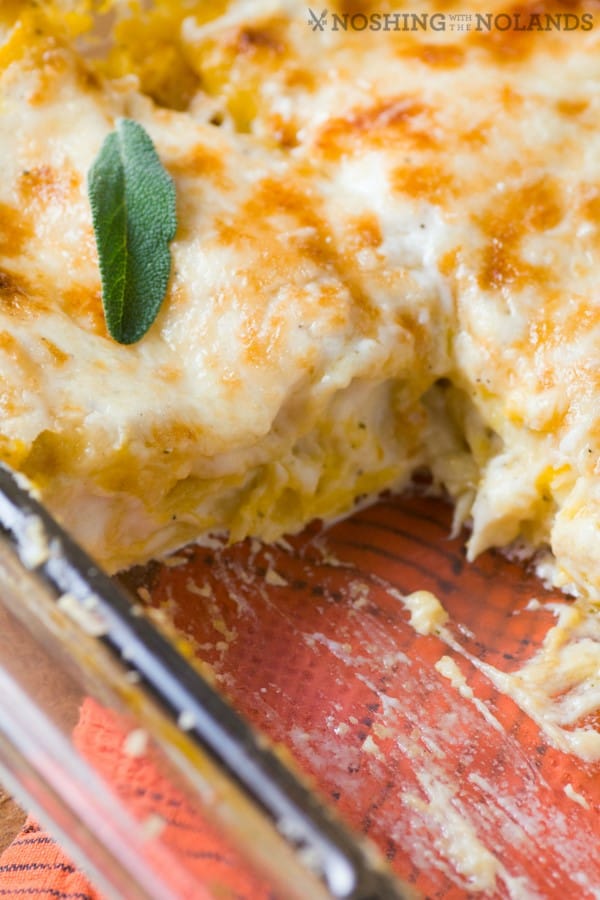 All of the elements of this lasagna work fabulously together. The bechamel, havarti and squash with sage are a dream team and make the best lasagna ever!!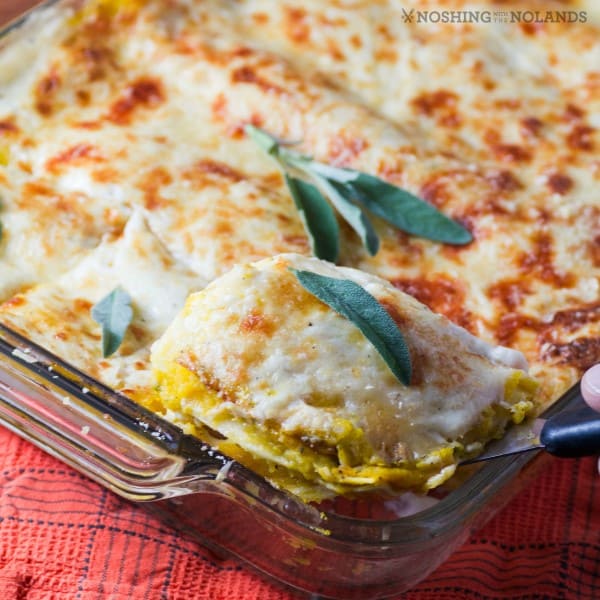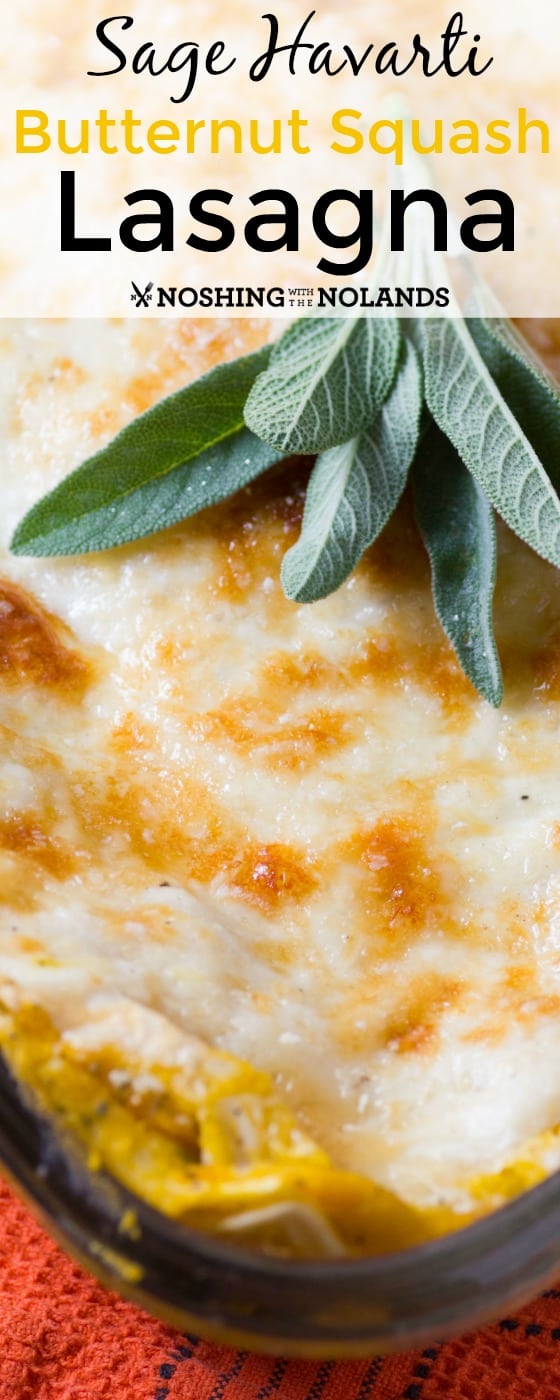 Sage Havarti Butternut Squash Lasagna Recipe
Yield: 8 servings
Sage Havarti Butternut Squash Lasagna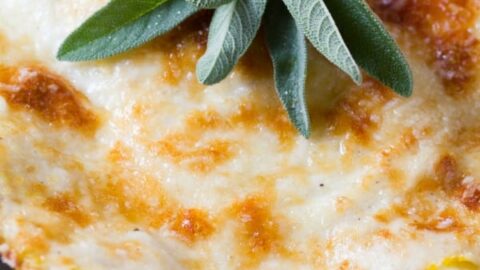 A rich and delicious Sage Havarti Butternut Squash Lasagna that is perfect for fall and very entertaining worthy!
Cook Time
1 hour
35 minutes
Ingredients
Bechamel Sauce
6 Tbsp. butter
1/2 cup flour
4 cups 2% milk
Fresh grating of nutmeg
Salt and pepper to taste
Lasagna
1 large butternut squash
Cooking spray
10 sage leaves
1 Tbsp. butter
Salt and pepper to taste
6 large sheets of fresh lasagna or enough for three layers of pasta
30 slices havarti cheese
1/2 cup parmesan cheese
Instructions
Preheat oven to 350F. Bake the squash by first slicing it in half and cleaning out the seeds. Spray with cooking spray on the cut side and place face down on a cookie sheet with sides. Bake for 35-50 min. or until tender. Pop the sage leaves in after on the same cookie sheet. Spray with cooking spray and bake 3-4 min. until fragrant. Leave both to cool enough to handle.
Meanwhile to make the bechamel sauce, melt the butter and add the flour stirring well. Cook for 2 min. Slowly add in the milk while whisking. Let the mixture come up to a simmer, whisking constantly until it thickens. Season with the nutmeg, salt and pepper. Set aside.
Whirl the cooled butternut squash in a food processor with the butter, salt and pepper and sage leaves.
In a 9x13" pan pour a small amount of bechamel sauce in the bottom and spread out. Add a layer of pasta noodles. Spread a layer of the squash puree and then top with cheese in a single layer. Spread out another layer of bechamel and repeat layers two more times ending with the bechamel. Top with the parmesan cheese. Bake for 35-45 min. or until heated through and browned on top. Broil for a few minutes if needed.