Mushroom, Spinach and Four Cheese Lasagna
Emeril Lagasse, BAM!!! We all know him and love him, and this Mushroom, Spinach, and Four Cheese Lasagna are some of the recipes I adore. Amber used to sit in her swing and watch him intently as a baby and then fall into a blissful sleep. I have watched, cooked, drooled, laughed, baked all along with Emeril through his wonderful career.
He has great recipes and we have definitely enjoyed them all. The wonderful spice that he uses is made and in our cupboard, his recipes are stowed in my cookbooks. I have dined at his restaurants and have not had a dish I didn't like.
The Best
Today I give you one of the best lasagnas I have ever had. The best vegetarian one for sure!! You might think I am turning into a veggie head but I am not, don't worry I love meat too much!! In saying that though there are lots of dishes that really don't need it and you don't miss it.
This is one of them, rich, creamy, and full of flavor that no meat is required. I guess you could add chicken in here but why??? You certainly don't need it. I think it would hinder it more than anything.
This is a great dish to serve the company as I just did with a big Italian salad, oh so yummy. I hope you enjoy it as much as we have and we have made it many times.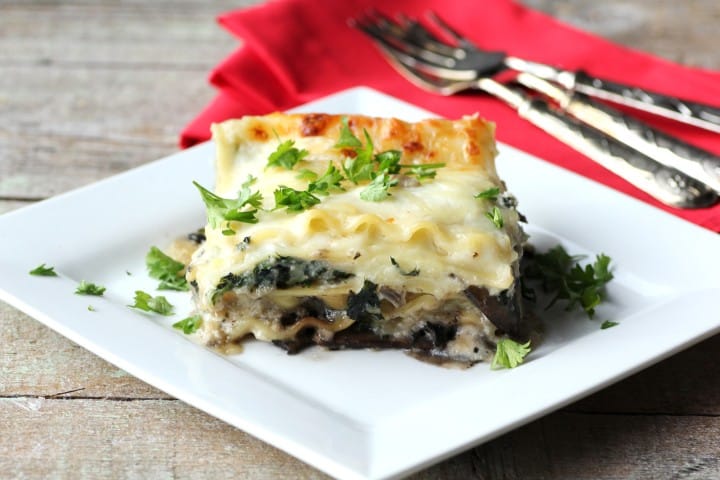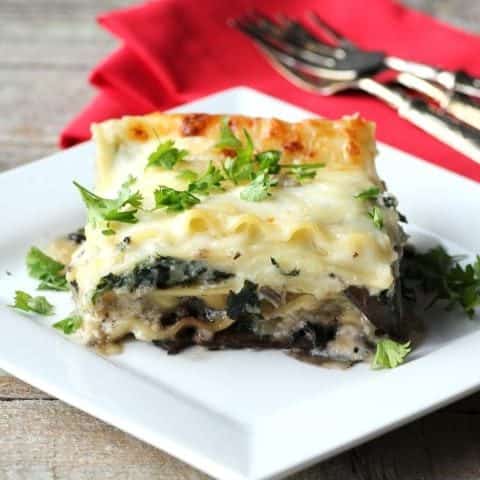 Mushroom, Spinach and Four Cheese Lasagna
Yield: 10 Servings
Prep Time: 50 minutes
Cook Time: 1 hour
Total Time: 1 hour 50 minutes
A magnificent vegetarian lasagna!!
Ingredients
20 oz. package fresh spinach, tough stems removed and washed
5 Tbsp. unsalted butter
1/4 cup shallots, minced
2 tsp. minced garlic
4 portobello mushrooms, stems removed, sliced and then cut in half
3/4 tsp. salt
1/2 tsp. freshly ground pepper
1/4 cup flour
4 cups whole milk
1/8 tsp. freshly grated nutmeg
2 1/2 cup Parmesan, grated
15 oz. fresh ricotta
18 slices provolone, thinly sliced
1 1/2 cups mozzarella
16 lasagna noodles, cooked al dente
Instructions
Bring a large pot of salted water to a boil. Cook the spinach for 2-3 min. Stirring partway through to make sure it evenly cooks. Drain in a fine-mesh sieve. Once it is cool squeeze it out with your hands, getting out as much as possible. Finely chop and set aside.
Meanwhile, in a large skillet over medium-high heat melt the 1 Tbsp.butter and add the shallots and garlic, stir for 1 min. Add the mushrooms and a 1/4 tsp. salt and pepper. Cook, stirring until the mushrooms have let off their liquid, about 5 min. Remove from heat and set aside to cool.
In a large saucepan melt the remaining 4 Tbsp. butter over medium heat. Add the flour and let cook for 2 min. stirring with a whisk. Slowly add in the milk whisking constantly. Let the mixture come up to a simmer until it is thickened, whisking often. Add 1/2 tsp. salt, 1/4 tsp. black pepper, nutmeg, and 1 cup of Parmesan now stirring with a wooden spoon for about 2 min. until thickened. Remove from heat.
In a medium bowl combine the ricotta and the mozzarella with a 1/4 cup of the sauce.
Preheat oven to 350F. Spray a 9x13" pan with cooking spray. Spoon 1/2 cup of the sauce into the bottom of the pan. Divide the mushrooms and spinach into four equal parts and sprinkle 1/4 of the mushrooms and spinach over the sauce. Next, arrange a layer of 4 noodles side by side. Spread a layer of the sauce over the noodles now using a bit more than 1/2 cup. Top again with 1/4 mushrooms and spinach and a 1/3 of the ricotta mixture and 6 sliced provolone. Repeat these layers twice more ending with the noodles. Use the rest of the sauce on top of the lasagna noodles and sprinkle with the remaining 1 1/2 cups of Parmesan.
Cover tightly with aluminum foil (you can refrigerate the lasagna now if needed). Bake in the oven for 30 min. Remove the foil and bake for another 10-15 min. until golden brown and bubbling. You may want to run it under a broiler for a minute.
Let rest for 10-15 min. before serving. Serve hot!!
Nutrition Information:
Yield: 10
Serving Size: 1
Amount Per Serving:
Calories: 680
Total Fat: 38g
Saturated Fat: 22g
Trans Fat: 0g
Unsaturated Fat: 12g
Cholesterol: 108mg
Sodium: 1306mg
Carbohydrates: 46g
Fiber: 4g
Sugar: 7g
Protein: 40g
Recipe calculation was provided by Nutritionix and is estimation only. If you need nutritional calculations for medical reasons, please use a source that you trust.
Recipe adapted from Emeril Lagasse